Why Choose Crutchfield?
Deep discounts on car installation gear
We offer vehicle-specific installation instructions, dash kits, wiring harnesses, and speaker accessories at deeply discounted prices with car stereo and speaker purchases. Available for most vehicles.
Learn more
Trusted since 1974
Our customers have trusted us with their business, and they've helped us win awards for our service.
Check out our most recent awards
Factory-authorized dealer
The manufacturer's warranty always applies.
See more details
Pioneer AVIC-U250
Add-on GPS navigation module with built-in traffic information receiver
Item # 130AVIC250 | MFR # AVIC-U250
This item is no longer available.
Overview
Blaze a path with a Pioneer navigation upgrade
You've got a great Pioneer DVD receiver in your dash — why not give it some additional functionality? The AVIC-U250 GPS module connects directly to your Pioneer, adding reliable navigation tools to help you find your way. You'll have access to detailed NAVTEQ maps of the entire United States, Canada, and Puerto Rico, as well as eight million points of interest for finding important stops along your route. Your Pioneer receiver will mute your music, deliver the directions you need, then start the music playing again.
Commuters in metropolitan areas get the added advantage of a built-in traffic-information receiver which provides updates on congestion so you don't get stuck in a jam. The compact AVIC-U250 works with 2010-up Pioneer AVH receivers, so you'll be able to enjoy the maps on a high-quality touchscreen display that puts you in fingertip control of the action. A switch on the module allows you to select the video output resolution to your receiver. The AVIC-U250 also includes an SD™ card slot, so you can easily upload new maps as they become available.
Find your way
Plug the AVIC-U250 module into the back of your compatible receiver and then use your Pioneer's touchscreen controls to take charge of the navigation functions. You can choose a destination by entering a specific street address or intersection, or by selecting a hotel, restaurant, shop, or another of the eight million points of interest. You'll see the preloaded road maps on your receiver's video screen, as it displays your current position and your destination. Text-to-speech technology provides voice prompts over your car speakers that announce actual street names at turns, so you'll hear "turn right on Sullivan Street," instead of "take the next right."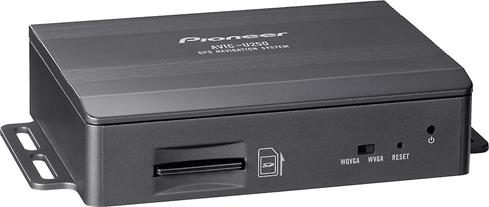 This compact module can add GPS functionality to your Pioneer DVD receiver.
You can choose to view the maps in 2D or 3D orientation — with the latter, you'll see landmarks and buildings represented in three dimensions to help you get a better sense of your bearings. The receiver will also show you the posted speed limit along major roads, and visually warn you when you're exceeding it. You'll also get lane guidance to put you in the right position for your next turn, and junction view that gives you a realistic picture of complicated interchanges.
Don't get stuck
When you see bad traffic conditions along your route in metropolitan areas, you can ask the receiver to find a new path to your destination and save time. The receiver will even factor in historic traffic patterns along your route when mapping, so it'll automatically guide you to the smartest route, depending on the time of day. The traffic updates don't require a subscription and are free for the life of the receiver.
Very easy to install. Except for one thing. I have the pioneer 5500 head unit and none of the instructions tell you to change the av input to NAVI for the video to show, nor does it say that the VGA switch works either position .

J D, Huntersville NC
What's in the Box:
Add-on navigation module
8GB SDHC memory card
6.5' Navigation cable (terminated by a data-bus connector on one end and a RGB connector on other end)
6' Power/ground harness
Magnetic GPS antenna (with attached 10' cable)
Traffic antenna (w/ attached 8' cable)
Self-adhesive pad
2 Velcro strips
Mounting screw
Owner's Manual
"CAUTION!" note
Online Product Registration sheet
Warrant Information (US/Can)
Product Highlights:
add-on GPS navigation system for compatible 2010-up Pioneer AVH in-dash multimedia receivers
GPS satellite antenna included
TMC traffic-information antenna included
built-in road maps of the United States, Canada, and Puerto Rico by NAVTEQ
8 million points of interest
free TMC traffic reports in metropolitan areas (no subscription needed)
text-to-speech voice prompts announce street names at turns
2D and 3D map views
lane guidance and junction views
route customization options
SD card slot for map updates
5-5/16"W x 1-1/8"H x 4-7/8"D
warranty: 1 year
Reviews
Pioneer AVIC-U250 Reviews
Average Customer Review(s):


Submit a review and then enter to win a $350 rewards card
Review this product
Thanks for submitting your review
Most reviews are processed and published within 5 business days. You will receive a confirmation email once your review has been published.
Customer photos
---
Details
Product Research
Features
Compatibility: The Pioneer AVIC-U250 Add-on Navigation System is compatible with the following 2010-2013Pioneer AVH-series navigation-ready multimedia head units.
2013 Models: AVH-X8500BHS, AVH-X7500BT, AVH-X6500DVD, AVH-X5500BHS, AVH-X4500BT, AVH-X3500BHS, AVH-X2500BT, AVH-X1500DVD
2012 Models: AVH-P8400BH, AVH-P4400BH, AVH-P3400BH, AVH-P2400BT, and AVH-P1400DVD
2011 Models: AVH-P6300BT, AVH-P4300DVD, AVH-P3300BT, AVH-2300DVD
2010 Models: AVH-P5200BT, AVH-P5200DVD, AVH-P4200DVD, AVH-P3200BT, AVH-P3200DVD
Note: The AVIC-U250 plugs into the RGB connector of these Pioneer head units. The included SD-card must be inserted into the AVIC-U250 for the head unit to recognize it.
GPS Technology: The unit has a 32-channel GPS receiver with a magnetic antenna included. The AVIC-U250 accurately measures your current location by the Global Positioning System, a network of satellites orbiting the earth to give you time and position information. The accuracy of the GPS information depends upon how good the reception is. The GPS antenna can be installed outside or inside the vehicle. The antenna measures 2.0" (w) x .0625" x 2.0625" (d); with a 10' cable. The antenna features a magnetic base and comes with a two-sided, self-adhesive mounting pad.
NAVTEQ Map Database: The AVIC-U250 offers a comprehensive map database from NAVTEQ stored on its built-in flash-memory which covers the entire United States (including Alaska/Hawaii), Canada, and Puerto Rico; enabling you to route to millions of destinations.
Note: Car navigation maps are frequently updated. While this database was judged to be as accurate as possible at the time of its release, a map database can never be 100% accurate. Road information that is maintained in the map databases, such as turn restrictions or road names may change over time.
Map Updates: Map updates via a SD memory card can be purchased at www.naviextras.com.
8,000,000 POIs: The Pioneer AVIC-U250 offers 8 million points-of-interests.
Traffic Receiver: The AVIC-U250 features a built-in TMC (Traffic message Channel) receiver and external TMC antenna which provides you with real-time traffic updates along your calculated route. Road segments affected by traffic incidents are displayed with an alternate color on the map, and small symbols above the road show the nature of the incident. When traffic information that may affect your route is receive, the system will warn you that it is recalculating your route, and navigation will continue with a new calculated route that is optimal considering the most up-to-date traffic conditions. The external TMC antenna should be installed along the top or side of your windshield inside the vehicle.
Note: TMC is not a global service. It may not be available in your area.
On-Screen Map: The unit's on-screen map shows your vehicle's current position (a red arrow by default), the recommended route (an orange line), the surrounding map area, and your destination as a checkered flag. The on-screen map shows streets, roads, and highways in a way that is similar to how a paper road map show them. A road's width and colors corresponds to their importance, so you can easily tell a freeway from a small street. When navigating a route, the top section of the map screen shows information about your next route maneuver and the next street or the next city/town. When approaching a turn, the map screen's Smart Zoom will zoom in and raise the view angle to let you easily recognize your maneuver at the next junction. If the next turn is at a distance, it will zoom out and lower the view angle to be flat so you can see the road in front of you. The map also displays data; such as the posted speed limit (optional), your current speed, current time, distance to your destination, time left before you reach your destination, and your arrival time.
2D/3D Maps: You can changes the perspective of the map from 2D North-Up (displays the map in 2 dimensions with North at the top), 2D Heading-Up (displays the map in 2 dimensions with your direction of travel at the top of the screen), 3D Map (displays the map in 3 dimensions with your direction of travel at the top of screen). In 3D mode, you can see the altitude and elevations differences. You can distinguish between valleys, mountains, and elevated roads. In selected cities 3D landmarks and 3D buildings are also displayed.
View Angle: You can change the view angle of the map horizontally or vertically (3D mode only).
Color Mode: The navigation map screen uses different color themes (Day/Night) during the day and during the night for both the map and the menu screen. Daytime colors are similar to paper road maps, and the menus are bright. The nigh color themes use dark colors for large objects to keep the average brightness of the screen low. You can also set the navigation unit to switch between daytime and night color modes automatically based on the current time and GPS position.
Where Am I?: The "Where Am I?" feature gives you instant access to important information in case of an emergency. When you select "Where Am I?" from the menu, you get the coordinates (including elevation) of your current position, plus the nearest address and intersections. There are also menus to help you locate the nearest hospitals, police stations, gas stations, and roadside assistance. You can also save the location for future reference.
TTS (Text-to-Speech): In addition to graphical on-screen directions and maps, the AVIC-U250 provides voice guidance and turn-by-turn directions. You can choose a male or female voice in English, French, or Spanish.
Warnings/Alerts: The Pioneer AVIC-U250 offers various audible alerts and warning to help you get to your destination safely.
Alert Points: Alert points are preloaded in the navigation unit. You can also download more from Pioneer's website, or save any map location as an alert point (such as a speed camera or a railway crossing). The type of alert point, its distance, and the related speed limit will appear on the map. Beeps or the spoken type of alert will also be heard through your vehicle's speakers when you are approaching one of these alert points.
Speed Limit Warning: Some maps may contain information about the speed limits of certain road segments. The AVIC-U250 provides an audible & visual warning if you exceed the recommended speed limit.
Lane Information & Signposts: The Pioneer AVIC-U250's navigation map offers helpful lane information & signpost guidance.
Lane Information: When navigation on multilane roads, it is important to take the appropriate lane in order to follow the recommended route. If lane information is available in the map data, the map screen will display the lanes and their directions using small arrows at the bottom of the map. High lighted arrows represent the lanes you need to take.
Signposts: Where additional information is available, signposts substitute arrows. Signposts are displayed at the top of the map. The color and style of the signposts are similar to the real ones you can see above the road or by the roadside, They show the available destinations and the number of the road the lane leads to.
Junction View: If you are approaching a freeway exit or a complex intersection and the needed information exists, the map is replaced with a 3D view of the junction. The lanes you need to take are displayed with arrows. Signposts can also be present, if information is available.
Tunnel View: When entering a tunnel, the map is replaced with a generic tunnel image so that surface roads and buildings cannot distract you.
Destination Search: The Pioneer AVIC-U250 offers the following Destination Search functions:
| | |
| --- | --- |
| Destination Search | Description |
| Browse Map | Select a point on the map for your destination by touching the screen. |
| Home | Register one point as your home address. |
| Address | Enter full/partial address, search for a city/zip code (central location), or search for the intersection of two roads. |
| Favorites | You can save all of your favorite places in the navigation system, so you can quickly navigate to them later. |
| Smart History | The places that you have set as destinations or waypoints in the past are automatically stored for quick access later. The three most popular routed destinations are listed first and the rest of the destinations are ordered by the time they were last selected. |
| 8,000,000 POIs | Search for over 8,000,000 points-of-interest (POIs) by name, by category, in a city, around last know position, around your destination, or along your current route. |
| Coordinates | Search by entering the latitude and longitude. |
Route Calculation: The Pioneer AVIC-U250 calculates your route based on your Vehicle Type, Route Method, and Avoidances.
Vehicle Type: You select what type of vehicle you are driving, so the navigation unit can determine the best route based on your vehicle type (Car, Truck, Bus, or Taxi). You can then enter your vehicle's parameters.

Fuel Consumption: Enter the average fuel consumption of your vehicle in the city and on the highway.
Engine Type: Select engine and fuel type of your vehicle (gasoline, diesel, etc..)
Fuel Price: Enter the average fuel price for travel cost calculation.
Max Speed: Set the maximum speed you would normally travel at.
Dimensions: Enter Length, Width, Height, and Weight.

Route Method: You can choose which route method (Fastest, Shortest, Green, Economical, or Easy) the navigation unit should use when calculating your route.

Fastest: give a quick route, if you can travel at or near the speed limit on all roads. Usually the best section for fast and normal cars
Shortest: gives a route that has the smallest total distance of all possible routes. It can be practical for slow vehicles
Green: gives a quick, but full efficient route based on the fuel consumption data you provide
Easy: results in a route with fewer turns and no difficult maneuvers

Avoidances: You can tell the navigation unit to avoid certain types of roads along your calculated route; such as Highways, Tolls, Carpool/HOV, Unpaved Roads, and/or Ferries.
Note: You can check different route alternatives based on the above route planning methods and avoidances.
Itinerary: The Itinerary is a detailed list of the route maneuvers or driving instructions.
Waypoints: During an active route, you can insert additional waypoints (intermediate destinations) preceding the destination. Every time a new point is added, the route is recalculated automatically and you can start navigating right away.
Trip Monitor: The Trip Monitor contain useful information about your trip. Trip logs can be saved manually when you reach your destination or automatically along your route. Trip log data includes - Start/End Time, Avg./Max. Speed, Total/Driving/Stopped Time, Total Distance, and Min./Max. Altitude.
Intelligent Reroute: If you deviate from the set route, the system will recalculate the route from that point so that you remain on track to your destination.
Route Simulation: You can preview all the route information and simulate travel along a projected route.
Off-Road Navigation: You can switch the navigation system to off-road mode. The off-road mode navigates between destinations in a straight line, regardless of the road network and traffic regulations.
Our Product Research Team
At Crutchfield, you'll get detailed, accurate information that's hard to find elsewhere. That's because we have our own in-house Product Research team. They verify what's in the box, check the owner's manual, and record dimensions, features and specs. We stay on top of new products and technologies to help people make informed choices.