Why Choose Crutchfield?
Deep discounts on car installation gear
We offer vehicle-specific installation instructions, dash kits, wiring harnesses, and speaker accessories at deeply discounted prices with car stereo and speaker purchases. Available for most vehicles.
Learn more
Trusted since 1974
Our customers have trusted us with their business, and they've helped us win awards for our service.
Check out our most recent awards
Factory-authorized dealer
The manufacturer's warranty always applies.
See more details
Panasonic KX-TG6842B
Expandable cordless phone system with answering machine and 2 handsets
Item # 133TG6842B | MFR # KX-TG6842B
This item is no longer available.
Overview
Our take on the Panasonic KX-TG6842B by Crutchfield's Ralph Graves
The Panasonic KX-TG6842B expandable phone system gives you control over your calling experience. The system comes with two handsets, plus a base with its own keypad, speakerphone, and built-in answering machine. Use the tone equalizer feature on the handsets to adjust for the way you hear — independently boost or cut the low, mid, and high frequencies for greater clarity. And each handset has enhanced noise reduction to minimize background noise while strengthening the caller's voice.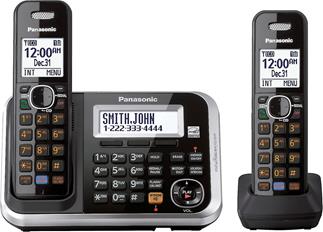 A large screen and backlit buttons make receiving calls and dialing easy. And if you're across the room when a call comes in, Talking Caller ID can announce who's on the line. Call Block lets you store up to 250 numbers that won't get through — when they call, they'll simply get a busy signal.
Never miss a message
The system comes with a built-in digital answering machine. It can forward messages to another number, so you can receive them on your office or mobile phone. You get roughly 18 minutes of total message storage.
Smart energy use
The phone's Intelligent Eco Mode saves you both energy and money. The handsets automatically adjust power consumption based on distance from the base station. They maintain wireless contact drawing only the battery power they need, letting you talk longer. This feature increases the amount of talk time you get between recharges, and it extends the life of your rechargeable batteries, which means you have to replace them less frequently.
DECT cordless technology
The KX-TG6842B uses DECT (Digital Enhanced Cordless Telecommunications) technology for clear conversations with reduced noise and excellent cordless range. It operates on the 1.9 GHz frequency bandwidth, so it won't interfere with Wi-Fi® computer networks or other common wireless devices. If you want to expand this system to accommodate a large household or small business, you can add up to four more handsets — for a total of six — still using just one phone jack.
Product Highlights:
built-in digital answering machine
2 handsets with base station and charging cradle
uses DECT 6.0 cordless phone standard
1.9 GHz frequency range avoids interference with Wi-Fi networks
multi-handset operation (add up to 4 optional handsets for a total of 6)
tone equalization lets you independently adjust low, mid, and high frequencies for better voice clarity
1.8" white, backlit LCD display on handsets
lighted handset keypad
50-entry Caller ID memory and 50-entry phonebook memory
Call Block for up to 250 numbers
3-way conferencing between outside line and up to two handsets
handset speakerphones
voice paging (base to handset)
jack for optional headset on each handset
wall mountable base
NiMH rechargeable batteries for each handset (two AAAs)
warranty: 1 year
What's in the Box:
Black KX-TG6841 base unit/charger
2 Black KX-TGA680 handsets
4 BK-40AAABU Nickel-Metal Hydride (Ni-MH) rechargeable batteries
Wall mount bracket (attached to base unit)
2 Black belt clips
PNLV226 AC adapter with attached 6' DC output cord (DC output: 5.5V 550mA)
PNLC1040 Charger base
PNLV233 AC adapter with 6' DC output cord (DC output: 4.8V 160mA)
6' Telephone cord
Operating Instructions
Range Extender promo sheet
Key detector promo sheet
Why Shop
With Us?
10 Reasons.
Details
Product Research
Telephone Features
Answering System Features
Dimensions
Telephone Features
Overview: The Panasonic KX-TG6842 Digital Cordless Answering System is a single line, two-handset cordless phone system with an integrated all-digital answering machine. It has a base unit speakerphone with a keypad and LCD, an additional handset charger, and features advanced DECT 6.0 Plus technology for enhanced quality and longer range.
DECT 6.0 Plus with Range Boost: DECT (Digital Enhanced Cordless Telecommunications) operates in the 1.9 GHz frequency range, which means the KX-TG6842 phone will not conflict with other wireless devices such as computer routers, wireless keyboards, microwave ovens and other common household devices. DECT 6.0 Plus with Range Boost provides an 80 times increase in signal correction resolution over conventional DECT 6.0 handsets, and better talking quality over a longer range.
Expandable Cordless System: In addition to the included cordless handsets, you can add up to four more KX-TGA680 handsets, for a total of six. All handsets can be registered to the base unit, allowing you to talk from handset-to-handset, transfer calls, and make conference calls with an outside party.
Base Speakerphone: The base unit has a full keypad with speakerphone, allowing you to make a call from the base unit without the presence of a handset.
Base Backlit LCD: The large 2.5" wide backlit LCD will display the name and phone number of the incoming caller, as well as status indicators for the answering system, phone line, Silent Mode, Call Sharing, and ringer off. The base LCD will display two lines, plus a row to show the function for the three soft keys just below the display.
Handset Speakerphone: The cordless handset can double as a speakerphone for hands-free conversations. The handset is squared on the bottom, allowing you to stand it up on a table top while you talk hands-free.
1.8" Backlit LCD: The cordless handset features a backlit 1.8" Full-dot Mono LCD screen with a resolution of 103 x 65 pixels. The handset LCD displays Caller ID information, battery strength, Caller List, Directory, plus the Function Menu table. Along the bottom, the functions for the two handset soft keys are displayed.
Navigator Key: The navigator key on the handset is used to navigate through menus and to select items shown on the display by pushing it up, down, left, or right. You can easily adjust the receiver or speaker volume by pressing the navigator key up or down as you talk.
Talking Caller ID: This unit is compatible with Caller ID services offered by your telephone company. If you subscribe to Caller ID, the caller's name and phone number will be displayed and recorded in the handset's Caller List. In addition, the phone uses text-to-speech technology to announce the caller's information between rings.
Call Waiting Caller ID: If you subscribe to Call Waiting with Caller ID, when talking on the phone as another call comes in, the second caller's name and phone number will be displayed.
Caller List: The unit records information for the last 50 callers and stores this information in the Caller List. The unit can show the number of calls you missed. You can call back any number in the caller list. Once a number is in the Caller List, it can be manually or automatically edited (to add or remove area codes or prefixes), saved in the Directory, or deleted.
Call Block: If you have subscribed to Caller ID, you can program the phone to reject calls when it receives a call without a phone number, or from a number stored in the Call Block list as unwanted. You can store up to 250 phone numbers in the call block list. When a call is received, the unit rings once while the caller is being identified. If the phone number matches an entry in the Call Block list, the phone disconnects the call without a further ring.
Shared Phonebook: All handsets registered to the base unit can use the unit's phonebook. Up to 100 names and phone numbers can be stored in the base unit's phonebook. You can enter names up to 16 characters, and phone numbers up to 24 digits. A pause can be entered in the phone number if required for dialing. Each pause is stored as one digit and the pause is approximately 3.5 seconds. The directory names are sorted alphabetically.
Speed Dial: You can assign one phone number, up to 24 digits, to each of the dial keys (1-9) on each handset. For each phone number, you can attach a name of up to 16 characters. To view a speed dial number on the display, press and hold the speed dial key. To call the number, press and hold the speed dial key, then press the talk key.
Chain Dial: You can dial a number from the handset while on a call using Chain Dial. This can be used to dial a calling card access number, dial a PIN number, etc. without having to dial it manually.
Redial List: You can review a list of the last five numbers dialed, then call any of those numbers. Each redial list entry can have a maximum of 48 digits.
Mute: This system features a Mute soft key that appears on the base and cordless handset during a call. If you wish to temporarily mute the conversation, you can mute the handset so the other party cannot hear you, but you can still hear them.
Hold: While on an outside call, you can place the caller on Hold. The base unit has a dedicated Hold button, while the Hold feature is found in the handset menu.
Handset Locator: This feature allows you to locate a handset by paging it from the base unit. All registered handsets are paged simultaneously.
Intercom: This feature lets you set-up a 2-way conversation between the base unit and a registered handset or two registered handsets.
Call Transfer: Calls can be transferred from the base to a handset or from one handset to another registered handset.
Silent Mode: You can select a period of time during which the handset and/or the base unit will not ring for outside calls. Silent Mode can be set for each unit independently.
Privacy Mode: You can prevent users of other handsets from joining your conversations by engaging the Privacy Mode in the Initial Setting menu. To allow other users to join your conversation (call share), you can turn the Privacy Mode off.
Any Key Talk/Auto Talk: The Any Key Talk feature allows you to press any of the numeric keys, the * key, or the # key to answer a call. When the handset is on the charger base, the Auto Talk feature allows you to answer a call by simply picking up the handset. Auto Talk can be turned on/off in the menu.
Volume Controls: You have the ability to adjust volume levels for the handset (4 levels), the handset speakerphone (8 levels), and the base speakerphone (8 levels).
Ringer Options: On the base unit and handset, you can select one of six ringer volume settings or Off. You can choose from five different ringer tones or 10 ringer melodies.
Handset Sound Options: The handset has a noise reduction button that allows you to hear the voice of the person you're talking to clearer by reducing the surrounding noise. In addition, the Handset Equalizer produces a more natural-sounding voice.
Headset Compatible: The handset is equipped with a 2.5mm sub-mini jack for plugging in a compatible Panasonic headset. Compatible headsets include: KX-TCA60, KX-TCA93, KX-TCA400, and KX-TCA430.
Temporary Tone Dialing: If you are using a pulse dialing system, you can temporarily switch to tone dialing to enter numbers for answering services, electronic banking services, company phone directories, etc. When you hang up, the mode switches back to pulse dialing.
Flash Key: If you have the Call Waiting service, you can use the flash key to put the first call on hold, allowing you to answer a second incoming call. You can adjust the length of the flash time if necessary.
Security: A handset cannot operate unless it is registered with the base unit.
Alarm: You can set an alarm to sound for three minutes once or daily at the same time for each handset.
Battery Information: The phone comes with two "AAA" rechargeable Nickel-Metal Hydride (Ni-MH) batteries for each cordless handset. A Ni-MH battery doesn't develop the "memory" effect like many Nickel-Cadmium (Ni-Cad) rechargeable batteries.
Initial Charge Time: 7 hours
Battery Talk Time: up to 10 hours continuous
Battery Standby Time: up to 8 days
Intelligent Eco Mode: The Intelligent Eco Mode feature automatically reduces the power consumption of the handset by suppressing handset transmission power when the handset is close to the base unit. This extends talk time and prolongs battery life.
Power Backup Operation: If a power failure occurs, a charged handset can supply power to the base unit. This allows you to make and receive calls using another handset during a power failure. Some functions, such as caller ID and shared phonebook may not be available when the unit is in Power Backup Mode.
Wall Mounting: The base unit and battery charger for the cordless handset can be placed on a desk or table, or can be wall mounted using the included bracket.
Answering System Features
All-Digital Answering System: The Panasonic KX-TG6842 is equipped with an all-digital answering system for recording, saving, and retrieving your messages. Messages are recorded onto an advanced microchip for quiet operation and easy retrieval.
Total Recording Time: The total time for recording is approximately 18 minutes for all messages (including greeting). A maximum of 64 messages can be recorded. All messages are saved until you delete them. When the memory is full, an indicator on the base unit flashes rapidly, "Messages Full" is shown on the handset display, and, if you use the pre-recorded greeting message, the unit automatically switches to another pre-recorded greeting that asks callers to call again later.
Caller's Recording Time: You can select 1, 2, or 3 minutes for recording incoming messages. Individual messages can be played back and erased from the base unit or the handsets.
Greetings: You can record a personal greeting of up to 2 minutes. The unit also comes with 2 pre-recorded messages; one used when the unit has no available recording time, and one used when a message will be recorded.
Number of Rings: You can set the number of rings before the answering system answers the call. Your choices are 2 to 7 rings, or Toll Saver. When set to Toll Saver, the unit will answer on the second ring when there is at least one new message, or on the fifth ring when there are no new messages. This allows you to save on toll charges for the call by hanging up when you hear the third ring, knowing there are no messages.
Call Screening: You can listen to an incoming message as the caller leaves it using the handset's speaker.
Audible Message Alert: When a new message has been received, the base unit will beep two times every minute until you listen to the message. The Audible Message Alert can be turned on or off in the Menu. In addition to the audible alert, the play button on the base unit will flash, and "New Message" is displayed on the handsets' display.
Alert Call: When activated, the unit will make a called to a pre-stored phone number to inform you that a new message has been received. The Alert Call feature can be turned on or off in the menu, as desired.
Remote Operation: You can operate the Answering System from any touch-tone phone. The system is protected by a three-digit remote code to prevent unauthorized access. You can either use the unit's voice prompts (in English or Spanish) or direct commands by pressing keys. During remote operation, you can perform the following functions:
Playback all messages or playback new messages only
Repeat or skip a message
Play the greeting
Record a new greeting
Erase currently playing message or all messages
Turn the answering system on or off
Voice Mail Services: The KX-TG6842 will integrate with your telephone company's voice mail service to make it easier to retrieve your messages. When you receive a new Voice Mail message, the telephone company sends special tones to alert you that a new message is available. The KX-TG6842 detects these tones, causing the message indicator on the handset to flash slowly, and by displaying "New Voice Mail" in the LCD. You can program your Voice Mail access number (along with your password and any necessary pauses) so you can dial it automatically to retrieve your messages.
Dimensions
Base Unit:
Width: 7.015"
Height: 4.0" (7.125" w/handset)
Depth: 4.438"
Cordless Handset:
Width: 1.865"
Height: 6.589"
Depth: 1.191"
Battery Charger:
Width: 2.851"
Height: 1.681" (7.25" w/handset)
Depth: 2.858"
Our Product Research Team
At Crutchfield, you'll get detailed, accurate information that's hard to find elsewhere. That's because we have our own in-house Product Research team. They verify what's in the box, check the owner's manual, and record dimensions, features and specs. We stay on top of new products and technologies to help people make informed choices.