Why Choose Crutchfield?
Deep discounts on car installation gear
We offer vehicle-specific installation instructions, dash kits, wiring harnesses, and speaker accessories at deeply discounted prices with car stereo and speaker purchases. Available for most vehicles.
Learn more
Trusted since 1974
Our customers have trusted us with their business, and they've helped us win awards for our service.
Check out our most recent awards
Factory-authorized dealer
The manufacturer's warranty always applies.
See more details
Car Show Piranha CS-CR1210-US
Navigation receiver — custom-fit replacement radio for select 2006-up Chrysler/Dodge/Jeep vehicles
Item # 135CCR1210 | MFR # CS-CR1210-US
This item is no longer available.
Overview
Our take on the Car Show Piranha CS-CR1210-US by Crutchfield's Dominic DeVito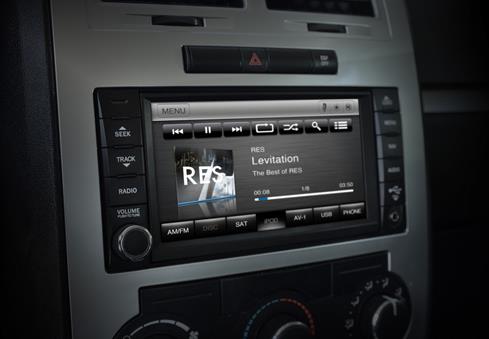 This Car Show multimedia receiver gives your dash a sweet look along with the benefits of navigation and dual USB inputs.
Aftermarket performance with factory fit
Like the look of your factory radio, but wish it could do more? Car Show designed this Piranha Series multimedia receiver to fit perfectly in the dash of select 2006-up Chrysler, Dodge, and Jeep vehicles, giving you touchscreen navigation, DVD movie playback, CD/MP3 playback, and Bluetooth® connectivity. You can rock out to your favorite songs or files on disc, or you can hook up your iPhone® or iPod® for complete control and access to your playlists. You'll have front and rear USB inputs at your disposal, or you can just plug your music player in through the built-in front panel auxiliary input.
Keep your Chrysler factory steering wheel controls
Car Show builds their systems to match up with your Chrysler vehicle's dash opening and wiring. The included wiring harnesses let you install the receiver without having to splice wires or modify your dash, plus you don't need an expensive adapter to keep your door chimes and turn signals. Car Show even includes an adapter that you can wire in to keep your Chrysler's steering wheel audio controls working with your new receiver (wire splicing required).
GPS navigation built right in
Car Show offers iGo Primo navigation software, so you'll always be on the right path. You can navigate to specific addresses or any of the 11 million points of interest in all 50 states — the high-resolution 6.5" touchscreen display shows maps by TeleAtlas of the U.S. in easy-to-read detail, including 3D building and landmark views in many cities. Features like lane guidance and junction view help keep you on the right path during tricky maneuvers in unfamiliar territory.
Bluetooth by Parrot for convenience and safety
This Piranha receiver also features reliable Bluetooth connectivity by Parrot. You can make and take calls without having to touch your compatible phone, so you can keep your hands on the wheel. You'll hear your caller over the car's speakers, while the built-in microphone picks up your voice. For added clarity in noisy vehicles, you can install the included external microphone in a convenient location. You can also stream music from your compatible mobile device to the Car Show receiver. Android™ users will even be able to take advantage of the media on their device through the Piranha receiver.
Video center
You can watch DVDs on the 6.5" screen while parked. You can also use the rear audio/video output to add back seat screens — then use the dual zone feature to let your passengers watch movies in back while you listen to music up front. If you've got a rear-view camera on board, hooking it up to this receiver is a great way to keep everyone safe.
Bluetooth note: Use of this receiver's Bluetooth features will depend upon your phone's Bluetooth capabilities. Learn more in our article explaining Bluetooth profiles.
iPod Note: If you're going to use your iPod with this receiver, be sure to check "Details" for specific iPod model compatibility with this receiver or its optional iPod adapter.
Product Highlights:
General features:
DVD/navigation receiver with 6.5" touchscreen and AM/FM tuner
custom-fit receiver designed for select 2003-up Chrysler, Dodge, and Jeep dash openings
internal amplifier (25 watts RMS/50 peak x 4 channels)
built-in Bluetooth by Parrot for hands-free calling and audio streaming (external microphone included)
built-in iPod control
iPhone: Pandora control through USB connection
Navigation features:
built-in memory for navigation with maps of the United States and 11 million points of interest (POI)
2D and 3D views, including landmarks and buildings
voice guidance and text-to-speech directions
lane guidance and junction view
audible speed limit warnings
Audio/video features:
plays CDs, DVDs, and USB memory devices (see Details for full capabilities)
dual-zone operation
3-band parametric EQ with nine preset tone curves
Expandability:
compatible with Rosen's Sirius satellite radio tuner
inputs: front and rear USB inputs, rear-view camera input, front minijack A/V input, rear RCA A/V inputs
outputs: 6-channel preamp outputs (4-volt front, rear, and sub); rear RCA A/V outputs
Other information:
built-in steering wheel controls interface (wire splicing required)
warranty: 1 year
What's in the Box:
In-dash navigation receiver w/ integrated 6.5" touchscreen monitor
Radio/Vehicle interface harness
Preamp outputs harness
AV output/remote harness
AV/camera input harness
16" AV minijack-to-composite video/stereo RCA cable
Microphone with integrated visor-clip (attached 10' cable)
GPS antenna (with attached 16.5' cable terminated by an SMB connector
Self-adhesive magnetic pad
4 Metal brackets
8 Machine screws
Cleaning cloth
Installation Manual
Limited Warranty
Touchscreen Calibration Procedure
Details
Product Research
System Compatibility
Touchscreen Display
Onboard Navigation
Built-in Bluetooth
Disc/USB Playback
iPod/iPhone Integration
Radio Functions
Audio Section
AV Connections
Remote Control
System Compatibility
Overview: The CarShow GPS Navigation & Multimedia In-Dash 2DIN head unit (CS-CR1210-US) offers a factory look for select Chrysler vehicles. The CarShow GPS Navigation & Multimedia In-Dash 2DIN head unit will fit perfectly in the dash without the use of a separate kit and comes supplied with its own installation harness. Current compatible vehicles include (as of 7/18/2013):
Make
Model
Year
Chrysler
200
2011-2013
Sebring
2007-2010
Town & Country
2011-2013
Dodge
Avenger
2011-2013
Caliber
2011-2012
Challenger
2011-2013
Charger
2006-2010
Durango
2011-2013
Grand Caravan
2011-2013
Ram 1500/2500/3500
2011-2012
Jeep
Compass
2011-2012
Grand Cherokee
2011-2013
Patriot
2011-2013
Wranger Sport
2009-2013
Wrangler Unlimited
2011-2013
Note: Does not support Premium Audio systems. Factory overhead video requires optional PAC CHYRVD harness (541CHYRVD, sold separately). As always, please consult Crutchfield's Outfit My Car to verify compatibility with your vehicle.
Touchscreen Display
High-Resolution Touchscreen LCD Display: The CarShow navigation/multimedia head unit features a 6.5" high-resolution (800 x 480) touchscreen LCD monitor. The unit's touchscreen panel features interactive controls making menu navigation easy. The unit's 6.5" touchscreen is fixed and not detachable.
Monitor Adjustments: The CarShow navigation/multimedia receiver offers the following touchscreen monitor adjustments.
Wallpaper Backgrounds: The unit includes 9 preset wallpaper backgrounds. You can choose from Warp, Water, Aluminum, Carbon, City, Fire, Red Rock, or Space.
Highlight Color: You can adjust the highlight color of the unit's touchscreen buttons to White, Gold, Green, Red, Blue, or Aqua.
Auto Dimmer: The receiver's display automatically dims to a preset brightness when the vehicle's headlights are turned on. The wiring harness includes an orange lead that should be connected to the vehicle's parking light circuit in order for the dimmer feature to operate.
Hard-Keys: In addition to the touchscreen controls, the unit includes frequently used buttons along the left & right edges of the screen, plus a 3-way rotary knob on the left side.
Start Up Time: The CarShow GPS navigation/multimedia in-dash head unit (CS-CR1210-US) has a start up time of approximately 20 seconds from Off to an audio/video source screen; and another 65 seconds to the map screen for a total start up time of approximately 1 minute 25 seconds from Off to the navigation map screen.
Parking Brake Detection: The Multimedia Navigation head unit contains a built-in DVD player and integrated LCD monitor, which is not intended for viewing while driving. The unit's video player is disabled when the vehicle is in motion through a connection to your vehicle's parking brake.
Onboard Navigation
Navigation Mapping Software: The integrated map database (by TeleAtlas) used by the CarShow CS-CR1210-US was created using high-resolution aerial and land based data collection. Navigation data is stored on the unit's built-in flash memory for quick access and response. The head unit provides map coverage of the entire United States (all 50 states). The unit's integrated iGo Primo navigation software provides turn-by-turn visual and voice assistance to direct you to your selected destination. The built-in software quickly calculates step-by-step directions to any destination available on the included navigation map.
Note: Car navigation maps are frequently updated. While this database was judged to be as accurate as possible at the time of its release, a map database can never be 100% accurate. Road information that is maintained in the map databases, such as turn restrictions or road names may change over time.
Map Updates: It is easy to keep the navigation system up to date. Simply download new map data from naviextras.com onto a USB thumbdrive and upload it to the head unit via its front- or rear-panel USB port.
GPS (Global Position System): The unit's built-in navigation helps you find your way to your destination with an integrated GPS receiver & external GPS antenna. The CarShow CS-CR1210-US features a built-in SiRFprima GPS receiver and includes an external magnetic GPS antenna. The head unit uses Global Position System (GPS) satellites, and a digital roadway map database to calculate and display vehicle positioning and travel direction. The unit considers vehicle speed and heading changes, together with longitude and latitude information, to accurately determine vehicle heading and position on a digital map. Signal from GPS satellites are used to determine the vehicle location. Three (good) or four (best) satellites must be receive to accurately determine location.
Note: This unit does not transmit your GPS position, so others cannot track you.
On-Screen Map: The unit's on-screen map shows your vehicle's current position (a red arrow by default), the recommended route (an orange line), the surrounding map area, and your destination as a checkered flag. The on-screen map shows streets, roads, and highways in a way that is similar to how a paper road map show them. A road's width and colors corresponds to their importance, so you can easily tell a freeway from a small street. When navigating a route, the top section of the map screen shows information about your next route maneuver and the next street or the next city/town. When approaching a turn, the map screen will zoom in and raise the view angle to let you easily recognize your maneuver at the next junction. If the next turn is at a distance, it will zoom out and lower the view angle to be flat so you can see the road in front of you. The map also displays data; such as the posted speed limit, your current speed, current time, distance to your destination, time left before you reach your destination, and your arrival time.
2D/3D Map Mode: The navigation head unit allows you to view its on-screen map in a 2D (two-dimensional) or 3D (three-dimensional) view. Similar to paper road maps, the 2D mode, shows you streets, roads, and elevation by color. In 3D mode, you can see the altitude and elevations differences. You can distinguish between valleys, mountains, and elevated roads. In selected cities 3D landmarks and 3D buildings are also displayed.
Color Mode: The navigation map screen uses different color themes (Day/Night) during the day and during the night for both the map and the menu screen. Daytime colors are similar to paper road maps, and the menus are bright. The night color themes use dark colors for large objects to keep the average brightness of the screen low. You can also set the navigation unit to switch between daytime and night color modes automatically based on the current time and GPS position.
Lane Information & Signposts: The unit's navigation map offers helpful lane information & signpost guidance.
Lane Information: When navigation on multilane roads, it is important to take the appropriate lane in order to follow the recommended route. If lane information is available in the map data, the map screen will display the lanes and their directions using small arrows at the bottom of the map. High lighted arrows represent the lanes you need to take.
Signposts: Where additional information is available, signposts substitute arrows. Signposts are displayed at the top of the map. The color and style of the signposts are similar to the real ones you can see above the road or by the roadside, They show the available destinations and the number of the road the lane leads to.
Junction View: If you are approaching a freeway exit or a complex intersection and the needed information exists, the map is replaced with a 3D view of the junction. The lanes you need to take are displayed with arrows. Signposts can also be present, if information is available.
Exit Services: While navigation a route, you can find gas, food, lodging, and restrooms near upcoming exits. Services are listed under the following categories - Gas, Food, Lodging, and Restrooms. You must be on a major highway or road to use this feature.
Tunnel View: When entering a tunnel, the map is replaced with a generic tunnel image so that surface roads and buildings cannot distract you.
Audible Alerts: The CS-CR1210-US offers various audible alerts and functions to help you get to your destination safely.
Voice Guidance (Text-to-Speech): In addition to graphic directions, the receiver provides voice guidance and turn-by-turn directions. You can select from English, Spanish, Korean, Japanese, and Chinese audible languages. The volume of the voice prompts can be increased with increases in speed to overcome road noise. Voice guidance can be turned off if you prefer.
Safety Alert: This function can warn you when you approach road safety cameras, school zones, or railroad crossings (if available). You can also add your own alert points. Beeps or the spoken type of alert will be heard when you are approaching of these points.
Speed Limit Warning: Some maps may contain information about the speed limits of certain road segments. The head unit provides an audible warning if you exceed the recommended speed limit.
Where Am I?: This screen contains information about the current position (or approximately the last known position if GPS reception is not available) and a button to search for POIs nearby.
Find Menu: The Find Menu gives you many different ways to choose your destination or insert a waypoint in your current route. An on-screen keyboard appears to allow you to enter your destination from one of the following categories:
| | |
| --- | --- |
| Destination Search | Description |
| Find on Map | Search for a destination by scrolling the map display. |
| Find Address | Enter a full address or part of an address, or two intersecting streets. |
| Find Places | Search for over 11,000,000 points-of-interest (POIs) by name or category; search near your current location, in a specific city, along your current route, or near your destination. |
| Favorites | Store your favorite locations for easy recall. |
| History | Destinations that you have set previously. |
| Coordinates | Enter geographic coordinates (latitude & longitude). |
Route Calculation: The built-in navigation system calculates the route base on your preferences. You can choose from the following:
Route Method: You can choose which route method (Fastest, Shortest, Green, or Easy) the navigation unit should use when calculating your route.

Fastest: give a quick route, if you can travel at or near the speed limit on all roads. Usually the best section for fast and normal cars
Shortest: gives a route that has the smallest total distance of all possible routes. It can be practical for slow vehicles
Green: gives a quick, but full efficient route based on the fuel consumption data you provide
Easy: results in a route with fewer turns and no difficult maneuvers

Avoidances: You can tell the navigation unit to avoid certain types of roads along your calculated route, such as - Highways, Tolls, Carpool/HOV, Unpaved Roads, and/or Ferries.
Vehicle Profile: You can create a vehicle profile for your car, truck, or SUV. Enter the following parameters for your vehicle - Fuel Consumption (avg. fuel consumption of your vehicle in city and rural areas), Engine Type (engine and fuel type), Fuel Price (avg. fuel price for travel cost calculation), Max Speed (max speed you travel), Weight, and Dimensions (length x width x height).
Trip Logs: Trip logs contain useful information about your trip. Trip logs can be saved manually when you reach your destination or automatically along your route. Trip log data includes - Start/End Time, Avg./Max. Speed, Total/Driving/Stopped Time, Total Distance, and Min./Max. Altitude.
Inserting Via-Points: You can expand your route by inserting via-points (intermediate destinations).
Itinerary: The Itinerary is the list of the route events and driving instructions.
Detour: This screen contains quick detour possibilities during navigation so you can bypass a part of the route.
Automatic Route Recalculation: The unit will automatically recalculate your route if you stray from the navigation unit's previously calculated route.
Built-in Bluetooth
Bluetooth Technology: The CarShow navigation/multimedia head unit is equipped with built-in Bluetooth ver. 2.0 (powered by Parrot), allowing you to make and receive phone calls wirelessly through the receiver; as well as stream music wirelessly from your smartphone to the head unit. In order to use Bluetooth wireless technology, your phone must also be Bluetooth compatible and be able to interpret certain profiles. This unit is compatible with the following Bluetooth Profiles:
Hands-Free Communication: HFP (Hands Free Profile), PBAB (Phone Book Access Profile).
Audio Streaming: A2DP (Advanced Audio Distribution Profile), AVRCP (Audio/Video Remote Control Profile).
Note: Due to the differences in Bluetooth technology, some Bluetooth enabled devices may be incompatible, function improperly, or may not support all features when used with the navigation/multimedia head unit.
Pairing: Before using your Bluetooth enabled device, it must be paired to the in-dash navigation/multimedia head unit. You can register up to five Bluetooth enabled cell-phones with the in-dash head unit (only one paired phone can be used at a time). The CarShow CS-CR1210-US is compatible with most Bluetooth enabled mobile phones, including the Apple iPhone and many Android smartphones.
Integrated/External Microphone: The CarShow navigation/multimedia receiver features an integrated front-panel microphone to carry on your side of a conversation during a Bluetooth phone call. The unit also comes with an external microphone that provides better performance in noisy environments than the integrated microphone. The microphone features a 10' cord that plugs into the back of the radio, and comes with an adjustable visor-mount clip. You can adjust the microphone gain.
Hands-Free Communication: The unit supports Bluetooth hands-free communication from your Bluetooth enabled mobile phone. The head unit can be set to automatically answer your incoming calls and mute any music audio to your vehicle's speakers so you can instantly carry on a phone conversation hands-free. An integrated front-panel microphone carries on your side of the conversation while your car's speakers are used to hear the other person. You can make a call by entering the phone number, selecting a contact from your Phonebook list, or using the Call History Log of received/dialed/missed calls.
Answering A Call: During an incoming call, the caller's phone number will be seen on the unit's LCD and a ring-tone will be heard through your car stereo speakers. You can then manually answer the incoming call from the head unit's front-panel controls. You can also set the unit to automatically answer an incoming call within 5 seconds.
Making A Call: You can make a call using the in-dash head unit's front-panel controls.

Direct Dial: Outgoing calls can be made be entering telephone numbers (0-9, *, #, +) directly via the head unit's touchscreen.
Phonebook: You can search for contact names in your mobile phone's phonebook from the head unit and then make your call (you can search contact names alphabetically).
Favorites: You can save up to 5 numbers as your Favorites for faster dialing.
Call List: You can also make a call by searching your mobile phone's call history (Received/Dialed/Missed) from the in-dash navigation/multimedia receiver.
Wireless Audio Streaming: The The CarShow navigation/multimedia receiver also supports wireless audio playback (AD2P) and control (AVRCP) of a Bluetooth enabled audio player or smartphone. The head unit will be able to control basic playback functions of your Bluetooth device's stored music; such as Play/Pause, Skip Next/Previous, Fast Forward/Rewind and Random/Repeat. The head unit will also display your stored music's song information; such as Artist name and Song/Album title. The receiver also supports audio streaming of music apps downloaded on your smartphone with metadata display and limited control. Advanced music control of your music apps will still need be done via your Bluetooth-enabled smartphone. When an incoming call or outgoing call is in progress from your Bluetooth enabled mobile phone, audio streaming will be paused so you can take your call. Once the call is finished, your streaming music will resume.
Disc/USB Playback
Disc Compatibility: The CarShow navigation/multimedia head unit has a front-loading disc-slot to make loading your disc easier, because there is no panel to slide or fold-down. The receiver supports playback of DVD-Video, DVD+R, DVD+RW, DVD-R, DVD-RW, CD-Audio, CD-Text, CD-R, and CD-RW discs.
Dual USB Ports: The unit is fitted with a front- and rear-panel USB (type-A) port which allows you to connect a USB Mass Storage Class (MSC) compliant device; such as your Android smartphone, portable digital audio player, or USB thumbdrive. USB portable audio players that can be charged via USB will be charged when plugged into the receiver's USB port (0.5A) and the vehicle's ignition switch is set to ACC or On.
Compressed Media Playback: The head unit supports compressed music, video, and photo file playback from disc or USB. Files recorded on disc must be in ISO 9660 Level 1 or 2 format, while files stored on a USB device must be formatted in FAT 12/16/32. The head unit can recognize up to 512 folders and 255 files per folder.
Music Files: This unit can play MP3 (16-320kbps; 8-48kHz)/WMA (32-192kbps; 32-48kHz) music files recorded on DVD+R, DVD+RW, DVD-R, DVD-RW, CD-R, and CD-RW discs; as well as stored on a USB mass storage class device.
Video Files: The unit also supports playback of video files (MP4, 3GP, AVI) recorded on DVD-R/RW and DVD+R/RW discs, as well as stored on a USB mass storage class device.
Photo Files: In addition, the unit supports playback of still-image files (BMP, JPG, JPEG, GIF, PNG, TIF, TIFF) recorded on DVD-R/RW and DVD+R/RW discs; as well as stored on a USB memory device.
ID3/WMA Tags: The head unit also supports ID3/WMA Tags which will display the title, artist, and album information when recorded on the disc or USB device.
Playback Operations: The unit offers the following playback operations:
Track List: This function allows you to select audio tracks from a displayed list of tracks on a disc or within in a folder.
Direct Search: You can locate the beginning of a movie scene using the time, chapter numbers, or title numbers recorded on a DVD video disc. You can also select a specific track on a music disc.
Skip Search: Chapters or Tracks are skipped down or up from the current location, as many times as the key is pressed, and then playback starts.
Fast Forward/Rewind : The unit offers a variable fast forward and rewind function.
Repeat: This operation plays back chapters, titles, or tracks recorded on a disc repeatedly. You can also select A-B repeat in order to repeat a desired passage of video on DVD disc.
Shuffle: This function allows you to randomly playback audio tracks or files recorded on a disc.
Automatic Play: A disc can be inserted at any time in the unit and the system will automatically switch to disc playback.
Last Memory: If you stop playback of a disc, the disc will resume play from where it last left off, as long as you do not eject the disc.
On/Off Eject + Auto Reload: You can insert or eject a disc with the unit powered off. If a disc is left in the ejected position for 15 seconds, the disc is automatically reloaded.
iPod/iPhone Integration
iPod/iPhone AV Playback: The navigation/multimedia head unit supports both audio/video playback from a compatible iPod or iPhone. Using your iPod or iPhone's USB-Dock or USB-Lightning cable you can enjoy audio playback of stored music and music apps on your iPod or iPhone through the receiver's front- or rear-panel USB port. Using the optional PP1013 iPod Video harness (135PP1013, sold separately) you can also enjoy video playback of movies, TV shows, video podcasts, and music videos stored on select iPod/iPhone models with the capability of video output. Video can only be displayed while the vehicle's parking brake is engaged.
iPod Control: The navigation/multimedia head unit allows you to browse your iPod/iPhone's music library by Playlist, Artist, Song, Album, Genre, Composer, Audiobook, or Podcast. You can browse your iPod/iPhone's video content by Movie, Music Video, TV Show, Video Podcast, or Rental. Each category can be searched alphabetically. The head unit also supports Repeat (file/all) playback functions of your connected iPod/iPhone. Most iPod/iPhone device's clickwheel or touchscreen will be locked during connection (Apple devices w/ iOS 6.0+ will stay unlocked).
Information Display: The head unit will display your iPod/iPhone's stored music file information; including Track number, Elapsed playing time, Song title, Artist name, and Album Art.
iPod Charging: The head unit's USB connection provides 0.5A of current to power and charge your connected iPod/iPhone when your vehicle's ignition switch is set to the 'ACC' or 'On' position. If your iPod/iPhone has no initial battery charge, then the unit will not recognize it.
Pandora App: The Pandora App (free) lets you play music from the Pandora music service through the Rosen/CarShow head unit using your connected Apple iPhone, via the connector cable cable supplied with your iPhone. The Rosen/CarShow unit provides control over the Pandora music service and displays Artist, Album, and Song information (plus Album Art). You can select Pandora stations from your station list and also skip song tracks within a station. You can even give songs a thumbs up or thumbs down. To access Pandora you must have an Apple iPhone (iOS3 or later) with the latest version of the Pandora application from Apple's iTunes App Store. Your iPhone will need an active Data Plan account with connection to the Internet via 3G, EDGE, or WiFi. You will also need a Pandora music service account.
Note: Access to the Pandora service will depend on the availability of a cellular and/or WiFi network for purposes of allowing your iPhone to connect to the Internet. Pandora is not supported in Canada and only available in the United States.
iPod/iPhone Compatibility Chart: The CarShow CS-CR1210-US is "Made for iPod/iPhone" compatible and supports the following iPod/iPhone model features (as of 7/18/2013):
iPod/iPhone
Generation
Tested Version
Media Type
Control Type
Display Type
Bluetooth
Charge
Audio
Video
Head Unit
iPod/iPhone
Pandora App
Album Art
Song/Artist Text
Track Info
Phone
Audio
iPhone
2G
3.1.3
Y
Y
Y
N
Y
Y
Y
Y
Y
N
Y
3G
4.2.1
Y
Y
Y
N
Y
Y
Y
Y
Y
Y
Y
3GS
5.1.1
Y
Y
Y
N
Y
Y
Y
Y
Y
Y
Y
4
6.1.3
Y
Y
Y
Y
Y
Y
Y
Y
Y
Y
Y
4S
6.1.3
Y
Y
Y
Y
Y
Y
Y
Y
Y
Y
Y
5
6.1.4
Y
N
Y
Y
Y
Y
Y
Y
Y
Y
Y
touch
1st
2.2.1
Y
Y
Y
N
N
Y
Y
Y
N
N
Y
2nd
4.2.1
Y
Y
Y
N
N
Y
Y
Y
N
Y
Y
3rd
5.1.1
Y
Y
Y
N
N
Y
Y
Y
N
Y
Y
4th
6.1.3
Y
Y
Y
Y
N
Y
Y
Y
N
Y
Y
5th
6.1.3
Y
N
Y
Y
N
Y
Y
Y
N
Y
Y
nano
1st
1.3.1
Y
N
Y
N
N
Y
Y
Y
N
N
Y
2nd
1.1.3
Y
N
Y
N
N
Y
Y
Y
N
N
Y
3rd
1.1.3
Y
N
Y
N
N
Y
Y
Y
N
N
Y
4th
1.0.4
Y
N
Y
N
N
Y
Y
Y
N
N
Y
5th
1.0.2
Y
N
Y
N
N
Y
Y
Y
N
N
Y
6th
1.2 PC
Y
N
Y
N
N
Y
Y
Y
N
N
Y
7th
1.02 PC
Y
N
Y
N
N
Y
Y
Y
N
Y
Y
classic
80GB
1.1.2
Y
Y
Y
N
N
Y
Y
Y
N
N
Y
120GB
2.0.1
Y
Y
Y
N
N
Y
Y
Y
N
N
Y
160GB
2.0.4
Y
Y
Y
N
N
Y
Y
Y
N
N
Y
video
5th
1.3
Y
Y
Y
N
N
Y
Y
Y
Y
Y
Y
iPad
1
5.1.1
Y
Y
Y
N
Y
Y
Y
Y
N
Y
N
2
6.1.3
Y
Y
Y
Y
Y
Y
Y
Y
N
Y
N
3
6.1.3
Y
Y
Y
Y
Y
Y
Y
Y
N
Y
N
4
6.1.3
Y
Y
Y
Y
Y
Y
Y
Y
N
Y
N
mini
6.1.3
Y
Y
Y
Y
Y
Y
Y
Y
N
Y
N
Note: Apple iPod/iPhone software updates may change functionality results. If you download a newer software version, you may need to reset the head unit and your iPod/iPhone to regain functionality. If this doesn't work, you may need to wait until a newer software update is available.
Radio Functions
AM/FM Radio: The navigation/multimedia head unit features a built-in AM/FM tuner with manual, seek, scan, and preset tuning.
Station Presets: The unit offers 18 FM station presets (6 stations each for FM1/FM2/FM3) and 6 AM station presets. Station presets can be manually entered or automatically scanned.
Radio Data System (RDS): The unit's tuner features RDS (Radio Data System). RDS is a service used by some radio stations to transmit data outside of normal radio broadcast signals. When an RDS station is received, you can immediately find out what kind of data is being transmitted by looking at the program service name which appears in the display after the frequency. RDS features an emergency transmission function which interrupts regular programming to broadcast an emergency announcement (such as a tornado or severe storm). There is also a switchable Traffic Information function, which will automatically tune a traffic bulletin when it is broadcast, even when you're not listening to the radio.
Satellite Radio Ready: You can add the Rosen/CarShow Sirius Satellite Radio Kit (135PPSATKT, sold separately). The Sirius Satellite Radio Kit (PP-SATKIT) includes a Sirius Satellite Radio adapter interface cable (PP1010) and the SiriusConnect SC-C1 Universal Vehicle Tuner (SC-C1).
Audio Section
MOSFET Amplifier: The CarShow navigation/multimedia head unit is equipped with a MOSFET amplifier. Compared to conventional power supplies, the MOSFET amplification circuit is smaller and more efficient, and it delivers increased power with less distortion and absolutely zero on/off switching noise. More power means louder and cleaner music at higher volumes because you're not pushing the limits of the amplification circuit. The power output specs for the CS-CR1210-US are as follows:
Full Bandwidth Power: 25 watts RMS x 4 channels (at 4 ohms, 20-20kHz, 1% THD)
Maximum Output Power: 50 watts x 4 channels (200 total watts)
6ch/4V Preamp Outputs: The CS-CR1210-US features front, rear, and subwoofer 4.0-volt preamp outputs. The front and rear speaker preamp outputs are balance and fade adjustable. The subwoofer preamp output is non-fading.
Subwoofer Controls: The navigation/multimedia receiver features a built-in Low Pass Filter control for the subwoofer preamp-output. You can select from 55Hz, 85Hz, 120Hz, or Bypass (off). You can independently control the subwoofer preamp output level (+/-7dB) from the head unit.
3-Band EQ w/ Preset Modes: The CarShow navigation/multimedia head unit features nine Preset EQ modes (Flat, Jazz, Pop, Classical, Rock, New, Rave, Movie, Techno) and one User customized EQ mode. The User customize EQ mode allows you to adjust the head unit's bass (50/100/200Hz), midrange (0.5/1.0/2.0kHz), and treble (5/10/15khz) manually (+/-10dB).
Loudness: This function enhances low & high frequencies to make the sound clearer lower volumes.
Source Volume: The level (0-11) of each source (Tuner, Disc, USB/iPod/AV input) may be independently adjusted to prevent radical leaps in output volume when switching from one source to another.
Start-Up Volume: The head unit's start-up volume can be set to 0-40, or Last (volume level when you turned unit off).
Key Beep: The in-dash navigation/multimedia head unit provides an audible beep to confirm button operation. This function can be turned On or Off.
AV Connections
Dual AV Inputs: The CarShow navigation/multimedia head unit is equipped with AV input terminals on the front and rear of the unit to enable enjoyment of content from an external connected source. The rear composite video/stereo RCA inputs are ideal for permanent installations, while the front AV mini-jack (3.5mm) input will come in handy for quick connection of a portable audio/visual source.
Audio/Video Output (with Dual Zone): The navigation/multimedia receiver features a rear-panel composite video/stereo RCA audio output that allows you to connect an external display and headphone system in the rear of your vehicle. You can playback audio/video content from Disc, iPod/iPhone, or AV 1/2 Input on a rear-seat monitor system; while viewing a different audio/video source on the navigation-multimedia head unit.
Camera Input: The Camera Input consists of a Composite video RCA jack for connecting an optional rear-view back-up camera. This RCA input enables you to connect a rear-view camera to display the area behind your vehicle. The increased view encourages and facilitates safer driving. When an optional rearview camera is connected to this unit, the rear view image is displayed on the screen when your vehicle is placed in reverse gear (green/white wire of harness must be connected to reverse light wire of vehicle). Automatic video switching takes approximately 1.1 seconds. Audio from your music source will continue playing, while the back-up camera is displayed.
Note: The CarShow CS-CR1210-US will also retain the vehicle's factory rear-view camera, if equipped.
Remote Control
OEM Steering Wheel Controls: The CarShow Navigation & Multimedia head unit can be set up through its menu system to retain your factory steering wheel controls (using the factory steering wheel controls does require splicing into factory wires at the radio location, and possibly elsewhere; there is no plug in adapter available for this function). As always, please consult Crutchfield's Outfit My Car to verify compatibility with your vehicle.
Optional IR Remote: You can add on the PP-UN1170-5 remote control (135UN11705, sold separately) for wireless operation of the navigation/multimedia head unit.
Our Product Research Team
At Crutchfield, you'll get detailed, accurate information that's hard to find elsewhere. That's because we have our own in-house Product Research team. They verify what's in the box, check the owner's manual, and record dimensions, features and specs. We stay on top of new products and technologies to help people make informed choices.