Why Choose Crutchfield?
Deep discounts on car installation gear
We offer vehicle-specific installation instructions, dash kits, wiring harnesses, and speaker accessories at deeply discounted prices with car stereo and speaker purchases. Available for most vehicles.
Learn more
Trusted since 1974
Our customers have trusted us with their business, and they've helped us win awards for our service.
Check out our most recent awards
Factory-authorized dealer
The manufacturer's warranty always applies.
See more details
JL Audio HD Series HD600/4
4-channel amplifier
150 watts RMS x 4
Item # 136HD6004 | MFR # 98221
In Stock

Our VirginiaVA-based experts can help.
Overview
Small amps, big power
JL Audio's HD Series amplifiers offer high performance from an ultra-compact chassis. These Class D amplifiers use less power, take up less space, and generate less heat than traditional amp designs — you can even stack them up to create a sweet-looking installation.

---
JL Audio technology goes to work for you
HD Series amplifiers reproduce your music with exceptional accuracy, so you'll hear high-fidelity sound even under the most demanding conditions. JL Audio uses Single Cycle Control™ technology to eliminate the excessive signal distortion that's plagued Class D amplifiers in the past. Differential-balanced inputs eliminate noise before it hits the preamp stage, and allow you to connect the amp to just about any in-dash stereo. You'll hear clear, true, studio-quality audio, exactly what you expect from JL Audio.
4 channels of reliable power
The 4-channel HD600/4 amplifier pushes 150 watts RMS per channel to your speakers or subs, from a 2" tall chassis that's about the size of a sheet of computer paper. The regulated power supply allows this amp to deliver its rated power to a wide range of impedances, even when voltage levels drop during heavy use. Removable power and speaker plugs make it easy to pop this amp out if you need the space in your cargo area.
---
Some extra touches
You can use JL Audio's optional stack kit to mount one HD Series amp on top of another, so you can maximum power from minimum space. JL's wired remote allows you to control your HD amp's volume from your front seat.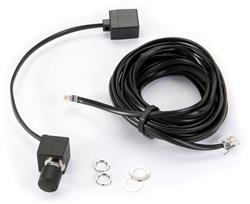 I've been using this for a year and love it. I run a JL stealthbox and a three way focal set with it. It's silent where it should be and extremely loud where it should be. Very happy.

Rob, Omaha, NE
What's in the Box:
Four-channel class-D full-range amplifier
Power/Ground/Turn-On plug
2 Speaker connection plugs
4 Mounting brackets
2mm Allen-wrench
2.5mm Allen-wrench
3mm Allen-wrench
3.5mm Allen-wrench
4mm Allen-wrench
5mm Allen-wrench
4 Mounting bolts
Owner's Manual
Product Highlights:
4-channel subwoofer amplifer
150 watts RMS x 4 (rated power from 1.5 to 4 ohms)
300 watts RMS x 2 bridged (rated power from 3 to 8 ohms)
variable high- and low-pass filter (50-500 Hz 12 or 24dB/octave)
subsonic filter and output polarity control
removable power and speaker plugs
optional wired remote for level control
Class D amplifier design
MOSFET power and output stages
differential-balanced inputs eliminate noise from your vehicle's electrical system
speaker- and preamp-level inputs (speaker-level input requires an optional adapter)
preamp outputs
4-gauge power and ground leads and a 50-amp fuse recommended — wiring and hardware not included with amplifier
no onboard fuses — when installing multiple amps in a system, an additional 50-amp in-line fuse between the distribution block and the amplifier is recommended
10-13/16"W x 2"H x 8-7/8"D
warranty: 2 years
Reviews
JL Audio HD Series HD600/4 Reviews
Average Customer Review(s):


Submit a review and then enter to win a $350 rewards card
Review this product
Thanks for submitting your review
Most reviews are processed and published within 5 business days. You will receive a confirmation email once your review has been published.
Customer photos
---
Details
Product Research
Features
Four-Channel Full-Range Amplifier: The JL Audio HD600/4 is a Class D four-channel, full-range amplifier that is rated at 150 Watts RMS x 4-channel in 1.5 to 4-ohm at 20 to 20kHz with a signal-to-noise-ratio of 110 dB and a total harmonic distortion of 0.03% while receiving 11 to14.5 Volts. The amplifier can also be bridged to output 300 Watts RMS x 2-channel in 3 to 8-ohms.
High-Fidelity Class D (HD) With Single-Cycle Control: The JL Audio HD600/4 utilizes patented Single Cycle Control Class D technology for all channels. This technology delivers reference-grade sonic performance while requiring far less current from the vehicle's electrical systems than a conventional amplifier. Single Cycle Control is a unique approach to controlling a full-range Class D amplifier. By tracking the audio signal, comparing it to the real PWM waveform and then correcting it in each and every cycle (over 400,000 times per second), a multitude of distortion-causing mechanisms can be tightly controlled to enable pristine amplification. While there are certainly less expensive ways to make a full-range switching amplifier, no other Class D control system works faster or more accurately than Single Cycle Control.
Compact/Efficient Design: The JL Audio Class D amplifier on average is 13% smaller overall and over 1/2-inch shorter in height than most class AB amplifiers. The HD600/4 features outstanding overall efficiency (80% at 1/2 rated power) which allows for huge power from a tiny chassis and is easy on your vehicle's charging system, drawing 60% less current than a class AB design of equal power.
R.I.P.S. (Regulated, Intelligent Power Supply): R.I.P.S. stands for "Regulated, Intelligent Power Supply" and is a central feature of the JL Audio's JL Audio HD amplifier. The JL Audio R.I.P.S. System ensures consistent power delivery over a wide range of battery voltages and load impedances. This technology provides optimum power at any impedance level between 1.5 ohm to 4 ohm per channel and at any vehicle voltage level between 11V and 14.5V.
Regulated Power Supply: "Regulated" means that the power supply adjusts its operation so as to maintain the amplifier's rated power output and low distortion operation over a wide range of vehicle voltages (11V-14.5 V). This allows the JL Audio JL Audio HD amplifier's the rail voltage and clean power output to remain stable in real-world car-audio systems, resulting in superior fidelity and stability.
Intelligent Power Supply: The "Intelligent" portion of the R.I.P.S. System is a circuit that actually monitors output current to optimize the amplifier's output power over a wide range of load impedances (1.5 ohm to 4 ohm per channel). The R.I.P.S. System detects the actual impedance being driven and adjusts output rail voltages to deliver optimum output. The entire process is seamless, automatic, and results in incredible dynamics for satellite channels and consistent power output for a wide range of subwoofer configurations. It also takes into account the real impedance of your car-audio system, rather than relying on often inaccurate assumptions based on a speaker's rated impedance.
RealSink Heat Management With Rollback Protection: This JL Audio amplifier employ and advanced type of heat management, called RealSink. This features takes advantage of convection and radiation effects to remove heat from the amplifier circuitry. For optimum cool performance, the vertical heat sinks located at the sides of the amplifier should be exposed to as large a volume of air as possible. If a JL Audio HD amplifier should ever reach an unsafe temperature, its unique Advanced Rollback Protection circuit also adjusts power until the amplifier cools down, without ever shutting your music down.
Differential-Balanced Inputs: The JL Audio amplifier features differential-balanced input architecture to effectively control noise and ensure compatibility with a wide variety of source units, including many OEM systems. Without resorting to line output converters, you can directly connect most OEM source units to the JL Audio amplifier without creating any noise or compatibility issues. Unlike conventional single-ended inputs, the differential-balanced design does not connect one side of the audio signal to chassis ground. This eliminates any voltage sensitivity between one input terminal and ground and greatly reduces the incidence of alternator whine in a typical car audio installation. The JL Audio HD amplifier provides range switching on each of its inputs via the "Input Voltage" switch. This permits connection to a wide range of source voltages while retaining excellent sensitivity setting precision.
Note: You will need two speaker wire to RCA adaptors (136XDCLR2S, sold separately) to connect this amplifier to your headunit via speaker-level.
Protection Circuitry With Status Indicator Lights: There is a single multi-color LED on the control panel of the amplifier to indicate the amplifier's operating status.
Flashing Green: When the LED is flashing green, the amplifier is powering up and audio output is muted.
Constant Green: This LED lights green to indicate that the amplifier is turned on and operating normally.
Constant Red: This Red LED lights to indicate that the amplifier has exceeded its safe operating temperature, putting the amplifier into a shelf-protection mode, which reduces the power output of the amplifier. The red light will shut off and the amplifier will return to normal, full-power operating mode if the heat sink temperature drops back to a safe level.
Constant Yellow: This amber LED lights to indicate that the impedance of the speaker load connected to the amplifier is lower than the optimum impedance load range for the amplifier. When this light is on, a protection circuit engages and reduces the power output of the amplifier. The amber indicator will also light when a short-circuit is detected in the speaker wiring.
Alternating Red/Green: The LED alternated between Red and Green to indicate that the amplifier is experiencing a fault that may require service of the amplifier, its wiring, or the vehicle's operating system. Audio is muted when this fault occurs.
Note: There is only one condition that will shut down the HD600/4 completely and that is if the battery voltage of your vehicle drops below 10 volts.
Mounting Options: The HD600/4 has two mounting option to choose from during installation.
Standard Mounting: The standard method of mounting requires removal of the four corner caps with the 3/16-nch he-wrench included with the amplifier. Using the appropriate mounting screws (not included), you can then secure the amplifier in all four corners and replace the corner caps.
Lateral Mounting Feet: Lateral Mounting Feet are also included with the HD600/4 to provide an alternative mounting option. Each mounting foot should be attached to the bottom of the amplifier by screwing the provided bolts into the bottom of the amplifier and up into the corner cap with the supplied 1/8-inch hex-wrench. Then, using the appropriate mounting screws (not included), you can secure the amplifier by its four lateral mounting feet.
Controls
Control Panel Cover: The HD600/4 features a Control Panel Security Cover which protects and hides the amplifier's controls. When installed, the cover ensures that the amplifier's settings are not accidentally changed while creating a clean aesthetic look for the amplifier and your installation. The control panel security cover is pre-installed at the factory and must be temporarily removed for access the amplifier's controls. The security cover is secured by a single 2.5mm hex-head screw.
Simplified Gain Setting: The amplifier's R.I.P.S. feature also allows for easy gain setup. Because the amplifier will always deliver the same amount of power within its operational range of impedances and supply voltages, the maximum, unclipped output is very predictable. This makes setting the gain level of the amplifier via the input sensitivity control very simple. All you need is Digital AC Voltmeter (142TK12V, sold separately) and a Test CD Disc (503CD104, sold separately) with a sine-wave test-tone recorded at 0 dB reference level in the frequency range to be amplified for that set of channels (50 Hz for subwoofer channels, 1 kHz for a midrange application).
Flexible Input Section And Active Crossover Network: The JL Audio HD amplifier provides a flexible input section and a comprehensive crossover network to fine tune your system effectively and accurately. The variable filter design employed in the JL Audio HD amplifier crossover sections allow you to seamlessly switch slopes, easily change filter frequencies and address what frequencies the preamp outputs will pass. The HD600/4 offers the following independent crossover adjustments for the front and rear channels along the unit's front panel, behind a removal cover plate.
Input Mode: This switch allows operation of all four amplifier channels with only one pair of input signals (2-CH Input Mode) or with independent front and rear input signal pairs (4-CH Input Mode). You will only need to connect the front RCA inputs when placing the amplifier in 2-CH input mode.
Filter Mode: The amplifier features a Full-Range, variable Low-Pass or variable High-Pass filter mode for the amplifier's preamp input section.
Switchable Slope on all filters:12dB/octave Butterworth or 24dB/octave Linkwitz-Riley alignments allowing for more precise integration of subwoofer and speaker channels.
Variable Frequency: Fully-variable frequency selection from 50-500 Hz for high-pass or low-pass crossovers.
Connections
Power/Ground/Turn-On Plug: The amplifier features a Power/Ground/Turn-On plug which detaches from the amplifier to make connecting your power, ground, and remote turn-on lead wires more convenient. Once your connections are made the Power/Ground/Turn-On connector simply plugs into the amplifier.
Power and Ground: The JL Audio amplifier's set-screw Power and Ground connections found on the detachable Power/Ground/Turn-on plug are designed to accept 8 to 4 AWG power wire. A 4mm hex-wrench is supplied for making connections.
Remote Turn-On: The JL Audio HD amplifier's set-screw turn-on lead found on the Power/Ground/Turn-on plug will accept 18 to 8 AWG wire. A 2.5mm hex-wrench is supplied for making connection.
Note: The Amplifier is not equipped with a fuse. An external 50-amp AFS, AGU, or MAXI fuse (not included) must be installed on the power wire. If a wiring kit is used which includes a fuse with a value other than 50-amps, the original should be replaced with a 50-amp fuse
Speaker Output Plugs: The amplifier features two Speaker Output plugs which detach from the amplifier for easier speaker wire connection. Once your speaker wires are connected to these plugs, they simply push into the amplifier. Each Speaker Output plug features four set-screw terminals. The HD600/4 amplifier's eight set-screw speaker terminals found on the Speaker Output plugs will accept 16 to 8 AWG speaker wire. A 2.0mm hex-wrench is supplied for making connections.
Preamp Inputs: The amplifier features two sets of differential-balanced RCA jack inputs. The amplifier features a dedicated Input Sensitivity gain control for the front and rear channels of the amplifier. These controls are designed to match the input sensitivity of the HD600/4 to the specific signal source that is feeding it. The amplifier's input level can be set independently for the front and rear channels to Low (200mV-2V RMS) when connecting the amplifier to a low-level preamp signal or set to High (800mV-8V RMS) when connecting the amplifier to a high-level speaker signal.
Preamp Outputs: The HD600/4 incorporates a pass-through preamp output sections, so that additional amplifiers can easily be connected to the same signal(s) feeding the HD600/4. These preamp output signals are buffered to prevent noise and are always preamp level, regardless of the level of signals feeding the HD600/4's inputs. The amplifier's set of preamp outputs can be configured two different ways.
Front: The preamp output delivers the same signals that is connected to the HD600/4's front RCA inputs. This mode is useful for feeding a subwoofer amplifier when the HD600/4 is being used to drive front and rear speaker system. In this mode, the preamp output level will track with the signal level of the front input signals, allowing you to fade the rear channels in and out, without affecting the subwoofer level.
F+R: This mode delivers a sum of the signals being fed to the front and rear RCA inputs of the amplifier. When the HD600/4 is being used to drive front and rear speaker systems, this preamp output mode will deliver a summed front/rear signal to the subwoofer amplifier, while permitting fading of the front and rear speaker system fro the source unit.
Remote Level Control: The amplifier features a standard telephone connector for adding an optional wired remote level control. With the addition of the optional wired Remote Level Control (136HDRLC, sold separately), you can control the volume of one or both channel pairs of the HD600/4 form the front of your vehicle. This is useful for subwoofer level control or even as a master volume control for your system. If desired, multiple HD amplifiers can be controlled from a single HD-RLC controller using a simple phone line splitter and multiple phone cables (all sold separately).
Note: All inputs and outputs are located on the rear side of the amplifier to make installation of the amplifier simple and neat.
Our Product Research Team
At Crutchfield, you'll get detailed, accurate information that's hard to find elsewhere. That's because we have our own in-house Product Research team. They verify what's in the box, check the owner's manual, and record dimensions, features and specs. We stay on top of new products and technologies to help people make informed choices.
Staff Reviews
Product reviews from the Crutchfield Labs
Harold Jones, winner of Virginia's IASCA Sound Quality Challenge, was kind enough to drop by Crutchfield headquarters to show off his impressive ride.
What are the Labs?
Q & A
Customer Q&A
Crutchfield asked


Why did you buy this?
Great Class D amp. Sounds fantastic, has generous output and I haven't had any problems with it!

[ M Feb 08, 2017 ]
Unbeatable performance

[ CHARLES D Nov 18, 2016 ]
suppose to be the best of the nest

[ Albert Sep 25, 2016 ]
Because I wanted the best of the best. Buy it cheap, buy it twice as they say.

[ Vincent Aug 31, 2016 ]
Past experience with this product. Excellent!

[ Elias Jul 09, 2016 ]
Need more power for my speakers

[ Edward Jun 08, 2016 ]
Reputation for quality, crossover and bi-amp options.

[ Chris Mar 30, 2016 ]