Why Choose Crutchfield?
Deep discounts on car installation gear
We offer vehicle-specific installation instructions, dash kits, wiring harnesses, and speaker accessories at deeply discounted prices with car stereo and speaker purchases. Available for most vehicles.
Learn more
Trusted since 1974
Our customers have trusted us with their business, and they've helped us win awards for our service.
Check out our most recent awards
Factory-authorized dealer
The manufacturer's warranty always applies.
See more details
Garmin nüvi® 3550LM
Portable navigator with free lifetime map updates
Item # 1503550LM | MFR # 010-00921-20
This item is no longer available.
Overview

Conquer the road
Garmin's nüvi 3550LM probably won't make you enjoy your daily commute any more, but maybe it can help you hate it a little less. It's got a compact chassis that can go with you nearly anywhere, plus tons of advanced travel features for long trips or quick errands around town. You'll enjoy superior control, first-rate maps, and lighting-fast routing that'll get you where you need to go quickly. Best of all, it offers up to four map updates per year without any additional costs, which alleviates the stress of unforeseen changes to roads and points of interest.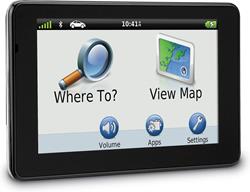 Generous glass 5" display with fingertip control
The nüvi 3550LM offers maps of the entire U.S., plus most of Canada, Mexico, and several Caribbean Islands, plus 8 million points of interest that you can explore. Your fingertips control the action on the 3550LM's smooth-glass display, in a manner similar to your smartphone. You can zoom the map and shift the views with ease if you need a better perspective of where you're going. And the display moves automatically between landscape and portrait orientation, making it ideal for walks in the city.
Advanced Garmin Guidance 3.0
The Garmin Guidance 3.0 feature set is the engine that drives the nüvi 3550LM. You'll see maps load and routes form with uncanny speed, and you can save even more time by finding and selecting businesses right on the map screen. You'll stay focused on the road as text-to-speech voice prompts tell you the actual street names of upcoming turns, while Lane Assist guides you through especially tricky intersections. When you're entering an address or point of interest, the 3550LM uses predictive text to give you more time traveling instead of searching.
Still using a paper map? There's a better way
PhotoReal™ junction views make complicated interchanges a breeze with easy-to-follow realistic representations, including signs. In select instances, the screen will split automatically to give you a photoReal view of the junction so you'll have a clear picture of the next turn. And you'll even see select landmarks and terrain aspects in 3D, which comes in handy behind the wheel but even more so when you're in urban areas on foot.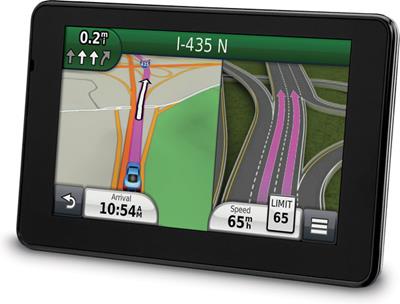 Road-tested and trusted
When you're on the highway, the navigator can give you a quick listing of stopping points nearest the exit ramp to save you from searching. Speed limit displays with visual warnings on major roads remind you to travel safely. You'll also find a photo viewer, "Where Am I?" emergency aid, audiobook player, trip planner, and other legacy Garmin features.
Learns as you go
When you activate Garmin's trafficTrends™ feature, the nüvi 3550LM takes historic traffic data into account when creating routes, so it'll guide you towards paths that are less congested depending on when you're traveling, saving you time and gas. Garmin's myTrends™ feature keeps track of your driving habits and can predict where you're going once you're on your way, then give you an estimated time of arrival.
Product Highlights:
portable GPS navigator
glass display with multi-touch fingertip control
nüMaps Lifetime download card (receive up to 4 map updates per year without additional fees)
suction-cup windshield mount
JPEG picture viewer and audiobook player
powered cradle, car power adapter, mini-USB cable and built-in rechargeable battery with up to 4 hours of life
Navigation features:
5" dual-orientation glass display (800 x 400 pixels)
8 million points of interest (allows custom points of interest)
preloaded with maps for the United States and Puerto Rico, plus most of Canada, Mexico, Virgin Islands, Cayman Islands, and Bahamas
text-to-speech voice prompts announce actual road names at turns
3D landmark and terrain views
myTrends predictive routing
trafficTrends provides routes based on actual historic travel times due to daily traffic
lane assistance and junction view
speed limit indicator
built-in travel kit including world clock, measurement converters, alarm clock, calculator, and more
multi-destination routing: route optimization
transport modes: auto, pedestrian
Expandability:
Other features and specs:
dimensions: 5-7/16"W x 3-7/16"H x 1/2"D
weight: 7.2 oz.
warranty: 1 year
What's in the Box:
Personal GPS navigation device (w/5" LCD)
Cradle mount
Suction cup windshield mount
Cigarette lighter adapter/car charger with 68" cable
19.5" USB cable (Type A USB on one end and Mini B 2.0 USB on the other end)
Quick Start Manual (En/Fr)
Accessory Guide
Important Safety and Product Information
"Need a dashboard disc?" sheet
"Activate your Lifetime Maps" sheet
Audible.com offer
Details
Product Research
Navigation Features
Convenience Features
Installation Options
Computer Requirements
Navigation Features
5" Touchscreen LCD: The nuvi 3550LM features a 5" dual-orientation color TFT touchscreen LCD with a resolution of 800 x 480 pixels (16:9 aspect ratio). The screen can be viewed in either landscape or portrait orientation, and automatically switches to the proper orientation depending upon how it is mounted. The multi-touch glass display is more sensitive that other units, and lets you zoom in or out of a map display with a pinch action on the touchscreen. The unit offers Daytime, Nighttime, and Auto display modes. The screen will automatically shut off if the device is inactive for the selected length of time.
Keyboard Options: The Garmin nuvi 3550LM gives you two options for keyboard layouts. When you are entering an address or other data, you can choose between a standard QWERTY keyboard layout or an ABCDE alphabetical layout.
Preloaded Maps: The nuvi 3550LM contains NAVTEQ's City Navigator North America NT 2012 3D maps with detailed road maps of the United States (including Alaska and Hawaii), Canada, Puerto Rico, U.S. Virgin Islands, Mexico, Cayman Islands, and Bahamas. The 3D maps show the surrounding terrain, landmarks, and buildings from a low perspective for a more realistic view. The maps include more than 8-million points of interest (POIs) to help you find the destination you desire.
Free Lifetime Map Updates: The nuvi 3550LM offers free lifetime map updates so you'll always have the most up-to-date maps, POIs, and navigation information. Map updates are available for download up to 4 times a year with no subscription or update fees and no expiration dates.
Note: Free Lifetime Map Updates entitle you to receive up to 4 map data updates per year, when and as such updates are made available on the Garmin website, for this specific Garmin product only until this product's useful life expires or Garmin no longer receives map data from its third party supplier, whichever is shorter. The updates you receive will be updates to the same geographic map data originally included with your Garmin product when originally purchased.
nuMaps Guarantee: If you register your device on Garmin's website within 90 days of acquiring satellites while driving, you can check to see if a free map update is available. You must be able to connect your device via a high-speed internet connection in order to check the loaded map version and download the map update.
Points of Interest: The built-in maps include over 8-million Points of Interest (POIs) such as hotels, restaurants, gas stations, attractions, and ATMs. are included to help you find the destination you desire. In addition, you can download additional points of interest and add them to the unit's memory (Custom POIs). The free POI Loader software can be downloaded from the Garmin website to assist you in creating Custom POIs.
Garmin Guidance 3.0: The Garmin nuvi 3550LM features Garmin Guidance 3.0, the most advanced navigation engine available with a faster, more intuitive user interface to enhance the speed and accuracy of searches and routing. As you approach an upcoming junction, the Bird's Eye Lane Guidance feature shows you the proper lane to drive in with an overhead perspective. When traveling interstate highways, the Enhanced Exit Services feature enables you to know what you'll find when you exit the highway.
Navigation Map: The Garmin nuvi 3550LM displays a real-time moving map illustrating your current position and intended route. It will show map scale and geographic details such as lakes, rivers, highways and towns. Your route is marked with a magenta line. A checkered flag marks your destination. As you travel the nuvi 3550LM guides to your destination with arrows on the map and directions at the top of the screen. If you depart from the original route, the device recalculates the route and provides new directions. During your calculated route, your arrival time is displayed in the lower left corner, your current speed is shown in the lower right corner. The posted speed limit for most major roads is displayed near the lower right corner as well. The unit allows you to zoom, pan, and point using the touchscreen during navigation. You can choose from a 3D map view or two 2D map views (Track Up or North Up) as you navigate to your destination.
Turn Assistant: When you are navigation a route, you can view the next turn on the map and the distance and time left before you reach the turn. You also view the Turn List which displays turn-by-turn instructions for your entire route and the distance between turns.
Lane Assist w/ Junction View: The Lane Assist feature lets you know in advance which lane you need to be in to make an upcoming turn. In select metropolitan areas, the nuvi 3550LM will enter split screen mode to display the photoReal junction view, a realistic depiction of the junction, complete with road signs and arrows to indicate the proper lane for navigation. The Bird's Eye view also gives you a top-down view of upcoming interchanges.
Speed Limits: As you travel along a major road, the speed limit is displayed on the screen alongside of the vehicle's speed display. If you are exceeding the speed limit, the color of the vehicle speed indication changes to red. If the highway's posted speed limit has changed since the last map update, you can change the speed limit display on the unit.
Text-to-Speech Audible Directions: In addition to the visual map, you get voice-prompted, turn-by-turn directions that speak street names to your destination; allowing you to keep your eyes more comfortably on the road. The nuvi 3550LM offers male and female voices of various languages.
Transportation Modes: The Garmin nuvi 3550LM offers two transportation modes for navigation methods; Automotive or Pedestrian. Routing is calculated differently based on your mode. If you have the optional cityXplorer maps loaded into the unit, the pedestrian navigation feature adds public transportation options as you travel on foot.
Destination Search: When the Where To? button is pressed, you can use the search tools to find your destination and plan your route. The search tools allow you to search for cities, addresses, intersections, or coordinates. The new Search Bar lets you directly enter a category, brand name, address, or city name. The unit's memory stores the last 50 locations you have found so you can quickly find a previous destination. By default, the unit finds destinations closet to your current location. You can also find destinations near another city or location.
Trip Planner: You can create and save a trip with multiple destinations using the Trip Planner. Once you have entered your destinations, you can manually set them in the order of your preference, or allow the device to calculate the most efficient route. Trip itineraries can be saved in memory for future use.
Route Preferences/Avoidances: When calculating a route, you can select the following preferences; faster time, shorter distance, less fuel, or off road. You can also program the unit to avoid certain things that may be undesirable on your route; such as U-Turns, Highways, Toll Roads, Carpool Lanes, Unpaved Roads, and Ferries.
Photo Navigation: Pictures with location information can be uploaded to the nuvi 3550LM or to an inserted microSD card. You can use the GarminConnect section of the Garmin website to search for previously uploaded "Geotagged" photos. Once the photos are loaded into the device, you can set a destination based on the photo's imbedded location data.
nuRoute Technology: The nuvi 3550LM includes nuRoute technology with trafficTrends historical traffic and myTrends predictive routing.
myTrends: The myTrends feature senses when you are driving to a common destination and displays the destination and estimated time of travel in the navigation bar on the map. When you save your regular destinations in your "Favorites," the nuvi 2450 will, over time, begin to figure out where you're going even without your telling it.
trafficTrends: When the trafficTrends feature is enabled, the nuvi 3550LM uses historic traffic information to calculate more efficient routes. The nuvi 3550LM automatically learns daytime trends for traffic flow to improve your routes and better predict your estimated time of arrival based on time of day and day of week. Different routes may be calculated base based on traffic trends for the day of the week or based on the time of day.
Trip Computer: The trip information page displays your current speed and direction, and provides helpful statistics about your trip. Dual trip odometers keep up with your total mileage. The page also indicates the distance and driving time to your next maneuver, as well as the distance and driving time to your destination. Your maximum speed and moving average speed are also displayed. The information can be reset in advance of your next trip.
Where I've Been/Trip Log: The Where I've Been application allows you to view your previous routes and places you have stopped on the map. In addition, the device keeps a Trip Log, which is a record of the path you have traveled. The Travel History setting must be enabled in order for the Where I've Been and Trip Log features to function.
Optional Digital 3D Traffic Updates: With the optional GTM 60 Digital 3D traffic receiver (150GTM60, sold separately), you can receive traffic updates every 30 seconds over the HD Radio broadcasting system. That's up to 10 times faster than traditional traffic receivers.
Convenience Features
microSD Card Slot: The nuvi 3550LM has a microSD card slot so you can store and use optional cityXplorer maps (available from Garmin), or download custom voices and vehicles from the Garmin Garage.
Garmin Garage: The unit offers your choice of seven standard icons to represent your vehicle. The online Garmin Garage offers dozens more vehicle icons that you can download for free. In addition, you can purchase icon and voice bundles with Star Wars (Yoda, Darth Vader) and Nickelodeon (SpongeBob SquarePants, Dora the Explorer) themes.
Where Am I?: The "Where Am I?" feature gives you instant access to important information in case of an emergency. When you select "Where Am I?" from the menu, you get the coordinates (including elevation) of your current position, plus the nearest address and intersections. There are also buttons to help you locate the nearest hospitals, police stations, gas stations, and roadside assistance. You can also save the location for future reference.
Garmin Locate: To assist you in finding your parked vehicle, the Garmin Locate feature saves your location to memory when you remove the device from the windshield mounting cradle while the device is on. You can search for your vehicle's location using the Last Spot button in the menu.
ecoRoute: The optional ecoRoute feature calculates the fuel economy and the fuel price of navigating to a destination, and offers tools for improving fuel efficiency. The ecoRoute application can be purchased from the Garmin Online Store.
GPS Simulator: When indoors, you can activate the built-in GPS simulator and practice using the unit. This turns off the GPS receiver so it's not searching for satellites, saving battery power.
Picture Viewer: The nuvi 3550LM's Picture Viewer can display JPEG photo images that you have stored in the device or on a microSD card. The images can be displayed in a slideshow, or set a single image as wallpaper.
Audiobook Player: The device can play audiobooks from Audible.com. A subscription to Audible.com is required. Audiobooks can be loaded to the device or to a microSD card. You can browse titles, authors, or narrators. Bookmarks can be added, so the player will automatically resume from the point where you last stopped. Playback controls include play, pause, fast forward, fast reverse, next chapter, and previous chapter.
Note: The nuvi 3550LM cannot play digital music files.
Tools: Other tools that can be found on the device include a world clock, alarm clock, calculator, unit converter, and a language guide.
Installation Options
Mounting: The Garmin nuvi 3550LM should be securely installed when used in a vehicle. The unit comes with a mounting cradles that includes a suction cup bracket. The suction cup can be used to mount the unit to the windshield. Once the nuvi 3550LM is mounted, it can be adjusted on the ball-and-socket bracket for best visibility. The unit must be installed where it has a relatively unobstructed view of the sky.
Note: The unit's mini-USB (type-B) port for connection of the included 12-volt power adapter is found on the side-panel of the mounting cradle.
Power Requirements: The Garmin nuvi 3550LM is powered by your vehicle's battery using the included 12-volt cigarette lighter power adapter. The built-in Lithium-Ion battery will provide up to 4 hours of use after a 4-hour charge. An optional AC adapter (150ACNUVI, sold separately) allows you to operate the unit on ordinary household current.
Note: Use the unit's Sleep Mode to conserve battery power when the device is not in use. Sleep Mode uses very little power, and a battery charge lasts for weeks when the device is in sleep Mode.
Computer Requirements
myDashboard: Use Garmin's myDashboard (www.garmin.com/dashboard) to register the device, check for software & map update, access product manuals, and technical support. myDashboard will automatically open when you connect the nuvi navigation device to your computer.
Note: The unit's micro-USB port is USB 2.0 Full Speed compatible. The unit's micro-USB port is found on the bottom of the GPS navigator.
Computer Compatibility: The nuvi 3550LM is compatible with Windows XP or newer and Mac OS X 10.4 or later.
Note: The nuvi 3550LM is not compatible with Windows 95, Windows 98, Windows Me, or Windows NT. It is also not compatible with Mac OS 10.3 and earlier. This is a common limitation of most USB mass storage devices.
Our Product Research Team
At Crutchfield, you'll get detailed, accurate information that's hard to find elsewhere. That's because we have our own in-house Product Research team. They verify what's in the box, check the owner's manual, and record dimensions, features and specs. We stay on top of new products and technologies to help people make informed choices.