Why Choose Crutchfield?
Deep discounts on car installation gear
We offer vehicle-specific installation instructions, dash kits, wiring harnesses, and speaker accessories at deeply discounted prices with car stereo and speaker purchases. Available for most vehicles.
Learn more
Trusted since 1974
Our customers have trusted us with their business, and they've helped us win awards for our service.
Check out our most recent awards
Factory-authorized dealer
The manufacturer's warranty always applies.
See more details
Sony KDL-52VE5
52" BRAVIA® VE5 Eco Series energy-efficient 1080p LCD HDTV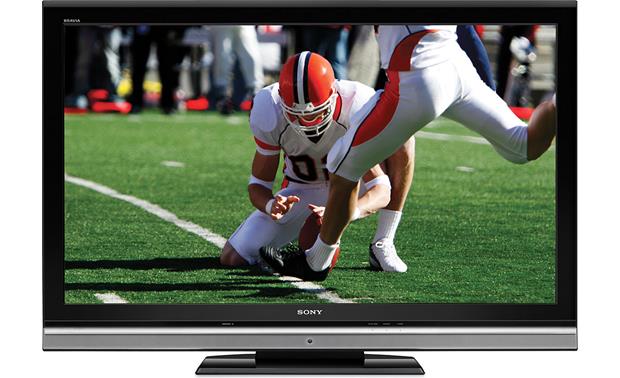 Sony KDL-52VE5 - Front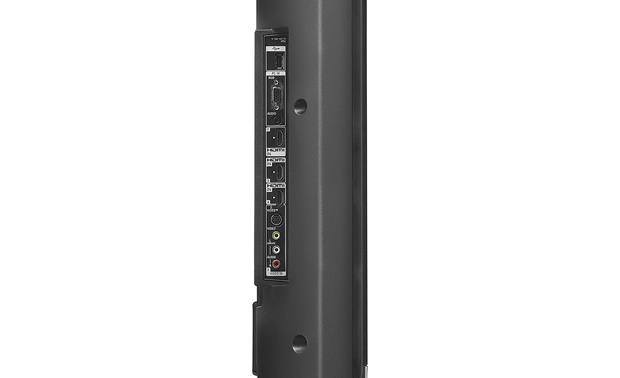 Sony KDL-52VE5 - A/V jacks on left side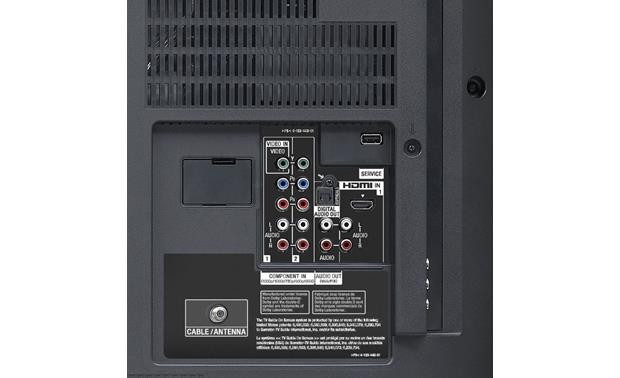 Sony KDL-52VE5 - Back
120Hz and 240Hz Refresh Rates LCD HDTV-Steve
120Hz and 240Hz Refresh Rates on LCD HDTVs-1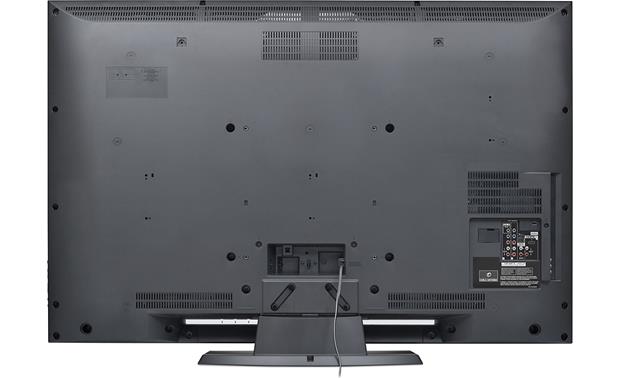 Sony KDL-52VE5 - Back (full view)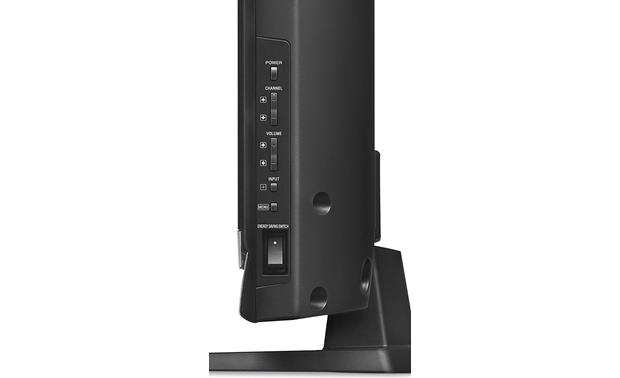 Sony KDL-52VE5 - Controls on right side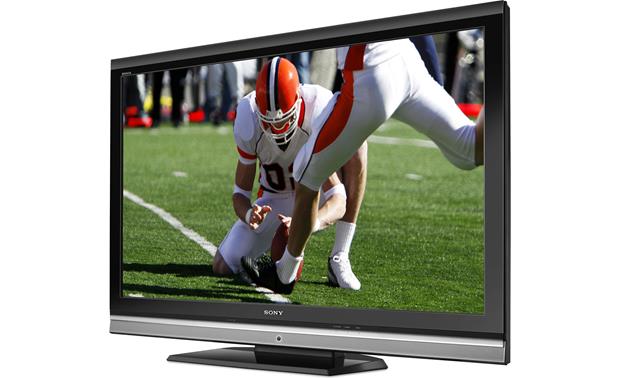 Sony KDL-52VE5 - Facing left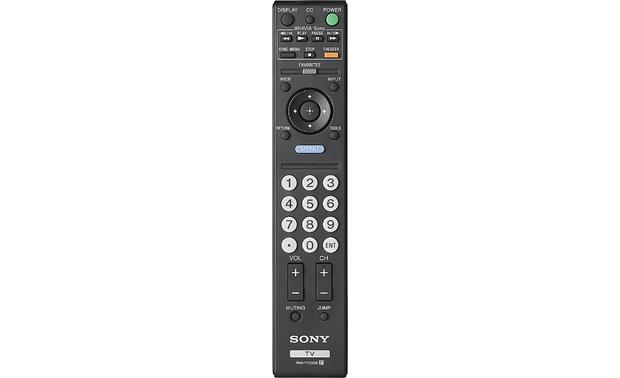 Sony KDL-52VE5 - Remote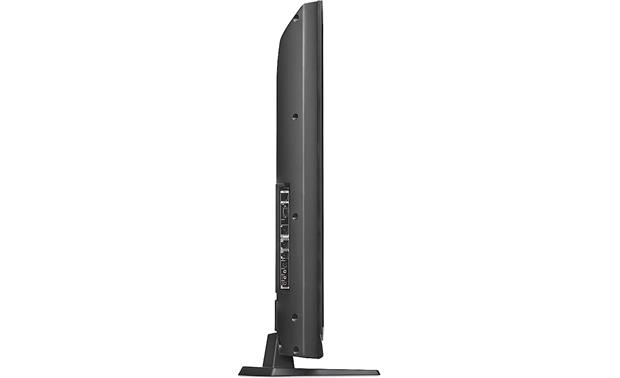 Sony KDL-52VE5 - Side
Item # 158KD52VE5 | MFR # KDL52VE5
This item is no longer available.
Overview
Energy-efficiency is at the heart of the innovative Sony KDL-52VE5, but it isn't the whole story. This 52" HDTV is loaded with smart technology that dramatically reduces power consumption without sacrificing performance. You'll still enjoy a stunning high-def picture thanks to full 1080p screen resolution and 120Hz anti-blur processing.
Cut your monthly energy bill without lifting a finger
A high-efficiency fluorescent backlight helps the KDL-52VE5 exceed the latest Energy Star® 3.0 requirement — by over 50%. A "light sensor" checks the amount of light in your room and adjusts picture brightness accordingly. And a "presence sensor" detects when you've been away from the TV for a while and automatically shuts off the backlight (you can adjust the time period or disable this feature). Finally, an Energy Saving switch on the side of the TV reduces power consumption to zero in standby mode. You can use this feature for everyday use, and it's especially useful when you're away from home for a few days or on vacation.
Sony's Motionflow™ technology clears up motion blur
Sony's sophisticated Motionflow 120Hz processing is engineered to improve picture clarity for fast-action sports, movies and games. It doubles the video frame rate by inserting 60 entirely new frames between the original 60 frames. The system analyzes the movement in each scene and adjusts the amount of enhancement to deliver seamlessly smooth, sharp pictures.
Versatile inputs keep you ready for the latest HD sources
The KDL-52VE5's "jack pack" includes four advanced HDMI connections that can handle the cinema-like 1080p/24 output from a Blu-ray player. Most movies are originally shot at 24p (24 frames per second), so this feature lets you see video in its most flawless form.
Learn about the ins and outs of HDMI connections at the Crutchfield Learning Center.
Shop our selection of HDMI cables.
Tip: For a list of over-the-air digital TV stations you can receive, as well as antenna recommendations for your location, enter your zip code in AntennaWeb's mapping tool.
Scheduled delivery to your door: This item will be delivered to the door of your house or apartment. Available to physical addresses in 50 United States only. Limited delivery available to Alaska and Hawaii for an additional $99 per item — call 1-888-955-6000 for more details. Sorry, we can't ship to P.O. Boxes or freight forwarders. Delivery takes 5-7 business days once your order has been processed. Extra charges may apply to items that must be carried up more than 5 flights of stairs. Allow extra time for delivery to remote addresses. Free return shipping not available with this model.
Product Highlights:
Features:
52" screen (measured diagonally)
widescreen 16:9 aspect ratio
high-gloss black finish
built-in digital (ATSC) tuner for over-the-air TV broadcasts (antenna required)
built-in QAM cable TV tuner receives unscrambled programs without a set-top box (cable service required)
1920 x 1080 pixels
selectable Motionflow™ 120Hz anti-blur technology for clearer motion
4500:1 contrast ratio (100,000:1 dynamic)
BRAVIA Engine 2™ digital video processing
high-efficiency Hot Cathode Fluorescent backlight
Advanced Contrast Enhancer (ACE) dynamic backlighting for better contrast and black levels
built-in stereo speakers (10 watts x 2)
remote control
BRAVIA Sync™ simplifies control of compatible Sony components via the HDMI connection (HDMI-CEC)
Energy Star® 3.0 compliant — see our article on TV power consumption for more info about this and other testing standards
picture settings memory for each video input
Connections and Dimensions:
7 A/V inputs, including:

1 composite video (side)
1 S-video (side)
2 component video (one is selectable component/composite)
4 HDMI (1 rear, 3 side) — accepts signals up to 1080p (60Hz, 24Hz)

side PC input: analog RGB (D-Sub 15-pin)
RF input for antenna/cable signals
optical digital audio output
side USB port for digital photo/MP3 playback with Sony cameras and flash memory drives
detachable stand (stand "footprint" is 20-5/8"W x 14-1/4"D)
wall-mountable (bracket not included)
49-3/4"W x 32-3/8"H x 4-5/8"D (34-3/8"H x 14-1/4"D on stand)
weight: 74.5 lbs. with stand; 64.4 lbs. without stand
warranty: 1 year parts & labor — in-home service or pick-up for service
What's in the Box:
52" Widescreen LCD TV with attached pedestal stand
6.5' AC power cord
Wireless remote control (RM-YD028)
2 "AA" batteries
Operating Instructions
Quick Setup Guide
"Attaching the Table-Top Stand" sheet
Attaching stand diagram
Warranty sheet
"Notices and Licenses For Software Used In This Television" sheet
"End User License Agreement" sheet
Safety and Regulatory Booklet
Digital Broadcast Reception Notice
Energy Guide:

View the Energy Guide
Details
Product Research
Video Features
Audio Features
PC/USB Functions
Convenience Features
Remote Control
Mounting Options
Video Features
HCFL (Hot Cathode Fluorescent Lamp) Backlight: The Sony Bravia KDL-52VE5 features a high-efficiency HCFL backlight that provides optimum brightness and reduces power consumption up to 50 percent versus ENERGY STAR 3.0 requirements. In fact, this set consumes approximately only 95 watts, which is as little as an incandescent light bulb.
NTSC/ATSC/QAM Tuners: The TV is equipped with an analog NTSC tuner, a digital ATSC/8VSB tuner, and a digital QAM tuner for receiving unscrambled digital cable channels. It is not CableCARD compatible. You do not need to connect an external HDTV set-top box in order to receive High-Definition programming.
Native Resolution: The Sony Bravia KDL-52VE5 has a full HD native resolution of 1920 x 1080 with over 2 million pixels (more than twice the pixels of 720p HDTV). The TV's four HDMI inputs can accept 480i, 480p, 720p, 1080i, 1080p and 1080/24p signals, and the two component video inputs can accept 480i, 480p, 720p, 1080i and 1080p signals. All video signals from standard definition and high definition are upconverted to 1080p.
4 HDMI Inputs: The KDL-52VE5 features four HDMI inputs (1 Rear/3 Side). The HDMI (High-Definition Multimedia Interface) terminals provide an uncompressed, all-digital audio/video interface. The HDMI input will accept 1080/24p, 1080p, 1080i, 720p, 480p, and 480i signals. The rear HDMI input also has left and right RCA audio jacks. With an HDMI-to-DVI cable, you can connect the TV to a DVI-equipped A/V component. When connecting to a DVI-equipped component, the RCA audio inputs are used and separate RCA audio cable must be connected.
24pTrue Cinema (24p Input Capability): Many movies are filmed at 24 frames per second (fps) and prime time TV programs are video taped at 24p. Seizing on an opportunity, some studios are taking a purist approach and encoding high definition video content such as Blu-ray Disc in 24p. Sony wisely takes advantage of this by including 24p input capability via HDMI on this television producing images that are smooth and natural looking.
2 Component Video Inputs: The two rear-panel component video inputs that will accept 1080p, 1080i, 720p, 480p, and 480i signals. Component Video 1 can also be used as a composite video input for 480i video signal.
Bravia Engine 2 Fully Digital Video Processor: The Bravia Engine 2 fully digital video processor uses a collection of unique Sony technologies to significantly reduce noise, enhance overall image detail, and optimize contrast so every scene produces sharp, vibrant, life-like images and color.
Motionflow 120Hz Technology: Motionflow 120HZ technology doubles the frame rate to help remove judder in film sources, HD content, and broadcast movies and primetime programming, creating smoother, more fluid motion that delivers a natural and realistic viewing experience.
Advanced Contrast Enhancer (ACE) With Dynamic Backlight Control: Sony's Advanced Contrast Enhancer (ACE) uses real-time image processing to dynamically adjust backlight levels for improved contrast without masking details the filmmaker intended you to see. This powerful combination of features adjusts the brightness of the backlight both to optimize image quality and reduce power consumption. It works in real time, controlling bright outdoor images and dark interior shots scene by scene for better video quality and a reduction in power use. Part of the cinematic drama in film-making comes from details found in shadows and dark areas of the picture. ACE delivers deep blacks in darker scenes, as well as fine details in shadows and other dark areas of the picture for a difference you can truly see. Sony's Advanced Contrast Enhancer (ACE) builds on the TV's excellent on-contrast ratio performance of 4,500:1. A Dynamic Contrast Ratio of up to 100,000:1 is achieved by using real-time image processing to adjust the contrast along with optimizing backlight levels.
Screen Modes: You can choose from the following Screen Modes:
4:3 Default:

Wide Zoom: Enlarges the center portion of the 4:3 picture proportionately, while the left and right edges of the screen are stretched to fill the screen
Normal: Displays the 4:3 picture in its original size with black bars at the left and right sides to fill the screen (available for 480i or 480p sources)
Full: Stretches the entire 4:3 picture horizontally only to fill the screen
Zoom: Enlarges the entire 4:3 picture proportionately to fill the screen (useful for watching Letterbox movies)

16:9 Wide Mode:

Wide Zoom: Enlarges the picture to fill the screen with minimal distortion
Normal: Displays a 4:3 picture in its original aspect ratio when the original source is 4:3
Full: Displays the picture at its original size
Zoom: Enlarges the picture proportionately, both vertically and horizontally
Full Pixel: Display the picture in its native resolution for 720p, 1080i, and 1080p formats only (excluding Cable/Antenna input)

Auto Wide: Automatically changes screen settings base upon incoming video signal and content.
Screen Settings: The Sony LCD TV offers the following screen adjustments.
Vertical Center: Allows you to move the position of the picture up and down.
Vertical/Horizontal Size: Adjusts the vertical and/or horizontal size of the picture.
Phase: Adjusts to fine tune overall sharpness of picture.
Picture Mode: You can select one of the following picture modes:
For Video:

Vivid: enhances picture contrast and sharpness
Standard: displays a standard picture for typical viewing environments
Cinema: used to view film-base content; suitable for viewing in a theater-like environment
Custom: allows you to store your preferred settings for Backlight, Picture, Brightness, Color, Hue, Color Temperature, Sharpness, Noise Reduction.

For PC:

Video: enhances the video shown on the screen
Text: enhances the text shown on the screen
Advanced Video Settings: In addition to the Picture mode, the Advanced Video Settings menu also features the following:
Gamma: adjusts the balance between bright and dark areas of the picture
Clear White: emphasizes white and light colors
Live Color: makes colors more vivid and reproduces clear skin tones
White Balance: adjust the color temperature color by color
CineMotion 3/2 Pulldown Processing: This function optimizes the display by automatically detecting film content and applying a reverse 3-2 pulldown process. Moving pictures will appear clearer and more natural-looking.
Game Mode: This mode optimizes the enjoyment of fast paced video games where response time is important.
Picture Adjustment Lock: This function prevents the television's Picture Settings from being changed.
Audio Features
Sound Settings: The Sound Settings menu allow you to make the following adjustments:
Sound Mode: You can customize the bass and treble or use one of the two preset sound modes:

Dynamic: enhances both treble and bass
Standard: suitable for spoken dialogue
Clear Voice: suitable for spoken dialogue
Custom: allows you to customize sound settings (Bass, Treble and Balance).

TruSurround XT: Produces a realistic surround sound experience using only the television's built-in speakers.
Steady Sound: Steady Sound equalizes volume levels so there is consistent output between programs and commercials.
Volume Offset: Adjusts the volume level of the current input (TV or video input) relative to other inputs.
Analog Audio Outputs (Fixed): These stereo RCA audio jacks on the rear-panel of the television allow you to listen to the TV's audio through your stereo system.
Digital Audio Output: The rear-panel Optical digital output connects to the optical digital input of your digital audio equipment. The optical digital jack on this TV outputs PCM audio, regardless of the input signal. It does not ouptut a Dolby Digital bitstream.
PC/USB Functions
USB Port: The Sony TV offer easy access to JPEG photos stored on a connected USB mass storage memory device. The USB type-A port is located on the side TV panel. The television supports photo resolutions from 16 x 16 to 8192 x 8192 pixels. You can view your still images one at a time, in a thumbnail view, or as a slide show (with music). You can also rotate images.
PC Compatible: The television can be used as a monitor for your PC through the TV's RGB HD-15 input or HDMI input. The TV supports the following PC resolutions - VGA, SVGA, XGA, WXGA, SXGA and HDTV. You can adjust Phase, Vertical Position and Wide Mode of the picture.
PC Input (RGB): A side-panel 15-pin HD15 jack allows you to connect your personal computer to the display. There is also a corresponding stereo mini-jack (3.5mm) for the computer's audio signal.
Convenience Features
Favorite Menu: The Favorites Menu function makes it easy to quickly access your favorite channels and video inputs.
Input/Channel Label: This feature allows you to assign labels to the television's inputs and your favorite channels. You can create station call letters (up to seven characters) to the channel numbers. You can assign the following labels for each input (except PC and Cable/Antenna inputs): DVD, VCR, Blu-ray, Cable Box, Satellite, DVR, Game, Camcorder. Or you can also select a custom seven character label for each of these inputs.
Input/Channel Block: This feature allows you to block certain channels or inputs regardless of program ratings.
Caption Vision/Info Banner: This feature allows Closed Caption and/or channel programming information to be displayed on the TV screen. You can choose from CC1, CC2, CC3, CC4, Text1, Text2, Text3 and Text4. Digital Channel's Closed Caption text can be customized.
ENERGY STAR 3.0 Certified: Sony VE-series HDTVs exceed ENERGY STAR 3.0 requirements by incorporating advanced power saving features such as Light and Presence Sensor technology that adjusts backlight intensity based on room conditions, Backlight Control that adjusts backlight intensity based on the brightness of the image on the screen, and PC Power Management.
Backlight Control: This feature reduces the power consumption by turning off the backlight.
Light Sensor: In the menu, you can activate the automatic picture brightness control. A light sensor measures the amount of ambient light in the room and adjusts the picture brightness level accordingly.
Presence Sensor: The television's front-panel Presence Sensor turns off the backlight to save energy when no motion or body heat is detected in the vicinity (80-degrees horizontal, 30-degrees vertical, up to 9.8 ft.) after a user-set timeframe (5, 30, o r 60 minutes). This HDTV has a Presence Sensor which detects if you have stepped away from your TV, and automatically turns the picture off. If after 30 minutes, the sensor still does not detect movement in the room, the set turns off completely. The Presence Sensor is capable of detecting vertical and horizontal movements. It may not detect forward/backward movements to-and-from the TV set. Large movements are easier to detect, even of someone in a relatively far distance. The sensitivity of the sensor can vary substantially depending on ambient light and temperature in the room.
PC Power Management: This feature automatically places the television in Standby mode when there is not signal input for more than 5 minutes.
Energy Saving Switch: The LCD TV is equipped with a new Energy Saving Switch which reduces power consumption of the TV to zero when you are not watching television. Turning off the Energy Saving Switch can eliminate standby power consumption. It has the same effect as disconnecting the TV's power AC cord from the wall outlet.
Note: If the Energy Saving Switch is turned off, the TV's timer settings and current time will be cleared and the television's power button or remote control power button cannot work and the TV will not turn on until the Energy Saving Switch is turned back on.
Timers: There is one event timer and a sleep timer built in. The event timer is set for the day, time, channel, duration and volume. The sleep timer switches the television off after a specified amount of time. The sleep timer can be set to 15, 30, 45, 60, 90, or 120 minutes.
Parental Control: You can select a viewing limitation based on the TV and movie ratings. Three presets are available (Child, Youth, and Young Adult) or the limitation can be customized to specific industry ratings. The control is accessed and protected by a 4-digit password. You can also choose to block specific channels, regardless of program ratings.
Remote Control
Wireless Remote Control: The TV comes supplied with an IR wireless remote control (RM-YD028). The remote is designed for TV operation only, unless used with Bravia Sync AV components connected by HDMI.
BRAVIA Sync: This TV is equipped with BRAVIA Sync, an HDMI Control function that allows communication between Sony TVs and other Sony equipment when they are connected via HDMI. Once the supported equipment is connected, the following operations are available:
Turn off the equipment automatically when you turn off the TV.
When the connected equipment is turned on by One-Touch-Play, the TV will automatically turn on and select the respective HDMI input.
Automatically turn on equipment listed under the External Inputs in the menu.
Equipment operation such a Play, Pause, Fast Forward, Reverse, and Stop.
When a Sony A/V receiver with BRAVIA Sync is connected the following additional operations are possible:

Turning on the A/V receiver when the TV is turned on
Automatically switching the A/V receiver's input to the TV
Adjust the volume and muting of the A/V receiver with the TV's remote control
Mounting Options
Tabletop Stand: The television comes supplied with an attached tabletop pedestal stand. The television weighs 74.5 lbs with the stand attached.
Optional Wall Mount Brackets: The stand can be removed, allowing you to wall-mount the TV using an optional wall-mount bracket. The TV has 4 threaded screw holes with a horizontal spacing of 11-3/4" (300mm) and a vertical spacing of 11-3.4" (300mm). The screw holes all accept M6 (6mm) screws. The TV weighs 64.4 lbs without the stand.
Our Product Research Team
At Crutchfield, you'll get detailed, accurate information that's hard to find elsewhere. That's because we have our own in-house Product Research team. They verify what's in the box, check the owner's manual, and record dimensions, features and specs. We stay on top of new products and technologies to help people make informed choices.