Why Choose Crutchfield?
Deep discounts on car installation gear
We offer vehicle-specific installation instructions, dash kits, wiring harnesses, and speaker accessories at deeply discounted prices with car stereo and speaker purchases. Available for most vehicles.
Learn more
Trusted since 1974
Our customers have trusted us with their business, and they've helped us win awards for our service.
Check out our most recent awards
Factory-authorized dealer
The manufacturer's warranty always applies.
See more details
Sony KDL-70XBR7
70" BRAVIA® XBR® 1080p LCD HDTV with 120Hz anti-blur technology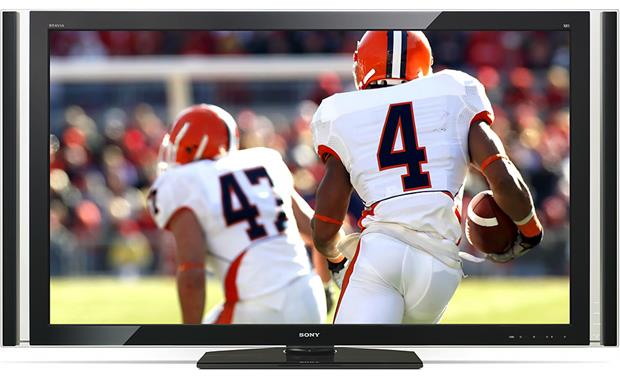 Sony KDL-70XBR7 - Front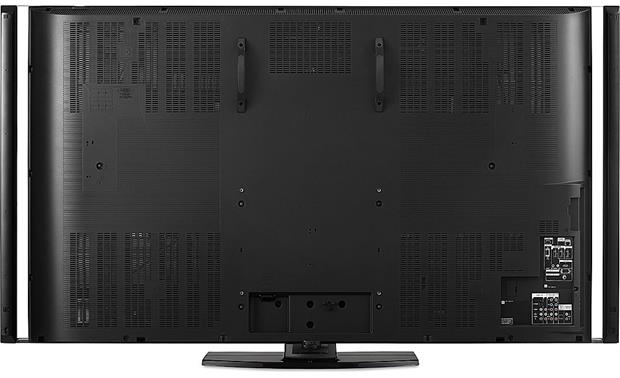 Sony KDL-70XBR7 - Back (full view)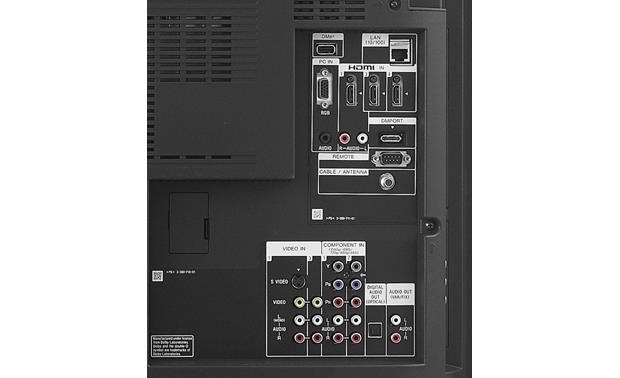 Sony KDL-70XBR7 - Back A/V jacks
120Hz and 240Hz Refresh Rates LCD HDTV-Steve
120Hz and 240Hz Refresh Rates on LCD HDTVs-1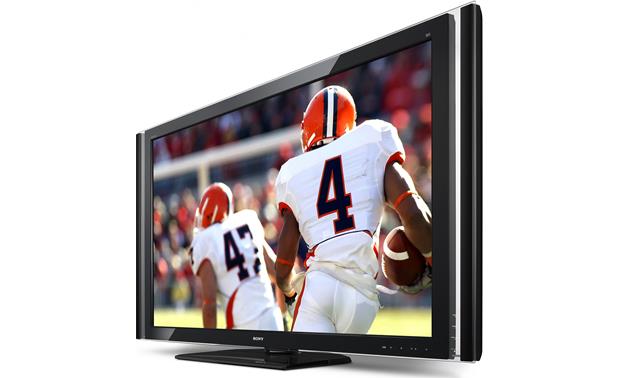 Sony KDL-70XBR7 - Facing left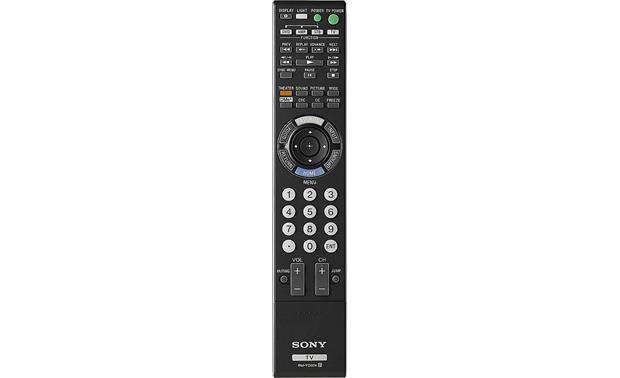 Sony KDL-70XBR7 - Remote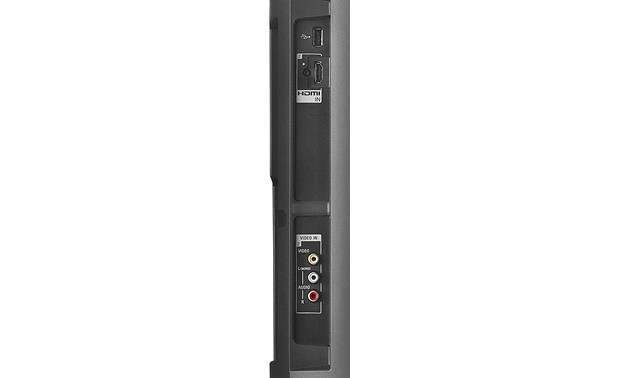 Sony KDL-70XBR7 - Side inputs
Item # 158KD70XB7 | MFR # KDL70XBR7
This item is no longer available.
Overview
Our take on the Sony KDL-70XBR7 by Crutchfield's Steve Kindig
The 70" Sony KDL-70XBR7 is a stunning display in every way — it's the largest flat-panel LCD we've ever carried. Its screen provides 80% more viewing area than a 52" TV. The stylish piano-black cabinet places the speakers out to the sides of the screen to create spacious sound that stays anchored to the on-screen action. On the inside, Sony's most powerful video processing technologies ensure that all your video sources look their best.
Motionflow™ 120Hz processing ensures smooth, natural motion
Every LCD TV maker takes a different approach to 120Hz processing, but Sony's Motionflow technology is one of the most sophisticated and effective. First, it actually reduces blur in the original source image captured by the camera, then it doubles the video frame rate by inserting 60 entirely new frames between the original 60 frames. The system analyzes the motion of specific on-screen objects as well as overall movement in each scene, adjusting the amount of enhancement to create seamlessly smooth, sharp pictures.
10-bit LCD panel and video processing for more accurate colors
Another key factor determining picture quality is the color resolution of the LCD panel and video processing circuitry. The KDL-70XBR7's 10-bit LCD panel can display 1024 levels of gradation for each primary color — red, green, and blue — compared to only 256 steps for the 8-bit panels found in most TVs. And 10-bit video processing takes full advantage of the panel's exceptional color resolution to show even the subtlest shadings.
Enjoy better-looking non-HD video, too
High-def video looks amazing, but realistically, we'll probably still be watching some standard-definition programs for a while yet. And that's when you'll really appreciate BRAVIA Engine 2™ PRO video processing. This collection of Sony technologies works to reduce noise, enhance detail, and optimize contrast on a scene-by-scene basis — even on 1080p sources.
Versatile inputs keep you ready for the latest HD sources
The KDL-70XBR7's "jack pack" includes four advanced HDMI connections that will ensure maximum picture quality as high-def formats evolve. Sony calls them 24p True Cinema capable, which means they can accept the 1080p/24 output from a Blu-ray player. Most movies are originally shot at 24p (24 frames per second), so this feature lets you see video in its most flawless form. One HDMI input is placed on the side of the TV so it's easier to hook up an HD camcorder or video game console.
Learn about the ins and outs of HDMI connections at the Crutchfield Learning Center.
Shop our selection of HDMI cables.
Tip: For a list of over-the-air digital TV stations you can receive, as well as antenna recommendations for your location, enter your zip code in AntennaWeb's mapping tool.
Scheduled delivery to your door: This item will be delivered to the door of your house or apartment. Available to physical addresses in 50 United States only. Limited delivery available to Alaska and Hawaii for an additional $99 per item — call 1-888-955-6000 for more details. Sorry, we can't ship to P.O. Boxes or freight forwarders. Delivery takes 5-7 business days once your order has been processed. Extra charges may apply to items that must be carried up more than 5 flights of stairs. Allow extra time for delivery to remote addresses.
Product Highlights:
70" screen (measured diagonally)
widescreen 16:9 aspect ratio
high-gloss black finish with floating glass accents
built-in digital (ATSC) and analog (NTSC) tuners for over-the-air TV broadcasts (antenna required)
built-in QAM cable TV tuner receives unscrambled programs without a set-top box (cable service required)
1920 x 1080 pixels
selectable Motionflow™ 120Hz anti-blur technology for clearer motion
8-millisecond pixel response time
1500:1 contrast ratio (15,000:1 dynamic)
10-bit display panel & video processing for over a billion possible colors
BRAVIA Engine 2™ PRO digital video processing
Advanced Contrast Enhancer (ACE) dynamic backlighting for better contrast and black levels
wide-range fluorescent backlight for extended color range
Deep Color and x.v.Color™ support
1-tuner picture-in-picture
TV Guide On Screen® program guide
built-in stereo speakers (10 watts x 2, plus 12 watts x 2 for woofers)
illuminated multibrand remote control
BRAVIA Sync™ simplifies remote control for compatible Sony components (HDMI-CEC)
picture settings memory for each video input
9 A/V inputs, including:

3 composite video (2 rear, 1 side)
1 S-video
2 component video (accepts signals up to 1080p)
4 HDMI v1.3 (3 rear, 1 side) — accepts signals up to 1080p (60Hz, 24Hz)

PC input: analog RGB (D-Sub 15-pin)
RF input for antenna/cable signals
optical digital audio output for Dolby® Digital
Ethernet port for streaming content from a DLNA-enabled networked computer
side USB port for digital photo/MP3 playback with Sony cameras and flash memory drives
DMex port for expanding the TV's capabilities by connecting optional BRAVIA Link add-on modules
RS-232C port for communicating with compatible home theater control devices
Energy Star® 3.0 compliant — see our article on TV power consumption for more info about this and other testing standards
detachable stand
wall-mountable (bracket not included)
72-7/8"W x 39-7/8"H x 6-1/8"D (42"H x 15-7/8"D on stand)
weight: 191 lbs. with stand; 160 lbs. without stand
warranty: 18 months parts & labor — in-home service
What's in the Box:
70" Widescreen LCD TV
Pedestal stand
Wireless remote control (RM-YD024)
2 "AA" batteries
6.5' Power cord
Operating Instructions
4 Machine screws with lock-washer and flat-washer installed on each one
Quick Setup Guide
Limited Warranty sheet
Safety and Regulatory Booklet
End User License Agreement
Notice And Licenses For Software Used In This Television
Digital Broadcast Reception notices
Bravia Internet Video Link brochure
Energy Guide:

View the Energy Guide
Details
Product Research
Features
Remote Control
Mounting Options
Inputs and Outputs Notes
Features
NTSC/ATSC/QAM Tuners: The TV is equipped with an analog NTSC tuner, a digital ATSC/8VSB tuner, and a digital QAM tuner for receiving unscrambled digital cable channels. It is not CableCARD compatible. You do not need to connect an external HDTV set-top box in order to receive High-Definition programming.
Native Resolution: This TV has a full HD native resolution of 1920 x 1080 with over 2 million pixels (more than twice the pixels of 720p HDTV). The TV's four HDMI inputs can accept 480i, 480p, 720p, 1080i, 1080p and 1080/24p signals, and the two component video inputs can accept 480i, 480p, 720p, 1080i and 1080p signals.
10-Bit Processor and 10-Bit Display: The BRAVIA XBR7-Series HDTV combines a 10-bit processor and 10-bit panel to create and display billions of colors. Using both a 10-bit processor and 10-bit panel allows for 64 times the level of color expression in 8-bit panels, resulting in smoother color transitions and helping to avoid giving the picture a "paint-by-numbers" look.
Live Color Creation System With WCG-CCFL: Live Color Creation is a special Sony function that achieves precise, wide color reproduction using a combination of advanced chroma signal processing algorithms. A special Wide Color Gamut (WCG-CCFL) backlight is combined with Sony's Live Color Creation circuitry. The benefit is clear blues, natural greens and overall vibrant colors in all scenes.
BRAVIA Engine 2 PRO Video Processor: BRAVIA Engine 2 PRO is Sony's most advanced video processing system, utilizing the latest generation of Digital Reality Creation technology to render a supremely sharp, crystal clear image from any video resolution. It uses Digital Reality Creation--Multi Function (v2.5) to create a high density video signal that traditional interpolation video processing cannot achieve. The television features two DRC settings - Mode 1 (recommended mode), and Mode 2 (especially effective when original standard-definition signals have been up-converted to 1080 format). The television also features a DRC function which allows you to customize the level of detail (Reality) and smoothness (Clarity) for input sources.
Motionflow 120Hz Technology: Motionflow 120HZ technology doubles the frame rate to help remove judder in film sources, HD content, broadcast movies and primetime programming, creating smoother, more fluid motion that delivers a natural and realistic viewing experience. You can choose between three settings: High, Standard, or Off.
Advanced Contrast Enhancer (ACE): Part of the cinematic drama in film-making comes from details found in shadows and dark areas of the picture. Sony's Advanced Contrast Enhancer (ACE) uses real-time image processing to dynamically adjust backlight levels for improved contrast without masking details the filmmaker intended you to see. ACE delivers deep blacks in darker scenes, as well as fine details in shadows and other dark areas of the picture for a difference you can truly see. Sony's Advanced Contrast Enhancer (ACE) builds on the TV's excellent on-contrast ratio performance of 1,500:1. A Dynamic Contrast Ratio of over 15,000:1 is achieved by using real-time image processing to adjust the contrast along with optimizing backlight levels.
Dynamic Video Noise Reduction: Dynamic Video Noise Reduction adaptive technology analyzes the motion, sharpness, and brightness of each scene in real time to identify various types of noise and reduce unwanted artifacts without compromising the video signal.
x.v.Color Technology: The Sony LCD TV features x.v.Color Technology. Thanks to this technology, the color space of the television has been greatly expanded. 1.8 times as many natural colors as existing HDTV signals can now be faithfully reproduced by this television. The television offers two additional x.v. color settings - Video Color Space (displays moving pictures that are more faithful to the original source by matching the color space of the source) and Photo Color Space (matches the output color space within the output signal from the equipment connected to the USB (photo), Network (photo), HDMI or component input jacks.
24pTrue Cinema (24p Input Capability): Many movies are filmed at 24 frames per second (fps) and prime time TV programs are video taped at 24p. Seizing on an opportunity, some studios are taking a purist approach and encoding high definition video content such as Blu-ray Disc in 24p. Sony has taken advantage of this by including 24p input capability via HDMI on this television producing images that are smooth and natural looking.
DMex (Digital Module Extender) Ready: Sony's Digital Media Extender (DMex) ready televisions offer a digital connection path for the addition of optional Sony modules like the new BRAVIA Internet Video Link (DMX-NV1, sold separately). With innovative DMex expansion capabilities featuring the Emmy award winning XMB user interface, the KDL-70XBR7 is not merely a TV, but a powerful entertainment platform that not only meets your needs today, but expands easily to meet tomorrow's needs as well.
Digital Media Port: Sony's Digital Media Port connection allows the use of an optional Digital Media Port adapter such as the TDM-NW1 to connect digital devices directly to select Bravia HDTVs. By using these optional Sony adapter, the television can show photos and videos or play the music stored in select Sony Walkman, iPOD, PC, mobile phones and other digital devices. Your personal digital device even recharges while connected via the optional adapters.
USB Port: The TV offers easy access to JPEG photos and MP3 music files stored on a Sony digital camera connected via USB interface or Sony Micro Vault USB flash drives through its side-panel High Speed USB type-A port. Photos can be viewed as a Slideshow with or without music or in an Thumbnail view with up to 60 images at one time. Photos can also be rotated 180-degrees. Music files can be played repeatedly or in a random order. You can also view factory preset visual effects during MP3 audio playback.
Note: Sony does not guarantee or assure the USB functionality on this TV in the following cases - Use of non-Sony brand USB equipment, Use of video or audio clips process on a computer, Use of files obtained from the Internet or from a printed film processing center.
DLNA Compliant: DLNA (Digital Living Network Alliance) compliance allows BRAVIA XBR7-Series HDTVs to access digital photos from DLNA-enabled PCs and other devices through a wired Ethernet connection. DLNA stands for the Digital Living Network Alliance, an Industry Standard Networking Capability supported by leading companies in the consumer electronics industry that allows DLNA compliant products to work with one another. This TV is a DLNA Certified digital media photo player that can display JPEG photo content from your DLNA Certified networked computer. Using the television's rear-panel Ethernet port, a DLNA-enabled PC can be accessed from the comfort of your living room or family room via the KDL-70XBR7, where you can enjoy photos stored on your PC with friends and family, without having to view them on your computer.
PC Compatible: The television can be used as a monitor for your PC through the TV's RGB HD-15 input or HDMI input. The TV supports the following PC resolutions - VGA, SVGA, XGA, WXGA, SXGA and HDTV. You can adjust Phase, Pitch, Horizontal and Vertical Position and Wide Mode of picture.
TV Guide: You can use the Sony LCD TV's on-screen TV Guide to find the show that you want to watch. The TV Guide allows you to search for shows by program categories and by keyword. The TV Guide provides up to two days of TV programming information. The TV Guide is available with cable service (without a cable box) or over-the-air antenna.
P&P Feature: The TV comes features P&P (picture and picture) to allow you to view two pictures simultaneously. P&P provides two windows side by side with A/V inputs and TV channels. The main window can be from the Video, Component, HDMI, DMPORT, or PC inputs while the sub window comes from a TV channel from the VHF/UHF/Cable input.
BRAVIA Sync: This TV is equipped with BRAVIA Sync, an HDMI Control function that allows communication between Sony TVs and other Sony equipment when they are connected via HDMI. Once the supported equipment is connected, the following operations are available:
Turn off the equipment automatically when you turn off the TV
When the connected equipment is turned on by One-Touch-Play, the TV will automatically turn on and select the respective HDMI input
Automatically turn on equipment listed under the External Inputs on the XMB when selected
Camcorder transport control
When a Sony A/V receiver with BRAVIA Sync is connected the following additional operations are possible:

Turning on the A/V receiver when the TV is turned on
Automatically switching the A/V receiver's input to the TV
Adjust the volume and muting of the A/V receiver with the TV's remote control
Xross Media Bar (XMB) Interface: Sony's award-winning Xross Media Bar provides a logical and fast way to access set up menus, user controls, and more. The on-screen display comes to life by pushing the XMB menu button on the remote. Navigation through the menus is smooth and fast.
Picture Modes: You can select one of the following picture modes:
For Video:

Vivid: enhances picture contrast and sharpness
Standard: displays a standard picture for typical viewing environments
Cinema: used to view film-base content; suitable for viewing in a theater-like environment
Photo: used for viewing still image content
Custom: allows you to store your preferred settings for Backlight, Picture, Brightness, Color, Hue, Color Temperature, Sharpness, Noise Reduction, MPEG Noise Reduction, DRC Mode and DRC Palette

For Photo:

Vivid: enhances picture contrast and sharpness
Standard: displays a standard picture for typical viewing environments
Original: images resemble the printed pictures from your photo album
Custom: allows you to store your preferred settings for Backlight, Picture, Brightness, Color, Hue, Color Temperature, and Sharpness
Advanced Video Settings: In addition to the Picture mode, the Advanced Video Settings menu also features the following:
Black Corrector: enhances black areas of the picture for stronger contrast
Advanced Contrast Enhancer: automatically optimizes the backlight and contrast
Gamma: adjusts the balance between bright and dark areas of the picture
Auto Light Limiter: reduce glare such as in scenes where the entire screen is white
Clear White: emphasizes white and light colors
Live Color: makes colors more vivid and reproduces clear skin tones
Color Space: select the range of color reproduction from Wide to Normal
White Balance: adjust the color temperature color by color
Detail Enhancer: enhances the details of the picture
Edge Enhancer: enhances the outline of the picture
CineMotion 3/2 Pulldown Processing: This function optimizes the display by automatically detecting film content and applying a reverse 3-2 pulldown process. Moving pictures will appear clearer and more natural-looking. The television provides two CineMotion settings - Auto 1 and Auto 2.
Video/Photo Optimizer: This features sets the television's picture settings to optimize the image quality of video (moving pictures) or photo (still image) content. This feature is only available for 1080i/p (excluding 1080/24p) content connected to the component or HDMI input.
Game/Text Mode: This mode provides the optimum screen settings for viewing images with fine lines and characters that are input from video game equipment and PCs.
RGB Dynamic Range: This function of the television produces natural color by changing the luminance tone reproduction of the HDMI input color signals (RGB).
Light Sensor: In the menu, you can activate the automatic picture brightness control. A light sensor measures the amount of ambient light in the room and adjusts the picture brightness level accordingly. The light sensor can be turned off if desired.
Color Matrix: This feature allows you to reproduce the color-difference signals. You can choose between Auto (Automatically optimizes based on signal) or Custom (select either ITU601 or ITU709 which normalized the tone when color tones look unnatural).
Theater Mode: During this mode the television's picture settings will be set for a cinema-like experience and the television's audio will be switched to the audio output of the attached speakers of your BRAVIA Sync audio system connected via HDMI.
Screen Modes: You can choose from the following Screen Modes:
4:3 Default:

Wide Zoom: Enlarges the center portion of the 4:3 picture proportionately, while the left and right edges of the screen are stretched to fill the screen
Normal: Displays the 4:3 picture in its original size with black bars at the left and right sides to fill the screen
Full: Stretches the entire 4:3 picture horizontally only to fill the screen
Zoom: Enlarges the entire 4:3 picture proportionately to fill the screen (useful for watching Letterbox movies)

16:9 Wide Mode:

Wide Zoom: Enlarges the picture to fill the screen with minimal distortion
Normal: Displays a 4:3 picture in its original aspect ratio when the original source is 4:3
Full: Displays the picture at its original size
H Stretch: Enlarges the picture horizontally to fill the screen when the original source is 16:9; it is also useful for HD channels with 4:3 content
Zoom: Enlarges the picture proportionately, both vertically and horizontally

Auto Wide: Automatically changes screen settings base upon incoming video signal and content.
Favorites: Using this feature, you can manage your preferred TV channels, External Inputs, Photo content, Music content and Background TV themes for easy access.
Background TV: Background TV displays images of current video on your TV that are similar to a screen saver. Background TV is available from the Cable/Antenna, Composite and DMPORT inputs.
Freeze Function: Press this button once to display a frozen image of the current program in a window on the screen. Press again to show only frozen image on the TV screen. Press again to return to the program.
Jump Function: This feature allows you to jump back and forth between two channels. The TV alternates between the current channel and the last channel that was selected.
Label Channels: This feature allows you to assign labels such as station call letter to the channel numbers. You can use up to seven characters.
Input Label: Each of the television's inputs (except PC/DMPORT) can be labeled with names (DVD, Cable Box, Satellite, BD, VCR, Receiver, DVR, Game, Camcorder or PC) instead of video 1, video 2, video 3, etc.
Caption Vision/Info Banner: This feature allows Closed Caption and/or channel programming information to be displayed on the TV screen. You can choose from CC1, CC2, CC3, CC4, Text1, Text2, Text3 and Text4. Digital Channel's Closed Captions can be customized. You can select Text-type, Character-size, Character-style, Character-color, Character-opacity, Edge-type, Edge-color, Background-color and Background-opacity.
Sound Settings: The Sound Settings menu allow you to make the following adjustments:
Sound Mode: You can customize the bass and treble or use one of the two preset sound modes:

Dynamic: enhances both treble and bass
Standard: suitable for spoken dialogue
Custom: allows you to store your preferred settings for bass and treble

Treble, Bass, Balance: You can individually set the treble, bass, and balance settings as desired.
S-FORCE Front Surround: S-FORCE front surrounds provides a virtual surround experience made possible using just two front speakers. When turned off, the normal stereo or mono reception resumes.
Sound Booster: Sound Booster provides a fuller sound with greater depth and width by emphasizing the high and low frequency sounds. You can select High or Low for the amount of boost you desire.
Voice Zoom: Adjusts the clarity of human voices by emphasizing or softening vocals.
Steady Sound: Steady Sound equalizes volume levels so there is consistent output between programs and commercials.
Volume Offset: adjusts the volume level of the current input (TV or video input) relative to other inputs.
Woofer Level: increases or decrease the low frequency sounds.
Timers: There is one event timer and a sleep timer built in. The event timer is set for the day, time, channel, duration and volume. The sleep timer switches the television off after a specified amount of time. The sleep timer can be set to 15, 30, 45, 60, 90, or 120 minutes.
Power Saving: This feature reduces the power consumption by adjusting the backlight brightness of the TV's screen. This also enhances the black level of the television. You can select from Low, High, Off and Picture Off.
Parental Control: You can select a viewing limitation based on the TV and movie ratings. Three presets are available (Child, Youth, and Y. Adult) or the limitation can be customized to specific industry ratings. The control is accessed and protected by a 4-digit password.
Channel Block: This feature allows you to block specific channels regardless of program ratings. A 4-digit password needs to be set up prior to blocking channels. The blocked channel can only be viewed by entering the correct password.
Remote Control
Backlit Wireless Remote Control: The TV comes supplied with a wireless remote control (RM-YD024). The remote control is preset to operate Sony brand video equipment. The remote is also programmable to work non-Sony brand equipment such as DVD, VCR, DVR, Satellite or Cable. In addition, the remote control's buttons are backlit with a press of one button for easy operation when the lights are turned off.
Mounting Options
Pedestal Stand: The display comes supplied with a tabletop pedestal stand which must be attached using the supplied hardware. The television weighs 191 lbs with the stand attached.
Optional Wall Mount Brackets: The stand can be removed, allowing you to wall-mount the TV using an optional wall-mount bracket. The TV has 4 threaded screw holes with a horizontal spacing of 15-3/4" (400mm) and a vertical spacing of 11-3.4" (300mm). The screw holes all accept M6 (6mm) screws. The TV weighs 160 lbs without the stand.
Inputs and Outputs Notes
HDMI: The KDL-70XBR7 features four HDMI inputs, including one on the side panel. One input also has left and right RCA audio jacks. The HDMI (High-Definition Multimedia Interface) terminals provide an uncompressed, all-digital audio/video interface. With an HDMI-to-DVI cable, you can connect the TV to a DVI-equipped A/V component. When connecting to a DVI-equipped component, the RCA audio inputs are used. The HDMI input will accept 1080/24p, 1080p, 1080i, 720p, 480p, and 480i signals.
Component Video Inputs: The two component video inputs will accept 1080p, 1080i, 720p, 480p, and 480i signals.
PC Input (RGB): A 15-pin HD15 jack allows you to connect your personal computer to the display. There is also a corresponding stereo mini-jack (3.5mm) for the computer's audio signal.
Analog Audio Outputs: These stereo RCA audio jacks allow you to listen to the TV's audio through your stereo system. In the menu you can set the output to Fixed (volume controlled by the receiver/amplifier) or Variable (volume controlled by the TV's remote control) operation.
Note: You must turn the TV speakers off in the menu in order for the audio outs to function.
Digital Audio Output: Optical digital output that connect to the optical digital input of your digital audio equipment that is PCM/Dolby Digital compatible. Dolby Digital Audio signal from the HDMI input will be output as PCM.
LAN (10/100): The television features an Ethernet port (LAN 10/100) which can connect to a Local Area Network using an optional Ethernet cable (sold separately). You can use this connection to connect to a network and receive software updates from the Internet.
DMPORT: This Sony proprietary port connects to Sony Digital Media Port equipment (sold separately) to display photos, videos and music from the television.
DMex/Service Port: This USB port is for service use only unless you are connecting the optional Bravia DMex external module.
Remote: This is a RS323C, D-sub 9-pin port for receiving an external remote control signal.
Side Panel AV Inputs: For convenience, there are two A/V inputs on the left side panel of the TV. Included is an HDMI input as well as a stereo RCA input with a composite video input.
Side Panel USB Port: The unit's side-panel USB type-A port is used to connect USB equipment to access photo files and music files.
Our Product Research Team
At Crutchfield, you'll get detailed, accurate information that's hard to find elsewhere. That's because we have our own in-house Product Research team. They verify what's in the box, check the owner's manual, and record dimensions, features and specs. We stay on top of new products and technologies to help people make informed choices.