Why Choose Crutchfield?
Deep discounts on car installation gear
We offer vehicle-specific installation instructions, dash kits, wiring harnesses, and speaker accessories at deeply discounted prices with car stereo and speaker purchases. Available for most vehicles.
Learn more
Trusted since 1974
Our customers have trusted us with their business, and they've helped us win awards for our service.
Check out our most recent awards
Factory-authorized dealer
The manufacturer's warranty always applies.
See more details
Sony XAV-601BT
DVD receiver (New Stock)
Overview
Our take on the Sony XAV-601BT by Crutchfield's Ken Nail
Built-in Bluetooth® makes calling safer and streams audio, too
Sony also adds Bluetooth to the mix, for a wireless link between your mobile device and the XAV-601BT DVD receiver. If you're a Pandora® fan with an Android™ or Blackberry™ device, you can pair your phone to the XAV-601BT for complete Pandora® control without ever connecting a wire. You'll enjoy the convenience of hands-free calling, and you'll have touchscreen access to your phone book once your phone is paired.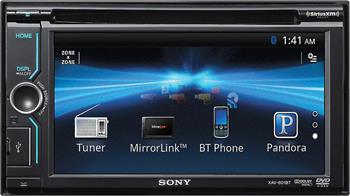 Plenty of media options
This Sony does all of the other things you expect from a full-featured DVD receiver. You can plug your iPod into the front USB input for direct control and playback of audio files. For video and more, Sony's RC-202IPV cable (not included) connects your iPod or iPhone to the receiver, so you can enjoy playback of video content from your iPod or iPhone, plus view and control compatible apps. Slide a DVD into the front slot to enjoy movies or videos when you're parked, or insert a CD or DVD loaded with MP3, WMA, or AAC music files for hours of audio entertainment.
Sophisticated sound controls
You know the evil sound your factory radio makes when it's turned up too loud? No such problem here. This Sony's powerful amp combines with advanced circuitry to make your discs and digital music sound their best. You can adjust the EQ7 7-band equalizer to optimize the acoustics in your vehicle, or use the built-in digital signal processing to enhance the sound of compressed music files.
MirrorLink™ offers a new degree of smartphone connectivity
If you're like most people these days, you've made your smartphone your source for... well, pretty much everything. You store music on it, do things like get directions with it, and sometimes even make phone calls with it. So it's only natural that you'd want to tap into it when you're on the road. Sony's XAV-601BT works with the MirrorLink system, which makes it the easiest way to get in-dash control over select smartphones, such as the popular Samsung Galaxy S III and Nokia Symbian models.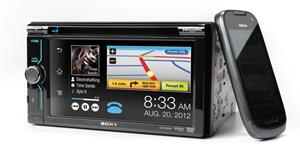 What will I need for MirrorLink?
MirrorLink needs three elements to do its thing: a compatible receiver like the XAV-601BT, a compatible smartphone, and an app that works with MirrorLink. The system works like this:
Download the app (prices vary) to your compatible phone. This lets the phone enter "car mode," which provides a simplified graphical interface that's ideal for use in the car, as it's easy to see at a glance, and much easier to use.
Connect your phone to the receiver using the receiver's USB input and your phone's USB cable.
Launch the app on your phone, and tap the MirrorLink icon in the receiver's source menu. The optimized car mode menu will appear on your receiver's screen.
Check to see if your phone will work with MirrorLink
The number of phones compatible with MirrorLink is limited, but growing. Sony is working hand in hand with the Car Connectivity Consortium, a group of manufacturers developing standards for mobile smartphone applications, to certify phones that will work with MirrorLink. While the MirrorLink system has been in use in certain factory stereos in Europe, the list of compatible U.S.-based receivers and smartphones is currently limited — check Sony's MirrorLink compatibility chart for their latest information.
Want to keep your car's steering wheel audio controls?
In most vehicles, you can use an adapter (not included) to connect your vehicle's steering wheel controls to this Sony stereo. Connect a few wires, then program the adapter for your particular car and the Sony, and you'll retain the convenience of your steering wheel controls.
Bluetooth note: Use of this receiver's Bluetooth features will depend upon your phone's Bluetooth capabilities. Learn more in our article explaining Bluetooth profiles.
Note: If you're going to use your iPod with this receiver, be sure to check "Details" for specific iPod model compatibility with this receiver.
Featured Video:
What's in the Box:
Double-din DVD receiver (10A ATC fuse inserted in chassis)
6.1" Detachable monitor (installed)
Sleeve (installed)
Custom trim ring
Wiring harness
Preamp output harness
Remote control (RM-X271)
CR2025 3V battery (installed in remote)
Microphone (with attached 12' cord terminated by a right-angle male 3.5mm connector)
Visor bracket
Two-sided tape
8 ISO mounting screws
Face-fixing screw
2 Radio removal tools
Face pouch
Operating Instructions (En/Fr/Sp)
Installation/Connections booklet (En/Fr/Sp)
US Limited Warranty sheet
Canada Consumer 1 Year Warranty
Important Notice
Detaching/Attaching front-panel note
Face-fixing screw note
Product Highlights:
General features:
DVD receiver with AM/FM tuner
built-in amplifier (17 watts RMS CEA-2006/52 peak x 4 channels)
detachable 6.1" touchscreen
MirrorLink for in-dash control of select smartphones
built-in Bluetooth for hands-free calling and audio streaming
Pandora® control with iPhone®, Android™, and Blackberry™ phones
fits double-DIN (4" tall) dash openings
remote control
Audio features:
plays CDs, DVDs, and USB memory devices (see Hands-on Research for full capabilities)
Sony SensMe technology organizes your music (external computer required for setup)
EQ7 7-band equalizer
Advanced Sound Engine (ASE) features Intelligent Time Alignment (ITA), plus Center Speaker Optimizer (CSO) for a virtual center channel
high- and low-pass filters
Expandability:
iPod control: Sony adapter cable required for full access to audio/video content
compatible with SiriusXM satellite radio tuner
inputs: front and rear USB inputs, two rear A/V input, rear-view camera input
outputs: rear video, 5-channel preamp outputs (5-volt front, rear, mono sub)
Other information:
compatible with most factory steering wheel audio controls (adapter required)
warranty: 2 years
Reviews
Sony XAV-601BT Reviews
Average Customer Review(s):
Roger from Mesa, AZ on 11/26/2014
USB menu is the worst I've ever seen.

Pros:

Cons:
Mirrorlink and Telenav disappointment
Boyonsea from Boston on 9/18/2013
2006 Toyota Camry Solara
Crutchfield Customer Review
(
What's this?
)
Was fooled by the advertisemnt that it supports iphone. Should have read the fine print. Doesnt support iphone 5 nor the nokia lumia 900 for mirrorlink. The telenav app on iphone 5 also doesnt appear on screen. No video from iphone 5 on ipod mode. (I read on esupport sony site that it supports iphone4, sony xperia and galaxy s3. really sad it doesnt support more phones) Other that this, its an excellent product. Sound quality and bluetooth integration is amazing. Was tired of buring CDs in my old stereo, but now I have loaded up my nokia lumia with music and also a small 8gb usb drive with music. I also drilled a hole through the cigarette lighter area to run the back usb cable, so 2 phones can be charged at the same time (one usb is at the front). I really wish mirrolink and telenav worked with iphone 5/nokia lumia series. Am planning to upgrade to iphone 5s, but will not be able to do a mirrorlink with this unit. Also no news on support for samsung s4.

Pros: USB music/photo/video and Bluetooth integration

Cons: No Iphone 5, Nokia lumia support
DM from Titusville, Florida on 9/11/2013
1991 Chevrolet Corvette
Crutchfield Customer Review
(
What's this?
)
This replaced a Kenwood unit that stopped working. Overall this is a very good entertainment center. It is very responsive to control on the touch screen. Sound quality is excellent and the options to add sources is very good. Bluetooth works very well with my devices. The control screens could use some work or short cuts as you have to use multiple screens to adjust sound setting. Also it would be nice to allow the user to make sound settings that effect all sources at once currently each source have their own setting ( Just allow a choice).

Pros: Responsiveness, sound quality, Bluetooth, expansion options.

Cons: Control screen layouts or lack of short cuts.
Nice upgrade for the Shaker-500 factory unit
Don from Ann Arbor, MI on 7/28/2013
2006 Ford Mustang
Crutchfield Customer Review
(
What's this?
)
Upgraded the Shaker-500 head unit in my 2006 Mustang. The factory unit had no USB and would not play all MP3s that I burned from Amazon. This unit fixes all of that. ...and adds hands-free calling, video and a cool touch screen. The sound is better than the factory unit and it also drives the system with more power. With the original unit, only the drivers mirror would vibrate, now all 3 do. I kept the factory speakers and the powered subs - seem good for now. Don't always love the UI, but I can get the unit to do what I want, so its OK. Haven't tried mirror-link yet, waiting to get a new phone next month, will try then.... I upgraded to this particular unit for this feature. The Bluetooth, hands free works great.

Pros: Looks good, easy install, great sound

Cons: Parts of the UI are klunky
Solid stereo with nice features
Anonymous from Chapel Hill, NC on 6/30/2013
2008 Honda CRV EX
Crutchfield Customer Review
(
What's this?
)
I bought this stereo because I wanted the ability to display a rear-view camera image when I was backing up. This unit has a parking break sensor that will block the rear-view camera feed when you do not have the parking break on. That will prevent you from looking at the camera display while backing up. At first I found this annoying, but later I began to appreciate how important it is after a few practical uses and near misses when I was focused solely on the camera display. The iPod and bluetooth controls work great with my wife's iPhone. The bluetooth integration with Android is less satisfactory but functional. The Bluetooth tends to drop a bit frequently but this could be due to the phones, not sure. The steering wheel controls are great and intuitive. The built-in radio has the nicest control system I have ever seen.

Pros: * The unit has a nice long USB port in the back that I ran to my glove box where I can keep an iPod out of sight. * It has two auxiliary inputs that you can use to run different devices from * The steering wheel control lets you dial through modes like a rotary which is convenient * incoming calls on your bluetooth connected phone will pause your other media and let you answer the call * the microphone wire is nice and long and I was able to hide the mic in my sun visor without problems

Cons: * setting up the steering wheel controls was hard and required soldering lines directly into the dash's wiring harness * directions for steering wheel controls were confusing and required three install attempts (there are two different "pink" wires on my car, this may be the fault of my manufacturer more than the stereo) * only 1 bluetooth device at a time, other stereos can register multiple devices and let you pick which device to use from a menu, this stereo is 1 at a time. * pricey
Nothing Short of Perfect !!!
Clint from Mobile, AL on 6/27/2013
Crutchfield Customer Review
(
What's this?
)
This radio is the most reliable perfect addition to my vehicle ever. I tried the JVC KW-AV64BT hated it no FM it was bad. This is the easiest to use most feature packed radio ever.

Pros: ALL

Cons: Dont have it in my Cobra!
dragons151 from Fort Walton Beach, FL on 6/24/2013
I have had this radio for a year now, no issues. Sound quality is amazing, you have to really know this device to enjoy it. Mirror link isn't installed in a lot of phones in the us however their are increasing the numbers daily (my Samsung s3 uses drive link). I have an old iPhone 4s that I don't have service with anymore however it plays the movies I have saved on there as well as any YouTube, Netflix or any other video/sound media I have. The remote mic for blue tooth works well (when windows are up). Sony has put out at least 3 firmware updates that have significantly improved the performance and functionality of this device. I have had a external led monitor hooked up to one of the composite video ports that has allowed me to do zone x zone (lets the driver listen to the radio while passengers listen to movie through headphones ). I have used the telnave (available after firmware update) which is great turn by turn only down fall is that it doesn't allow any other sound to play unless it is music saved onto the Apple product. I have no issues with playing movies off of the usb drive. I didn't try the zone x zone with usb however I do believe I wouldn't have any issues. I like the auto dimming feature for night driving (if hooked up ) and love the turn off display option for night driving (hold disp.). Bluetooth automatically picks up every time i get in and can stream Pandora without physically connecting a cable. I've found this to be worth the price.

Pros: easy to use, amazing picture, amazing sound

Cons: doesn't come with back up camera or gps
Great value from Riverside,ca on 5/3/2013
I have always enjoyed great audio so in the past I would have looked at higher end head units. This time around I wanted something with a lot of bang for the buck like most of us now a days. I found this Sony fit the bill and it surpassed my expectations. It is easy to use and features are great. The audio setup was easy and far better than i expected. I am running Focal separates, Mtx sub and a J L amp the sound is amazing. My car can't have rear speakers but the Sony unit allows you to favor the front sound stage and allows to limit the highs and lows so you can cut them off at certain levels. This gives your speaker a clearer sound. There are a ton of options and just noticed the rears can be set as subs too. I think i will find a way to get some mid range woofers in the rear. ; ) The first chance I had I went out with my Friend and she really cranked it up on the 101 freeway heading down to Hollywood .It sounded great the highs were crisp and clear the bass thundered and thumped it was awesome.. I love my radio. thanks for reading.

Pros: easy to use , tons of audio speaker calibrations, front and rear USB, i pod control. Detachable face

Cons: Screen could be a little brighter, mirror link allows you to view your smart phones navigation and Pandora and other apps but only for Nokia phones and 2 Samsung the galaxy s3 and with a recent firmware upgrade it supports the galaxy Note II .
daniel v from stockton ,calif on 4/29/2013
Crutchfield Customer Review
(
What's this?
)
I realy liked it.

Pros: Realy easy to work with if you have a iphone.

Cons: Not so easy if you don't have a iphone.
Elle from Grants Pass on 3/25/2013
I love this unit! The sound quality is great, Bluetooth is seamless with my iPhone and the screen controls make it so easy to operate!

Pros: Great sound! GREAT Bluetooth functionality, Wonderful sound quality!

Cons: Wish the mirrorlink worked with my iPhone!
Mullin from Charleston, WV on 3/13/2013
2009 Chevrolet Silverado 1500
Crutchfield Customer Review
(
What's this?
)
Read all the reviews as well and went with what was on paper. Have to say I'm very thankful i did. This unit is wonderful, no DVD playback issues, no IPOD or IPhone sync issues and I'm using a 120GB (about 14k songs) classic. I also tried the 10k items on flash drive, worked just as well. The thing they dont tell you is once you pair the BT, you "CAN STREAM PANDORA" or anything for that matter "THROUGH BLUETOOTH" - if you want to rate the song then you will need to usb it - if you just want to listen, skip forward or back it does it via bluetooth. If you were like me and went with the factory steering wheel controls adapter - its bliss. I really like the sound staging (listening position) feature and it doesnt clip as you crank it-this baby can cook some factorys im sure. Another thing they were not really clear on is the visualations during playback. To me that alone should be the selling point, we all know mirror link is junk but there isnt any other unit out there that will entertain the screen as you listen as much as this one, its like winamp x 5. So if your out looking for an all in one and want something that is different from everyone else, take this into consideration. Detachable face + wireless remote, and all the other bells and whistles... you cannot beat it for the price =fact.

Pros: Great sound, picture, BT pairing & features, excellent sub response out, wireless remote, On Screen visualtions as well as audio playback, easy interface (2D and 3D modes), could go on.

Cons: Didnt come with a milk shake....
Bou-G from Sudbury, ON on 1/23/2013
I'm not as picky as everyone else who rated this. I think its a decent head unit, it has a really clear and nice picture and good sound although ive now wired my components to an aftermarket amplifier. The dvd function works totally fine, and the previous comments regarding that issue are completely wrong they just dont know how to install touchscreen HU's!! It has trouble connecting to my sony walkman but connects great to my ipod. I do agree that the mirror link sucks, but thats pretty much the only problems i see with this deck. I will install a rearview camera soon and see how that works and let you know if it does or doesnt work. But for the cost I would definitely go for something else though.

Pros: nice picture, works well if all you care about is playing your ipod or usb

Cons: trouble connecting to sony walkman, mirror link sucks, the
Rell from Dallas, TX on 12/20/2012
Ok, the features highlighted to sale this product are misleading!!! The Tom Tom GPS Navigation is not available, and the MirrorLink exists only for a couple phones so there goes Navigation! Zone X Zone requires the rear monitor to be sending audio. If the DVD is in the unit itself, IT IS IMPOSSIBLE FOR THIS FEATURE TO WORK!!!!!!!!! Videos thru USB are NOT shown on reat monitors!! COME On MANNNNN!!! They didn't think this one thru.... Works well with my Bluetooth Sony WALKMAN. Bluetooth or USB! Audio, Video, Photos all show. Wouldn't consider the XAV 601BT a "terrible product" but I am frustrated buying a product for it's features only to find that they are not available for ANY reason!

Pros: Sound quality and video are great! Compatible with Sony WALKMAN and Xperia Phones. Detachable Faceplate. Upgradable

Cons: No Navigation, Limited MirrorLink, Features not as advertised
BrianM from Cincinnati, OH on 10/24/2012
This unit is half baked. The user interface is terrible. When listening to XM, the preset station buttons and station +/- disappear and require you to hit the back button to see them. The advanced controls (pause, replay, etc.) part of the XMSirius tuner are not available on this unit. The station name, artist, and song title are ridiculously small fonts. Mirrorlink is a joke and does not work with any US phones. If you have any speakers connected directly to the unit (without an amp), the unit beeps as soon as you turn off the car. Sony calls this a "caution alarm" to tell you the faceplate is still on and doesn't provide a way to disable it. It's annoying and embarrassing. It seems like the firmware was half baked and the unit shoved out the door before it was ready. If I would have known how bad it is, I would not have bought this unit. I could live with fewer features for a unit that is better thought out.

Pros: Bluetooth, Android Pandora control

Cons: User interface, "Caution Alarm"
IMO might be the hottest radio out
Anonymous from Atlanta, GA on 9/3/2012
It's correct MirrorLink isn't for iPhone, but I don't think that's Sony's fault. Apple didn't join MirrorLink so Sony can only interface as much as apple lets them. Plus it does have passenger app mode for iPhone where any app that has video out will play on the screen. Youtube, Netflix, MotionX GPS Drive and even more apps work from my iPad. And yes Nokia and Samsung are supplying the only MirrorLink phones in the USA right now, but other phone makers are in MirrorLink too, so there will be more MirrorLink phones soon. I mostly use an iPhone, but MirrorLink looks so cool I may get a prepaid Nokia just to check it out. Yes the Telenav app could use an update, but the cool part is you can control the app from the radio. Unlike other apps that can only be controlled by the phone. In some states touching your phone while driving can get you pulled over. It sounds like some of the reviewers didn't spend much time getting to know the radio.

Pros: 3D GUI, Dual USB, Detachable Face, App Control, MirrorLink, 5V preout, full motion iPod background graphics, upload background image, User updateable, fast iPod search

Cons: I gave it 4 coolness stars because they got of the picture in picture from last years nav.
Listen to the reviews, go with the Pioneer
Corey from NJ on 8/22/2012
2010 Jeep Wrangler Unlimited
Crutchfield Customer Review
(
What's this?
)
Really nice at first. NO iPhone support for Mirrorlink. (period) What a disappointment. Full of glitches as well. No sound on startup until you scroll through sources. Number keys on remote cannot dial in a channel. Bad news!

Pros:

Cons:
JayB from San Francisco, CA on 8/21/2012
2005 Audi A4
Crutchfield Customer Review
(
What's this?
)
This looks like a good unit. I have had mine for about 45 days now and I am not very satisfied. The sound and the picture quality are both good, which is to be expected for a Sony device. The problem is in the functionality. First, I bought the device (based on the pictures on the website and box) that show a cool GUI with the song display and the navigation. That screenshot DOES NOT EXIST. When you use Telenav (which, by the way was only available today via the Firmware update), you can do nothing else on the device except for play your iPhone music through Telenav (which is NOT user friendly). If you have a satellite radio installed, you will NOT be able to do both navigation AND music. Same with Pandora. The Telenav application is worthless and slow. If you are buying this for navigation -- DONT! I am not sure about the add-on Tom Tom navigation unit, but that's additional $$$, so why wouldn't I just buy another device that has Navigation built in for less? Strange. There is a 1-wire USB cable on the front, but it does NOT control the iPhone if you are trying to use it for Navigation or anything with video. For that, you need to use the complicated and strangely thick iPhone cable (which ONLY plugs in through the back of the unit). The box says that it's iPhone compatible, but that just isn't very true. Sure...it plays music through the device with your iPhone, but forget about using ANY of the mirrorlink applications -- they only work on such a limited number

Pros: Display, Sound Quality, & Visualizations

Cons: iPhone compatibility issues, TeleNav App Control, Cumberson GUI
Is this really a Sony Product?
Jerry from Lancaster, NY on 7/23/2012
2007 Chevrolet Avalanche
Crutchfield Customer Review
(
What's this?
)
Everything I own is Sony, and I bought this unit off the name. Kind of a mistake. First of all the mirror link Technology only works on 2 phones and after speaking with Sony's Customer service there is no more phones in the making to further this list. The sound was good, not impressed. The whole interface needs some work to be done, very boring. Thank God for crutchfield as I returned this item and went with a Pioneer 8400, which was a better choice. Very shocked for Sony to put out such a lame product. Need to catch up with the Jone's Sony !!

Pros:

Cons:
Dave from Boston, MA on 7/9/2012
2012 Subaru Impreza WRX
Crutchfield Customer Review
(
What's this?
)
Sony just needs to add a bit of polish to the user interface, and it'll be just about perfect. After fumbling through the user documentation on how to access all the functionality, I realized that there are just a few things missing from the setup: Customization of home screen icons. I want to be able to rearrange the icons based on how I want. Currently the only options are factory set, and frequently accessed (not sure how that's figured). I'd also like to see separate UI icons that fall in line with those of an iPod or iPhone, since there is still not word on mirrorlink with an iOS device. I've heard word that there's a firmware update coming down in August (2012), so we'll see what we get there, other than the TeleNav GPS functionality.

Pros: Slick User Interface and swipe commands for music playback.

Cons: User documentation left much to be desired.
Details
Product Research
Touchscreen Display
Smartphone Control
USB/iPod Control
Built-in Bluetooth
Disc Playback
AM/FM Tuner + SiriusXM Ready
Audio Section
AV Connections
Remote Control
Touchscreen Display
6.1" Detachable Touchscreen Display: The Sony XAV-601BT DVD receiver features a detachable 6.1" widescreen (17:9) touchscreen LCD monitor. The WVGA LCD monitor has a high resolution of 800 (H) x 480 (V) x RGB; with 1,152,000 total pixels. The LCD monitor provides touchscreen controls with interactive video graphics, making menu navigation easy. The unit's 6.1" touchscreen monitor is detachable and comes with a carrying pouch to deter theft. A face-fixing screw is supplied for making the LCD monitor non-detachable, if desired.
Caution Alarm: If you turn the ignition switch to the Off position without detaching the front-panel, the caution alarm will sound for a few seconds. The alarm will only sound if the built-in amplifier is used.
Gesture Commands (with Touch Effect): You can perform frequently-used operations by making command strokes across the XAV-601BT's touchscreen display. Draw a horizontal line left-to-right to skip/seek forward or draw a horizontal line right-to-left to skip/seek backward. You can also draw a vertical line upwards to fast-forward a video or skip forward in a folder; as well as draw a vertical line downwards to reverse a video or skip backward in a folder. When the Touch Effect feature is activated the touchscreen will display a light trail where you have touched the display.
Front Panel Controls: In addition to the head unit's touchscreen controls, the XAV-601BT also offers a rotary knob and hard-key buttons along the left side of the screen.
Dynamic Color Illuminator (35,936 colors): Dynamic Color Illuminator lets you match the head unit's button illumination to complement your existing vehicle lighting components. With selectable Sound Synchronization, the timing of the color change is synchronized with the audio source. You can select from 12 preset colors (red/amber/m-amber/yellow/white/light green/green/light blue/sky blue/blue/purple/pink), customized color, & 5 preset patterns (rainbow/ocean/sunset/forest/random).
Picture EQ: You can select a picture quality mode suitable for the interior brightness of your vehicle. You can choose from Dynamic, Standard, Theater, Sepia, or Custom (1/2). The Custom (1/2) Picture EQ modes allow you to make your own picture quality settings by adjusting the picture tones manually. You can adjust the Brightness, Color, and Color Tone (warm/normal/cool).
Background Themes: You can select between various background themes for the head unit's touchscreen monitor. Choose from Animal, Balloon, Gate, Glow, Graffiti, Ink, Random, or Off.
Icon Adjustment: You can choose for the unit's Home screen menu icons to be displayed based on how often they are used or by system default. These same icons can be displayed in a 2D or 3D mode.
Aspect Ratio: You can change the screen's aspect ratio of the DVD receiver's LCD monitor to suit your video content. You can choose from Normal, Wide, Full, or Zoom.
Multi-Language Display: For your convenience, this unit is equipped with a multiple language display. You can select the language which is best suited to your first language; English, French, Spanish, or Portuguese.
Track List: The Sony XAV-601BT displays a list of albums, folders, tracks, images, or video files stored on a disc or USB device, so you can quickly search your audio/video content.
Parking Brake Detection: To prevent the displaying of video while the vehicle is in motion, the light green wire in the supplied 22-pin harness must be connected to the vehicle's parking brake detection circuit. While the vehicle is in motion (parking brake off), you can still view all of the other displays and menus.
Dimmer: To change the brightness of the display you can set the XAV-601BT to one of two dimmer modes; Dimmer Auto (dims the display automatically when you turn your vehicle's lights on), or Dimmer On (display always dim). You can adjust the dimmer level from -5 to +5.
Auto Off: When installing in a vehicle without an accessory power wire at the radio location, you can set the unit to turn off all lighting a set amount of time after you turn the power off. The Auto Off feature can be set to 30 seconds, 30 minutes, 60 minutes, or No.
2-DIN Chassis: The Sony XAV-601BT has a 2-DIN chassis (also known as Double-DIN), and will fit in many vehicles with a large dash opening. The unit can be ISO-mounted using factory brackets, or Euro-mounted using the supplied mounting sleeve. This head unit does not come with a Euro-mount trim ring. As always, please consult Crutchfield's Outfit My Car to verify fit with your vehicle.
Smartphone Control
MirrorLink: MirrorLink technology offers seamless connectivity between select smartphones and the Sony XAV-601BT receiver through its USB connection. MirrorLink duplicates your smartphone's display on the head unit's touchscreen display, so you can control compatible applications on your smartphone from the head unit's touchscreen monitor. Only a smartphone and smartphone apps compatible with MirrorLink function can be used. For your safety, when the parking brake is not engaged, some smartphone screen content may not appear on the XAV-601BT's touchscreen monitor.
Drive Link for Samsung Galaxy S III (Android): To use MirrorLink with your Samsung Galaxy S III, the free "Drive Link" application must be downloaded from Samsung Apps and installed on your compatible Samsung Galaxy S III smartphone. Once downloaded, individual apps are grouped into three categories (Music, Location, Phone) for easy access. Selecting a category lets you quickly access specific apps for music playback, car navigation and maps, as well as hands-free telephone communication.
Nokia Car Mode w/ MirrorLink: To use MirrorLink with your Nokia smartphone, the "Nokia Car Mode with Mirrorlink" application ($29.99) must be downloaded from the Nokia Store and installed on your compatible Nokia smartphone. Once downloaded, individual apps are grouped into three categories (Call, Drive, Music) for easy access. Selecting a category lets you quickly access specific apps for music playback, car navigation and maps, as well as hands-free telephone communication.
Note: The following Firmware Update adds compatibility for the Sony Xperia Z and Samsung Galaxy Note II smartphones. Compatible Samsung and Nokia phone models, their launch timing, as well as functionality will differ by country or origin. Check out the MirrorLink Certified Product Listing for the latest compatible MirrorLink smartphones.
Pandora Internet Radio: Pandora is the leading Internet Radio music service in the United States, giving people music they love anytime, anywhere, through personalized radio stations. The Sony XAV-601BT DVD receiver lets you playback and control the Pandora Internet Radio music service that is being streamed to your Apple iPhone, Android smartphone, or BlackBerry. Your iPhone, Android, or BlackBerry smartphone will need an active Data Plan account with connection to the Internet via 3G, EDGE, or WiFi. In addition, you will need an active Pandora music service account.
Pandora App for iPhone: The Sony XAV-601BT provides complete access to your Pandora account using your iPhone (3G/3GS/4), via the head unit's front- or rear-panel USB port. To access Pandora you must have an Apple iPhone (iOS3 or later) with the latest version of the Pandora App from Apple's iTunes App Store.
Pandora via Android or BlackBerry: The Sony XAV-601BT lets you playback and control Pandora Internet Radio streamed from your Android or BlackBerry smartphone, via Bluetooth (no hard-wired connection required). To access Pandora from the Sony head unit, your Bluetooth-enabled Android or BlackBerry smartphone must have the latest version of the Pandora App from the Android Market or the BlackBerry App World. Your Android or BlackBerry smartphone must support A2DP, AVRCP, and SPP Bluetooth profiles.
Note: Access to the Pandora service will depend on the availability of a cellular and/or WiFi network for purposes of allowing your iPhone or smartphone to connect to the Internet. Pandora is not supported in Canada and only available in the United States.
Pandora Control: The Sony XAV-601BT will provide control over the Pandora music service streamed to your USB-connected iPhone or Bluetooth-enabled Android or BlackBerry smartphone.
Station List: You can select Pandora stations from your Station List by date or alphabetically (A-Z).
QuickMix: QuickMix allows you to listen to songs played on one or more Pandora stations in your Station List randomly. You will need to edit your QuickMix station selections on the phone before connection.
Skip Songs: You can skip song tracks within a station. You cannot skip back to a previous song. Pandora limits the number of skips allowed.
Thumbs Up/Down: You can give songs a thumbs up or thumbs down to help Pandora personalize stations to suit your preferences.
Bookmarking: The song or artist currently being played can be bookmarked & stored in your Pandora account.
Information Display: The Sony XAV-601BT will display Artist, Album, & Song information provided by the Pandora app on your iPhone, Android, or BlackBerry smartphone.
USB/iPod Control
Dual USB Ports: The receiver is equipped with a front-panel and rear-panel USB (type-A) port that can be used for plugging in (MSC) Mass Storage Class or MTP (Media Transfer Protocol) type USB devices. The rear-panel USB port is attached to the rear-chassis via a 58" cable. The head unit can play video, photo, and audio files stored on a compatible USB device. The files must be formatted in FAT 12/16/32. The head unit can recognize up to 10,000 files from a single USB memory device. USB portable audio players that can be charged via USB will be charged when plugged into the CD receiver's USB port (max. 1A), and the vehicle's ignition switch is set to ACC or On.
Compatible Video Files
Codec
File Extension
Max Bit Rate
Max Resolution
Max Frame Rate
H.264/AVC
.mp4, m4v
14 Mbps
1280 x 720
30 fps (30p/60i)
MPEG-4
.mp4
10Mbps (DVD), 7Mbps (CD)
720 x 576
30 fps (30p/60i)
WMV
.wmv
20 Mbps
1280 x 720
30 fps (30p/60i)
Xvid
.avi, xvid
10Mbps (DVD), 7Mbps (CD)
720 x 576
30 fps (30p/60i)
Compatible Audio Files
Codec
File Extension
Bit Rate
Sampling Frequency
Information Display
MP3
.mp3
48-192 kbps (VBR)
32, 44.1, 48 kHz
ID3-tags (16-126 characters)
WMA
.wma
64-192 kbps (VBR)
44.1 kHz
WMA-tag (63 characters)
AAC
.mp4, .m4a
40-320 kbps (VBR)
44.1, 48 kHz
iTunes (126 characters)
PCM
.wav
1,411 kbps
44.1 kHz
n/a
Compatible Photo Files
Codec
File Extension
Profile
Max Resolution
Total Resolution
JPEG
.jpg, jpeg
DCF 2.0/Exif 2.21 (Baseline profile)
6048 x 4032
24,000,000 pixels
Note: This unit cannot recognize USB devices via a USB hub. Not all listed file types may play back due to file variations. Copyright protected ACC-LC files cannot be played back.
USB Playback Functions: The XAV-601BT offers the following USB search & playback functions.
Search Modes:

Quick-BrowZer: allows you to search for a track on a connected USB device easily by category (Genre, Artist, Album, or Playlist)
Jump Mode: gets you closer to the song you want by allowing you to fast forward through a music category in 10% increments
Zappin: play music (files or folders) in 6, 15, or 30-second clips until you find the song you are looking for on your connected USB device

Playback Modes:

Repeat: repeat a single track or repeat an entire album
Random: shuffle all tracks or a specific album
Content Transfer/SensMe Online Software: The Content Transfer/SensMe online software can organize your music into playlists that perfectly match your mood, scene, and location, making it easier to choose the music that fits the moment. SensMe actually looks at the beats-per-minute and automatically groups your music (stored on your windows-based computer) into channels, making listening and managing all of your content even simpler. Once you have downloaded & used the SensMe software to organize your PC's music, you can then transfer that music to your USB device (Not iPod/iPhone) for playback on the Sony head unit. You can select & play a channel that fits your mood from the following categories.
Time of Day: Tracks are recommended for each time of day. Choose from Morning, Daytime, Evening, Night, or Midnight.
Music Type: Plays tracks according to the music type. Choose from Energetic, Relax, Upbeat, Mellow, Lounge, Emotional, Dance, and Extreme.
Driving Type: Plays track that are suitable for type of driving. Choose from Freeway, Chillout Drive, Weekend Trip, Midnight Cruise, Party Ride, Morning Commute, and Going Home.
Mood Map: Distributes tracks as dots on a two-axis mood map, based on the characteristics of individual tracks (last 200 tracks transferred). Simply touch a point on the map according to your Mood (Sad/Happy), Type (Acoustic/Electronic), Style (Soft/Hard), or Time (Morning/Midnight) and a circle appears around the touched point, and the tracks inside that circle are played.
Note: Download of the Content Transfer/SensMe online software to your windows-based computer is required to enable the SensMe function on this head unit. The software must be downloaded to your PC & then music content must be transferred to a USB (MSC) device. The SensMe software is not compatible with iPod or iPhone.
System Requirements for SensMe Software: Your Windows-based computer must meet the following system requirements.
System Requirements
CPU
Intel Pentium III Processor 450 MHz or higher
OS
Windows 7 (SP1), Windows Vista (SP1 or later), Windows XP (SP2 or later)
RAM
256 MB or more (for Windows XP), 512 MB or more (for Windows Vista or later)
Port
USB
Monitor
High color (16-bit) or more, 800 x 600 dots or more
Connection
Internet
Note: 64-bit & Media Center versions of Windows XP are not supported. Not compatible Mac.
iPod/iPhone 2-Wire Connectivity: The front- or rear-panel USB port and rear-panel AV-1 input are compatible with select iPod/iPhone devices when used with the optional Sony RC-202IPV adapter (RC-202IPV, sold separately). One end of the cable plugs directly into your iPod's dock connector while the other end of the cable uses two connectors that plug into the XAV-601BT. The USB type-A connector portion of the cable plugs into the receiver's front- or rear-panel USB port and handles the metadata, control, charging, and audio playback of your iPod/iPhone, so you can navigate through your music and video files using the head unit's touchscreen controls and view song and movie info, as well as album art on its display. The composite video connector of the cable plugs into the unit's rear-panel AV-1 input and transfers the video images from your iPod/iPhone to the Sony head unit. Video can only be displayed while the vehicle is in park. If you require audio playback only, you can simply plug your compatible iPod/iPhone directly into the head unit's front-panel USB port using your iPod/iPhone's dock connector cable (no additional adapter required).
Note: If you have an iPod nano (7th gen), iPod touch (5th gen), or iPhone 5; use the Lighting-to-USB cable that came with your Apple device to connect to the head unit. These Apple devices only support audio playback (no video output).
Bypass iPod DAC: The USB Direct Connection enables high-speed iPod/iPhone data communications via the optional RC-202IPV (2-Wire) interface. The USB connection allows your iPod/iPhone's stored music to be loaded instantly to the head unit and sound quality to be maximized through the head unit's 24-bit D/A converter, allowing for a Signal to Noise ratio up to 120dB.
iPod Navigation: The controls of the XAV-601BT are seamless when used with the optional RC-202IPV and include metadata browsing, as well as the ability to choose from various playback & search modes to suit your listening application. You can also choose to control your iPod/iPhone from its touchscreen or clickwheel.
Head Unit Control: The head unit's Quick-BrowZer feature allows you to browse your iPod/iPhone's music library by Album, Track, Genre, Playlist, Artist, or Music Podcast. You can browse your videos by Movie, Rental, TV Show, Music Video, Playlist, or Video Podcast. You can then search within a specific Quick-BrowZer category alphabetically (A-Z). With the unit's Zappin feature, you can play music tracks & albums in 6, 15, or 30-second clips until you find the song you are looking for on your connected iPod/iPhone. The XAV-601BT also supports Repeat (Track/Album) & Shuffle (Album) playback modes.
Passenger App Control: The Passenger App control mode allows you to control stored audio/video content from your connected iPod/iPhone's clickwheel or touchscreen. This is very useful for the person riding in your passenger seat. The iPod Passenger mode also lets you listen to your favorite music apps, such as Pandora, iHeartRadio, SiriusXM, Last.fm, Rhapsody, & Slacker streamed to your iPhone (iOS 3.0+) through the Sony head unit and your vehicle's speakers. You can even watch video on the Sony DVD receiver's touchscreen from streaming movie apps, such as Netflix & YouTube, downloaded on your iPhone 4/4S (iOS 4.0+), via the SonyRC-202IPV iPod cable (sold separately). Video can only be accessed when the vehicle is in park and the hand-brake is fully engaged. Not all apps will be compatible, and you will continue to control all app functions via your iPhone's touchscreen. Access to your iPhone's downloaded applications will depend on the availability of a cellular and/or WiFi network for purposes of allowing your iPhone to connect to the Internet.
Music Information: The multimedia head unit will display your iPod/iPhone's stored music file information; including Track number, Elapsed playing time, Song Title, Artist/Album Name, and Album Art. The head unit will not display metadata information from streamed music apps; in this case head unit only displays the message "Passenger App Control". You will continue to view song/artist information from music apps on your iPhone's touchscreen.
Charging: The head unit's USB connection provides 1A of current to power and charge your connected iPod/iPhone when your vehicle's ignition switch is set to the 'ACC' or 'On' position. This unit does not charge the iPad. If your iPod/iPhone has no initial battery charge, then this unit will not recognize it.
Telenav App Control: Telenav app control for iPhone 4/4S will be available as of Aug 2012 via firmware update. Simply connect your iPhone's TeleNav GPS app via the RC-202iPV cable (sold separately) to the XAV-601BT and see directions on the DVD receiver's screen while hearing them over the car speakers. The TeleNav app features a 3D moving map and provides voice-guided, turn-by-turn navigation with real-time traffic and automatic rerouting. You also get Lane Assist and speed trap + red light camera alerts. Multiple route options are available; based on distance, drive time, and traffic. You can search from millions of POIs, including restaurants, ATMs, and gas stations. You can also save your favorite destinations for easier access. Even though the TeleNav App is free to download from the iTunes store, some features require a $2.99 per month fee.
Note: If you start playback of your iPhone's music before you launch the TeleNav GPS app, you can continue to listen to stored music and music apps on your iPhone, while navigating with the TeleNav application. However, you cannot control playback or view metadata of your iPhone's music.
iPod/iPhone Compatibility Chart: The Sony XAV-601BT is "Made for iPod/iPhone" compatible and supports the following iPod/iPhone model features (as of 10/5/2012):
iPod/iPhone
Generation
Tested Version
Media Type
Control Type
Display Type
Pandora App
TeleNav App
Charge
Audio
Video
Head Unit
iPod/App
Song/Artist Text
Track Info
Album Art
dock connector
3rd
N/A
N
N
N
N
N
N
N
N
N
N
clickwheel
color
4th
N/A
N
N
N
N
N
N
N
N
N
N
mini
1st
N/A
N
N
N
N
N
N
N
N
N
N
2nd
N/A
N
N
N
N
N
N
N
N
N
N
video
5th
1.3
N
N
N
N
N
N
N
N
N
N
classic
80GB
1.1.2
Y
Y
Y
Y
Y
Y
Y
N
N
Y
120GB
2.0.1
Y
Y
Y
Y
Y
Y
Y
N
N
Y
160GB
2.0.4
Y
Y
Y
Y
Y
Y
Y
N
N
Y
nano
1st
1.3.1
Y
N
Y
N
Y
Y
Y
N
N
Y
2nd
1.1.3
Y
N
Y
Y
Y
Y
Y
N
N
Y
3rd
1.1.3
Y
Y
Y
Y
Y
Y
Y
N
N
Y
4th
1.0.4
Y
Y
Y
Y
Y
Y
Y
N
N
Y
5th
1.0.2
Y
Y
Y
Y
Y
Y
Y
N
N
Y
6th
1.1 PC
Y
N
Y
Y
Y
Y
Y
N
N
Y
7th
1.2
Y
N
Y
Y
Y
Y
Y
N
N
Y
touch
1st
2.2.1
Y
Y
Y
Y
Y
Y
Y
N
N
Y
2nd
4.2.1
Y
Y
Y
Y
Y
Y
Y
N
N
Y
3rd
5.1.1
Y
Y
Y
Y
Y
Y
Y
N
N
Y
4th
6.0
Y
Y
Y
Y
Y
Y
Y
N
N
Y
5th
6.0
Y
N
Y
Y
Y
Y
Y
N
N
Y
iPhone
2G
3.1.3
Y
Y
Y
Y
Y
Y
Y
Y
N
Y
3G
4.2.1
Y
Y
Y
Y
Y
Y
Y
Y
N
Y
3GS
5.1.1
Y
Y
Y
Y
Y
Y
Y
Y
N
Y
4
6.0
Y
Y
Y
Y
Y
Y
Y
Y
Y
Y
4S
6.0
Y
Y
Y
Y
Y
Y
Y
Y
Y
Y
5
6.0
Y
N
Y
Y
Y
Y
Y
Y
N
Y
iPad
1
5.1.1
Y
Y
Y
Y
Y
Y
Y
Y
N
N
2
6.0
Y
Y
Y
Y
Y
Y
Y
Y
N
N
3
6.0
Y
Y
Y
Y
Y
Y
Y
Y
N
N
Note: Apple iPod/iPhone software updates may change functionality results. If you download a newer software version, you may need to reset the head unit and your iPod/iPhone to regain functionality. If this doesn't work, you may need to wait until a newer software update is available.
Firmware Upgradable: You can easily upgrade the XAV-601BT's firmware. Simply use your PC to download updates from Sony' eSupport site to a USB thumbdrive and load it on the DVD receiver via its USB input. The tested XAV-601BT contained firmware version SR11_xav_1.09.001.
Built-in Bluetooth
Bluetooth Technology: The Sony XAV-601BT is equipped with built-in Bluetooth (version 2.1 + EDR), allowing you to make and receive phone calls wirelessly through the receiver; as well as stream music wirelessly from your smartphone to the head unit.
Bluetooth Profiles: In order to use Bluetooth wireless technology, your phone must also be Bluetooth compatible and be able to interpret certain profiles. This unit is compatible with the following Bluetooth Profiles:
Hands-Free Communication: HFP (Hands Free Profile), PBAB (Phone Book Access Profile).
Audio Streaming: A2DP (Advanced Audio Distribution Profile), AVRCP (Audio/Video Remote Control Profile).
Pairing: Up to 9 phones or audio devices can be registered with the XAV-601BT (only one device can be used at a time). The unit can be set to automatically reconnect to the last connected Bluetooth device when the ignition is turned on. Due to the differences in Bluetooth technology, some Bluetooth enabled devices may be incompatible, function improperly, or may not support all features when used with the Sony XAV-601BT. Please visit Sony eSupport for a complete list of compatible Bluetooth enabled phones.
External Microphone: The XAV-601BT includes an external microphone to carry on your side of your phone conversation and voice command dialing. The external wired microphone offers improved audio quality versus an integrated microphone, so you can be heard easier over noisy traffic and road noise. You can adjust the level of the microphone without affecting the other sources. The external microphone features an attached 12' cable terminated by a right-angle 3.5mm connector which plugs into the mic input on the rear-panel of the head unit. The microphone comes with a mounting bracket which can be clipped to your vehicle's sun-visor or taped to your dash. The external microphone measures 0.465" (diameter) x 1.425" (depth).
Note: There is no integrated front-panel mic.
Hands-Free Communication: The Sony XAV-601BT supports Bluetooth hands-free communication for your Bluetooth enabled cell-phone. Bluetooth hands-free communication helps to minimize distraction while driving by allowing you to control your mobile phone from the head unit, so you don't have to touch your mobile phone. The controls of the XAV-601BT can be used to dial a number, answer an in-coming call, or end a call. The unit also features an external microphone (featuring adjustable gain), so you can carry on your side of the conversation while listening to the caller through your vehicles speakers. During a conversation, you can switch between the Private Mode (talking directly on your cell phone) and the Hands Free Mode.
Answering Calls: Incoming calls can be answered manually or automatically (between 3-10 seconds) through the Sony head unit, while the ring tone is output from your car speakers and the caller's name or phone number is displayed on the head unit's LCD. Incoming calls can also be rejected if desired.
Dialing a Number: Using the XAV-601BT, you can dial a phone number in one of the following ways.

Entering Phone #: Allows you to manually dial a phone number using the unit's touchscreen.
Redial: Use to easily redial the last number you called.
Preset Dial: You can store up to 6 contacts in the preset dial for quick dialing.
Phone Book: You can store up to 1,000 contacts in the unit's phone book. Up to a 40 character name can be input for each contact.
Call History: The unit will store the last 20 calls, allowing you to select a previous phone number quickly from the list.
Voice Dial: You can make a call using the voice tags stored on your connected cellular phone.
SMS Indicator: The SMS indicator informs you of any incoming or unread SMS messages on your paired Bluetooth-enabled smartphone. You will still need to view the text message from your phone, as well as create and send text messages from your phone.
Wireless Audio Streaming (with Meta Data Display): The Sony XAV-601BT also supports wireless audio playback (AD2P) and control (AVRCP) of a Bluetooth enabled audio player or smartphone. The XAV-601BT will be able to control your stored music's basic playback functions; such as Play/Pause, Previous/Next Track, Fast-Forward/Reverse, and Shuffle/Repeat. The head unit will also display your stored music's song information; such as Artist name, Song title, and Album label. The XAV-601BT also supports audio streaming of music apps, but without control or metadata. You will continue to use your Bluetooth enabled smartphone to view and control streaming music apps. When an incoming call or outgoing call is in progress from your Bluetooth enabled mobile phone, audio streaming will be paused so you can take your call. Once the call is finished, your streaming music will resume.
Disc Playback
Compatible Discs: The Sony multimedia head unit has a front loading disc slot to make loading your disc easier, because there is no panel to slide or fold-down. The Sony XAV-601BT supports playback of DVD-Video, DVD-R/RW, DVD+R/RW, DVD-/+R DL, CD-Audio, CD-Text, CD-R/RW, and VCD discs.
Audio/Video File Playback: The Sony XAV-601BT supports various audio & video files recorded onto DVD-R/RW, DVD+R/RW, and CD-R/RW discs. Files recorded onto data CDs must be formatted in ISO 9660 level 1/2 or Joliet/Romeo. Files recorded onto data DVDs must be formatted in UDF Bridge (combined UDF/ISO 9660). The XAV-601BT can support up 256 folders, and a combined 2,000 folders and files on a disc.
Compatible Video Files
Codec
File Extension
Max Bit Rate
Max Resolution
Max Frame Rate
MPEG-4
.mp4
10Mbps (DVD), 7Mbps (CD)
720 x 576
30 fps (30p/60i)
Xvid
.avi, xvid
10Mbps (DVD), 7Mbps (CD)
720 x 576
30 fps (30p/60i)
Compatible Audio Files
Codec
File Extension
Bit Rate
Sampling Frequency
Information Display
MP3
.mp3
48-192 kbps (VBR)
32, 44.1, 48 kHz
ID3-tags (16-126 characters)
WMA
.wma
64-192 kbps (VBR)
44.1 kHz
WMA-tag (63 characters)
AAC
.mp4, .m4a
40-320 kbps (VBR)
44.1, 48 kHz
iTunes (126 characters)
Note: Not all listed file types may playback due to file variations. Copyright protected ACC-LC files cannot be played back.
List Function: You can bring up a list of albums, folders, tracks, video files on a disc and select the desired one to play.
Zappin: With the Zappin feature, you can play music (files or folders) in 6, 15, or 30-second clips until you find the song you are looking for on your MP3/WMA/AAC disc.
Direct Search: You can directly locate a desired point on a disc by specifying the title number, chapter number, track, image, or file.
Repeat and Shuffle Play: The Sony XAV-601BT provides Repeat and Shuffle playback modes for various media content.
Repeat: DVD (Title/Chapter), CD (All/Track), MP3/WMA/AAC (All/Track/Folder), Xvid/MPEG-4 (All/File/Folder)
Shuffle: DVD (Title), CD (Disc), MP3/WMA/AAC (Folder), Xvid/MPEG-4 (Folder)
Multi-Disc Resume: The Sony XAV-601BT can store the playback resume settings in its memory for up to 5 DVD discs.
Off Insert/Eject: A disc can be inserted or ejected with the power off. The head unit will automatically begin disc playback, when a disc is inserted with the receiver set to a different source or powered off.
Auto Reload: The DVD receiver will automatically reinsert the disc if it's ejected, but not removed for 20 seconds or more.
AM/FM Tuner + SiriusXM Ready
Digital Clarity Tuner: The Sony XAV-601BT is equipped with a Digital Clarity Tuner for clear AM/FM stereo sound with digital processing technology.
RDS: Radio Data System (RDS) feature displays radio broadcast information such as artist, title, and album when listening to compatible FM stations. FM stations with Radio Data System (RDS) service send inaudible digital information along with the regular radio program signal.
Preset Tuning: The radio features 5 memory bands to store and receive AM/FM stations. You can store up to 6 presets each in FM1, FM2, FM3, AM1 and AM2 (total: 18 FM/12 AM). Preset tuning can be done manually or automatically.
Best Tuning Memory (BTM): This feature selects stations with the best signals within the selected band and stores them in order of their frequency. You can select from FM1, FM2, FM3, AM1, and AM2.
Manual Tuning: You can manually tune and find your favorite radio stations one by one for FM1, FM2, FM3, AM1, and AM2.
Manual/Seek Tuning: The XAV-601BT allows you to manual tune or seek tune AM/FM stations.
Manual Tuning: You can manually tune & find your favorite radio stations one by one.
Seek Tuning: You can use the seek button to help you search quickly through the available AM/FM stations.
SiriusXM Ready: The Sony XAV-601BT comes ready for SiriusXM programming with access to XM and Sirius Satellite Radio stations. Thanks to its proprietary SiriusXM Connect port, you can add the optional SXV200V1 SiriusXM Connect tuner and receive more than 150 channels of exclusive programming directly from SiriusXM, via the "SiriusXM All Access" package (subscription required). Visit SiriusXM.com for a complete list of subscription options and channel guide. Additional features of the SXV200 SiriusXM Connect tuner include:
Channel list displays a list of all available channels
Category Search searches for channels in a certain category
Displayed Information such as Channel Name, Artist Name, & Song Title can be viewed on the head unit's LCD
Up to 18 SiriusXM Satellite Radio station presets
Channels containing unsuitable content for children can be blocked
Note: A separate SiriusXM Satellite Radio subscription is required (operates on the XM Network). However, you can easily add this SiriusXM tuner to an existing Sirius or XM account for a Multi-Radio Discount Plan.
Audio Section
True Fidelity Sound Construction: The Sony XAV-601BT DVD receiver features a newly developed sound processor for less distortion, an S-MOSFET IC for smooth signal transmission, and a large-sized capacitor for deep bass sound.
Dynamic Reality Amp: The XAV-601BT is equipped with Sony's Dynamic Reality Amp to produce 3-dimensional sound staging for more realistic sound inside your vehicle.
24 Bit D/A Converter: The Sony XAV-601BT utilizes a 24-bit digital to analog converter for superior sound quality.
CEA2006 Compliant Amplifier: The power specifications for the Sony XAV-601BT are compliant with the CEA2006 Mobile Amplifier Power Testing and Measurement standards from the Consumer Electronics Association (CEA). These standards were developed as a way to equitably compare power specs from model to model and between manufacturers. The power output specs for the XAV-601BT are as follows:
Continuous Power Output: 17 watts RMS x 4 channels (at 4 ohms, 20Hz-20kHz, 1% THD-N)
Peak Power Output: 52 watts x 4-channels (208 total watts)
5ch/5V Preamp Outputs: The XAV-601BT contains five 5-volt RCA preamp outputs; a front channel pair, rear channel pair, and mono-subwoofer channel. The front and rear channel preamp outputs can be faded. The subwoofer preamp output is non-fading.
Subwoofer Controls: The unit's subwoofer preamp output is non-fading and features a low pass filter with a selectable cut-off frequency of 50Hz, 60Hz, 80Hz, 100Hz, 100Hz, 120Hz, or Off. In addition, you can select the phase of the subwoofer output from Normal or Reverse. You can adjust the subwoofer preamp output's volume level independently from the head unit's volume control from -6 to +6 in 1dB increments.
High-Pass Filter: The front and rear speaker outputs offer a selectable high-pass crossover frequency of 50Hz, 60Hz, 80Hz, 100Hz, 100Hz, 120Hz, or Off.
EQ7: You can select an equalizer curve from eight music types; Xplod, Vocal, Edge, Cruise, Space, Gravity, Custom, or Off (Flat). The Custom EQ7 mode allows you to make your own equalizer settings. You can adjust the level (+/-8dB) of seven different frequency bands; Band1 (63Hz), Band2 (160Hz), Band3 (400Hz), Band4 (1kHz), Band5 (2.5khz), Band6 (6.3khz), and Band7 (16.0kHz).
ASE (Advanced Sound Engine): The Sony XAV-601BT offers multi-channel playback with its Advanced Sound Engine, featuring Intelligent Time Alignment (ITA) and Center Speaker Optimizer (CSO) to create a virtual 5.1 listening experience to rival the most advanced home theater equipment.
ITA (Intelligent Time Alignment): This unit can change the localization of sound by delaying the sound output from each speaker and subwoofer to suit your position, giving you the feeling of being in the center of the soundfield wherever you sit in the car. The options for the Listening Positions are - Front Left, Front Right, Front Center, All, Custom, or Off. The Custom ITA mode allows you to precisely calibrate the output from each speaker so that the sound from all speakers reaches the listener at the same time. Simply measure the distance between your listening position and each speaker from 0 to 13.1' (in 0.8125" increments). You can also set the subwoofer distance of the subwoofer to Near, Normal, or Far.
CSO (Center Speaker Organizer): A typical surround sound systems has 5 speakers (front left/right, rear left/right, center) and 1 subwoofer. CSO allows you to create a virtual center channel speaker even though a real center speaker is not connected.
RBE (Rear Bass Enhancer): RBE enhances the bass sound by applying the low-pass filter setting to the rear speakers. This function allows the rear speakers to work as a subwoofer even if there is no subwoofer connected.
4.1ch Speaker Level: You can adjust the volume level of each connected speaker individually.
Dolby D Level: You can adjust the audio output level for a DVD recorded in Dolby Digital format, to reduce the volume level differences between disc and source.
Audio DRC: This features makes the sound clearer when the volume is set to low while watching a DVD movie. You can set the Audio DRC to Standard (normal) or Wide (live performance).
Beep Tone: The in-dash head unit provides an audible beep to confirm button operation. This function can be turned On or Off.
AV Connections
Dual Audio/Video Inputs: The XAV-601BT is equipped with two audio/video inputs for connecting an external audio/video source. Each audio/video input consists of a composite video jack and a pair of stereo RCA jacks. You can adjust the audio level of the audio/video inputs from +/-18.
Video Output (with Dual Zone): The XAV-601BT features a rear-panel composite video/stereo RCA audio output that allows you to connect an external display to the unit. You can simultaneously enjoy different sources in the front and rear of your vehicle. You can select from any source for the head unit's touchscreen monitor. You can only select Disc for the connected external monitor. When Dual Zone is activated, use the head unit's touchscreen to control the front source and use the included IR remote to operate the rear source.
Rear View Camera: The Sony XAV-601BT is equipped with a composite video Rear View Camera input. You can view a Normal or Reversed (mirror) image, as well as display marker lines to assist you while backing up. The head unit features a function that automatically switches to the rear camera image (Rear View Camera In jack) when an optional rear camera (such as the 158XAR800C, sold separately) is installed on your vehicle. When your vehicle's shift lever is in the reverse position, the screen automatically switches to the rear view camera. The purple/white wire (attached to the unit's preamp output harness), must be connected to the vehicle's reverse lamp circuit for automatic video switching). Automatic video switching takes approximately 1.2 seconds.
Note: Audio from your music source will continue playing, while the back-up camera is displayed.
Remote Control
IR Remote Control: The Sony multimedia head unit comes supplied with an IR wireless remote control (RM-X271) for easy operation. The included wireless remote allows you to control the basic functions (not Bluetooth) of the Sony head unit while keeping your eyes on the road.
Steering Wheel Remote Compatibility: The head unit features an OEM steering wheel remote control input on the rear of the unit that lets you keep your vehicle's factory radio steering wheel remote controls when used with an optional steering wheel audio control adapter (sold separately). Please consult Crutchfield's Outfit My Car to see if your vehicle is compatible.
Our Product Research Team
At Crutchfield, you'll get detailed, accurate information that's hard to find elsewhere. That's because we have our own in-house Product Research team. They verify what's in the box, check the owner's manual, and record dimensions, features and specs. We stay on top of new products and technologies to help people make informed choices.
Staff Reviews
Product reviews from the Crutchfield Labs
A great screen and front USB input
Written by Dominic DeVito, Staff Writer - Creative,

on

4/15/2013 4:24:00 PM

What are the Labs?

;