Why Choose Crutchfield?
Deep discounts on car installation gear
We offer vehicle-specific installation instructions, dash kits, wiring harnesses, and speaker accessories at deeply discounted prices with car stereo and speaker purchases. Available for most vehicles.
Learn more
Trusted since 1974
Our customers have trusted us with their business, and they've helped us win awards for our service.
Check out our most recent awards
Factory-authorized dealer
The manufacturer's warranty always applies.
See more details
Sony HDR-XR260V
High-definition camcorder with 160GB internal hard disk drive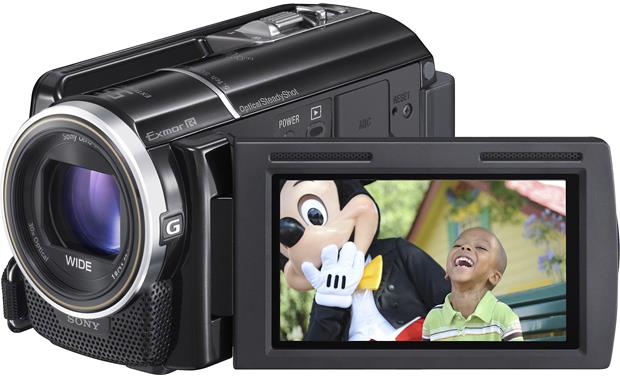 Sony HDR-XR260V - Front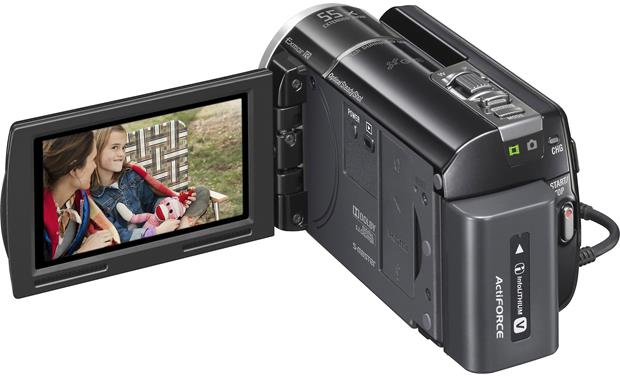 Sony HDR-XR260V - Back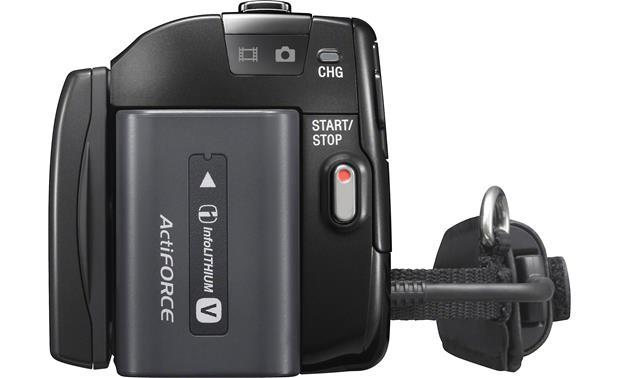 Sony HDR-XR260V - Back, with battery
Sony: Tips to enjoy your video after shooting it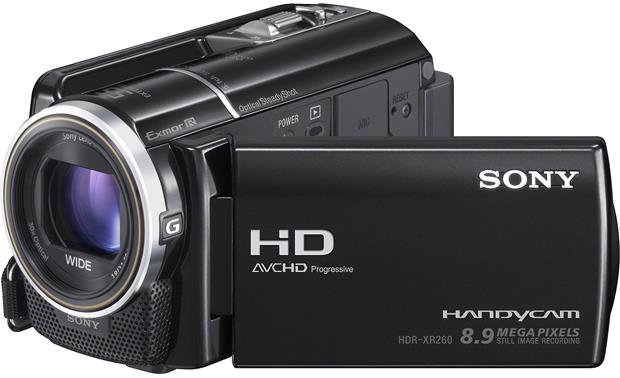 Sony HDR-XR260V - Front, 3/4 view, touchscreen display angled outwards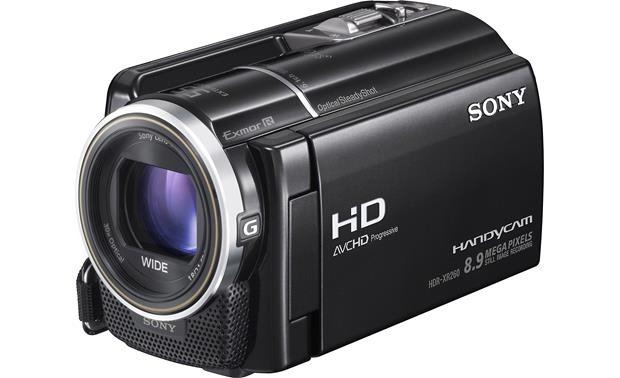 Sony HDR-XR260V - Front, 3/4 view, touchscreen display closed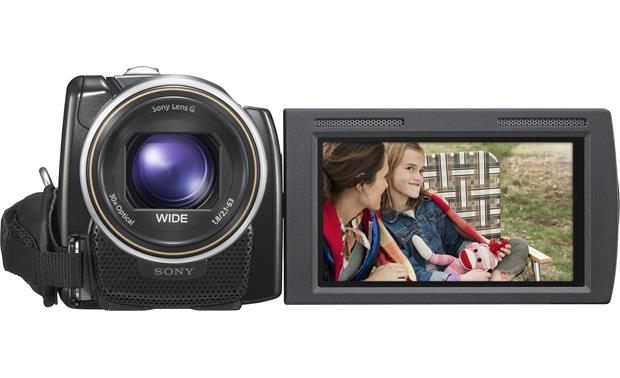 Sony HDR-XR260V - Front, with flip-out LCD touchscreen display rotated forward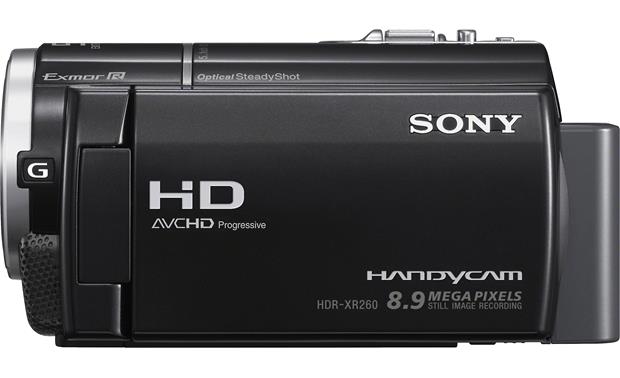 Sony HDR-XR260V - left side view, with battery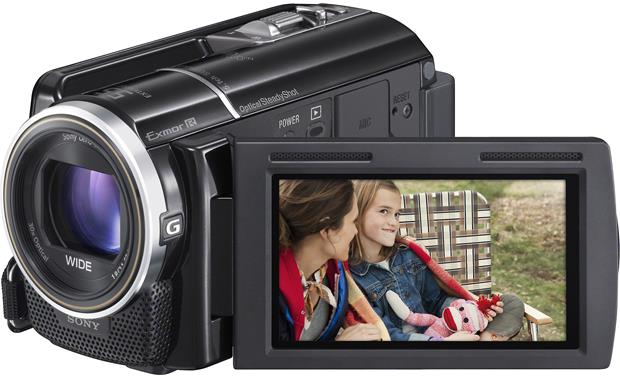 Sony HDR-XR260V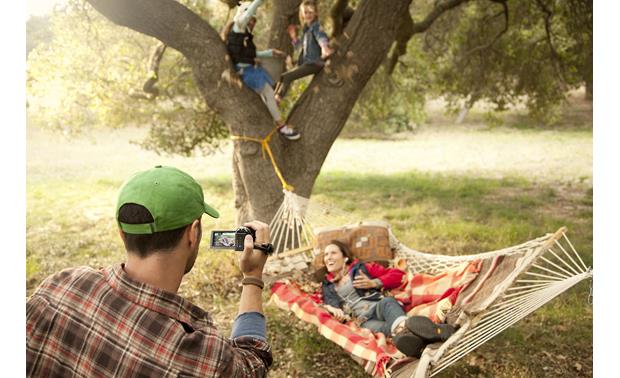 Sony HDR-XR260V - shown in use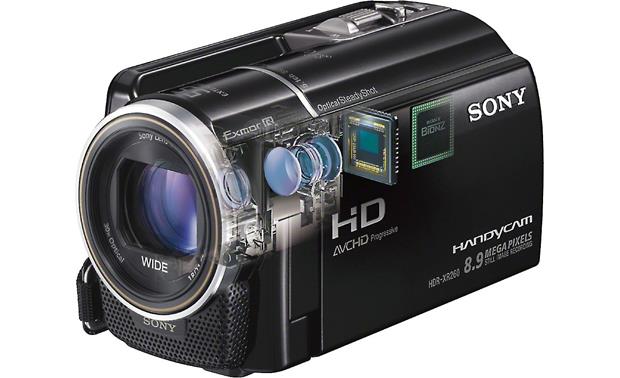 Sony HDR-XR260V - transparent view of light path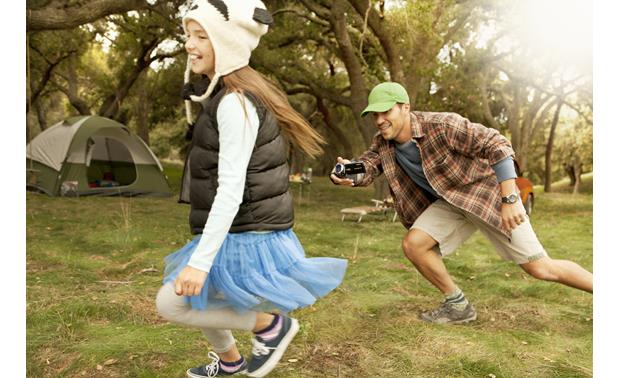 Sony HDR-XR260V - typical use
Item # 158XR260V | MFR # HDR-XR260V
This item is no longer available.
Overview
Any way you slice it
Fore! Your tee shot is peeling off into the forest boundary again. What are you doing wrong? You were having a good round until 30 minutes ago, now everything's out of whack.
Wait. You've got your Sony Handycam® HDR-XR260V camcorder in your daypack. With its innovative Golf Shot mode, you can record your next power swing and take it back to the club pro for a quick critique later. It might not save you this round, but look to shave some strokes down the line.
Another typical day for the Sony Handycam® HDR-XR260V. After all, its typical days consist of expertly documenting your exceptional days. With its Intelligent Auto mode seamlessly selecting from almost 180 different scene combinations to make the most of what you're shooting, how can you help but preserve the unique character of your special days? Even in low light, the 'CX260V shines, with the Sony G™ lens feeding the sensitive back-illuminated Exmor® R sensor. And the 30X optical zoom lens is perfect for getting up close to the action.
The director calls "action"
Did we say action? This camcorder is made for it. With SteadyShot® Image Stabilization, you can jog right alongside your running toddler and bring home images that keep him stable in the frame. The innovative 3-Way Shake Canceling feature works to remove all the shimmies that can dog other camcorders.
Where or when
The 'XR260V has a built-in GPS receiver that will give you your current location on the LCD display, tag your location on your captured video, and set your camcorder's system clock based on your current time zone. A map index screen on the LCD gives you a handy way to browse your travel footage according to where you shot it.
It's the three-car garage of video storage
Because this camcorder has a 160GB internal hard disk drive, you really won't be worrying about video file storage for a while. That's enough capacity to store 63 hours of high-definition video in LP mode. But you have lots of options when that gets maxed, or you need to share your shots in a hurry: the 'XR260V takes Memory Sticks® and SD cards, and you can customize the amount of storage you have — with just a few cards you'll have hours upon hours of extra capacity waiting for when you need it. The 'XR260V will also copy your memories to an external hard drive without the aid of a computer, for when you need to back up all the great footage you've shot. For that, you'll need an optional USB adapter cable available from Sony (the VMC-UAM1 cable). Here's another trick: you can access media on that hard drive using the 'XR260V's handy playback controls, and display those files on your HDTV via an HDMI connection from the camcorder.
The producer is built-in
Don't feel like editing your footage? Highlight Playback mode will identify and compile scenes from your day of shooting and make a short, engaging movie complete with music and transitions. You can even select the scenes you want in your day's highlight reel.
Product Highlights:
Storage and Formats:
Features:
1/3.91" (4.6mm) back-illuminated Exmor R CMOS image sensor for improved detail and lower noise
30X Sony G™ optical zoom lens (55X extended mode; digital zoom to 350X)
captures 8.9-megapixel still images in photo mode
built-in GPS tags your shooting locations and updates your system clock
Dolby® Digital 2-channel audio from built-in zoom microphone
3.0" widescreen touch-panel LCD
optical SteadyShot® image stabilization with Active Mode and 3-Way Shake-Canceling
face detection mode with Smile Shutter™ guarantees you capture the fun times
Intelligent Auto mode for mistake-proof shooting
autofocus tracking locks onto a moving subject and keeps the subject in focus
Golf Shot mode captures a few seconds of motion as a sequence of up to 22 still images for in-depth analysis
Highlight Playback mode identifies key scenes from your shoot and creates a short movie complete with music and transitions
Connections, Supplied Accessories and Dimensions:
built-in high-speed USB cable for video transfer to a computer
external microphone input (stereo minijack)
mini HDMI output (cable included) for watching your videos on an HDTV
includes AC adapter/charger and rechargeable lithium ion battery (NP-FV50)
includes A/V connecting cable
includes manual
2-1/8"W x 2-1/4"H x 4-7/8"D
weight: 7.23 oz. without battery
warranty: 1 year parts, 90 days labor
What's in the Box:
High-definition hard disk drive camcorder (black)
NP-FV50 Rechargeable Lithium-Ion battery (6.8V/1030mAh/7.0Wh)
AC-L200D AC Power adapter with attached 67" DC output cord (DC Output: 8.4V/1.7A)
62" AC power cord
57" Composite video cable (with RCA composite video plug and stereo RCA audio plugs on one end and a proprietary plug on the other end)
39" HDMI cable (with full-sized HDMI connector on one end and a mini-HDMI connector on the other end)
5' USB extension cable (with male Type A USB connector on one end and female Type A USB connector on the other end)
Operating Guide (Eng/Span)
Online registration sheet
Accessories brochure
Warranty Sheet
Details
Product Research
General Features
Video Camcorder Features
Digital Still Camera Features
Battery Information
Input and Output Notes
Installed Software
General Features
Internal 160 GB HDD: The Sony HDR-XR260V has an internal 160 GB HDD (hard disk drive) which will allow you to record 1920 x 1080 Full HD video and sharp 8.9 megapixel still images. Because a portion of the HDD is used for system management and/or application files, the actual usable capacity is approximately 156 GB.
Memory Card Slot: In addition to the built-in 160 GB HDD, the camcorder has a slot for a memory card. You can record video and photos onto Memory Stick PRO Duo and PRO-HG Duo cards up to 32 GB in capacity, as well as Class 4 or faster SD, SDHC, and SDXC Memory Cards up to 64 GB.
3" Touch Panel LCD Screen: The 3" touch panel Clear Photo LCD Plus screen provides excellent viewing clarity with improved resolution. The high resolution 230,400 pixel (960 x 240) LCD screen rotates up to 270 degrees for multiple viewing angles providing sharp and detailed images for monitoring or playback. In addition, the touch panel LCD allows you to navigate through the menu system by touching the LCD screen. The LCD also features an adjustable brightness and color level. You can also power on this camcorder by simply opening its LCD display.
Note: This camcorder does not include a separate viewfinder.
Imaging Device: The HDR-XR260V features an advanced 1/3.91" (4.6mm) back-illuminated Exmor R CMOS imaging sensor with 5,430,000 gross pixels. The 2,230,000 effective video pixels provide excellent detail and clarity. The unique image processing system of Sony's BIONZ allows still image resolution equivalent to a maximum of 8.9 megapixels (3984 x 2240).
Wide Angle G Lens: The camcorder features a professional-quality Wide Angle Sony G lens designed specifically for compact camcorders. It has a 29.8mm focal length (35mm equivalent) in Photo and Video modes for enhanced wide angle shooting.
Zoom: The camcorder's maximum optical zoom depends upon the SteadyShot setting. With the setting at Active, the optical zoom is 30x. If SteadyShot is set to Standard or Off, the maximum optical zoom is 55x. Combined with the digital zoom, the total zoom capability is 350x. Because the digital zoom processes the image digitally, the picture quality deteriorates the more you zoom in. The power zoom lever can be moved slightly for a slow zoom, or moved further for a faster zoom.
Global Positioning System: The XR260V is equipped with a built-in GPS which receives location data from any of the 24 GPS satellites located above the earth and records it onto your movies and photos. You can locate movies and photos with embedded GPS data on a map. You can also use the data to display a map of your current location. The camcorder can use the GPS data to automatically set the clock and the time zone.
Optical SteadyShot Image Stabilization: Optical SteadyShot image stabilization system compensates for greater degrees of camera shake to deliver smooth video from wide angle to full telephoto shooting. The 3-way Shake-Canceling adds electronic roll stability for even smoother video capture. You can choose between Standard SteadyShot, Active SteadyShot, or Off.
Face Detection: The camcorder's Face Detection technology recognizes faces and optimizes the camera settings for videos and still photos. Videos and photos recorded using Face Detection are indexed according to the faces detected in each scene. This allows you to search for what you want by selecting the faces displayed in the index.
Focus Modes: The Sony Handycam HDR-XR260V features Auto Focus and Manual Focus modes. When using Auto Focus, you can choose to focus on a subject in the center of the screen or with Spot Focus, focus on an off-centered object. If you are recording subjects other than people, you can touch the subject on the touchscreen, and the camcorder will adjust the focus automatically as it moves within the frame. For more difficult focusing situations, you can manually adjust the focus of the camcorder using the touch panel.
Spot Meter: You can adjust and fix the exposure to the subject, so that it is recorded in suitable brightness even when there is strong contrast between the subject and the background, such as subjects in the spotlight on a stage.
Scene Selection Modes: The following Scene Selection modes are available to suit your specific shooting requirements: Auto, Night Scene, Sunrise & Sunset, Fireworks, Landscape, Portrait, Spotlight, Beach, and Snow.
White Balance Adjustment: Sets the color balance to the brightness of the recording environment. Your choices are:
Auto: The white balance is adjusted automatically.
Outdoor: The white balance is adjusted for the following conditions: Outdoors, night views, neon signs and fireworks, sunrise, sunsets, under daylight fluorescent lamps.
Indoor: The white balance is adjusted for the following conditions: Indoors, party scenes and studios where lighting conditions change quickly, and under the video lamps or incandescent-like color lamps.
One Push: The white balance will be adjusted according to the present ambient light.
Back Light: You can use the Backlight function to adjust the exposure for backlit subjects.
Guide Frame: The Guide Frame displays a frame and grid around your subject and allows you to check the horizontal and vertical position.
Data Code Function: The camcorder automatically records time codes along with the images you shoot, so you can display the date and time during playback or editing.
Protect: You can protect movies and photos to avoid deleting them by mistake.
Direct Copy to External HDD: With an optional VMC-UAM1 USB adapter cable, you can save movies and photos on an external hard disk drive (HDD). Once you have saved them to the HDD, you can also playback the images and videos through the camcorder to a connected HDTV.
Power On By LCD: You can set the camcorder to automatically power on when you open the LCD, and turn off when you close the LCD.
Video Camcorder Features
Video Recording: The HDR-XR260V records High Definition video in 16:9 and 4:3 aspect ratios with 4 image sizes to choose from. A Standard Definition recording mode is also available. The following recording modes are available:
Image Quality
Bit Rate
Pixels
Aspect Ratio
Recording Time
160 GB HDD
High Definition
PS
28 Mbps
1920 x 1080
16:9
13 hours
FX
24 Mbps
1920 x 1080
16:9
15 hrs 20 min
FH
17 Mbps
1920 x 1080
16:9
20 hrs 50 min
HQ
9 Mbps
1440 x 1080
16:9
36 hrs 40 min
LP
5 Mbps
1440 x 1080
16:9
63 hrs 10 min (5.1ch)
65 hrs 30 min (2 ch)
Standard Definition
HQ
9 Mbps
720 x 480
16:9, 4:3
37 hrs 50 min (5.1 ch)
39 hrs (2 ch)
Built-In 5.1-channel Mic: The built-in 5.1-channel microphone captures sounds coming from all directions to allow you to experience your home videos the way they were experienced in real life. A 3.5mm minijack is provided for connecting an optional external stereo microphone.
Closer Voice: When recording people and faces are detected, the Closer Voice feature records the voice more clearly. Closer Voice is only available when using the built-in microphone. It will not function when an external mic is used.
Divide Movies: The Divide Movies feature allows you to divide movies on the internal HDD of the camcorder or on an inserted memory card. You cannot restore movies once they are divided.
Smooth Slow Record: Fast-moving subjects and actions which cannot be captured under ordinary shooting conditions can be shot in smooth slow-motion for about 3 seconds. The 3-second movie is recorded as a 12-second slow-motion movie.
Golf Shot: Using the same technology as the Smooth Slow Recording, the Golf Shot feature captures a few seconds of motion as a sequence of up to 22 still images. These images can be viewed or printed individually or as a composite sequence shot image. This feature is helpful in analyzing a golf swing, tennis serve, or other fast action.
Digital Still Camera Features
Digital Still Image Recording: The HDR-XR260V can record still images on either the unit's built-in 160 GB HDD or on an optional memory card (sold separately).
Image Resolution: Still images are recorded in the following resolutions, depending upon the selected aspect ratio:
16:9: 3984 x 2440, 2816 x 1584, 1920 x 1080
4:3: 3008 x 2256, 2112 x 1584, 640 x 480
Capturing Still Images From Video: You can capture still images from recorded video. The image size is fixed depending upon the aspect ratio of the movie: 1920 x 1080, 640 x 360, or 640 x 480. The recording date and time of the captured photos is the same as the recording date and time of the movie. If there is no data code on the movie, the recording date and time will be the date/time you captured the photo from the video.
Self Timer: This feature allows you to record a still image about 10 seconds after the "Photo" button is depressed.
Slide Show: You can automatically play back images stored on the HDR-XR260V's internal HDD or from a memory card in a slide-show fashion.
Battery Information
Battery: This unit comes with an NP-FV50 InfoLithium battery. The InfoLithium system exchanges data about its actual power consumption with the camcorder for a more accurate estimate of recording time available. Cold temperatures will increase battery consumption. The battery can be charged in the camera using the AC adapter, or via USB. The HDR-XR260V is compatible with Sony InfoLithium V-series batteries:
Battery
Image Quality
Recording Time
Playback Time
Charging Time
Continuous
Typical
AC
USB
NP-FV50
(980 mAh)
HD
105 min
50 min
125 min
155 min
280 min
STD
115 min
55 min
135 min
NP-FV70
(1960 mAh)
HD
220 min
110 min
260 min
195 min
545 min
STD
240 min
120 min
280 min
NP-FV100
(3700 mAh)
HD
440 min
220 min
515 min
390 min
1000 min
STD
485 min
240 min
555 min
Auto Shut Off: When powered by the battery the camcorder can be set to turn off automatically if not used for 5 minutes.
Input and Output Notes
HDMI: The XR260V is equipped with a mini-HDMI (Type C) output for connecting your camcorder to an HDTV. A 39" HDMI cable is included with the camcorder. You can set the HDMI output resolution to 1080p/480p, 1080i/480i, 720p/480p, 480p, or 480i, depending upon the capability of the TV's input. The Auto setting will output the signal according to the TV's capability. When connecting the camcorder to a Bravia Sync-compatible TV via HDMI, you can control play back on the camcorder by aiming the TV's Remote Commander at the TV.
A/V Output: The camcorder features a proprietary Audio/Video connection for use with the supplied A/V connecting cable for displaying the camcorder's contents on your television. You can change the aspect ratio of the camcorder's video output from 16:9 or 4:3 according to the screen aspect ratio of your TV. You can also choose to display the camcorder's information, such as the time code on the screen of your TV during playback from the camcorder. The supplied A/V cable has a proprietary plug on one end and male stereo RCA audio and RCA composite video connections on the other end.
Built-in USB: The camcorder has a built-in male USB Type A plug and a 5' USB extension cable (Type A USB female-to-Type A USB male) for connecting to a PC. Connecting to a PC via USB allows you to download still images and video files on the memory card or internal memory. You can edit and save your video files onto your computer, then make DVDs of them using the downloadable Picture Motion Browser software.
Microphone Input: A 3.5mm minijack microphone input is included for connecting an external microphone. When an external mic is connected, it takes precedence over the built-in microphone.
Headphone Output: The camcorder has a 3.5mm stereo minijack for use with headphones. When headphones are plugged in, the camcorder's speaker is muted.
DC In Jack: The DC In Jack is for use with the supplied AC adapter and charger.
Installed Software
Installed Software: The camcorder has built-in "PlayMemories Home" (Lite Version software that allows you to import images and video from the camcorder to your computer, and view and store transferred images/videos. The software also includes GPS Assist Data that can help the camcorder acquire your location information quicker. It is compatible with Windows 7 (SP1), Vista (SP2), and XP (SP3) operating systems only. You can use iPhoto and iMovie software for importing video and photos on a Mac.
Our Product Research Team
At Crutchfield, you'll get detailed, accurate information that's hard to find elsewhere. That's because we have our own in-house Product Research team. They verify what's in the box, check the owner's manual, and record dimensions, features and specs. We stay on top of new products and technologies to help people make informed choices.