Why Choose Crutchfield?
Deep discounts on car installation gear
We offer vehicle-specific installation instructions, dash kits, wiring harnesses, and speaker accessories at deeply discounted prices with car stereo and speaker purchases. Available for most vehicles.
Learn more
Trusted since 1974
Our customers have trusted us with their business, and they've helped us win awards for our service.
Check out our most recent awards
Factory-authorized dealer
The manufacturer's warranty always applies.
See more details
Bazooka BTA8100FHC
BT Series 100-watt powered 8" Bass Tube® with factory radio connection kit
Item # 204BTA81FH | MFR # BTA8100FHC
In Stock
Was: $249.99
Price Break: -$20.00

Our VirginiaVA-based experts can help.
Overview
A bass cannon
Bass makes up about 30% of your music, and it gives music its power and impact. A good subwoofer can make an average car audio system sound good, and a good car audio system sound great. Good bass is all about moving air, and a cylindrical tube translates the motion of its woofer into maximum air pressure so you hear and feel more bass. Bazooka designed the Bass Tube to act like a bass cannon, firing low frequencies throughout your vehicle.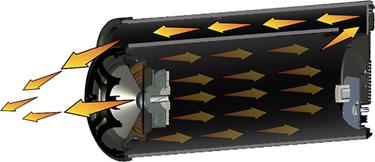 BTA8100FHC 8" amplified Bass Tubes package
The BTA8100FHC Bass Tube package from Bazooka includes a great-sounding amplified subwoofer tube and convenient radio connection kit. With this handy combo, you can enjoy thumping low end with a minimum amount of hassle.
Bazooka's BT Series BTA8100 8" amplified Bass Tube gives you the thrill of powerful bass without having to make any permanent modifications, especially handy if you drive a leased vehicle. It features an efficient 8" woofer, a built-in 100-watt amplifier, and mounting hardware. Place the BTA8100 in a convenient spot in your vehicle, connect it to your car stereo, and enjoy some punchy bass while you drive.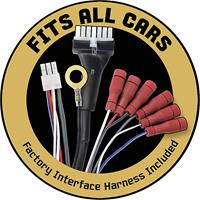 The included F.A.S.T. combination from Bazooka features everything you need to hook up the BTA8100 to the factory or aftermarket radio in your vehicle: the F.A.S.T.-9999 universal harness and a 16-foot extension cable. The F.A.S.T.-9999 universal harness taps into your radio using Posi-Tap connectors and uses simple, reliable plugs to get the signal from your radio to the Bass Tube — no splicing or complicated wiring diagrams needed. Hook the other end of the universal harness up to the 16-foot long F.A.S.T.-BTAH extension cable, which you've connected to the BTA8100 in the rear of your vehicle.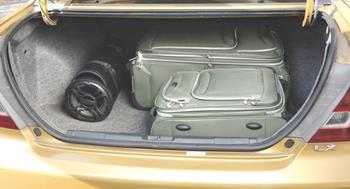 Bass Tubes enclosures fit just about anywhere
A compact Bass Tubes enclosure will fit in almost any vehicle, and you can disconnect it in a snap if you need more cargo space. Since the tube's speaker and port are right next to each other, you can get amazing results by "corner loading" your tube — placing it in a corner of your trunk or cargo area so your vehicle's boundaries act as a natural amplifier, boosting bass production.
Bass control from the driver's seat
An optional wired Remote Bass Control Module gives you independent in-dash volume control of your bottom end. Want to know more? Take Bazooka's Bass Tubes Tour.
Awesome product! Fast service!

Anonymous, Madison, AL
What's in the Box:
8" Amplified bass-tube
10" FAST-9999 universal harness
15.5' FAST-BTAH extension harness
2 Nylon mounting-straps
4 Mounting screws
Installation Instructions (Eng/Spa)
Product Highlights:
package includes one BTA8100 8" 100-watt powered Bass Tube and F.A.S.T. connection package
BTA8100 100-watt powered Bass Tube:
8" woofer in ported enclosure
built-in amplifier (100 watts max power)
mounting hardware included
line- and speaker-level inputs
frequency response: 39-85 Hz
subsonic filter (18 dB/octave at 35 Hz) for improved amp efficiency
sensitivity: 105 dB
dimensions: 8-9/16"W x 9-7/8"H x18-5/16"D
warranty: 1 year
F.A.S.T. connection package:
includes F.A.S.T.-9999 universal connection harness and F.A.S.T.-BTAH extension cable
warranty: 60 days
Reviews
Bazooka BTA8100FHC Reviews
Average Customer Review(s):
Anonymous from Madison, AL on 2/20/2017
Crutchfield Customer Review
(
What's this?
)
Awesome product! Fast service!

Pros:

Cons:
Greg from Bay St. Louis, MS on 2/15/2017
Crutchfield Customer Review
(
What's this?
)
This base tube is excellent. I hooked it up directly to the output jacks on my Ponier head unit and I can adjust the base output though there. However I did purchase the extra control to turn down the bass quickly if needled. Unit works incredible, sounds incredible! Easy to install. The Crutchfield Team answered all my questions I had before I installed the unit because it came with two different installation guides. Crutchfield looked up my vehicle and said I could hook the power to the head unit so I was happy about not having to run a wire to the battery. This bass tube rocks and pumps out ample amounts of bass. I had to adjust the settings down a little on the head unit as it was hurting my ears. I don't know how it will work or sound wired directly to the speaker wires as you can also do it that way if you don't have a head unit with the output jacks, but I'm telling you I am amazed and shocked how great my stereo sounds now! Purchase one, you will be glad you did!

Pros: Fast shipping, great customer service, well packed, great product, easy to install. Affordable

Cons: Instructions a little confusing
Rick from Eidson TN on 10/16/2016
Crutchfield Customer Review
(
What's this?
)
This tube provides enough bass for me but probably not for most people looking for that thump

Pros: Easy install, compact it fits perfectly behind my Crew Cab back seat

Cons: Not as powerful as one might expect
Simple solution for adding bass
Daniel from PA on 6/26/2016
2001 Subaru Forester
Crutchfield Customer Review
(
What's this?
)
I held out for quite some time on adding a subwoofer to any of my vehicles, quite simply because I like keeping my interiors as "factory" in appearance as possible. However, the manufacturers don't often know how to design and implement a quality sound system and you have to break out of the mold to fill in the gaps. I decided to take the plunge and added this Bazooka to my Subaru Forester and have no regrets whatsoever. Yes, it does occupy some of the cargo space; there's no way around that, and had no interest in doing a custom enclosure/body panel replacement. I'm still dialing in the settings (level, crossover on my head unit, etc.) to match my vehicle and placement (mine is mounted parallel to the back of the rear seats) and have it held in place with an adjustable bungee cord between two of the factory cargo tie points as I didn't want to screw anything into the interior and it works perfectly. Running the harness was straightforward and I tied the power into the harness for my head unit (used the subwoofer outputs for the audio signal) and it hasn't skipped a beat. This is a very efficient sub and has plenty of output - surpasses any factory subwoofer I've heard. It relies on corner loading (firing the sub into a corner) to boost output so it's not as overwhelming as other subs can be. Being able to detach a single connector to move/remove the unit is very convenient and it's built plenty sturdy and isn't all that heavy. I'd buy it again without hesitati

Pros: Very efficient Easy installation and minimal (if any) permanent alterations needed for install Rugged construction Clean bass output

Cons: Just a design consideration - built in "hook" or "eyelet" attachment points would be a great alternative for securing this in your vehicle
my 3rd tube ..they do the job!!
surfchewy from Cocoa Beach, FL on 5/6/2016
2015 Toyota Corolla
Crutchfield Customer Review
(
What's this?
)
3rd tube ,always satisfied...rounds out your system and sounds great and affordable

Pros: RELIABLE, portable,works as advertised

Cons: none
TKO from Indiana on 9/8/2015
Crutchfield Customer Review
(
What's this?
)
Installed this in a VW Tiguan. Bought the car thinking there would be a factory option. Much to my surprise there wasn't. I needed something that would add low end yet be quick to remove when I need extra space. The Bazooka Tube is perfect.

Pros: Enough low end to add some life to my music. Every vehicle needs one.

Cons: No complaints.
Thumper from Vermont on 8/10/2015
Killer product!!! Excellent price, VERY fast shipping, and simple install directions. Self-installed in under an hour and I am extremely pleased with the amount of bass this Bazooka pumps out. Highly recommended.

Pros: Easy install, fast shipping, great subwoofer.

Cons: None
Delaware from Delaware on 6/8/2015
Crutchfield Customer Review
(
What's this?
)
Does a great job of enhancing the stock radio in a 2010 CIVIC LX.

Pros: Ease of installation. Overall sound

Cons:
CHRIS M from Florida on 11/14/2014
I LOVE THIS PRODUCT! I ordered this bass tube on a Friday and had in my hands on Wednesday! Fast FREE Shipping! It was professionally installed at an audio store that has done all the work, including window tint, on my car. They had the bass tube installed within an hour for $53. Provides enough bass in my 2009 Civic Coupe without rattling the entire car. Nice amount of "Boom". No regrets here!

Pros: If you are looking for enough bass for "you" to enjoy and not the entire neighborhood - GET THIS PRODUCT! Easy install, small so I have truck space, great "BOOM" for the Buck!

Cons: Only one con for me - I wish that this came with the wired remote so you could control the level of bass from inside the car - but it is only a $20 upgrade. Will be having the remote installed at some point - in the meantime its not hard to open the trunk and adjust to your desired level.
Sean from Rochester, Mn on 10/22/2014
Crutchfield Customer Review
(
What's this?
)
Great sub for the low cost, easy hookup, small enough for easy placement and good bang for your buck!

Pros: Good sound, cost effective, easy hookup.

Cons: None
CHROMED02 from NKY on 4/25/2014
Crutchfield Customer Review
(
What's this?
)
PERFECT FIT AND SOUND IN MY 05 SILVERADO XTENDED CAB

Pros: EASY INSTALL FITS PERFECT UNDER BACK SEAT

Cons:
Anonymous from Ladoga,IN on 9/29/2013
Crutchfield Customer Review
(
What's this?
)
Very easy to install and rounds out the sound nicely. Not going to rattle the windows with this but it fits so nice under the back seat of my 05 Silverado. I took a star off for the" Fast connector system". Very easy to strip the little twisty things

Pros: Well made Good sound

Cons:
oreboot from tracy,ca on 3/20/2013
Crutchfield Customer Review
(
What's this?
)
I am very impressed with the sound quality of this sub. I have a stock Ford Focus and I was able to connect it directly to my stereo. I highly recommend this product if you want to a more thump to your car without breaking your wallet. Crutchfield support was awesome and assisted me when I had a couple questions.

Pros: Sound,thump, ease of install and compact design

Cons: none
Rick W from Toms River ,NJ. on 1/5/2013
Crutchfield Customer Review
(
What's this?
)
installed sub in my daughters 2002 celica gt to factory head unit. sounds great !!!! wiring was a breeze with the quick connect harness. only took about 1 and 1/2 hours from start to finish. at least 15-20 minutes was spent looking up color codes for front speaker wires and figuring out where I was going to run the harness. also installed optional remote, for $20.00 its a must have and works great.

Pros: sounds great, easy install. do not have to run power line from battery with this model

Cons: none at all
Anonymous from Indiana on 4/25/2012
Crutchfield Customer Review
(
What's this?
)
The sub provides plenty of bass to give a full sound. The RBCM-100, wired remote, makes a nice addition and allows the bass to be controlled easily. I have mixed feelings on the "F.A.S.T" wire connection but it does the job. Definitely a good buy and would purchase a similar unit in the future.

Pros:

Cons: None
DAN from Pittsburgh, Pa on 7/12/2010
This sub does its job. Its not ground shaking bass, but plenty of bumpin bass.

Pros:

Cons:
Anonymous from South Florida on 5/27/2010
This product is AWESOME. I can't believe how well it sounds in my hatchback. I dropped 4 Infinity speakers into the stock locations and paired them with this unit. I left the aftermarket stereo. At first I was a little skeptical because I thought I needed the 250W version. But this tube is more than enough to give you a heck of a bass punch and my car actually shakes. The sound is clear, clear, clear. I only refrained from giving it the 5 stars because my installer had a problem with the installation; turns out that the clips on the F.A.S.T. system that connect to the speaker wires are very poor and he had to use alternate clips. And Bazooka's customer support is poor. I would definitely recommend this product. Don't just read this review; check out the reviews left on the other 100W Bazooka's (without the FAST harness) because they are 100% accurate!

Pros:

Cons:
Details
Product Research
Features
Overview: The Bazooka Bass Amplified Subwoofer Kit (BTA8100FHC) features Bazooka's patented Bass Tube enclosure design. It is a complete subwoofer solution for your truck, SUV, sedan, or hatchback. The kit includes an amplified bass tube, a Fast-harness, and an extension harness.
Bass Tube Type Enclosure: The Bazooka subwoofer's patented Bass Tubes bass-reflex enclosure design allows for use of 100% of the woofer's cone area.
8" Woofer w/ 100-Watt Amp: The Bazooka BTA8100FHC features an extremely efficient 8" woofer, coupled to a 100-watt amplifier for a frequency response of 39Hz to 85Hz.
Corner Loading: The Bazooka Bass Tubes enclosure is optimized for corner loading. The Bass Tube enclosure's port and woofer are on the same plane and in close proximity for maximum corner-loading results. The corner of your car amplifies the concentrated bass output of the Bass Tube enclosure.
F.A.S.T. Harness: F.A.S.T. is an innovative universal harness system that allows you to integrate the Bazooka subwoofer into the vast majority of factory and aftermarket sound systems. The included FAST-9999 universal harness uses the patented Posi-Tap connector from Posi-Products for making fast, secure connections to your OEM or aftermarket headunit's wire harness. The included FAST-BTAH extension harness is routed from the Bazooka Tube location to the radio; one end connects to the FAST-9999 universal harness, and the other end to the amplified bass tube. The extension harness also contains RCA line level inputs (at the radio end) and a ground wire which will need to be grounded to the metal chassis of your vehicle.
Note: The FAST-9999 universal harness features the following wire leads - Red (+12V), Blue/White (Remote turn-on), White (LF+), White/Black (LF-), Gray (RF+), and Gray/Black (RF-).
Signal Inputs: The included FAST-BTAH extension harness has line level (male RCA plugs) and speaker level (Posi-Tap connectors on the FAST-9999 harnes) inputs.
Mounting Straps: The BTA8100FHC comes with straps to keep the bass tube securely mounted, while still making removal quick and easy if you need more cargo room.
Our Product Research Team
At Crutchfield, you'll get detailed, accurate information that's hard to find elsewhere. That's because we have our own in-house Product Research team. They verify what's in the box, check the owner's manual, and record dimensions, features and specs. We stay on top of new products and technologies to help people make informed choices.
Q & A
Customer Q&A
3 questions already asked
It can, as I did. Plus this allows me to - if needed - shut the sub off while driving simply by fading to the front speakers.

[ Mike Aug 16, 2015 ]
Yes this is all accomplish with the provided harness

[ JAY Aug 16, 2015 ]
I don't think so. This is a powered sub and easiest to use the harness to your factory system. Also recommend the bass control module for equalization by music genre

[ Michael Aug 15, 2015 ]
yes it does, if you can't find a place in the firewall look under the vehicle sometimes there is a plug or somewhere easily available you can route the wire through

[ JAMES May 17, 2015 ]
I Didn't connect it to the battery. I ordered an extra wire harness but I don't think I used it. I used wiretaps to the rear speakers on the back of the back of the head unit and with the remote volume control it works great.

[ matt May 15, 2015 ]
No,i bough this item and it instructs that you simply wire it to your headunit. Its not too powerful--barely powerful enough

[ ROBERT J May 15, 2015 ]
Get the one with the harness it connects to your car stereo

[ Michael May 15, 2015 ]
You do not need to run power from the battery for this sub. I believe you do for the 10" version however. If you do need to get power from the battery you can run it through the firewall, there are grommets around where your feet rest on the pedals that you can usually run line through.

[ Reed May 14, 2015 ]
NO it powers up through the stereo adapter kit that comes with the bazooka, but the adapter on the back of the tube has a ground wire that has to be grounded really good to power up.

[ SAMUEL May 14, 2015 ]
No, you just have to fast connect it to the power wire that runs to the back of your vehicle radio.

[ SEAN May 14, 2015 ]
Idk

[ Michael Mar 10, 2015 ]
Yes if your head unit has Rca outputs Or you can use the supplied Bazooka wire harness that has wire taps on the positive and negitive speaker wires if you want to tap into your systems speaker wires.

[ ELIZABETH Mar 09, 2015 ]
;