Why Choose Crutchfield?
Deep discounts on car installation gear
We offer vehicle-specific installation instructions, dash kits, wiring harnesses, and speaker accessories at deeply discounted prices with car stereo and speaker purchases. Available for most vehicles.
Learn more
Trusted since 1974
Our customers have trusted us with their business, and they've helped us win awards for our service.
Check out our most recent awards
Factory-authorized dealer
The manufacturer's warranty always applies.
See more details
MTX Thunder5500 T5510-04
10" 4-ohm subwoofer
Item # 236T55104 | MFR # T5510-04
This item is no longer available.
Overview
Our take on the MTX Thunder5500 T5510-04by Crutchfield's Steven Johnson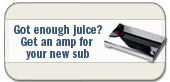 The MTX Thunder5500 subs are on a mission: to make their presence heard. They feature mica-filled, aluminum-finished polypropylene cones with dependable rubber surrounds for impressive bass. Full 1-3/4" aluminum voice coils contribute to exceptional reliability and impressive power handling of up to 300 watts RMS. MTX's proprietary Spider Plateau Venting technology ensures cool, efficient operation.
Mount the T5510-04 10" subwoofer in a sealed or ported enclosure for outstanding performance.
Details:
10" 4-ohm subwoofer
mica-filled polypropylene cone with rubber surround
expanded poly cone dustcap
stamped steel basket
chrome terminals accept up to 8-gauge speaker wire
frequency response: 35-150 Hz
power range: 150-300 watts RMS
sensitivity: 88.25 dB
top-mount depth: 6-1/8"
sealed box volume: 0.75 cubic feet
ported box volume: 1.25 cubic feet
Recommended Q-Logic Box Type: 1, 2, 3
warranty: 1 year
Priced per speaker
I'm very happy with this subs!!!

ak47, texas
What's in the Box:
10" Woofer
Tech Data report
MTX Audio Motorsports window decal
Reviews
MTX Thunder5500 T5510-04 Reviews
Average Customer Review(s):
ak47 from texas on 4/12/2012
I'm very happy with this subs!!!

Pros:

Cons:
Anonymous from Sacramento, CA on 4/7/2010
Crutchfield Customer Review
(
What's this?
)
I have a 300zx that I wanted to add some great sound into. All I have to say is I got custom box set (splits the subs into their own box with a divider in the middle). This is a hatchback. All I have to say is... dynamat please!!! I have it on half gain, pretty much half everything and they still hit ridiculously. I am goin to dynamat (or equivalent) some panels real soon. They are just awesome. These were recommended and they are WAY worth the money. At this price I recommend these to ANYONE. So now my car is fast and it slaps!!!

Pros:

Cons:
Anonymous from NY on 9/9/2009
Crutchfield Customer Review
(
What's this?
)
I was going to get 2 of the 10" MTX Thunder5500, because i thought it would not be strong enough, but i was wrong. One of the 10" is more than enough to satisfied the need of bass. It might not wake up your neighbor but it would definitely give you a great good kick in the face.

Pros:

Cons:
Anonymous from Brownstown, MI on 7/22/2009
Crutchfield Customer Review
(
What's this?
)
I am speechless, i bought two of these subs based on the reviews i figured i'd give them a shot. I hooked them up in the vented box that crutchfield reccomended with a kenwood amp wired at 2 ohms. These subs hit incredibly hard and move some serious air, so much that the roof of my explorer noticibly fluctuates. These subs are cheap and are worth 2 times the price i paid for them... Thanks guys!

Pros:

Cons:
Tony from St. Louis, MO on 6/15/2009
I've had these subs for nearly 3 years now and WOW!! I use to own 12" subs which dont compare to these. I have a MTX Thunder 801D pushing them. I built my own enclosed box to specs and wired them in parallel dropping the ohm to 2. They have had no problem hitting any note that I've thrown at them. I added a bass control knob to help get the most out of them. I'm that impressed that I'm either getting these subs or the 4500 series for my boat. For the money you cant beat these subs.

Pros:

Cons:
derek from florida on 4/9/2009
Crutchfield Customer Review
(
What's this?
)
these are great as far as 10's go. i would have really loved the 12's but $$$ is tight right now. put two in my wifes Xterra and they sound much better than the two 12" sony xplodes she had. only problem is they can handle more power than the sony's could so now they are under powered. gotta sart putting $$$ aside for a new amp.

Pros:

Cons:
Dine from Ogden, Ut on 3/29/2009
Crutchfield Customer Review
(
What's this?
)
Got two Thunder 5500 just a week ago. Installed them in custom made enclosure, hooked them up to Xia 5600 Dual amp, and wow!!! Them baby were hitting hard and they are not even broken in. I highly recommend Thunder 5500 anyone looking to purchasing some hard hitting subs. Great for back massages.

Pros:

Cons:
Robert from Phoenix, AZ on 3/23/2009
I bought two MTX 5500 10"s and put them in a slot ported box along with a Profile A1000m amp. They rock! I wired em up in a series so they are hitting at 2ohm, hard to believe that only two 10"s are putting out that much (((((BASS)))))) With a good "Ported" sub enclosure you will be amazed.

Pros:

Cons:
Ray from Hutchinson, KS on 2/14/2009
Crutchfield Customer Review
(
What's this?
)
I have now owned two of these subs for a while and have been very pleased. I actually have them in a box that was pre made for them (found on the MTX site). I have them wired to 2 ohms being pushed by a profile ap1000m amplifier (also recomended). These subs really do sound cleaner and louder then any of my other friends sony, duals, kickers (little less rms), and many others. these our my first subwoofers to purchase but I have been in many other cars with different subwoofers, mentioned above, and am completly satisfied with my purchase. I play them at about half the volume and will still shake the heck out of my seat and car. At this price you just cant go wrong! If you are looking for a set of subwoofers that our better than the cheapies at big box stores and this is a great deal.

Pros:

Cons:
cortnie from Wyoming on 3/6/2008
Crutchfield Customer Review
(
What's this?
)
This thing really THUMPS!!!!! I replaced 2 my old MTX Thunders (about 3 years old) with one of these just to see if it would be worth it to buy two or if I would have to go another route. I am deffinately getting another one. Just one of these hits harder and clearer then the older set I had and with half the power. I tried a couple different boxes and found that a sealed box is the best way to go. It hits harder and more accurate in a sealed box. Just one of these hits harder then my buddies pair of 12's in a bandpass on a 750 watt amp.

Pros:

Cons:
Dave from Lynnfield, Ma on 3/25/2007
I recently upgraded my stock audio system with a Kenwood radio, Pioneer 800watt amp and 3 Of these MTX woofers. let me tell u these subs hit so hard they will hurt ur body... it about time u make the MTX change

Pros:

Cons:
Albert from Greensboro, NC on 9/29/2006
These subs sound great. I have one installed to an amp pushing 250 watts. The sound is amazing. There is absoutely no distortion, even with the volume all the way up. I upgraded from a Jensen (I know, but that's all I could afford at the time) and the difference is night and day.

Pros:

Cons:
mike from warren,Mi on 3/17/2006
i have to ten's in my 98 mustang hooked up to a jbl amp that only pushes 97 watts to each channel and these subs hit harder than any other sub i have heard. i hooked these subs to a 600 watt amp and i was unable to use my rearview mirror because it hits so hard. these are the best subs for the price.

Pros:

Cons:
Nate from Livonia, MI on 6/28/2005
I just installed the thunder 5500 in a 1996 Saturn for my cousin, with a MTX thunder 282 amp. Let me tell you.. you cant go wrong with this sub. This sub hits harder than my two kenwood 12's. This is the third MTX sub I have installed in someone elses car... everyone of them has bone crushing bass! So it might be time for me to make the MTX change.. what do you think?

Pros:

Cons:
Anonymous from Alan, Tx on 6/12/2005
I own two of these subs and so far they out thump any pair of 12" subs that i have heard...They are very accurate and sensitive to the slightest change in even the low bass notes. I had them powered by two MTX 421D with a combined RMS of 705 watts. Small or moderate sealed boxes sound the best. I would recomend MTX to any one.

Pros:

Cons:
Kyle from Wasilla, Alaska on 5/1/2005
These subs are great for the price. My last sound system was 4 15" subs in a regular cab pickup. I did not want something that serious for my daily driver. I put a pair of these in my car and was very suprised at both the sound quality and the hard bass that they produced. I have about 200 watts going to each and they hit harder than most 12's. <BR><BR>I never thought that MTX was really a player in making subs that hit hard but they have come a long way in the past few years. I would highly recommend these to anyone that is looking for a reasonably priced system that hits hard and clean to a variety of music. Their TA2301 amp also gets high marks from me.

Pros:

Cons:
full_dogg69 from Sidney, OH on 3/29/2005
I bought three of these in the Sledge Hammer box by MTX. I have to say the range and response of these subs are just flat out amazing. I mostly listen to alot of Heavy Metal, Death Metal, Thrash, etc. These babies will keep up with the most speedy double bass playing out there. Rap was put on these subs and I have to say they will bump, not like the 12"s can but they will do the job. So if your looking for straight up speed sound quality, and some nice bump these are the subs for you. I have also listened to 2 15" Solo-Baric L5s, 2 12" Poweracoustik FUBRs, 2 10" Audiobahn Flame Series , 2 12" Rockford Fosgate Stage 2s and 2 types of Lightening Audios; These sound so much clearer and have so much more range and do alot more than just bump. Best subs i have heard yet.

Pros:

Cons:
Best subs I have ever had
Jason from North Branford, CT on 3/5/2005
These babies right here are the best I have ever had and heared. They are worth the money. Weather you like heavy metal, or rap, or everything in between, these subs are for you. Thats all I have to say about that.

Pros:

Cons:
Details
Product Research
Features
Performance Series: The Thunder 5500 woofer is part of the MTX "Performance" series, which also includes the Thunder 4500 and Road Thunder series.
Cone Design: The woofer uses a concave, multi-layer mica-filled polypropylene cone with an expanded poly cone dust cap for better thermal management and increased reliability at high Sound Pressure Levels (SPL).
NBR Surrounds: The surrounds are made of NBR (Nitrile Butadiene Rubber). The surrounds are stitched to the cones, providing added strength and durability under high SPL. NBR has the added benefit of being resistant to ozone and UV rays for extreme durability. The surround geometry maximizes excursion without sacrificing cone surface area.
Stamped Steel Basket: This woofer has a 16-gauge stamped steel basket, designed to support the magnet structure and prevent buckling.
Terminals: The woofer features a pair of heavy-duty chrome push terminals which can accept single or dual banana plugs, pin connectors or up to 8-gauge speaker wire.
Spider: The Thunder 5500 woofer uses a Nomex/Polycotton spider with integrated tinsel leads. The spider materials allow for high excursion without spider or tinsel lead fatigue.
Spider Plateau Venting: Heat from the voice coil is vented through metal-mesh covered vents that surround the back of the spider. As the woofer travels back and forth, cool air is pulled in and heated air is pushed out.
Asymmetrical Linear Drive System (ALDS): The Asymmetrical Linear Drive System consists of a flat, progressive spider that improves suspension and an extended vented pole piece that smoothes out the cone's linear motion. The result is high output and low distortion.
Voice Coil: Designed for high power handling and large linear excursion, the woofer's 1-3/4" voice coil is wound onto a high-temperature former with 428° F aluminum.
Strontium Ferrite Magnet: The strontium ferrite magnet yields a highly efficient speaker. The magnet features a rubber ring for protecting the motor structure and cosmetics.
Enclosure Compatibility
Enclosure Recommendations: For the best possible sound quality where space is a premium, MTX recommends using a sealed enclosure. For excellent sound quality with increased output compared to sealed enclosures (3dB or more), MTX recommends using a vented enclosure.
Recommended Sealed Box Volume: The sealed box size recommended by MTX has an internal volume of 0.75 cu/ft.
Recommended Vented Box Volume: The vented box size recommended by MTX has a net internal volume of 1.25 cu/ft with a slotted port. The port slot dimensions are 12" high, 2" wide, and 20-1/2" long.
Our Product Research Team
At Crutchfield, you'll get detailed, accurate information that's hard to find elsewhere. That's because we have our own in-house Product Research team. They verify what's in the box, check the owner's manual, and record dimensions, features and specs. We stay on top of new products and technologies to help people make informed choices.