Why Choose Crutchfield?
Deep discounts on car installation gear
We offer vehicle-specific installation instructions, dash kits, wiring harnesses, and speaker accessories at deeply discounted prices with car stereo and speaker purchases. Available for most vehicles.
Learn more
Trusted since 1974
Our customers have trusted us with their business, and they've helped us win awards for our service.
Check out our most recent awards
Factory-authorized dealer
The manufacturer's warranty always applies.
See more details
JVC Everio GZ-EX555
38X optical zoom HD camcorder with Wi-Fi® and 16GB flash memory
Item # 257GZEX555 | MFR # GZEX555BUS
This item is no longer available.
Overview
Our take on the JVC Everio GZ-EX555 by Crutchfield's Woody Sherman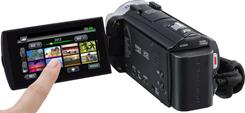 The JVC Everio GZ-EX555 features an easy-to-learn touchscreen interface.
Game face
This is our year. Such is the mantra of every team at the beginning of the season, but you are resolute. OUR year. No matter that it's your son's first venture into Little League. To top it off, you're prepared to the gills: a cooler full of hydrating sports drinks and bottled water, peanut butter sandwiches in individual baggies, and your new JVC Everio GZ-EX555 camcorder.
Sharing is caring
Of all of these careful preparations, the GZ-EX555 is probably the most important. Not only will it bring home the excitement of your boy's only pop fly catch in right field, it will get you right in on the action with a 38X optical zoom and advanced optical image stabilization, so you won't miss the look of triumph on his face as he opens his glove. Built-in microphone and headphone jacks make the post-game interview a piece of cake. And friends and family don't have to miss it either — this camcorder will link via Wi-Fi to your compatible smartphone or tablet by way of a convenient, free app. That means you're only minutes away from sharing his golden moment with the world when it happens.
With a robust connection to a network, you can even stream the game live online (with the help of a free USTREAM account). Or, you can pre-set a list of email addresses, and send short video clips directly from your connected camera — without the hassle of transferring files, and editing/compressing them for your email client.
Picture this
While the 'EX555 is plenty sensitive to make decent pictures in subdued light, there's a built-in LED light so you can make a better situation out of a challenging one. It takes digital still shots as well, and it has built-in face detection and "smile shutter" technology, so you'll always catch your subject at their fun-loving best. And when it comes time to back up your hard-won images, one push of a button will wirelessly back them up to your PC.
Storage and Formats:
records high-definition video and photos to 16GB of on-board flash memory and optional SD, SDHC, and SDXC memory cards
records 1920 x 1080 AVCHD format HD video, standard definition recording also available
Features:
1/5.8" (3.1mm) 2.5-megapixel back-illuminated CMOS sensor
advanced image stabilizer for shake-free recording
integrated Wi-Fi®, in combination with a free app from JVC, enables the following features:

live monitoring from your iPhone®, iPad®, iPod touch®, Android™ device, or PC
home detection monitoring: when a subject enters a detection area the camera takes a digital still and emails you
video email mode: record a 15-second clip and email up to 8 preset recipients simultaneously
remotely control the camera's zoom and start/stop functions from a distance with your smartphone or tablet
transfer video to your smartphone and upload it to YouTube™ and Facebook

wide-angle JVC HD 38X optical zoom lens; 65X dynamic zoom
3" touchscreen LCD
full 1920 x 1080 HD recording with 1080/60p output
built-in LED video light
continuous still mode recording for easy motion analysis
zooming microphone changes audio focal point to match the recorded picture
intelligent auto mode selects optimal settings no matter where you point the camera
auto wind cut function reduces wind noise from on-board microphone
external microphone and headphone minijacks
face detection with Smile Shot/Smile Meter technology ensures great group scenes
handwriting and stamp effects allows you to overlay graphic elements to your video as you shoot
time-lapse mode records one frame at a time at set intervals (1 sec. - 80 sec.)
Connections and Dimensions:
high-speed USB interface (cable included)
mini HDMI output for connection to an HDTV (cable not included)
comes with a battery charger and rechargeable VN-BG114 lithium ion battery
2-1/8"W x 2-3/8"H x 4-5/8"D
weight: 10.4 oz. with battery
warranty: 1 year parts, 90 days labor
What's in the Box:
Flash memory camcorder
BN-VG114U Lithium-Ion rechargeable battery (3.6V/1400mAh)
AC-V11U AC adapter with 57" DC output cord (DC output: 5.2V/1.0A)
40" USB cable (Type A USB on one end and Mini B 2.0 USB on the other end)
37" A/V cable with 3.5mm miniplug on one end and 3 RCA plugs (stereo audio/composite video) on the other end
Ferrite core noise filter
Basic User Guide
Warranty Card (USA)
Warranty Card (Canada)
Software License Agreement
2 Direct Monitoring Setup Guides (English and Spanish versions)
Manual corrections page
Details
Product Research
General Features
Wi-Fi
Recording Features
Power Requirements
Inputs and Outputs
Software
General Features
AVCHD Progressive Recording: The JVC HD Everio GZ-EX555 compact digital camcorder is capable of recording Full 1920 x 1080 HD video onto the 16 GB internal flash memory or optional SD, SDHC, and SDXC memory cards. In addition, the unit offers 1080/60p progressive recording, where each individual frame is a complete, high-resolution picture.
SD Card Slot: The GZ-EX555 has a slot for SD memory cards. The unit is compatible with SD cards up to 2 GB, SDHC cards from 4 GB to 32 GB, and SDXC cards up to 128 GB. A 128 GB SDXC card can hold 11-1/2 hours of Full HD video at the highest recording quality. Class 4 or higher SD cards are recommended for video recording. No SD cards are included with the camcorder.
3.0" LCD Touch Screen Monitor: The GZ-EX555 is equipped with a 3.0" Touch Panel LCD monitor. The LCD has 230,000 pixels, and can rotate 270° for best visibility when shooting at difficult angles.
Imaging Device: The camcorder has a 1/5.8" back-illuminated CMOS image sensor with 2,510,000 total pixels. It has a recording area of 1,010,000 to 2,290,000 effective pixels for recording AVCHD video, and 920,000 to 1,770,000 pixels for recording in iFrame mode. For recording still images, there are 1,710,000 pixels for 4:3 images and 2,290,000 for 16:9 still images.
Lens: The GZ-EX555 has a bright F1.8-3.9 lens with a 38x optical zoom, and a focal length of 2.1mm to 79.8mm. The 35mm equivalent focal length for AVCHD video is 29.3mm-1906mm (dynamic zoom on) and 29.3mm-1219mm (dynamic zoom off). For still images, the focal length is 35.9mm-1590mm in 4:3 and 29.3mm-1299mm in 16:9.
Zoom: The camcorder offers four options for zooming. In addition to the 38x optical zoom, you can select dynamic zoom of up to 65x (zoom ratio varies according to the image stabilizer setting), or digital zoom of up to 200x. When the digital zoom is used, the image can become grainy as the subject is enlarged digitally.
Optical Image Stabilization: You can choose from two levels of image stabilization. The Optical Image Stabilizer reduces camera shake during video recording. The Enhanced Advanced Image Stabilizer can deliver effective results over the entire zoom range, from wide-angle to telephoto.
Wi-Fi
Built-in Wi-Fi: The GZ-EX555 has built-in Wi-Fi capabilities, allowing you to monitor your videos in real time using a smartphone or computer using a wireless connection. Wireless connections can be made via an Access Point or Wi-Fi Direct (Everio Sync.2), using a free app for Android phones and tablets, plus iPhone, iPod touch, and iPad (see Wi-Fi specs below for compatibility). Wi-Fi functions include:
Direct Monitoring: The one-to-one wireless connection of the camcorder to your smartphone or PC allows real-time monitoring from another room. No wireless access point (wireless LAN router) needed.
Indoor Monitoring: Connect to the smartphone or PC via access point at home using the wireless LAN router to monitor images captured by the camcorder. You can record videos and still images while monitoring.
Outdoor Monitoring: You can check the image on the camera via an internet connection with a smartphone (or computer) while you are outside. You can record videos and still images while monitoring.
Detect/Mail: A still image is automatically captured and sent via email when faces or movements are detected by the camera. You can also set to record videos on the camera during detection.
Video Mail: You can record a 15-second video clip and have it directly emailed to up to 8 registered smartphone or computer addresses via Wi-Fi.
TV Monitoring: Connect the unit to a DLNA-compatible TV via the access point at home using the wireless LAN router.
Easy Storage: Save all the videos and still images that have not been backed up to your computer, which is connected via wireless network.
Location Information: You can record location information where the recording is taking place via direct connection (Wi-Fi Direct) with a GPS-enable smartphone.
Pan Cradle (optional): You can pan the camera left or right when it is used with the optional CU-PC1 Pan Cradle, while being remotely controlled by a smartphone.
Wi-Fi Specifications:
Wireless LAN Standard: IEEE802.11b/g/n (2.4 GHz band)
Using Everio Sync.2:

Supported Terminals: iPod touch/iPhone/iPad running iOS 5.1 or later, and Android smartphones and tablets running Android 2.3 or later
Signal Strength: minimum line speed of about 5.3 Mbps is recommended

Using Web Browser:

Operating Environment:

OS: Windows 7 with Internet Explorer 9 (or later) and Windows Media Player 12 (or later) installed
CPU: Intel Core 2 Duo, 2 GHz or higher
Memory: 2 GB or higher

Signal Strength: minimum line speed of about 10 Mbps for Full HD, 3 Mbps for SD, and 1.7 Mbps for Motion JPEG
Recording Features
Video Recording Quality: When recording AVCHD video you can choose from four Full High Definition (1920 x 1080) settings and two Standard Definition settings (720 x 480). The image quality settings include UXP (24 Mbps bit rate), XP (17 Mbps), SP (12 Mbps), and EP (4.8 Mbps) for HD and SSW (6.2 Mbps) and SEW (3 Mbps). The approximate video recording time using the 16 GB internal memory is:
UXP: 1 hour 20 min
XP: 1 hour 50 min
SP: 2 hours 40 min
EP: 6 hours 40 min
SSW: 5 hours 10 min
SEW: 10 hours 40 min
iFrame: The GZ-EX555 can record in iFrame format, which is suitable for importing to iMovie on a Mac computer. There are two image quality settings for iFrame: 1280 x 720 and 960 x 540. The built-in memory can store 55 minutes of 1280 x 720 iFrame video and 1 hour 10 minutes of 960 x 540 iFrame video.
Still Image Sizes: In addition to recording video, the GZ-EX555 can record still images in 16:9 and 4:3 aspect ratios. You can set the image sizes to 3840 x 2160 (8M), 1920 x 1080 (2M), 1440 x 1080 (1.5M) 640 x 480 (0.3M). Still images can also be taken during video recording by simply pressing the Snapshot button. The size of the still image captured in video mode is 1920 x 1080. The 16 GB internal memory can hold 3000 still images at the highest resolution.
High-Speed Video Recording: By recording videos at a high speed, the videos can be played back in smooth slow-motion. High-speed video recording can be handy for emphasizing movements, such as a golf swing or a tennis stroke. Video is recorded at 300 frames per second at a resolution of 720 x 480. Playback time is 5 times the actual recording time. The maximum recording time is 144 minutes, which would take 12 hours to play back.
Night Alive: The GZ-EX555's NightAlive setting increases gain and brightens the scene automatically use a slow shutter when the surrounding is dark. A tripod is recommended to prevent camera shake. In the NightAlive mode, you can shoot in low light situations down to 1 lux. The lowest illumination during normal shooting is 3 lux.
Face Recognition: You can register the faces of up to 6 people, and when the registered faces are recognized, the focus and brightness are adjusted automatically. The faces can be prioritized and tagged with a name during registration.
Time-Lapse Photography: The GZ-EX555 can take a series of frames at a set interval to illustrate within a short time changes to a scene that occur slowly over a long period of time. This feature can be used to photograph the opening of a flower bud, or the passing of clouds over several hours. You can set the interval at 1, 2, 5, 10, 20, 40, or 80 seconds. The longer the interval, the faster the video will be when played back at normal speed (30 fps). (Example: recordings taken at 2 second intervals will be played back at 60 times speed.)
Power Requirements
Battery: The GZ-EX555 is powered by the BN-VG114U Lithium-Ion rechargeable battery (3.6V/1400mAh). Optional, longer-life batteries, such as BN-VG121U and BN-VG138U, will also work with this camcorder. The batteries charge while attached to the camcorder, using the supplied AC-V11U AC adapter. The approximate recording and charging times for each battery is as follows:
Battery Pack
Actual Recording Time
Charging Time
Typical
Continuous
BN-VG114U
(supplied)
60i
1 hr
1 hr 50 min
2 hrs 30 min
60p
45 min
1 hr 25 min
BN-VG121U
60i
1 hr 30 min
2 hrs 45 min
3 hrs 30 min
60p
1 hr 10 min
2 hrs 10 min
BN-VG138U
60i
2 hrs 40 min
4 hrs 55 min
6 hrs 10 min
60p
2 hrs 5 min
3 hrs 50 min
Inputs and Outputs
HDMI: The camcorder has a Mini HDMI (Type C) output for connecting to an HDTV. A Mini-HDMI-to HDMI cable is required to connect the camcorder to an HDTV for viewing high definition video and still images. (No HDMI cable is included with the camcorder.) If the connected TV is compatible with HDMI-CEC (consumer electronics control), you can operate the camcorder using the remote from the TV.
USB: The Mini-B Version 2.0 connector allows you to connect the camcorder to your computer for downloading your videos and photos. It can also be used for connecting to a DVD Writer, BD Writer (External Blu-ray Drive), or USB External Hard Disk Drive. A 40" USB cable is included.
AV: The 3.5mm minijack AV output lets you connect the camcorder to a TV for playing back Standard Definition videos and still images. You can also connect to a DVD recorder or VCR. A 37" AV cable, with composite video and stereo RCA audio plugs, is included. The same 3.5mm output can be used as a headphone output.
Microphone Input: The GZ-EX555 has a 3.5mm input for connecting an external microphone. The camcorder has a shoe adapter mount that can accommodate most camera-mounted microphones.
DC Power: The camcorder has an AC adapter for connecting the camcorder to standard household electrical power. The AC adapter is used to charge the battery in the camera, or to power the camcorder during long recording sessions, playback to a TV, or downloading videos to external recording devices.
Software
Included Software: The camcorder is equipped with LoiLoFit for Everio software, which is loaded into the camcorder's memory. In addition, the built-in software includes a Detailed User's Guide. To access the software and Detailed User's Guide, you will need to connect the camera to your computer. The software lets you archive and organize your videos, create discs, and upload video to YouTube and other popular websites. It is compatible with the following Operating Systems:
Windows 7 (SP1): Home Premium (32-bit and 64-bit editions), pre-installed
Windows Vista (SP2): Home Basic, Home Premium (32-bit and 64-bit editions), pre-installed

Windows XP (SP3): Home Edition, Professional, pre-installed
Note: For Mac users, you can import files from the camcorder using Apple's iMovie '08, '09, '11 (video) or iPhoto (still images). OS X version 10.6.5 or higher is required.
Our Product Research Team
At Crutchfield, you'll get detailed, accurate information that's hard to find elsewhere. That's because we have our own in-house Product Research team. They verify what's in the box, check the owner's manual, and record dimensions, features and specs. We stay on top of new products and technologies to help people make informed choices.