Why Choose Crutchfield?
Deep discounts on car installation gear
We offer vehicle-specific installation instructions, dash kits, wiring harnesses, and speaker accessories at deeply discounted prices with car stereo and speaker purchases. Available for most vehicles.
Learn more
Trusted since 1974
Our customers have trusted us with their business, and they've helped us win awards for our service.
Check out our most recent awards
Factory-authorized dealer
The manufacturer's warranty always applies.
See more details
Epson MegaPlex MG-850HD
3-LCD 720p projector with built-in dock for iPod®/iPhone®/iPad®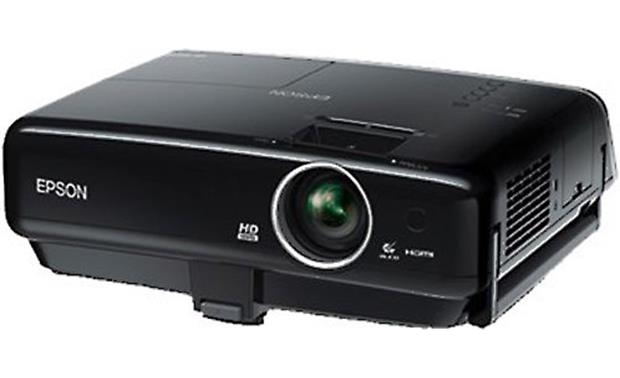 Epson MegaPlex MG-850HD - Front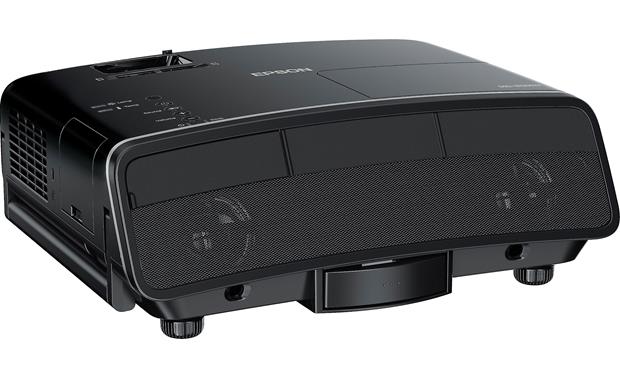 Epson MegaPlex MG-850HD - Back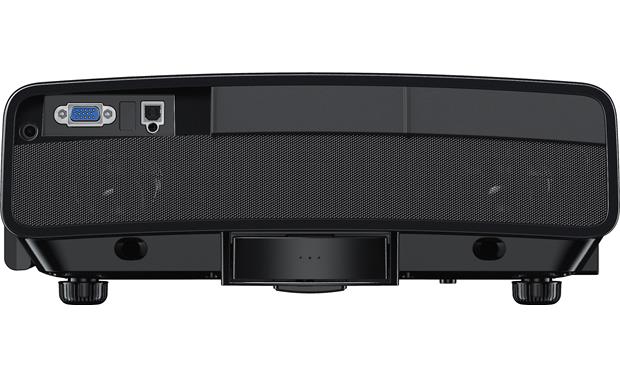 Epson MegaPlex MG-850HD - Back (shows PC input)
Epson: MegaPlex Portable Digital Dock Projector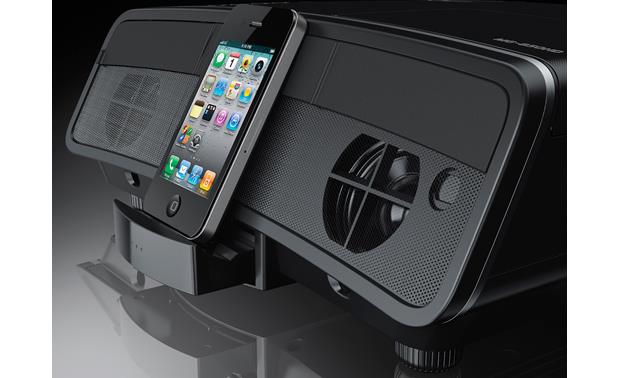 Epson MegaPlex MG-850HD - Close-up view of dock (iPhone not included)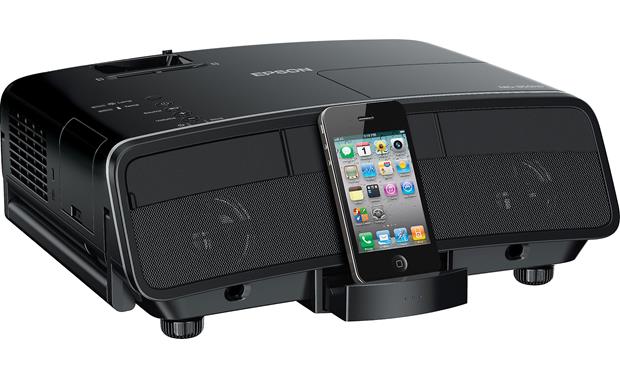 Epson MegaPlex MG-850HD - Dock in back slides out (iPhone not included)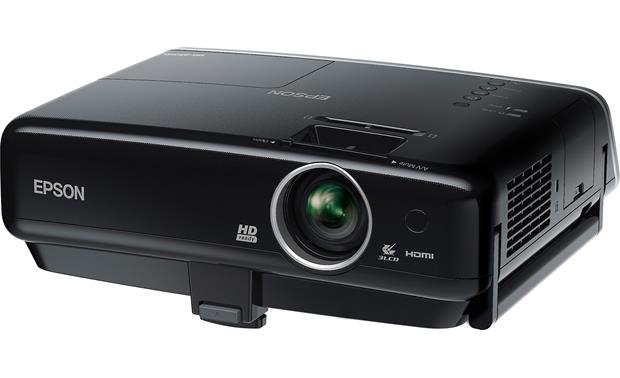 Epson MegaPlex MG-850HD - Front - angled left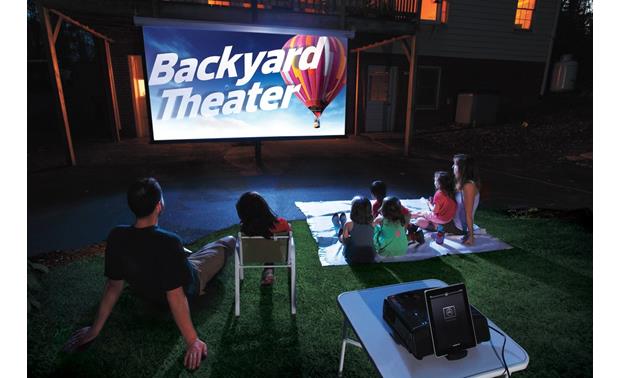 Epson MegaPlex MG-850HD - Group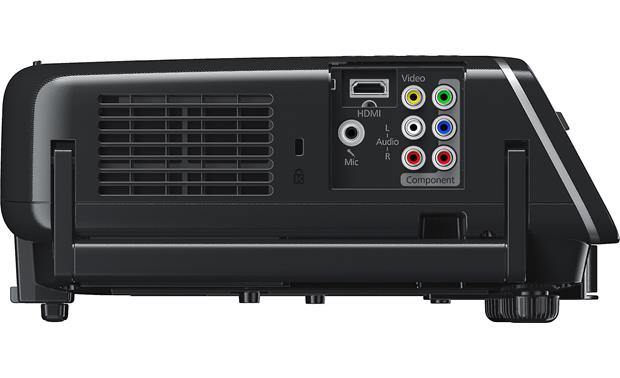 Epson MegaPlex MG-850HD - Inputs on side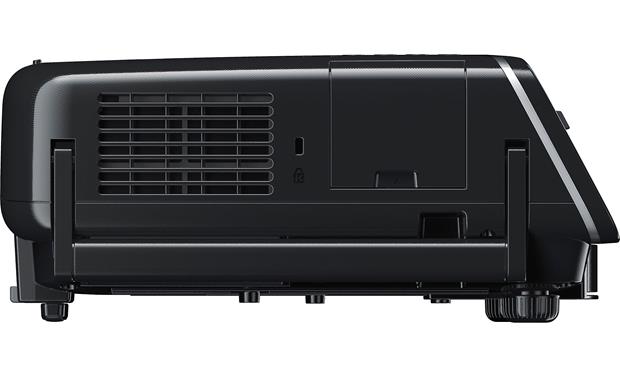 Epson MegaPlex MG-850HD - Side, with inputs concealed
Item # 278MPMG850 | MFR # V11H444020
This item is no longer available.
Overview
Our take on the Epson MegaPlex MG-850HD by Crutchfield's Steve Kindig
Unleash those videos and photos on your iPhone or iPad!
Epson's MegaPlex MG-850HD combines a beautifully crisp 720p high-def picture with the convenience of a built-in dock for connecting an iPod, iPhone, or iPad. You can share all of the fun video clips and photos stored on your device on a much bigger screen, with a much bigger audience. You'll also enjoy the larger, brighter view with your favorite movie streaming and game apps, or even just web-surfing.
A high-def projector you can bring with you
The MG-850HD's portable design lets you share the impact and excitement of projector viewing not just at home, but wherever you can plug into power. Epson's 3-chip high-definition LCD imaging system delivers dependably great image quality. Separate red, green, and blue LCD image chips ensure smooth, accurate, vivid colors. And you don't need a totally darkened room, either — the MG-850HD has the light power to produce a bright, crisp picture even in rooms with some lights on.
Super easy to set up and use
You get three inputs for video sources like a disc player, cable or satellite box, and a game console, plus a dedicated PC input. The projector's remote puts every function at your fingertips, including easy playback control of iPad or iPhone media. Two small built-in speakers supply surprisingly decent sound, and a microphone input lets you get your karaoke on.
For optimum performance, a separate projection screen is recommended.
Learn about the ins and outs of HDMI connections at the Crutchfield Learning Center.
Shop our selection of HDMI cables.
Features:
portable projector (digital TV reception requires a separate HDTV tuner)
built-in back-panel dock for iPod®, iPhone® and iPad® (also charges them while docked)
widescreen aspect ratio (can also display 4:3 material)
3-LCD, 3-chip technology (1280 x 800 pixels each)
3000:1 dynamic contrast ratio
light output: 2800 lumens
auto iris for improved contrast and black level
1.2X lens with manual focus and zoom (zoom is digital)
keystone correction (auto vertical, manual horizontal)
200-watt UHE lamp (lasts up to 5000 hours in Eco mode)
quiet cooling fan (29 dB in Eco mode)
built-in stereo speakers (10 watts x 2)
remote control
picture settings memory for each video input
Connections and Dimensions:
3 video inputs, including:

1 composite video
1 component video
1 HDMI v1.3

PC input
full-sized microphone input
detachable power cord
built-in carry handle
13-3/8"W x 5-1/16"H x 11-1/2"D
weight: 8.4 lbs.
warranty: 2 years parts & labor (90 days on lamp)
Note: front projectors don't include any type of built-in TV tuner, but they can display signals from an HDTV tuner, satellite receiver or cable box
What's in the Box:
Black LCD video projector with iPod dock
10' AC cord (IEC 3-prong type)
Wireless remote control (155625600)
2 "AAA" batteries
iPad bracket
Projector Manual link on CD-ROM
Quick Setup sheet
PrivateLine card with attached information sheet
Extra Care Home Service sheet (English/French)
Declaration of Conformity/Limited Warranty
"Important--Please Stop and Read" sheet
Why Shop
With Us?
10 Reasons.
Details
Product Research
Features
Overview: The Epson Megaplex MG-850 is a portable LCD projector with a built-in digital dock for your Apple iPod, iPhone, or iPad. You can also connect your smartphone, tablet, gaming console, or PC, as well as a DVD or Blu-ray player. With the MG-850, you can project movies, videos, games, slideshows, and presentations at 720p high definition up to 320" (diagonally). The MG-850 also has built-in 10-watt stereo speakers, and comes with a wireless remote control. The side-mounted handle lets you carry the projector anywhere.
3LCD, 3-chip Technology: The MG-850 features 3LCD, 3-chip technology to give you rich, vibrant images for enjoying spectacular movies, games, and sporting events in your home, or to deliver sizzling business presentations at the office. This technology requires 25% less electricity per lumen of brightness when compared to 1-chip DLP projectors.
Projection Lamp: The projector uses an energy-efficient E-TORL 200-watt Ultra High Efficiency (UHE) lamp with a life span of approximately 4000 hours in the Normal Mode. In the ECO mode, the life span is increased to approximately 5000 hours. The lamp (Part # V13H010L67) and air filter (Part # V13H134A37) are the only user-serviceable parts.
Fan Cooled: The projection lamp is kept cool by a fan. The fan noise level is 35dB in Normal mode and 29dB in ECO mode. If the projector is to be used at an altitude above 4921 feet (1500 meters), the High Altitude Mode should be turned on so the fan can properly cool the projector at the high altitude air pressure.
Light Output: In the normal mode, the Megaplex MG-850 outputs 2800 lumens of white light and 2800 lumens of color light for bright, balanced colorful images. The white light output is measured using ISO 21118, a more rigid standard than the ANSI lumens rating used by many competitors. Light output in the ECO mode is 2240 lumens. The projector is capable of a dynamic contrast ratio up to 3,000:1 (auto iris on).
Native Resolution: The Megaplex MG-850 has a native resolution of 720p pixels (16:10 aspect ratio). The total number of pixels is 1,024,000 dots (1280 x 800) x 3. You can resize the picture by changing the aspect ratio to 4:3 or 16:9.
Lens: The MG-850 features a F1.58-1.72 lens with a focal length of 16.9mm to 20.28mm. It has a manual focus and a manual zoom ratio of 1.0 to 2.1. The projector automatically compensates for vertical keystone distortion (+/- 30°) when it is tilted upward or downward. Manual horizontal keystone adjustments (+/- 30°) can be made using the top-mounted slide control. The projector does not have a lens shift feature.
Multiple Sources: The Megaplex MG-850 has inputs for multiple sources to give you lots of choices. For connecting to your video equipment, the unit features one HDMI (Ver.1.3) input, a component video input, and a composite video input. You can also connect your computer to the projector via the VGA input (D-Sub 15-pin). The unit also has a stereo RCA audio input.
Input Signals: The projector will accept the following input types:
Composite: NTSC, NTSC 4.43, PAL, M-PAL, N-PAL, PAL60, SECAM
Component: 480i, 576i, 480p, 576p, 720p, 1080i, 1080p
External Source: Blu-ray, HD-DVD, DVD (Region Code 1)
Microphone Input: You can connect a microphone into the projector's 3.5mm mic input on the side of the projector. Audio from the microphone can be output from the projector's speakers. When using a condenser microphone or other microphone that requires plug-in power, you will need to set the Plug-In Power mode to On in the projector's menu.
Built-in Dock: The MG-850 features a built-in retractable dock that allows you to connect an iPod, iPhone, or iPad for playing back music and video files. A self-adhesive plastic bracket is included for use with the iPad. The device will charge while docked, even when the projector is in standby. While the iPod is docked, you can control it with the projector's remote to select music and video files. The MG-850 is compatible with:
iPad/iPad 2: OS 4.3.3 and later
iPhone 3G/3GS/4G: OS 3.1.3 and later
iPod touch 2G/3G/4G: OS 3.1.3 and later
iPod nano 3G/4G/5G:

OS 3G 1.1.3 and later
OS 4G 1.04 and later
OS 5G 1.02 and later
Note: Displaying photos and videos taken on the device and YouTube videos require switching playback control to the device.
USB Plug 'n' Play: The MG-850 has a Type B USB port on the rear panel that lets you instantly project audio and video from a PC or a Mac. (USB Driver installation needed when first connected.) See below for USB Plug 'n' Play System Requirements.
USB Storage Devices: Using the projector's Type A USB port on the rear panel, you can connect a USB storage device, such as a USB flash drive or digital camera and project still images (JPEG, BMP, GIF, and PNG). The device must be USB Mass Storage Class compatible, and the images formatted in FAT or FAT32. The images can be displayed in a "contact sheet" fashion to help you locate specific photos, in full-screen manually one at a time, or automatically in a slide show with custom settings.
Color Modes: The Megaplex MG-850 offers seven color modes to optimize viewing for different environments and image content. The Color Mode adjusts the brightness, contrast, and color for the best possible picture. A different color mode can be selected for each input source. The color modes are separated into Home Mode and Business Mode. You can select from the following choices:
Auto: automatically adjusts to the brightness of your surroundings
Dynamic: for projecting the brightest picture available
Living Room: for watching television programs during the day
Cinema: for viewing movies in a dimly lit room
Game: for playing video games in a bright room
Presentation: for giving presentations using color in a bright room
Blackboard: allows you to project on a blackboard (green) and maintain a natural-looking tint
Image Fine-tuning: In addition to the color modes, there are several other adjustments you can make to fine-tune the image. The brightness, contrast, color saturation, tint, and sharpness can be adjusted. You can select the color temperature (high, medium, low), and individually adjust the color level of red, green, and blue. The Auto Iris can be turned on or off, as desired.
Sound Modes: You can change the sound mode to optimize the sound for your media. You can select a Standard sound mode, in addition to a mode optimized for vocals, music, and movies.
Adjustable Image Size: The Megaplex MG-850 projector can produce an image that is adjustable between 30" and 350" (measured diagonally).
Lens Projection Distance: The projector's adjustable lens provides a wide range of placement possibilities for a given screen size. The projection distance (distance from lens to screen) range is 3' to 35.7'. The distance for several screen sizes at 16:9, 4:3, and 16:10 aspect ratios are given below:
Screen Size
(diagonal)
Projection Distance (in feet)
16:9
4:3
16:10
30"
---
3.08 to 3.71
---
35"
3.25 to 3.93
---
3.18 to 3.84
40"
3.74 to 4.49
4.13 to 4.98
3.64 to 4.4
60"
5.64 to 6.82
6.23 to 7.52
5.51 to 6.62
80"
7.57 to 9.12
8.37 to 10.04
7.38 to 8.86
100"
9.48 to 11.42
10.47 to 12.57
9.22 to 11.09
120"
11.42 to 13.72
12.57 to 15.12
11.09 to 13.35
150"
14.25 to 17.16
15.75 to 18.93
13.91 to 16.7
200"
19.09 to 22.93
21.03 to 25.26
18.57 to 22.31
280"
---
29.49 to 35.4
---
310"
27.96 to 35.57
---
---
320"
---
---
29.76 to 35.72
Sleep Mode: The projector turns off automatically when no video signal is received for a preset amount of time. You can set the sleep mode to 5, 10, or 30 minutes.
Remote Control: In addition to the control panel, the projector can be controlled by the supplied wireless remote control, which has a range of approximately 20 feet. The projector has infrared receivers on the front and rear to give you control from most anywhere in the room.
Mounting Options: The Megaplex MG-850 can be placed on a tabletop or inverted and mounted on the ceiling. It can be used for front or rear projection. For tabletop use, you can adjust the image position by raising or lowering the front foot. For ceiling mounting, you will need an optional projector ceiling mount. Three 4mm threaded screw holes are provided on the bottom for a ceiling mount. A commercially-available Kensington security lock can be attached to the unit to prevent theft when installed in a public location.
Warranty and Extra Care Home Service: The projector is covered by a 2-year parts and labor warranty, while the lamp is covered for 90 days. Included with the warranty, Epson offers Extra Care Home Service. A replacement unit (in most cases, a refurbished unit) will be shipped to you immediately. (A credit card is required for security deposit.) If it's important that you receive your original projector back, you should use the basic carry-in service instead of Home Service.
System Requirements for Plug 'n' Play:
Windows
OS:

Windows 2000 (SP4 only)
Windows XP (except for SP1): Professional, Home Edition, Tablet PC Edition 32-bit
Windows Vista: Ultimate, Enterprise, Business, Home Premium, Home Basic 32-bit
Windows 7: Ultimate, Enterprise, Professional, Home Premium 32/64 bit, Home Basic and Starter 32-bit

CPU: Mobile Pentium III 1.2 GHz or faster
Memory: 256 MB or more (512 MB or more recommended)
Hard Disk Free Space: 20 MB or more
Display:

Minimum Resolution: 640 x 480
Maximum Resolution: 1600 x 1200
Display Color: 16-bit color or greater
Macintosh
OS: Mac OS X 10.5.x, Mac OS X 10.6.x
CPU: Power PC G4 1 GHz or faster
Memory: 512 MB or more
Hard Disk Free Space: 20 MB or more
Display:

Minimum Resolution: 640 x 480
Maximum Resolution: 1680 x 1200
Display Color: 16-bit color or greater
Our Product Research Team
At Crutchfield, you'll get detailed, accurate information that's hard to find elsewhere. That's because we have our own in-house Product Research team. They verify what's in the box, check the owner's manual, and record dimensions, features and specs. We stay on top of new products and technologies to help people make informed choices.