Why Choose Crutchfield?
Deep discounts on car installation gear
We offer vehicle-specific installation instructions, dash kits, wiring harnesses, and speaker accessories at deeply discounted prices with car stereo and speaker purchases. Available for most vehicles.
Learn more
Trusted since 1974
Our customers have trusted us with their business, and they've helped us win awards for our service.
Check out our most recent awards
Factory-authorized dealer
The manufacturer's warranty always applies.
See more details
Olympus LS-100
4GB digital audio recorder with expandable memory
Item # 279LS100 | MFR # V409121BU000
This item is no longer available.
Overview
Our take on the Olympus LS-100 by Crutchfield's Ralph Graves
With the Olympus LS-100 it's almost like having a portable recording studio in your pocket. Its stereo directional condenser microphones capture sound accurately. When you select PCM mode you can make better-than-CD quality 24-bit/96kHz recordings.
And the LS-100 also has two combination XLR Phantom power and ¼" headphone jack connections, so you can plug in two devices -- your guitar, keyboard, or high-quality microphone -- directly into the recorder.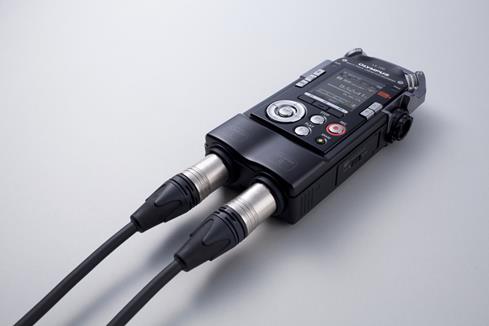 Combination XLR and 1/4" jack inputs let you connect instruments and microphones directly to the recorder (cables not included).
Music recording made simple
You can overdub with the LS-100, so you can build your song layer by layer. Shift recorded tracks up or down an octave to provide your own backup vocals. Olympus includes a pre-record function that caches 5 seconds of audio to ensure you won't miss the start of the music.
Musicians will love the built-in metronome that appears on the easy-to-read LCD display. And another handy feature is the tuner mode, which lets you use the LS-100 as a chromatic tuner for musical instruments. A Lissajous display function shows you phase differences between the recorder and sound source, helping you fine-tune the position and direction of the microphone.
Output options
You can plug the LS-100 into your computer via its USB connection and transfer files easily. Connect it to an external CD drive, and the LS-100 can write recorded files directly to disc. The LS-100 can also convert its recorded PCM (WAV) tracks to MP3 files – handy if you need to send tracks via email.
Memory and battery life
The LS-100 has 4GB of built-in memory. But if that's not enough, you can supplement it with an optional SD/SDHC memory card and add up to 64GB more. The LS-100 gets up to 12.5 hours of operation on its built-in rechargeable battery. Connected to its AC power adapter, though, you can record as long as you need to.
Product Highlights:
battery-powered digital audio recorder with expandable memory
built-in stereo directional condenser microphones
4GB embedded memory
records in MP3 or 24-bit/96kHz PCM (WAV)
2 combination XLR Phantom power and 1/4" headphone jack inputs
built-in recording functions:

Pre-Record mode buffers sound for 5 seconds before Record key is pressed, ensuring start isn't lost
8-track overdub recording
multi-track recording
built-in metronome
lowcut filter

built-in chromatic tuner for musical instruments
Lissajous display to show phase differences
frequency response 20-20,000Hz
expandable microSD card slot (memory card not included)
MP3 conversion function
CD write function
LCD display
metal body
built-in speaker
high-speed USB interface
minijack headphone output
carry case
up to 12.5 hours of operation with built-in lithium-ion rechargeable battery
AC power adapter
2-3/4"W x 6-1/4"H x 1-1/8"D
weight: 9.8 oz.
warranty: 1 year
What's in the Box:
Linear PCM recorder
LI-50B Lithium-Ion rechargeable battery (3.7 volts/925 mAh)
A514 AC adapter (5V/1A)
US AC plug adapter (2 pronged)
Semi-hard case
5' USB cable (Type A USB on one end and Mini-B 2.0 USB on other end)
USB adapter (Type A female to Male Mini-B USB 2.0)
Wrist strap
Basic Manual
Warranty/Online registration card
Note on XLR/standard phone combo jack
Strap warning note
Details
Product Research
General Features
Recording Features
Edit and Playback Functions
Music Functions
General Features
Overview: The Olympus LS-100 is a hand-held portable multi-track digital recorder that is designed for musicians. You can make high quality recordings using the LPCM format, or a large number of recordings in MP3. The recorder has a built-in 4 GB flash memory and a slot for an SD/SDHC/SDXC card for hours of recording time. It has a built-in stereo microphone, a 23mm diameter mono speaker, and inputs for external microphones and headphones. The LS-100 operates on the LI-50B rechargeable battery (included).
LCD Display: The LS-100 features a 2" (diagonal), backlit, full color LCD display which indicates recording and playback information. The recorder will display the elapsed or remaining recording time in hours, minutes, and seconds. You can set the LCD monitor brightness, backlight duration and the dim time.
Date and Time: The recorder features a built-in clock. If you have set the time and date, information as to when a sound file was recorded is stored automatically with that file.
Microphones: The unit features two high quality, directional condenser microphones mounted at a 90° angle from each other on the top of the recorder. The microphones can clearly record a full 20Hz to 20kHz frequency range, with a maximum permissible input sound pressure of 140dB SPL. Microphone sensitivity can be set to High, Middle, or Low. Independent left and right recording levels help you to make balanced live recordings. In addition, the LS-100 has a 3.5mm microphone input.
XLR/Phone Inputs: You can make recordings directly from another device or from a musical instrument without using the microphone. The LS-100 has separate left and right XLR/standard phone combo jacks. This lets you connect a guitar, keyboard, or microphone with a standard 1/4" phone plug or XLR plug. The input has a phantom power supply (48V or 24V) for microphones or external unit that needs it. The input sensitivity can be set to High or Low for each of the balanced inputs (XLR), but not for the unbalanced input (Phone).
Built-In 4 GB Flash Memory: The LS-100 Digital Recorder features a built-in 4 GB flash memory which can hold hours of audio or voice memos. The memory is divided into five folders for organizing recordings or files transferred from your computer. A portion of the built-in memory is used for management files, therefore the total recording capacity is approximately 3.1 GB.
Memory Card Slot: In addition to the 4 GB built-in memory, the LS-100 has a memory card expansion slot for more recording capacity. The slot will accept SD, SDHC, and SDXC memory cards from 16 MB to 64 GB. Files can be transferred from the card to the internal memory or vice-versa.
USB: The LS-100 has a Mini-B 2.0 USB port on the side for connecting the recorder to your computer for transferring files. A short USB cable is provided with the unit. The LS-100 is compatible with the following Operating Systems: Windows XP, Windows Vista, Windows 7, and Mac OS X 10.4.11 - 10.7.
Headphone Jack: The LS-100 has a 3.5mm jack for plugging in a pair of headphones. You can listen to files played back or monitor the recording as it is made.
Power Requirements: The recorder is powered by the Olympus LI-50B Lithium-Ion rechargeable battery (3.7V 925mAh), the same battery used by several Olympus digital cameras. The battery charges in approximately 3 hours via the included A514 AC adapter. A fully charged battery provides approximately 9-1/2 hours of battery life while recording at the highest quality mode setting and 12-1/2 hours at the lowest. The Power Saver mode turns off the monitor and switches the unit to standby if it is not used within a preset period of time (5 min, 10 min, 30 min, or 1 hour).
Remote Compatible: You can control the LS-100 with an optional RS-30W remote control. The remote is wireless, with a module that plugs into the recorder's 2.5mm sub-mini remote jack.
Tripod Socket: The LS-100 is equipped with a standard 1/4" tripod socket on the back so you can mount the recorder onto a tripod, if desired.
Function Buttons (Fn): The recorder has three buttons just below the display, labeled F1, F2, and F3. Specific, frequently used functions can be assigned to each button for quick and easy access to that function. Functions can also be set to F1 and F2 in the Multi-track (MTR) mode. You can assign the following functions during normal operation: Index mark, A-B repeat, Input Select, Metronome, MP3 Convert, and CD write. During Multi-track operation, you can also select Bounce, Mute, Key shift, and Solo.
Recording Features
Multi-track Recording: The Olympus LS-100 Linear PCM Recorder has a multi-track recording mode for overlaying instruments and voice in a single file. Files with up to eight tracks can be recorded, edited, and played.
Recording Format: The LS-100 records audio files in LPCM (9 recording quality modes) and MP3 formats (4 modes). Files are limited to approximately 2 GB for LPCM and approximately 4 GB for MP3. If a Linear PCM recording goes longer that 2 GB, the 2 GB file is closed and the recorder automatically creates a new file to continue recording.
Quality Mode
Frequency Response
Maximum Recording Time
Built In Memory
4 GB
Optional SDHC Card
32 GB
LPCM
96.0kHz/24-bit
20 Hz to 44 kHz
1 hr 35 min
14 hrs 55 min
LPCM
96.0kHz/16-bit
20 Hz to 44 kHz
2 hr 15 min
22 hours
LPCM
88.2kHz/24-bit
20 Hz to 40 kHz
1 hr 30 min
16 hours
LPCM
88.2kHz/16-bit
20 Hz to 40 kHz
2 hrs 30 min
24 hours
LPCM
48.0kHz/24-bit
20 Hz to 23 kHz
3 hours
29 hrs 30 min
LPCM
48.0kHz/16-bit
20 Hz to 23 kHz
4 hrs 45 min
44 hrs 30 min
LPCM
44.1kHz/24-bit
20 Hz to 21 kHz
3 hrs 15 min
32 hours
LPCM
44.1kHz/16-bit
20 Hz to 21 kHz
5 hours
48 hrs 30 min
LPCM
44.1kHz/mono
20 Hz to 21 kHz
10 hours
97 hours
MP3
320 kbps
50 Hz to 20 kHz
22 hrs 30 min
214 hours
MP3
256 kbps
50 Hz to 20 kHz
28 hrs 30 min
268 hours
MP3
128 kbps
50 Hz to 17 kHz
57 hours
537 hours
MP3
64 kbps mono
50 Hz to 8 kHz
114 hours
1074 hours
Recording Modes: The recorder offers four Recording Modes:
Normal: The Normal mode is for standard recording of events (concerts, speeches, meetings, natural sounds) as they happen.
Overdub: Overdubbing lets you record a track onto a previously recorded file while playing back the file.
Play Sync: Play Sync recording allows you to record a file while another previously recorded file is being played back. The new file contains only the newly recorded audio.
V-Sync Recording: V-Sync (or Voice Activated) Recording is used to record meetings, lectures, conferences, etc. The recorder starts automatically when a sound louder than the set voice sync level is detected. When an amount of time passes when there is no audio, the recorder goes into standby, to avoid long, silent portions of the file.
File Names: Each time a file is recorded, a file name is assigned to the recording. The file name includes a 4-character User ID (for the device), the 6-digit recording date (130703 for July 3, 2013), a 4-digit file number (recording number for that date), and the file extension (.wav for LPCM and .mp3 for MP3). Up to 999 files can be stored in each of the 5 folders.
Recording Levels: After selecting the input microphone (built-in, external, line, XLR/Phone 1, or XLR/Phone 2), you can choose manual or automatic recording levels. If Manual is chosen, you can select the Limiter and Compressor settings.
Pre-Recording: Pre-recording enables you to start recording up to 2 seconds before you press the Record button. This enables you to avoid missing the exact moment a recordable event begins.
Low Cut Filter: The LS-100 has a Low Cut Filter to minimize low frequency sounds and selectable cut-off frequencies of 100Hz and 300Hz. This helps make voice recording clearer, especially in windy conditions.
Edit and Playback Functions
Audio CD Output: The LS-100 has a CD Write function which lets you write a PCM file directly to a USB-connected CD burner. The PCM file must be recorded at 44.1kHz/16-bit, the same resolution as a CD file.
MP3 Conversion: You can convert an already-saved PCM format WAV file into a 128 kbps MP3 file. This allows you to downsize a larger file to save storage space. The PCM file must be recorded at 44.1kHz/16-bit in order to be converted to MP3.
Playback Speed: You can adjust the playback speed as you desire; slowing it down to review spots you couldn't understand, or speeding it up to listen to meeting content at a faster speed. Digital processing keeps the pitch at normal levels while you increase or decrease the playback speed. During playback, you can adjust the playback speed between 50% of normal speed to 400% of normal speed in 10% increments.
Skip Space: The Skip Space function lets you skip forward or backward during playback. This is handy for quickly skipping to another playback position or repeatedly playing back short phrases. You can choose Forward Skip (file, 10 sec, 30 sec, 1 min, 5 min, or 10 min) or Reverse Skip (file, 1 sec, 5 sec, 10 sec, 30 sec, 1 min, 5 min, or 10 min).
Index Marks: Setting an index mark lets you quickly find a location you want to listen to while fast forwarding or fast rewinding. Up to 99 index marks can be added to each file.
Intro Play: As you view the files in a folder, the first few seconds of the recording are played to help you identify it. You can set the length of the Intro Play to 3 seconds, 5 seconds, or 10 seconds. The feature can be turned off in the menu, if desired.
Segment Repeat: The Segment Repeat function, also known as A-B Repeat, enables you to repeat playback of part of a particular file. You can place marks at the beginning and the ending of a recorded passage for repeated playback. This constant repetition feature can be used for language learning.
Editing: Recorded tracks can be edited in the recorder using the File Divide and Partial Erase operations.
Erase: You can erase your recorded messages one by one, or all messages in a folder at one time.
Protect Files: To prevent a file from being accidentally erased or edited, you can protect an important file. When a file is protected, it is regarded as a read-only file. Protection can be released, if desired.
Hold Function: The LS-100 has a Hold function that will lock the buttons to prevent accidental operations. The Hold function is activated by sliding the power switch to the left.
Music Functions
Metronome: The Olympus LS-100 has a metronome function that can be used to set the tempo when singing, practicing with an instrument, or recording. The metronome can be set between 40 and 208 beats per minute (BPM). You can choose a beep or tick-tock sound, and select from 8 meters (3/4, 6/8, 4/4, etc.).
Tuner Function: You can use the LS-100 to precisely tune an instrument. You can calibrate the tuner by adjusting the reference tone (A) between 435 Hz and 445 Hz (in 1 Hz increments). The Chromatic Tuner displays the mismatch between the tone of the musical instrument you are tuning and the reference tone. The tuner function has charts for properly tuning a 6-string guitar and a 4-string bass.
Lissajous Measurement: Professional sound recording studios typically measure the phase difference between two microphones as a tool for placing microphones for a sound source. The phase difference between two microphones connected to the LS-100 can be measured and a Lissajous waveform displayed on the recorder. This waveform can graphically display the phase difference, and how adjusting the microphone can affect the waveform, until an optimal sound recording is achieved.
Key Shift: When making a multi-track recording, you can change the key of a recorded sound source when playing it back. This allows you to raise or lower the pitch of the music being played back so you can record another track in the same key. The pitch can be adjusted sharp or flat by up to six semi-tones.
Our Product Research Team
At Crutchfield, you'll get detailed, accurate information that's hard to find elsewhere. That's because we have our own in-house Product Research team. They verify what's in the box, check the owner's manual, and record dimensions, features and specs. We stay on top of new products and technologies to help people make informed choices.