Why Choose Crutchfield?
Deep discounts on car installation gear
We offer vehicle-specific installation instructions, dash kits, wiring harnesses, and speaker accessories at deeply discounted prices with car stereo and speaker purchases. Available for most vehicles.
Learn more
Trusted since 1974
Our customers have trusted us with their business, and they've helped us win awards for our service.
Check out our most recent awards
Factory-authorized dealer
The manufacturer's warranty always applies.
See more details
Sharp LC-80LE857U
80" 1080p 3D LED-LCD HDTV with Wi-Fi®
Item # 28480LE857 | MFR # LC80LE857U
This item is no longer available.
Overview
Our take on the Sharp LC-80LE857U by Crutchfield's Steve Kindig
Sharp is serious about BIG screens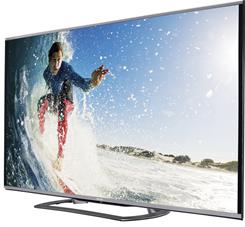 Sharp continues to focus its LCD expertise on truly large TV screens — 60" and bigger. An impressive example is the LC-80LE857U, their top-of-the-line 80" model this year. Watching movies, sports, or just your favorite shows on a screen this size is a game-changer. The sheer visual impact is similar to what you experience with a projector system. But projectors look their best with the lights off, while this Sharp's picture looks crisp and colorful in typical room lighting and is as convenient to use as any other TV.
A life-sized picture that's very lifelike
Producing a smooth, clear picture that pops is no easy task for a screen this big, but Sharp has all the right technology. The LC-80LE857U is a great choice for use in rooms with lots of light — like when you're watching an afternoon ballgame. Sharp's Super Bright™ panel is 50% brighter than the screen on their next best 80" model, the LC-80LE757U.
This is a 3D TV, and as you'd expect, 3D material looks spectacular on this huge screen — you really feel like you're in a theater. And if you're not a 3D fan, you shouldn't necessarily cross this model off your list because regular 2D video looks pretty awesome, too.
Quattron gives colors added oomph
Sharp's Quattron™ color technology fills the screen with rich, saturated hues. Quattron allows colors to really pop by displaying more color information. In a standard LCD panel, each pixel is made up of red, green, and blue subpixels that create the color palette. Quattron adds a fourth color, a yellow subpixel that results in images with brighter yellows, deeper blues, and richer golds. To keep fast on-screen action looking smooth and clear, Sharp's Aquomotion 960 combines 240Hz refresh rate with additional motion processing to virtually eliminate blur and picture artifacts.
This is one Smart TV
The LC-80LE857U's has features and capabilities that are similar to other Wi-Fi-equipped Smart TVs, plus a couple of cool extras. Sharp's intuitive SmartCentral™ interface lets you quickly connect to your home's network for more entertainment choices. Stream movies and TV shows from Netflix®, indulge in video snacking at YouTube®, and keep the music flowing with Rhapsody® and Pandora® Internet radio. Here's a feature we haven't seen before: the ability to display a split-screen view with a video source and web streaming. Makes it easy to surf the web while you watch TV.
Learn about the ins and outs of HDMI connections at the Crutchfield Learning Center.
Shop our selection of HDMI cables.
Tip: For a list of over-the-air digital TV stations you can receive, as well as antenna recommendations for your location, enter your zip code in AntennaWeb's mapping tool.
Product Highlights:
80" screen (measured diagonally)
glossy screen, 2-tone aluminum/black bezel with brushed finish
tuner receives over-the-air HDTV broadcasts (antenna required)
QAM cable TV tuner (subscription required to receive cable channels — contact your local service provider for details)
displays 3D images when you wear Sharp's active 3D glasses (two pairs of glasses are included)
2D-to-3D conversion adds 3D-like depth to non-3D video sources
Quattron™ Quad Pixel technology for deep, vivid colors
Super Bright™ high-contrast edge-lit panel with 50% higher brightness than Sharp's LE757 series
AquoMotion 960 blur reduction (240Hz refresh rate plus backlight scanning)
Internet-ready Smart TV — plays Netflix video and more (subscription required for some services)
supports up to 5.1-channel audio with streaming movie services like Netflix and Vudu™ (audio quality depends on your connection speed)
built-in Wi-Fi® to link to a wireless network
built-in web browser
dual-core processor for improved web browsing and app multitasking
video and music streaming from a DLNA-compatible Windows® PC
Sharp Beam Wi-Fi mirroring — send content wirelessly from a compatible smartphone to this TV
MHL-compatible HDMI input for viewing photos/videos from a compatible smartphone on the TV's screen
Skype™-compatible (requires Sharp camera — sold separately)
built-in speakers (10 watts x 2 plus 15 watts for woofer)
multibrand remote control
free downloadable apps for iOS® and Android™ let you use a compatible smartphone as a remote control
AQUOS Link™ simplifies control of compatible Sharp components via the HDMI connection (HDMI-CEC)
meets ENERGY STAR® requirements
Connections and Dimensions:
7 A/V inputs, including:

4 HDMI
1 component video
2 composite video

PC input
RF input for antenna/cable signals
optical digital audio output (may only pass 2-channel audio from HDMI-connected sources)
stereo minijack output for connecting a sound bar or home stereo system
Ethernet port for a wired connection to a home network
2 USB inputs for connecting a camera or thumb drive
detachable stand (stand "footprint" is 32-5/16"W x 17-1/2"D)
wall-mountable (bracket not included)
71-7/8"W x 42"H x 2-7/16"D (43-7/16"H x 17-1/2"D on stand)
weight: 152.1 lbs. with stand; 138.9 lbs. without stand
warranty: 1 year parts & labor — in-home service or pick-up for service
What's in the Box:
80" LED-LCD TV
Pedestal base
Pedestal guide
Remote control (GB005WJSA)
2 "AAA" batteries
Stand cover
Four M6 x 20mm screws (flat-/lock-washers installed) Four M5 x 14mm screws (flat-/lock-washers installed)
Two M4 x 8mm screws
2 Active 3D glasses (AN-3DG40)
2 Nose-pieces
2 Cloth pouches
2 Cleaning cloths
Operation Manual (En/Fr/Sp)
Connection Guide
Important Information
Product Registration Card
Sharp Customer Support contact information
Energy Guide:

View the Energy Guide
Details
Product Research
Video Features
Audio Features
Network/USB/PC Functions
Convenience Features
Remote Control
Mounting Options
Video Features
AQUOS Super Bright UV2A Panel: The AQUOS edge-lit LED-LCD TV uses a new high-brightness panel combined with an intelligent contrast engine which constantly analyzes the signal and enhances the brightness of the bright objects on the screen, while maintaining the black levels on the rest of the screen. This high-contrast panel lets more light through in bright scenes and fights light leakage in dark scenes, providing a 12,000,000:1 contrast ratio. The LCD panel also employs AQUOS UV2A technology which uses a unique, precision pixel structure to deliver dynamic HD images.
Quattron Color Technology: Quattron Color Technology enables the display to reproduce colors that have been difficult to portray using conventional LCD displays. Sharp's proprietary Quattron Color Technology, a 4-color filter that adds yellow to the traditional RGB, enables a vast array of colors to be displayed. The four-primary-color display employs a four color filter for the first time in the industry, that adds the color Y (yellow) to the three colors of R (Red), G (Green) and B (Blue). This combination expands the color gamut; faithfully rendering nearly all colors that can be discerned with the unaided human eye.
240Hz Refresh Rate + AquoMotion 960: A 240Hz refresh rate delivers crystal-clear images even during fast-motion scenes. AquoMotion 960, Sharp's advanced backlight scanning technology, quadruples the effective refresh rate for even clearer fast-motion picture quality.
Full HD 1080p (1920 x 1080) Resolution: The LED-LCD television displays all inputs at a resolution of 1080p (1920 x 1080). The Sharp LED-LCD TV is equipped with both HDMI and component video high-definition video inputs, as well as standard definition composite video inputs.
4 HDMI (v1.4) Inputs: The television's 4 HDMI (v.1.4) jacks will accept 1080p (24/60Hz), 1080i, 720p, 480p and 480i signals. The HDMI inputs can be used to connect a Blu-ray/DVD player, satellite/cable box, Game console, and a MHL-compatible smartphone. Any HDMI can also be used to connect a PC to this TV. The HDMI 2 input can be used to connect a device with a DVI output (a DVI-to-HDMI adapter cable is necessary). If a DVI-equipped device is used, a separate audio cable will also be needed from the device to the shared PC stereo minijack audio input.
Component Video Input: The TV's single Component Video input will accept 1080p (60Hz), 1080i, 720p, 480p, and 480i signals.
Composite Video Inputs: The television is fitted with two composite video inputs which accept 480i only.
Note: The Sharp AQUOS LED-LCD TV offers built-in ATSC/QAM/NTSC tuners for DTV and available analog TV viewing.
MHL Compatible: The HDMI 4 input is MHL compatible and designed for the connection of select mobile phones and other portable electronic devices. Simply plug your MHL compatible smartphone into the TV's HDMI 4 port using the HDMI cable that is included with your mobile phone. MHL allows you to display full 1080p video and still images on the Sharp TV from your mobile smartphone. The TV's IR remote can be used to control basic playback functions (such as Play/Pause, Stop Fast Forward/Rewind, and Menu navigation). Your MHL compliant device will also charge while connected to the TV's HDMI 4 port. To find MHL-certified devices, go to www.mhlconsortium.org.
AQUOS Quattron 3D Technology (with included 3D glasses): You can use the included active 3D glasses to watch 3D-supported content (such as movies, games, or sporting events) from a 3D-ready Blu-ray player, gaming system, or satellite receiver (via HDMI) on this LED-LCD HDT. The TV's LCD panel offers superb high-speed response and high-precision lighting control of backlights to achieve 3D images with greatly reduced crosstalk. The Sharp LED-LCD TV employs a 3D Brightness Boost feature to increase the brightness of the screen when viewing a 3D image. You can have the TV automatically adjust the 3D depth control or adjust this feature manually. The Sharp LED-LCD TV offers various 3D and 2D display modes.
3D Modes (using 3D glasses): The Sharp AQUOS LED-LCD TV provides the following 3D viewing modes when wearing the included 3D glasses.

2D to 3D: converts normal 2D images into 3D images; you can adjust the 3D effect when converting images from 2D mode to 3D mode (+1 to +16)
Side-by-Side: creates 3D images from 3D images displayed side by side; the image is split into a left and right image and then the images are stretched and displayed sequentially to create a 3D image
Top & Bottom: creates 3D images from 3D images displayed on the top and bottom; the image is split into a top and bottom image and then the images are stretched and displayed sequentially to create a 3D image

2D Modes (without 3D glasses): The Sharp AQUOS LED-LCD TV provides the following 2D viewing modes when not wearing the included 3D glasses.

Side-by-Side: creates 2D images from 3D images displayed side by side; only the left image is stretched and displayed (image does not appear in 3D)
Top & Bottom: creates 2D images from 3D images displayed on the top and bottom; only the top image is stretched and displayed (image does not appear in 3D)
Note: The recommended viewing distance for 3D viewing is 8.5' for a 70" screen and 7.2' for a 60" screen. Not all people can experience and enjoy 3D TV. The 3D glasses are only recommended for people ages 6 and older.
View Modes: The Sharp AQUOS LED-LCD TV offers the following view modes to suit the current type of video signal.
Stretch: Suitable for viewing 1.78:1 aspect-ratio HD programs. When viewing 1.85:1 programs, the stretch mode will still show very think black bands at the top and bottom of the screen.
S. Stretch (Smart Stretch): Suitable for stretching 4:3 programs to fill the screen.
Zoom: Suitable for viewing wide-screen 2.35:1 anamorphic DVDs in full screen.
Side Bar: Suitable for viewing conventional 4:3 programs in their normal format.
Dot-by-Dot (1080i/p only): Detects the resolution of the signal of the image and it will be shown on the screen with the same amount of pixels.
Full Screen (720p only): You can select Full Screen only when receiving a 720p signal.
OPC (Optical Picture Control): Optical Picture Control automatically adjust the brightness of the screen. The Optical Picture Control (OPC) senses the surrounding light and automatically adjusts the backlight brightness. This cuts power consumption, while giving you a more comfortable picture to watch The brightness level range of the OPC sensor's automatic adjustments can be set according to your preferences. The adjustment range of the OPC sensor can be set to a maximum of +16 and a minimum of -16.
Video Modes: The Sharp AQUOS LED-LCD TV offers the various video modes to better suit the content you are viewing. You can choose from the following.
Auto: Optimizes the image quality automatically based on the room brightness and image signal.
Standard (Energy Star): For a highly defined image in normal lighting.
Movie: For viewing movies in low light.
Vintage Movie: Allows you to enjoy old-time films, where the images look as if they were projected in real time. You can also add a "flickering" effect.
Game (Standard/High Motion): Suitable for game playing. You can configure this setting according to the type of game.
PC: Suited for using the LED-LCD TV as a computer monitor.
User: Allows you to customize settings for each input source. You can adjust the following - Backlight, Contrast, Brightness, Color, Tint, and Sharpness.
x.v.Color: Supports the x.v.Color international standard for wide color space. The x.v.Color signal allows you to experience colors that conventional color signals cannot reproduce.
Dynamic: For a clear-cut image emphasizing high contrast, useful for sports viewing.
Dynamic (Fixed): Changes the image and sound settings to the factory preset values. No adjustments are allowed.
Advanced Picture Settings: The Sharp AQUOS LED-LCD television offers the following advanced picture settings for further picture enhancement and enjoyment.
C.M.S. (Color Management System): Color tone is managed using the six-color adjustment setting. You can adjust Hue (adjust reddish and bluish tones), Saturation (increases or decreases saturation of color), and Value (increases or decrease brightness).
Color Temperature: The television's Color Temperature control adjusts the white balance of the TV. White balance can be adjusted between a maximum of +30 and a minimum of -30 for each color temperature (R,G,B).
Active Contrast: Automatically adjusts the image contrast according to the scene.
Gamma Adjustment: Adjusts the differences of picture tones between bright parts and dark parts. The adjustment range of the gamma can be set to a maximum of +2 and a minimum of -2.
Black Level: Adjust on-screen black level to your preferred level (High or Low).
Film Mode (3:2 pull-down): Automatically detects a film-base source (originally encoded at 24 fps), analyzes it, and then recreates each still film frame for high-definition picture quality.
DNR: Digital Noise Reduction (DNR) produces a clear video image by reducing noise artifacts.
Monochrome: For viewing a video in monochrome.
Audio Features
35-Watts Speaker System w/ Built-in Subwoofer: The Sharp LED-LCD TV features two down-firing full-range speakers (10W x 2) and a rear-firing midbass woofer (15W) for fuller sound from a thin flat-panel television.
3D Surround: The 3D Surround function produces a virtual surround effect from the television's built-in speakers. You can select from six different modes - 3D Stadium, 3D Hal, 3D Movie, 3D Standard, Normal, and Off.
Audio Settings: You can adjust the sound quality of the television's built-in speakers to your preference with the following audio settings.
Wall Mount Audio Setup: This feature of the LED-LCD TV allows you to select the optimal audio for the television even when wall-mounted.
Tone Control: You can adjust the Bass, Treble, and Balance of the unit's built-in stereo speakers to your preference.
Bass Enhancer: This function allows you to enjoy bass-enhanced sound.
Auto Volume: Different sound sources sometimes do have the same volume level, such as program and its commercial breaks. The Automatic Volume Control reduces this problem by equalizing levels.
Clear Voice: This function emphasizes speech against background noise for greater clarity.
Audio Only: When listening to music from a music program, you can turn the screen of and enjoy audio only.
Audio Outputs: The Sharp LED-LCD television provides an analog and digital audio output.
Digital Audio (Dolby Digital/DTS compatible): The optical digital output terminal will output Dolby Digital (when available) or 2 channel PCM. The digital optical output terminal only sends an audio signal in Dolby Digital when receiving Dolby Digital surround sound from a digital broadcast channel through the tuner, network apps, and USB ports on the LED-LCD TV. The optical digital audio output will only output in 2ch stereo from sources connected to the TV via HDMI or RCA.
Analog Audio: The television features a 3.5mm (minijack) audio output for connecting the television to an analog 2-channel receiver. You will need a minijack-to-RCA adapter (119MCON2M, sold separately) to make a stereo RCA connection between the television and your soundbar speaker or AV receiver. The TV's analog audio output terminals will output 2ch audio from any of the television's source inputs.
ARC (Audio Return Channel) Function: The Audio Return Channel in HDMI 1.4 enables the TV, via a single HDMI cable, to send audio data "upstream" to your A/V receiver; increasing user flexibility and eliminating the need for any separate S/PDIF audio connection. This feature allows audio to be sent from the television to your A/V receiver through the same HDMI cable already being used to send audio/video to the television. This eliminates the need for extra cables connected to the TV. ARC allows audio from the TV tuner, Network connection, inserted USB device, HDMI inputs, or any analog connected device to be heard through your ARC compatible AV receiver via the television's HDMI ARC input. The audio from the TV's tuner, network connection, and USB port can pass as Dolby Digital or 2ch PCM. HDMI and analog connected devices will be output as 2ch PCM only.
Note: Both the television and the receiver must support ARC for this function to work properly. When connecting an A/V receiver that is compatible with Audio Return Channel (ARC), connect it to the TV's HDMI 1 input. If connecting a system that is incompatible Audio Return Channel (ARC), an additional audio connection via Digital Audio Out (Optical) is necessary.
Network/USB/PC Functions
Network Connection w/ Dual-Core Processor: You can set up the Sharp LED-LCD TV so that it can access audio/video/photo content from your PC, a variety of online entertainment content from Samsung's Smart Central online server, and a web browser through your home network and broadband internet provider, using a wired (RJ-45 Ethernet) or wireless connection (built-in WiFi 802.11 a/b/g/n). Dual-core processing means faster load times for apps and the web browser. You'll spend less time waiting for apps and websites to load and more time enjoying all the online entertainment content the Sharp TV has to offer.
DLNA Certified: This TV is DLNA Certified; which means it can display and play movie (MPEG2/WMV/ASF/MP4/MOV/AVI), photo (JPEG), and music (MP3/LPCM) content from your DLNA Certified network device and DLNA server (such as your Windows 7 or 8 PC). The Digital Living Network Alliance (DLNA) is a cross-industry organization of consumer electronics, computing industry, and mobile device companies. DLNA provides consumers with easy sharing of digital media through a wired or wireless network in the home. This eliminates the need to copy your photo, video, and music files to a separate USB storage device.
Smart Central: Sharp's Smart Central allow you to access a variety of online services and content directly on the Sharp AQUOS LED-LCD TV through its network connection. Smart Central offers pay and free-of-charge instant streaming of movies, videos, music and photo album services. You also have access to social network sites, games, and a web browser. Once you have connected the Sharp TV to your home network and the internet, you can enjoy all this by simply using the TV's remote control and on-screen menu; all without a separate PC. The TV offers the following pre-installed apps and allows you to download additional apps from Vudu Apps.
Video: Get access to premium movie and video content such as Netflix (5.1ch), Vudu HD Movies, Hulu Plus, Cinema Now, Film Fresh, & YouTube
Games: Play pre-installed games on the TV. Pre-installed gaming apps include - Black Jack Chess Challenge, Chewie Checkers, Dracula's Coffin, Drop Duel, Music Madness, Sudoku, Texas Hold'em.
Vudu Apps: Vudu Apps allows you to download additional app onto the TV for even more entertainment options. Choose from Arts & Entertainment, Gaming, Internet Culture, Music, New, Science & Technology, Sports, and Travel & Lifestyle apps.
Web Browser (w/ Split Screen): The Sharp Smart TV features a built-in Flash and HTML5 supported Web browser that lets you search the Internet for websites by URL or Keywords. Not all websites will be available for download, because of size and content. Sharp's split-screen function lets you surf the web while you watch TV, so you never have to choose between your favorite show and your favorite site. Your TV program is displayed on the left side of the TV, while the web browser is displayed on the right.
Note: You can store up to 3 apps as "Favorites" for one-button access from the remote control, without having to go into the Smart Central menu.
Skype Ready: Using an external Skype camera (sold separately), the Sharp LED-LCD TV lets you make Skype video calls from the comfort of your living room. Using the TV's remote control, you can create a free Skype account, log into an existing account, and navigate via a simple Skype interface made for the big screen. You can make free Skype-to-Skype voice and video calls to friends and family, wherever they are in the world from the Sharp TV.
Dual USB Ports: The dual USB (type-A) ports enable enjoyment of video, still-image, and music files from an external USB mass storage class device. Your USB mass storage class device must be formatted in FAT/FAT32. In addition, the TV will charge USB devices that can be charged via USB (max. 5V/0.5A).
Video Viewer: The TV supports the following video file types; AVI, DivX, H.264, MPEG1, MPEG2, MPEG4, Motion JPEG, XviD, WMV9. The TV allows you to control basic playback functions (Play/Pause/Stop, Fast Forward/Rewind, Skip Previous/Next) playback for compatible video files stored on a compatible USB device.
Photo Viewer: JPEG still images can be viewed in Full Screen (vertical/horizontal), thumbnail (up to 18 images), or as a slide-show (10/30/60 sec. intervals). You can select MP3 music stored on the same USB device to be played in the background while displaying a slide-show.
Music Player: The television will display your USB device's stored MP3 songs on-screen. You can use the included remote to navigate your song collection.
PC Input: The PC input consists of an analog RGB (D-Sub 15-pin) jack and stereo 3.5mm miniijack. The PC input allows you to connect a personal computer with a D-Sub 15-pin output. When using the RGB (D-Sub 15-pin) jack, you must use the PC Audio 3.5mm input for your audio connection. Any HDMI input can also be used to connect your PC to the TV. The Sharp television supports the following PC resolutions - VGA (720 x 400/640 x 480), SVGA (800 x 600), XGA (1024 x 768), WXGA (1360 x 768), SXGA (1280 x 1024), SXGA+ (1400 x 1050), UXGA (1600 x 1200), or 1080p (1920 x 1080).
Software Updates: The television's Software Update menu allows you to update the TV's software for performance improvements and additional services. Software updates can be done via a network connection or via USB. You can also set the TV to automatically check for updates when connected to the internet. The tested television contained firmware version 130U1303071 with an immediate update of firmware version 140U1304221 (as of 5/1/2013). Visit Sharp's website for the latest Firmware/Software updates.
Convenience Features
On-Screen Menu w/ LC Font: This Sharp AQUOS LED-LCD television is embedded with LC Font technology, which was developed by Sharp Corporation for clearly displaying easy-to-read characters on LCD screen.
Wall Paper Mode: When the TV is turned off, Wallpaper Mode lets you display pre-installed images and still-images from a USB thumbdrive on the AQUOS LED-LCD screen at a reduced light level that mirrors museum conditions, so your screen blends beautifully into your room's decor; all at extremely low power. You can set the length of time (3/6/12/24 hrs) the TV will remain in the Wallpaper mode.
Input Labels + Favorite Channels : Using the included remote control and on-screen software keyboard, you can enter up to a 10 character custom label for each input (except TV, Home Network, and USB). The TV also allows you to program 4 favorite channels, in 4 different categories. By setting the favorite channels in advance, you can select your favorite channels quicker and easier from the included remote control.
Closed Captions (Analog/Digital): The television is equipped with an internal Closed Caption decoder. It allows you to view conversations, narrations, and sound effects as subtitles on the screen. Digital Closed Caption service is a new caption service available only on digital TV programs. It is a more flexible system than the original Closed Caption system, because it allows a variety of caption sizes and font styles.
V-Chip: V-Chip is an electronic filtering device built into the Television. This tool gives parents a great degree of control over broadcasts accessed by their children. It allows parents to select programs judged suitable for child viewing while blocking ones judged not suitable. It does so automatically once you activate the V-Chip feature. The Sharp television offers an 8-level rating system for TV and movie programming protected by a 4-digit password.
Timers: The Sharp AQUOS LED-LCD TV offers two distinct times for added convenience.
Game Play Time: This function displays the elapsed game time so you do lose track of the time. The elapsed time is displayed every 30 minutes.
Sleep Timer: The Sleep Timer function allows you to set a time when the TV automatically switches to standby mode. You can set the sleep timer to 30, 60, 90, or 120 minutes.
Energy Start Compliant: The Sharp AQUOS LED-LCD TV exceeds ENERGY STAR requirements by incorporating advanced power saving features.
Power Saving: This function allows you to set the Power Saving level in order to decrease the power consumption and increase the backlight lifespan. The Power Saving feature can be set to Standard, Advanced, or Off.
No Signal Off: The power will automatically shut down if there is no signal for 15 minutes.
No Operation Off: The power will automatically shut down if there is no operation for 3 hours.
AQUOS Advantage Live: AQUOS Advantage LIVE is a unique support feature that allows Sharp advisors to directly connect to your AQUOS LCD TV through the internet. This free service provides Sharp professionals with the ability to remotely assist you with TV set up, detect signal strength and inputs, and adjust picture settings. Within AQUOS Advantage LIVE you will also be able to register your TV, view important messaging about upcoming events, and software updates, and view up-to-date information about Sharp.
Remote Control
Multibrand Remote: The Sharp AQUOS LED-LCD TV comes supplied with a multibrand IR wireless remote control. In addition to operating the television, the remote can be programmed to operate Sharp and other manufacture Blu-ray/DVD players, Cable/Satellite receivers, and VCRs. The remote features a dedicated Netflix for immediate access to your Netflix movies and TV shows. Three "FAV APP" buttons allow you to store your favorite online apps for quicker access. There is also a 3D button which allows you to switch quickly between 2D & 3D viewing.
AQUOS Link: AQUOS Link enables convenient control of Sharp AQUOS Blu-ray Disc players and recorders which are connected via HDMI to the Sharp AQUOS LED-LCD TV, using the include remote control. AQUOS Link offers the following system controls.
Auto Power On: While the TV is in standby mode, it automatically turns on and plays back the image from the HDMI source.
One Touch Playback: AQUOS Link allows you operate the HDMI connected AQUOS Link compatible equipment with a single remote control.
One Touch Recording: This function allows easy one-touch recording of the program being viewed on the TV to an AQUOS Link compatible recorder.
Audio System Control: You can control the volume of your HDMI-connected audio system.
Note: Up to three players/recorders and one AV receiver can be connected to this TV using AQUOS Link.
Smartphone Remote Apps: The AQUOS Remote Lite App (from iTunes & Google Play) turns your Apple iPad (iOS 4.3+) or Android smartphone/tablet (2.3+) into a network remote control for the Sharp AQUOS LED-LCD TV. All the features of the original remote are available and arranged in a logical manner on your device's touchscreen display. In addition, the Sharp Beam app (from iTunes or Google Play) lets you effortlessly share content from your Apple iOS device (iOS 5.0+) or Android smartphone/tablet (2.2+) to the Sharp AQUOS LED-LCD TV. You can share stored photos and videos, as well as movie apps. Finally, Netflix subscribers will be able to search for content on their smartphone or tablet and then select to watch it on the AQUOS TV with Netflix "Second Screen" capability.
Keyboard & Mouse Compatible: The Sharp AQUOS LED-LCD TV supports both USB- and Bluetooth-enabled keyboards & mouses.
RS-232C Port: The TV's RS-232C port can be used to communicate with compatible PCs and other home theater control devices.
Mounting Options
Pedestal Stand: The TV is shipped with a pedestal stand unattached; assembly is required using the supplied hardware. The table-top stand lets you swivel the TV left or right. The television weighs 152.1 lbs with the stand.
Wall Mounting: The TV has four threaded inserts on the back for use with an optional wall-mount bracket. The spacing of the mounting holes is 600mm (h) x 400mm (v). The threaded inserts require 8mm machine screws (not supplied). The television weighs 138.9 lbs without the stand.
Note: When mounting the TV on the stand or a wall (with optional bracket) leave 4" of clearance on each side of the television and 4" above/below the television for adequate ventilation.
Attached AC Power Cord: The TV is fitted with an attached 6' AC power cord. The power cord features a straight AC plug that sits 1.6875" from the wall.
Our Product Research Team
At Crutchfield, you'll get detailed, accurate information that's hard to find elsewhere. That's because we have our own in-house Product Research team. They verify what's in the box, check the owner's manual, and record dimensions, features and specs. We stay on top of new products and technologies to help people make informed choices.