Why Choose Crutchfield?
Deep discounts on car installation gear
We offer vehicle-specific installation instructions, dash kits, wiring harnesses, and speaker accessories at deeply discounted prices with car stereo and speaker purchases. Available for most vehicles.
Learn more
Trusted since 1974
Our customers have trusted us with their business, and they've helped us win awards for our service.
Check out our most recent awards
Factory-authorized dealer
The manufacturer's warranty always applies.
See more details
Samsung UN46F5500
46" 1080p LED-LCD HDTV with Wi-Fi®
Item # 30546F5500 | MFR # UN46F5500AFXZA
This item is no longer available.
Overview
Our take on the Samsung UN46F5500 by Crutchfield's Steve Kindig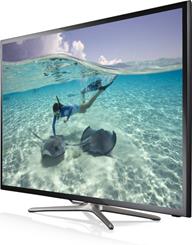 Clean and uncluttered, inside and out
Samsung builds more TVs than anyone else in the world, with enough models to cover every viewing need. The UN46F5500 wraps its bright, beautiful 1080p picture in a sleek cabinet that makes this model a real looker even when it's turned off.
Built-in Wi-Fi® connects this TV to your home's wireless network so that even when you're engrossed in a movie or favorite show you can stay in touch with the online world.
Smart TV features on a budget
Samsung gives you fun ways to enjoy your favorite shows, movies, games and more, on the web and elsewhere. You'll find loads of movies and TV shows from reliable sources like Netflix® and Hulu Plus™, and more. And Samsung's latest AllShare™ networking feature makes it easy to tap your content whether it's on a PC or in the cloud.
New for 2013 is a really cool feature called Clone View. It lets you mirror whatever's on the UN46F5500's screen on your Samsung Galaxy S3 smartphone or Galaxy tablet. If you need to leave the room — like maybe to fix a sandwich in the kitchen — you won't have to leave your entertainment behind. Think of it as whole-house television you can hold in your hand.
Got questions about HDMI cables? See our HDMI cable buying guide.
Shop our selection of HDMI cables.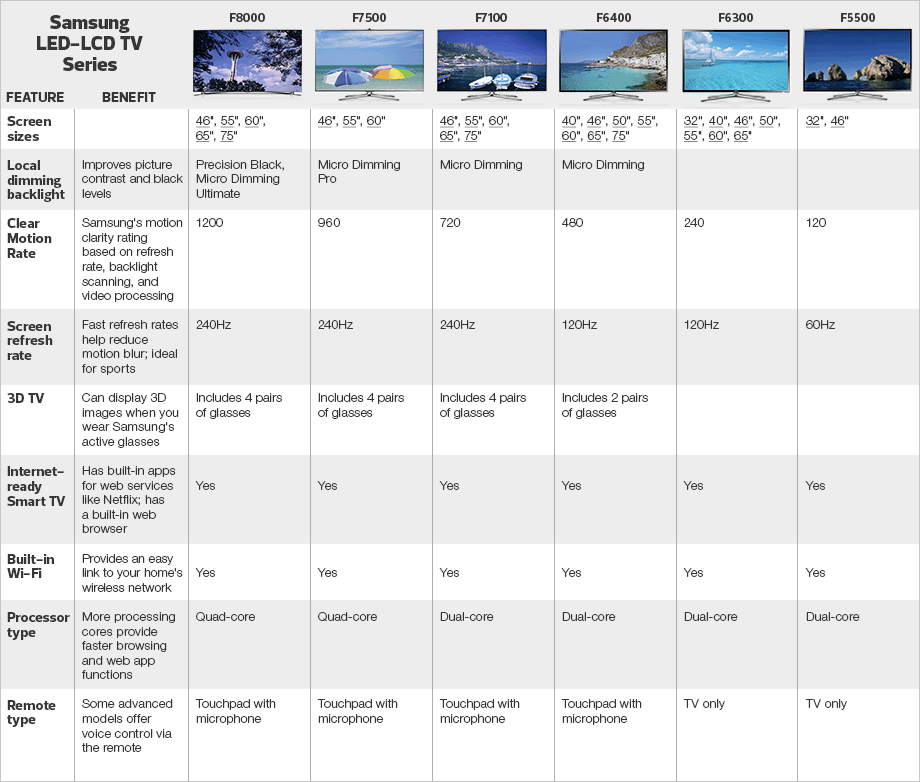 Tip: For a list of over-the-air digital TV stations you can receive, as well as antenna recommendations for your location, enter your zip code in AntennaWeb's mapping tool.
UN46F5500 Features:
45.9" screen (measured diagonally)
glossy screen, black bezel and cabinet
tuner receives over-the-air HDTV broadcasts (antenna required)
QAM cable TV tuner (subscription required to receive cable channels — contact your local service provider for details)
LED edge backlight for high picture contrast
60Hz refresh rate plus backlight scanning for blur reduction
Internet-ready Smart TV — plays Netflix® video and more (subscription required for some services)
supports up to 5.1-channel audio with streaming movie services like Netflix and Vudu™ (audio quality depends on your connection speed)
built-in Wi-Fi® to link to a wireless network
built-in web browser
dual-core processor for improved web browsing and app multitasking
AllShare™ video and music streaming from a DLNA-compatible Windows® PC
2-way screen mirroring via Wi-Fi — send content wirelessly from device-to-TV or TV-to-device with compatible Samsung smartphones and tablets
Skype™-compatible (requires Samsung camera — sold separately)
built-in stereo speakers (10 watts x 2)
illuminated remote control
free downloadable Android app lets you use a compatible smartphone or tablet as a remote control
Anynet+ simplifies control of compatible Samsung components via the HDMI connection (HDMI-CEC)
meets ENERGY STAR® requirements
Connections and Dimensions:
4 A/V inputs, including:

3 HDMI
1 component video (selectable component/composite)

RF input for antenna/cable signals
optical digital audio output (may only pass 2-channel audio from HDMI-connected sources)
stereo minijack output for connecting a sound bar or home stereo system
Ethernet port for a wired connection to a home network
2 USB inputs for connecting a camera or thumb drive
detachable swivel stand
wall-mountable (bracket not included)
41-13/16"W x 24-9/16"H x 2-3/4"D (27-3/4"H x 12-3/16"D on stand)
weight: 27.3 lbs. with stand; 23.8 lbs. without stand
warranty: 1 year parts & labor — in-home service or pick-up for service
What's in the Box:
46" LED-LCD TV
5' AC power cord
Pedestal base
Pedestal neck
Wireless remote control (AA59-00784A)
2 "AAA" batteries
IR blaster
Self-adhesive wire stand
Eight 4mm x 12mm screws
2 Wall-mount inserts
Cleaning cloth
User Manual
Quick Start Guide
Important Safety Precautions
"Stop/Samsung Support" note
best tv, best service

Samsung UN46F5500, Flushing NY
Why Shop
With Us?
10 Reasons.
Energy Guide:

View the Energy Guide
Reviews
Samsung UN46F5500 Reviews
Average Customer Review(s):
Samsung UN46F5500 from Flushing NY on 5/1/2014
Crutchfield Customer Review
(
What's this?
)
best tv, best service

Pros:

Cons:
Cathy C from Pensacola FL on 4/21/2014
Crutchfield Customer Review
(
What's this?
)
Nice Clean Looking TV

Pros: Good Picture for the Price, My old TV had a better Picture....will work with the settings and see if I can Improve.

Cons: The Sound is a Problem....to Low.....will look at a Sound Bar
frand from New Paltz, NY on 2/12/2014
Crutchfield Customer Review
(
What's this?
)
Beautiful picture, easy to set up

Pros:

Cons:
Al C. from Bozman, Maryland on 2/2/2014
Crutchfield Customer Review
(
What's this?
)
Hardest part was getting the old behemoth out of the house! Easy to install, easy to download the updates. Best of all is that sunlight glare is not an issue.

Pros: Excellent picture, easy to install.

Cons: Sound lacks bass, but better than most, and I'll install auxiliary speakers.
L.D. from B.V.,Va on 12/31/2013
Not the best picture, but ok for the price.

Pros: good price

Cons: issue with WiFi and setting colors
G Bob from Land O Lakes, FL on 12/30/2013
Crutchfield Customer Review
(
What's this?
)
As I write this review, I have to tell myself the truth. The blacks and colors are not as "rich" as my old television. I could not find a replacement model for our older television. I wanted to put the Samsung back in the box, but for 2014 this seems to be the best the market has to offer. I honestly feel I may have bought a "lemon" from the distributor, because the Samsung televisions in the store seem to have the proper color settings. Good luck.

Pros: The Smart television option is a real upgrade to our nightly entertainment. The screen is a step up over our old 42" flat screen. All high definition videos are as clear as the televisions I viewed in the stores.

Cons: I have to constantly adjust picture settings as the source changes. I even tried to match the Samsung to my old picture settings. My old television has a far superior and "richer" picture. Yes, a sound bar is a necessity.
Salvador from Orem, utah on 12/15/2013
Crutchfield Customer Review
(
What's this?
)
beautiful tv, Nice picture, good menus, sound is good, Works great.

Pros: Nice TV for the price

Cons: the web browser is ok
I from ny on 7/22/2013
Crutchfield Customer Review
(
What's this?
)
was initially worried that it was only 60 hz refresh rate. then I looked on Samsung and it said that it was 120. Conflicting information to beware of. Still not sure I know which one it is but i dont think I can tell a difference either way. Works great but needs a soundbar as with most tvs these days

Pros: price is great for what it can do

Cons: sound not too great
Ken from Bedford, TX on 6/12/2013
Crutchfield Customer Review
(
What's this?
)
wired it up, turned it on and it works great. Nice picture, good menus, sound is better than I expected. The Netflix app works nicely and it has more gadgets than I will likely ever use. It switches from TV to HDMI (video game) to DVD very nicely. The over the air tuner pull in all the HD stations nicely

Pros: Nice TV for the price; the feature you use without the ones you don't (3D)

Cons: why don't tv's have RCA outs for stereos anymore
Details
Product Research
Video Features
Audio Features
Network/USB Functions
Convenience Features
Remote Control
Mounting Options
Video Features
LED Edge-Lighting: Samsung's LED Edge-Lighting technology allows for a high dynamic contrast ratio and ultra-sharp blacks by allowing multiple LEDs to turn on an off automatically based on the image. LED Edge-Lighting also provides more natural color representation and deep reds and greens, because Samsung uses white LEDs that produce 105% of the broadcast color gamut. The television's white LEDs are arranged along the left and right edges of the screen and a proprietary light guide is used to focus its luminance inwards towards the middle of the screen for a more uniform brightness. Overall, this LED Backlight system produces contrast with stronger blacks and whites, and greater subtlety of every gradation in between.
Clear Motion Rate 120: Clear Motion Rate (CMR) is Samsung's more comprehensive and accurate measure for how well the LED-LCD TV can display fast-moving images. Previously, motion clarity was expressed simply by the refresh rate, measured in Hz. CMR, however, takes into account all three factors that contribute to motion clarity: panel refresh rate (60Hz), image processor speed and backlight technology. CMR is measured by determining the thinnest line a TV can display in a moving image. The thinner the line, the higher the CMR rating, and the clearer the picture you'll enjoy on the screen.
Wide Color Enhancer Plus: Wide Color Enhancer Plus allows you to see picture color the way the director originally intended. Witness the entire RGB spectrum brought to life on your screen to bring you exceptionally vibrant, yet natural-looking images faithful to the director's original intent.
Motion Lighting: The TV automatically adjust ths brightness of the screen in response to the brightness of the room. In bright light, the screen brightens. In dim light, the screen dims.
HDTV Tuner: The TV has built-in over-the-air HDTV (ATSC) and Digital Cable (QAM) tuners, so you don't need a separate set-top box to receive and decode over-the-air HDTV/SDTV or unencrypted Digital Cable signals.
1080p Resolution: The LED-LCD television displays all inputs at a resolution of 1080p (1920 x 1080). The television's HDMI and component video inputs will accept 1080p (24/60Hz), 1080i, 720p, 480p and 480i video signals.
HDMI (v.1.4): The Samsung LED-LCD TV features three HDMI 1.4 inputs. In addition, any HDMI input can be used to connect a PC to this TV.
Component Video: The Samsung LED-LCD TV features a single component video input. The TV's component video input can also be used as a composite video input (480i only).
Picture Control: You can make the following adjustments for an optimum picture.
Picture Sizes: You can choose one of the following screen sizes.

16:9: Sets the picture to 16:9 wide mode.
Zoom 1: Vertically enlarges the size of the picture and allows you to move the enlarged picture using the arrows on the remote.
Zoom 2: Vertically enlarges the size of the picture more than Zoom 1 and allows you to move the enlarged picture using the arrows on the remote.
Wide Fit: Proportionally enlarges the picture to fit the entire screen without changing the aspect ratio.
4:3: Sets the picture to 4:3 normal mode with pillars on the left and right of the screen.
Screen Fit: See the full image with no resizing when HDMI (720p/1080i/180p) or Component (1080i/1080p) signals are inputted.
Smart View 1/2: Reduces the 16:9 picture by 50% (1) or 25% (2).

Picture Modes: Picture Modes apply preset adjustments to the picture.

Dynamic: increases the brightness of the screen (suitable for bright rooms)
Standard: suitable for a normal environment
Natural: useful for reducing eye strain
Movie: darkens the screen and reduces glare (appropriate for dark rooms)
Entertain: sharpens images for a more dynamic viewing experience (only available when connected to a computer)

Manual Picture Settings: The TV has several options for manually adjusting the picture quality.

Backlight: adjusts the brightness of the LED backlight
Contrast: increases or decreases the contrast between dark and light areas of the picture
Brightness: adjusts the brightness level of the picture (not as effective as Backlight setting)
Sharpness: sharpens or dulls the edges of objects
Color: adjusts the color saturation of the picture
Tint (G/R): adjusts the amount of green and red in a picture

Advanced Picture Settings: The TV also offers more advanced picture adjustments for fine tuning.

Dynamic Contrast: adjusts the screen contrast so that the optimal contrast is provided
Black Tone: adjusts the black level on the screen to adjust the screen depth
Flesh Tone: adjusts the amount of red in skin tones
RGB Only Mode: displays the Red, Green, and Blue color for making find adjustments to the hue and saturation
Color Space: adjusts the range of colors available to create the image (Auto/Native)
White Balance: adjusts the color temperature for more natural picture colors
Gamma: adjusts the primary color (red, green, blue) intensity

Picture Options: Additional picture options provide you with a better viewing experience.

Color Tone: adjusts the overall color tone of the televisions using one of four presets: Cool, Normal, Warm 1, Warm 2
Digital Clean View: if the broadcast signal received by the TV is weak, you can activate the Digital Clean View feature to reduce any static and ghosting that may appear on the screen
MPEG Noise Filter: reduces MPEG noise to provide an improved picture
HDMI Black Level: select the black level on the screen to adjust the screen depth when you have a component connected via HDMI to the television
LED Clear Motion: removes drag from fast scenes with a lot of movement to provide a clear picture
Note: You can adjust and store Picture Settings for each external device connected to the TV.
Film & Game Modes: The television provides Film & Game modes.
Film Mode: The TV can be set to automatically sense and process film signals from all sources and adjust the picture from optimum quality. Film mode is supported in TV, AV, Component (480i/1080i), and HDMI (480i/1080i).
Game Mode: When connecting the television to a game console, you can enjoy a more realistic gaming experience when selecting Game Mode.
PIP (Picture-in-Picture): You can watch the TV's tuner and one external video source (component/HDMI) simultaneously. The component/HDMI source will be displayed as the main picture, while the TV channel will be displayed in a sub-screen, while which can be moved to each corner of the television's screen. You can switch the audio between the main screen and sub-screen.
Audio Features
DTS Premium Sound: The Samsung LED-LCD TV offers DTS Premium Sound with DTS TruSurround and DTS TruDialog.
DTS TruSurround: DTS TruSurround is a patented DTS technology that solves the problem of playing 5.1 multichannel content over two speakers. DTS TruSurround delivers a compelling, virtual surround sound experience through any two-speaker playback system, including the internal television speakers. It is fully compatible with all multichannel formats.
DTS TruDialog: This function allows you to increase the intensity of a voice over background music or sound effects so that dialogue can be heard more clearly.
Dolby Digital Pulse: Optimizes the TV sound quality when viewing and listening to Internet movies, Internet music, and other content played back from your wired or wireless network connection.
5-Band EQ + Sound Modes: You can manually adjusts the TV's built-in 5-band EQ (100 Hz, 300 Hz, 1 kHz, 3 kHz, and 10 kHz) for a more customized sound; or simply choose from the following Preset Sound Modes:
Standard: Selects the normal sound mode.
Music: Emphasizes music over voices.
Movie: Provides the best sound for movies.
Clear Voice: Emphasizes voices over other sounds.
Amplify: Amplify mode is for people who have difficulty hearing.
Audio Enhancements: The Samsung TV offers a variety of audio adjustments to meet your listening needs.
Auto Volume: Auto Volume automatically adjusts the volume of the desired channel, lowering the sound output when the modulation signal is high or raising the sound output when the modulation signal is low. This reduces the difference in volume when changing channels. The Auto Volume feature can be set to Normal, Night or Off.
Audio Delay: The Audio Delay function corrects audio/video mismatch, when watching TV or video, and listening to a digital audio output using an external device such as an AV receiver. You can adjust the audio delay from 0ms to 250 ms.
Picture Off: You can turn the television's screen off and still listen to audio.
Audio Outputs: The Samsung LED-LCD television provides an analog and digital audio output.
Digital Audio (Dolby Digital/DTS compatible): The optical digital output terminal will output Dolby Digital/DTS (when available) or 2 channel PCM. The digital optical output terminal only sends an audio signal in Dolby Digital/DTS when receiving Dolby Digital/DTS surround sound from a digital broadcast channel through the tuner, network apps, and USB ports on the LED-LCD TV. The optical digital audio output will only output in 2ch stereo from sources connected to the TV via HDMI or RCA.
Analog Audio: The television features a 3.5mm (minijack) audio output for connecting the television to an analog 2-channel receiver. You will need a minijack-to-RCA adapter (119MCON2M, sold separately) to make a stereo RCA connection between the television and your soundbar speaker or AV receiver. The TV's analog audio output terminals will output 2ch audio from any of the television's source inputs.
Network/USB Functions
Samsung's Dual Core Processor: Samsung's Dual Core processing speeds allow you to perform multiple tasks at the same time, such as using an app while downloading another one. It also enables faster web browsing and application access.
Network Connection (wired/wireless): You can set up the Samsung LED-LCD TV so that it can access your home network and online Samsung Apps through your local area network (LAN) using a wired (RJ-45 Ethernet) or wireless connection (built-in WiFi). You can setup a wired network connection automatically or manually. You can setup the wireless network connection using these four methods; PBC (WPS), Auto Network Search, One Foot, or Manually.
Note: The TV's built-in WiFi supports IEEE 802.11 a/b/g/n wireless LAN networks and WEP (open/shared), WPA-PSK (TKIP/AES), WPA2-PSK (TKIP/AES) network security.
WiFi Direct: When using WiFi Direct, you can connect directly with other devices without using a wireless router. You'll be able to wirelessly transfer personal content (such as photos & videos) to the Samsung LED-LCD TV without connecting to your home network. WiFi Direct completely bypasses your WiFi access point/router, so it's easy to set up. Streaming of copy-protected content and other certain formats are not supported.
AllShare/DLNA Certified: The Samsung LED-LCD TV's AllShare function, along with its DLNA Certification allow you to watch videos (Divx/AVI/H.264/MPEG/MKV/MOV/WMV), photos (JPEG/PNG/BMP/MPO), and listen to music (MP3/WMA/AAC/FLAC/OGG) saved on your Windows PC (or other DLNA Certified media server) through the TV via its Ethernet (LAN) port or built-in WiFi (wireless). This eliminates the need to copy your photo, video, and music files to a separate USB storage device.
Note: Windows PCs with XP and Vista installed require Samsung's PC Share Manager software, which can be downloaded for free at www.samsung.com. Not compatible with older Windows OS versions and Mac.
Screen Mirroring: This Screen Mirroring function lets you view the screen of your WiFi-enabled Samsung Android smart phone or tablet (with support for AllShare Cast) on the Samsung LED-LCD TV.
Samsung Apps: Once you have connected the Samsung TV to your home network, you gain access to Samsung Apps. Samsung Apps lets you download for pay or free-of-charge applications and services to the Samsung LED-LCD TV. You can enjoy a variety of content from various downloaded applications; such as videos, music, photos, games, and news. Samsung Apps has a growing collection of pay and free-of-charge online applications that connect you to some of your favorite online content; such as movies from Netflix or Vudu, TV shows from Hulu Plus, videos from YouTube, music from Pandora, and social updates from Facebook or Twitter.
Movies: Watch movies and TV shows on Netflix (5.1ch), Vudu, HuluPlus, Amazon Instant Video, HBO GO, & CinemaNow.
Music: Listen to music from Pandora, Spotify, TuneIn, SHOUTcast Radio, & vTuner
Social Networks: Share your thoughts and comments about a program on the air through social networking services. Social Networks displays social network services such as Twitter, Facebook, & Google Talk, on a single screen. You can post messages and comments in the same manner as you would using a computer. You also have access to YouTube, & Picasa.
News & Weather: Includes apps that provide information content; such as news (USA Today), weather (AccuWeather), and more.
Fitness: Fitness is an application that helps you stay fit. Create a profile, set up an exercise plan, and start exercising according to a structured regimen.
Kids: A recommended list for applications and content that is suitable for children and even provides services not currently installed on the TV. Using Kids, you can download applications and content for your children to your TV. Certain services, however, are fee-based.
Note: Samsung Apps require an Internet connection with a speed of 1.5mbps or greater. Some application services may be provided in English only and the content available may vary, depending on your area. Visit Samsung's App Store for a complete list of available Samsung Apps.
Web Browser You can access the internet using the player's Web Brower application. You can search web pages using Google or Bing. You may enter a URL addresses or enter a keyword search. The player will archive your web browser history. You can also save "Favorite" web pages and create a "Home" page. The playback of Flash videos is also supported. The Web Browser is optimized to fill your connected TV's screen. Use a keyboard and mouse for a more convenient web browsing experience Use a USB-enabled keyboard and mouse (both sold separately) for a more convenient web browsing experience
Note: The browsing experience, however, may not be the same as it is on your computer. The Web Browser is not compatible with Java applications. E-commerce, for purchasing products online is not supported. ActiveX is not supported.
Skype Ready: Samsung's free Skype app on the Samsung LED-LCD TV lets you make video calls from the comfort of your living room. Using the TV's remote control, you can create free Skype accounts, log into existing accounts, and navigate via a simple Skype interface made for the big screen. You can make free Skype-to-Skype voice and video calls to friends and family, wherever they are in the world from the Samsung TV (separate Samsung TV Skype camera required, sold separately).
Tickers: The Ticker application provides useful News, Weather, and Stock Market information on-screen.
Link Service Accounts: The Link Service Accounts function lets you link your player to your accounts with Internet services (such as Twitter, Facebook, etc.) so that the player can log you into the service automatically when you start the app for that service.
Firmware/Software Updates: The television's Software Upgrade menu allows you to upgrade the TV's software & firmware for performance improvements & additional services. You can upgrade in four ways; USB, Internet, Alternative Software, or Standby Mode. The tested television contained firmware version T-MST12AKUC-1003.6 (as of 4/4/2013). There was an immediate firmware update (ver. 1013) available. Visit the Samsung Download Center for the latest Firmware/Software updates.
Dual USB Ports: The television is equipped with two USB (type-A) ports. The first USB port can accept a USB mass-storage-class device (5V/0.5A) or USB hard-disk-drive (5V/1A), while the second USB port can be used to connect a USB-enabled keyboard or camera (sold separately from Samsung). The first USB port let you view photo and movie files, as well as listen to audio files saved on a compatible USB device. Files must be formatted in FAT, exFAT, or NTFS. The TV can recognize up to 1,000 files per folder.
Video Playback: The TV supports the following video file types; AVI, Divx, H.264, MPEG, MKV, MOV, and WMV. Movie files are displayed in a folder and title list in either date or alphabetical order. The TV offers Play, Pause, Search, and Resume playback functions for compatible video files stored on a compatible USB device.
Still Image Playback: The TV supports the following still image file types; JPEG, PNG, BMP, or MPO. Still image files can be viewed as a slide show with background music or as a thumbnail view (up to 15 images). Still images can also viewed full-screen and zoomed or rotated.
Audio Playback: The TV supports music files supports the following music file types; MP3, WMA, AAC, FLAC, and OGG. Music files are displayed in a folder and track list, and can be sorted by Artist, Album, or Genre. Music files can be repeated or shuffled in a selected folder.
Convenience Features
Smart Hub: This TV features Smart Hub, an interactive multi-purpose menu system. With Smart Hub, you can surf the web, download applications, and stay in touch with family and friends through social networking services. In addition, you can enjoy photo, video & music files stored on external storage devices. The new Smart Hub interface organizes your entertainment and content into 5 convenient panels.
Social: Connect to YouTube, Facebook, and Twitter. You can also make Skype video calls to friends by connecting the TV to a camera (sold separately from Samsung).
Apps: Samsung Apps offers an extensive collection of free and paid news, sports, weather, and gaming content you can directly download to and enjoy on your TV.
On TV: Check a listing of TV programs that are currently airing and are scheduled to be aired.
Movies & TV Shows: Purchase and watch movies and TV shows from an online service provider. You can browse content by Favorites, Featured, Movies, or TV Shows.
Photos/Videos/Music: Play back photo, video, and music files from an external USB or network storage device.
Content Discovery: The TV offers unique ways to search and access your favorite and new content from the TV's tuner and network apps.
Recommendations: The Recommendation feature helps you discover what you want to watch on TV or the Internet with customized content options based on your preferences. Select Timeline View to display program recommendations for different times of the day.
Favorite Channels: You can designate frequently watched channels as "Favorites". You can create up to 5 favorite channel list for each member of you family. You can also rename and edit favorite channel lists.
Genre: It is possible to filter channels by genre, if the channels contain proper genre information.
Schedule Manager: Using this function, you can set the TV to display a desired channel automatically on a day and at a time of your choice. The Schedule Manager can be set to repeat only once, everyday, Mon-Fri, Mon-Sat, or Sat-Sun.
RVU Compatible (for DirecTV): This Samsung television is RVU-compatible which means DIRECTV subscribers with the Genie Whole-Home HD DVR can watch live broadcast and stored content from their DVR on the Samsung TV, without the need for an additional Genie Mini Client devices or set-top boxes. However, you will need a DECA unit (sold separately) that converts Coax to Ethernet, which will plug into the the Samsung TV's LAN port. Make sure the television has the latest firmware update.
Input Source Names: You can assign a pre-programmed name to each of the inputs. When input naming is completed, you will no longer have to remember which component is connected to each input when selecting a source to watch. Source names include VCR, DVD, Cable STB, Satellite STB, PVR STB, AV Receiver, Game, Camcorder, PC, TV, DVI PC, DVI Device, IPTV, Blu-Ray, HD-DVD, and Digital Media Adapter.
Hearing & Visually Impaired: The Samsung LED-LCD TV offers Close Captions and an Audio Guide for the hearing and visually impaired.
Close Captions (CC): The TV provides Analog Closed Captions and Digital Closed Captions. The Digital CC offers customizable text, font, and size. The Caption feature does not work for Component and HDMI input sources.
Audio Guide: Activate the audio guide for the visually impaired. This is only available with broadcasts that provide this service.
Program Rating Lock: The Program Rating Lock feature automatically locks out programs that are deemed inappropriate for children. You can block TV program based on their ratings and Movies based on their MPAA rating, so you have more control over what your children watch. The Program Rating Lock function is protected by a 4-digit PIN.
ENERGY STAR Compliant with ECO Settings: The Samsung LED-LCD TV is ENERGY STAR compliant and provides ECO settings to reduce the TV's power consumption and cut-down on energy costs.
Eco Sensor: Samsung's unique Eco light sensor measures the intensity of the room's light and automatically calibrates the brightness of the image on the screen. In a sun-filled environment, the screen gets brighter and in dim surroundings, the intensity is reduced. This feature optimizes the viewing experience while also saving you energy.
Energy Saver: This feature adjust the brightness of the TV in order to reduce power consumption. When watching TV at night, set the Energy Saver feature to High to reduce eye fatigue as well as power consumption. You can set this feature to High, Medium, Low, or Picture Off (sound remains on).
No Signal Standby: The TV will automatically switch to standby mode, if no picture is being received for a predetermined set amount of time (15, 30, or 60 minutes).
Auto Power Off: The TV will be automatically turn off after 4 hours of being left idle to prevent overheating.
Timers: The Samsung LED-LCD TV offers On/Off and Sleep timers for your convenience.
On/Off Timer: The three On/Off timers allow you to program the television to turn itself on and off by selecting a specific on time and a specific off time. An On/off timer can be set to repeat only once, everyday, Mon-Fri, Mon-Sat, or Sat-Sun. You can also choose the On Timer's content (TV, USB, or Antenna) and volume. The on and off timers work independently of one another.
Sleep Timer: The sleep timer switches the television off after a specified amount of time. The sleep timer can be set to 30, 60, 90, 120, 150, or 180 minutes.
Auto Protection Time: If the screen remains idle with a still image for a certain period of time (2, 4, 8, 10 hours) defined by the user, the TV's built-in screen saver is activated to prevent the formation of host images on the screen.
Self Diagnosis: The Samsung LED-LCD TV provides a Self Diagnosis menu which allows you to check the television for picture, sound, and signal problems.
Picture Test: Use to check for picture problems. If the problem appears in the test picture, select "Yes" and follow the directions on the screen.
Sound Test: Use the built-in melody sound to check for sound problems. If the problem occurs during the test, select "Yes" and follow the directions on the screen.
Signal Test: An HD digital channel's reception quality is either perfect or the channels are unavailable. Adjust your antenna to increase signal strength.
Remote Support: The Samsung Remote Support service offers you one-on-one support with a Samsung Technician who can remotely diagnose your TV, adjust the TV settings, perform a factory reset, and install recommended firmware updates. Your TV must be connected to your homes wired or wireless network.
E-Manual: The television only comes with a brief User Manual. A complete instruction manual is built-in into the TV and can be viewed on-screen. Open the e-Manual to learn how to use the TV's many features.
Remote Control
Wireless Remote (w/ IR Blaster): The supplied remote control is designed to operate this Samsung LED-LCD television and Samsung Anynet+ connected components. The remote can also be programmed to control satellite/cable boxes, Blu-ray players, and home theaters from other manufactures using the TV's setup menu and the included IR blaster. The remote's buttons are backlit and will light up with a press of a button. This remote control has Braille points on the Power, Channel Up/Down, and Volume Up/Down, and #5 buttons for the visually impaired.
Anynet+ (HDMI-CEC): This TV is enabled with Anynet+ (HDMI-CEC); a feature that makes it possible to control Samsung external devices connected to the TV with ease. With Anynet+, you can use the TV remote control to operate all your compatible Samsung devices that are connected to the TV via HDMI. Anynet+ can control up to 12 compatible external devices (up to 3 of the same type).
Smart View Mobile App: Download the Smart View Mobile App from the Android Market on select Samsung smartphones and tablets (Android 2.2-up) for yet another way to control the Samsung LED-LCD TV. If both your Samsung smartphone or tablet and TV are connected to the same wireless network, your smartphone or tablet will link to the TV automatically where you can use your smartphone or tablet like a remote control. The TV can also transfer live feeds to your smartphone or tablet. Main features include:
Remote: Your Samsung mobile device can work as remote for the Samsung TV and a connected Samsung Blu-ray player or home theater system.
TV View: Enjoy TV and other multimedia right from your Samsung mobile device that's connected to the Samsung Smart TV. You can watch the same content as on the TV or different content from other input source.
5-Way Joy Stick: The television is equipped with a 5-way "joy stick" like button on the rear-panel that lets you control the TV without the remote control.
Keyboard & Mouse Compatible: The Samsung LED-LCD TV will support a USB-enabled keyboard and mouse (both sold separately), which makes web browsing a lot easier.
Mounting Options
Pedestal Stand: The TV is shipped with the pedestal stand unattached. The pedestal stand attaches to the television using the supplied hardware. The pedestal stand allows the TV to swivel left to right +/- 20°. The television weighs 27.3 lbs with the stand.
Wall Mounting: The TV has four threaded inserts on the back for use with an optional wall-mount bracket. The spacing of the mounting holes is 400mm (h) x 400mm (v). The threaded inserts require M8 (8mm) machine screws (not supplied). The television weighs 23.8 lbs without the stand.
Note: When mounting the TV on the stand or a wall (with optional bracket) leave 4" of clearance on each side of the television and 4" above/below the television for adequate ventilation.
Detachable AC Power Cord: The Samsung LED-LCD TV comes with a 5' detachable AC power cord. The AC power cord sits 0.75" out from the rear-panel. The AC power cord is fitted with a right-angle AC plug that sits 0.75" from the wall.
Kensington Lock: When mounting the monitor in a public place, you can secure it with an optional anti-theft device called a Kensington Lock (sold separately). This TV has a slot on the rear panel to accommodate a Kensington Lock device.
Our Product Research Team
At Crutchfield, you'll get detailed, accurate information that's hard to find elsewhere. That's because we have our own in-house Product Research team. They verify what's in the box, check the owner's manual, and record dimensions, features and specs. We stay on top of new products and technologies to help people make informed choices.