Why Choose Crutchfield?
Deep discounts on car installation gear
We offer vehicle-specific installation instructions, dash kits, wiring harnesses, and speaker accessories at deeply discounted prices with car stereo and speaker purchases. Available for most vehicles.
Learn more
Trusted since 1974
Our customers have trusted us with their business, and they've helped us win awards for our service.
Check out our most recent awards
Factory-authorized dealer
The manufacturer's warranty always applies.
See more details
Samsung BD-P3600
Blu-ray Disc™ high-definition player with wireless Netflix® streaming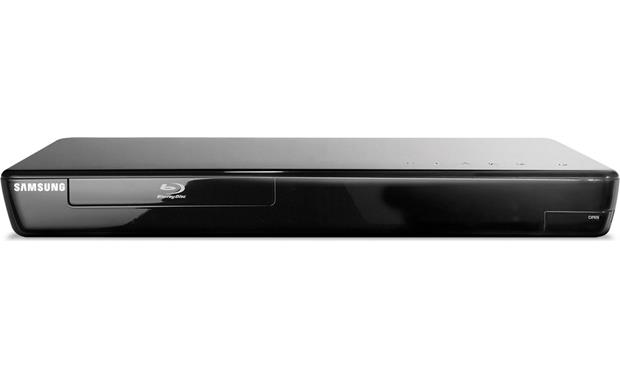 Samsung BD-P3600 - Front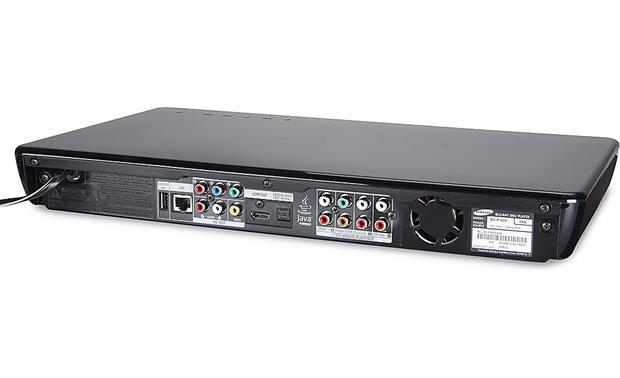 Samsung BD-P3600 - Back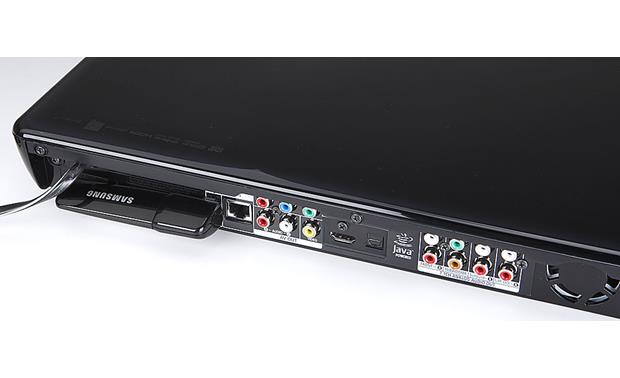 Samsung BD-P3600 - Back with wireless USB adapter
Samsung BD-P1600 & BD-P3600
Creating a Connected System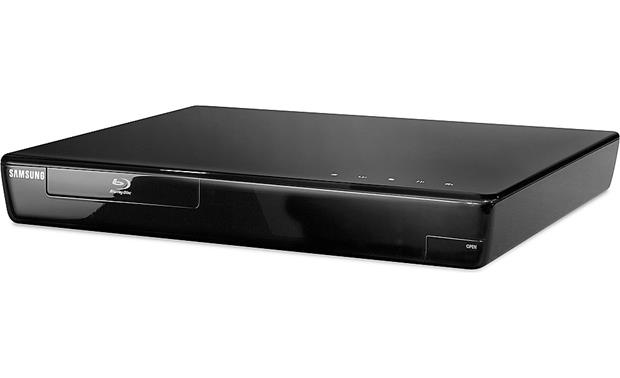 Samsung BD-P3600 - Facing left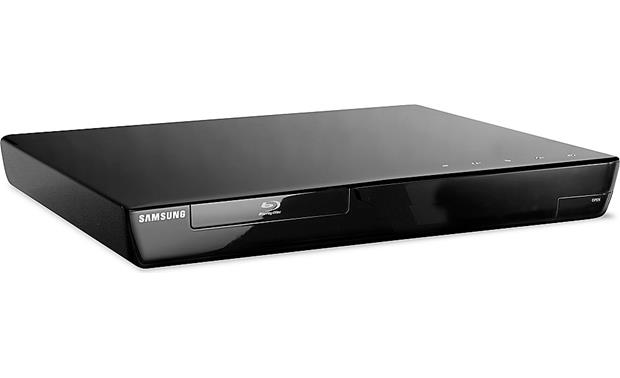 Samsung BD-P3600 - Facing right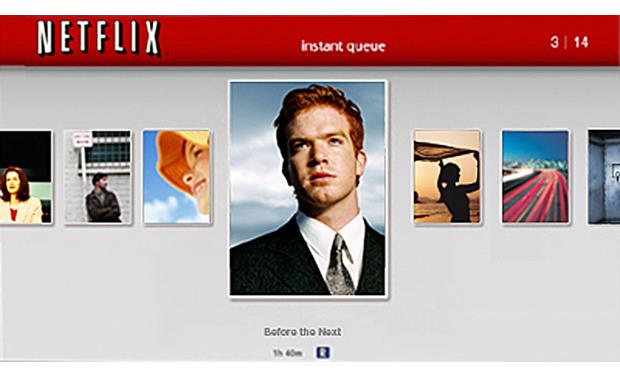 Samsung BD-P3600 - Netflix streaming menu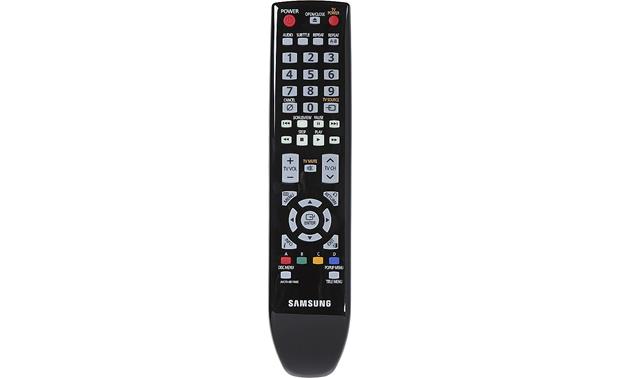 Samsung BD-P3600 - Remote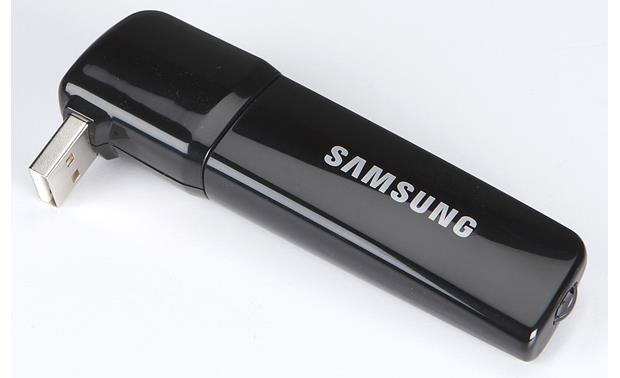 Samsung BD-P3600 - Wireless USB adapter
Item # 305BD3600 | MFR # BD-P3600A/XAA
This item is no longer available.
Overview
Samsung was the first company to release a Blu-ray player in the United States. Now with the BD-P3600, they're one of the first companies to release a player with out-of-the-box Wi-Fi capability. Add this versatile player to your system to enjoy the stunning picture and captivating surround sound of Blu-ray, or get online to wirelessly stream Netflix® or Blockbuster® movies, YouTube™ video clips, and music from Pandora®.
Built-in 1GB memory for downloadable bonus content
The BD-P3600 also supports the "BonusView" material found on some Blu-ray movies for picture-in-picture directors' commentaries and behind-the-scenes footage. Connect the player to your broadband Internet connection to access "BD-Live" — potential bonus features ranging from online games to downloadable movie trailers. The 'P3600 gives you 1GB of built-in flash memory for saving downloaded content. If you need more space, just plug a thumb drive into one of the player's two USB ports.
Play DVDs and CDs, too
In addition to playing Blu-ray discs, the 'P3600 handles just about any other disc you may have. Pop in a classic from your DVD collection, or enjoy your favorite music CD. It also plays home-burned discs, plus those filled with MP3 tunes and JPEG digital photos. And if you download videos from the Web, you'll appreciate the 'P3600's ability to play DivX video files burned to DVD.
Learn about the ins and outs of HDMI connections at the Crutchfield Learning Center.
Shop our selection of HDMI cables.
Featured Video:
What's in the Box:
Single-disc Blu-ray disc player
AK59-00104k wireless remote control
2 "AAA" batteries
2-Piece wireless LAN USB adapter
47" A/V cable (has an RCA composite video and stereo audio connectors on each end)
User Manual
Quick Setup Guide
Online Product Registration information
Customer support contact information notice
"Player Update Information" note
Pandora internet radio brochure
Product Highlights:
plays Blu-ray high-definition discs (selectable output resolution: 1080p signals available through HDMI output only; 720p/1080i signals available through HDMI or component video)
plays BD-ROM and BD-R & BD-RE
plays DVD-Video, DVD-R & DVD-RW, and DivX discs
plays audio CD, CD-R & CD-RW, and MP3 CDs
plays digital photo CDs (JPEG)
selectable 720p/1080i/1080p video upconversion for DVD
(upconverted video available through HDMI output only)
built-in audio decoding for Dolby Digital, Dolby Digital Plus, Dolby TrueHD, DTS-HD and DTS-HD Master Audio Essential
multichannel PCM output via HDMI
bitstream output for Dolby Digital, Dolby Digital Plus, Dolby TrueHD, DTS-HD and DTS-HD Master Audio
BD-Java interactive capability
BD-Live and BonusView support (BD Profile 2.0) with 1GB internal flash memory (expandable via a USB thumb drive)
Netflix and Blockbuster movie, YouTube video, and Pandora music streaming (subscriptions to these services required)
HDMI version 1.3
Anynet+ for control of compatible Samsung components via HDMI (HDMI-CEC)
1 set of A/V outputs (composite video, component video, and HDMI)
stereo and 7.1-channel audio outputs
optical digital audio output
Ethernet port for Internet connectivity and possible future upgrades
2 USB ports (1 front, 1 rear) for storing downloaded BD-Live material
Wi-Fi capable (includes wireless USB adapter)
remote control
17-5/16"W x 2-3/16"H x 10-5/8"D
warranty: 1 year parts, 90 days labor
viewing high-definition Blu-ray content requires an HDTV or HD-ready TV
plays "Region 1" DVDs and "Region A" Blu-ray Discs only
Reviews
Samsung BD-P3600 Reviews
Average Customer Review(s):


Submit a review and then enter to win a $350 rewards card
Review this product
Thanks for submitting your review
Most reviews are processed and published within 5 business days. You will receive a confirmation email once your review has been published.
Customer photos
---
Details
Product Research
Disc Compatibility
Video Features
Audio Features
Network Functions
Remote Control
Connections
Disc Compatibility
Disc Compatibility: The Samsung BD-P3600 Blu-ray disc player is compatible with many disc types.
Disc Types
Recorded Content
Disc Size
BD-ROM/BD-RE/BD-R
Audio + Video
Single sided (25GB/50GB)
DVD-Video
Audio + Video
Single sided (5 or 3-1/2 inches)
Double sided (5 or 3-1/2 inches)
DVD-RW
(V mode and finalized only)
Audio + Video
5 inches (4.7GB)
DVD-R
(V mode and finalized only)
Audio + Video
5 inches (4.7GB)
Audio-CD
Audio
Singled sided (5 or 3-1/2 inches)
Blu-ray Disc Overview: Blu-ray Disc (BD) is a new high-definition disc format designed to take advantage of today's high quality HDTVs. The resolution is up to 1920 x 1080 (1080p) and the data transfer rate is up to 40 mbps. Blu-ray Discs and players offer several advantages over the standard DVD format:
Better picture quality: Blu-ray Disc is a true high-definition format offering video at 720p, 1080i, 1080p, or 1080/24p resolution. While standard DVDs look very good on an HDTV, they don't provide a high-definition signal (not even when you use an up-converting DVD player). Blu-ray Disc delivers an extraordinarily sharp, clean, detailed picture, with deeper, richer colors.
Better sound quality: In addition to the same multi-channel sound formats you're accustomed to with DVD (Dolby Digital and DTS), Blu-ray Disc offers Dolby Digital Plus, Dolby TrueHD, DTS-HD, and uncompressed 5.1 channel PCM.
Much greater storage capacity: What makes Blu-ray Disc's superior picture and sound possible is the much higher storage capacity of Blu-ray Disc discs. A single-layer Blu-ray Disc can hold 25 gigabytes of data, over five times the amount a standard DVD can hold. Dual-layer Blu-ray Discs hold 50 gigabytes, which equates to nine hours of High Definition or 23 hours of Standard Definition video, plus high-resolution multi-channel audio and the added features and material that require multiple discs with standard DVD.
Compatibility with your current disc collections: To ensure backward-compatibility with your existing library of discs, Blu-ray Disc players use a dual-laser mechanism: a blue laser for playing high-definition Blu-ray Discs, and a conventional red laser for playing DVDs and audio CDs.
Note: As Blu-Ray technology continues to evolve, new disc types with enhanced functionality will become available. In order for you to enjoy this new functionality, you will likely be required to update the firmware in your player. These firmware updates will become available for downloading from the Internet.
DivX: The Samsung BD-P3600 supports DivX playback from DVD-R/RW and CD-R/RW discs, as well as USB storage devices. You can even view DivX content from a wired or wireless network connection via the unit's Ethernet port or wireless LAN/USB adapter. The unit supports DivX video with a resolution up to 2780 x 576 pixels.
AVCHD: The BD-P3600 will play home videos recorded in AVCHD. AVCHD (MPEG-4 AVC/H.264) is a high definition digital video camera format used to record in high definition or standard definition on a standard DVD.
MP3/JPEG Playback: The BD-P3600 supports MP3 (48kHz/320kbps) and JPEG playback from CD-R/RW and DVD-R/RW discs, plus a USB storage device. You can also view MP3/JPEG content from a wired or wireless network connection via the unit's Ethernet port or wireless LAN/USB adapter.
Region Code: Like DVD, BD uses region codes. The region code on your disc must match the region code on your player, otherwise the disc will not play. The BD-P3600 is Blu-ray region A and DVD region 1.
Copy Protection: Blu-ray Disc uses the Advanced Access Content System (AACS) to prevent unauthorized recording of copyrighted material.
Video Features
Graphic Interface: The BD-P3600 includes two individual HD resolution graphic planes (layers), one for graphics within the frame, such as subtitles, and one for interactive buttons; play movie, scene selection, etc. Because of Blu-ray's extremely high transfer rate and ability to preload data from the disc, the menu system can consist of several pages and can be accessed while the movie plays in the background. Some BD discs allow adjustable fonts, sizes, and colors for subtitles.
Video Up-conversion: When connected to your TV using the HDMI output the BD-P3600 scales the output of a standard DVD signal to HD-compatible 720p, 1080i, or 1080p. The unit also supports 480p and 480i output if your television is not HD-compatible.
Video Output: There are three types of video output on the rear panel; composite video, component video, and HDMI. The output resolution is adjustable as follows:
Video: The composite video output resolution is always 480i when playing Blu-ray Disc or DVD.
Component: When playing Blu-ray the resolution can be set to 480i, 480p, 720p, or 1080i; when playing DVD the resolution can be set to 480i or 480p.
HDMI: The output resolution can be set to 480i, 480p, 720p, 1080i or 1080p when playing a DVD or Blu-ray Disc; also 1080/24p when playing a compatible BD.
1080/24p: Movies are typically filmed at 24 frames per second and some Blu-ray Discs use the same frame rate. If your TV will accept a 1080/24p signal, the BD-P3600 can pass the signal in its native form, without converting the video.
BD Wise: BD Wise is Samsung's latest inter-connectivity feature. When you connect Samsung products with BD-Wise to each other via HDMI, the optimum resolution will be set automatically.
TV Aspect: You can adjust the video output of the BD-P3600 to match the screen-type of your television. You can choose from 4:3 Letter-Box, 4:3 Pan-Scan, 16:9 Wide, and 16:9 Normal.
Picture Mode: This function enable you to adjust video quality when you are connected to a TV via HDMI. You can choose from Dynamic, Normal, or Movie.
Bonus View: The Bonus View feature provides picture-in-picture capability with select Blu-ray Disc titles. You can view addition content (such as director/actor commentary) in a small display window while the movie is playing.
Parental Lock: The Parental Lock function works in conjunction with Blu-ray Disc/DVDs that have been assigned a rating which helps you control the types of Blu-ray Discs/DVDs that your family watches. There are up to 8 ratings levels on a disc. The rating levels are protected by a customer user 4-digit password.
Dimmer: The unit's display offers three dimmer settings - Automatic, Dim, and Bright. The Automatic setting automatically dims the display during playback and brightens the display when stopped.
Audio Features
Dolby Digital/DTS Surround Decoding: The BD-P3600 can decode the following Dolby Digital/DTS surround formats - Dolby Digital, DTS, Dolby Digital Plus, Dolby True HD, DTS HD High Resolution, and DTS-HD Master Audio. The player must be connected to a Dolby Digital/DTS surround AV receiver which also supports these same formats via optical or HDMI input. These decoded signals can also be output from the 7.1 channel analog RCA jacks or as multi-channel PCM from the HDMI jack.
Digital Audio Output: The Audio menu allows you to select the digital audio format that is passed through the optical and HDMI outputs:
PCM: Decodes Primary, Secondary, and Effect audio streams together into PCM audio using the player's optical or HDMI output.
Bitstream (Re-encode): Decodes Primary, Secondary, and Effect audio streams together into PCM audio, then re-encodes the PCM audio into DTS bitstream using the player's optical output.
Bitstream (Audiophile): Outputs only the Primary audio soundtrack (main soundtrack of the movie) so that your receiver can decode the audio bitstream sound using the player's HDMI output.
Down Sampling: Select this when the connected amplifier or pre-amp will not accept signals with a sampling rate of 96 kHz, 96 kHz signals are then down sampled to 48 kHz.
Speaker Setup: When using the analog audio outputs the speaker setting menu allows you to set the size of each speaker. The front speakers are set to Large or Small; the center, surround, and surround back are set to Large, Small, or None. The subwoofer is set to on or off (if the front speakers are set to small, the default on the subwoofer is on). The crossover point for the sub and any speakers set to Small is fixed at 100 Hz.
Dynamic Compression: When movie soundtracks are played at low volume or from smaller speakers, the system can apply appropriate compression to make low-level content more intelligible and prevent dramatic passages from getting too loud. This is only active when a Dolby Digital signal is detected.
Network Functions
PC Streaming: You can connect this Blu-ray disc player to a PC via a wired (using the unit's Ethernet port) or wireless (using the supplied Wi-FI/USB dongle) LAN connection and play back MP3, JPEG, or DivX file content from a shared folder through the BD-P3600.
BD-Live: BD-Live technology allows you to download and stream bonus content such as additional scenes, shorts, trailers, movie-based games, and more from a broadband internet and home network connections (fees may apply). The BD-3600 features an Ethernet port to connect to the internet via your home network and features a 1GB internal Flash memory and two USB ports (front/rear) for additional storage. You can also connect to your LAN using the included wireless LAN adapter.
Video and Music on Demand: The Samsung BD3600 Blu-ray disc player offers online video and music on demand via a network connection, using the unit's rear-panel Ethernet port or the included wireless LAN adapter. The Samsung BD3600 allows access to the following internet websites.
Netflix: This Blu-ray disc player supports the Netflix streaming service which enables you to enjoy various movies. You can instantly watch from a selection of over 12,000 (and growing) movies and TV episodes from Netflix (Netflix membership required).
Blockbuster: With Blockbuster On Demand, you can watch newly released movies without ever leaving your living room. You can rent or buy movies to watch right away on your Internet-connected HDTV or Blu-ray player. You are able to choose from thousands of titles, including new releases and cinema classics, with no monthly fee.

Rent Movies: Blockbuster rental allows storage up to 30 days. Once you start playback, you can watch the movie as many times as you like during a 24-hour period. Rentals start at $2.99 per title.
Buy Movies: Purchased movies store for an unlimited amount of time and range from $1.99 (for TV shows) to $19.99 (for new movie releases).

YouTube: Directly from the Samsung BD3600, you can enjoy access to YouTube. You can upload your home videos and stream them right to your TV. You can also search the millions of videos from other YouTube users.
Internet Radio: The Blu-ray disc player allows you to stream music from Pandora, an Internet Radio service. Pandora is a free internet radio service that lets you program an unlimited number of personalized "stations" that play the music you love, and makes relevant suggestions based on your choices. Choose from any genre, performer, and even specific songs. You can listen and control your Internet Radio music from the BD-3600. If you already use Pandora, you can just log in to your account directly from the BD-P3600 and you are ready to go. If you don not have an account, you must create one initially.
Remote Control
Multi-brand Remote: The supplied remote is pre-programmed to operate this unit and a number of functions on multiple brand TVs. Once programmed, the remote controls the TV's power on/off, input select, volume up/down, channel up/down, and mute.
Anynet+: Anynet+ is an AV network system that enables compatible Samsung components connected by HDMI cables to transfer command codes along with video and audio signals.
Connections
HDMI (High Definition Multimedia Interface): The unit's HDMI version 1.3 output simplifies A/V connections by carrying video and digital audio all in one cable. This unit features HDCP copyright protection technology, and must be connected to an HDCP-compliant device. If your TV has a DVI input instead of an HDMI input, you can connect this unit to your TV using an HDMI-to-DVI adapter. You will also need to connect audio cables to the player because DVI is a video only cable. HDMI video can be output at 1080/24p, 1080p, 1080i, 720p, or 480p.
Component Video: The component video resolution can be set to 1080i, 720p, 480p, or 480i.
Composite Video: The composite output is always live and fixed at 480i; it can output video when playing a Blu-ray Disc.
Digital Audio Output: The Audio menu allows you to select the digital audio format that is passed through the optical digital output; bitstream (Dolby Digital or DTS) or 2-channel PCM.
Analog Audio: There is a pair of stereo RCA outputs plus 7.1 channel outputs for utilizing the built-in surround decoders.
LAN: The rear-panel RJ-45 Ethernet port is used to connect to the internet for firmware updates and to access BD-Live, Internet Radio, Netflix and PC (MP3/JPEG/DivX) content.
Dual USB Ports: The USB type-A ports on the front and rear panel of the unit allow you to perform software upgrades using a USB flash drive. It can also be used to add more local storage for BD-Live content or playback of MP3/JPEG content. In addition you can connect to your network wirelessly using the supplied proprietary Samsung Wireless LAN USB adapter (802.11b/g/n).
Our Product Research Team
At Crutchfield, you'll get detailed, accurate information that's hard to find elsewhere. That's because we have our own in-house Product Research team. They verify what's in the box, check the owner's manual, and record dimensions, features and specs. We stay on top of new products and technologies to help people make informed choices.