Why Choose Crutchfield?
Deep discounts on car installation gear
We offer vehicle-specific installation instructions, dash kits, wiring harnesses, and speaker accessories at deeply discounted prices with car stereo and speaker purchases. Available for most vehicles.
Learn more
Trusted since 1974
Our customers have trusted us with their business, and they've helped us win awards for our service.
Check out our most recent awards
Factory-authorized dealer
The manufacturer's warranty always applies.
See more details
Samsung QF30
"Switch Grip II" HD camcorder with live streaming and Wi-Fi® (Black)
Item # 305QF30K | MFR # HMX-QF30BN/XAA
This item is no longer available.
Overview
Live and local
Your company's about to make a major announcement — but two-thirds of the top brass are away at a conference. Your public relations director would love for them to be able to see it as it happens. Can you help?
Turns out, you can. It seems your Samsung QF30 HD camcorder is good for more than just birthday parties and family gatherings. With a little help from USTREAM'S webcasting site (a basic account is free), this camcorder's live streaming mode will put your press event online in short order. The CEO is happy, the Communications Director is happy, and that's probably going to trickle down to you being happy. All because you had a feeling about the right camcorder for you.
It was born smart
Samsung calls the QF30 a "smart camcorder," and sets out to prove it with features like Wi-Fi® assisted streaming to your compartible smartphone. Check in on the baby's nap — or make sure your new puppy's behaving while you visit the neighbors. Auto-backup transfers your captured video to your PC or Mac, without wires, and without any fuss after initial setup. You'll rest easy knowing there's another copy of that once-in-a-lifetime shot living on your computer's drive. Plus, you can link directly to online social and image sharing communities like Facebook, YouTube™ and Picasa™.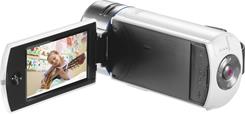 The Samsung QF30 camcorder is designed to help out left-handers and right-handers alike
Left-handed compliment
Over ten percent of the world is left-handed, so it's about time someone invented a camcorder that can be rotated at 180 degrees to accommodate this unjustly ignored segment of the population. The "switch-grip II" feature senses the change in the camcorder's orientation and flips the picture upside down, so everything's just as it was for the right hander in your family. Not only that, the Samsung QF30 shoots in portrait mode as well, and locks in place at the 90 degree mark as well, so you can take pictures of scenes that have dynamic action along a vertical axis.
Creative director
A powerful 20X zoom lens will get you up close to the action as your granddaughter gets face to face with a curious giraffe. Optical image stabilization makes sure those tight shots won't bounce or shake. And sophisticated time lapse and Art Film modes set your imagination free to explore your new-found creative impulses.
Product Highlights:
Storage and Formats:
records high-definition video to optional SD, SDHC or SDXC memory cards (speed Class 6 and up recommended)
maximum video resolution: up to 1920 x 1080/60i, in both landscape and portrait orientation
live streaming resolutions: 1280 x 720/60p and 432 x 240/30p
Features:
live broadcasting feature via USTREAM (ustream.tv); the QF30's livestream videos will not be saved on the camcorder
on-board Wi-Fi® lets you eaily upload web-resolution videos to sharing sites like Facebook™ and YouTube™

Wi-Fi also allows wireless automatic backup and easy monitoring of the home from remote locations

1/4" back side illuminated CMOS image sensor for improved detail and low noise
20X optical zoom lens (40X digital zoom)
switch grip feature enables you to shoot in three positions by rotating the camera to 0, 90, or 180 degrees
captures 5.3-megapixel still images in photo mode
2-channel AAC audio from built-in stereo microphone
2.7" 230k-dot WVGA touch-panel LCD
OIS Duo+ optical image stabilization for reduced shakes and shimmies
backlight compensation mode for better exposures against brightly lit backgrounds
Smart Auto mode identifies your recording situation and optimizes camcorder settings for best results
Art Time-Lapse Recording captures still frames at preset intervals, then creates an HD file with the stills placed in sequential order
Smart BGM II mode lets you choose one of four pre-loaded classical pieces to score your movies
Connections and Dimensions:
micro USB jack for video transfer to a computer
micro HDMI output (cable not included) for watching your videos on an HDTV
1-15/16"W x 2-1/8"H x 4-3/4"D
weight: 6.4 oz. without battery
Included Accessories:
AC adapter/charger and rechargeable lithium ion battery (BP-125A)
micro USB cable and A/V cable
software CD and quick start guide
warranty: 1 year parts and labor
What's in the Box:
Flash memory camcorder (black)
BP125A Lithium-Ion rechargeable battery (3.7 V 1250 mAh 4.6 Wh)
AA-MA9 AC adapter with 59" DC output cord (DC output: 5V/1.5A)
49" A/V cable (with proprietary connection on one end and 3 RCA plugs (composite video and stereo audio) on the other end)
40" USB cable (with Type A USB on one end and a micro USB 2.0 connection on the other end)
Quick Start Guide
Product Registration sheet
Details
Product Research
General Features
Video Camcorder Features
Digital Still Camera Features
Battery Information
Connections
Built-In Editing Software
General Features
Full HD Compatible: The Samsung HMX-QF30 high-definition (HD) flash-memory camcorder is capable of recording and playback of Full HD (1920 x 1080/60i) and HD (1280 x 720/60p). In addition, you can record videos in Web/HD format for uploading to various websites. These videos are displayed in 1280 x 720/60p in the video thumbnail view and in WQGA (432 x 240/30p) in the Social Sharing mode.
Wireless Networking: The QF30 has built-in Wi-Fi capability, allowing you to connect to a WLAN (secured or unsecured) using an access point within a wireless network service area. Using Wi-Fi, you can wirelessly upload videos and photos to various social/sharing networks (Facebook, YouTube, Picasa, etc.), send videos and photos to a PC (Auto Backup), and view videos or photos on a TV that supports the TV-Link function. The QF30 is compatible with 802.11b/g/n protocol.
1/4" CMOS Image Sensor: The 1/4" CMOS image sensor features 5.1-million total pixels, and 1.75-million effective pixels for recording videos and still images.
2.7" LCD Touch Screen Monitor: The QF30 has a 2.7" wide-screen LCD touch panel monitor with 230,000 pixels. You can play back and record with a simple touch of your finger. You can also change the recording mode, zoom in/out, and change the resolution by touching the appropriate icons on the LCD. When in the menu or viewing image files, you can scan through the selections with a swiping motion. When the LCD monitor is rotated 180 degrees toward the lens and closed against the camcorder body, the unit switches automatically to the playback mode.
Recording Formats: The Samsung HMX-QF30 uses advanced H.264 video compression technology. It uses a high compression rate to sharply increase the recordable time with the same size storage. The camcorder also records JPEG still images.
Recording Media: You can record high-definition video, as well as JPEG still images onto optional SD, SDHC, or SDXC memory cards. The camcorder supports SD cards 1 GB to 2 GB, SDHC cards from 4 GB to 32 GB, and SDXC cards up to 64 GB.
Note: The camcorder does not include an internal memory, nor does it come with an SD or SDHC card. An optional SD/SDHC/SDXC card must be obtained prior to recording.
Lens: The QF30's F1.8-F3.9 lens has a 20x optical zoom, and a focal length of 2.6mm-52mm (35mm equivalent: 38.4mm - 768mm). In addition to the 20x optical zoom, the camcorder has a digital zoom factor of 2x to give you a total zoom of 40x.
One Button Operation: To simplify its operation, the camcorder has a single button for beginning and ending a video recording and shooting a still image. Surrounding the button is a 4-way control for zooming in and out (left and right action) and tagging scenes for the My Clip function (up and down action).
Switch Grip II: The Switch Grip function allows you to flip the video and monitor orientation for using the camcorder with either hand. When Switch Grip is enabled, the orientation of the recording and the LCD monitor flips 180 degrees when you rotate the camcorder from right hand operation (hand strap on the right) to left hand operation (hand strap on the left). The camcorder stays in right hand orientation when the function is disabled.
Vertical Grip: In addition to Switch Grip, you can select Vertical HD Recording in the menu, and rotate the camcorder to a vertical position for recording in Portrait orientation. The on-screen icons rotate so they can be viewed in the proper orientation.
Video Camcorder Features
Recording Movies: The Samsung HMX-QF30 can record High Definition video at Full HD 1080/60i (1920 x 1080), HD 720/60p (1280 x 720), and Web/HD for videos you can upload to the Internet (up to 10 minutes). Using a 4 GB SDHC card, you can record 30 minutes of video at Full HD, 42 minutes at HD 720, and 40 minutes at Web/HD.
Recording Modes: You can choose from the following recording modes:
Smart Auto: The camcorder automatically detects a scene and adjusts the camcorder settings accordingly. Available scenes include: Night, Backlight, Portrait, White, Landscape, Macro, Blue Sky, Natural Green, and Sunset.
Manual: While recording, you can make the following adjustments: White Balance, Exposure Value, Back Light, Focus, Super C.Nite, Self Timer, and Continuous Shooting,
Art Film: Gives the recording a professional look by using special effects such as fade in/fade out and digital effects (black & white, sepia, negative, art, noir, western, dazzle, ghost).
Art Time Lapse: When recording a time lapse video, you can add effects such as jumping, zooming, panning, zooming + panning, and night.
Vertical HD Recording: Videos are recorded in Portrait mode in a vertical position.
My Clip: The My Clip function lets you tag good scenes while you're recording or viewing a long video for extracting later. The tagged scenes are saved into a single file, and can be viewed or even combined sequentially later.
Movie Playback: The HMX-QF30 allows you to playback your recorded videos on the camcorder's LCD monitor. The camcorder offers playback functions such as Play/Pause/Stop, Fast-Forward/Reverse (2x, 4x, 8x), Previous/Next, Frame-by-Frame, and Slow-Playback (1/2x, 1/4x, 1/8x).
Movie Edit: You can divide a recorded movie into to and easily delete a section you no longer need. Since the edit changes the original movie file, you should create a backup of the original movie if you want to save it.
Digital Still Camera Features
Photo Recording: The Samsung HMX-QF30 allows you to record JPEG still images onto an inserted SD/SDHC/SDXC memory card. Two image sizes are available: 5.3M (3072 x 1728) and 2M (1920 x 1080). Using a 4 GB SDHC card, you can record approximately 2832 photos at the higher resolution and 4602 at the lower resolution.
Slide Show: Recorded still images can be played back as a slide show with the following options:
Interval: 1 second or 3 seconds
Effects: Fade In or Fade Out
Music: Background music can be played during the slide show if desired. Up to 20 melodies will play back in shuffle mode if the music function is enabled. Music function can be enabled by shaking the camcorder (Shake It function).
Playback Zoom: You can magnify the playback photo image from its original size. You can zoom in 1.1x to 8.0x. Once the image is zoomed in, you can pan up/down and left/right of the image.
Battery Information
Rechargeable Battery: The Samsung HMX-QF30 is powered by a rechargeable Lithium-Ion battery (BP125A). The battery can provide up to approximately 105 minutes of Full HD recording and 120 minutes of HD recording. It offers 140 minutes of Full HD playback and 160 minutes of HD playback.
AC Adapter/Charger: The Samsung HMX-QF30 comes supplied with an AC adapter/charger which allows you to operate the camcorder on standard household current and also fully charges the included battery in 2 hours and 10 minutes.
USB Charging: In addition to the AC adapter, the camcorder can be charged while plugged into your computer via the built-in USB plug. USB charging takes approximately 4.5 hours to complete.
Auto Power Off: For power saving purposes, the camcorder will automatically turn off it there is no operation for 2 minutes in Standby mode or 5 minutes when in Recording mode.
Connections
USB: The Samsung HMX-QF30 features a micro USB port, and a micro-USB-to-Type A USB cable for connecting the camcorder to your computer. You can also charge the battery when the camcorder is connected via USB.
AV Output: You can view the recorded movie and photo images on your television by connecting the camcorder to your television using the supplied A/V cable. The camcorder is based on the NTSC system, and is not switchable to PAL.
micro-HDMI: The Samsung HMX-QF30 is equipped with a micro-HDMI (Type D) output for connecting the camcorder to your HDTV via HDMI. (No HDMI cable is included.) The camcorder supports Anynet+, an AV network system that lets you control all connected Samsung AV devices with a Samsung TV remote control.
Built-In Editing Software
Intelli-Studio Built-in Software: Editing software is stored inside the camcorder. Connecting the camcorder to a Windows computer via USB runs the editing software application. The application enables playback and editing of the camcorder's recordings on your Windows PC. You can also upload files to social websites, such as YouTube and Flickr. The built-in software is not compatible with a Macintosh computer.
System Requirement: The internal Intelli-Studio software is compatible with Windows only. Your Windows PC will need to meet the following system requirements to use this software:
System Requirements
Windows Only
OS
Microsoft Windows XP SP2, Vista, Windows 7 or higher
CPU

Intel Core 2 Duo 1.66 GHz or higher recommended
AMD Athlon X2 Dual-Core 2.2 GHz or higher recommended
(Notebook: Intel Core 2 Duo 2.2 GHz or AMD Athlon X2 Dual-Core 2.6 GHz or higher is recommended)

RAM
1 GB and above recommended
Video Card
nVIDIA Geforce 8500GT or higher
Ati Radeon HD 2600 series or higher
Display
1024 x 768, 16-bit color or higher
(1280 x 1024, 32-bit color recommended)
USB
micro USB 2.0
DirectX
DirectX 9.0c or higher
Our Product Research Team
At Crutchfield, you'll get detailed, accurate information that's hard to find elsewhere. That's because we have our own in-house Product Research team. They verify what's in the box, check the owner's manual, and record dimensions, features and specs. We stay on top of new products and technologies to help people make informed choices.