Why Choose Crutchfield?
Deep discounts on car installation gear
We offer vehicle-specific installation instructions, dash kits, wiring harnesses, and speaker accessories at deeply discounted prices with car stereo and speaker purchases. Available for most vehicles.
Learn more
Trusted since 1974
Our customers have trusted us with their business, and they've helped us win awards for our service.
Check out our most recent awards
Factory-authorized dealer
The manufacturer's warranty always applies.
See more details
Samsung TL220
12.2-megapixel dual-LCD digital camera with 4.6X optical zoom (Black with blue trim)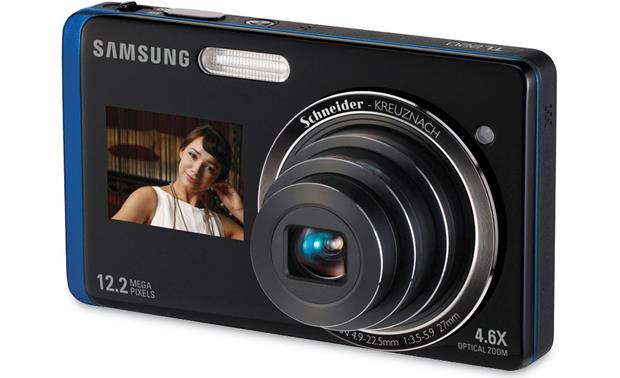 Samsung TL220 - Black with blue trim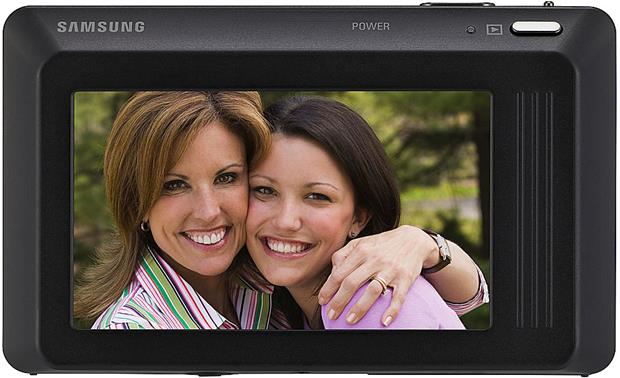 Samsung TL220 - Back (Blue)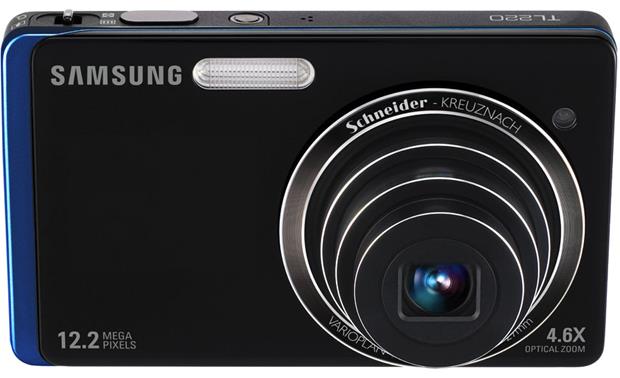 Samsung TL220 - Black with blue trim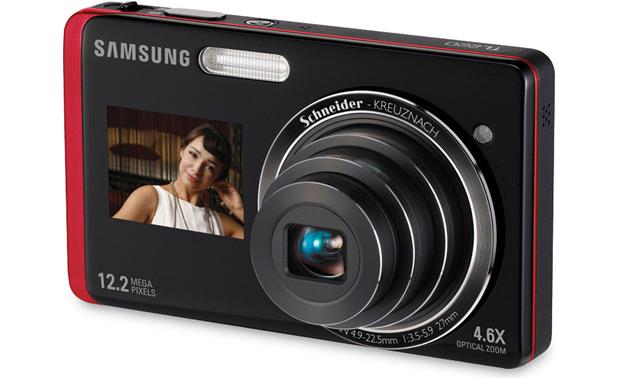 Samsung TL220 - Black with red trim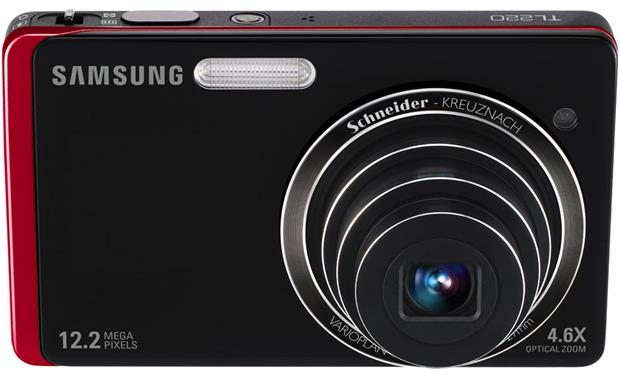 Samsung TL220 - Black with red trim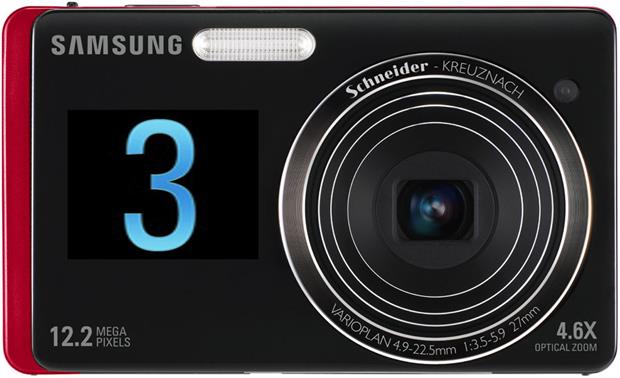 Samsung TL220 - Front LCD (countdown timer mode)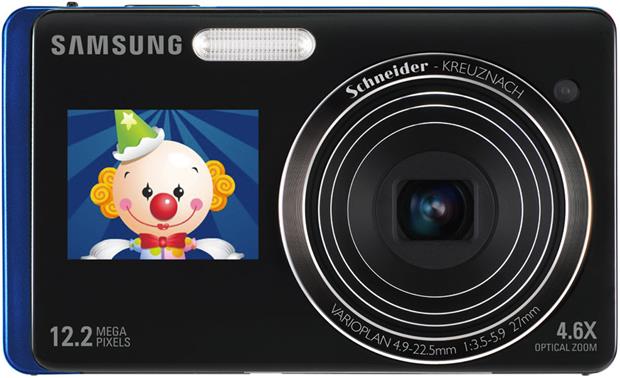 Samsung TL220 - Front LCD (kids' animation mode)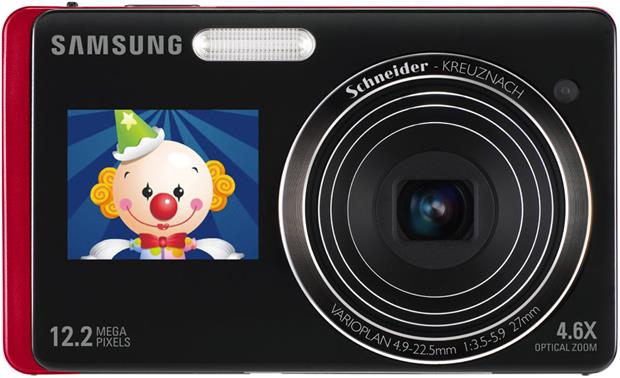 Samsung TL220 - Front LCD (kids' animation mode)
Item # 305TL220L | MFR # EC-TL220ZBPUUS
This item is no longer available.
Overview
Here's an innovative feature for fun digital photos — Samsung's TL220 camera features an LCD screen on the front, as well as one on the back. The 1-1/2" front LCD helps you take better self-portraits: Frame a shot of yourself in Paris with the Eiffel Tower in the background, or capture a group shot when you're sitting at a table with friends. It's easier than ever to get yourself into the shot, no matter what your surroundings.
Dual LCDs offer greater convenience
The TL220's front LCD features a Child Mode, which displays animated cartoon figures to keep younger subjects focused on you and the camera. Its numeric countdown display can help you time your shots perfectly. The 3" rear-panel LCD not only gives you a big bright view of the scene in front of you, but also doubles as a touchscreen interface for easy operation. For example, if you're reviewing a photo and you want to delete it, just make an "X" on the screen with your finger.
Crisp photos and high-def video
Snap detailed, 12.2-megapixel pictures of your favorite people and places. Smart Auto mode analyzes the scene and sets all the camera settings appropriately. Face detection with blink and smile recognition helps you capture friends' and family members' expressions at their best. And you can even record motion video in clear HD, when you'd rather save the moment as a movie instead of a still image.
The camera's built-in 100MB memory holds about a dozen photos at the camera's top resolution setting. For more storage, add MicroSD™ memory cards.
Product Highlights:
dual LCD design

1-1/2" LCD on front makes it easy to put yourself in the shot
3" touchscreen LCD on the back for intuitive operation

12.2-megapixel effective recording
wide-angle Schneider lens with 4.6X optical zoom
Dual Image Stabilization (optical and digital)
35mm equivalent focal length: 27-142mm
top JPEG resolution: 4000 x 3000
smart automatic mode evaluates your shooting environment and selects ideal camera settings
easy album mode lets you quickly find photos stored on a memory card based on subject or scene
face detection adjusts focus and exposure settings for better portraits
smile shot and blink detection help you capture ideal expressions
high-definition movie mode with audio (1280 x 720 at up to 30 frames per second)
scene modes including Portrait, Landscape, and Blue Sky
variable ISO (film speed equivalent) settings up to 3200 for better low-light and flash-free shooting
shutter speed: 16 - 1/2,000 seconds
adjustable white balance settings
built-in flash with variable settings
100MB internal memory holds about 12 photos at top resolution
uses optional MicroSD™ memory cards
high-speed USB interface
3-15/16"W x 2-7/16"H x 7/8"D
weight: 5.3 oz. (without battery)
warranty: 1 year
Supplied Accessories:
rechargeable battery (SLB-07A)
audio/video and USB cables
wrist strap
software CD-ROM
What's in the Box:
Digital camera
SLB-07A Li-ion battery (3.7V/720mAh)
AC power adapter
20" USB cable (with a USB type-A connector on one end and a proprietary connector on other end)
47" AV cable (with composite video/mono-RCA connectors on one end and a proprietary connector on other end)
Wrist-strap
Stylus
User Manual CD-ROM
Quick-Start Manual
Samsung International Warranty Certificate
Featured Video:
Details
Product Research
Record Features
Play, Print, and Edit Features
Connections
Battery Information
Built-In Software
Record Features
Dual LCD Screens: The Samsung TL220 digital camera features a front and back TFT LCD screen. The rear-panel 3" LCD screen (230K pixels) offers touch-panel and motion-sensitive controls with "haptic" technology. The rear LCD screen allows you to scroll quickly through all menus, and easily access your photo library. The LCD screen's Haptic vibration response registers your menu choices. The front-panel 1.5" LCD screen (61K pixels) lets you frame yourself in self-portraits. You can adjust the brightness of the two LCD screens from Normal, Dark, Bright, or Auto.
Note: This digital camera does not include a separate viewfinder.
Dual Media: The Samsung TL220 digital camera can record still images and video onto its built-in 55MB flash memory or using an optional MicroSD card (up to 4GB).
Image Recording Format: The digital camera records still images in JPEG format. High-definition and standard-definition movie clips with audio (stereo) are recorded in H.264.
Image Sensor: Samsung's TL220 comes fully equipped with a true color-filtered 1/2.3" CCD (12.2 megapixel effective/12.4 megapixel total) to produce incredibly detailed images which can even be used for printing poster-sized photos.
Image Size: The Samsung digital camera offers the following still image sizes and movie clip sizes. The camera can record still images in a 3:2, 4:3, or 16:9 aspect ratio with three compression ratio settings (Super Fine, Fine, and Normal). Movie clips can be recorded in standard-definition (4:3) or high-definition (16:9) at 60, 30, or 15 fps (frames-per-second).
Recorded Image Size
Quality
Image Capacity with 1GB microSD-Card
Still Image
12M (4:3): 4000 x 3000
Super Fine
145
Fine
281
Normal
399
10M (3:2): 3984 x 2656
Super Fine
166
Fine
310
Normal
436
9M (16:9): 3840 x 2160
Super Fine
200
Fine
363
Normal
522
8M (4:3): 3264 x 2448
Super Fine
209
Fine
357
Normal
531
5M (4:3): 2560 x 1920
Super Fine
339
Fine
630
Normal
860
3M (4:3): 2048 x 1536
Super Fine
526
Fine
885
Normal
1198
2M (16:9): 1920 x 1080
Super Fine
873
Fine
1455
Normal
1909
1M (4:3): 1024 x 768
Super Fine
1697
Fine
2037
Normal
2350
Movie Clip
High-Definition HQ (16:9): 1280 x 720
30 fps
13 min. 21 sec.
15 fps
23 min. 20 sec.
High-Definition (16:9): 1280 x 720
30 fps
15 min. 10 sec.
15 fps
32 min. 11 sec.
Standard 640 (4:3): 640 x 480
30fps
37 min. 25 sec.
15fps
66 min. 45 sec.
Standard 320 (4:3): 320 x 240
60 fps
78 min. 20 sec.
30fps
136 min. 47 sec.
15fps
235 min. 02 sec.
Note: You can record 20 minutes of high-definition video and 2 hours of standard-definition video.
Schneider-Kreuznach 27mm Wide-Angle Lens: The TL220's 27mm wide angle lens (35mm equivalent: 27-124.2mm), plus 4.6x optical zoom gives you a wider shooting range from a shorter distance with more flexibility. You can capture images of beautiful landscapes, entire wedding parties and skyscrapers without having to back up to get the shot. The precisely cut 27mm optical lens from Schneider-KREUZNACH delivers clear, clean images with even resolution from center to edges. Each lens surface is multi-coated to minimize ghosting or flaring for a great shot every time.
Digital Zoom: The Samsung digital camera provides a 5x digital zoom for a total zoom of 23x for still picture shooting.
Focus Range: The Samsung TL220 offers four auto focus ranges - Normal (31.5" to infinity), Macro (1.97" to 31.5"), Auto Macro (1.97" to Infinity); and Super Macro (1.18" to 3.15").
Focus Modes: You can also select your preferred auto focus area. You can choose from Center AF (the rectangular area in the center of the LCD monitor will be focused), Multi AF (camera select all of the available 9 AF points), Face Recognition AF (automatically detect a human face), Smart Touch AF (allows you to track and auto focus on your subject, even when moving), and One Touch Shooting (focus on your subject and take a photo with a touch of your finger).
Focus Lock: Use the camera's focus lock function to focus on a subject not positioned in the center of the picture.
AF Assist Lamp: The AF-assist lamp will sometimes emit when the shutter button is pressed halfway to assist focusing in certain conditions, i.e. dark conditions. The AF-assist lamp can be turned off, if desired. If animals are your subject, turn off the beam when shooting in the dark to avoid startling them.
2 Stage Shutter-Button: Pressing the shutter-button down half-way confirms focus and flash battery charge; pressing the shutter button all the way down will snap the picture.
Drive Modes: The camera offers 4 drive mode to suit your shooting needs.
Single: Takes on picture only.
Continuous: Images will be taken continuously until the shutter button is released.
Motion Capture: This takes 6 shots per second, when the shutter button is head down. A maximum number of 30 shots can be taken and the image sized is fixed to VGA.
AEB (Auto Exposure Bracketing): Takes threes pictures in a series in different exposures - standard exposure (0.0EV), short exposure (-1/2EV), and over exposures (+1/2EV).
Self-Timer: The Samsung TL220 offers four self-timer functions.
10Sec Self-Timer: Pressing the shutter button will allows an interval of 10 seconds before the image is taken.
2Sec Self-Timer: Pressing the shutter button will allows an interval of 2 seconds before the image is taken.
Double Self-Timer: A picture will be taken after about 10 seconds and 2 seconds later a second picture will be taken.
Motion Timer: The camera detects the subject's movement 6 seconds after pressing the shutter button, and the picture is taken when the movement is stopped.
Face Detection: With the Face Detection feature, the camera detects faces in a scene and then automatically focuses and optimizes the brightness of the face for beautiful portrait pictures. The Face Detection feature detects up to 10 different faces, automatically adjusts focus and brightness, and also senses and removes red-eye.
Face Recognition: The camera automatically registers faces that you frequently photograph. This features will automatically prioritize the focus on those faces. This feature is available only when you use a memory card. The camera can register up to total of 14 faces. It can register up to five faces in one shot.
Favorite Faces: You can also manually register your favorite faces (up to 6) to prioritize the focus and exposure on those saved faces. This feature is available only when you use a memory card.
Smile Shot: The camera automatically takes a picture by detecting the face of a subject that is smiling, without having to press the shutter button.
Blink Detection: If your subject's eyes are closed when the shutter button is pressed, the camera takes 2 continuous shots and then the images are saved. The camera takes only one picture if the eyes of your subject are open when the shutter button is pressed.
ACB: This function is used to adjust the contrast automatically when taking photos in an environment with big exposure differences in backlight and/or contrast. This function adjusts the brightness automatically and allows the subject to be photographed clearly.
Recording Mode: The Samsung TL220 digital camera offers various recording modes to choose from to match your shooting preference.
Auto Mode: Select this mode for quick and easy picture taking with minimal user interaction.
Smart Auto Mode: The camera automatically chooses the appropriate camera settings based on a detected type of scene. It will automatically select one of the following scene modes (Portrait, Night Portrait, Backlight Portrait, Backlight, Landscape, White, Motion, Tripod, Night, Macro, Macro Text, Blue Sky, Sunset Sky, Natural Green, Natural Portrait, Macro Color) which best suits the environment you are shooting in.
Program Mode: Select this mode to manual configure all functions of the camera, except the aperture value and shutter speed.
Dual Image Stabilization (DIS): The Advanced Dual Image Stabilization (IS) feature allows you to capture crystal-clear, blur-free shots without using a flash or tripod. The TL220's Advanced Dual IS combines both Optical and Digital Image Stabilizers to produce sharp images without the noise commonly found in other cameras. The optical IS compensates for hand trembling by shifting the lens in the opposite direction. When using Optical IS not quite enough, the Digital IS automatically takes over to ensure blur-free images.
Beauty Shot: Takes a photo of a person with options to hide facial imperfections.

Face Tone: this function allows you to control the skin tone in images that will be taken with beauty shot mode; the higher the level you select, the brighter the skin tone
Face Retouch: this feature allow you to make skin appear clear and beautiful before recording in beauty shot mode, the higher the level select, the more effective the control

Frame Guide: Use this mode when you want someone else to take a picture for you from the angle you choose.
Children: In this mode, you can draw children's attention to the camera by showing a short animation clip on the front LCD display.
Scene Modes: The TL220's various scenes modes automatically configures the camera's optimal settings for a variety of shooting situations.

Night: use this for shooting still images at night or in other dark conditions

Long Timer Shutter: this camera automatically adjusts the shutter speed and aperture values to the shooting environment; however, in Night Scene mode, you can set the shutter speed and aperture values to your preference

Portrait: to take a picture of a person
Landscape: to take pictures of distant scenery
Close Up: close-up shooting for small objects such as plants and insects
Text: use this mode to shoot a document
Sunset: for taking pictures of sunsets
Dawn: daybreak scenes
Backlight: portrait without shadows caused by backlight
Fireworks: firework scenes
Beach&Snow: for ocean, lake, beach, and snow-scape scenes

Movie Clip Mode: A movie clip can be recorded (with or without sound) for as long as the available recording time of the memory capacity allows or up to 20 minutes for high-definition video and 2 hours for standard definition video.
Exposure Compensation: This camera automatically adjusts the exposure according the ambient light conditions. You can also select the exposure value from +2.0EV to -2.0EV in steps of 1/3EV.
Metering Mode: If you cannot obtain suitable exposure conditions, you can change the camera's metering method to take brighter pictures. You can choose from 3 modes.
Multi: Exposure will be calculated based on an average of the available light in the image area. This is suitable for general use.
Spot: Only the rectangular area in the center of the LCD monitor will be metered for light. This is suitable when the subject in the center is exposed correctly, regardless of the back lighting.
Center Weighted: Exposure will be calculated based on an average of the available light in the image area. However, the calculation will be biased towards the center of the image area. This is suitable for taking a picture of small objects like a flower or insects.
Built-In Flash: The Samsung digital camera features a built-in flash with a variable range based on the auto focus mode. The flash has a range of 7.87" to 11.15'. You can also choose from the following flash modes.
Auto Flash: If the subject or background is dark, the camera flash will operate automatically.
Auto & Red-Eye Reduction: If a subject or background is dark, the camera flash will work automatically and will reduce the red-eye effect by using the red-eye reduction function.
Fill In Flash: The flash fires regardless of the available light. The intensity of the flash will be automatically controlled to suit the prevailing condition.
Slow Synchro: The flash operates with a slow shutter speed to obtain a balanced correct exposure.
Red-Eye Reduction: When a shot with "red-eye" is detected, this mode will reduce the red-eyed effect automatically.
Flash Off: The flash does not fire.
White Balance: The white balance control allows you to adjust the colors to appear more natural. The camera has seven white balance modes.
Auto WB: The camera automatically selects the appropriate white balance settings, depending on the prevailing lighting conditions.
Daylight: For taking images outside.
Cloudy: For taking images under a cloudy and overcast sky.
Fluorescent H: For shooting under daylight fluorescent type of three-way fluorescent lighting.
Fluorescent L: Shooting under white fluorescent lighting.
Tungsten: For shooting under tungsten (standard light bulb) lighting.
Custom Set: You can customize the white balance by taking photos of a white surface, such as a piece of paper. this will help to match the colors in your photo with the actual scene according to your lighting condition.
ISO Sensitivity: You can select the ISO sensitivity when taking pictures. The speed or specific light-sensitivity of a camera is rated by ISO numbers. A higher ISO setting allows for faster shutter speed, so you can take photos indoors or in low light without the need for a flash. The camera features the following ISO settings - Auto, 80, 100, 200, 400, 800, 1600, and 3200.
Photo Style Selector: You can add various effects to an image you are about to record without using image editing software. You can choose from Normal, Soft, Vivid, Forest, Retro, Cool, Calm, Classic, Negative, or Custom RGB.
Image Adjust: You can adjust the Contrast, Sharpness, and Saturation of a recorded image.
Note: You cannot check the Image Adjustment effect on the camera's LCD monitor before you take a picture, because this function is applied only when the capture image is stored on the memory.
Voice Recording: A stereo voice recording can be recorded for as long as the available recording or up to 10 hours.
Play, Print, and Edit Features
Quick View: If you enable the Quick View function before capturing an image, you can view the image you just captured on the camera's LCD monitor for the set duration of 0.5, 1, or 3 seconds.
Auto Rotate: You can view vertical photos in landscape view without rotating the camera. Vertical photos will be automatically rotated to an upright position in landscape view once.
Smart Album: Recorded content can be categorized by type (picture, video, or voice), date, color, or week; allowing you to easily retrieve them on the camera when you want to view particular pictures.
Thumbnail Playback: You can view 9 pictures on the LCD monitor at once.
Slide Show: Images can be displayed continuously at pre-set intervals on the camera's LCD monitor. The camera offer pre-recorded background music to play along with your still image slide show.
Image Zoom: A single image can be zoomed in for a closer look (1.0x-12.5x depending on image size). Once the image is zoomed in, you can pan through different areas of the image.
Image Rotation: You can rotate and image 360-degrees in 90-degree increments.
Movie Playback: You can playback a movie clip on the camera's LCD monitor. The camera offers basic playback functions such as Play, Pause, Rewind, and Fast Forward.
Copy To Card: This feature enables you to copy image files, movie clips, and voice recording files from the camera's internal memory to an inserted memory card.
Movie Clip Capture: You can capture still images from a recorded movie clip. The captured movie clip file will be saved as the same size as the original movie clip (1280 x 720, 640x480, or 320x240).
Voice Memo: You can add your voice-over (up to 10 seconds) in stereo to a stored still image. You can playback the voice memo using the camera's built-in monaural speaker.
Edit: The Samsung TL220 digital camera offers various editing features so you can manipulate your pictures right from the camera once they have been recorded.
Resizing: You can change the resolution (image size) of a recorded picture to a smaller size.
Photo Style Selector: You can add various effects to a recorded without using image editing software. You can choose from Normal, Soft, Vivid, Forest, Retro, Cool, Calm, Classic, Negative, or Custom RGB.
Special Effects: You can apply special effects to a recorded photo such as color filters, or noise effects.
ACB Correction: You can adjust the brightness, contrast, and saturation of a recorded image.
Portrait Touch Up: You can improve your portrait photos by hiding facial imperfections and removing red-eye, or you can apply special effects (Snow, Highlight, or Mosaic).
Video Trimming: You can edit a video's clip start and stop point.
Deleting Images: Images can be deleted one at a time, in a pre-selected group, or all at once. If you activate the recycle bin, files you delete will be sent to the recycle bin, instead of being deleted permanently. This applies to single files, or select files only. If you choose to delete all files, those files will not be sent to the recycle bin.
Protecting Images: This is used to protect specific shots from being accidentally erased.
Exif Print (Exif 2.21): The TL220 conforms to "Exif Print," a worldwide standard. Vital camera settings (such as: exposure mode, white balance, exposure time) and scene data are recorded to the image file when it is captured. Printers compatible with "Exif Print" are able to use this information to produce high quality photographs, exactly the way they were intended at the time of capture. This intelligent communication process also allows the printer to correct for poor lighting or mistakes, resulting in photos that can be even better than the originals.
DPOF (1.1) Transfer Order: You can use the camera to specify settings for images that you wish to download to a computer. The settings used on the camera comply with the Digital Print Order Format (DPOF) standards.
PictBridge (1.0) Printing Capability: Using the supplied USB cable, you can connect this camera directly to a PictBridge compliant printer. PictBridge is a new standard that allows you to connect a PictBridge compliant camera directly to a PictBridge compliant printer and make prints, regardless of brand.
Connections
AV/USB Proprietary Output: The Samsung TL220 features a single proprietary port which allows you to hook the camera up to your television via the supplied composite audio/video cable or to your computer via the included USB type-A cable. The Samsung TL220's video output can be set to NTSC or PAL. This proprietary output along with the supplied USB cable can be used to recharge the camera's battery using the supplied AC adapter.
Battery Information
Rechargeable Li-ion Battery: The Samsung TL220 comes supplied with a rechargeable Lithium-Ion battery (SLB-07A) which provides up to 200 still image shots or 60 minutes of movie recording. The supplied AC adapter and USB cable charges the Lithium-Ion battery in approximately 150 minutes.
Power Save: If you perform no operations of the camera for 30 seconds, the camera will automatically switch to Power Save mode to sustain battery life.
Built-In Software
Intelli-Studio Software: You can transfer still-image and video files directly from the Samsung TL220 to your computer using the camera's built-in Intelli-Studio software program for playback and editing. You can also use this built-in software to upload your still-image and video files to your favorite websites, such as Flicker or YouTube. The Intelli-Studio software will start automatically when you connect the camera to your computer via the included USB cable.
System Requirements (Windows Only): You computer will need to meet the following system requirements to use the camera's built-in TL220 Intelli-Studio software.
CPU: Intel Pentium 4, 3.2 GHz or higher/AMD Athlon 64FX, 2.6GHz or higher
OS: Windows XP SP2 or Vista
RAM: Minimum 512 MB RAM (1 GB and above recommended)
Hard Disk Capacity: 250 MB or more (1 GB or more recommended)
Drive: CD-ROM drive
Video Card: 64 MB or greater video card (nVIDIA Geforce 7600GT or higher/ATI X1600 series or higher recommended)
Monitor: 1024 x 768 pixels, 16-bit color display compatible monitor (1280 x 1024 pixels, 32-bit color display recommended)
Programs: Microsoft DirectX 9.0c or later
Connection: USB 2.0 High-Speed
Mac Computers: When you connect the camera to a Macintosh computer, the computer will recognize the device automatically. You can transfer files directly from the camera to the computer without installing any programs.
Our Product Research Team
At Crutchfield, you'll get detailed, accurate information that's hard to find elsewhere. That's because we have our own in-house Product Research team. They verify what's in the box, check the owner's manual, and record dimensions, features and specs. We stay on top of new products and technologies to help people make informed choices.