Why Choose Crutchfield?
Deep discounts on car installation gear
We offer vehicle-specific installation instructions, dash kits, wiring harnesses, and speaker accessories at deeply discounted prices with car stereo and speaker purchases. Available for most vehicles.
Learn more
Trusted since 1974
Our customers have trusted us with their business, and they've helped us win awards for our service.
Check out our most recent awards
Factory-authorized dealer
The manufacturer's warranty always applies.
See more details
Samsung WB350F
16-megapixel digital camera with Wi-Fi® and 21X optical zoom (White)
Item # 305WB350W | MFR # EC-WB350FBPWUS
This item is no longer available.
Overview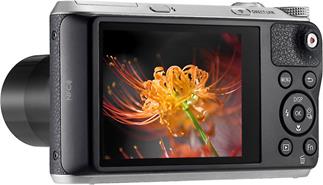 The 3" LCD screen on the Samsung WB350F lets you frame and review shots in full color.
Go wide
Sometimes life doesn't fit into a standard photo frame. If you're photographing a parade or composing a group shot at a family reunion, you'll love the 23mm wide-angle lens on the Samsung WB350F. The lens is equipped with 21X optical zoom, so you can decide whether you want to capture the grandeur of everything around you on a beautiful day, or zero in on an evocative detail. Your photos will be crisp, bright and ready for display on a compatible Samsung TV when friends are over.
See more in low light
The camera has a large CMOS image sensor that is back lit so it doesn't require as much external light as other cameras might. That means your photos in low-light situations like restaurants or late-night walks come out clearer and sharper without using the built-in flash, which can overexpose some scenes. For even better shots, the camera's Low Light Shot mode takes three continuous shots and merges them into one clear photo.
The baby monitor is built in
Many cameras include built-in Wi-Fi these days, but this one has some special features. Download the Home Monitor app to your smartphone or tablet, and leave your camera in the baby's room. Then go on about your evening business, knowing that you can check in at any time. When the WB350F detects crying, or even small movements from your sleeping baby, it sends an alarm to your smartphone or tablet, so you can decide if your child needs attention.
Highlights:
Specifications:
16.3-megapixel effective recording CMOS sensor
21X optical zoom lens
3" LCD touchscreen (460,000 dots) for intuitive menu navigation
35mm equivalent lens focal length: 24-483mm
23mm wide-angle lens option lets you widen the scope of outdoor photographs
records photos and video onto optional SD, SDHC, or SDXC memory cards
Special Features:
built-in Wi-Fi and NFC pairing for easy wireless sharing of photos
email photos and upload to social networking sites directly from the camera
optical image stabilization minimizes blur
high-definition movie mode (up to 1080p/30p resolution)
Best Face uses facial recognition and a rapid burst of photos to let you choose a subject's best facial expression for your photo
program auto, shutter-priority, aperture-priority, and manual exposure modes
AutoShare automatically backs up your images wirelessly to a Wi-Fi connected smartphone or tablet
built-in flash
high-speed USB interface
4-1/2"W x 2-9/16"H x 1"D
weight: 7.68 oz. (without battery and memory card)
warranty: 1 year
Supplied Accessories:
rechargeable lithium ion battery and AC charging adapter
USB cable
wrist strap
Very pleased with product. Money well spent.

Anonymous, Virginia
What's in the Box:
Digital camera (white)
SLB-10A Lithium-Ion rechargeable battery (3.7V 1030mAh 3.8Wh)
20" USB cable (Type A USB on one end and Micro USB on other end)
AC adapter (DC output: 5V 550mA)
Wrist strap
Quick Start Guide
Warranty sheet
Product Registration Card
Reviews
Samsung WB350F Reviews
Average Customer Review(s):
Anonymous from Virginia on 12/30/2014
Very pleased with product. Money well spent.

Pros:

Cons:
Dave T from Virginia on 12/19/2014
Great camera for the money. Convenient to transfer content and reasonable small to fit in carry-on bag.

Pros: price and good quality photos and videos. Easy to use basic features.

Cons: Lots of additional features that need further explanation, and I don't think these are explained in any documentation unless perhaps you take the time to look on line.
Details
Product Research
Record Features
Built-in Wi-Fi
Playback and Edit Features
Connections
Battery Information
Built-in Software
Record Features
3" LCD Touch Screen Display: The Samsung WB350F digital camera features a 3" color TFT LCD touch screen display with 460,000 dots. The monitor's brightness can be set to Normal, Dark, Bright, or Auto. The touch-sensitive screen lets you drag the menu options up and down and touch to make a selection. You can also select your subject and adjust the focus by touch as well.
Recording Media: The Samsung WB350F digital camera can record still images and video onto microSD cards (up to 2 GB), microSDHC cards (up to 32 GB), or microSDXC cards (up to 64 GB). Class 6 cards and above are recommended. You can also temporarily store images on the built-in 9.5 MB memory.
Built-in Wi-Fi: The WB350F has built-in Wi-Fi, which lets you instantly share your photos wirelessly from your home network or a public Wi-Fi hotspot. You can also send photos or videos to your smartphone, or control the camera remotely with your smartphone. For more details, see the section on Built-in Wi-Fi below.
Image Sensor: The Samsung WB350F digital camera is equipped with a 1/2.3" BSI CMOS image sensor with a total pixel count of approximately 16.7 megapixels and an effective pixel count of approximately 16.3 megapixels for high quality still images and video.
Image Recording Format: The digital camera records still images in JPEG format. High Definition movies are recorded at 30 fps in MPEG-4 AVC (H.264) format with AAC audio.
Image Sizes: The camera can record JPEG still images in a 4:3, 16:9, 3:2, or 1:1 aspect ratios with three compression ratio settings (Super Fine, Fine, and Normal). HD and SD movies can be recorded in MPEG-4 (H.264) up to 20 minutes in length. The camera offers the following still image and movie sizes:
| | | |
| --- | --- | --- |
| Photo Size | Resolution | Aspect Ratio |
| 16MP | 4608 x 3456 | 4:3 |
| 14MP | 4608 x 3072 | 3:2 |
| 12MP | 4608 x 2592 | 16:9 |
| 10MP | 3648 x 2736 | 4:3 |
| 8MP | 2832 x 2832 | 1:1 |
| 5MP | 2592 x 1944 | 4:3 |
| 3MP | 1984 x 1488 | 4:3 |
| 2MP | 1920 x 1080 | 16:9 |
| 1MP | 1024 x 768 | 4:3 |
| Movie Size | Resolution | Aspect Ratio |
| Full HD | 1920 x 1080 | 16:9 |
| HD | 1280 x 720 | 16:9 |
| VGA | 640 x 480 | 4:3 |
| 240 Web | 320 x 240 | 4:3 |
Lens: The WB350F digital camera features a 21x optical zoom Samsung lens with a focal length of 4.1 to 86.1 mm (35mm equivalent is 23-483mm). The f-stop range is f/2.8 (W) - 5.9 (T).
Digital Zoom: In addition to the 21x optical zoom, the camera provides a 5x digital zoom for a total zoom of 105x for still picture shooting.
Intelli Zoom: When shooting at 4:3 up to 10MP, you can use the Intelli Zoom of 2.0x to magnify your image with little or no deterioration of the image quality.
Focus Modes: The Samsung WB350F offers the following focus modes and the focusing range:
Normal: 31" to infinity (W), 138" to infinity (T)
Macro: 4" to 31" (W), 59" to 138" (T)
Auto Macro: 4" to infinity (W), 59" to infinity (T)
Manual Focus: 4" to infinity (W), 59" to infinity (T)
Focusing Area: You can select your preferred auto focus area:
Center AF: the rectangular area in the center of the LCD monitor will be focused
Multi AF: camera selects one or more of the 9 AF points
Tracking AF: you can focus on your subject and track them as they move within the frame.
Face Detection: With the Face Detection feature, the camera detects faces in a scene and then automatically focuses and optimizes the brightness of the face for beautiful portrait pictures. The Face Detection feature detects up to 10 different faces, automatically adjusts focus and brightness, and also senses and removes red-eye. The camera offers the following Face Detection modes:
Normal: This mode detects the face position of the subject automatically and the sets the focus and exposure.
Self Portrait: You can capture photos of yourself in this mode. The camera sets the focus distance to close-up, and emits a beep when ready to shoot.
Smile Shot: The camera automatically takes a picture by detecting the face of the subject without pressing the shutter button.
Focus Lock: Use the camera's focus lock function to focus on a subject not positioned in the center of the picture.
Drive Modes: The camera offers several drive modes to suit your shooting needs:
Single: Takes one picture only.
Continuous High: Images will be taken continuously while the shutter button is held down. Up to 6 photos can be taken at 7.1 photos per second.
Continuous Normal: Capture 6 photos at a rate of 3 photos per second.
AEB (Auto Exposure Bracketing): Takes three pictures in a series in different exposures - standard exposure, under exposure, and over exposure.
10 Sec Self-Timer: Pressing the shutter button will allows a delay of 10 seconds before the image is taken. Good for self-portraits.
2 Sec Self-Timer: Pressing the shutter button will allows a delay of 2 seconds before the image is taken. Good for preventing camera shake.
Recording Mode: The WB350F offers various recording modes to choose from to match your shooting preferences. Using the top-mounted Mode Dial, you can select the following:
Smart Auto: The camera automatically chooses the appropriate camera settings based on a detected type of scene: Portrait, Night Portrait, Backlight Portrait, Night, Backlight, Landscape, White, Natural Green, Blue Sky, Sunset, Macro, Macro Text, Macro Color, Tripod, Action, Fireworks, Low Light, Spotlight, Spotlight (Macro), and Spotlight (Portrait).
Program: Select this mode to manual configure all functions of the camera, except the aperture value and shutter speed.
A/S/M: Select one of the following:

Aperture Priority: The camera selects a shutter speed based on the aperture value you have set manually.
Shutter Priority: The camera selects an aperture value based on the shutter speed you have set manually.
Manual: Adjust various camera settings including shutter speed and aperture value.

Smart Mode: Capture a photo with options preset for a specific scene: Beauty Face, Continuous Shot, Landscape, Macro, Action Freeze, Rich Tone, Panorama, Waterfall, Silhouette, Sunset, Low Light Shot, Light Trace, and Fireworks.
Best Face: Lets you capture multiple photos and replace faces to create the best possible image for each individual in a group photo.
Magic Plus: You can capture a photo with various effects: My Magic Frame, Motion Photo, Photo Filter, Effect Artist, and Color Brush.
Settings: You can change the settings in 4 categories: Sound, Display, Connectivity, or General.
Wi-Fi: Lets you set the following Wi-Fi features: MobileLink, Remote Viewfinder, Baby Monitor, Auto Backup, Email, SNS & Cloud, and Samsung Link.
Exposure Compensation: This camera automatically adjusts the exposure according the ambient light conditions. You can also select the exposure value from +2.0EV to -2.0EV in steps of 1/3EV.
Metering Mode: If you cannot obtain suitable exposure conditions, you can change the camera's metering method to take brighter pictures. You can choose from 3 modes:
Multi: Exposure will be calculated based on an average of the available light in the image area. This is suitable for general use.
Spot: Only the rectangular area in the center of the LCD monitor will be metered for light. This is suitable when the subject in the center is exposed correctly, regardless of the back lighting.
Center Weighted: Exposure will be calculated based on an average of the available light in the image area. However, the calculation will be biased towards the center of the image area. This is suitable for taking a picture of small objects like a flower or insects.
Built-in Flash: The Samsung digital camera features a built-in flash with a variable range based on the auto focus mode. The flash has a range of 11.81" to 13.45' (W) and 19.69" to 9.51' (T). You can choose from the following flash modes:
Auto Flash: If the subject or background is dark, the camera flash will operate automatically.
Fill In Flash: The flash fires regardless of the available light. The intensity of the flash will be automatically controlled to suit the prevailing condition.
Slow Sync: The flash operates with a slow shutter speed to obtain a balanced correct exposure.
Red-Eye Reduction: The flash fires when the subject or background is dark. When a shot with "red-eye" is detected, this mode will reduce the red-eyed effect automatically.
Red-Eye Fix: The flash fires when the subject or background is dark, and the camera corrects red eyes through its advanced software analysis
Flash Off: The flash does not fire.
White Balance: The white balance control allows you to adjust the colors to appear more natural. The camera has seven white balance modes.
Auto WB: The camera automatically selects the appropriate white balance settings, depending on the prevailing lighting conditions.
Daylight: For taking images outside.
Cloudy: For taking images under a cloudy and overcast sky.
Fluorescent H: For shooting under daylight fluorescent type of three-way fluorescent lighting.
Fluorescent L: Shooting under white fluorescent lighting.
Tungsten: For shooting under tungsten (standard light bulb) lighting.
Color Temp: Allows you to adjust the color temp between 3000 K and 10000 K.
Custom Set: Allows you to set the white balance according to the shooting condition.
ISO Sensitivity: You can select the ISO sensitivity when taking pictures. The speed or specific light-sensitivity of a camera is rated by ISO numbers. A higher ISO setting allows for faster shutter speed, so you can take photos indoors or in low light without the need for a flash. The camera features the following ISO settings - Auto, 80, 100, 200, 400, 800, 1600, and 3200.
Built-in Wi-Fi
Wi-Fi: The Samsung WB350F has built-in Wi-Fi to let you connect the camera to a smartphone or PC via a WLAN. Once connected, you can transfer and save photos and videos to your smartphone, monitor another room, remotely operate the camera via smartphone, and share photos with others via email or social networks services.
Samsung Smart Camera App: Using the free downloadable Smart Camera app, you can perform several functions wirelessly. The Smart Camera app is compatible with Android phones running 3.0 and up, as well as iPhone, iPad, and iPod touch running iOS 6.1 or later.
NFC (Near-Field Communication): You can wirelessly connect NFC-compatible Android phones to the camera by simply placing the phone near the camera's NFC logo (on the left side). This allows you to instantly save photos to the smartphone or launch the remote shutter feature.
Wi-Fi Functions: When connected via Wi-Fi, you can perform the following functions:
AutoShare: The AutoShare feature automatically saves photos taken with the camera to your smartphone. Videos are only saved to the camera.
MobileLink: MobileLink lets you select recorded photos or videos on the camera and wirelessly send them to your smartphone.
Remote Viewfinder: The Remote Viewfinder lets you use the smartphone as a remote shutter release to shoot photos. The captured photos will display on the smartphone. Using your smartphone, you can select the photo size, flash option, timer options, determine the saving location, and zoom in or out.
Baby Monitor: The Baby Monitor feature allows you to view live video from a remote location to monitor a room. For smartphones that support WVGA (800 x 480) or higher resolution, you can wirelessly view the video stream. You can also stop the video stream and monitor the audio in the room. If the camera detects a noise, an alarm will notify you on the smart phone. The Baby Monitor feature requires installing the Samsung Home Monitor app on your smartphone, available for Android OS or iOS devices.
Auto Backup: You can send photos or videos that you have recorded with the camera to a PC wirelessly. The PC must have the i-Launcher program installed, and be connected to the WLAN.
Email/File Sharing: You can send recorded photos and videos to others via email or file-sharing services, such as Facebook, Picasa, YouTube, and Dropbox. You can also upload it to Samsung Link online storage for viewing.
Direct Link Button: Using the dedicated Direct Link button on the top of the camera, you can turn on the Wi-Fi and launch the Wi-Fi function that you have designated with a single button press. You can designate any of the above Wi-Fi functions to the Direct Link button.
Playback and Edit Features
Quick View: If you enable the Quick View function before capturing an image, you can view the image you just captured on the camera's LCD monitor.
Thumbnail Playback: You can view multiple pictures (12 or 24) on the LCD monitor at once.
Slide Show: Images can be displayed continuously, at intervals of 1, 3, 5, or 10 seconds, with various slide-show effects on the camera's LCD monitor. The camera offer pre-recorded background music to play along with your still image slide show.
Image Zoom: A single image can be zoomed in up to 9.4x for a closer look. Once the image is zoomed in, you can pan around to different areas of the image.
Movie Playback: You can playback a movie clip on the camera's LCD monitor. The camera offers basic playback functions such as Play, Pause, Scan backward (2x-4x-8x), and Scan Forward (2x-4x-8x). You can also mute or adjust the volume level of the playback audio.
Edit: The Samsung WB350F digital camera offers various editing features so you can manipulate your pictures right from the camera once they have been recorded.
Resize: You can change the resolution (size) of a pictures taken to a smaller size.
Image Rotation: You can rotate and image 360-degrees in 90-degree increments.
Crop Portraits: You can extract and save close-up portraits automatically from landscape shot.
Smart Filter: It is possible to add various effects to your recorded images, such as Miniature, Vignetting, Ink Painting, Oil Painting, Cartoon, Cross Filter, Sketch, Soft Focus, Fish-eye, Classic, Retro, and Zooming shot.
Image Adjust: You can adjust the following elements of a recorded image:

ACB (Auto Contrast Balance): You can automatically adjust the brightness of the dark area of a recorded image, caused by under exposure to the light source.
Brightness
Contrast
Saturation

Red-Eye Fix: The red-eye effect can be removed from a captured image.
Face Retouch: You can make the skin in a recorded image appear more clear and beautiful.
Protecting Images: This is used to protect specific shots from being accidentally erased.
Connections
Micro USB: The Samsung WB350F features a Micro USB connection which allows you to connect the camera to your computer or your TV. Using the supplied USB cable, you can connect the camera to your computer to transfer photos and videos. To connect to your TV, you'll need an optional A/V cable. The video output can be set to NTSC or PAL.
Battery Information
Rechargeable Li-ion Battery: The Samsung WB350F comes supplied with a rechargeable Lithium-Ion battery (SLB-10A) which provides up to 310 still image shots, 155 minutes of photo shooting, or 120 minutes of movie recording. The supplied AC adapter and USB cable charges the Lithium-Ion battery in approximately 240 minutes. Charging via your computer's USB takes longer.
Auto Power Off: This function switches the camera off after a set amount of time (of no operation) in order to prevent unnecessary battery drainage. The camera can be set to turn off after 1, 3, 5, or 10 minutes of no operation.
Built-in Software
Built-in Software: The Samsung WB350F comes with i-Launcher software built into the camera. You can install i-Launcher on your computer by connecting the camera via the supplied USB cable. i-Launcher contains Multimedia Viewer and provides a link to download the PC Auto Backup program. i-Launcher is compatible with the following Operating Systems: Windows XP (SP2), Windows Vista, Windows 7, Windows 8, and Mac OS X version 10.5 or higher (except PowerPC).
Removable Disk: The camera can be connected as a removable disk with computers running Windows XP, Windows Vista, Windows 7, Windows 8, and Mac OS X version 10.5 and higher.
Our Product Research Team
At Crutchfield, you'll get detailed, accurate information that's hard to find elsewhere. That's because we have our own in-house Product Research team. They verify what's in the box, check the owner's manual, and record dimensions, features and specs. We stay on top of new products and technologies to help people make informed choices.