Dynaudio Excite X14A
Powered stereo speakers (Rosewood Satin)
Item # 345X14ARW | MFR # 911409
This item is no longer available.
Overview
Our take on the Dynaudio Excite X14A by Crutchfield's Eric Angevine
Exquisite sound from a pair of powered speakers
Crutchfield's Senior Editor Steve Kindig tested and praised Dynaudio's passive Excite X14 speakers, saying "I can't remember another speaker that makes listening so much fun." This pair of X14As offer a similar experience, but you don't need to hook them up to a receiver or amplifier — each speaker has two 50-watt amps built in. They let you experience the expansive soundstage and exquisite musical detail we've come to expect from Dynaudio, while freeing up space in your listening room.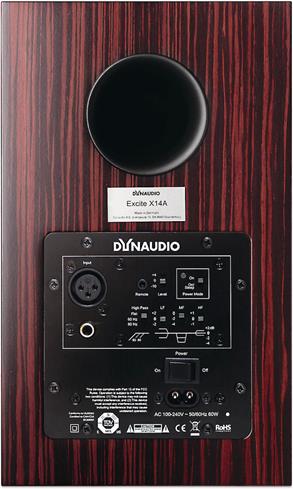 Connections and controls on the back of each Dynaudio Excite X14A speaker give you versatile setup options.
Innovative driver design
The X14A's woofers are made from Dynaudio's signature material: Magnesium Silicate Polymer (MSP). Each MSP cone is molded in a single piece, which helps to optimize sound dispersion. There's no separate dust cap, which further enhances the cone's structural integrity. A rear slot on each speaker helps the driver to produce accurate, musical bass.
The tweeters are also high-tech — and uniquely Dynaudio, through and through. They use aluminum-wired voice coils that are lighter than usual. That allows them to be larger, which results in better control and lower distortion. The tweeter itself is a soft dome with a special coating that improves dispersion so it sounds amazing no matter where you're sitting.
If you've noticed visible copper leads when looking at photos of Dynaudio tweeters, that's intentional. The surround is inverted for better dispersion, so the leads naturally show. Just one more sign of innovation in pursuit of expansive sound.
You don't have to have a degree in engineering to understand why the X14A's design is important — the proof is in the sound. Your music doesn't sound like it's trapped in a cabinet — it sounds like it's filling the entire room.
Dynaudio's DNA
Founded in 1977, Dynaudio is one of the world's premiere speaker companies. Their wide range of speakers for home, car, and pro audio applications are the result of a unique combination of innovative driver technology, state-of-the-art manufacturing, and true hand-craftsmanship. Dynaudio designs and builds all of its drivers at the company's HQ in Skanderborg, Denmark.
Product Highlights (each):
bi-amped design with 50 watts to each driver
1-1/8" Esotec+ coated silk soft-dome tweeter
5-1/2" Esotec+ MSP (Magnesium Silicate Polymer) cone woofer
bass-reflex (ported) cabinet with rear-firing port

includes a foam port plug for adjusting the speaker's low-frequency performance

frequency response: 45-23,000 Hz (±3dB)
116 dB peak SPL
cabinet has 3/4"-thick walls, plus extensive internal bracing to reduce resonances
"sleep" mode saves power when speakers are not in use
removable magnetic grille
Connections and Controls (each speaker):
balanced analog XLR input
unbalanced analog RCA input
level trim switch (-10, 0, +4)
high-pass filter (flat, 60 Hz, 80 Hz) for matching the speakers to an optional subwoofer
individual filter switches for low, middle, and high frequencies
Dimensions and Warranty:
6-3/4"W x 11-1/8"H x 9-3/4"D
weight: 14 lbs.
designed, engineered, and assembled in Denmark
warranty: 5 years (8 years with registration)