Why Choose Crutchfield?
Deep discounts on car installation gear
We offer vehicle-specific installation instructions, dash kits, wiring harnesses, and speaker accessories at deeply discounted prices with car stereo and speaker purchases. Available for most vehicles.
Learn more
Trusted since 1974
Our customers have trusted us with their business, and they've helped us win awards for our service.
Check out our most recent awards
Factory-authorized dealer
The manufacturer's warranty always applies.
See more details
Magellan RoadMate RV5365T-LMB
Portable navigator for RV drivers — includes free traffic-info service and lifetime map updates
Item # 3605365TMB | MFR # RV5365T-LMB
This item is no longer available.
Overview
Our take on the Magellan RoadMate RV5365T-LMBby Crutchfield's Dominic DeVito
Got a smaller RV? Meet your new GPS navigator
If you're the owner of a smaller RV, Class C motorhome, or truck camper, Magellan's RoadMate RV5365T-LMB portable navigator makes it easy to find your way safely. It's a great navigator for folks who tow recreational vehicles such as fifth-wheels and boats, too. This RoadMate takes your vehicle's dimensions into account when planning routes so you'll make it to your destination without having to worry about low overpasses or other unexpected obstacles. And it provides a wealth of travel tools to keep you in the know, so you can take full advantage of all the conveniences your RV has to offer.
Hit the road
You'll get detailed maps of the U.S., Canada, and Puerto Rico, plus 6 million points of interest so you can find nearby RV parking, services, and accommodations. Enter your vehicle's height, width, weight, and hazmat type, and this navigator will find the best possible routes, avoiding narrow bridges, tunnels, and other potential hazards.
You can follow the action on the navigator's 5" touchscreen display, or listen to the voice prompts that announce actual street names at turns. When you're in unfamiliar towns, Magellan's Landmark Guidance features makes it easier to find upcoming turns by pointing out easy-to-spot landmarks and buildings — for instance, you might hear "turn right at Friendly Cleaners" instead of "turn right on Central Avenue."
Lane guidance in the contiguous 48 states also saves you from dangerous last-second maneuvering when you need to make an important turn. You can also get audible and visual alerts to keep you from exceeding the posted speed limit on most roads.
RV-friendly extras
The RoadMate RV5365T-LMB includes U.S. and Canada campground information from Trailer Life Directory along with Good Sam Club discount locations — if you're a Good Sam Club member, you'll know if you can enjoy your discounts before you exit the highway. You'll also get info on Wi-Fi® availability, pet friendliness, and helpful customer ratings. Magellan's special "Exit POIs" let you know about destinations right by highway exits, so you don't have to travel far from the main roads to find the best stopping points.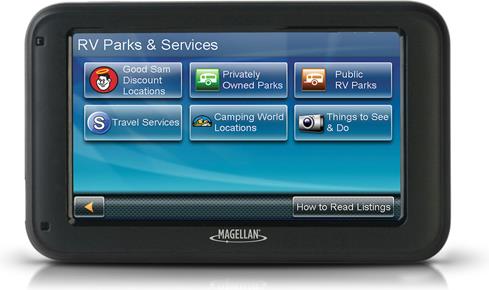 This RoadMate also features a dedicated input for a rear-view camera, to help you get in and out of tight spots. Once you connect your camera, the navigator will automatically show you what's behind you when you shift into reverse.
Free lifetime traffic and map updates
The RoadMate RV5365T-LMB offers free lifetime traffic alerts, providing real-time traffic information in many areas with no additional subscription fees. You can see on the display where congestion might slow your trip, and pick an alternate route around it. You also get up to 4 map updates per year for the life of the navigator, so you won't be surprised by recently closed campgrounds or other important destinations that may have changed.
Traffic camera alerts
Magellan also includes a free one-year subscription to PhantomALERT, which gives you audible and visual warnings of approaching traffic and red-light cameras along your route. For an additional fee, you can receive alerts for known enforcement areas (speed traps), as well as road locations with high accident rates.
Bluetooth® and more
You can make and receive hands-free calls with your compatible phone through the RoadMate's built-in Bluetooth wireless connectivity. Route optimization helps you plan excursions by showing you the most efficient way to hit multiple spots on the same trip. Magellan's OneTouch™ menu lets you save your favorite destinations and searches so you can pull them up without scrolling through multiple screens.
Product Highlights:
portable GPS navigator for RVs
includes FM-TMC traffic-info receiver with subscription-free updates
lifetime map updates (receive up to 4 map updates per year without additional fees)
one-year subscription to PhantomALERT traffic camera alerts
suction-cup windshield/dash mount
3.5mm A/V input
USB cable, AC power adapter, car power adapter, and built-in rechargeable battery with up to 2 hours of life
Navigation features:
5" color touchscreen control
internal flash memory preloaded with maps of the U.S., Canada, and Puerto Rico
includes RV-specific features such as routing for large vehicles and Good Sam Club/Trailer Life Directory info
6 million points of interest
text-to-speech voice prompts announce road names
speed limit indicator
Landmark Guidance announces names of landmarks (buildings, businesses) at maneuvers as well as street names
highway lane guidance and junction view (contiguous 48 states only)
multi-destination routing: route optimization (up to 20 destinations)
Expandability:
Other features and specs:
Bluetooth technology allows hands-free calls with your compatible cell phone
dimensions: 5-5/8"W x 3-7/16"H x 5/8"D
weight: 6.1 oz.
warranty: 1 year
What's in the Box:
RoadMate RV5365T-LMB navigation device
Cigarette lighter adapter (with attached 51" DC power cord)
32" USB cable (with USB type-A connector on one end and a mini-B USB connector on the other end)
Suction cup mount/cradle
Quick Start Guide
Lifetime Maps info card
Magellan GPS Icon Legend
Good Sam Club info card
Initial charge info sticker (on the device)
Support info (inside of lid of the packaging)
Details
Product Research
General Features
Navigation Features
Traffic Information
Power Requirement
Computer Requirements
General Features
Made for "RVers": The Magellan RoadMate RV5365T-LMB is a GPS device that is specifically designed for "RVers." The high-definition 5" touchscreen offers large vehicle and RV settings based on vehicle height, width, length, and weight. This intelligent navigator will plan routes according to your preferences, making the drive more enjoyable. You can even preview routes in advance to become familiar with it before driving. Turn-by-turn spoken directions let you keep your eyes on the roads.
Vehicle Profile: You can set your vehicle profile so that when routes are being calculated you will not be routed over roads that your vehicle cannot travel on. You can set the following vehicle parameters:
Vehicle Type: Choose from Class A, Class B, Class C, Class C Super, RV/Truck with 1 or more trailers, Truck Camper, Semi-Tractor with 1 or more trailers
Dimensions: Enter Width, Height, Total Length, and Weight
Hazmat Type: Choose from None, Explosives, Gas, Flammable/Propane, Flammable Solid/Combustible, Oxidizers/Organic Peroxides, Poison, Radioactive, Corrosive, Any Hazardous Material, Poisonous Inhalation Hazard, Goods Harmful to Water, or Other
Good Sam RV Travel Guide and Campground Directory: The RV5365T is preloaded with data from the Good Sam RV Travel Guide and Campground Directory, which provides valuable RV travel resources. The unit offers comprehensive campground information, including location-based facilities, RV services, pet-friendly campground and parks, tent spaces, Wi-Fi, and more. Most campground listings feature Good Sam's Triple Rating System, which includes Facilities, Restrooms, and Visual Appearance scores. A particular emphasis is placed on Good Sam Club and Camping World discount locations.
Bluetooth Technology: The Magellan RoadMate RV5365T-LMB features Bluetooth Technology for hands-free calling from a compatible Bluetooth-enabled cellular phone. You can make and receive calls hands free using the unit's built-in microphone and speaker.
A/V Input: The Magellan RoadMate RV5365T-LMB features a 3.5mm audio/video input which allows you to connect the optional Magellan WirelessBack-up Camera System transforms the unit into a rearview monitor. The Wireless Back-up Camera includes a rear-view camera with integrated license plate mount, a wireless transmitter, wireless receiver, and 12-volt power adapter.
Navigation Features
GPS Receiver: The Magellan RoadMate RV5365T-LMB is equipped with a high-sensitivity GPS receiver that receives signals from numerous satellites to constantly update your position. It has an integrated multidirectional GPS patch antenna on the top of the unit, which provides positioning accuracy within 3-5 meters.
Map Data: The device comes with detailed maps and destinations of the United States (including Alaska & Hawaii), Canada, and Puerto Rico, preloaded onto the built-in flash memory. A microSD card slot is provided for loading optional specialty maps (i.e. European maps).
Lifetime Map Updates: With Lifetime Map Updates, you can receive up to 4 map updates per year, for the useful life of the receiver, or until Magellan no longer receives relevant map data from its providers. Map upgrades are available from the Magellan website using the Magellan Content Manager and can be downloaded to an inserted microSD card (sold separately).
PhantomALERT: The RV5365T-LMB comes with a free one-year subscription of PhantomALERT, which warns drivers about upcoming red light and speed cameras, as well as speed traps and dangerous intersections along their route. PhantomALERT's database is the largest in the world, and the most accurate. It is constantly being verified and updated by subscribers who share new points of interest.
5" Touchscreen Display: The unit features a large anti-glare, 5" WQVGA touchscreen display. The display's brightness can be adjusted for easy nighttime and daytime viewing. With the Auto Night Mode, the screen will automatically change from bright colors in daytime to dark tint colors for nighttime use.
OneTouch Favorites Menu: The RoadMate RV5365T-LMB features Magellan's exclusive OneTouch favorites menu. The OneTouch menu provides easy access to those destinations and searches you use most. The OneTouch Favorites menus provides instant access to your personalized bookmarks of favorite places. You can bookmark your personal favorite destinations, and access them whenever you want from the OneTouch menu.
Keyboard Options: When entering your destination or other data, you can use the on-screen keyboard to spell out the name of the location. You can choose to use the standard QWERTY keyboard layout, or switch it to an ABCDEF keyboard layout.
QuickSpell w/ SmartCity Search: QuickSpell with SmartCity Search narrows your address and city searches, making destination entry easy. To help you make sure you enter in the correct destination, the RV5365T-LMB will automatically correct spelling errors and complete your destination address. QuickSpell with SmartCity search also uses information in the unit's database to limit the keys that need to be pressed, presenting only those which can access information in the database.
Multi-language Turn-By-Turn Voice & Visual Guidance: The RoadMate RV5365T-LMB offers Turn-by-Turn visual guidance through it's wide touchscreen display and voice guidance via its built-in speaker. You can select English, French, or Spanish.
Text-to-Speech: The RoadMate RV5365T-LMB is equipped with Text-to-Speech. As you navigate to your destination, the RoadMate RV5365T-LMB will announce the names of the street or exit ramps (or both if desired) that are involved in each maneuver.
Landmark Guidance: The RV5365T provides voice instructions in an intuitive way, using easy-to-recognize landmarks. Instead of simply instructing you to "make a left turn," the voice guidance will say "make a left turn at the Burger King."
Highway Lane Assist: The RoadMate RV5365T-LMB will display highway signs as you approach a highway interchange, giving you a visual indication of which lane you should be in. This feature is available in the 48 contiguous United States only.
Maneuver List Screen: Each line of the Maneuver List screen provides details about the maneuvers in the order that they are to be made. The bottom bar of the Maneuver List screen indicates the distance and time to the next maneuver as well as the total distance computed for the route. The Maneuver List can be modified if you want to exclude one of the maneuvers to avoid traveling on one of the streets listed.
Current Location Screen: The Current Location screen displays approximate address information, the distance from the next and previous cross streets, as well as your latitude and longitude. There is also a compass point in your direction of travel, calculated elevation and speed.
Customizable Route Method: There are a wide variety of methods you can use to create a route. You can set the RV5365T to calculate your route by Fastest Time, Shortest Distance, Less Freeways or More Freeways. You can also Enable U-Turns and Avoid Toll Roads for any routing method. You can compare the travel times of each option on one screen.
Multiple Destination Routing: If you're planning a trip with multiple stops, the RoadMate RV5365T-LMB will allow you to place the destinations in the order you wish, or allow the unit to order the stops for the most efficient route, saving you time and money. You can change the order of stops at any time.
Points Of Interest (POI): The Magellan RoadMate receiver has approximately 6 million preloaded Points of Interest (POIs) that can be used as a destination for a route:
| | |
| --- | --- |
| POIs | Description |
| 6-Million POIs | The RoadMate RV5365T-LMB offers 6-million points of interests to help you easily find gas stations, restaurants, ATMs, and more. You can search for POIs by entering the name or by selecting from a list of available categories and sub-categories. If desired, you can choose whether or not you want POI icons to be displayed on the map. |
| Branded POIs | Branded POIs display your favorite coffee shops, restaurants, and more by their respective logos. |
| Highway Exit POIs | This feature provides a listing of restaurants, gas stations, auto repair shops or hotels near approaching freeway exits. You can select one of the POIs listed and create a route to it. |
SmartDetour: When you slow down under 20% of the speed limit on a freeway, after a few seconds the Magellan software assumes you are in a traffic jam and displays the SmartDetour feature on the Map screen. Detours are calculated using the same routing method that was used to create the route. A list of alternate routes will be displayed.
Auto Re-Route: If you travel off the computed route, the Magellan RoadMate RV5365T-LMB will automatically re-calculate the routing information to get you to your original destination using the routing method you selected when creating the route.
Traffic Information
Free Lifetime Traffic Alerts: The Magellan RoadMate RV5365T-LMB offers Free Lifetime Traffic alerts. This allows the device to provide real-time traffic information with no subscription fees. The receiver uses traffic data from the Traffic Message Channel, which is part of the Radio Data System (RDS) broadcast on the FM band.
Traffic Receiver: The Magellan RoadMate's vehicle power adapter features a built-in traffic receiver. The RV5365T-LMB can receive traffic information to help avoid delays in your travel. When traffic delays are detected along your route, the unit will alert you to the estimated delay time, and provide you with detours to help you avoid traffic jams and construction zones.
Note: Traffic warnings will not work if the unit is not connected to the included power adapter or you are using a different power adapter.
Speed Warning: The Magellan RoadMate RV5365T-LMB provides visual and audible speed limit warnings for applicable roads, such as Highways, Freeways, and Interstates.
Coupons and Offers: With Free Lifetime Traffic Alerts you also get coupon alerts that apply to the POI searches you are performing. Along the top of the POI Search Results and the Map display you will see a banner that displays coupons and offers from various merchants.
Power Requirements
Rechargeable Battery: The Magellan RoadMate receiver has an internal battery that permits use of the receiver for a short time while not connected to external power. The unit has a built-in Lithium-Ion rechargeable battery that offers up to two hours of continuous use. You can recharge the unit's built-in battery with the supplied vehicle power adapter in your car. It can take up to 4 hours to fully charge the battery.
Note: The internal battery cannot be charged through a USB cable connected to a personal computer.
Auto Power: If the touchscreen has not been accessed or the current position has not changed for a defined period of time, the Magellan RoadMate can be set to power off to save battery life.
Optional AC Adapter: An optional AC power adapter (sold separately) is available from the Magellan website. The optional AC power adapter provides constant power to the navigation unit.
Computer Requirements
mini-USB Port: The Magellan RoadMate RV5365T-LMB features a mini-USB (type-B) port and comes with a 32" USB cable for connecting the navigation unit to your computer for software and map updates from the Magellan website.
Magellan Content Manager: The Magellan Content Manager is a free downloadable software application that syncs with your Magellan GPS navigator to deliver new map updates, firmware updates, and easy access to your Magellan online account. Magellan Content Manager is compatible with the following Operating Systems and web browsers:
Windows XP and Vista using the latest version of Firefox, Safari, or Chrome.
Windows 7 and 8 using Internet Explorer 9, and the latest versions of Firefox, Safari, and Chrome.
Mac OS X 10.6 or later using Snow Leopard, Lion, and Mountain Lion, using the latest version of Safari, Firefox, and Chrome.
Our Product Research Team
At Crutchfield, you'll get detailed, accurate information that's hard to find elsewhere. That's because we have our own in-house Product Research team. They verify what's in the box, check the owner's manual, and record dimensions, features and specs. We stay on top of new products and technologies to help people make informed choices.