Why Choose Crutchfield?
Deep discounts on car installation gear
We offer vehicle-specific installation instructions, dash kits, wiring harnesses, and speaker accessories at deeply discounted prices with car stereo and speaker purchases. Available for most vehicles.
Learn more
Trusted since 1974
Our customers have trusted us with their business, and they've helped us win awards for our service.
Check out our most recent awards
Factory-authorized dealer
The manufacturer's warranty always applies.
See more details
Apple TV®
Digital media receiver with Wi-Fi® and AirPlay®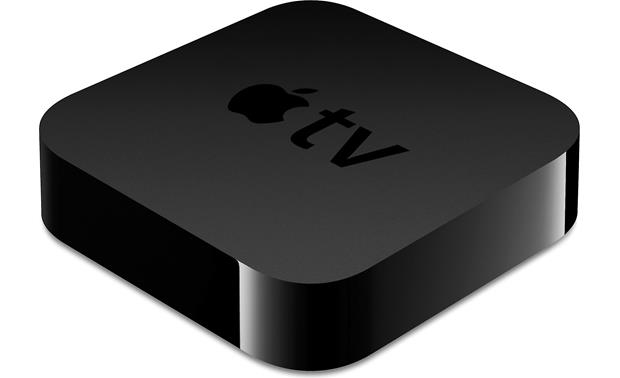 Apple TV® - Front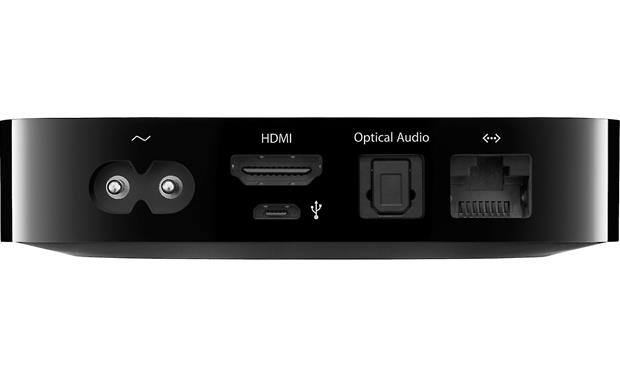 Apple TV® - Back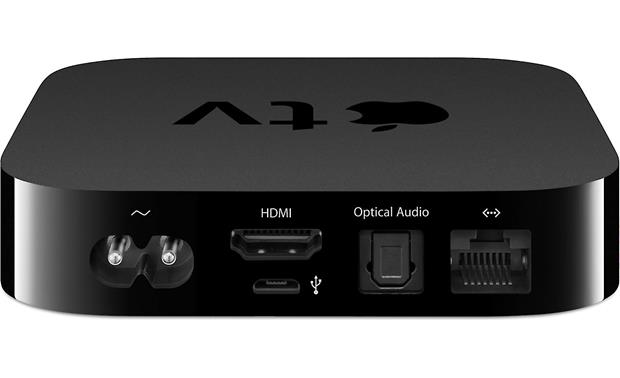 Apple TV® - Back
Crutchfield: Connecting and enjoying Apple TV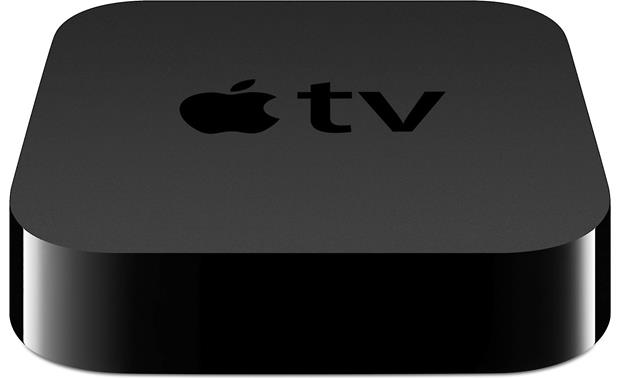 Apple TV® - Front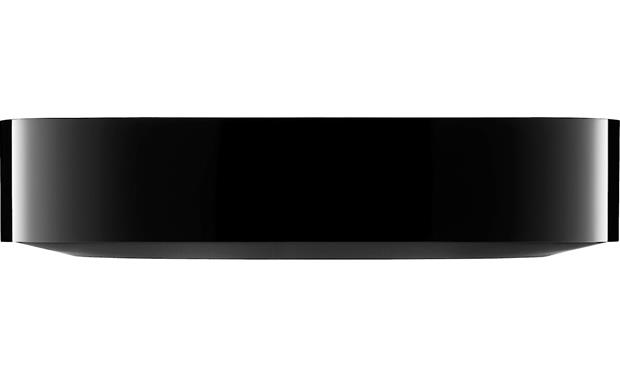 Apple TV® - Front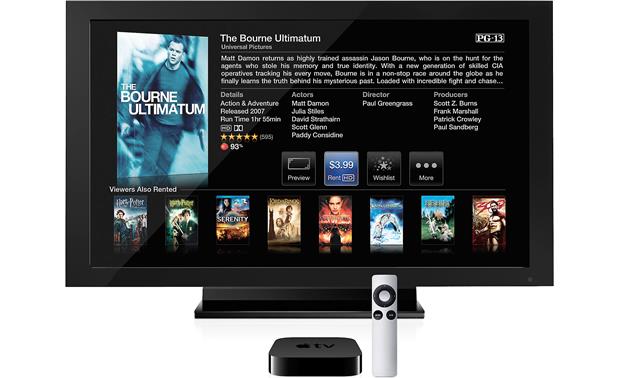 Apple TV® - iTunes movie rental display (TV not included)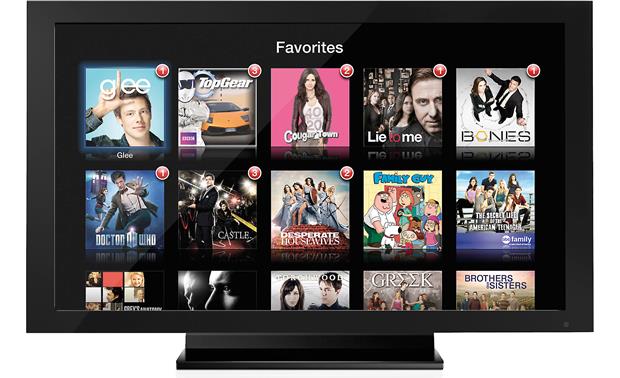 Apple TV® - iTunes TV rental display (TV not included)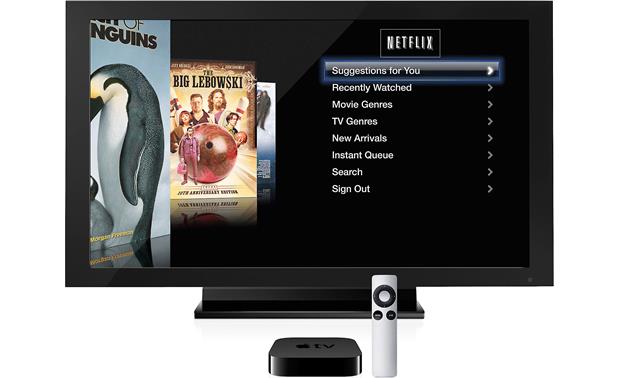 Apple TV® - Netflix display (TV not included)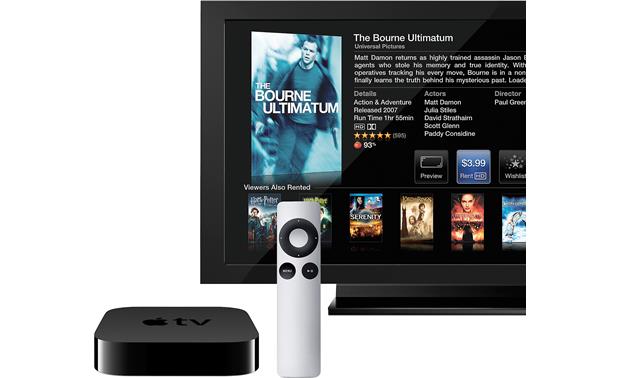 Apple TV®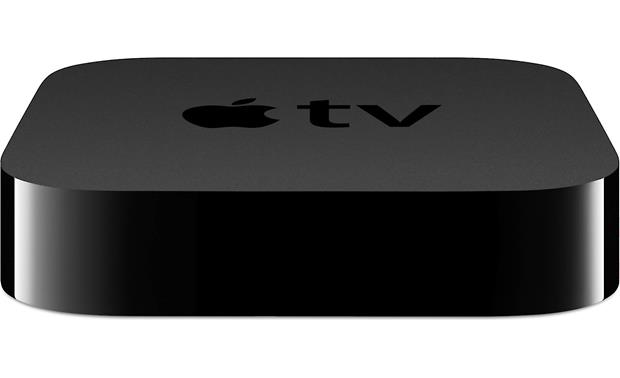 Apple TV®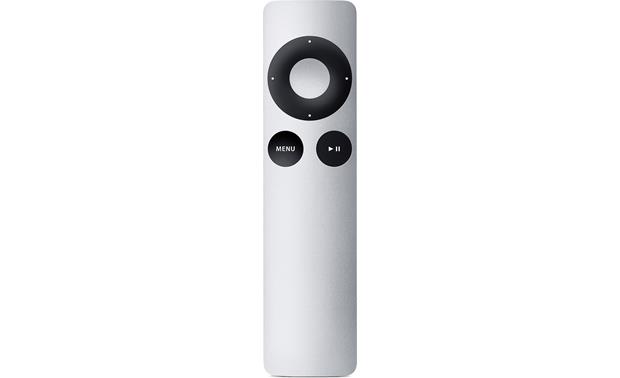 Apple TV® - Remote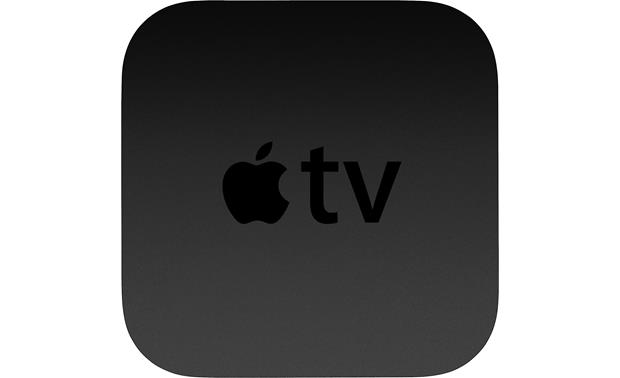 Apple TV® - Top view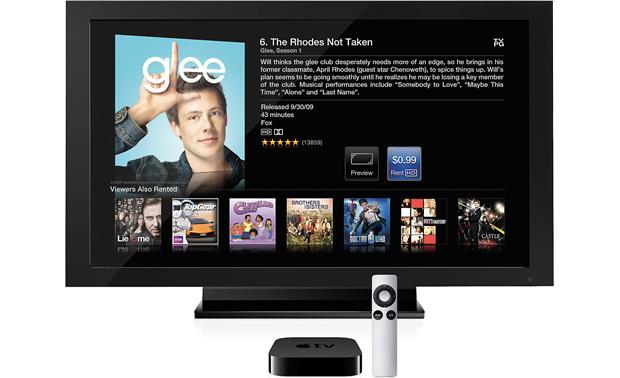 Apple TV® - TV show display (TV not included)
Item # 472APPLETV | MFR # MC572LL/A
This item is no longer available.
Overview
A world of entertainment is yours
With Apple TV, you've got an almost unlimited selection of online high-definition movies, TV shows and video to explore — and that's just the beginning. This compact digital media receiver can wirelessly play music from your computer, show photos from your iPhone®, even access your media collection stored online in the iCloud.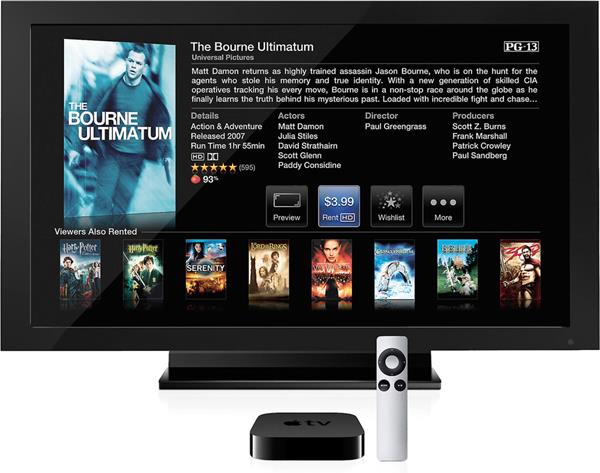 And there's more — Apple TV can stream high-definition video and audio, so you can enjoy 720p and 1080p programs the way they were meant to be seen. And with the ability to deliver Dolby® Digital 5.1 surround sound, your home theater's audio system will get a workout, too.
---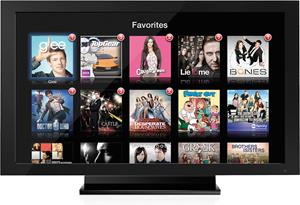 With iCloud, the sky's the limit
Apple TV links to the iCloud, where you can store your music, photos, documents and more online. And the iCloud can be accessed by any Apple device — use Apple TV to display photos you took with your iPhone, on your HDTV's big beautiful screen. Or the music you b[r]ought through iTunes, or the home movies you edited on your iPad. If it's in your iCloud, it's available via your Apple TV.
---
There's more with AirPlay®
AirPlay wireless streaming technology makes it easy to tap into your iTunes library through Apple TV. Just open iTunes on your laptop or Apple portable device, and select Apple TV in the AirPlay menu. You can control the volume remotely, and even stream the music simultaneously to additional AirPlay-compatible components.
Download Apple's free Remote app to your iPhone, iPod touch®, or iPad®, and turn it into a powerful Wi-Fi® remote that'll control the music coming from your PC.
But your computer isn't the only compatible entertainment source. You can send music or video from your iPhone, iPod touch or iPad 2. Play games on your TV using your iPhone as the controller, hearing the soundtrack through your audio system.
Play Internet radio stations through iTunes, or sound from your iPhone or iPad apps — including music services such as Pandora® and Rhapsody. It's all possible with Apple TV.
But if you have an iPad, iPad2 or iPhone 4S, you're not just limited to audio. Your device also has AirPlay Mirroring functionality. That is, your iPad or iPhone 4S can wirelessly stream what's on its screen to your TV screen through the Apple TV. Show everyone what's on your device, even when you zoom in or change from portrait to landscape.
---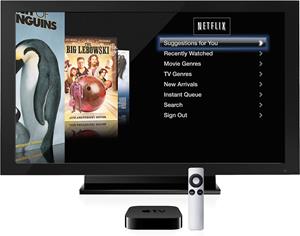 Sign up for entertainment!
Have an iTunes account? Great! You can rent or download HD movies and TV shows. If you're a Netflix subscriber, you can stream your selections straight to your HDTV through Apple TV. And you'll enjoy the same simple, intuitive interface you get with iTunes, so browsing and selecting your programs will be a breeze.
You can even keep up to date with sports. MLB.TV, NBA and NHL.TV all offer subscriptions through Apple TV so you can watch your favorite teams — sometimes live. And with Apple TV you can rewind or fast forward through recorded games, or just pause the action if you need to.
There are a host of on-demand news programs available on a subscription basis, including some produced by the Wall Street Journal.
---
Video and media library options
The Apple TV also serves up videos from YouTube®, Vimeo, Flickr, and other select sites. Still not enough? You can also enjoy your favorite audio or video podcasts. And with Home Share, you can access up to five different iTunes libraries within the same network. So if you've got photos on your iPhone you haven't put on your computer — no problem. You can search your libraries and find that photo, wherever you happened to store it.
Product Highlights:
digital media receiver
Wi-Fi enabled
Ethernet port for wired connection to a home network
Apple AirPlay enabled for streaming audio and video from networked iTunes sources
HDMI output
can output Dolby Digital 5.1 surround sound via HDMI
optical digital audio output
micro-USB input for software upgrades
AC power adapter
remote
free Remote app for iPhone or iPod touch available from iTunes App Store
3-15/16"W x 15/16"H x 3-15/16"D
warranty: 1 year
Computer requirements:
iTunes 10.2 or higher
Note: You might experience network dropouts when using AirPlay with an iPhone 4S. Apple is working to fix this software problem.
What's in the Box:
Apple TV
Remote control (with installed CR2032 3V lithium battery)
6' AC power Cord
Setup Guide
Important Product Information Guide
Apple sticker
excellent

maira c, orlando, fl
Why Shop
With Us?
10 Reasons.
Reviews
Apple TV® Reviews
Average Customer Review(s):
maira c from orlando, fl on 3/17/2012
ndncasino from Tulsa, Ok on 3/7/2012
Crutchfield Customer Review
(
What's this?
)
I don't know how I lived without this....love the airplay!

Pros: airplay, ease of use and setup, can be controlled from iPad or iPhone with an app...Very cool...

Cons: the remote is extremely small and could be lost easily if you have small children. However, there is an app that allows you to control the apple tv from your iPad or iPhone.
LeeLow from Maryville MO on 2/9/2012
Crutchfield Customer Review
(
What's this?
)
Apple TV. What can you say about Apple? They are so easy to use and set up, just like their computers. Very user friendly and the wi fi works great. Easy streaming for music, Netflix. Only complaint if you want to call it that, is it has no button to turn it off. You have to go through the menu to tell it to sleep or wait until the time alloted for it to go to sleep on its own. I believe the HD is limited to 720p, too. I think Roku has a higher definition picture available for the same money.

Pros: Very easy to set up. Apple friendly for user.

Cons: Nothing that is serious, I do wish it had a shut off switch or button instead of having to go through the menu to put it to sleep. It should have a higher defintiion picture instead of just 720p. Roku offers a 1020p for the same money.
Dorothy from Maynard, MA on 2/6/2012
Crutchfield Customer Review
(
What's this?
)
Once I finally got it plugged in to my TV and sound system correctly, it is exactly what I wanted. The only hiccup was that it took 2 trips to the local shop to get the required cables and a few calls to you folks to advise me on how to arrange the cables.

Pros: Your technical support hotline is the BEST!!! With your patient advice I now have easy access to NetFlix.

Cons: It sure would be nice if the Apple TV remote control could be integrated into my Logitech Harmony remote control device that handles my TV, Receiver and CD/DVD player. I've now got multiple remote controls again. One clicker is better than 2...
Jerry S. from Mequon, WI on 1/28/2012
Crutchfield Customer Review
(
What's this?
)
Didn't know if my otherwise higher end Onkyo receiver (connected to our TV via HDMI for surround sound) was too outdated and in need of eventual replacement in order to take advantage of iTunes, etc., since it didn't have ethernet capability (and we don't otherwise use iPods). The Apple TV now gives us wireless access to both of our PCs and gives us upgraded capability so we now use iTunes (and can also view digital pictures on our TV) for a very inexpensive investment in hardware.

Pros: System upgrade at very reasonable cost

Cons: Nothing at this point
Jim S from Columbus, OH on 1/22/2012
Crutchfield Customer Review
(
What's this?
)
Excellent device....turns your TV into an extension of iTunes and gives access to several other web-based media options

Pros: Easy setup, works great... cool remote

Cons: Some movies load slowly, would like to see an 'on/off' switch
Tom from Rochester NY on 11/29/2011
I have 3 full systems in my house. All were "on their own", OK separately but nothing linked. Wanted to go the streaming route if possible, but not give up too much audio quality. Living room has the only "full-featured" AVR, Denon 3311CI, w/Zone out to patio. Plugging ipod in via USB was only way to get decent playback for my 4,000+ Apple Lossless files. Else had to do the one-at-a-time CD load process... Basement has Denon 2808CI, no USB or Ethernet. Used Sony 370 BR for Netflix and streaming mp3, and Denon dock for iTunes (so ipod doing the DAC work). Bedroom has Denon 1610, and another Sony BR 370. Couldn't decide between going the Apple TV route, or Sonos. Both offered some advantages and disadvantages, I researched them ad nauseum. Since I had Airplay available in the Living Room already, decided to give Apple TV a trial run. Good Call! Had it up and running in the basement in a few minutes, checked out Netflix and that was a big improvement for both picture and sound, and loaded the Remote app on my ipod touch -- a few setup steps and was controlling streaming to my PC room, Living Room, and Basement with my ipod, and finally had some flexibility with my Lossless files. Going to get another one for the bedroom, and should be set for a while! Definitely recommend this, huge bang for the buck! Sonos has nice stuff, and a bit more flexible file-wise, but I couldn't justify getting 3 zoneplayers if 2 Apple TVs would get me where I wanted to be.

Pros: Easy to install, Airplay streaming Apple Lossless files, Netflix better picture and 5.1 sound for HD movies

Cons: Drank the Kool-Aid, all's good :) actually, the only small annoyance is remembering to leave itunes running on my desktop, just need to get used to that
Details
Product Research
Apple TV
Remote Control
System Requirements
Apple TV
Overview: With Apple TV, you can stream movies, music, & photos from iTunes, other online providers, and your personal iTunes account on your computer onto your TV and through your home entertainment system. Apple TV features a powerful A4 chip, so it plays everything effortlessly, without frozen screens or stutters. Videos look crisp and clear, while music sounds natural and full. Apple TV is quiet, energy efficient, and so small it fits in the palm of your hand. Which makes it perfect for sitting neatly on a TV stand or squeezing into a crowded media cabinet.
Simple Connection: Setting up Apple TV is quick & easy. Simply plug the power cord into the wall & connect the Apple TV to your widescreen TV using an HDMI cable (sold separately). The Apple TV then connects to your home network via a hardwired Ethernet connection or wirelessly via built-in WiFi.
Network Connection (Wired or Wireless): Apple TV is equipped with an Ethernet (RJ-45) port which supports a 10/100BASE-T Ethernet network. It also features built-in WiFi that supports a wireless WiFi (802.11a/b/g/n) network.
HDMI TV Connection: Apple TV is fitted with an HDMI output to connect to your TV & home entertainment system. Your television must also be fitted with an HDMI input. If you want to hook the Apple TV up to your home theater system, and your receiver does not feature an HDMI input, the Apple TV is also equipped with an optical digital audio output to run to the receiver. An HDMI cable will still need to be run to your TV, in this case.
Note: Ethernet cable & HDMI cable not supplied. The Apple TV does not offer any analog video or audio outputs.
iCloud: iCloud stores your TV shows, your music, your photos, and more & pushes them wirelessly to all your Apple iOS devices. So you can buy your favorite TV show from the Apple TV, and also have it available to watch on your iPad, iPhone, iPod touch, Mac, or PC. iCloud is the easiest way to get instant access to your content; no matter which device you're using.
Note: iCloud requires iOS 5 on iPhone (3GS or later), iPod touch (3rd/4th gen), iPad/iPad 2; a Mac computer (with OS X Lion); or a PC (with Windows Vista or Windows 7). Some features require a Wi-Fi connection. Access to some services is limited to 10 devices.
iTunes Match: If you're an iTunes Match subscriber, you can access your entire music collection from iCloud; including songs you've imported from CDs or bought somewhere other than iTunes - right from the Apple TV. Play them on the Apple TV or any iPhone, iPad, iPod touch, or computer for just $24.99 a year. iTunes Match has an amazing scan-&-match feature; all the songs in your iTunes library are scanned and then matched with those available on the iTunes Store. Matched songs are instantly added to your iCloud library with no uploading needed. Any remaining songs are automatically uploaded from your computer to iCloud.
Photo Stream: With Photo Stream in iCloud, your last 1,000 photos automatically appear on all your Apple iOS devices, including the Apple TV. No matter which device you used to take the picture. There is no syncing or sending required. Your photos are just there on your Apple TV connected HDTV.
AirPlay: AirPlay lets you stream music wirelessly right from your iPhone, iPad, or iPod touch to your home entertainment system & HDTV via Apple TV. So if you feel like watching a movie you have on one of your Apple iOS devices, you don't need to rent or buy it again. You can also stream a home video you just recorded or videos from websites & AirPlay-enabled apps. Simply tap to start playing content on your iPhone, iPad, or iPod touch, then tap again to instantly stream whatever you're watching or listening to directly to the Apple TV. And now with AirPlay Mirroring, you can wirelessly & securely stream what's on your iPad 2 or iPhone to your HDTV, via the Apple TV. So you can show off just about anything you can do on your iPad or iPhone for the whole room to see.
Note: AirPlay is available on all Apple iOS devices running iOS 4.2 or later.
Home Sharing: Apple TV lets you access your iTunes account on your Windows PC or Mac, so you can watch & listen to content saved in your iTunes library on your computer from your connected television & home entertainment system.
Supported Formats
Video

H.264 video up to 720p, 30 fps, Main Profile level 3.1 with AAC-LC audio up to 160 Kbps per channel, 48kHz, stereo audio in .m4v, .mp4, and .mov file formats
MPEG-4 video up to 2.5 Mbps, 640 by 480 pixels, 30 fps, Simple Profile with AAC-LC audio up to 160 Kbps, 48kHz, stereo audio in .m4v, .mp4, and .mov file format
Motion JPEG (M-JPEG) up to 35 Mbps, 1280 by 720 pixels, 30 fps, audio in ulaw, PCM stereo audio in .avi file formats

Music

HE-AAC (V1), AAC (16 to 320 Kbps), protected AAC (from iTunes Store), MP3 (16 to 320 Kbps), MP3 VBR, Audible (formats 2, 3, and 4), Apple Lossless, AIFF, and WAV; Dolby Digital 5.1 surround sound pass-through

Photo
JPEG, GIF, TIFF
Hollywood Movies: With Apple TV, you get instant access to the hottest Hollywood titles & new releases - often the same day they come out on DVD. Popular movies are never out of stock, and you can rent as many as you want. That's perfect for those spontaneous movie nights (or afternoons or mornings). Search by top movies, title, or genre. Even read a quick movie review, watch the trailer, and check out the latest ratings from Rotten Tomatoes. Once you find what you're looking for, simply press Play, and in seconds, you're watching the opening credits with theater-like Dolby Digital 5.1 surround sound (when available). SD rentals start at just $2.99, & HD rentals start at $3.99. You have 30 days to start watching, and once you begin, you can watch as many times as you want in 24 hours.
iTunes Movie Rentals & Purchases
Movie Type
Resolution
Audio
Price
HD Movie
1280 x 720 (maximum)
up to Dolby Digital 5.1 surround sound (not all titles)
New releases - $4.99
Library titles - $3.99
SD Movie
720 x 480 (maximum)
up to Dolby Digital 5.1 surround sound (not all titles)
New releases - $3.99
Library titles - $2.99
Note: Dolby Digital 5.1 surround sound is not available with all HD rentals
TV Shows: Buy your favorite TV shows and watch them without commercial interruption for just $1.99 in SD or $2.99 in HD. And you can download them later to your iPad, iPhone, iPod touch, or computer at no additional cost. It works the other way around, too. Buy an episode on any of your devices, and it automatically shows up in your list of previously purchased items, so you can watch it via Apple TV. Watch a show the day after it airs, or camp out on your couch and catch up on past seasons with a marathon of back-to-back-to-back episodes. And Apple TV keeps track of your favorite shows; so the next time you turn on your TV, you can quickly see which season you're watching & which episodes are new.
iTunes TV Show Rentals & Purchases
Movie Type
Resolution
Audio
Price
HD Movie
1280 x 720 (maximum)
up to Dolby Digital 5.1 surround sound (not all titles)
$2.99
SD Movie
720 x 480 (maximum)
up to Dolby Digital 5.1 surround sound (not all titles)
$1.99
Note: A sustained 6-Mbit/s or faster Internet connection is recommended for viewing high-definition movies and TV shows, and a sustained 2.5-Mbit/s or faster Internet connection is recommended for standard-definition content. Internet connection speeds may vary depending on your ISP and other factors
Netflix: Apple TV lets you access your Netflix account directly from your HDTV (without the need for a computer). From classics to recent Hollywood favorites, Netflix on Apple TV lets you watch even more movies & TV shows in HD and with Dolby Digital 5.1 surround sound (when available). Apple TV organizes Netflix's huge catalog of streaming titles so you can find what you want with just a few clicks. When you find something you like, watch it right away or add it to your instant-watch queue.
Note: Available to Netflix subscribers in the U.S. & Canada.
YouTube: Apple TV lets you watch all those funny, fascinating, or weird videos you come across on YouTube on your connected TV.
Flickr: Apple TV lets you access Flickr & browse your photos and your friends/family photos on your connected TV.
Podcasts: Apple TV give you the ability to watch the latest & top Podcasts on your connected television.
Internet Radio: Apple TV gives you the ability to listen to Internet radio through your connected home entertainment system. You can select from specific categories/genres and listen to music from around the world.
Live Sports: Apple TV lets you watch NHL, NBA, & MLB games live and in HD; right from your living room. With a subscription, you can choose the home or away broadcast, pause to take a break from the action, fast-forward to catch up, or rewind to see that play again. You can also replay any regular season game you missed on-demand from the archives. Without a subscription, you can still get team schedules, real-time scores, standings, and stats.
Note: MLB.TV & NBA.com League Pass Broadband subscription required to watch live and archived games.
News: Stay current on late-breaking business, international, and financial news with the Wall Street Journal Live from Apple TV. Hear expert insight on the market and the economy and how they affect your finances and investments. Don't have a lot of time? Watch summaries of leading & breaking news stories; close to home and across the globe, 24 hours a day.
Remote Control
IR Remote: The Apple TV comes with a sleek, aluminum IR remote. The remote lets you navigate through the simple, intuitive Apple TV menu. You can choose from Movies, TV Shows, Music, Podcasts, Photos, Internet, & Settings menus with a just a click.
Remote App Control: The free Apple Remote App from itunes turns your iPhone, iPad, or iPod touch into a remote control. So wherever you are in your house, you can control your computer's iTunes library & the Apple TV with a tap or flick of your finger. The Remote app has been fully optimized to take advantage of the large screen the iPad, as well as the Retina display of the iPhone 4 & iPod touch. The Remote app features the same interface you already use to browse video on your iPhone, iPad, or iPod touch. So right away, you know how to navigate the movies & TV shows from your iTunes library. Use gestures to rent new movies, buy TV shows, flick through Netflix titles, & browse the latest YouTube video sensations. Just tap to play, pause, fast forward, or rewind.
Note: The Remote app is compatible with iPhone, iPod touch, & iPad running iOS 3.1.2 or later. Visit Remote by Apple for more information.
Sleep Timer: You can the Apple TV to automatically shut-off after 15 min, 30 min, 60 min, 5 hours, 10 hours, or never.
System Requirements
TV Compatibility: Apple TV is compatible with any high-definition TV with an HDMI input that is capable of 720p 60/50Hz; including popular models from these manufacturers - Hitachi, JVC, LG, Mitsubishi, NEC, Panasonic, Philips, Pioneer, Samsung, Sony, Sharp, Toshiba, & Vizio.
Computer Compatibility: Your computer must have one of the following Mac or Windows operating systems -
Mac: Mac OS X version 10.5.8 or later;
Windows: Windows 7; Windows Vista; Windows XP Home or Professional with Service Pack 3 or later
Note: Your computer must be running iTunes 10.2 or later.
Firmware/Software Updates: Occasionally, Apple may release updated firmware/software for Apple TV that may add or improve the way a feature operates. These updates are available free of charge. Apple TV is capable of checking & downloading firmware/software updates when connected to the Internet via Ethernet or WiFi.
Note: The tested Apple TV contained firmware/software version 4.3 (2557). Visit Apple Support for the latest firmware/software updates.
Our Product Research Team
At Crutchfield, you'll get detailed, accurate information that's hard to find elsewhere. That's because we have our own in-house Product Research team. They verify what's in the box, check the owner's manual, and record dimensions, features and specs. We stay on top of new products and technologies to help people make informed choices.