PetSafe YardMax® In-Ground Fence
Wireless pet fence
Item # 4810011115 | MFR # PIG00-11115
In Stock

Our VirginiaVA-based experts can help.
Overview
Our take on the PetSafe YardMax® In-Ground Fence by Crutchfield's Eric Angevine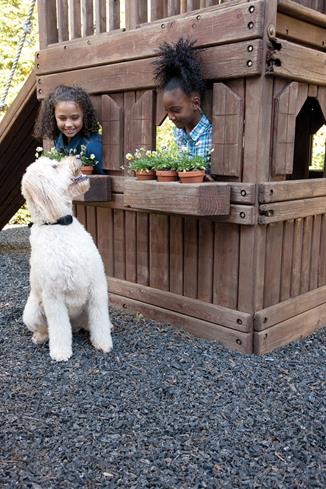 Keep your pet safe and at home with the YardMax In-Ground Fence.
An invisible barrier to keep your dog from roaming
Building a physical fence to keep your dog contained can be expensive and, in some locations, impractical. The PetSafe YardMax In-Ground Fence lets you enjoy all of your property, and it keeps dogs from getting lost or wandering into traffic.
Just bury the included wire — laid out in whatever configuration you desire — to establish a perimeter for your pooch. Attach the included wireless device to your dog's collar, and he'll get a warning beep, followed by progressively increasing levels of static correction, any time he approaches the invisible boundary. The included flags give him a helpful visual cue as he learns where he can and can't go.
Keep your pups safe and sound
The YardMax comes with one receiver collar, but you can add as many as you need — each one will respond to the wire barrier the same way. When your pet nears the boundary, the collar will give a warning beep, followed by a static correction to remind your pet to stay inside the safe zone.
If she continues past the wire, she'll receive progressively stronger corrections from the collar until returning inside the perimeter, or until the safety time-out activates after 15 seconds. Before long, she'll know exactly where the no-go zone is, and she won't test it.
Part of a whole-home containment system
The collar receiver works with other PetSafe containment systems. Place a rock-shaped Outdoor Pet Barrier near the garbage cans or flower beds to establish additional no-go zones inside the perimeter. A Threshold Barrier can make specific rooms inside the house off-limits.
Product Highlights:
establish an invisible boundary to keep dogs close to home
customize the size and shape of the perimeter to suit your needs
correction steps up progressively until your dog returns inside the perimeter
automatic safety shut-off limits static correction to a 15 second burst
expandable up to 10 acres with additional wire (not included)
Collar Receiver:
durable and waterproof
fits neck sizes 6-28"
for dogs 5 lbs. and over
compatible with PetSafe Pawz Away products
warns your pet with an audible beep before administering static correction
powered by built-in rechargable battery
Included Accessories:
transmitter with mounting hardware and power adapter
surge protector
collar receiver charger
interchangeable short and long contact points
500 feet of 20-gauge boundary wire
50 training flags
installation hardware and testing tools
warranty: 1 year
Why Shop
With Us?
10 Reasons.
Q & A
Customer Q&A
2 questions already asked
If you purchased the product from Crutchfield, feel free to contact our Tech Support team. They can walk you through the settings on the product and see if there may be a fix. Our toll-free Tech Support number is printed on your invoice, and is also available under the "My Orders" tab in the "My Account" section of our website. If you did not purchase the unit from Crutchfield, then you may want to contact the manufacturer, or try our online support center: http://crutchfield.custhelp.com/app/answers/list/kw/. [ Krissy Oct 16, 2017 ]

Staff