Why Choose Crutchfield?
Deep discounts on car installation gear
We offer vehicle-specific installation instructions, dash kits, wiring harnesses, and speaker accessories at deeply discounted prices with car stereo and speaker purchases. Available for most vehicles.
Learn more
Trusted since 1974
Our customers have trusted us with their business, and they've helped us win awards for our service.
Check out our most recent awards
Factory-authorized dealer
The manufacturer's warranty always applies.
See more details
Rockford Fosgate Power T10001bd
Mono subwoofer amp
500 watts RMS x 1 (New Stock)
Item # 575T1001BD | MFR # T10001bd
This item is no longer available.
Overview
Our take on the Rockford Fosgate Power T10001bd by Crutchfield's Tim Sprinkle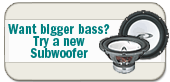 Massive, thundering Rockford Fosgate Power series amps — with their fine-tuned audio controls, extreme durability, and proprietary technologies (like TRANS-ana circuitry for ultra-clean signal transfer and MEHSA for cool-running power) — are capable of stronger, more reliable performance than most other amplifiers on the market.
If you're looking for a dedicated, bass-driving machine, say hello to the Power T10001bd! Equipped with Class bd technology (Rockford Fosgate's patented subwoofer amp design), this beast produces an amazing 75% efficiency rating with a highly stable output. Even under heavy loads, it will maintain steady power flow and a safe operating temperature, saving your music from clipping and distortion. The Power T10001bd operates safely at 1-ohm impedance, punching out an impressive 1,000 watts!
The variable low-pass filter with near-vertical 24 dB per octave slope lets you decide exactly which frequencies to send to your subs. Trigger a bass blast (up to 18 dB, variable from 35-70 Hz) with the dash-mountable remote. The Class bd design allows Rockford Fosgate to design this amp with a smaller footprint, giving you more installation options than you'll usually find in high-powered amps.
Product Highlights:
500 watts RMS x 1 at 4 ohms (750 watts RMS x 1 at 2 ohms)
1000 watts RMS x 1 at 1 ohm (1-ohm stable)
frequency response 20-250 Hz
Class bd technology
requires 1/0-gauge power and ground leads — wiring and hardware not included with amplifier
variable low-pass filter (32-250 Hz, 24 dB/octave)
Para-Punch bass EQ (0-18 dB with variable center frequency between 35-70 Hz) with wired remote control
MOSFET power supplies and outputs
MEHSA mounting technology increases the heat transfer from the MOSFET output devices to the heat sink, for higher power output, lower operating temperatures, and greater reliability.
TOPAZ noise-killing differential inputs eliminate 80% of ground loop noise between the head unit and the amp.
TRANS-ana circuitry keeps preamp signal clean
NOMAD advanced protection circuitry monitors temperature, voltage, current and impedence, and provides "intelligent" shut-down protection without limiting system performance.
fan cooled
preamp outputs for easy connection to a second amplifier
bd Sync terminal for connection to a second bd amplifier, to drive a common load
fuse rating: 150A x 1
dimensions: 17-15/16"W x 2-11/16"H x 12-3/4"D
warranty: 2 years
What's in the Box:
Mono-block amplifier with removable terminal/control cover (attached by 2 Allen-head bolts)
150-amp ANL fuse (installed)
4.5mm Allen wrench
4 Self-tapping screws (3/4" length)
2 Terminal reducers (for power and ground wires)
Para-Punch Remote Bass Module
Module mounting clip
2 Self-tapping screws for mounting module (length 7/16")
16.25' Remote Bass Module cable (with male RJ-45 phone plugs on each end)
Performance Verification Certificate
Installation & Operation Manual (English/French/Spanish/German/Italian)
Great amp

Jason, Spokane wa
Why Shop
With Us?
10 Reasons.
Reviews
Rockford Fosgate Power T10001bd Reviews
Average Customer Review(s):
Rockford Fosgate Power T10001bd
Jason from Spokane wa on 11/22/2016
Matt from Nashua, NH on 8/15/2005
Crutchfield Customer Review
(
What's this?
)
I have 2 jl 12w6 v2's<BR>and until a little while ago i had them connected to 2 alpine mrd-m500s (each rated at about 600 watts).<BR>While i absolutely love the tuning options with the alpine amps the power just wasn't there. I put in the rockford and with the gain turned all the way down it was almost as loud as my 2 alpines (though admittedly i was kind of easy on those amps)<BR>I only gave this amp 4 stars because the tuning options i had with my alpines just weren't there (don't need them anymore as i have an alpine pxa-h701 processor now)<BR>But i really liked being able to move the crossovers around to find the sound and balance i was looking for.<BR>If that's not an issue for you I would highly recommend this amp the only other issue i have (almost certainly my fault)is that i have this mounted to the back of the sub box and the amp chasis rattles even if you take the cover off of the amp.(the trunk is all metal and the sub box pulls the carpeting off) all in all i'm really happy with this amp it pounds its easy to set up and i look forward to turning the gain up a little higher and really punishing those subs.<BR><BR>To the guy who didn't like it. why would you get a 1ohm stable 6-8 hundred dollar sub amp and run it at 4ohms? That's just a waste of money.

Pros:

Cons:
Joe from Kansas City, MO on 8/8/2005
Crutchfield Customer Review
(
What's this?
)
I have this amp connected to an old RF 15" DVC sub rated at 250 watts RMS per coil. i wired it to 2 ohms and this amp works my old beat up sub like no other! i must keep the gain at 1/4 the full power, otherwise my car will rattle apart. i only have 4 gauge wiring to this amp and i havent experienced a problem with it yet. it hasnt ever ran thermal protection yet, much less any protection, which was a big problem with another RF amp i had last used.<BR>overall, amazing quality with room for my low-end system to grow! i plan on buying the 15" RF power stage 2 sub in replacement for the old sub.<BR>BUY THIS AMP!

Pros:

Cons:
Rockford Fosgate Power T10001bd
juol73004 from Riverside,Cali on 7/31/2005
This amp is no joke! It pushes hard all day long. I,m running 2 10" Power HX2's and it just shakes every thing. I'm Getting another one sometime soon. Its well worth the Price.

Pros:

Cons:
Sorry guys....just keepin it real
ebeach from Ewa Beach, HI on 6/28/2005
I just got this amp last week, and I'm just amazed at how soft it hits. I have 2 12" crossfire db3's. They're rated at 250W each. I got'em wired up for 8ohms each, in parallel. This amp is supposed to put out 500W x 4 ohms. I swear...my swap meet Lanzar 500 works my 12's harder than this RF amp. I ran 2awg wires for the RF amp. I'm using the same remote wire and RCA jacks that I used for the Lanzar amp but I don't think that should make a difference. I'm taking the amp out of my car today, and I plan to send it back some time this week. Hopefully you guys have better luck than I did with this amp.

Pros:

Cons:
Rockford Fosgate Power T10001bd
AudioWizard from Humboldt, IA on 3/19/2005
This is a very good amp. I work at a car audio shop and have experience with this amplifier. It can produce enough power for 2 Stage 2 RF 12" 4ohm Subs. Nice Amp!

Pros:

Cons:
Details
Product Research
Features
Inputs and Outputs Notes
Specifications Notes
Class BD Design: The Rockford Fosgate Power Series T10001bd is a Class BD design amp. Class BD gives you the super-efficient design of a Class D amp with the clarity and sound quality of a Class B amp. Rockford's patent-pending technology is called STARDUST, which is an acronym for Single-Terminal Alternating Rail Dual-Sampling Topology. The power supply of this Power bd amplifier is designed to be more than 75% efficient at all power levels. (Most Class AB amps are between 20% to 60% efficient.)
1-Ohm Stable: This amplifier is capable of accepting a speaker load down to 1-ohm or more. This allows you to obtain maximum power for multiple speaker configurations.
3-Stage Convection Cooling: The amp is cooled by a 3-stage thermal design that consists of a 3-speed variable fan, an integrated PCB plenum, and focused mass heat distribution utilizing a highly efficient cast aluminum heatsink. This superior design keeps the amp's internal components cool, maximizes the amp's potential, reduces distortion, and increases efficiency.
TOPAZ: TOPAZ, an acronym for Tracking Operation Pre-Amplifier Zone, is a patented circuit that eliminates ground loops by referencing signal ground from the first component in the chain (usually the source unit). About 80% of noise problems are created by ground loops. Eliminating ground loops results in a 30-40dB improvement of the isolation between input ground and chassis ground.
NOMAD: The amplifier utilizes an intelligent protection circuit called NOMAD (NOn-Multiplying Advanced Decision), which uses an analog computer to make real-time decisions regarding temperature, voltage, current, and impedance. The result is an amplifier with "intelligent" protection that will protect itself, but will not limit the performance of the amp.
DSM (Discrete Surface Mount): In the manufacturing process high speed robotics are used to place 0% tolerance resistors and large board traces providing greater reliability and efficiency.
Stealth Controls/Connections: All of the amplifier's connections and controls are located on the front panel. The cover conceals the wires for an ultra-clean installation, and is easily removable to give you access to the controls.
Built-in ANL Fuse: A 150-amp ANL fuse comes installed in the top panel of the amp under the removable cover. The fuse is easily accessible in case of failure.
Internal Crossover: The built-in 24dB/octave Butterworth low-pass filter features a variable crossover point from 32Hz to 250Hz. This crossover is always engaged; it cannot be turned off.
Infrasonic Filter: The infrasonic (or subsonic) filter is a 12dB/octave high-pass filter designed to prevent frequencies below 28 Hz from being applied to the subwoofer from the amplifier. When activated, the infrasonic filter eliminates super-low frequencies that are potentially damaging to the subwoofer and require tremendous amplifier power to reproduce. Consequently, the filter improves performance and power handling, especially with vented enclosures.
bd Sync: This amplifier has a 6-pin mini-DIN "bd Sync" connector on the front panel which allows you to link it with another bd amplifier for twice the power output. The two amps will need to be connected together with a bd Sync cable to allow the two independent frequency carrier generators in each unit to be synchronized. When driving a common load with two linked bd amplifiers, you will need to use the Phase Switch to phase one amplifier 180° from the other.
Mode Switch: The Power T10001bd can be configured to operate as a single amplifier, or connected to a series of other bd amplifiers in a daisy-chain. The 3-way Mode Switch lets you choose one of the following mode settings:
Single: the amplifier is being used as a single stand-alone unit
Master: the amplifier is the first amplifier in a series of amps, each driving its own load; the gain, crossover, infrasonic filter, and bass boost settings for this amp apply to all subsequent amps in the chain
Slave: the amplifier is daisy-chained to a Master amp, and uses the Master amp's settings
Para-Punch Remote Bass Module: The Para-Punch Remote Bass dual-control module helps overcome road noise and correct for acoustical deficiencies in the listening environment. The Para-Punch Bass control has a narrow band adjustment, variable from 0dB to +18dB with a Gyrator-based Punch EQ that eliminates frequency shift with boost. The other control is used for adjusting the center frequency, variable from 35Hz to 70Hz. Using the supplied mounting bracket, the module can be mounted in any convenient location under your vehicle's dash. You can also remove the cover and flush-mount the module in a 2" wide x 7/8" high cutout in the dash. With the cover, the remote bass module is 2.285" wide, 1.211" tall and 1.507" deep (1.99" including knobs).
LED Indicators: Three LEDs are located on the top panel of the amplifier to indicate the following:
Power: glows blue when the unit is turned on
Thermal: glows red if the amplifier reaches the third stage of thermal protection; the amp will shut down to cool when this occurs
Protect: glows yellow if a short circuit or too low of an impedance is detected at the speaker connections; the amp will automatically shut down if this occurs
Power/Ground Terminals: The Power T10001bd features heavy-duty platinum-plated power and ground set-screw connectors that will accommodate up to 1/0-gauge bare wire. The connectors are angled downward to make it easier to conceal the wires under the removable cover. Wire reducers are supplied to allow you to securely install 4-gauge wire if necessary. A Phillips-head screwdriver (not supplied) is required to tighten/loosen the set screws.
Remote Turn-On Terminal: The amp provides a platinum-plated remote turn-on set-screw terminal for up to 12-gauge bare wire. A small Phillips-head screwdriver is required to tighten/loosen the set screw.
Speaker Terminals: The heavy-duty, nickel-plated Captive C-clamp wire connectors can accept bare wire sizes from 8-gauge to 18-gauge. Terminals are provided for two speakers (A + B). Both sets of terminals output a mono signal, and are internally wired in parallel. A Phillips-head or slotted screwdriver is required to tighten/loosen the terminals.
RCA Pass-Thru Jacks: The pass-thru jacks provide a convenient source for daisy-chaining an additional amplifier without running an extra set of RCA cables from the front of the vehicle to the amplifier location. The pass-thru jacks are not affected by the low-pass or infrasonic filters.
Remote Bass: A female RJ-45 phone jack is provided for connecting the cable for the supplied Para-Punch Remote Bass module.
bd Sync: A female 6-pin mini-DIN jack is provided for connecting this amp to another bd-series amp to drive a common load. This jack allows you to synchronize the frequency carrier generators of the two amps.
CEA-2006 Compliant: The specifications given by Rockford Fosgate for the Power T10001bd amplifier comply with the new CEA-2006 Amplifier Power Standard from the CEA (Consumer Electronics Association). All manufacturers who comply with the standard can display the CEA-2006 logo on their product.
Performance Verification Certificate: Each amplifier comes with a Performance Verification Certificate which lists the results of a 10-point performance inspection and lists the amplifier's measured power output. The measured power output typically exceeds the amp's rated power.
Rated Power Specifications (at 14.4 volts):
Total Power at 4 ohms: 500 watts
Total Power at 2 ohms: 750 watts
Total Power at 1 ohm: 1000 watts
Our Product Research Team
At Crutchfield, you'll get detailed, accurate information that's hard to find elsewhere. That's because we have our own in-house Product Research team. They verify what's in the box, check the owner's manual, and record dimensions, features and specs. We stay on top of new products and technologies to help people make informed choices.