Belkin Wemo Smart Light Switches
2-pack of Wi-Fi®-enabled smart light switches
Item # 599C030BDL | MFR # F7030-BDL
In Stock
Was: $94.99
Instant savings: -$20.00 Instant savings ends 1/19

Our VirginiaVA-based experts can help.
Overview
Our take on the Belkin Wemo Smart Light Switches by Crutchfield's Eric Angevine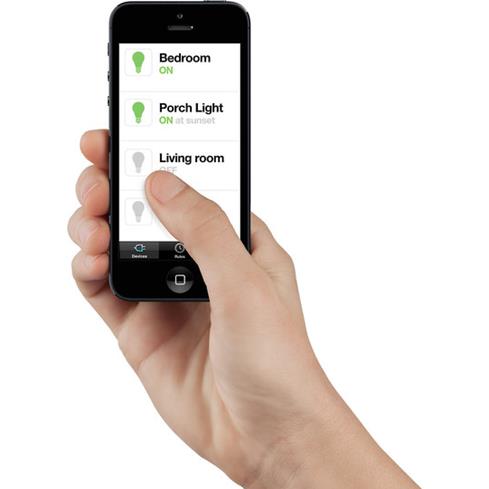 The free Wemo app gives you direct remote control over every Wemo device in your home.
Control your lights with the tap of an app
Can't remember if you turned off the lights before you left for work? You don't have to worry. This 2-pack of Wi-Fi® enabled Wemo Light Switches lets you turn lights on and off remotely via a compatible smartphone or tablet if you aren't around to physically flip the switch.
Just download the free Wemo app, and you have a light switch in your pocket. You can even use voice control via Amazon Alexa or Google Home to make lighting control easier when you are at home.
The Wemo app offers detailed control
The Wemo app is a free download that allows you to set up specific instructions for any appliances you've connected to your Wemo system. You can set a rule that turns a light on when motion is detected, but restrict that rule to the evening hours, so you don't have to feel around for a light switch when returning home after dark.
You can also set vacation timers that turn switches on and off according to any schedule you choose. The app gives you flexible remote control over any devices you connect to a Wemo product. And the system is modular — you can add more switches to control devices in different areas of your home.
Product Highlights:
set of two Belkin Wemo® smart light switches
allows you to turn lights on and off from anywhere via Wi-Fi®
can be controlled remotely with Apple® or Android™ smartphone or tablet
free Wemo app allows you to schedule and control lights from a remote location
compatible with Amazon Echo (Alexa) and Google Home voice control
designed for DIY installation

included faceplate seamlessly clicks onto the wall and hides the screws underneath
replaces a single-pole switch
compatible with existing rocker-style (non-metal) faceplates

switch features subtle backlighting, making it easy to find in the dark
compatible with other Belkin Wemo products
retains programming and correct time and date during power outages
warranty: 1 year
Why Shop
With Us?
10 Reasons.
---
Details
Product Research
Features
Package Overview: This Wemo Wi-Fi Smart Light Switch bundle contains two light switches (F7C030), each with decorative covers, screws, and wire nuts.
Wemo Light Switch: The Wi-Fi-enabled Wemo Light Switch from Belkin, along with the Wemo App for your Apple iOS or Android mobile device allows you to turn your lights On and Off from inside or outside your home using your Apple iOS or Android device. It works with your existing Wi-Fi network and anywhere your smartphone or tablet has an Internet connection (3G or 4G LTE). In addition to app control, the Wemo Light Switch lets you manually turn the switch On or Off by simply tapping it; subtle backlighting makes it easy to find in the dark.
Note: The Wemo Light Switch does not have a dimmer function. The Wemo Light Switch is either On or Off.
Wemo Collection: The Wemo Light Switch is part of Belkin's Wemo home automation system. The Wemo collection of products are designed to work together via the free Wemo App so that you control and monitor as much or as little of your home as you like. You can easily add additional Wemo products including Smart LED Bulbs, Wemo Switch + Motion Kit, Wemo Insight Switch, or more Wemo Light Switches (all sold separately) at any time to any room to control and monitor multiple devices or appliances. The number of Wemo products you can control depends on the number of wireless devices your wireless router can support.
Network Requirements: Wemo operates via your home's wireless network over Wi-Fi and is compatible with 802.11 b/g/n, 2.4GHz wireless networks. It also supports WPA, WPA2, and WEP securities. The wireless range of the Wemo home automation system will be dependent on your home's wireless network, but can reach up to 300'. The Wemo system can be controlled inside or outside of the home.
Inside The Home: Wemo uses your home network to create its own "Wemo network". Using the free Wemo app on your Apple iOS/Android device, you can control your Wemo system from anywhere in your home. You can easily control multiple Wemo units from one device or different mobile devices running the Wemo app.
Outside The Home: Remote Access is automatically enabled when you set up system Wemo system, as long as the network you are using has an Internet connection. With remote access enabled, you can control the Wemos system from anywhere your iOS or Android device has an Internet connection. This includes other Wi-Fi networks or your 3G/4G mobile connection. When the Wemo App is launched outside your home, the App contacts the Belkin cloud, the cloud redirects the phone's request to the appropriate Wemo unit(s), and then you can see and control all of your Wemo devices.
Note: Internet connection issues will not affect rules & schedules that are stored on the Wemo; it will only affect remote access from your smartphone or tablet. Meaning, the rules & schedules that you have set up will still function in your local network. However, if your home's wireless network is down, the Wemo's preconfigured rules & schedules will not function.
DIY Installation: The Wemo Light Switch was designed for DIY installation. Click here to watch an installation video for detailed steps, including how to check your existing switch to make sure it has a neutral wire. The included faceplate seamlessly clicks onto the wall and hides the screws underneath. If you don't want to install it yourself, a certified electrician and professional Wemo installer can connect the Wemo Light Switch for you. Click here to find a certified electrician in your area.
Note: The Wemo Light Switch has an electrical requirement of maximum 600W Incandescent or 1800W Resistive at 120 V AC (Neutral wire required). Please note that the Wemo Light Switch is not compatible with lights controlled by more than one switch or with metal face plates. Metal face plates interfere with Wi-Fi signals and will not allow this product to work correctly in your home.
Wemo App (for Apple iOS & Android): Download the free Wemo App (from the Apple App Store or Google Play) onto your Apple iOS (6.0+) or Android (4.0+) device to setup the Wemo Light Switch and control your connected lights. The app also allows you to schedule tasks as simple as turning lights on after dark or before your kids come home from after-school activities, or turning specific lights off every day to reduce power consumption. More complex tasks feature turning light on and off at different times on different days. Customized schedules can be easily adjusted using the Wemo app, even when you are away from home. The Wemo App and system supports up to six mobile devices on the same local network.
Management: You are able to view all of your Wemo device and manage them from the Wemo app on your smartphone or tablet device. Once you have selected a Wemo device, you can manually turn it On or Off.
Rules & Schedules: The Wemo app allows you to create and manage Rules & Schedules for your Wemo products. There are a variety of different types of Rules & Schedules to choose from.

Turn Off/Off: You can select a particular time for a Wemo Lights to turn On or Off. For example, set your bedroom lights to turn On at 5am every morning with your alarm clock.
Turn On Until: This allows you to turn your Wemo Light Switches On and Off according to your schedule. For example, you can set your living room lights to be on from 5pm to 10pm.
Sunrise/Sunset: Not only can you program your lights to turn on or off at specified times, you can also set them to respond to the sun. Simply enter your city name in the Wemo App and then program your porch lights to turn on at sunset and off at sunrise. The sunset and sunrise times update every day, so whatever the season, your lights will come on when you want them to. You can also combine sun and time rules; for example, you can program your lights to turn on at sunset and off at 11pm every day. The Wemo App automatically adjusts for daylight savings
Away Mode: Away Mode turns your Wemo Light Switches On and Off at different times to appear as if you are at home. We Wemo devices will turn On and Off randomly, staying on at least 30 minutes each time, for the duration of the rule.
Note: If you want to set up another Wemo automation system in a second home with remote access, you will need to set it up with a different mobile device aside from the one you used to set up the Wemo system in your first home. For example, if you used your iPhone to set up the Wemo devices in your home, you would need to use another mobile device, like your iPad or Android smartphone/tablet to set up the second Wemo system in your other home.
IFTTT: If This Then That (IFTTT) is a service that allows you to combine different online services together. By integrating Wemo with IFTTT, Wemo can be triggered by a variety of online services including, email, weather, phone calls, Twitter, Facebook, and many more. Example of using Wemo and IFTTT.
Email Notification: When you receive an email, the lights connected to your Wemo Light Switch turns On to notify you of the email so you will not miss important emails while doing other things.
Auto Facebook & Twitter Status: You can inform you Facebook friends and Twitter followers with your activities through a status update that will be automatically posted once lights that are connected to the Light Switch are turned On/Off. For example, when your bedroom light switch turns Off in the morning, an automatic Facebook post will tell your friends know you are going to bed.
Dimensions:
Light Switch: 0.75" (w) x 4.125" (h) x 1.6875" (d)
Decorative Cover: 3.3125" (w) x 5.0625" (h) x 0.25" (d)
Our Product Research Team
At Crutchfield, you'll get detailed, accurate information that's hard to find elsewhere. That's because we have our own in-house Product Research team. They verify what's in the box, check the owner's manual, and record dimensions, features and specs. We stay on top of new products and technologies to help people make informed choices.