Why Choose Crutchfield?
Deep discounts on car installation gear
We offer vehicle-specific installation instructions, dash kits, wiring harnesses, and speaker accessories at deeply discounted prices with car stereo and speaker purchases. Available for most vehicles.
Learn more
Trusted since 1974
Our customers have trusted us with their business, and they've helped us win awards for our service.
Check out our most recent awards
Factory-authorized dealer
The manufacturer's warranty always applies.
See more details
Python Model 594 Responder HD
Security system with remote start
Item # 6075904P | MFR # 5904P
This item is no longer available.
Overview
Our take on the Python Model 594 Responder HD by Crutchfield's Ken Nail
We offer vehicle-specific interfaces that you'll need to complete your remote start/car security installation. Please identify your vehicle as we review every order to make sure you've got everything you need.
Python offers true security
Security systems from Python offer sophisticated security and convenience features to protect you and your car. Short circuit protection and anti-theft sensors keep thieves out of your car, and the Python remote control randomly encrypts your signal codes every time you arm or disarm to prevent unauthorized access. Python systems also employ Nuisance Prevention Circuitry (NPC) to prevent false alarms from environmental conditions like thunder, jackhammers, or airport parking lots.
Remote start convenience
The Python Model 594 Responder HD protects your car while incorporating the convenience of a keyless entry system, along with a remote start feature that'll warm up your car on those cold winter days. The system also includes built-in door lock relays, starter kill, and an adjustable shock sensor. Four auxiliary channels allow you to add more features so you can create a custom alarm system for your car. Multi-level security arming lets you select which inputs or sensors will be active when your system is armed.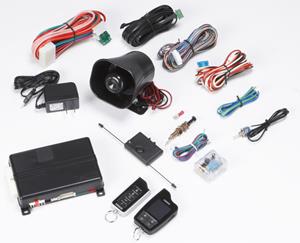 Color display remotes
The 24-channel Responder HD system always finds a clear transmission channel. It includes both a 1-way transmitter and a 2-way transmitter/receiver remote, with range of up to a mile. The 2-way remote boasts a color OLED display that informs you of system status, including engine run time before shut-off, your vehicle's interior temperature, and even a parking meter timer.
The Model 594 alarm system is compatible with BypassKit and XpressKit modules and accessories, which enable you to minimize your installation time in a wide range of vehicles.
Product Highlights:
24-channel security/keyless entry/remote start system
package includes module, one 4-button transmitter/receiver, one 5-button transmitter, a shut-down toggle switch, 2-stage shock sensor, 6-tone siren, and harnesses
2-way transceiver confirms commands and system triggers on its color OLED display with a range of up to a mile
Remote Start function is for fuel injected, diesel, and hybrid vehicles only (can be configured for manual transmissions)
4 remote-controlled auxiliary outputs
onboard starter interrupt and dome light relays
parking light flash with short circuit protection
2-stage shock sensor
built-in turbo timer and horn honk
starter anti-grind (starter interrupt must be installed)
automatic window roll up
silent mode warns you of a break-in by paging only — no siren
remote transmitters have multi-car capability
compatible with BypassKit and XpressKit modules and accessories
warranty: limited lifetime
What's in the Box:
Control module
7941P Responder HD 2-way 4-button remote control (with attached key ring)
7652P Companion 1-way 5-button remote control (with attached key ring)
514LN Soft-chirp siren with attached 6' 2-wire harness
Control Center with two 2-3/8" antennas (with built-in valet/program switch and LED)
AC/DC adapter for charging remote with attached 70" DC output cord (DC output: 5V/0.7A) terminating into a Mini-B USB 2.0 plug
10' Antenna cable (6-pin plugs on each end)
Neutral Safety switch with attached 18" wire (w/2-pin plug)
Stinger DoubleGuard Shock Sensor (with 4-wire harness)
39" Primary harness (6-pin) with in-line 15A ATO fuse)
Auxiliary/Shutdown harness (24-pin) with 18"+39"+78" leads
32" Remote Start heavy gauge harness (10-pin w/three 30A ATO fuses)
59" Door lock harness (2-wire)
Pin switch assembly (with 0.25" male quick slide)
0.25" Female quick slide
Owner's Guide
Product Registration card
Warning sticker (regarding remote start system)
Quick Reference Install Guide
2 Self-adhesive Python decals
Why Shop
With Us?
10 Reasons.
Details
Product Research
Security Features
Remote Start Features
Security Features
Overview: This Python car security system from Directed Electronics will protect your vehicle with the most up-to-date electronic technologies available, including Remote Start, the Stinger DoubleGuard shock sensor, the Revenger six-tone siren, and the Failsafe Starter Kill. The system has 4 auxiliary outputs to provide keyless entry and other convenience features. The unit is covered by a limited lifetime warranty.
Note: The remote start function is for fuel injected, diesel, or hybrid vehicles only.
Responder HD 4-button Remote Control: The Python Model 594 features Responder HD 2-way communication technology in the hybrid remote start and car security system. It comes with one 2-way Responder HD 4-button remote control and a companion 1-way 5-button remote. The 2-way Responder HD remote is equipped with a powerful 8 MHz microprocessor running SuperCode protocol with advanced, software-based digital encryption and function control. Not only can you arm and disarm the alarm and start the car, you can monitor the status of your vehicle using the 128 x 128 pixel, color OLED (Organic Light Emitting Diode) screen on the remote. The Responder HD remote has a mini-USB port for recharging the batteries, using the supplied AC/DC adapter. Both remotes feature 900 MHz SST (spread-spectrum technology), which gives them a one-mile range.
Information Center: The Responder HD status screen contains an information center that can display the following data:
Remote Start remaining run time before shut-off
Vehicle interior temperature
Countdown and Parking Meter timer (emits warnings at 15 min, 5 min, and expiration)
Remote Control Functions: The unique Responder HD remote control has separate lock and unlock buttons, a remote start button, and an auxiliary button. The side-mounted rotary toggle button allows you to reach a total of five function levels which, when used with the 4 main buttons, gives you dozens of functions. In addition, the companion remote has a "function" button, which can also give you access to multiple functions. The functions you can access with the Responder HD remote include:
Basic Commands (Level 1): Arm/Lock, Aux/Trunk, Disarm/Unlock, Remote Start
Advanced Commands (Level 2): Silent Arm, Aux 1, Silent Disarm, Runtime reset
Advanced Commands (Level 3): Sensor bypass, Aux 2, Remote Valet, Advanced Start (Timer Mode/Smart Start)
Advanced Commands (Level 4): Silent Mode 2, Aux 3, Car Finder, Defroster
Advanced Commands (Level 5): Car Select, Aux 4, Last Trigger, Temp Request
Two-Car Control: You can operate the Responder HD 2-way remote control system for two cars, with full command capability for both vehicles. The Responder HD automatically checks the 2nd vehicle's availability, and will notify you on the status screen whether it needs to be disarmed or if the engine is running.
Control Center: In addition to the hideaway control module, the system also includes a control center, which includes dual RF remote antennas, the status LED, and the valet/system override switch. Typically the control center is mounted high on the windshield or a rear or side window.
Modified Arming: The Responder HD gives you control over how it will protect your car. Normal arming means that all the security features are active automatically. Some security features can be turned off on a one-time basis, if desired. Features that can be turned off include the Warn Away response, the Shock Sensor full trigger response, or the response from other added optional sensors. When these features are turned off, the entry points are still monitored. The next time the alarm is disarmed, then rearmed, the system will revert to Normal Arming. The Responder HD displays the status of all of the sensors so you'll know the level of security you have selected.
Failsafe Starter Kill: To prevent your vehicle from being stolen, the control unit has a built-in relay which will disable the starter. The Automatic Engine Disable (AED) feature, when programmed "on," disables the starter 30 seconds after the ignition is turned off. To start the car, it will be necessary to disarm the system with the remote control.
Revenger Siren: The Model 594 includes the Revenger Soft Chirp siren (model 514LN). It consists of six different tones in sequence. Any of the tones can be eliminated, resulting in a unique, easily identifiable siren sound. The siren chirps can be either full volume or six decibels quieter than the full alarm blast.
Stinger Double-Guard Shock Sensor: The system features the Stinger Double-Guard Shock Sensor, which is designed to pick up impacts to the vehicle or glass. The sensitivity of the shock sensor is adjustable using the rotary control on the back of the control module. When the sensitivity is set, a light impact will generate the "Warn-Away" pre-warning chirp of the siren. A harder impact will trigger a full alarm blast.
Auxiliary Outputs: Convenience options are available through the system's four auxiliary outputs. Some of the functions that can be accessed include trunk release, windows open/close, left sliding door open/close, right sliding door open/close, rear hatch open/close, sunroof open/close, audio system, and headlights.
Door Locks: The Model 594 will automatically lock your vehicle's doors when you arm the alarm, and unlock the doors when disarming the alarm. When interfacing with any other type of factory door lock system besides negative switching locks, or when adding aftermarket actuators, two relays (such as two 120E5000s) or a door lock module (such as item 607451M) will be required.
Note: If your vehicle requires the use of a Data Integration module that controls your factory door locks, no extra parts besides the Data Integration module will be required.
Dome Light Control: You can control your vehicle's dome light in a number of ways:
Security Only: The dome light activates for 30 seconds after the system is disarmed.
Ignition Controlled: The dome light activates for 30 seconds after the ignition is turned off.
Door Controlled: The dome light activates for 30 seconds after the system sees a door has closed. (If door is held open for longer than 3 minutes, the dome light will not illuminate.
Full: The dome light activates for 30 seconds after seeing door closure, ignition, or security disarm. (This is the factory setting.)
Valet Mode: You can prevent the system from automatically arming and triggering by using the Valet Mode. This is very useful when washing the vehicle or having it serviced. In Valet Mode, the security system will not arm, even with the remote control, but all convenience features (door locks, trunk release) continue to work normally.
Nuisance Prevention Circuitry: The Nuisance Prevention Circuitry prevents annoying repetitive trigger sequences due to faulty door pin switches or environmental conditions, such as thunder, jackhammers, airport noise, etc. If the alarm triggers three times within a 60 minute period, and each time the same sensor or switch triggers the alarm, the NPC ignores, or bypasses, that sensor or switch (along with any other sensors or switches sharing the same zone) for 60 minutes. Any time there is a change in the status of the sensors, the Responder HD remote will receive a message from the system.
Optional Accessories: The Python Model 594 can accept a wide range of convenience and security accessories from Install Essentials:
Remote Start Features
Remote Start Overview: The Python Model 594 can start your car and run it by remote control for a preset amount of time. The remote start can be used on vehicles with manual or automatic transmissions. The status of the vehicle can be monitored by the color display on the 2-way Responder HD remote.
Advanced Start: There are two types of Advanced Start settings:
Timer Start: The unit can start the vehicle a set number of timers at a set interval between starts. The system can be set to start the vehicle 1-24 times at an interval of 1-24 hours.
Smart Start: The Smart Start function monitors the temperature inside the vehicle and starts the engine when the temperature reaches a preset high or low. This allows the vehicle to be pre-warmed or pre-cooled before you drive.
Run Time: You can program the system to run for a preset number of minutes. The remote control can notify you on the Responder HD remote how much of the run time is remaining. If more time is needed, you can easily reset the runtime counter to the pre-programmed setting.
Pit Stop Mode: The Pit Stop mode allows you to exit the vehicle with the engine running during short trips into the house or convenience store.
Automatic Shut-down/Starter Lockout: After the vehicle is remote started, the remote starter will shut down when the brake pedal is pressed, the hood is opened, if the alarm is triggered when armed, or when the remote start command is sent again from a remote control. In addition, if the hood is opened or if the brake pedal is pressed, you cannot start the vehicle using the remote starter.
Turbo Timer: The turbo timer mode keeps the engine running after arriving at your destination for a programmable period of time. This allows the system's timer to conveniently cool down the turbo after you have left the vehicle. You can select a turbo timer mode of 1, 3, 5, or 10 minutes.
Rear Defogger: When the rear defogger circuit is connected to the alarm output, the rear defogger will automatically come on when the vehicle is remote started. You can also manually activate the rear defogger after the remote start is on. If the interior cabin temperature is above 55° F, the defogger will not activate.
Valet Takeover: This feature allows the vehicle to remain running after the key has been removed from the ignition. This is useful for those occasions when you wish to exit and lock the vehicle for short periods of time while leaving the motor running and the climate controls on.
Anti-Grind Circuitry: Whenever the vehicle is remote started, advanced anti-grind circuitry prevents the starter from engaging, even if the key is turned to the start position. This prevents damage to the starter motor.
Shutdown Switch: You can temporarily disable the remote start unit to prevent the vehicle from being remote started accidentally by switching the supplied neutral safety toggle switch to the Off position.
Our Product Research Team
At Crutchfield, you'll get detailed, accurate information that's hard to find elsewhere. That's because we have our own in-house Product Research team. They verify what's in the box, check the owner's manual, and record dimensions, features and specs. We stay on top of new products and technologies to help people make informed choices.