Why Choose Crutchfield?
Deep discounts on car installation gear
We offer vehicle-specific installation instructions, dash kits, wiring harnesses, and speaker accessories at deeply discounted prices with car stereo and speaker purchases. Available for most vehicles.
Learn more
Trusted since 1974
Our customers have trusted us with their business, and they've helped us win awards for our service.
Check out our most recent awards
Factory-authorized dealer
The manufacturer's warranty always applies.
See more details
SIRIUS Stiletto 2
Portable satellite radio with 100 hours of storage and microSD card slot
Item # 607SL2PK1 | MFR # SL2PK1
This item is no longer available.
Overview
SIRIUS radio and MP3s, wherever you go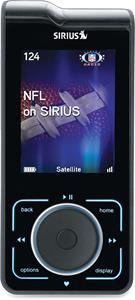 The SIRIUS Stiletto 2 satellite radio lets you receive the full spectrum of SIRIUS music, sports, entertainment, and talk radio anywhere you can receive a satellite signal. And you can load the Stiletto 2 with MP3 and WMA files when you're ready for your old favorites.
---
Storage galore
The Stiletto 2 stores up to 100 hours of content, and you can download and manage MP3 and WMA files with the included My SIRIUS Studio software. A microSD card slot lets you take along additional MP3 and WMA files for hours of entertainment.
---
Full-color screen
The Stiletto 2's full-color screen displays channel, artist, and song information, and sports logos pop up when you use Sports Alert to track your favorite teams. When you place the Stiletto 2 in its optional home dock, you can set the screen to scroll large text that you can see from across the room.
---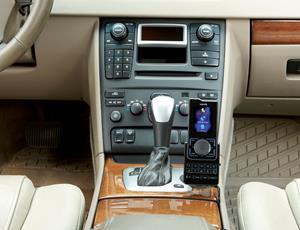 Wi-Fi® capability
The Stiletto 2 offers enhanced Wi-Fi capability, so you can hear live SIRIUS broadcasts in large building and other places that may not receive a strong satellite signal. If you're in range of an accessible Wi-Fi signal, you can stream live SIRIUS Radio over the internet, including music channels, Howard Stern, and more. Streaming doubles the Stiletto's battery life compared to listening to live SIRIUS in portable mode.
---
Add depth to your music
Built-in SRS® Audio Enhancement settings make it possible to tweak the sound of SIRIUS and your digital music. The added bass and sharper highs will fill out sound lost in compressed music.
---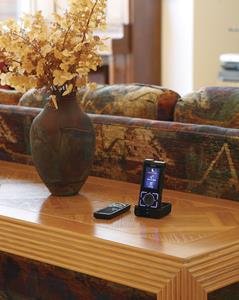 On the road or at home
In the package, you'll get a pair of earbuds and a set of headphones with a built-in antenna, as well as a home charger. The internal battery keeps the Stiletto 2 powered for up to four hours when you're on the go. For use in your car, you'll need an optional car kit. SIRIUS also offers a home kit and powered speaker system so you can use the Stiletto 2 anywhere.
Note: A subscription to SIRIUS is also required. Satellite radio service is available only within Canada and the lower 48 states — not available in Hawaii. Limited service is available in Alaska and Puerto Rico.
What's in the Box:
Stilletto 2 radio
SL2 Li-ion Polymer battery (3.7 volt/1615 mAh)
Antenna headphones with attached 4' cord using a proprietary connector
Earbud headphones with attached 46" cord using a 3.5mm connector
4 Foam earbud pads
DSA-15P-05 Switching AC adapter with attached 6.5' output cord
3' Connector cable with a proprietary connector on one end and a USB-Type A connector on other end
My Sirius Studio software CD
User Guide
Quick start guide
Sirius channel guide
Warranty information
Stiletto 2 accessory guide
Sirius logo decal
Product Highlights:
portable SIRIUS satellite radio/MP3 player
slim rechargeable battery
headphones with built-in antenna included
earbuds
My SIRIUS Studio software for downloading and managing MP3 and WMA files
built-in antenna allows portable reception of live SIRIUS signal
wireless FM transmitter "broadcasts" the sound over any FM stereo when used with car kit
indoor AC power adapter for recharging the battery
requires a home kit, car kit, or boombox
USB cable for uploading digital music files
separate car & home kits required to play the Stiletto 2 over car and home stereos
Features:
stores up to 100 hours of content (2 GB)
microSD card slot
pause and rewind of live SIRIUS content
portable playback of MP3s, WMAs, and stored SIRIUS content
WiFi capability for streaming channels from the SIRIUS website
full-color screen shows channel name and number, artist, song title, and MP3/WMA file names
30 channel presets
warranty: 1 year
Reviews
SIRIUS Stiletto 2 Reviews
Average Customer Review(s):


Submit a review and then enter to win a $350 rewards card
Review this product
Thanks for submitting your review
Most reviews are processed and published within 5 business days. You will receive a confirmation email once your review has been published.
Customer photos
---
Details
Product Research
General Features
Satellite Radio Features
Internet Radio Features
Library Features
Settings
Controls and Connections
Software
Specifications
Optional Docking Kits
General Features
Overview: The Stiletto 2 is a portable, personal receiver that lets you listen to live and recorded Sirius Satellite Radio almost anywhere. The Stiletto 2 also offers SIRIUS Internet Radio over an accessible Wi-Fi network. Additionally it stores SIRIUS's 100% commercial-free music programming and plays MP3/WMA files downloaded from your PC.
Sirius Satellite Radio: Sirius Satellite Radio features more than 130 streams of commercial-free music, plus sports, talk, news, comedy, and other programming beamed coast-to-coast. A subscription to Sirius Satellite Radio is required in order to enjoy Sirius programming. Sirius programming is not available in Alaska or Hawaii.
2GB Memory: The Stiletto 2 has a 2GB internal memory to store up to 100 hours of live Sirius Satellite Radio programming and MP3 and WMA files (up to 800MB for MP3 and WMA).
Memory Card: A microSD card, up to 8GB, can be added to increase the Stiletto's MP3/WMA memory capacity.
Antenna Headphones: The Stiletto not only comes supplied with a pair of standard earbud headphones, it also comes with a pair of Antenna Headphones for expanded live signal reception. The headphones have a built-in Sirius antenna on top of the hand band. The headphones plug into the proprietary connector port, not the standard 3.5mm jack. The Stiletto itself also has an integrated SIRIUS antenna patch.
FM Transmitter: The Stiletto has a built-in FM transmitter used to supply sound from your Stiletto to your car's sound system via the optional car docking station (sold separately).
Important Note from Crutchfield: Current FCC rules limit the transmission strength of wireless FM transmitters to a point where transmission needs to take place very near your FM antenna. Sirius includes an FM extender antenna with the optional car kit in order to address this issue, but Crutchfield strongly encourages customers to use an auxiliary input, wired FM modulator, or cassette adapter to ensure satisfaction with the performance and cosmetics of this satellite radio.
USB Connector Cable: The unit comes supplied with a USB connector cable that features a USB type-A connector on one end and a proprietary connector on the other end. This cable is used to download MP3 and WMA files from your PC to the Stiletto.
Display Screen: The Sirius Stiletto 2 features a full-color, 2.2" LCD display which provides information about the operation of the unit, such as the currently tuned channel, song or show being played, mode, status, recording, and other information.
Sleep Mode: Sleep mode allows the Stiletto to start up quickly when powered on. When completely off, the battery will remain charged for months. Also, when completely off, the Stiletto will take 1-2 minutes to power up.
Power Options: The Sirius Stiletto 2 can be powered with the following supplied accessories.
Battery: When fully charged the battery will provide a range of listening time depending on the listening mode. The following table provides the approximate listening times:

| | |
| --- | --- |
| Listening Mode | Listening Time |
| Satellite Radio | 4 hours |
| Internet Radio | 8 hours |
| Library | 20 hours |
| Radio Replays | 20 hours |

AC Adapter: The unit comes supplied with an AC adapter that you can use to power and charge your Stiletto. For the fastest charging time the Stiletto should be turned off.
Satellite Radio Features
Satellite Radio Mode: The Stiletto 2 allows you to listen to live satellite broadcasts of all SIRIUS 100% commercial free music channels, talk, and sports programming. When you are receiving a signal from the SIRIUS satellite or terrestrial transmitters you can browse and select the SIRIUS channels, and see information about the songs, artists, sports, news, weather, and traffic being broadcast.
Now Playing Screen: The Now Playing screen for the Satellite Radio mode provides information such as the currently tuned channel, song or show being played, mode, recording, and other information.
Navigating Channels: The Satellite Radio Mode allows you to browse Sirius Satellite Radio channels in the following ways:
All Channels: a list of all channels in numerical order
Presets: the list of up to 30 channels saved as your favorites; presets are grouped into 3 banks (A,B,C) with up to 10 presets each, for a total of 30
Categories: channels grouped by genre; such as Pop, Rock, Country, etc
Replay Live Radio: While listening to satellite radio, a temporary replay buffer saves up to 60 minutes of the broadcast. At anytime you may rewind to replay something you just heard or you may press Play/Pause to pause the live broadcast. You may resume listening to the broadcast at any time, beginning from the point where the broadcast was paused, or you can fast-forward or rewind through the replay buffer, pause the replay buffer again or return to the live broadcast. The replay buffer is retained until the memory becomes full, and the oldest part of the replay buffer is deleted making room for the new material so that the live broadcast can continue to be added. The replay buffer is emptied when you change channels or turn the unit off.
Radio Replays: You can instruct the Stiletto 2 to automatically record from your favorite channels using available memory space.
Save Live Broadcasts: Songs and shows can be saved by using the Love button when listening to a live satellite broadcast. When saving a song or show, it is recorded exactly as it was broadcast. There is a limit of 10 hours on individual songs saved using the one touch Love button. If there is not enough space to save a song or show, the oldest content is deleted in order to make room for the new material. You can also program the Stiletto to record at a certain date and time for a one time event or a repeated event. Time recordings are limited to a maximum of 6 hours per event. The following table describes the parameters needed for a timed recording:
Parameter
Description
Notes
Channel
Any SIRIUS broadcast channel may be selected
You must enter the password for locked channels
Date
The date of the recording
Dates may be selected from the present date to 4 weeks in the future
Start Time
The time of day the recording will begin
It will not allow you to set a recording time that has already past
Duration
The amount of time to record
Recording times of 15 minutes to 6 hours may be selected
Repeating
The recording can be set to repeat at scheduled intervals
Choose from the following:

No: recording will take place only once

Weekly: recording will take place every seven days

Daily: recording will take place every day

Mon-Fri: recording will take place every M-F

Sat-Sun: recording will take place every Saturday and Sunday

Keep Last
Specify how many previously recorded shows to keep
Choose from the following:

All Shows: keeps all previous recordings

1,2,3,5,10 Shows: keeps the selected number of previous recordings
Note: The Love button only works in the Satellite Radio mode and not operate in the Internet Radio mode.
Game Alert: You can program the Stiletto 2 to remember your favorite sports teams. The Stiletto 2 will then automatically alert you when any of your favorite sports teams are playing in a game. There is no limit on the number of teams you can select from game alerts. You can choose from NFL, NBA, NHL, College Football or College Basketball teams.
Game Zone: The Game Zone category lists all the sports games which are currently playing for your favorite teams and can be browsed for the games scores. You can scroll through the list and select a game to tune to the channel where the game is being broadcast.
Sports Ticker: The Stiletto 2 allows you to have a sports ticker displayed which will show the scores of all your favorite teams which are currently playing.
Parental Controls: The parental controls feature sets a 4-digit password for access to specific channels. This will prevent access to these locked channels until the password is entered.
Hide Channels and Genres: The hide feature allows you to designate channels and genres to not be displayed when browsing channel and genre lists. Hidden channels are not locked, but can only be tuned by directly entering the channel number using the numeric keypad on the remote control from an optional Home or Car docking station (sold separately).
Internet Radio Features
Internet Radio Mode: Internet Radio mode allows you to listen to all the SIRIUS music channels and select talk channels live using a wireless internet connection (Wi-Fi). A SIRIUS subscription includes Internet Radio and the subscription must be active to use this feature.
Note: Because Internet Radio is streamed and not broadcast it is not possible to record any material from Internet Radio or replay live content.
Now Playing Screen: The Now Playing screen for the SIRIUS Internet Radio mode provides information such as the currently tuned channel, song or show being played, mode and other information.
Supported Networks: The Stiletto supports a connection through many wireless networks, including:
802.11b and 802.11g
WEP and WPA encryption
Hidden networks (SSID not broadcast)
Select paid networks (AT&T Wi-Fi, T-Mobile, etc)
Select captive portal networks (Google Wi-Fi, MetroFi, etc)
Non-supported Networks: The Stiletto does not support a connect through networks using 802.1x (WPA-Enterprise) security, most often used in corporate networks.
Navigating Channels: In the Internet Radio mode, available channels are displayed in groups by genre (categories). Internet Radio channels can be browsed using either the Rewind/Fast Forward buttons or the Media Dial.
Favorites: You may save the song title and artist information to your favorites by pressing the Love button but you cannot actually record songs in the Internet Radio mode.
Library Features
Library Mode: The Library contains all the music and SIRIUS programming you have saved from live broadcasts along with any content you have downloaded from your PC. All the music, sports, talk shows, news broadcasts and talk entertainment can be browsed and selected for playback from the Library.
Now Playing Screen: When in the Library mode the Now Playing screen provides information such as the song or show title, content length, and playback position.
Navigating The Library: The music content in the Library may be browsed in the following ways:
Sirius Recordings: search for content you've saved from SIRIUS broadcasts using the Love button and scheduled recordings feature
Artists: search for content by a particular artist within all the songs in the library, including those saved by using the Love button as well a MP3 and WMA files downloaded from your PC
Albums: search for content from a particular album within all the MP3 and WMA files downloaded from your PC
Titles: search for a particular song contained in the library, including those saved by using the Love button and MP3 and WMA files downloaded from your PC
Genres: search for songs or shows of a particular genre, including those save by using the Love button and scheduled recordings, as well as MP3 and WMA files downloaded from your computer
Playlists: select playlists for listening, and songs within a playlist; there are two kinds of playlists to choose from:

Smart Playlists: automatically created playlists in the library and are listed as Recently Added, Most Played or Least Played
User Playlist: playlists the user creates on the computer and then transfers to the Stiletto
Playback: While listening to content in the library, you can pause, fast-forward, or rewind.
Deleting Content: You can delete content individually, an entire list, or select groupings.
Downloaded Content: The Stiletto 2 can store and play MP3 and WMA files from your personal library and purchased or subscription content from most Window Media (WMA) based online music sites.
Storage Limit: The Stiletto 2 limits and automatically manages the allocation of memory for specific types of content. The following table shows how memory space is prioritized:
| | | |
| --- | --- | --- |
| Content Type | Storage Limitation | Notes |
| Individual songs saved from SIRIUS broadcasts | 10 hours | once the 10 hour limit is exceeded, older content is automatically deleted to make space available for recently added songs |
| Schedule recordings and time block recordings | 100 hours | newer recordings will replace older recordings once the 100 hours fills up |
| Downloaded MP3 and WMA files (purchased and subscription content) | 800 MB | half of the memory available on the Stiletto may be used for the storage of download purchased or subscription content, once downloaded, content will remain until it is deleted by the user |
| Radio Replays | Available Memory | occupies any unused memory and are deleted automatically to make space available for other content |
Settings
Settings Menu: The Settings menu allows you to make changes to the global settings of your Stiletto 2 and personalize your experience. The following settings are available.
Audio and Display Settings:

Brightness: adjust the brightness of the display screen from 5 to 100%
Backlight Timer: adjust how long the backlight of the display screen remains on when no buttons are pressed; 2, 5, 10, or 30 seconds
Clock: show clock at the bottom of the display; on/off
Speak Channels: choose whether the channel names are spoken as you browse lists of channels
System Sounds: choose whether the system sounds, beeps, and other audible tones are audible
System Volume: adjust the volume of the system sounds and spoken channel names from 0 to 100%
SRS TruBass: optimizes bass for different listening environments; choose off, low, medium, or high
SRS Focus: optimizes the stereo sweet spot for different listening environments; choose off, low, medium, or high

Channel Settings:

Hidden Channels: select which channels to hide
Hidden Genres: select which genres to hide

Device Settings:

Sirius ID: displays the SIRIUS ID (SID) number of the Stiletto 2
Antenna Aiming: displays the strength of the SIRIUS signal being received
Time Zone: sets the time zone; Newfoundland, Atlantic, Eastern, Central, Mountain, Arizona, or Pacific
Memory Usage: displays information on how much of the Stiletto's memory is being used
microSD Card: displays information about the memory card (if present); how much of the memory is being used
Device Info: displays information a bout the model number, software, and hardware versions of the Stiletto; and IP address information when connected to a wireless network
Service Info: displays information that might be required by SIRIUS customer service
Legal Info: provides legal and copyright information for the Stiletto 2
Reset: resets all the settings of the Stiletto 2 to the factory defaults and erased the library contents

Dock Settings:

FM Transmit: selects whether the FM transmitter is turned on or off when the Stiletto 2 is in an optional docking station
Auto Shutdown: you can set the unit to automatically turn off after 4 hours in the vehicle dock
Low Light Mode: the display can be dimmed automatically when there isn't much ambient light
Traffic/Weather: selects a city for traffic/weather reporting for the Jump button when the unit is in the optional vehicle docking station

Parental Control Settings:

Parental Controls: turn 4-digit password protection On or Off
Locked Channels: choose individual channels to lock or unlock with the 4-digit password

Radio Replay Settings:

Radio Replays: select whether the Stiletto 2 should automatically save content for Radio Replays

Sports Settings:

Favorite Teams: allows you to select your favorite teams and NASCAR for Game Alerts
Game Alerts: select whether the Game Alert feature is On or Off
Sports Ticker: select whether to display the Sports Ticker

Wi-Fi Settings:

Wi-Fi Status: turns the Wi-Fi access for connecting to a wireless network On or Off
Network List: displays a list of wireless networks to which the Stiletto 2 has previously connected
Controls and Connections
Front Controls: The Stiletto 2 features the following controls on the front of the unit under the LCD screen:
Media Dial: allows you to scroll to next or previous selection on the screen
Play/Pause: plays or pauses your music
Rewind/Fast Forward: allows you to rewind or fast forward through a desired track or skip to the next or previous track
Select: selects highlighted items in the music list or menu
Love: save the song or show or add to favorites when song/show cannot be saved
Home Button: takes you to the main menu
Back Button: returns back to the screen previously displayed
Options: displays available options for the currently displayed screen
Display: cycles between normal (near) and car (far) display modes
Side Controls: The unit features the following controls on the sides:
Power/Lock switch: turns unit On or Off and locks controls to prevent accidental usage
Volume Up/Down button: increases or decrease the volume of the unit
Connections: The Stiletto offers the following connections on the bottom of the device:
Headphone Jack: 3.5mm output for use with supplied or optional headphones
Power Connector: connection used for supplied AC adapter
Antenna Headphones/Docking Connector: connection used for supplied Antenna Headphones, for supplied USB cable, and used for the optional Car and Home docking kits
Software
My Sirius Studio Software ver.1.5: The My Sirius Studio software included with the Stiletto 2 allows you to connect your Stiletto 2 to your PC computer. The software requires either Microsoft Windows XP (Service Pack 2) or Vista operating system. The software must be installed before connecting the Stiletto to your computer. The My Sirius Studio software provides the following capabilities:
Creating playlists and adding songs to the playlists
Streaming SIRIUS music channels over the Internet
Checking for updates to the device software and downloading them to the Stiletto 2, and re-installing deleted device software
Specifications
Stiletto 2 Specs:
Satellite Frequencies: 2322.293/2330.207 MHz
Terrestrial Frequencies: 2326.250 MHz
Power Requirements: 5 Volts, 2.0A Negative Ground DC
Operation Temperature: 23 to 104-degrees Fahrenheit
Audio Interface: 3.5mm stereo jack
Headphone Output: 20mW at 16 ohms
Signal to Noise: 90dB (MP3)
Weight: 4.3 oz
Internal Memory Capacity: 2GB
Memory Card: microSD, up to 8GB, optional
Wi-Fi Standard: 802.11b/g
Wi-Fi Security: WEP and WPA (2) Personal
Wi-Fi Antenna: Integrated internal
Internal Antenna Type: Integrated, Low Profile Patch
Optional Docking Kits
Optional Vehicle Dock: In order to use the Stiletto in your vehicle you will need the optional Stiletto Vehicle Kit (607SLV2) sold separately. The kit includes a compact docking cradle that rapidly charges your Stiletto's battery, an externally mounted antenna for more reliable reception, and can play audio through your vehicle's FM stereo system. The Vehicle Dock comes supplied with a cigarette lighter adapter to provide power to the Stiletto and an easy to use wireless remote control.
Optional Home Kit: The optional Stiletto Home Kit (607SLH2) sold separately, provides everything you need to use the Stiletto in your home or office. The docking cradle provides a convenient way to charge your Stiletto's battery. The included indoor/outdoor antenna provides improved reception. The audio cable connects the Stiletto to your powered speakers or home audio receiver. A remote control is included, along with a USB cable.
Our Product Research Team
At Crutchfield, you'll get detailed, accurate information that's hard to find elsewhere. That's because we have our own in-house Product Research team. They verify what's in the box, check the owner's manual, and record dimensions, features and specs. We stay on top of new products and technologies to help people make informed choices.