Why Choose Crutchfield?
Deep discounts on car installation gear
We offer vehicle-specific installation instructions, dash kits, wiring harnesses, and speaker accessories at deeply discounted prices with car stereo and speaker purchases. Available for most vehicles.
Learn more
Trusted since 1974
Our customers have trusted us with their business, and they've helped us win awards for our service.
Check out our most recent awards
Factory-authorized dealer
The manufacturer's warranty always applies.
See more details
Marantz SR5004
Home theater receiver
Item # 642SR5004 | MFR # SR5004
This item is no longer available.
Overview
Our take on the Marantz SR5004 by Crutchfield's Dave Bar
Legendary Marantz sound quality for your home theater
With the powerful, flexible SR5004 in charge of your system, you'll quickly discover why audio enthusiasts have chosen Marantz components for over 50 years. This receiver combines time-tested Marantz engineering with advanced processing to deliver outstanding home theater performance. You get decoding for the latest surround formats, sophisticated auto speaker calibration for easy setup and custom-tailored sound, plus multi-room listening options.

---
Heightened surround sound realism

Marantz includes Dolby's newest surround sound technology — Dolby® Pro Logic® IIz. This sophisticated processing lets you add an optional pair of front "height" speakers to create a larger soundstage with an expanded vertical dimension — an exciting sonic enhancement for movies and video games.
---
Precision auto setup tailors sound to your room
This receiver also features Audyssey MultEQ®, a sophisticated auto-calibration system that helps you get the most accurate home theater sound possible. Watch a video on how Audyssey MultiEQ improves sound in your room.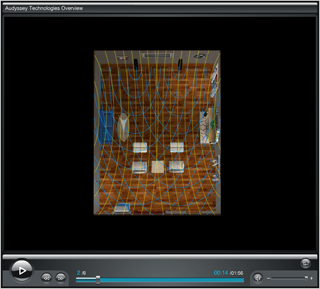 The SR5004 uses the supplied microphone to analyze sound from up to six different listening positions, then automatically adjusts level, equalization, and delay settings for each of your speakers. The result is accurate response across a wide listening area instead of just a single "sweet spot," so everyone in the room can enjoy precisely balanced home theater sound.
---
Three HDMI inputs plus 1080p video upconversion
The SR5004's 1080p-compatible HDMI inputs let you hook up three high-definition sources for easy switching. And it makes the most of your older non-HD sources by upconverting the video to 1080p. This lets you send all your video sources to your TV via a single-cable digital connection, simplifying hookup and ensuring the best picture quality possible for every source in your system.
---
Multi-room music and more
Flexible multi-room/multi-source output lets you enjoy a surround sound movie in your main room while a housemate listens to stereo music in a second room. You can even send audio from a digital source to a third room via an optical digital output, for playback on another home theater receiver. Add an XM Direct 2 package to enjoy satellite radio, including XM's HD surround music channels. Or connect an optional SiriusConnect™ home tuner kit to enjoy SIRIUS satellite programming. You can also get your iPod® into the mix by adding Marantz's handy control dock.
---
Learn about the ins and outs of HDMI connections at the Crutchfield Learning Center.
Shop our selection of HDMI cables.
Product Highlights:
90 watts x 7 into 8 ohms (20-20,000 Hz) at 0.08% THD
Dolby® TrueHD, DTS-HD™ Master Audio, Dolby® Digital Plus, DTS-HD™ High Resolution Audio, Dolby® Digital EX, DTS-ES™, Pro Logic® IIx, Pro Logic® IIz, SRS Circle Surround II, and DTS Neo:6 decoding
Audyssey Laboratories' MultEQ six-point auto setup and room calibration system (microphone included)
Audyssey Dynamic Volume mode to keep listening levels steady
Audyssey Dynamic EQ™ for fuller sound at lower listening levels
XM Satellite Radio Ready with decoding for XM's HD Surround channels (requires XM subscription and optional XM tuner kit)
Neural THX Surround decoder for XM's HD Surround channels
SIRIUS satellite radio capable (requires SIRIUS subscription and optional SiriusConnect™ home tuner kit)
Bluetooth-capable (requires optional Marantz RX101 adapter)
M-DAX (Marantz Dynamic Audio eXpander) for better sound with compressed music sources
multi-room/multi-source audio

powered and line-level stereo audio output for 2nd room (using powered 2nd room stereo output allows 5.1 home theater in main room)
digital audio output for 3rd room via optical digital out (available only with audio sources input through an optical digital connection to receiver)

back surround speaker channels re-assignable for bi-amping front left and right speakers
192kHz/24-bit digital-to-analog converters for all channels
HDCD decoder for compatible CDs
on-screen display with graphical user interface for easier system setup and operation
backlit learning/multibrand remote
17-5/16"W x 6-1/4"H x 16-3/8"D
weight: 28 lbs.
warranty: 3 years
Connections:
1080p-compatible HDMI digital video switching (3 in, 1 out)
analog-to-HDMI video upconversion (up to 1080p)
HDMI version 1.3a with support for Deep Color, x.v.Color, SACD, and auto lip-sync
component video switching (3 in, 1 out)
component video conversion (composite and S-video to component)
digital audio inputs: 3 optical (including 1 front-panel), 2 coaxial
digital audio outputs: 1 optical
7 audio/video inputs, including:

1 front-panel input with composite and S-video
4 rear-panel inputs with composite video

2 audio-only inputs
no phono input
7.1-channel analog audio preamp input
7.1-channel analog audio preamp output
RS-232C port for automated control systems
detachable power cord
direct IR flasher input, 12V DC trigger out
2 sets of main speaker outputs
What's in the Box:
AV surround receiver
6' AC power cord
RC008SR Learning remote control
2 "AAA" batteries
Audyssey microphone with attached 24' cord terminated by a male 3.5mm minijack connector
AM loop antenna
FM wire antenna
User Guide (Eng/Fre/Spa)
RX101/MXPort note
USA Warranty Information
Canada Warranty Information
Details
Product Research
Audio Features
Video Features
Remote Control
Optional Add-on Devices
Audio Features
Amplifier Section: The Marantz SR5004 A/V Surround Receiver features an 90 watts x 7-channel all discrete amplifier. The amplifier section features seven voltage feedback modules mounted in-line on an extended array of aluminum fins for maximum heat dissipation. It also employs a massive EI power transformer in combination with oversized filter capacitors. This design configuration is capable of a clear and powerful reproduction of the most demanding action movie soundtracks and full range multi-channel music discs. Through its ability to generate very high output voltages, the unit can easily drive the most demanding speaker with optimum results.
Front Panel Design: The receiver's front panel features a combination of aluminum extrusion and glass-reinforced resin which shields internal circuitry and absorbs internal and external resonances.
Separate Audio Circuit Board: The Marantz SR5004 features a totally separate audio circuit board to isolate any noise created from the unit's video processor.
24-Bit, 192 kHz D/A Converters: The SR5004 uses 24-bit/192-kHz Digital-to-Analog converters for all channels. The 192kHz sampling and 24-bit word length capabilities of the DACs allows you to play high-resolution recordings and hear the increased clarity, detail and dynamic range of those recordings.
Digital Signal Processing (DSP): The Marantz SR5004 is equipped with a high-resolution TI Aureus 32-bit floating point Digital Signal Processor (DSP). All elements of the Surround Processor are optimized to the highest standards by the use of selected high performance and discrete components, particularly the A/D and D/A converters and the sophisticated DSP surround decoder. The SR5004 is equipped with various surround modes to reproduce a variety of surround sound effects, according to the content of the source to be played. The receiver features Dolby Pro Logic IIx, Dolby Digital, and DTS decoders.
Auto Surround: When this mode is selected, the unit determines whether the digital input signal is Dolby Digital, Dolby Digital Surround EX, Dolby digital Plus, Dolby True HD, DTS-HD, DTS, DTS-ES, DTS 96/24, or PCM audio.
Dolby Digital: Dolby Digital is a 5.1 multi-channel digital surround format.
Dolby Digital EX: Dolby Digital EX is a 6.1 multi-channel digital surround format.
Dolby Digital Plus: Dolby Digital Plus is an improved Dolby Digital surround format that is compatible with up to 7.1-channels of discrete digital sound and also improves sound quality due to extra data bit rate performance.
Dolby TrueHD: Dolby TrueHD is a high definition audio technology, using lossless coding technology to faithfully reproduce the sound of the studio masters.
DTS Digital Surround: DTS Digital Surround is a 5.1 multi-channel digital surround sound format used for both commercial/theatrical and consumer grade applications.
DTS-ES Surround: DTS-ES features two 6.1 multi-channel formats: DTS-ES Discrete 6.1(6.1-channel discrete digital audio format adding a surround back channel to the DTS digital surround sound) and DTS-ES Matrix 6.1 (discrete 6.1 channel digital audio format inserting a surround back channel to the DTS surround sound through matrix encoding)
DTS Neo:6 Surround: DTS Neo:6 is a matrix decoding technology for achieving 6.1-channel surround playback with 2-channel sources. You can choose from two DTS Neo: 6 Surround formats - Neo: 6 Cinema and Neo: 6 Music. You can also adjust the Center Gain to expand the sound image from the center channel.
DTS 96/24: DTS 96/24 is a digital audio format enabling high sound quality playback in 5.1-channels with a sampling frequency of 96 kHz and 24 bit quantization of DVD-video.
DTS-HD High Resolution Audio: DTS-HD High Resolution Audio is an improved version of the conventional DTS, DTS-ES and DTS 96/24 signal formats that is compatible with sampling frequencies of 96 or 48 kHz and up to 7.1-channels of discrete digital sound. High data bit rate performance provides high quality sound.
DTS-HD Master Audio: DTS-HD Master Audio is a lossless audio format compatible with up to 96 kHz and up to 7.1-channels. The lossless audio coding technology faithfully reproduces the sound of the studio master.
DTS Express: DTS-Express is a low bit-rate encoding technology supporting up to 5.1 channels with fixed data transfer rates.
Neural Surround: Neural Surround has been adopted by XM Satellite Radio for digital radio broadcasts of XM HD Surround recordings and live events in surround sound. Neural Surround employs psychoacoustic frequency domain processing which allows delivery of a more detailed sound stage with superior channel separation and localization of audio elements.
Dolby Pro Logic IIz Height: Dolby Pro Logic IIz Height is designed to more effectively use existing program material when height channel speaker outputs are present. Dolby Pro Logic IIz Height can be used to upmix a variety of sources from movies and music, but are particularly well-suited to up-mix game content.
Dolby Pro Logic IIx: Pro Logic IIx expands any existing stereo- or 5.1-channel audio for a 6.1- or 7.1- channel playback, creating a seamless, natural surround sound-field that immerses you in the entertainment experience. Dolby Pro Logic IIx has 5 modes:

Movie: This mode provides 6.1 or 7.1 channel surround sound from Dolby Surround, encodes stereo movie soundtracks.
Music: The Pro LogicIIx-Music mode creates a rich and enveloping ambience from stereo sources such as CDs. In this mode, the SR5004 includes three controls to fine tune this sound-field.

Panorama: Panorama wraps the sound of the front left and right speakers around you, for an exciting perspective.
Dimension: This feature adjusts the sound-field either towards the front or towards the rear of your system. This can be useful to help achieve a more suitable balance from all the speaker with certain recordings.
Center Width: The Center Width feature allows you to gradually spread the center channel sound into the front left and right speakers.

Game: This mode restores the impact low-frequency surround effects by routing them to the system's subwoofer.

Circle Surround II (Cinema/Music/Mono): Circle Surround is designed to enable multi-channel surround sound playback of non-encoded and multi-channel encode material. Backward compatibility provides listeners with up to 6.1 channels of surround performances from an entire collection of music and film, including broadcast, video tape, and stereo recorded music. Depending on source material , you can select Cinema, Music or Mono mode. Circle Surround also offers the following parameter adjustments.

TruBass: TruBass produced by your speakers is an octave below the actual physical capabilities of your speakers adding exciting, deep bass effects.
SRS Dialog: This feature allows dialogue to easily be discerned from the surround audio effects.

Dolby Virtual Speaker: Dolby Virtual Speaker technology use proprietary technology of Dolby Laboratories to create a virtual surround sound-field using only two speakers for the front channels, allowing the user to experience sound as if surround speakers were actually being used.
Dolby Headphone: This mode simulates the waveforms of the actual sounds heard from the speakers when listening to the receiver's audio through a connected pair of headphones.
HDCD: When listening to HDCD recordings, you hear more dynamic range, a focused 3-D sound stage, and extremely natural vocal and musical timber.
Source Direct: In the Source Direct mode, the tone control circuit and bass management configuration are bypassed for full-range frequency response and the purist audio reproduction.
Pure Direct: The Pure Direct mode further reduces sources of noise in addition to effect of the Source Direct mode, by blocking output from the video jacks and turning of the unit's display.
Stereo: This mode bypasses all surround processing. In stereo program sources, the left and right channels play normally when PCM audio or analog stereo is input. With Dolby Digital and DTS sources, the 5.1 channels are converted to two channels stereo. 96kHz PCM source material can be played back in stereo mode.
Multi-Channel Stereo (Music or Movie): This mode is used to create a wider, deeper and more natural soundstage from two channel source material. This is done by feeding the left channel signal to both left front and left surround speakers and the right channel signal to both right front and right surround speaker. Additionally, the center channel reproduces a mix of the right and left channel.
Auto MultEQ Setup: This Audyssey MultEQ technology adapted by this receiver provides the best listening environment for multiple listeners. The Auto MultEQ Setup feature of the SR5004 measures sound characteristics of your speaker system and room where the receiver is used and automatically optimizes settings. To do this, the Auto Setup feature measures a test tone emitted by each channel in a maximum of 6 listening positions, using the supplied microphone. The measurement results are analyzed using an original algorithm and environmental settings are made to improve the sound characteristics of your listening area.
Note: If you prefer, you can manually setup up your speaker configurations. You can select the size and presence of each speaker, the distance of each speaker from your normal listening position, and the level of each speaker in your system.
Audyssey Dynamic EQ: Audyssey Dynamic EQ solves the problem of deteriorating sound quality as volume is decreased by taking into account human perception and room acoustics. Audyssey Dynamic EQ works in tandem with Audyssey MultEQ to provide well-balanced sound for every listener at any volume level.
Audyssey Dynamic EQ Adjust: Audyssey Dynamic EQ is referenced to the standard film mix level of 85dB SPL for -20 dBFS. Due, to the lack of standard outside the film industry, the film reference level may not be appropriate when listening to other material. Audyssey Dynamic EQ Adjust provides three offsets from the film level reference (5dB, 10dB, or 15dB) that can be selected when the mix level of the content is not within the standard.
Audyssey Dynamic Volume: Audyssey Dynamic Volume solves the problem of large variations in volume level between television programs, commercials, and between the soft and loud passages of movies. Audyssey Dynamic EQ is integrated into Dynamic Volume so that as the playback volume is adjusted automatically, the perceived bass response, tonal balance, surround impression, and dialogue clarity remain the same. The amount of compression can be set to an of the following three levels - Light, Medium, or High.
Acoustic EQ: The A/V receiver features 5 Acoustic Equalizer modes to choose from.
Audyssey: This mode adjust the frequency characteristics of all speakers so as to create the best listening environment for the sound characteristics of your listening area.
Front: This mode matches the characteristic of each speaker to those of the front speakers.
Flat: This mode flattens the frequency characteristics of all speakers. It is suited for playback of multi-channel music such as Dolby Digital and DTS.
User: This mode independently adjusts the receiver's 9-band graphic equalizer (63Hz, 125Hz, 250Hz, 500Hz, 1kHz, 2kHz, 4kHz, 8kHz, 16kHz) for each of the 7 channels.
Off: The graphic equalizer is not use.
HT-EQ: The tonal balance of a film soundtrack will be excessively bright and harsh when played back over audio equipment in the home. This is because film soundtracks were designed to be played back in large movie theater environments. Activating the receiver's HT-EQ feature when watching a film made from movie theaters corrects this and restores the correct tonal balance.
Surround Channel Level: The channel level can be independently set for Multi-Channel Stereo, CSII and other modes. You can adjust the Center level, Surround level and Surround Back level from -12 to +12 in 0.5 dB increments. The Subwoofer level can be adjusted from -18 to +12 in 0.5 dB increments.
LFE Level: This function selects the output level of the LFE signal included in the Dolby Digital signal or the DTS signal. You can select from 0 to -10 dB.
Night Mode: Useful at night or when loud noise is undesirable, this mode compresses the dynamic range, making it easier to hear quieter audio content without increasing the overall volume of your system. Night Mode is only effective for Dolby Digital content.
M-DAX: This function makes up for lost audio content in MP3 or AAC sources during playback. It can be set to High or Low.
Zone System: The SR5004's Zone System mode allows the same audio source or different audio sources to be heard in other rooms other than where the receiver is installed. The Marantz AV receiver features a Main Audio/Video Zone (Main), a second analog Audio Only Zone (Zone A) and a digital Audio Only Zone (Zone B). The Main Zone contains 7.1-channel playback of your audio/video gear in your main entertainment room. The Audio Only Zone A allows analog audio playback of another audio source connected to the receiver in another room of your home via left/right RCA audio output connections to a separate amplifier. The Audio Only Zone B allows digital audio playback of another digital audio source connected to the receiver (through coaxial or optical) in another room of your home via an optical digital output connected to a separate amplifier. The SR5004 AV receiver's Surround Back Speaker outputs can be assigned to Zone A so you can power a set of speakers in another room of your home without the use of a separate amplifier. You must turn off the Surround Back channels of the amplifier when using the receiver's multi-room speaker outputs, which will limit you to 5.1 channels in your main room.
Bi-Amp Connection: A bi-amp connection is possible with speakers that have two set of inputs by combining the Front A and Surround Back speaker connections. This allows you to drive the treble and bass units with separate channels amps, which enable better sound quality. The surround back channels of the amplifier will need to be turned off to bi-amp your front speakers. This configuration will limit your Home Theater to 5.1- channel.
Digital Inputs/Output: There are 2 coaxial digital inputs and 3 optical digital inputs (one on front). The inputs accept digital audio signals from a compact disc, LD, DVD or other digital source component. There is also 1 optical digital output. The digital output can be connected to a CD or DVD recorder; or can be used for a Zone B output.
Preamp Outputs: The SR5004 features Front left, Front right, Center, Surround left, Surround right, Surround Back left, Surround Back right and Subwoofer preamp outputs to connect the receiver to external power amplifiers.
7.1 Channel Input: The SR5004 features a 7.1 Channel input (Front left, Front right, Center, Surround left, Surround right, Surround Back left, Surround Back right and Subwoofer) for connecting a DVD Audio player, Super Audio CD multi-channel player, or other component that has a multi-channel port so you can playback the audio with 5.1 channel or 7.1 channel surround sound. If you will not be using the 7.1 channel input with a multi-channel decoder, you can use the front and left inputs as an auxiliary input.
Speaker Terminals: The receiver has binding post speaker terminals for the front A, front B, center, surround, and surround back speaker channels. The binding posts can accept bare wire, pin connectors, and single banana plugs. The terminals are spaced too far apart for dual banana plugs. The collar surrounding the binding post terminals prevent the use of spade connectors.
Headphone Output: The receiver features a 1/4" stereo headphone jack on its front panel for connecting a pair of optional headphones. The unit's speakers will automatically be turned off when a set of headphones are connected.
AM/FM Tuner: The Marantz SR5004 features a built-in AM/FM tuner which can automatically or manually store up to 60 AM/FM presets that can be labeled and viewed in a channel list.
Front Panel Lock: You can lock all the controls on the front panel of the unit, accept for the Power button, to prevent anyone else from changing the settings on your receiver.
Dual Backup Memory: The receiver stores settings information in a nonvolatile memory even when the main power supply is turned off. Using the Dual Backup Memory function, you can write settings information to another memory area to back up saved settings for recovery anytime as needed.
Sleep Timer: The receiver offers a Sleep Timer which will automatically turn the unit off after 10, 20, 30, 40, 50, 60, 70, 80, 90, 100, 110, or 120 minutes.
Video Features
HDMI (version 1.3) Inputs/Output: This unit has 3 HDMI inputs and 1 HDMI output. The SR5004's wide-bandwidth HDMI circuitry is ready to bring you advances like Deep Color and xvYCC Color Space. The receiver can send digital video and audio signals from DVDs and other sources directly to your connected display. HDMI minimizes signal degradation caused by analog conversion so that high quality images can be enjoyed. The 3 HDMI inputs are assignable from the receiver's on-screen menu. The unit offers to HDMI audio settings.
Enable: Audio input to the HDMI jacks can be played back by the receiver; audio signals are not output to your connected television.
Through: Audio input the HDMI jacks is not output from the speaker terminals of this unit; audio data is output directly to your connected television.
Video Up/Down Conversion: The Marantz AV receiver features a high-precision 10-bit video scaler. The SR5004 can take an analog video input (composite, S-video, component) and up-convert it to HDMI so the video signal can be passed through the receiver's HDMI terminal to your television via a single HDMI cable up to 1080p. The SR5004 can also up-convert a composite video or S-video signal to component, and down-convert a component video signal to composite video. The receiver's HDMI inputs cannot be down-converted. The HDMI inputs and monitor output will support 480p, 720p, 1080i, and 1080p video signals. The component video inputs and output will support 480i, 480p, 720p, and 1080i video signals. The S-video input and composite video inputs and outputs will support 480i video resolution.
Component Video Inputs/Output: This unit has 3 component video inputs to obtain the color information (Y, Cb, Cr) directly from the recorded DVD signal or other video component; and one component video output to output the video signal directly into the matrix decoder of your television. By sending the pure DVD component video signal directly, the DVD signal forgoes the extra processing that normally would degrade the image. The result is vastly increased image quality, with incredibly life like colors and crisp detail.
I/P Convert: The video circuit of the receiver is equipped with an I/P conversion feature. When this feature is active, 480i analog video signals input from a playback device can be converted to 480p and progressively output to the component video or HDMI monitor out terminals on the SR5004.
Auto Lipsync Correction: Video signals may take longer to process than audio signals depending on the connected video equipment. When the unit is connected to A TV or Projector which supports Auto Lipsync Correction in HDMI 1.3, audio and video can be automatically synchronized using this function. The Lipsync feature can also me set manually from 0 to 200 ms (in 10 ms steps).
On-Screen GUI: The receiver incorporates an on-screen GUI (Graphic User Interface) menu system which makes various operations and menu selections visible on your connected television set. To view the on-screen GUI, you will need to connect the Monitor Out jack of the receiver to the composite, component video, or HDMI input of your television.
Video Off: When no video signal is connected to the unit or all your video components are connected directly to your TV, the unnecessary video circuits can be turned off.
Front-Panel A/V Input: The receiver features a front-panel AV input which consists of a composite video, S-video, stereo RCA and optical digital jack.
Remote Control
Learning Remote: The provided IR wireless remote control is a universal learning remote control. The remote control's buttons are backlit with a press of a button. This remote is preset with a total of 12 types of remote codes including Marantz TV, DVD, VCR, DSS, Tuner, CD/CD-R, MD, Tape, Aux1, Aux2, and amp. The remote also contains codes for other manufactures which can be programmed. In addition, the remote control is capable of learning and storing codes used by other remote controls.
Flasher In: This 3.5mm input is used to control the SR5004 from each of its zones from an external key-pad (sold separately)
DC Trigger Output: This 3.5mm output allows you to connect an external device so it can be turned on by the SR5004.
Remote In/Out: These RCA input/output connectors allow you to connect the SR5004 to a Marantz component equipped with remote control (RC-5) terminals.
RS-232C: The RS-232C port is to be used in conjunction with an external controller to control the operation of the unit by using an external device. The RS-232C port may also be used in the future to update the operating software of the unit so that it will be able to support new digital audio formats.
Note: Input source can be registered under any name. Names can be up to 10 characters longs, including spaces. The names appear on the unit's FL display and on-screen GUI, but does not appear in the GUI Setup menu.
Optional Add-on Devivces
Satellite Radio Ready: The Marantz SR5004 supports both XM and Sirius Satellite Radio when used with an optional Satellite Radio tuner and antenna.
XM Ready: The optional XM Direct 2 Home Tuner (220XHD2H1, sold separately) lets you enjoy XM Satellite Radio through the XM-ready receiver. Simply connect the XM direct 2 Home Tuner to the XM jack on back of the receiver, place and aim the included antenna for optimum reception, and you are ready to start enjoying commercial-free music, plus live sports, new, talk, and exclusive entertainment. During XM playback, you can display the channel number and name, category, artist name, and song title on the front panel.
Note: A subscription to XM and Sirius Satellite Radio is required. You can store up to 50 XM and Sirius Satellite Radio station presets each.
Bluetooth Ready: Through its proprietary M-Xport, the SR5004 offers Bluetooth capability. Simply add the optional RX101 Bluetooth adaptor (642RX101, sold separately) to the SR5004 and you can play the music stored on any Bluetooth-enabled portable device (your iPhone, iPod Touch, or PDA for example) through your home theater system. The optional RX101 doubles as an IR (infrared) receiver so you can place all your components out of sight and still maintain full remote control.
Our Product Research Team
At Crutchfield, you'll get detailed, accurate information that's hard to find elsewhere. That's because we have our own in-house Product Research team. They verify what's in the box, check the owner's manual, and record dimensions, features and specs. We stay on top of new products and technologies to help people make informed choices.