Why Choose Crutchfield?
Deep discounts on car installation gear
We offer vehicle-specific installation instructions, dash kits, wiring harnesses, and speaker accessories at deeply discounted prices with car stereo and speaker purchases. Available for most vehicles.
Learn more
Trusted since 1974
Our customers have trusted us with their business, and they've helped us win awards for our service.
Check out our most recent awards
Factory-authorized dealer
The manufacturer's warranty always applies.
See more details
THIEL CS3.7
Floor-standing speaker (Black ash)
Item # 684CS37BA | MFR # CS3.7 BA
This item is no longer available.
Overview
THIEL's best tower speakers
THIEL designed the CS3.7 with one idea in mind — to provide the listener with the most realistic and musical sound reproduction possible. To achieve this goal, THIEL loaded the CS3.7 with cutting-edge technologies while paying careful attention to each and every detail of design and construction. These speakers won the Consumer Electronics Show's 2007 Innovations Design and Engineering Award — THIEL's 22nd such award in their 31-year history. With the CS3.7, THIEL took everything they've learned over the past 31 years to create one of the finest speakers available today.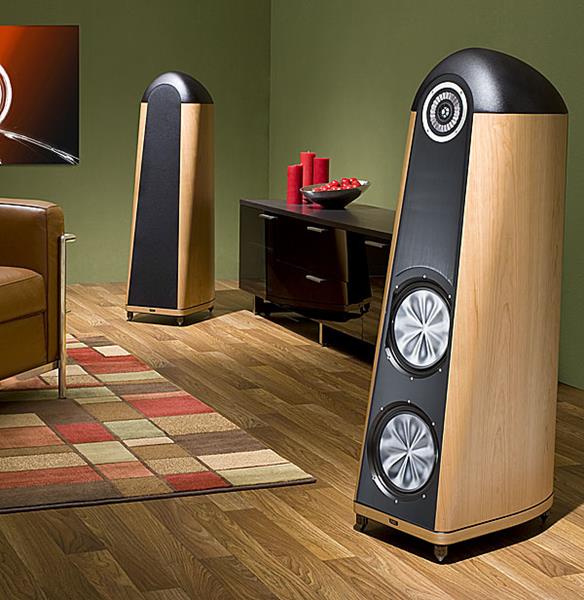 ---
Unsurpassed sound with impressive midrange clarity
The secret to the CS3.7's incredibly lifelike sound starts with a newly designed midrange driver. The aluminum diaphragm features ridges extending from the center to the outer edge. These ridges add strength to the driver, giving it far greater stiffness than typical diaphragms, or even those made from exotic materials. This design achieves such great stiffness that the midrange continues to operate perfectly all the way up to 20 kHz. The result? An open, transparent sound that includes every nuance of the original source material.
Remarkably clear highs
A high-output aluminum tweeter produces crisp highs, thanks in part to a unique motor structure that includes a total of five neodymium magnets. The CS3.7 houses the tweeter inside the midrange to maintain the proper time alignment, for unparalleled accuracy and realism. You'll enjoy crystal-clear sound with pinpoint imaging and an exceptionally wide, deep soundstage.
Richly detailed, musical bass
Bass comes courtesy of an aluminum woofer and passive radiator, each with a die-cast chassis. A motor structure consisting of a short, 3" diameter voice coil sitting inside a large magnet effortlessly drives the woofer. Unlike the voice coils found in most speakers that extend outside the magnet, the deliberately short voice coil always "sees" the optimum magnetic field as it travels back and forth. This eliminates distortion caused by variances in magnetic strength. The passive radiator increases the speaker's output. It all adds up to accurate, musical bass that perfectly complements the treble without being "boomy" or overbearing.
---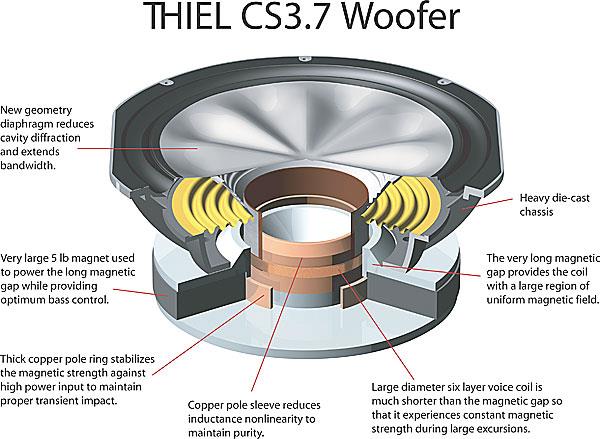 ---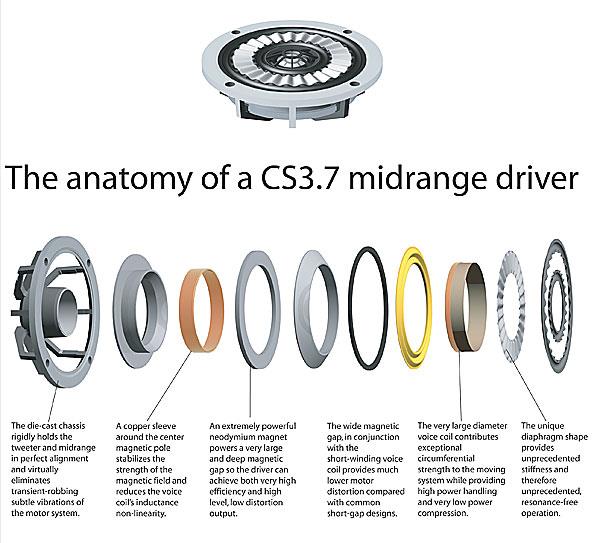 ---
State-of-the-art crossover
The "unsung hero" of any speaker is the crossover — it directs the right frequencies to the right drivers so you don't have a tweeter trying to reproduce bass and a woofer trying to reproduce highs. THIEL meticulously engineered their first-order crossover to achieve tonal neutrality. The advanced crossover ensures that musical information such as amplitude, phase, and time remain faithful to the original signal.
---
An exquisitely crafted cabinet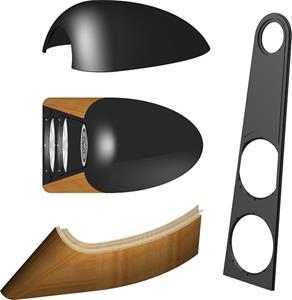 The super-strong cabinet features 15 layers of hardwood, laminated together under high pressure. Curved edges reduce unwanted diffraction while creating non-parallel surfaces to minimize sound-muddying internal resonance. The formed aluminum cabinet top provides enormous strength, virtually eliminating unwanted vibration. Its rounded shape around the midrange eliminates diffraction of energy from the mid and tweeter, and helps minimize resonances within the cabinet.
The machined aluminum front baffle is more than 30 times as strong as the usual MDF to provide an incredibly rigid mounting surface for the drivers. The sloping angle of the baffle also positions the voice coils of all three drivers on the same plane. This allows all the frequencies to reach your ears at the same time, giving you the most complete and accurate sound reproduction possible.
---
Got wire?
Most speakers don't include any. Learn about choosing and installing speaker wire at the Crutchfield Learning Center.
Shop our selection of speaker wire.
What's in the Box:
Black Ash floor-standing loudspeaker with magnetically attached grille (removable)
4 Stabilizer feet
Owner's Manual
Packing Instructions
Product Highlights:
recommended power 100-600 watts
frequency response 33-26,000 Hz (±2dB)
4-ohm impedance — suited for high-current amplifiers
sensitivity 90 dB
1" aluminum dome tweeter with neodymium magnet structure
4-1/2" wave-shaped, aluminum midrange driver
10" wave-shaped, aluminum woofer
10" passive radiator
machined aluminum front baffle
sloped cabinet provides time coherence between woofer and midrange/tweeter array
binding post connectors
12-1/2"W x 45"H x 21"D
warranty: 10 years
sold individually
Reviews
THIEL CS3.7 Reviews
Average Customer Review(s):


Submit a review and then enter to win a $350 rewards card
Review this product
Thanks for submitting your review
Most reviews are processed and published within 5 business days. You will receive a confirmation email once your review has been published.
Customer photos
---
Details
Product Research
Overview: The THIEL CS3.7 floor-standing loudspeaker incorporates several new innovative design techniques that greatly improve performance in a three-way, floor-standing loudspeaker. The CS3.7 delivers a much purer and more open midrange and lower bass response coupled with a sweeter and smoother high frequency performance than conventional three-way loudspeakers. The CS3.7 incorporates THIEL's latest innovative driver technology, rugged cabinet construction, and phase/time correct Coherent Source design. All-metal diaphragm, low-distortion drivers are used for outstanding tonal response and the advanced phase correct crossover design greatly improves spatial fidelity and clarity. The CS3.7 achieves the following major performance attributes:
Extremely accurate tonal response
Very high resolution of detail
Truly realistic and natural imaging
Preservation of dynamic contrasts
Driver Technology
Enclosure Design
Connections
Mounting Options
Warranty Information & Break-In Period
Driver Technology
Driver Design: The CS3.7's drivers represent state-of-the art technology and engineering. Unique short coil/long gap motor systems dramatically reduce distortion; very rigid aluminum diaphragms eliminate resonance coloration for exceptionally uniform frequency response; long excursion motor structures provide greater output capability for realistically high volume levels; and copper rings are used for magnetic field stability to greatly reduce distortion from secondary effects.
High Output, Low Distortion Tweeter: The CS3.7 features a 1" aluminum dome tweeter with 64 g (2.3 oz) neodymium magnets, a copper pole sleeve, a short coil/ log gap design with 3 mm Xmax, and is coincidently mounted with midrange. The CS3.7 tweeter provides much lower distortion and higher output. This is accomplished in spite of a size small enough to mount coincidently with the midrange driver by a unique long gap motor system that uses a set of four radial and one axial neodymium magnets with a total weight six times that of a typical neodymium powered tweeter. In addition, the tweeter provides the complete absence of any coloration-producing diaphragm resonances in the audible range, a very wide operating bandwidth and very low power compression. The result is high frequencies of utter neutrality and effortless dynamics.
Midrange Driver: The CS3.7 features a 4.5" midrange with a wave-shaped aluminum diaphragm, 3" diameter voice coil, 115 g (4 oz) neodymium magnet, copper pole sleeve, short coil/ long gap design with 6 mm Xmax, and die-cast chassis. The midrange driver should precisely reproduce every musical nuance while introducing not even a trace of its own colorations or distortions caused by diaphragm resonances or electromagnetic nonlinearity. The CS3.7 features a new midrange diaphragm that advances midrange performance much closer to this ideal. The midrange driver's diaphragm is constructed with an entirely new shape that provides far greater stiffness than typical diaphragms, even those made from exotic materials. The diaphragm is shaped with corrugations that are oriented from the center outward (like spokes) and act a little like small I-beams to provide enormous strength in that direction. The large diameter voice coil attached to the diaphragm gives it strength in the other direction--around the circle. This design achieves such great stiffness that the diaphragm continues to vibrate perfectly, as one unit, all the way up to 20 kHz, usually considered the upper limit of human hearing. This new diaphragm geometry also has a second important benefit that derives from its shape. The diaphragm is basically flat and therefore has virtually no detrimental effect on the tweeter's output, unlike a normal cone shaped diaphragm that alters the sound of a tweeter mounted in its center.
Woofer: The CS3.7 features a 10" woofer with a wave-shaped aluminum diaphragm, 3" diameter voice coil, 5 lb magnet in a 13 lb structure, copper pole ring, copper pole sleeve, short coil/ long gap design with 14 mm Xmax, and die-cast chassis. The woofer also utilizes an innovative diaphragm that is basically flat and therefore reduces the diffraction of the midrange energy usually caused by the woofer's conical cavity. The massive magnet powers a very high output and low distortion long magnetic gap and distortion is further reduced by the use of a heavy copper pole ring and a copper pole sleeve that reduces inductance nonlinearity. The large 3" diameter voice coil allows high power handling. The very low frequencies are augmented by a 10" passive bass radiator with a wave-shaped diaphragm which avoids the resonance and noise problems of a ported enclosure.
Crossover Network: The CS3.7 crossover is a true first order acoustic type that provides the utmost in spatial and depth imaging performance as well as overall realism. This is the only type of crossover that provides complete accuracy of amplitude, phase, time, and energy, and therefore the only type that does not distort the musical waveform. Proper application of this gradual-transition type of crossover requires the use of more expensive drivers with wider frequency ranges than are required for use with common quick-transition crossovers but the benefits also include improved uniformity of the speaker's output in all directions. The CS3.7 crossover is meticulously engineered to achieve extreme tonal neutrality and is constructed with extensive use of polypropylene and custom polystyrene capacitors.
Time and Phase Coherent: As with all THIEL loudspeakers, the CS3.7 is completely time and phase coherent for much greater sonic realism. THIEL's Coherent Source technology achieves the elimination of both time and phase distortions that cause alterations in the reproduced musical waveforms of most loudspeakers. Eliminating these distortions results in enhanced realism, clarity, transparency and immediacy as well as improved imaging and soundstaging in both the lateral and depth perspectives. Phase coherence in the CS3.7 is achieved by utilizing a sophisticated first-order electrical crossover system in conjunction with unusually wide bandwidth drivers. Time coherence is achieved by placement of the drivers on a baffle that is sloped at the correct angle to cause the sound energy from each to reach the listener at the same time.
Power Requirements: It is important to have enough power to play at the level you desire without distortion. If high sound levels are desired, the CS3.7's are designed to be used with amplifiers rated up to 600 watts per channel (into 4 ohms). The CS3.7 is of high efficiency (90dB) and therefore can work well with smaller amounts of power from a quality amplifier.
Enclosure Design
Cabinet Construction: The cabinet plays an enormously important role in the quality of music reproduction and so the engineering of the CS3.7's cabinet incorporates several innovations that contribute to the speaker's stunning clarity, its utter tonal neutrality and its exceptionally realistic imaging. The CS3.7 utilizes an aluminum cap, machined aluminum front baffle, and 15-layer ply cabinet walls to practically eliminate unwanted vibration for utter tonal neutrality and exceptionally realistic imaging.
Aluminum Cap: The CS3.7 cabinet top is made of formed aluminum whose shape provides several important advantages. First, it provides enormous strength, virtually eliminating unwanted vibration. Also, its rounded shape around the midrange eliminates diffraction of energy from the mid and tweeter. In addition, the rounded shape helps minimize resonances within the cabinet.
Cast Aluminum Baffle: The speaker's front baffle is machined from aluminum, a material more than 30 times as strong as the usual MDF. In addition to reducing unwanted vibrations, aluminum also provides a rigid mounting of the drivers so they cannot move, even a miniscule amount, in recoil from the forces they generate to accelerate the diaphragm. Also, the baffle's sloping angle positions the drivers for proper time coherence.
Cabinet Walls: The speaker cabinet's most important function is to completely contain the energy generated by the drivers to the inside of the cabinet. If even a miniscule amount of this internal energy escapes through vibration of the cabinet walls, distorted sound will be generated that will obscure the music's delicate details. Cabinet wall motions of even one ten-thousandths of an inch or less will produce audible distortion, and so it is very important that all cabinet walls are as strong and rigid as possible. In this regard the CS3.7 performs extraordinarily well, with all the cabinet elements innovatively engineered to provide exceptional rigidity. The construction of the cabinet sides also plays its part in the CS3.7's rigid, low vibration cabinet. The sides are made of 15 layers of hardwood laminated together into a curved shape under high pressure. This results in a much stronger panel than usual, with the curves adding greatly to its rigidity. The rounding at the front of the speaker also reduces unwanted diffraction and the gentle rounding along the cabinet sides also creates non-parallel walls to minimize internal resonances.
Sloping Front, Rounded Edges: Another cabinet function is to position all the drivers properly so that the listener hears the sound of each driver at the same time, preserving the sound's timing information. Because all of the sound's harmonics are heard in perfect synchrony, all the music's spatial cues are reproduced naturally. The CS3.7's sloping front is designed to achieve time coherence between the sonic output of the woofer and the midrange/ tweeter array. Another task the cabinet must perform is to allow the sound from the drivers to radiate freely without encountering cabinet edges or cavities that will diffract some of the energy, causing interference and delayed sounds that produce tonal colorations and obscure spatial information. In this regard also the 3.7 provides exceptional results with its gently rounded cabinet top and sides.
Note: The CS3.7 is available in a wide variety of exquisite, real-wood, laminate, and painted cabinet finishes, finely crafted to enhance any home environment including Amberwood, Black Ash and Natural Cherry. THIEL CS3.7 cabinets possess a high quality lacquer finish that is both beautiful and very durable. Any furniture care product such as Pledge, Johnson's, or Endust can be used to keep the cabinets clean.
Magnetic Grille: The CS3.7 grille is attached magnetically to the front of the speaker. The grille is designed to not produce diffraction so there is no sonic reason to remove it. If you do need to remove the grille, carefully pull the grille frame away from the front of the speaker. When replacing the grille, line up the grille with the baffle's inlay edges.
Note: The grilles can be cleaned of dust by using an upholstery attachment of a vacuum cleaner. To prevent damage to the tweeter, take care not to push the cloth in toward the top of the grille
Connections
Binding Posts: The CS3.7's input terminals are located on the lower rear of the speaker cabinet. The CS3.7 uses binding posts that accept several types of wire connections (will not accept dual banana plug connectors but single banana plugs can be used). The input terminals are designed to be easily tightened by hand or a 1⁄2 inch nut driver can be used. The speaker's input terminals are color coded to facilitate that both speakers in a stereo system are wired in the same polarity for maximum speaker performance. The speakers should be connected to the amplifier with high quality cable to ensure minimal loss of power and proper control by the amplifier.
Note: The CS3.7 is a very high quality sound reproducer and will benefit from use with the best associated equipment. Since it is extremely accurate, it will reveal sources of distortion generated elsewhere in the system. For example, distortion resulting from poor recordings or inferior electronics will be reproduced accurately. Also, the quality of the interconnect cables and speaker cables will significantly effect the performance of the system
Mounting Options
Placement: The CS3.7s are relatively non-critical to room placement and will provide good results from almost anywhere. However, here are some guidelines to help you achieve the best sound from your speakers. Speaker placement will affect the accuracy of timbre, spatial performance, and bass performance.
Distance From Walls: THIEL speakers, and most others, sound best if they are placed well away from all walls. Such placement optimizes imaging and depth, and musical timbres are reproduced with the least coloration because it allows the initial sound coming from the speaker to be distinctly separated in time from the secondary sound of wall reflections. If reflections are heard too quickly after the primary sound, your brain tends to interpret them as part of the initial sound, causing the perceived timbre to be altered and the spatial characteristics to be confused. If you experiment, you will notice a major improvement in openness when the speakers are even two feet from the rear wall instead of one. Ideally, the speakers should be three feet from the rear wall and five feet from the side wall. Also, it is not desirable for large objects to be placed near the speakers since these will also be a source of unwanted early reflections that reduce imaging accuracy.
Spacing: Because of their very wide, even dispersion of energy, THIEL speakers should usually be placed farther apart than most. Optimum imaging is usually achieved when the speakers and the listener form an equilateral triangle, although this will depend on the width of the room (a narrow room will require closer placement). If the speakers are too far apart for a given environment, there will tend to be a "hole" in the middle of the sound stage; if they are too close together, the image will be compressed and will not achieve optimum width.
Aiming: Preferred the imaging is obtained when the speakers are pointed straight ahead rather than pointing toward the listener. This placement produces the largest, most natural soundstage. However, toeing the speakers in somewhat may produce more specific placements of instruments. Also, if it is not possible to get the speakers far enough away from the side walls, a toed-in position can be helpful to reduce the strength of wall reflections.
Bass: Bass response is also affected by speaker placement. In general, when a speaker is close to a wall the bass response is stronger and placing a speaker in a corner will make it even more so. In order to achieve properly balanced bass, it is necessary for the speaker to be used in the environment for which it was designed. THIEL speakers are designed to provide accurate bass when positioned away from all walls-the same position that provides the best imaging.
Listener Position: The CS3.7s provide broad dispersion of energy at all frequencies and therefore provide good results throughout a large listening area. Best imaging is provided for a listener centered in front of the speakers. Optimum phase and time alignment is provided only for a seated listener who is eight or more feet away from the speaker.
Stabilizer Feet: Speakers positioned on a soft or uneven surface are able to rock slightly and will vibrate in reaction to forces the speaker generates to move the driver diaphragms. This motion slightly reduces the music's clarity. To eliminate this effect, the CS3.7s can be used with the supplied four gold stabilizer feet on uneven surfaces or on carpeted floors to provide a more solid footing and allow the speaker to couple more firmly to the floor. The speakers should be positioned before the stabilizer feet are installed.
Note: Please be cautioned that the stabilizer feet can dent hardwood floors and it is possible to mar the floor's surface if the speakers are moved with the feet in place.
Warranty Information & Break-In Period
Break-In Period: The CS3.7's, like most speakers, require a period of playing before they perform optimally. The amount of time depends on how loudly the speakers are played; more time is required if played softly, less if played loudly. At least 50 hours at moderately loud levels are required before the speaker is performing near optimum. You should notice even more improvement after 100 hours of playing.
10 Year Warranty: THIEL warrants every THIEL model CS3.7 loudspeaker against defects in materials and workmanship to the original owner for a period of ten years from the date of purchase. THIEL will, at no charge, replace any defective part and make any repairs necessary to ensure its proper performance when the defective unit is returned to us postpaid. This warranty does not cover damage due to accident or abuse and is void if the unit has been tampered with. This warranty is automatic and no registration is required.
Our Product Research Team
At Crutchfield, you'll get detailed, accurate information that's hard to find elsewhere. That's because we have our own in-house Product Research team. They verify what's in the box, check the owner's manual, and record dimensions, features and specs. We stay on top of new products and technologies to help people make informed choices.