Why Choose Crutchfield?
Deep discounts on car installation gear
We offer vehicle-specific installation instructions, dash kits, wiring harnesses, and speaker accessories at deeply discounted prices with car stereo and speaker purchases. Available for most vehicles.
Learn more
Trusted since 1974
Our customers have trusted us with their business, and they've helped us win awards for our service.
Check out our most recent awards
Factory-authorized dealer
The manufacturer's warranty always applies.
See more details
LG 47LA6200
47" 1080p 3D LED-LCD HDTV with Wi-Fi®
Item # 68947A6200 | MFR # 47LA6200
This item is no longer available.
Overview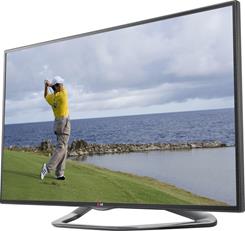 Impressive performance and versatility
LG's stylish 47LA6200 produces a great picture — this model is easy on the eyes whether it's on or off. TruMotion 120Hz blur reduction ensures crystal-clear video motion — you'll see crisp movement even with fast-action sports and video games. Count on seeing a pleasing picture from whatever you connect to this set, from a Blu-ray player to a compatible smartphone.
Immersive 3D viewing and amazing two-player gaming
Enjoy the immersive 3D experience of the movie theater at home with LG's Cinema 3D technology. The 3D effects are engaging, and with 2D-to-3D conversion and 3D depth control, you get to choose how strong the 3D effect is. LG's passive 3D glasses are comfortable and lightweight, and 4 pairs are included with the 47LA6200 so your family and friends won't miss out on the fun. And don't forget that LG's 3D TVs are wonderful for 2D video, as well.
LG's latest screen technology also means that you can now enjoy two-player gaming on the same TV without the need for a split screen. Two players can compete independently and see the action on a full screen. Note: Two-player gaming mode requires LG's special AG-F310DP glasses which are sold separately.
Up-to-the-minute Smart TV features
The 47LA6200's built-in web apps give you instant access to a nearly limitless selection of entertainment — streamed video from services like Netflix® and Hulu Plus™, plus exclusive live events like baseball with MLB.tv, music, social networking, and lots more. A dual-core processor really speeds up web browsing and app multitasking. LG's user-friendly TV/web interface makes navigation a piece of cake.
Learn about the ins and outs of HDMI connections at the Crutchfield Learning Center.
Shop our selection of HDMI cables.
Tip: For a list of over-the-air digital TV stations you can receive, as well as antenna recommendations for your location, enter your zip code in AntennaWeb's mapping tool.
Features:
46.9" screen (measured diagonally)
glossy screen with brushed black bezel
tuner receives over-the-air HDTV broadcasts (antenna required)
QAM cable TV tuner (subscription required to receive cable channels — contact your local service provider for details)
displays 3D images when you wear LG's passive 3D glasses (4 pairs of glasses are included)
2D-to-3D conversion adds 3D-like depth to non-3D video sources
direct-lit LED backlight for high picture contrast
TruMotion 120Hz refresh rate for blur reduction
Internet-ready Smart TV — plays Netflix® video and more (subscription required for some services)
supports up to 5.1-channel audio with streaming movie services like Netflix and Vudu™ (audio quality depends on your connection speed)
built-in Wi-Fi® to link to a wireless network
built-in web browser
dual-core processor for improved web browsing and app multitasking
video and music streaming from a DLNA-compatible Windows® PC
Intel® Wireless Display (WiDi) technology for direct wireless content transfer from compatible devices with no Wi-Fi network needed
Skype™-compatible (requires LG camera — sold separately)
MHL-compatible HDMI input for viewing photos/videos from a compatible smartphone on the TV's screen
built-in stereo speakers (10 watts x 2)
remote control
free downloadable apps for iOS® and Android™ let you use a compatible smartphone as a remote control
SIMPLINK™ simplifies control of compatible LG components via the HDMI connection (HDMI-CEC)
meets ENERGY STAR® requirements
Connections and Dimensions:
4 A/V inputs, including:

3 HDMI
1 component video (selectable component/composite)

RF input for antenna/cable signals
optical digital audio output (may only pass 2-channel audio from HDMI-connected sources)
minijack headphone output
Ethernet port for a wired connection to a home network
3 USB inputs for connecting a camera or thumb drive
detachable swivel stand (stand "footprint" is 26-3/8"W x 12-13/16"D)
wall-mountable (bracket not included)
42-5/16"W x 25"H x 3-7/16"D (27-3/8"H x 12-13/16"D on stand)
weight: 34.4 lbs. with stand; 28.9 lbs. without stand
warranty: 1 year parts & labor — in-home service or pick-up for service
What's in the Box:
47" LED-LCD TV
Stand base
Stand body
5' AC power cord
IR remote (AKB73756506)
Four 3D glasses (AG-F310)
Two "AAA" batteries
Eight M4 x 14mm machine screws (w/ star-washers)
Two M4 x 8mm screws
Two 0.75" self-tapping screws
Cable holder
2 Desk-mount cables
Cleaning cloth
Owner's Manual
Quick Start Guide
Limited Warranty Information
Product Registration Card
Important Information
Energy Guide:

View the Energy Guide
Details
Product Research
Video Features
Audio Features
Network/USB Functions
Convenience Features
Remote Control
Mounting Options
Video Features
Direct-Lit LED Technology: Direct-Lit LED backlight technology bridges the gap between lower-cost CCFL (fluorescent) LCD TVs and newer edge-lit LED-LCD TVs. LG's Direct-Lit LED-LCD televisions feature LEDs positioned all the way across the LCD panel's back plane (instead of along the side). Unlike "Full-Array" backlight LED-LCD televisions that also feature LEDs positioned along the LCD panel's back plane, the Direct-Lit LED technology uses fewer LEDs and do not offer local dimming. Since there are fewer LEDs, the LCD panel's back plane must be moved farther away from the screen to provide adequate light coverage across the LCD panel, making the TV much deeper than an edge-lit LED-LCD television. Direct-Lit LED backlight technology offers a better picture and is more energy efficient than previous CCFL (fluorescent) LCD televisions, though it requires a much larger cabinet design than newer edge-lit LED-LCD TVs.
TruMotion 120Hz: TruMotion 120Hz provides clear, smoother images, even during fast action scenes crating a more crisper picture. TruMotion 120Hz technology lets you see sports, video games, and high-speed action with virtually no motion blur; letting the LED-LCD TV keep up with your fast- moving entertainment.
Triple XD Engine w/ 1080P Resolution: The LED-LCD TV utilizes LG's exclusive Triple XD Engine video processing system for crisp images and rich, vibrant colors. The LG LED-LCD TV has a display resolution of 1920 x 1080 (1080p).
Video Inputs: The LG LED-LCD HDTV features HDMI, Component, and Composite video inputs. All of the television's video inputs are displayed at 1080p.
Triple HDMI Inputs: The three HDMI inputs will accept 1080p (60/24Hz), 1080i, 720p, and 480p video signals. The HDMI inputs not only allow you to connect your Blu-ray/DVD player or Satellite/Cable receiver to the TV, but also a laptop or computer.
Component/Composite Video: The one Component Video input will accept 1080p (60Hz), 1080i, 720p, 480p, and 480i signals. The component video input can also be used as a composite video input (480i only).
MHL Compatible: The HDMI 3 input is MHL compatible and designed for the connection of select mobile phones and other portable electronic devices. Simply plug your MHL compatible smartphone into the TV's HDMI 3 port using the HDMI cable that is included with your mobile phone. MHL allows you to display full 1080p video and still images on the LG TV from your mobile smartphone. The TV's IR remote can be used to control basic playback functions (such as Play/Pause, Stop Fast Forward/Rewind, and Menu navigation). Your MHL compliant device will also charge while connected to the TV's HDMI 3 port. To find MHL-certified devices, go to www.mhlconsortium.org.
LG Cinema 3D: LG Cinema 3D offers amazing 3D depth with a brighter picture and better motion quality, plus flicker-free glasses, just like the movie theater. You get the same technology that powers the 3D films in the movie theater, right in your own home. LG Cinema 3D gives you wider viewing angles, meaning you get the same immersive 3D experience wherever you sit. The LED-LCD flat-panel TV's 3D picture begins with LG's proprietary Film-type Patterned Retarder (FPR) panel, which optimizes the separation of images for the left and right eyes. This polarized film is applied directly to the TV's screen enabling delivery of optimized images for both eyes. The images are then filtered through specially designed glasses to give you truly crisp, blur-free, flicker-free 3D images that leap of the screen. As a result, the 3D image looks 1080p and is clearer, brighter, flicker-free, and more comfortable to watch.
Included 3D Glasses (AG-F310): The included 3D glasses (4 pair included) are just like the ones you get at the movie theater, so they are very lightweight and comfortable to wear. The 3D image formatting is done solely on the TV set, so the 3D glasses are passive (no batteries required) and don't need to be synced, enabling you to enjoy 3D images anywhere in your room and free from the interference of other objects. The passive 3D glasses design also lets you enjoy 3D images from any viewing angle; whether you are sitting on the couch or laying on floor.
2D-to-3D Conversion: 2D (two-dimensional) images can be transformed to 3D (three-dimensional) images. If you are watching a 2D program, the television can transform those two-dimensional images to virtual 3D images (you must be wearing included 3D glasses).
3D Depth/Viewpoint Control: You can adjust the 3D Depth between the foreground objects and the background. You can also adjust the 3D Viewpoint, making the 3D images closer or farther from the viewer.
Two-Player Gaming: Gamers can enjoy two-player 2D gaming on this one TV without the need for a split screen. Now, you and a friend can compete against one another independently and catch the action on a full screen. This feature requires special glasses (AG-F310DP, sold separately).
Note: This LG TV can display in 3D via 3D broadcasting or when the TV is connected to a 3D compatible device; such as a 3D-ready Blu-ray player with 3D content. The TV must be connected to your 3D source via HDMI (v.1.4) and you must wear the included passive 3D glasses in order to see these images in 3D (three-dimensional) format.
HDTV Tuner: The TV has built-in over-the-air HDTV (ATSC) and Digital Cable (QAM) tuners, so you don't need a separate set-top box to receive and decode over-the-air HDTV/SDTV or unencrypted Digital Cable signals.
Picture Size (Aspect Ratio): You can select a different aspect ratio depending on input source (analog broadcasting, digital broadcasting, video input).
16:9: Resizes the image ratio to fit a 16:9 screen.
Just Scan: Normally the edges of video signals are cropped 1-2%. Just Scan turns off this cropping and shows the complete video.
Set by Program: Depending on the input signal, screen aspect ratio changes to 4:3 or 16:9.
4:3: Resizes the image ratio to fit a 4:3 screen.
Zoom: Choose Zoom when you want to view the picture without any alteration. However, the top and bottom portions of the picture will be cropped.
Cinema Zoom: Choose Cinema Zoom when you want to enlarge the picture in correct proportion. This enlarges an image with cinemascope aspect ratio (2.35:1) without distortion.
Picture Wizard II (Picture Control): This feature lets you adjust the picture quality of the original image. The LG TV's Picture Wizard II (Easy Picture Calibration) offers self-calibration with on-screen reference points for key picture quality elements such as black level, color, tint, sharpness and backlight levels. This feature takes the guesswork out of picture adjustments.
Picture Modes: The LG LED-LCD TV provides preset, user, and expert adjustment of the television's picture settings.
Presets: Easy to use factory presets for picture mode settings include:

Standard: provides optimum viewing for general use
Vivid: maximizes the effect of the video by strengthening the contrast, brightness, color, and sharpness
Cinema: optimizes video for watching videos
Game: provides fast response speed for fast gaming system
Eco: this Energy Saver mode changes the TV's picture settings to reduce power consumption

User Adjustment: This mode allows you to adjust the video quality settings manually.

Backlight: adjusts the brightness of the backlight behind the LED-LCD screen; adjusting the back-light is recommended when setting the brightness of the TV; when decreasing the backlight, the brightness of the black becomes darker without any loss in video signal and the power consumption is reduced
Contrast: increase or decrease the gradient of the video signal; you may use Contrast when the bright part of the picture is saturated
Brightness: adjusts the base level of the signal in the picture; you may use Brightness when the dark part of the picture is saturated.
Sharpness: adjusts the level of crispness in the edges between the light and dark areas of the picture; the lower the level, the softer the image
Color: adjusts intensity of all colors
Tint: adjusts the balance between red and green levels
Color Temp: set to warm to enhance hotter colors such as red, or set to cool to enhance cooler colors such as blue

Expert Mode: The LG LED-LCD TV is ISFccc Ready and contains the detailed standards necessary for professional calibration of brightness, contrast, tint, sharpness, color levels and much more to meet local lighting conditions for both day and nighttime viewing. Settings are added to preset Expert 1/2 modes for easy access from your LG remote.
Advanced Picture Control: Advanced Picture Control allows you to adjust some of the advanced video features of the LG LED-LCD TV.
Dynamic Contrast: Adjusts the contrast to keep it at the best level according to the brightness of the screen. The picture is improved by making bright parts brighter and dark parts darker.
Dynamic Color: Adjusts screen colors so that they look livelier, richer and clearer. This feature enhances hue, saturation and luminance so that red, blue and green white look more vivid.
Preferred Color: Fine tune Skin, Sky, and Grass color independently.
Super Resolution: Provides a crystal-clear picture by improving the details in areas where the picture is blurry or unclear.
Gamma: You can adjust the brightness of dark areas and middle gray level areas of the picture.
Color Gamut: Maximizes the utilization of colors to increase color quality.
Edge Enhancer: Shows clearer and distinctive, yet natural edges of the video.
xvYCC: This feature produces richer colors from x.v.YCC compatible sources.
Color Filter: This function filters specific colors in the video. You can use the RGB filter to set color saturation and hue accurately.
Expert Pattern: Patterns used for expert adjustment.
White Balance: Adjusts the color temperature color by color.
Color Management System: A tool that allows you to make adjustments by using test patterns; this does not affect other colors, but can be used to selectively adjust the 6 color areas (Red/Green/Blue/Cyan/Mgt/Yellow).
Picture Options: Additional picture options are available to enhance your viewing experience.
Real Cinema: Makes video clips recorded in a film look more natural by eliminating judder effect.
Black Level: Sets the black level of the screen to the proper level.
Noise Reduction: Reduces screen noise without compromising video quality.
MPEG Noise Reduction: Removes noise caused by compressing video.
Eye Care: Adjusts screen brightness to prevent eye fatigue.
Motion Eye Care: Saves power consumption by adjusting the brightness corresponding to movement in the video.
Audio Features
Sound Optimizer: This function optimizes the sound based on the environment in which the TV is installed (Normal, Wall-Mount, Stand).
Preset + 5-Band EQ: Sound Mode lets you enjoy the best sound without any special adjustment using factory presets. Standard, Music, Cinema, Sport, and Game are preset for optimum sound quality. You can also adjust the TV's sound manually by using the 5-band EQ (100Hz, 300Hz, 1khz, 3khz, 10kHz).
Audio Enhancements: The LG LED-LCD TV offers various audio adjustments to enhance your overall experience.
Virtual Surround: Virtual Surround delivers a simulated surround sound effect with just the TVs two speakers.
Clear Voice II: Clear Voice II enhances and amplifies the frequency range of the human voice to help keep dialogue audible when background noise swells.
Smart Sound Mode: Smart Sound Mode provides optimized sound adjusted for each source input. Smart Sound Mode automatically adjust Preset/5-Band EQ, Virtual Surround, and Clear Voice II.
3D Sound Zooming: Provides 3D-optimized sound to match the 3D video.
Auto Volume: Auto Volume makes sure that the volume level remains consistent whether you are watching a commercial or a regular TV program. Because each broadcasting station has its own signal conditions, volume adjustment may be needed every time the channel is changed. This feature allows users to enjoy stable volume levels by making automatic adjustments for each program.
AV Sync: If the video and sound of the television are not synced, you can adjust the delay of the audio output to match the video.
Audio Outputs: The LG LED-LCD TV offers an optical digital output and 3.5mm headphone jack.
Digital Audio Output: The optical (toslink) digital output terminal will output Dolby Digital (when available) or 2 channel PCM. The digital optical output terminal only sends an audio signal in Dolby Digital when receiving Dolby Digital surround sound from a digital broadcast channel through the TV tuner or Dolby Digital content loaded onto USB. The optical digital audio output will only output in 2ch stereo from sources connected to the television via HDMI or RCA.
Headphone Output: The TV's 3.5mm headphone output lets you listen to the television's sound privately through a set of headphones. The headphone output has a max audio output of 9-15mW and impedance of 16-ohm.
ARC (Audio Return Channel): The Audio Return Channel in HDMI 1.4 enables the TV, via a single HDMI cable, to send audio data "upstream" to your A/V receiver; increasing user flexibility and eliminating the need for any separate S/PDIF audio connection. This feature allows audio to be sent from the television to your A/V receiver through the same HDMI cable already being used to send audio/video to the television. This eliminates the need for extra cables connected to the TV. ARC allows audio from the TV tuner, Network connection, inserted USB device, HDMI inputs, or any analog connected device to be heard through your ARC compatible AV receiver via the television's HDMI ARC input. The audio from the TV's tuner, network connection, and USB port can pass as Dolby Digital or 2ch PCM. HDMI and analog connected devices will be output as 2ch PCM only.
Note: Both the television and the receiver must support ARC for this function to work properly. When connecting an A/V receiver that is compatible with Audio Return Channel (ARC), connect it to the TV's HDMI 1 input. If connecting a system that is incompatible Audio Return Channel (ARC), an additional audio connection via Digital Audio Out (Optical) is necessary.
Network/USB Functions
Dual Core Processor: LG's dual core processor technology delivers the speed you need for faster web browsing, instant access to internet content, and quicker application processing. The dual core processor also supports multi-tasking, so you can watch your favorite shows and check social networks at the same time.
Wired or Wireless Network Connection: This TV can be connected to your home network via its Ethernet (LAN) port or built-in WiFi. If both options are available in your network, the wired Ethernet connection is recommended. Either network connection offers access to your PC movie/photo/music files, LG Apps, and the Internet.
Note: A 10 Base-T or 100 Base-TX LAN port is required for connection to this TV. Use a standard LAN cable with this TV (Cat5 or better with a RJ45 connector). The included wireless network adapter operates at 2.4 GHz radio frequencies, which are also used by other household devices.
LG Smart TV Apps: LG Smart TV Apps allows you to access a variety of online services and content directly on the LG LED-LCD TV through its network connection. LG Smart TV Apps is an easy way to access limitless content, thousands of movies, customizable apps, videos, and browse the web; all organized in a simple to use interface (known as Smart TV). LG Smart TV Apps offers pay and free-of-charge instant streaming of movies, weather, videos, and photo album services. Once you have connected the LG TV to your home network and the internet, you can enjoy entertainment content, up-to-the minute news, weather updates, photo management, and more by simply using the TV's remote control and on-screen menu; all without a separate PC.
Premium Apps: Get access to premium Movie, Music, and Photo content from the following pre-installed apps - Netflix (5.1ch), Vudu, Hulu Plus, Cinema Now, Crackle, Viewster, YouTube, UStream, vTuner, Rhapsody, and Picasa. Plus, get access to pre-installed Sports, News, and Weather apps like - MLB.TV, Google Maps, AccuWeather.com, and Associate Press (AP).
Smart World Apps: LG Smart World is an online store for the LG Smart TV where you can download additional free and fee-based apps of diverse contents including education, entertainment, lifestyle, and news. Pandora will need to be downloaded from Smart World Apps.
3D World: 3D world gives you access to a variety of free & pay online 3D content; such as movies & sports.
Game World Apps: This portal provides a user-friendly way to search, purchase, and play game apps through an LG Smart TV. Game World begins with the main menu, which displays a menu bar listing four categories (Featured, Top Charts, New, and Genre) for quick access to the contents. The main menu of the service also provides a tutorial, with manuals and instructions for playing games. The My Games section links users to all previously purchased games. USB-enabled gamepad (sold separately) is required.
Social Center App: LG Smart TV provides the Social Center app that allows you to communicate via social network services (SNS), such as Facebook and Twitter while watching TV. Using the Social Center app, you can post comments, as well as view comments and pictures posted by your social networking friends at a glance. You can even use your Android smartphone as a keyboard when using the Social Center App (download the LG TV Remote app onto your phone).
Note: Visit LG Smart TV for the latest compatible apps. Internet connection & subscriptions required. A minimum connection speed of 1.5 Mbps is required. For the best playback condition, a connection speed of 4.0 Mbps is required.
Skype Ready: The LG Skype app lets you make video calls from the comfort of your living room. Using the TV's remote control, you can create free Skype accounts, log into existing accounts, and navigate via a simple Skype interface made for the big screen. You can make free Skype-to-Skype voice and video calls to friends and family, wherever they are in the world from the LG TV (separate LG TV Skype camera required, sold separately). You cannot use input device, such as a keyboard while using Skype.
Web Browser: The LG Smart TV features a built-in web browser that lets you search the Internet for a particular website by URL or your Favorites list. The web browser supports up to Flash 11, but does not support platform-dependent technology like ActiveX. The web browser only replays the following media file formats - JPEG/PNG/GIF. Not all websites will be available for download, because of size and content.
SmartShare: Whether you create a network with your compatible devices, access content stored in your LG Cloud, or use an NFC tag to connect; the LG TV makes it easy with SmartShare Technology for you to share content with friends and family.
DLNA Certified: This TV is DLNA Certified; which means it can display and play movie (DivX/WMV/MOV/MKV/MPEG), photo (JPEG), and music (MP3) content from your DLNA Certified network device and DLNA server (such as your Windows 7 or 8 PC). The Digital Living Network Alliance (DLNA) is a cross-industry organization of consumer electronics, computing industry and mobile device companies. Digital Living provides consumers with easy sharing of digital media through a wired or wireless network in the home. If you don't already have DLNA software on your Windows-based computer or server, simply download the Nero MediaHome 4 software from LG's website.
WiDi + Miracast Technology: The LG LED-LCD TV features built-in Intel Wireless Display (WiDi) and Miracast technology for direct wireless content transfer from compatible devices with no Wi-Fi network needed. Now, you can enjoy all of your personal and online content on the big screen with a simple wireless connection. With a laptop featuring Intel Wireless Display (WiDi) or Android smartphone featuring Miracast, you can sit back and experience your favorite movies, videos, photos, online shows, and more in full HD (up to 1080P) and multichannel audio (up to 5.1ch) on the LG Smart TV.
NFC Tag On: Tag On is a data transmission technology that is used on Android smartphones (4.0+ICS) with Near Field Communication. Simply by tapping your smartphone to a Tag On sticker (sold separately by LG) on the TV, you can share audio/video/photo content between your smartphone and TV. To connect your smartphone to the TV using Tag On, you must download the Tag On app and LG TV Remote app onto your compatible Android smartphone. Your smartphone and TV must be connected to the same WiFi network, or use the TV's direct WiDi/Miracast connection.
LG Cloud: You can save videos, music, and photos to the LG Cloud, and easily access and play these files directly on the internet-connected LG Smart TV. It's a convenient alternative to local storage, and everybody receives 5GB free.
Software Update: You can update the TV with the latest software to enhance the product operation and/or add new features via the TV's network connection. The tested TV contained software version 03.07.29 with an immediate upgrade for software version 03.20.25 (as of 4/23/2013). Visit LG's Support Site for the latest firmware/software updates.
Triple USB Ports: The television features three USB type-A ports for playback of video (DivX/WMV/MOV/MKV/MPEG), still image (JPEG), and music (MP3) files stored on a connected USB memory device. The television can support USB external hard disc drives (up to 2TB) and USB mass storage class devices (up to 32GB). The USB storage devices must be formatted as FAT 32 or NTFS file system. In addition, the TV will charge USB devices that can be charged via USB (max. 5V/0.5A). The LG television lets you watch a slideshow of your photos (JPEG) while listening to background music (MP3) from an inserted USB device.
Convenience Features
LG Smart TV: LG Smart TV is a unique, interactive, simple-to-use on-screen user-interface that allows you to watch TV while you search for premium online content, explore LG Apps, adjust picture settings, switch external inputs, and select between connected network devices; all from one menu screen on the LG LED-LCD TV. A few unique features of the Smart TV on-screen menu include:
What Is On Now?: This feature allows you to select and watch recommended programs currently available from live TV broadcasts and video-on-demand applications. You can also select and watch only recommended content related to the program you are currently watching.
Universal Search: You can do a universal keyword search of online content, which includes the TV's internet apps and its web browser.
My Interests: My Interests displays the weather in your area and the latest information from your top three selected categories (Sports, Movies, Music, News, TV, Business, Health, Politics, Travel, Science/Tech, or World).
Live Plus: Live Plus is a service that provides various information on the program you are currently watching in a pop-up format. Only select broadcast companies and programs provide this service.
AV Modes: AV Mode is three preset picture and audio settings. It allows the viewer to quickly switch between common audio/video settings. It includes Cinema, Game, Off (standard) Modes. With AV Mode, you can easily select from one of these three picture modes to enjoy an optimized picture and sound experience.
Input & Channel Lists: The LG TV lets you store your Favorite broadcast TV channels, as well as label your input sources.
Favorite Channels: Favorite Channels are a convenient feature that lets you quickly select channels of your choice without waiting for the TV to search through all the in-between channels. You can check which channels are stored in the memory by displaying the favorite channel list.
Input Label List: The LG TV will only display inputs which are connected to the television. You can select from preset names (Blu-ray, DVD, Set-top Box, Satellite, Cable Box, Game, PC, or DVI) to label each connected input.
Analog and Digital Caption Modes: Analog and Digital Captions are provided to help the hearing impaired watch TV. Select a caption mode for displaying captioning information if provided on a program. Analog caption displays information at any position on the screen and is usually the program's dialog. Caption/Text, if provided by the broadcaster, would be available for both digital and analog channels on the Antenna/Cable. This TV is programmed to memorize the caption/text mode which was last set when you turned the power off.
Parental Control: Parental Control can be used to block specific channels, ratings, and other viewing sources (external input block). The Parental Control Function is used to block program viewing based on the ratings sent by the broadcasting station. The default setting is to allow all programs to be viewed. Viewing can be blocked by choosing the type of the program and the categories. It is also possible block a specific channel. The Parental Control function is protected by a 4-digit user password.
ENERGY STAR Certified w/ Energy Saving Feature: Earning the ENERGY STAR means a product meets strict energy efficiency guidelines set by the US Environmental Protection Agency and the Department of Energy. For TVs, it means they save energy both in Standby and On modes. ENERGY STAR qualified TVs use about 30% less energy than standard units. The Energy Saving feature helps to save electric power by adjusting the screen brightness.
Minimum/Medium/Maximum: Applies the pre-set Energy Saving mode.
Screen Off: Screen is turned off and only sound is heard.
Off: Turns off the Energy Saving feature.
Timers: The LED-LCD TV employs On, Off, and Sleep Timer functions.
Auto On/Off: You can program the television to turn On and turn Off at a certain time. You can set the On and Off timer to Daily, Mon-Fri, Mon-Sat, Sat-Sun, or Once. You can also set the input, channel, and volume level for the On Timer. If you do not press any button within 2 hours after the TV turns on with the On Timer, the TV will automatically revert back to standby mode.
Sleep Timer: The Sleep Timer turns the TV off at the preset time (10, 20, 30, 60, 90, 120, 180, or 240 minutes).
Built-in Customer Support: The LG LED-LCD Smart TV offers built-in customer support to help your learn functions and diagnose problems.
On-Screen User Guide: The TV offers a built-in, on-screen User Guide to help you learn how to use your new TV.
Picture/Sound Tests: This customer support function executes picture and sound tests to make sure you have the TV properly connected.
LG Remote TV Service: LG Remote TV Service can allow LG Customer Service to help you perform menu actions and resolve many problems remotely. To use this feature make sure your TV is connected to the internet.
Remote Control
IR Remote Control: The supplied IR remote control is designed to only operate the LG LED-LCD television and SIMPLINK connected components.
SIMPLINK: SIMPLINK allows you to control and play other LG AV devices connected with HDMI cable without additional cables and settings, from the television's remote control. SIMPLINK provides the following remote functions.
Direct Play: After connecting AV devices to the TV, you can directly control the devices and play media without additional settings.
Select Multimedia Device: Enables you to select one of the multimedia device connected to the TV.
Disc Playback: Control playback of connected Blu-ray and DVD players.
Power Off All Devices: When you power off the TV, all connected devices are turned off.
Sync Power On: When the equipment with SIMPLINK function connected HDMI terminal starts to play, The TV will automatically turn on.
Speaker: Selects either connected home theater or TV speaker.
Note: To operate SIMPLINK, an HDMI cable over Version 1.3 with CEC function should be used. This TV may work with devices with HDMI-CEC support, but only devices with the "SIMPLINK" logo are fully supported
LG TV Remote App: You can download the LG TV Remote app (from the Google Play Store or Apple App Store) onto your Android (2.2+) smartphone/tablet or Apple iOS (5.0+) device in order to control the television from your mobile device. In addition to controlling the functions of the TV, the LG TV Remote app lets you stream your favorite broadcast programs from the TV to your Android or Apple iOS device. You can also access the TV's online applications, SmartShare content, and Social Center apps. In addition, you can use your smartphone or tablet to enter text (making web browsing easier). You can even use your smartphone/tablet as game controller for select gaming apps on the TV. The LG TV and your Android or Apple iOS device must be connected to the same network.
Keyboard Compatible: The LG LED-LCD TV supports the use of a keyboard & mouse through its USB ports. You can enter text with the keyboard when using the Search function and the built-in Web Browser.
Mounting Options
Pedestal Stand: The TV is shipped with a pedestal stand unattached; assembly is required using the supplied hardware. The tabletop stand allows the television to swivel 10° left or right. The television weighs 34.4 lbs with the stand.
Wall Mounting: The TV has four threaded inserts on the back for use with an optional wall-mount bracket. The spacing of the mounting holes is 400mm (h) x 400mm (v). The threaded inserts require 6mm machine screws (not supplied). The television weighs 28.9 lbs without the stand.
Note: When mounting the TV on the stand or a wall (with optional bracket) leave 4" of clearance on each side of the television and 4" above/below the television for adequate ventilation.
Detachable AC Power Cord: The television comes with a detachable 5' AC power cord. The power cord is fitted with a right-angle AC plug that sits 0.8125" from the wall.
Our Product Research Team
At Crutchfield, you'll get detailed, accurate information that's hard to find elsewhere. That's because we have our own in-house Product Research team. They verify what's in the box, check the owner's manual, and record dimensions, features and specs. We stay on top of new products and technologies to help people make informed choices.