Why Choose Crutchfield?
Deep discounts on car installation gear
We offer vehicle-specific installation instructions, dash kits, wiring harnesses, and speaker accessories at deeply discounted prices with car stereo and speaker purchases. Available for most vehicles.
Learn more
Trusted since 1974
Our customers have trusted us with their business, and they've helped us win awards for our service.
Check out our most recent awards
Factory-authorized dealer
The manufacturer's warranty always applies.
See more details
Mitsubishi LT-52249
52" Diamond-Series 1080p LCD HDTV with integrated 18-speaker surround system and VUDU™ movie streaming
Item # 690LT52249 | MFR # LT-52249
This item is no longer available.
Overview
Our take on the Mitsubishi LT-52249by Crutchfield's Steve Kindig
A TV that entertains your eyes and ears
The LT-52249 is Mitsubishi's top 52" TV; it's part of their flagship Diamond series. Superb picture quality is a given, as is the surprisingly spacious sound generated by the 18-speaker system concealed in the slim panel beneath the screen. Imagine enjoying surround sound effects on TV shows, movies and video games without the need for rear speakers. Another capability that will expand your home theater options is built-in access to the VUDU™ Internet movie streaming service.
Access thousands of movies from your sofa
Movie fans love the ability to stream movies from the Internet, and VUDU's on-demand service leads the way in quantity and quality. Choose from over 16,000 titles — over 2,200 are in high-definition, many with 1080p picture quality and 5.1-channel sound. Once the LT-52249 is connected to your high-speed Internet service, you simply activate your VUDU account and start streaming movies straight to your TV. With no subscriptions, mail-in envelopes, or store visits to contend with, every night can be your "movie night."
---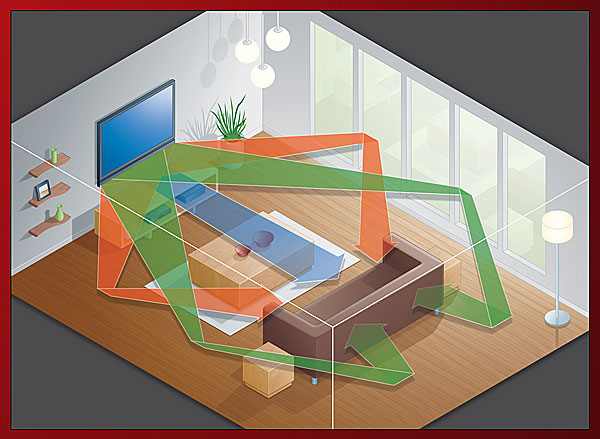 Mitsubishi's Unisen™ system works with your room to immerse you in sound
Mitsubishi's best Unisen system uses 18 built-in speakers plus advanced digital processing to create a wraparound soundstage. The array of small speakers precisely beams sounds off your walls. Rear-channel effects are placed behind and to the sides of viewers, and front-channel sounds are delayed slightly so that everything arrives at your ears at exactly the right time. The LT-52249 includes a calibration microphone to help you dial in the sound for your specific room. For true full-range sound, simply connect the TV's subwoofer output to a powered sub.
---
A crystal-clear picture no matter what you're watching
Diamond-series TVs feature Smooth240™ anti-blur technology, which combines 120Hz processing with "backlight scanning" to ensure that video motion always looks smooth and clear. To fine-tune the way on-screen motion looks, the LT-52249 lets you adjust the amount of "anti-judder" processing, so that movie scenes look fluid while retaining the richness of film. High-quality video sources look amazing on this set, and standard-definition video looks surprisingly good as well, thanks to powerful 18-bit video processing.
---
Versatile connections
The TV's versatile set of connections includes four 1080p-compatible HDMI inputs, so you can hook up the latest Blu-ray players, HD DVRs, and video game consoles. Along with two component video inputs in back, there's also a side component input for easy hookup of an HD camcorder. There are three USB ports — two in back and one on the side — making it convenient to view your digital photos.
---
Learn about the ins and outs of HDMI connections at the Crutchfield Learning Center.
Shop our selection of HDMI cables.
Tip: For a list of over-the-air digital TV stations you can receive, as well as antenna recommendations for your location, enter your zip code in AntennaWeb's mapping tool.
Product Highlights:
Features:
52" screen (measured diagonally)
widescreen 16:9 aspect ratio
UltraThin Frame design with high-gloss "Swan Gradation" finish
built-in digital (ATSC) and analog (NTSC) tuners for over-the-air TV broadcasts (antenna required)
built-in QAM cable TV tuner receives unscrambled programs without a set-top box (cable service required)
1920 x 1080 pixels
Smooth240 anti-blur technology for clearer motion (120Hz refresh rate plus backlight scanning)
variable Smooth240™ Film Motion anti-judder processing
10-bit display panel for over a billion possible colors
wide-range fluorescent backlight for extended color range
Deepfield™ Imager for improved contrast and black level
Deep Color and x.v.Color™ support
Plush1080p® 5G 18-bit digital video processing (upconverts all signals to 1080p)
Internet-capable, including access to VUDU™ movie and Pandora® music streaming (broadband service required)
built-in 18-speaker Sound Projector system with calibration microphone (2 watts x 16 plus 10 watts x 2)
Dolby® Digital and Dolby Pro Logic™ decoding
multibrand remote control
NetCommand with IR learning component control system (includes HDMI-CEC)
Energy Star® 3.0 compliant — see our article on TV power consumption for more info about this and other testing standards
picture settings memory for each video input
Connections and Dimensions:
7 A/V inputs, including:

3 component video (2 rear, 1 side) — inputs are selectable component/composite
4 HDMI v1.3a (accepts signals up to 1080p — 60Hz, 24Hz)

RF input for antenna/cable signals
coaxial digital audio output for Dolby® Digital
variable pre-out for connecting an optional powered subwoofer
coaxial digital audio input
Ethernet port
3 USB ports (2 rear, 1 side) for digital photo playback; one rear USB can connect to an optional wireless network adapter
RS-232C port for communicating with compatible home theater control devices
detachable stand (stand "footprint" is 21-1/2"W x 12-7/8"D)
wall-mountable (bracket not included)
47-3/4"W x 33-1/8"H x 3-5/8"D (34-3/8"H x 12-7/8"D on stand)
weight: 85.1 lbs.
warranty: 1 year parts & labor — in-home service or pick-up for service
What's in the Box:
52" LCD TV
Pedestal base
Multibrand remote control
2 "AA" batteries
6' AC power cord
Set-up microphone with attached 16' cable terminated by a male mono-RCA connector
2 Cable ties
Four 5mm x 12mm machine screws (with lock-washer and flat-washer attached)
Basic Owner's Guide
HDTV Quick Setup Guide
Stand Installation sheet
Product Registration Card
Network Service Disclaimer
Vudu brochure
Caution note
Energy Guide:

View the Energy Guide
Details
Product Research
Video Features
Audio Features
PC/Network/USB Functions
Convenience Features
Remote Control
Mounting Options

Video Features
Integrated HDTV Tuner: The widescreen Mitsubishi LCD TV has an internal HDTV tuner able to receive both over-the-air HDTV broadcasts (via an antenna) and non-encrypted digital cable broadcasts, including non-encrypted HDTV cable programming.
10-Bit, 1080p High-Definition LCD Display: The Mitsubishi Diamond 249 series LCD Flat Panel HDTV features an 10-bit, full 1920 x 1080 LCD panel so you get a true 1080p picture without any scaling from a 1080p source. All non-1080p images input into the television will be up-converted and also displayed at 1080p. The television's four HDMI inputs will accept video signals from 480i, 480p, 720p, 1080i, and 1080p (24Hz, 30Hz, and 60Hz) sources; while its three HD component video inputs will accept video signals from 480i 480p, 720p, and 1080i sources.
Plush 1080p 5G with 18-Bit Digital Video Processing: Mitsubishi developed the Plush 1080p technology so that everything you watch looks better on the 1080p HDTV. It uses 18-bit video processing to reformat 720p and 1080i HDTV signals in order to fill the TV's native resolution 1080p screen with a sharp, clear picture. Plush 1080p scales and converts the picture precisely with minimal side effects, achieving greater detail and clarity.
Variable Smooth 240Hz Film Motion: Variable Smooth240Hz Film Motion makes fast-moving images appear smoother and more fluid, free from motion blur. It does this by doubling the traditional progressive scan frame rate and creates new frames of video between the tradition frames, along with backlight scanning, to create smoother moving images. Variable Smooth240Hz Film Motion also smoothes film judder (image vibration) that may be present in film-based content such as movies.
Video Noise Reduction: Mitsubishi's exclusive Video Noise Reduction system uses advanced algorithms to better identify video noise from fine detail and correct the signal rather that distort it. The advanced Video Noise Reduction system corrects the image in four dimensions - horizontally, vertical, within each frame and across multiple frames to provide and image that is crystal clear and very detailed.
SharpEdge: The SharpEdge signal processing system enhances horizontal and vertical edges for stunning picture precision. SharpEdge senses the vertical boundary and amplifies it while minimizing distortion. The end result is crisp and sharp edges.
DeepField Imager: The DeepField Imager feature constantly adjusts brightness and contrast for optimum settings in all areas of the picture. It can even optimize complex scenes containing both dark and bright areas. DeepField Imager analyzes 135 sectors of the picture in real time, while determining the optimum blend of contrast and brightness settings for the picture using advanced algorithms. Based on its picture analysis it dynamically adjusts for areas that are too high or low in contrast and/or too dark or bright and displays the best balanced picture in every scene.
6-Color Processor: Mitsubishi's 6-Color Processor produces brighter colors, a wider range of colors and white whites.
PerfectColor:PerfectColor is another exclusive Mitsubishi feature that gives you the ability to adjust the intensity of six separate colors (Magenta, Red, Yellow, Green, Cyan, Blue) independently of each other and separately for every input. PerfectColor is a full color matrix, much more powerful than a conventional color intensity control with only red versus green color balance.
PerfectTint: PerfectTint provides the ability to adjust the tint of the six separate colors (Magenta, Red, Yellow, Green, Cyan, Blue) independently of each other and separately for every input. PerfectTint is much more powerful than conventional color tint control, which can only shift the tint of all colors at the same time.
xvColor System:x.v.Color is the new standard in high definition color. The television's x.v.Color Wide Color Palette enables up to 80% more color than standard HDTV for increased realism and vivid, natural colors when connected to an x.v.Color enabled video source.
Deep Color Technology: Deep Color creates smooth transitions between different shades and eliminates color bands and complements the x.v.Color system's wide color pallet. Enabled by HDMI 1.3, Deep Color goes beyond previous 8-bit HDTV.
High Definition Video Inputs:The TV features the following HD video inputs.
Component Video:The television features three component video inputs (2 rear/1 side) that support analog transfer of 480i, 480p, 720p, and 1080i video signals. This provides a high level of flexibility when connecting DVD player/recorder, cable boxes and satellite receivers to the television. One of the rear component video inputs can also be used as a composite video input.
HDMI:The TV is equipped with four rear-panel HDMI version 1.3 inputs that accept digital 480i, 480p, 720p, 1080i, and 1080p (24Hz, 30Hz, or 60Hz) video signals plus PCM digital stereo signals. HDMI inputs provide additional high-performance, high-definition connections for maximum flexibility your choice of home theater components. The HDMI inputs are HDCP copy-protection compatible. Used with an adapter, these inputs also accept compatible DVI video signals (any of the HDMI inputs can be used with the PC/DVI RCA audio input). The HDMI inputs can also accept a variety of PC signals and resolutions.
Side Panel A/V Inputs: The TV is equipped with a side panel component video input, along with analog L/R audio. Composite video can also be connected to the Video/Y jack of the component input.
TV Display Formats: The TV offers the following TV display formats to choose from:
Standard: This is the TV's full-screen format. HDTV signals will use this format. 4:3 images are stretched evenly from side to side. This mode is available for all signals.
Wide Expand:This mode enlarges the picture, cropping some of the image on both sides. This expanded format is useful to remove or reduce black side bars added to narrow images that are converted to 16:9 signals for digital broadcast. This mode is available for 1080i, 720p, digital SD 16:9 and digital HD signals.
Expand: This setting enlarges the picture to fill the screen, cropping off some of the image at the tope and bottom. This is useful for reducing letter box top and bottom bars. This mode is available for 480i, 480p, and digital SD 4:3 signals only.
Zoom:This mode enlarges the picture, cropping off some of the image at each side and top and bottom. This is useful for removing or reducing black top and bottom bars. This mode is available for 480i, 480p and SD 4:3 signals only.
Stretch:This format stretches a narrow 4:3 image across the screen; there is less stretch in the center than at the sides. This allows the entire narrow image to be displayed across the screen with less distortion than is seen in the Standard format. This format is available for 480i, 480p, and SD 4:3 signals only.

Stretch Plus:Similar to the Stretch format, but to minimize distortions on the side, the picture is expanded to crop off portion of the top and bottom. This mode is available for 480i, 480p and SD 4:3 signals only.

Narrow: This format displays narrow 4:3 images in their original shape and adds stationary black side bars to fill the screen. This format is available for 480i, 480p and SD 4:3 signals only
Full Native: Display all pixels in the original images; best for a computer or game image (component and HDMI inputs only).
Picture Mode: Picture Mode allows you to optimize the image for different lighting conditions. You can choose from the following Picture Modes:
Bright:Suited for most daytime viewing.
Natural:Suited for most nighttime viewing.
Brilliant: For use under strong light
Game: Optimizes picture and video processing for gaming consoles.
Picture Settings:In additions to the four Picture Modes, the TV offers the following custom picture settings:
Contrast: The contrast setting adjusts the white-to-black-level of the picture.
Brightness:The brightness setting adjusts the overall brightness of the picture.
Color:The color setting adjusts the color intensity.
Tint: The tint setting adjusts the red-to-green ratio.
Sharpness: The sharpness setting adjusts the detail and clarity of the picture.
Backlight:This feature adjusts the brightness of the television's backlight to better suit your room's lighting.
Color Temperature:Adjusts how white is displayed on the TV.

Low:white images will have a warm cast, closest to 6500K
High:white images have a cool cast, may provide the most realistic picture under bright lighting
Film Mode:Using this feature, the television automatically detects and applies film-decoding correction to movies filmed at 24 frames per seconds.
Special Advance ISF Modes: The Mitsubishi LCD HDTV offers advance ISF picture modes (Day/Night). This mode allows you to save highly customized picture adjustments for each input for daytime and nighttime viewing.
Note: Mitsubishi recommends a professional installer make these adjustments.
Audio Features
18 Speaker Integrated Sound Projector: The Diamond 249 Series LCD TV comes equipped with an 18 speaker, Integrated Sound Projector with Dual Driver Extended Range Sound so you can enjoy concert sound quality without the need for separate components or speakers. Sound Projector technology uses the TV's bank of 16 speakers, plus dual subwoofer drivers to create a simulated surround sound effect be reflecting sound off walls. Sound Projector lets you customize the effect to match your room dimensions and layout. You can customize the following parameters.
TV Location: Selects your TV's location relative to the wall (Center, Left, Left Corner, Right, Right Corner)
TV Wall Length: Select the length of your TV wall in feet.
Other Wall Length: Select the length of your side walls in feet.
TV To Sofa:Select the distance from the TV to your primary seating area in feet.
Custom: Allows you to fine-tune the television's Sound Projector. You can select the following.

Center Angle:adjust the center angle until sound is about equal in both ears
Left/Right Angle:adjust left and right angle to maximize sound heard from the front left and right side
Left/Right Surround Angle: adjust the left and right surround angle to where the sound seems to come from the left and rear side
Sound Projector Level:adjust the center, left, right, left surround and right surround levels so that each one sounds about the same
Subwoofer Level:independently adjust the subwoofer level if using an external subwoofer connected directly to the subwoofer output of the television
Note: To get the full benefit of the TV's Sound Projector, the television must be connected to a source input providing digital surround sound. The TV can receive digital surround sound from its HDMI inputs or digital coaxial inputs.
Auto Setup Calibration: The TV's auto speaker setup uses a calibration microphone (supplied) to optimize the television's Sound Projector performance for most room conditions. The microphone should be placed on a level surface (preferably a tripod) at ear height at least six feet from the TV. Be sure the height of the microphone is within three fee of the TV speaker height and it is centered with the television. If the room is very large or has many obstacles affecting the sound beams, you may wish to try the television's manual setup, which is done without the microphone (see above).
Surround Settings:The television features the following surround speaker settings.
Stereo: No special audio effects from the TV speakers. Surround sound is played as stereo.
Surround:Programs with surround sound are played with Sound Projector surround sound. The surround mode supports Pro Logic and Dolby Digital. Other audio is modified: stereo is heard as simulated surround from the TV speakers; monaural programs are heard as simulated stereo.
Music: Optimizes the Sound Projector speakers for music listening.
Night: Turns off surround sound effects and allows you to direct sound to a single area to avoid disturbing other outside the room.
Audio Settings:The television features independent Bass, Treble, and Balance settings.
Level Sound:Level Sound automatically equalizes the volume level when there are significant sound-level differences between program segments, such as between regular programming and commercials.
Audio Connections: The television is equipped with the following rear-panel analog and digital audio connections.
Digital Audio Input: This coaxial digital input sends digital surround sound to the television's Sound Projector speakers from a an A/V component, such as a DVD player. The TV's coaxial digital input supports Dolby Digital surround.
Subwoofer Output: This variable mono-RCA subwoofer output allows you to connect a powered subwoofer to the television to complement its Sound Projector speaker effects. You can adjust the output level of the TV's subwoofer output.
Analog Audio Output:The television features a stereo RCA output for sending an analog audio signal to an analog A/V surround sound receiver or stereo system.
Digital Audio Output:The TV features a coaxial digital output for transfer of a Dolby Digital 5.1 signal to your home theater receiver.
Note:Analog audio from analog channels and devices is converted by the TV to PCM digital audio.
Audio Only Screensaver: This feature displays a random screensaver pattern while playing an audio-only device.
PC/Network/USB Functions
VUDU Integrated 1080p Video: The Mitsubishi Diamond 249 Series LCD TV includes VUDU integrated 1080p video, so you can stream movies and TV shows from the internet for enjoyment on your television through the TV's Ethernet (LAN) port and your home network. VUDU offers the largest on-demand HD movie selection anywhere, featuring full 1080p and 5.1 surround sound. VUDU allows you to enjoy movies with no store visits, no mailing, no late fees, and no subscriptions. This TV's built-in VUDU capabilities allow you to access your own personal home video store right on your TV. VUDU's service offers you the following:
The largest on-demand HD movie selection anywhere, featuring full 1080p and 5.1 surround sound.
All of Hollywood's latest hits and classics. Movies are available to rent or buy the same day the movie comes out on DVD.
VUDU allows you to enjoy movies with no store visits, no mailing, no late fees, and no subscriptions.
Parental controls allow you to restrict access to content according to MPAA ratings.
VUDU features popular internet applications like Pandora, Picasa, and many others.
Note: Visit www.VUDU.com to learn more about available titles, prices, recommended bandwidth, and services offered. At the time of this writing, VUDU requires an internet bandwidth of 4.0 Mbps or higher for instant HD video and 2.0 Mbps or higher for instant SD video. These specifications are subject to change.
LAN: Use the Ethernet (LAN) jack for streaming internet video to the TV through VUDU.com.
PC Compatible:The television can be used as a computer monitor and connected to your PC via one of the TV's four HDMI inputs using an HDMI cable, DVI-to-HDMI cable, or an HDMI cable with an HDMI-to-DVI adapter. You will also need to connect the DVI/PC Stereo RCA Audio input of the TV to your computer for sound. You can adjust the horizontal and vertical position of the computer image. The television supports the following PC video formats from 640 x 480 to 1920 x 1080 - VGA, W-VGA, SVGA, W-SVGA, XGA, SXGA, WXGA, PC 720p and PC 1080p.
USB Port: The television features one side panel USB port (type-A) and two rear panel USB ports (type-A).
Side-Panel USB: The television features one side-panel USB type-A port for reading JPEG photo files and MP3/WMA music files from a connected USB device formatted in FAT16 or FAT32. The TV can read files up to 10MB in size with a maximum of 2,500 files stored per device. JPEG still images can be displayed as a Single picture, up to 10 thumbnails or in a Slideshow (w/ or w/o music). Still images can also be rotated clockwise in 90-degree increments.
Rear-Panel USBs: These are standard USB 5-volt, 500-milliamp power outputs that you can use to supply power to an accessory device; such as the VUDU wireless adapter.
Note: The TV can read JPEG files as created by your digital camera. If you edit a picture file on a computer and resave the image, the television may be unable to read the resaved file.
Convenience Features
Thin Frame Design: The Mitsubishi Diamond 249 series LCD TVs incorporate a super thin frame that delivers more picture in a smaller space than ever before. The thin high-gloss black frame accents the television's sleek, low profile, modern design.
Easy Connect: The TV's Easy Connect feature automatically recognizes when you plug in an input and prompts you to assign a name to it. The TV ignores any unused inputs, so the result is an uncluttered Input Selection menu where you can easily find and select connected devices by name.
ChannelView: ChannelView shows memorized channels on the antenna input. It displays digital channel names and program information as sent by broadcasters or your local cable service providers (may be incomplete). No program information is displayed for analog channels.
Closed Captioning: The television features both analog and digital closed captioning:
Analog Captions: For analog channels, broadcasters can send either standard closed captions or text service. Standard closed captions follow the dialogue of the characters on screen and display in a small section of the screen. Text-service closed captions often contain information such as weather or news not related to the current programs and cover a large portion of the screen.
Digital Captions: For digital channels, broadcasters can send up to six different caption selections or can send analog captions that are the same as those sent by the analog station. Each TV station may broadcast only on or two types of captions or none at all. The TV cannot decode closed captions received on component or HDMI inputs. Digital channels allow you to select front type, size, color, background and opacity of the closed caption characters.
TV Lock: The TV Lock menu give you control over different types of parental controls. You must create and use a custom pass code to open this menu to enable or disable the lock options. The parental controls available are as follows:
Ratings: V-Chip technology lets you restrict access to programming based on program-rating signals sent by the broadcaster or by movie ratings.
Lock By Time: Lock By Time allows you to block all use of the TV during specified hours of the day or night.
Control Panel: Disable the button s on the TV's control panel. Use this option if small children in the home try to press control-panel buttons
Other: Restricts access using non-U.S. based ratings sent by broadcasters.
TV Timer: The TV Timer feature allows you to set a day and time for the TV to turn on automatically and the device and channel to display when it switches on. If the TV is already on at the requested time, the TV still automatically tunes to the channel you designated in the Timer menu. You can select a Daily timer, Mon-Friday timer or individual days of the week.
Sleep Timer: The TV's Sleep Timer can be set to 30, 60, 90 or 120 minutes.
Energy Mode:The Energy Mode option lets you select the TV's level of power consumption while the TV is turned off. You can choose between either Standard or Fast Power On. The Standard setting uses less energy, but the TV takes longer to power up.
Remote Control
Multi-Brand Remote: The television comes supplied with a multi-brand IR remote control. The remote is pre-coded to operate Mitsubishi and other manufacture's components such as Cable Boxes, DTV Receivers, Satellite Receivers, VCRs, DVR, Laser Disc Players, DVD Players/Recorders, DVRs, A/V Receivers, Audio Amplifiers, and CD players.
NetCommand with IR Learning: The Mitsubishi 249 series HDTV offers a new level networking that seamlessly integrates selected older A/V products with new and future digital products. NetCommand supports IR (Infrared) control of products such as VCRs, DVD players, cable boxes, and satellite receivers. NetCommand can "learn" remote control signals directly from many devices, allowing you to create a customize NetCommand-controlled home theater system. The necessary IR emitter cables are available for purchase separately from Mitsubishi.
HDMI Control: Many new HDMI devices have a feature called Consumer Electronic Control (CEC) or HDMI Control. HDMI Control allows one device, such as this TV, to control other devices, such as an AV/ receiver or DVD player.
Note: Each manufacturer chooses which CEC functions to support so it is difficult to predict which devices and features are compatible with Mitsubishi's HDMI Control. You may find that CEC functions for a specific device are limited.
RS-232C: Use the RS-232C interface to receive control signals from compatible home-theater control devices. See www.mitsubishi-tv.com for a list of control signals for this interface.
Mounting Options
Removable Stand:The Mitsubishi LCD HDTV comes with an unattached pedestal base. The stand can be attached using the supplied hardware.
Optional Wall Mount Brackets: The stand can be removed, allowing you to wall-mount the TV using an optional wall-mount bracket. The TV has 4 threaded screw holes with a horizontal spacing of 200mm and a vertical spacing of 200mm. The screw holes all accept M6 (6mm) screws.
Our Product Research Team
At Crutchfield, you'll get detailed, accurate information that's hard to find elsewhere. That's because we have our own in-house Product Research team. They verify what's in the box, check the owner's manual, and record dimensions, features and specs. We stay on top of new products and technologies to help people make informed choices.