AudioQuest Evergreen
Stereo mini-to-mini cable with 3.5mm plugs (0.6 meter/2 feet)
Item # 703EGMM06M | MFR # EVERG0.6M
In Stock

Our VirginiaVA-based experts can help.
Overview
Our take on the AudioQuest Evergreen by Crutchfield's James Ralston
AudioQuest believes good cable design is all about damage control. In AQ's view, the perfect cable would be one that adds nothing — no noise, no distortion — to the original signal. Even AudioQuest's affordable Evergreen cables embody this philosophy. They bring together some of AQ's most advanced designs and materials, for excellent sound quality from a cable that's relatively thin and lightweight.
Solid Long-Grain Copper (LGC) conductors
One of the most important materials that goes into an audio cable is the metal used for its conductors — the parts of the cable that actually carry the signal. Unlike lesser cables, AudioQuest's Evergreen features conductors made from solid Long-Grain Copper rather than stranded metal, for improved performance and better transparency.
Advanced cable geometry
While many cables use a single path for both the ground and shield, AudioQuest uses a design they call "double-balanced asymmetrical geometry." This design separates the ground and shield paths for clean, quiet performance.
Cold-welded, gold-plated connectors
All the details of the cable's construction are well thought-out. For instance, the Evergreen's connectors are cold-welded, rather than soldered, which eliminates a common source of distortion found in many other audio cables.
This cable is equipped with stereo mini (3.5mm) connectors at each end. Stereo RCA and mini-to-RCA versions are also available.
Product Highlights:
length: 0.6 meter/2 feet
stereo cable with a male miniplug connector at each end (3.5mm)
solid Long-Grain Copper (LGC) conductors help improve performance
foamed polyethylene insulation for low distortion
metal-layer NDS (Noise Dissipation System) shields against RF interference
double-balanced asymmetrical cable geometry separates the ground and shield for quieter performance
green and black striped PVC jacket
cold-welded, gold-plated mini plugs feature a solder-less design for lower distortion
warranty: 5 years
What's in the Box:
0.6-Meter stereo minijack cable (with a stereo male 3.5mm connector on each end)
Excellent Product!!

Anonymous, Whitehall, PA
Why Shop
With Us?
10 Reasons.
Reviews
AudioQuest Evergreen Reviews
Average Customer Review(s):
Anonymous from Whitehall, PA on 5/6/2018
Crutchfield Customer Review
(
What's this?
)
Excellent Product!!

Pros:

Cons:
Anonymous from Pineville, KY on 4/20/2018
Crutchfield Customer Review
(
What's this?
)
Good quality but pricey

Pros:

Cons:
Extremely well made, but...
Edwin from Durham, NC on 3/4/2018
Crutchfield Customer Review
(
What's this?
)
Extremely well made. However, the marketing hype about "the direction of the signal" is not backed up my any rigorous lab tests that I could find. Listening tests are notorously inaccuate. There is probably a big price premium for this "feature" of dubious value.

Pros: Well made and sturdy

Cons: Probably pay a big price premium for a "feature" of dubious value
John W from West Falls, NY on 2/3/2016
Crutchfield Customer Review
(
What's this?
)
Could not believe the low end sound on this cord. Very tight bass,and great highs, on my car audio! Very sturdy cord. I highly recommend this cord!

Pros:

Cons:
Dunamis from Hawaii on 12/30/2015
Crutchfield Customer Review
(
What's this?
)
AudioQuest makes the best cables from the finest materials available. They are expensive, but worth it if you want the highest quality sound coming from your devices, speakers, etc...

Pros: Quality

Cons: Cost
A.Q. Evergreen I.C.'s Exemplify now Audio standards
Lee from Big Flats, New York on 7/30/2015
Crutchfield Customer Review
(
What's this?
)
The A.Q. Evergreen interconnects are, I do believe examples of the oft and correctly used Buzz statement "This is the Golden Era of Audio. I like many long time music and equipment lovers always enjoy finding pieces of the chain that are of this undeniable grand behavior!

Pros: "Usable conductivity" is a phrase I use to Identify the best traits of music transmission by that I mean looking at function and form of the design and these Evergreen i.c.'s are ! st class for their ability to transport me to understanding the recordings while not confusing otherwise superior recordings by overemphasizing wrong information . Value-I wont insult you. Usability- I find them working wonderfully well on both Tubed and Solidstate systems. They just let you hear what is.

Cons: None. They certainly suit my needs and wishes.
Good quality interconnects
Brian V from Corcoran, MN on 2/10/2015
Crutchfield Customer Review
(
What's this?
)
Big improvement over the cable that came with my equipment. Nice transparent sound!!

Pros: Very high quality cable.

Cons: Cannot think of any.
Anonymous from Savannag, GA on 11/27/2014
Crutchfield Customer Review
(
What's this?
)
Wire is wire, don't buy into the hype. Zero improvement over my $2 cable with exposed wire.

Pros:

Cons:
Getting used to its stiffness, but it sounds wonderful
Headphone nirvana achieved from Jacksonville, FL on 9/30/2014
Crutchfield Customer Review
(
What's this?
)
Recently bought a pair of Sony Bluetooth/noise cancelling headphones with a detachable 1/8" cord. Thought the cord had developed a short prematurely, so bought this cable to replace it. Turns out that cord wasn't the one with the short, but who cares. Better sound, PHENOMENAL sound, when using with my iPod at work. I'll attribute part to the Audioquest cable and part to the noise-reduction which negates call center noise all around me.

Pros: Great, if not-so-pretty, match-up to my Sony headphones. WONDERFUL sound. Plugs have a definite firm contact when plugged in. Nice, very thick, jacket over the cable.

Cons: The stiffness of the cable takes some getting used to. Only a very minor con. Not sure I want to be bending it very much.
Audioquest evergreen interconnects
Fred from Silver spring, MD on 5/24/2014
Crutchfield Customer Review
(
What's this?
)
It is an easy and inexpensive upgrade. Replaces your skinny generic wire with an authentic audiophile mini cable. A "no brainier".

Pros: Simple to connect. Sound becomes richer and truer.

Cons: None
Anonymous from Mn on 4/16/2014
If you need a interconnect cable what a differance this made for the price use it for my peachtree deep blue I don't use Bluetooth anymore with this

Pros: How it is built sounds

Cons: None happy
Eliseo from Puerto Rico on 2/12/2014
Usaba un cable común y decidí comprar algo mejor y créanme la diferencia es del cielo a la tierra. La musica se escucha mucho mas clara y se siente con más potencia. Definitivamente Audio Quest son unos de los mejores más que Moster Cable créanme. I was using a regular cable and decided on buying something better and believe the difference is astounding. I hear the music with more clarity and power. Audioquest is definitely one of the best, better than Monster cables believe me.

Pros: Calidad del cable y de sonido. Precio justo. El equipo de Crutchfield es excelente en sus entregas y atencion al cliente. Gracias. Quality of the cable and sound. Fair price. The delivery and customer service of the Crutchfield team is excellent. Thank you.

Cons: Ninguna. Nothing.

Crutchfield response

on 2/18/2014

Translation provided by Crutchfield's Spanish Sales & Support team. Visit our new Spanish-language site at www.crutchfieldenespanol.com.
SteveNY from Westchester, NY on 7/18/2013
Crutchfield Customer Review
(
What's this?
)
Very well made and substantial product. I am using it between an iMAC and a pair of PSB PS1 speakers. Without the ability to perform a rapid A/B comparison test I cannot say definitively that this cable improves the sound.

Pros: Appears very well made.

Cons: None I can find.
Karl P from Southfield, MI. on 4/13/2013
Crutchfield Customer Review
(
What's this?
)
If you have a high powered system, you need shielded cables to avoid that annoying hum at loud levels. Well, this is that.

Pros:

Cons:
Nice sound improvemet over my standard cable!
SixFeetDeep from Tinley Park, IL on 1/25/2013
Crutchfield Customer Review
(
What's this?
)
Some people would call me crazy for spending $29 on a cable to hook up my Samsung Galaxy S3 or my I-Pad Mini to my Jawbone Jambox.. I mean the standard cable that comes with the Jambox does what it's supposed to. But after owning a FoxL Platinum speaker which comes with this cable, I had to have another one! This new cable brings to my ears a broader sound spectrum. Everything is cleaner & richer than it was before. It certainly isn't their top of the line, but this is a nice step up for sure! For the better sound, the price is well worth it to me. I give the cable 5 stars, however there is 1 downfall if you use an OtterBox Defender Series case.......

Pros: Outstanding quality from AudioQuest. Decent price. Typical Crutchfield manner of outstanding customer service & quick shipping.

Cons: What I found out is that if you are using an OtterBox Defender series on your Samsung Galaxy S3, I-Pad Mini or Big I-Pad, this cable will NOT work. You will have to take your device out of the OtterBox in order to use it. That is a hassle, but the sound quality is worth it. Besides, every now & then it's good to take the OtterBox off to clean the screeen of the device inside. The case lets dust in from time to time & it was time to clean it lol.
Details
Product Research
Features
Evergreen Series Stereo Audio Minijack Cable: The AudioQuest Evergreen stereo audio minijack cable is terminated by a gold-plated male 3.5mm stereo connector on each end. The AudioQuest Evergreen stereo audio minijack cable is available in the following lengths.
0.6 meter (2')
1 meter (3' 4")
2 meter (6' 7")
3 meter (10')
5 meter (16' 5")
8 meter (26' 3")
12 meter (39' 5")
Solid Long-Grain Copper Conductors (LGC): Solid conductors eliminate strand-interaction distortion. Evergreen's solid Long-Grain Copper allows a smoother and clearer sound than cables using regular OFHC (Oxygen-Free High-Conductivity) copper. OFHC is a general metal industry specification regarding "loss" without any concern for distortion. LGC has fewer oxides within the conducting material, less impurities, less grain boundaries, and definitively better performance.
Foamed-Polyethylene Insulation: Any solid material adjacent to a conductor is actually part of an imperfect circuit. Wire insulation and circuit board materials all absorb energy (loss). Some of this energy is stored and then released as distortion. Evergreen uses air-filled Foamed-Polyethylene Insulation on both conductors because air absorbs next to no energy and Polyethylene is low-loss and has a benign distortion profile. Thanks to all the air in Foamed-PE, it causes much less of the out-of-focus effect common to other materials.
Metal-Layer Noise-Dissipation System (NDS): 100% shield coverage is easy; preventing captured RF Interference from modulating the equipment's ground reference requires AQ's Noise-Dissipation System. Noise-Dissipation System prevents a significant amount of RFI from reaching the equipment's ground plane.
Double-Balanced Asymmetrical Geometry: Purposely designed for single-ended applications, Double-Balanced Asymmetrical Geometry offers a relatively lower impedance on the ground for a richer, and more dynamic experience. While many single-ended cable designs use a single path for both the ground and the shield, Double-Balanced designs separate the two for cleaner, quieter performance.
Cold-Welded, Gold-Plated Plugs: This plug design allows for a connection devoid of solder, which is a common source of distortion. Because the ground shells are stamped instead of machined, the metal can be chosen for low distortion.
Directional: Arrows on the connectors indicate the preferred signal path from the source component to the input.
Our Product Research Team
At Crutchfield, you'll get detailed, accurate information that's hard to find elsewhere. That's because we have our own in-house Product Research team. They verify what's in the box, check the owner's manual, and record dimensions, features and specs. We stay on top of new products and technologies to help people make informed choices.
Q & A
Customer Q&A
Crutchfield asked


Why did you buy this?
right length

[ J Feb 13, 2018 ]
I've used audio quest products in the past and the quality of the sound and the product is just amazing! i would definitely recommend this brand.

[ Allan Apr 16, 2017 ]
Quality of product

[ Michael Feb 06, 2017 ]
Jenny my advisor recommended it

[ j Feb 01, 2017 ]
Looking for an a 3.5 interconnect cable that provided high end audio quality. Adam advised me that this cable would be a good fit and work well with my headphone amp.

[ JOSEPH Sep 23, 2016 ]
Reasonable price, right length, high quality sound shielding

[ Chris Dec 12, 2015 ]
I own an Audioquest Dragonfly Black. Given the quality of that product and Audioquests experience making quality cables I thought this cable would be great compliment to the Dragonfly.

[ Frank Jul 31, 2017 ]
The Cables seem to be superior to lower priced and lower quality cables. My prior purchases have all been met with with high satisfaction.

[ Robert Mar 25, 2017 ]
Recommend during online chat.

[ Frederick Jul 31, 2016 ]
I use AudioQuest for all my audio needs, they make the best cables producing the best sound...

[ Aaron Dec 31, 2015 ]
Looking for a high quality cord to use with my high resolution portable music player in my car. Recommended by the Crutchfield advisor.

[ Gary Apr 14, 2017 ]
Price, quality, and length

[ Kevin Mar 23, 2017 ]
I own AudioQuest Evergreen cables.

[ William Mar 27, 2016 ]
Good quality headphone cable for use with my iPad when I travel. It's bulky and stiff, but the sound quality is worth those minor inconveniences.

[ David Dec 11, 2015 ]
need long cord for stereo headphones for HOH

[ CHRISTOPHER J Mar 05, 2017 ]
Chose by reccommendation since buying two wireless speakers and the length serves the distance I would want to separate the speakers. Also liked that if I wanted to go shorter or longer, those options are still available in the same product line.

[ Danielle Sep 18, 2016 ]
Audioquest makes high quality products and the stepped design at the plug ends make it perfect for plugging into devices with cases still on so your device remains protected. Plug it in + Crank the volume = Happiness!!!!

[ Joe Jul 09, 2016 ]
Looking for more? Check out the next model in this lineup.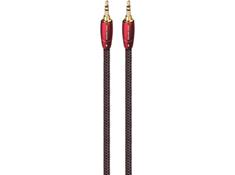 Better conductor material for better sound
The AudioQuest Golden Gate uses "Perfect-Surface Copper" solid conductors for optimal signal transfer with minimal distortion.