Why Choose Crutchfield?
Deep discounts on car installation gear
We offer vehicle-specific installation instructions, dash kits, wiring harnesses, and speaker accessories at deeply discounted prices with car stereo and speaker purchases. Available for most vehicles.
Learn more
Trusted since 1974
Our customers have trusted us with their business, and they've helped us win awards for our service.
Check out our most recent awards
Factory-authorized dealer
The manufacturer's warranty always applies.
See more details
Definitive Technology Mythos XTR-SSA3
3-channel home theater sound bar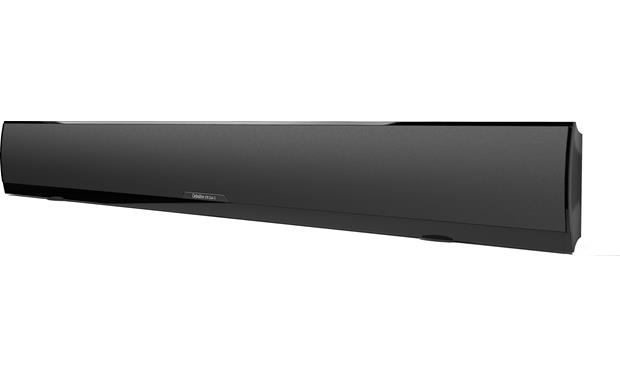 Definitive Technology Mythos XTR-SSA3 - Front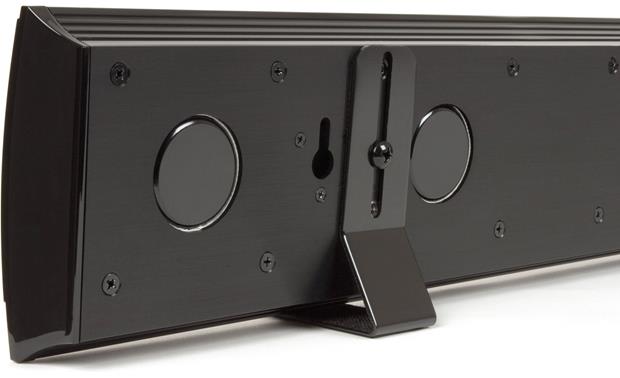 Definitive Technology Mythos XTR-SSA3 - Adjustable foot (left side)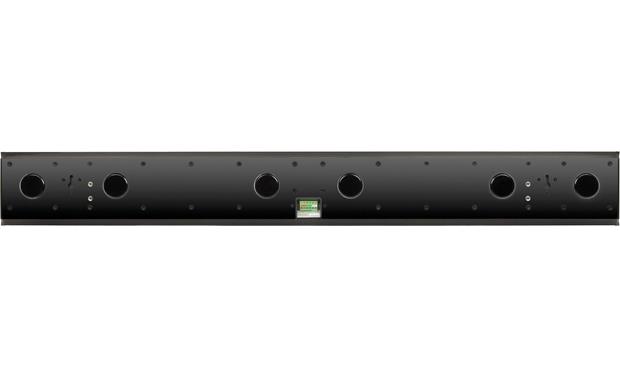 Definitive Technology Mythos XTR-SSA3 - Back
Definitive Technology: Mythos XTR-SSA3 & XTR-SSA5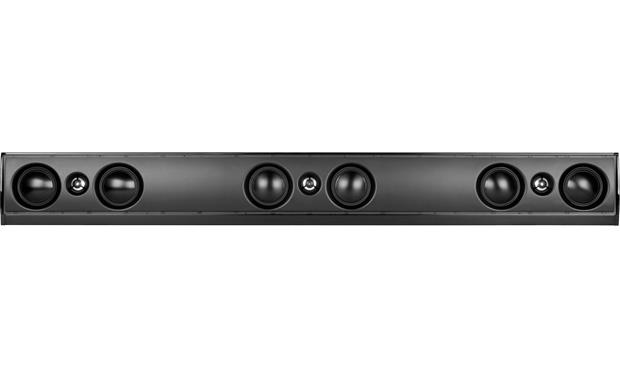 Definitive Technology Mythos XTR-SSA3 - Grille removed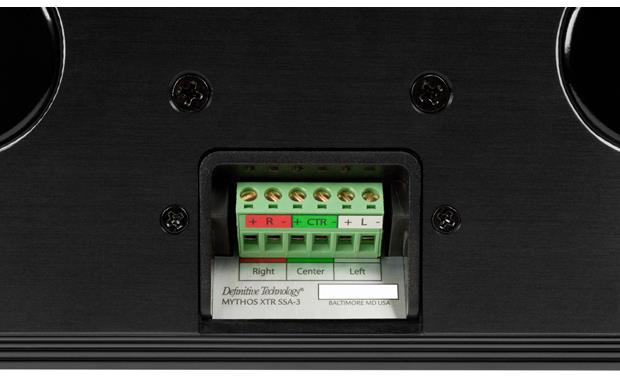 Definitive Technology Mythos XTR-SSA3 - Speaker input
Item # 735SSA3 | MFR # VFLA
Low Stock

Our VirginiaVA-based experts can help.
Overview
Our take on the Definitive Technology Mythos XTR-SSA3 by Crutchfield's Marshall Chase
A stylish upgrade to TV sound
Definitive Technology's Mythos XTR-SSA3 gives you serious audio performance in an elegant sound bar design that cuts down on room-clutter. This three-channel speaker connects to your home theater receiver and takes the place of the left-, center-, and right-channel speakers of a traditional surround sound system. Six mid-bass drivers and three 1" tweeters elevate movie and TV dialogue to the forefront, where it belongs. And at just over 1-1/2" deep, the aircraft-grade aluminum enclosure makes an outstanding decorative match for your TV, so your eyes and ears will be equally happy.
Thin never sounded so good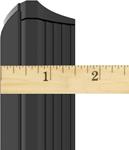 The 'SSA3 uses patented Solo Surround Array (SSA) technology to vastly widen the stereo image to lifelike proportions. For complete surround sound enjoyment, mate the XTR-SSA3 with matching Mythos XTR-20BP surround speakers or any of Definitive's in-wall or in-ceiling speakers. For more bass punch add a powered subwoofer.
Flexible placement
The 'SSA3 speaker comes with everything you need to locate it where you like. It can be wall mounted simply using the rear keyhole slots. Plus the 'SSA3 comes with adjustable shelf support feet so you can place it on your A/V cabinet below your TV.
Got wire?
Most speakers don't include any. Learn about choosing and installing speaker wire at the Crutchfield Learning Center.
Shop our selection of speaker wire.
Did you know?
Your new speakers will probably sound better after several weeks of use than they do right out of the box. That's because the material surrounding the woofers will loosen up, allowing the drivers to move more fully. Definitive Technology estimates a break-in period of 24 to 48 hours of playback before the speakers will deliver optimum sound quality. For more information and helpful tips, check out this article from Definitive's website about conditioning your speakers.
Product Highlights:
reproduces three channels of sound with a single speaker
frequency response 60-30,000 Hz
sensitivity 90 dB
8-ohm impedance
handles up to 125 watts
six 3-1/2" XTDD mid-bass drivers
three 1"pure aluminum dome tweeters
non-powered for use with a home theater receiver
three pairs of 5-way binding posts
aircraft grade extruded aluminum cabinet
gloss black finish
includes keyhole slots and leveler feet for easy placement
43"W x 5-1/4"H x 1-5/8"D
warranty: 5 years
Great look and sound

Anonymous, Pinson, AL
What's in the Box:
Soundbar loudspeaker (with removable cloth grille)
Plug-in speaker terminal
2 L-bracket supports
2 Adjustable feet
Wall-mount bracket
Six 1/4"-20 x 12mm screws
2 Rubber pads
Owner's Manual
Template
Online Product Registration card
Speaker labels
Reviews
Definitive Technology Mythos XTR-SSA3 Reviews
Average Customer Review(s):
Anonymous from Pinson, AL on 4/3/2017
Crutchfield Customer Review
(
What's this?
)
Great look and sound

Pros:

Cons:
Definitive Technology Mythos XTR-SSA3
Anonymous from Port Washington, NY on 11/25/2016
Crutchfield Customer Review
(
What's this?
)
Swapped out an older system Was easy to install and works great. Awesome sound and a great complement to my 5.1 system.

Pros:

Cons:
Mythos XTR-SSA3 Speaker Bar
Gordonk115 from La Jolla, CA on 7/23/2016
Crutchfield Customer Review
(
What's this?
)
We were swapping out from 3 much larger in-wall OnQ speakers. The space savings and ultra thin size of this bar is fantastic - and the 3 speaker sections perform excellently as the Right - Middle - Left front of our 7.1 set-up. We love it.

Pros: Easy wire line connector. Easy to hang options. Dimensions; thin

Cons: None as yet.
Bill from San Antonio, TX on 3/3/2016
Crutchfield Customer Review
(
What's this?
)
I am into high fidelity, so this world of small speakers that do not play full range is not my favorite. However, my better half leads me to do things I do not want to do and my life is richer for it. She wanted an on wall front, left and center channel (LCR) that blends into the wall mounted flat screen TV. I wanted to keep my prized Yamaha NS 690II full range speakers (12' woofers) in the cabinet below. We compromised and set up the left and right channels on a toggle (Niles Speaker Selector). When we listen to movies with 5.1 sound, we turn on the large left and right Yamahas and just play the center channel of the Def Tech. When we listen to TV shows or news, we turn off the Yamahas and let the 3 channel Def Techs play it all. We have rear surrounds that play all the time. The sound from this Def Tech LCR is very clear, so dialogue is better than ever before. We replaced a Klipsch RC 52, which was good, but dialogue is clearer now. There are not many choices in wall mounted LCR's. Many of them are soundbars, which play 5 channels and would not work for us due to our ceiling mounted surround channels We don't need the surrounds in a soundbar. We are happy with this purchase. Crutchfield staff was very helpful in telling me how this one compared to other options, because we do not have a store where we can listen to the options. I do not recommend this for listening to music if you must have bass and midrange, but it's it is very good for background.

Pros: Blends in to TV. Great sound for dialogue. One of few choices in a flat wall mount LCR.

Cons: I wish it played a little more full range (down to 50 Hz or so). You need a sub for that or another workaround like we did.
Mike from Connecticut on 12/31/2015
Crutchfield Customer Review
(
What's this?
)
If using for Movies they sound great however the tv speakers actually sound better when people are speaking. I am disappointed in the performance playing music which sounds hollow with no depth or warmth.

Pros: easy setup

Cons: Very expensive for the versatility
Great product if you are using an AVR and only need speakers.
tldaking from California on 12/23/2015
Crutchfield Customer Review
(
What's this?
)
Easy hook-up and decent sound. Paper template provided for drilling holes is slightly off so be careful when you drill the mounting holes.

Pros: Decent sound.

Cons: Incorrectly sized mounting template.
Vic from Florida on 11/4/2015
Crutchfield Customer Review
(
What's this?
)
Great product. Sound is crisp.

Pros:

Cons:
JeffW from Madison, WI on 10/26/2015
Crutchfield Customer Review
(
What's this?
)
In order to get a larger television into our living room our tower speakers had to go. I still wanted to use our receiver to handle the switching of our components and to power our speakers, so the Definitive Technology Mythos XTR-SSA3's seemed a good direction to go. I'd previewed some of the cheaper sound bars and were not happy with the build quality or sound. While the XTR-SSA3's are not as full-bodied sounding as the speakers they replaced, I am happy with them when we are using them with our television. That includes movies (center channel dialog is excellent), sports and casual viewing of things on Netflix and Amazon Prime Video. Listening to streaming music or CD's is not the same experience as before, but my wife thinks they sound great. (I will pop on headphones if I need a more immersive sound.) I was impressed with the build quality and the options they provide in the box for installation. We chose to not mount this sound bar, but to place it below and in front of the TV. There are feet on it that allow you to adjust the tilt so the sound can be focused where you want. There are also a wall mounting plate and template included if you'd rather install it on a wall. I would suggest that you also pair this with a subwoofer to get more powerful low frequencies.

Pros: build quality, sound for television, ease of use

Cons: sound quality for loud music playing
Quigley from Georgia on 8/31/2015
Crutchfield Customer Review
(
What's this?
)
Exactly what I wanted. Was looking for a speaker bar to mount on the wall below my TV to go along with my sub and rear speakers. Sounds and looks great. Somewhat difficult to wall mount with no provided screws. Also had to cut a hole in the wall to run speaker wires behind speaker so unit would finish flush with the wall.

Pros: Looks awesome. Excellent sound clarity and volume with music and tv/movies. Exactly what I was wanting in a speaker bar.

Cons: Wall mount was somewhat difficult with no easy way to get the wires into the back of the unit. Had to cut an extra hole in my wall for wires so speaker would fit flush to the wall...thus only 4 stars...otherwise it would have been an easy 5 star review.
Speaker looks and sounds fantastic - difficult to mount
Mike from Cedar Park, TX on 8/7/2014
Crutchfield Customer Review
(
What's this?
)
The speaker is mounted on the wall directly below my 48" flat panel television. It sounds great with my Denon AVR-X2000 receiver and Definitive ProSub 800 (my living room is quite large). We can actually hear the dialogue in movies/shows. My wife approves of the appearance and the logo that people are complaining about is actually smaller than the LG logo on my TV. The mounting plate worked well with the speaker and the template allowed me to see how the speaker would look relative to the TV. I had to add spacers behind the plate to give me room to run the speaker wire (3 sets) back up to the conduit behind the TV. I also learned that you need flat head screws - rounded heads stick out and there is no room between the plate and the speaker. I think a speaker of this price should include mounting screws. I would have been more comfortable if there had been top/bottom holes all along the wall plate (as opposed to the sides) - it transitions to a set of single holes from left to right and my stud fell near the middle where I could only use one screw.

Pros: Great appearance, good sound for any speaker (much less one of this size), various options for mounting and/or standing up

Cons: Price, lack of mounting screws, difficulty routing speaker wire above the speaker when wall-mounted
Max Power from Champaign, IL on 8/16/2013
Crutchfield Customer Review
(
What's this?
)
Very well made. It looks & feels like a quality product. Sound quality is quite good. And the fact that it's no thicker than my TV is just great.

Pros: Overall size and thinness of the speaker.

Cons: Haven't seen any yet.
Great sound bar except for one design flaw.
Art from Pebble Beach, CA on 9/25/2012
Crutchfield Customer Review
(
What's this?
)
This sound bar exudes quality. The audio is great, it's truly beautiful, and solidly constructed. I disagree with another reviewer about the logo. IMO, it's fine; not obtrusive at all. But it has a big design flaw: the connector. There is plenty of room on the back for proper connectors. Instead, this speaker has a single piece that you remove and feed all the speaker wires into. The problem is that the wires (and their bare ends) are WAY too close to each other and the whole thing is just far too compact than necessary. OK, maybe banana plugs would be overkill, but this is not a smart phone that requires ever-smaller components. It's a speaker that's almost 3 feet wide. Worse still, I am trying to mount this to swivel with the TV. The little connector does not have a positive mechanical lock, so it can too easily just pop out. Definitive, rethink this connection! If this part had been done right, this speaker would easily be 5 stars.

Pros:

Cons:
JayG from Arlington, VA on 2/13/2012
I recently purchased this item along with the Def Tech Mythos 20BP surrounds. I also have a Def Tech Supercube 2000 Sub and a Denon AVR 1912 Reveiver. I have a non-ideal set up as my couch is against the back wall. I mounted the soundbar under my TV on the wall and installed the surrounds near the the ceiling angling down towards the couch. After some tinkering with the different settings on my receiver, I am extremely happy with the sound quality coming from the speakers. The voices are clear, the left and right channel sounds are also clear and expansive, and the surrounds make you feel like you are in the middle of the action. Music sounds very good as well. I highly recommend this soundbar if you are looking to a L/R/C option that is sleek looking and sounds great.

Pros: Great sound in an attractive looking speaker.

Cons: None
Beautiful, but some minor annoyances
ggr from Philadelphia, PA on 2/1/2012
Crutchfield Customer Review
(
What's this?
)
It's gorgeous, obviously, and the pictures don't actually do it justice. It is NOT a replacement for properly-configured floorstanders, bookshelves or rotating-baffle in-walls. But it IS a fantastic replacement for the tiny, tinny speakers that are probably insider your beautiful flat panel. Now, for the tough part: 1. Why, why why did they put the whole model number on the front? This is supposed to be a beautiful piece of wall-hanging gorgeousness and it says "Definitive XTR-SSA3" on the front? Why not just "Definitive" like all their other stuff??? 2. It came with the wrong mounting plate (ostensibly, the one for it's big brother 5-driver model). Not a huge deal as it hangs perfectly fine using the 2 keyhole slots on the back.

Pros: Beautiful, except for the label. Nice speaker jack design. Solid, well-built. Sounds great, exactly as should be expected of something this shape and size.

Cons: The front label is a horrible design aesthetic. Poor quality control (shipped wrong bracket in box).
Details
Product Research
XTR-SSA3 Soundbar: The Definitive Technology Mythos XTR-SSA3 Soundbar provides three channels (Front left/Center/Front right) from one ultra-slim loudspeaker. The XTR-SSA3 Soundbar is the perfect audio solution when you are unable or unwilling to use three discrete front speakers in your home theater. The XTR-SSA3 provides dynamic punch, wide frequency range, and broad dispersion. The Soundbar's ultra-slim design is a perfect match for today's ultra-thin flat-panel TVs. It comes with a table-top stand and is wall-mountable.
Note: For complete surround sound enjoyment, mate the XTR-SSA3 with matching Mythos XTR-20BP surround speakers (735XTR20BP, sold separately) or any of Definitive's in-wall or in-ceiling speaker solutions.
Driver Technology
Enclosure Design
Connections
Mounting Options
Driver Technology
SSA (Solo Surround Array) Technology: The Mythos XTR-SSA3 Soundbar's left & right channel arrays utilize patented SSA technology to vastly widen the stereo image to lifelike proportions. You'll enjoy a sonic image that is as wide as the wall with incredible three-dimensionality.
Pure Aluminum Dome Tweeters: The XTR-SSA3 Soundbar's three 1" hyper-definition aluminum dome tweeters are the same tweeters found in Definitive's award-winning state-of-the-art Mythos ST SuperTower. The pure aluminum dome tweeters provide clarity, dynamic range, and extended high-frequency response.
XTDD Technology Drivers: The Definitive Technology Mythos XTR-SSA3 Soundbar utilizes six 3.5" Definitive XTDD technology anodized Aluminum dome drivers for extraordinary performance. Using state-of-the-art computer modeling and decades of speaker design experience, Definitive engineers eliminated every inch of wasted space, optimized every part, and maximized the moving surface area of a dynamic driver to shrink it down to a very compact dimension without giving up ultra high performance audio fidelity. The XTDD drivers provide dynamic punch, a wide frequency range, and broad dispersion that flat vibrating membrane panel-type speakers simply cannot match.
Enclosure Design
Ultra-Thin Aluminum Enclosure: The Definitive Technology Mythos XTR-SSA3 Soundbar features an ultra-thin aircraft-grade aluminum cabinet that fits today's flat-panel televisions perfectly. By specially shaping the enclosure and incorporating stiffing ribs and channels, Definitive made the space-efficient extruded aluminum enclosure ultra-rigid and resonance-free. The magnets of the XTDD drivers protrude through the rear wall of the enclosure to further minimize depth. A thermally conductive gasket seals the enclosure/magnet interface and transfers heat from the driver's rare-earth magnet to the enclosure, making the whole enclosure a giant heat dissipater.
Magnetic Grille: The Mythos XTR-SSA3 Soundbar features a black cloth magnetic grille which easily attaches and detaches from the speaker.
Connections
Speaker Terminals: The Mythos XTR-SSA3 is equipped with a plug-in C-clamp speaker terminal to attach your receiver's speaker wire (up to 12 AWG).
Color-Coded: The speaker terminals are color-coded and labeled (+/-) to distinguish between Front Left, Center, and Front Right speaker channels.
Mounting Options
Placement: The Mythos XTR-SSA3 is designed for horizontal use only. The Soundbar can be positioned below, above, or in front of your flat-panel television. The XTR-SSA3 matches perfectly with 46" to 65" flat-panel televisions.
Table-Top Mount: For shelf-mounting in front of or below the TV, the XTR-SSA3 comes with two different sets of adjustable feet. For shelf-mounting in front of or below the TV, the XTR-SSA3 comes with clever adjustable feet that can raise the speaker over the TV's protruding shelf stand. It can also be placed on a shelf below the TV and angled up towards your ears via the supplied shelf supports
Adjustable Height Feet: Use these adjustable feet when placing the Soundbar on the same shelf as the TV. They allow you to raise the speaker over the TV's pedestal base.
Adjustable-Angled Feet: Use these adjustable supports when placing the Soundbar on a shelf below your flat-panel TV. They allow you to angle the speaker up towards ear level.
Note: The adjustable feet attach to the Soundbar speaker using the supplied hardware (1/4"-20 x 12mm screws).
Wall-Mount: The Definitive Technology XTR-SSA3 can be mounted to the wall, above or below your flat-panel television. The Soundbar includes a wall-mount bracket and hardware, along with dual keyhole slots.
Wall-Mount Bracket: The Mythos XTR-SSA3 comes with a wall mount bracket that allows direct mounting to a wall (wall-mount screws not supplied). The wall-mount bracket attaches to the Soundbar speaker using the supplied hardware (1/4"-20 x 12mm screws).
Dual Keyhole Slots: The XTR-SSA3 Soundbar also features dual rear-panel keyhole slots which allow you to easily hang the speaker on the wall without any bracket by simply using two screws (not supplied). The two keyhole slots are spaced 32.75" apart.
Our Product Research Team
At Crutchfield, you'll get detailed, accurate information that's hard to find elsewhere. That's because we have our own in-house Product Research team. They verify what's in the box, check the owner's manual, and record dimensions, features and specs. We stay on top of new products and technologies to help people make informed choices.
Q & A
Customer Q&A
Crutchfield asked


Why did you buy this?
I've heard good things about Definitive Technology. Never purchased before. I wanted a none powered sound bar that would work with the Denon recover I purchased. I'm expecting it to sound awesome the the DT 6.5" ceiling speakers I purchased as well.

[ Alden Aug 01, 2017 ]
Potentially solves a weakness in my current surround sound system.

[ Jeffrey Jul 18, 2017 ]
Manufacturer recommendation

[ S Apr 20, 2017 ]
Attractive looking design, very thin, aircraft grade aluminum and what I expect to be quality sound to along with my new Sony HDR 75" TV.

[ Philip Jun 18, 2016 ]
went from standard separate 3 speaker front set up to soundbar because I wanted a more streamlined look but I didn't want just any. I went to Bjorn's in San Antonio to see one of these in action and was blown away. It is nice and will be even better when it's in tandem with my other 4 separate surrounds I will be ordering from you soon. I plan to purchase 4 of the Polk Audio RC55i in wall speakers.

[ Michael Apr 20, 2016 ]
Good reviews. Now that I have it am very pleased.

[ Don Apr 01, 2016 ]
Research and James helped during a chat James' Bio: http://www.crutchfield.com/Support/Bio.aspx?bio=104

[ William Feb 19, 2016 ]
It got rid of our big front speakers. Made our room more eye appealing.

[ STACY Dec 20, 2015 ]
This model appears to be perfect for the installation we are doing.

[ Gerry Dec 11, 2015 ]
Sound is too small for the big room I have this in.

[ JAMES Dec 09, 2015 ]
4 questions already asked
Looking for more? Check out the next model in this lineup.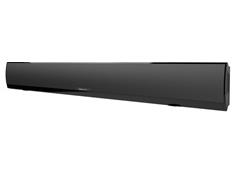 Five channels of sound, from just one speaker
The Definitive Technology Mythos XTR-SSA5 offers these features:
five channels with a total of 13 speakers
handles up to 200 watts per channel
wider frequency response of 60-30,000 for better bass