Why Choose Crutchfield?
Deep discounts on car installation gear
We offer vehicle-specific installation instructions, dash kits, wiring harnesses, and speaker accessories at deeply discounted prices with car stereo and speaker purchases. Available for most vehicles.
Learn more
Trusted since 1974
Our customers have trusted us with their business, and they've helped us win awards for our service.
Check out our most recent awards
Factory-authorized dealer
The manufacturer's warranty always applies.
See more details
NAD Masters Series M15 HD2
Home theater preamp/processor
Item # 745M15HD2 | MFR # M15HD2
This item is no longer available.
Overview
Our take on the NAD Masters Series M15 HD2 by Crutchfield's Woody Sherman
Consider the octopus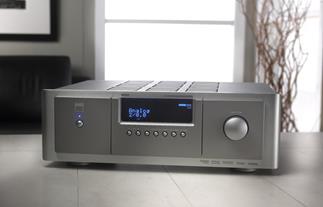 The M15 HD2 is "Mission Control" for all of your home entertainment
So many things to juggle. So much coordination. An octopus has a lot on its mind. Have you ever stopped to think what intelligence it requires to have eight limbs?
Well, in a way, NAD has. In the spirit of the octopus, the NAD Masters Series M15 HD2 AV Surround Sound Preamplifier knows what it's like to seamlessly coordinate whatever you can throw at it. Game consoles? No problem. Digital audio sources? Piece of cake. 3D video? Bring it on.
Nerve center
If your goal is an elegant, versatile and rock-solid home theater system, this NAD pre-pro deserves serious consideration as the central nervous system. From the multiple DACs and 24-bit/192kHz digital signal processing, to the discrete power supplies for the analog and digital sections, this component leans forward into emerging technology and brings back sonic and visual performance that will part your hair. The innovative MDC (Modular Design Construction) concept keeps your investment current by enabling you to swap in modules and update to new features and technology without replacing the entire component.

The rear panel offers a huge array of options for connecting a wide variety of gear
Plays well with others and shares
Designed to pair with the NAD Masters Series M25 7-channel amplifier, the M15 HD2 is engineered to deliver pristine, transparently-processed surround signals to the M25 or any other high-quality amplifier. It seamlessly deals with digital and analog audio sources, with 8 digital inputs (4 optical, 4 coax), 8 audio-only RCA inputs (including one for Zone 2), and dedicated 7.1 analog RCA surround-sound inputs. Similar versatility awaits on the output side.
But that's only part of this pre/pro's talent: it's a digital (and analog) video rock star as well. You'll find six HDMI inputs and two HDMI outputs, and all sources are output in their native resolution, so you'll see them in their intended form. 3D capability? Of course, all the way to 1080p. Multiple component and S-video video inputs are standard as well.
Audyssey MultEQ Pro is built-in, so your system's sound output can be calibrated by a qualified professional; and Audyssey's MultEQ XT is also on-board, so you, the user, can fine tune the M15 HD2's output to correct itself for changes in your room's acoustic profile.
Multiple 12-volt triggers, an Ethernet port, and an RS-232 data interface help integrate the M15 HD2 into today's sophisticated AV control systems. And this green-aware unit barely sips power — less than half a watt in stand-by mode.
The sound is absolutely fantastic; way better than the Arcam unit that it replaced.

Hugh, Houston, TX
What's in the Box:
A/V Surround Sound Pre-Amplifier
68" AC cord
HTRM Wireless remote control
4 "AA" batteries
ZR 5 Secondary wireless remote control
CR2025 Lithium battery
Audyssey setup microphone (ACM1H)
3.5mm-to-RCA adapter (installed on setup mic)
Owner's Manual on CD-ROM
Warranty Card
Product Highlights:
audio/video surround sound preamplifier/processor
Dolby®True HD, DTS-HD™ Master Audio, Dolby® Digital Plus, DTS-HD™ High Resolution Audio, Pro Logic® IIx, and DTS Neo:6 decoding, DTS 96/24, EARS surround simulation and Enhanced Stereo
two optimization strategies:

Audyssey MultEQ Pro (professional calibration required)
Audyssey Laboratories' MultEQ XT room acoustics correction (user-performed auto-calibration)

all audio and video input circuits are on individual modules that can be easily upgraded
supports NAD's optional iPod dock, allowing complete control of your iPod with your M15 HD2 remote control and on-screen display
4-zone/4-source output:

line-level stereo audio outputs with independent source and volume selection
Zone 2 also has an independent composite video feed

24-bit/192kHz analog-to-digital and digital-to-analog conversion
learning/multibrand remote with light-sensing auto-illumination, LCD display, and USB port for advanced programming using your PC and the included software
programmable 12-volt triggers and RS-232 port for advanced control systems
17-1/8"W x 5-13/16"H x 16-1/4"D
28.9 pounds
warranty: 3 years
Connections:
1080p-compatible HDMI switching (6 in, 2 out)
HDMI version 1.4a with support for Deep Color, x.v.Color, lip-sync, 1080/24p video, 7.1 uncompressed 24/96 audio, DVD-Audio, SACD, and HDMI-CEC with compatible video sources and TVs
analog-to-HDMI video upconversion (up to 1080p output via HDMI)
all HDMI sources are output at their native video resolution for maximum image integrity
component video switching: 3 in, 1 out
digital audio inputs: 4 optical, 4 coaxial
digital audio outputs: 2 optical, 2 coaxial
8 audio/video inputs, including 4 rear-panel inputs with composite and S-video
8 audio-only RCA inputs, including one for Zone 2 (no phono input — to connect a turntable you'll need to add a phono preamp)
7.1-channel analog audio preamp input
7.2-channel analog audio output (RCA)
1-in, 4-out IR repeater mini jacks
1-in, 3-out 12-volt trigger mini jacks
RS-232C port (for control via PC or automated system)
Ethernet port allows remote control of the unit via compatible external controllers on the same network
detachable power cord
Reviews
NAD Masters Series M15 HD2 Reviews
Average Customer Review(s):


Submit a review and then enter to win a $350 rewards card
Review this product
Thanks for submitting your review
Most reviews are processed and published within 5 business days. You will receive a confirmation email once your review has been published.
Customer photos
---
Details
Product Research
Audio Features
Video Features
Convenience Features
Remote Controls
Add-On Devices
Audio Features
Surround Sound Preamp Processor: The NAD M15 HD2 AV Surround Sound Preamplifier is the perfect companion for any high performance multi-channel power amplifier. You'll find support for all the latest video format (including 1080p and 3D video) and surround sound formats (including Dolby Digital TrueHD, Dolby Digital Plus, and DTS-HD). The M15 HD2 also includes NAD's proprietary Modular Design Construction (MDC) for the added convenience and flexibility of future upgrades.
MDC: NAD's answer to future technological developments is Modular Design Construction. MDC places all the input circuitry on removable plug-in cards; your investment is protected because a single card, rather than the entire preamp, can be replaced when a new format is introduced.
24-Bit/192kHz ADC + DAC: With full 24-bit 192kHz analog-to-digital and digital-to-analog conversion, the NAD M15 HD2 will make the most of your best available source material. Analog audio inputs are converted to digital signal by making use of M15 HD's superb circuitry called analog-to-digital converter (ADC). NAD has employed multiple 2-channel DACs in a dual differential mode, a configuration that yields superb sonic results. NAD also tailored the circuit design to deliver a high level of technical precision and audio performance.
Note: The sampling rate of the resulting digital audio signal (available at the digital output ports) can be converted into three levels; 48kHz, 96kHz, and 192kHz.
Listening Modes: The M15 HD2 offers decoding for all the latest surround formats including Dolby Digital, Dolby TrueHD, Dolby Digital Plus, DTS, and DTS-HD Master Audio; as well as Dolby Pro Logic surround processing.
Note: Dolby Digital and DTS listening modes can only be selected if your audio source is connected to the A/V surround sound processor via a digital audio connection (HDMI, optical, or coaxial). To enjoy true 7.1ch Dolby Digital TrueHD and DTS-HD surround sound, the surround sound processor must be connected to your Blu-ray player via HDMI.
Listening Mode Parameters: The M15 HD2 provides the following Listening Mode Parameter adjustments for Dolby Pro Logic IIx and DTS NEO:6.
Center Width (DPL IIx): Modifies the "hard-centeredness" of the center image, by gradually mixing mono center content to the Front left/right speakers as well. A setting of 0 retains the center-channel-only default while a setting of 7 yields a fully phantom center channel.
Dimension (DPL IIx): Adjusts front-rear emphasis of the surround effect independently from the relative channel levels.
Panorama (DPL IIx): Adds a "wraparound" effect by extending some stereo content into the surround channels.
Center Gain (DTS NEO:6): Adjust for better center image in relation to the surround sound channels.
EARS: Two-channel recordings, whether stereo or surround-encoded, are reproduced with proprietary NAD surround processing with signals output to the front left/right, center and discrete left/right surround channels, plus subwoofer. EARS extracts the natural ambience present in nearly all well-produced stereo recordings. It does not synthesize any ambience or other sonic elements and thus remains truer to the sound of the original musical performance than most other music-surround options. EARS offers realistic, stable "front-stage" sonic imaging and spacious but unexaggerated ambient "virtual acoustics" that remain faithful to the original recording. Select EARS for listening to stereo music recordings and broadcasts. EARS produces a subtle but highly natural and believable ambience from nearly all "natural-acoustic" stereo recordings. Typically, these include classical, jazz, and folk genre.
Stereo Modes: The NAD M15 HD2 also provides two-channel stereo and multi-channel stereo playback, as well as an analog bypass stereo mode.
Stereo: All output is directed to the front left/right channels. Low frequencies are directed to the subwoofer if one is present in the Speaker settings. Select 'Stereo' when you wish to listen to a stereo (or monaural) production, such as music CD or FM broadcast, without surround enhancement. Stereo recordings whether in PCM/digital or analog form and whether surround-encoded or not encoded, are reproduced as recorded. Multi-channel digital recordings (Dolby Digital and DTS) are reproduced in "Stereo Downmix" mode via the front left/right channels.
Enhanced Stereo: All recordings are reproduced in stereo via the maximum speaker complement. Enhanced stereo can be useful for maximum volume from all channels or for multi-speaker background music (cocktail party) listening. For this mode, Front, Center, Surround and Back speakers can be turned ON/OFF as desired.
Analog Bypass: All analog signals remain in the analog domain without analog-to-digital conversions. At Analog Bypass, the DSP circuitry is bypassed but full tone control functions remain. 'Bass management' or Speaker settings are also not in effect as these are DSP functions.
Direct Mode: Analog or digital sources are automatically played in their native formats. All the source's audio channels are reproduced directly. This mode recreates the original sound most faithfully, thereby producing outstandingly high-quality audio.
Tone Controls: The M15 HD2 has three Tone Control levels; Treble, Bass, Center Dialog. Bass and Treble controls only affect the low bass and high treble leaving the critical midrange frequencies free of coloration. The Center Dialog control boosts the 'presence' of the midrange region improving intelligibility of speech. Tone Defeat gives one the choice of varying or completely bypassing the tone control section of the M15 HD2.
Enhanced Bass: When the subwoofer is set to 'On' and your front speakers set to 'Large', the option 'Enhanced Bass' becomes available. Normally, with speakers set to 'Large' the subwoofer is not active. The Enhanced Bass option allows full range operation of the speakers with the additional bass contribution of the subwoofer. This feature is particularly useful when one wants to experience maximum bass output. Please note that due to acoustic cancellation effects, the bass response may be uneven when using this setting.
Gain Adjustment: Gain adjustment (+/-12dB) allows all sources to play back at the same volume level so you don't need to adjust the volume every time a new source is selected. It is generally preferable to reduce the level of the loudest source rather than making louder the softer sources.
Dynamic Range Control: You can select the effective dynamic range (subjective range from soft to loud) for playback of Dolby Digital soundtracks. For fully cinematic effect, always select 100% (the default). Settings of 75%, 50%, and 25% progressively reduce dynamic range, making soft sounds comparatively louder while limiting the peak loudness of loud ones.
Audio Inputs/Outputs: The NAD M15 HD2 offers a variety of analog and digital audio inputs/outputs.
7.2ch Preamp Outputs: The M15 HD2 features Front left, Front right, Center, Surround left, Surround right, Surround Back left, Surround Back right and two Subwoofer preamp outputs to connect the A/V surround sound pre-amplifier to external power amplifiers. There is also a dedicated stereo output for Zone 2, and stereo outputs that can be used for zones 3 and 4 (switched from Audio 3 and Audio 4 outputs in the Setup menu).
7.1 Channel Input: The M15 HD2 features a 7.1 Channel input (Front left, Front right, Center, Surround left, Surround right, Surround Back left, Surround Back right and Subwoofer) for connecting an outboard processor or multi-channel analog source.
Digital Inputs/Outputs: There are four coaxial digital inputs and four optical digital inputs. The inputs accept digital audio signals from a digital TV, Set top box, Blu-ray player, compact disc, DVD, LD, or other digital source components; each can be assigned to a specific source using the on-screen menu. There are also digital outputs, two coaxial and two optical. The digital outputs can be connected to MD recorders, CD recorders, DAT decks, or other similar components.
Video Features
Video Inputs/Outputs: The NAD M15 HD2 is fitted with six HDMI inputs/two HDMI outputs, three component video inputs/one component video output, four composite video inputs/one composite video output, and four S-video inputs/on S-video output. All video inputs are assignable.
HDMI (ver. 1.4): This unit has six HDMI (v.1.4) inputs and two HDMI (v.1.4) outputs. The inputs are assignable using the A/V surround sound pre-amplifier's on-screen menu. The M15 HD2 will convert composite video, S-video, and component video to HDMI. The two HDMI outputs are parallel so the same video signal is output through both and can be used simultaneously. The HDMI inputs/outputs can accept up to 1080p.
Component: This unit has three component video inputs and one component video monitor output. These inputs are also assignable using the A/V surround sound pre-amplifier's on-screen menu. The component video inputs/outputs will accept up to 1080i.
Composite: There are four composite video inputs and composite video monitor output; the inputs are assigned to specific sources using the on-screen menu. The composite video inputs will accept up to 480i.
S-Video Input: There are four S-video inputs and one S-video monitor output; the inputs are assigned to specific sources using the on-screen menu. The S-video inputs will accept up to 480i.
Analog to HDMI Video Conversion: The M15 HD2 utilizes an NAD-engineered field-programmable gate array (FPGA) that is capable of enabling the conversion of analog video (component, composite, S-video) to digital video (HDMI). This allows a single cable connection to your TV for all sources while maintaining the source's native resolution. Interlaced video is converted to progressive scan over HDMI allowing complete compatibility with latest HD TVs
Note: The M15 HD2 does not offer video upscaling; all video processing will be done via your connected television.
3D Ready: The NAD M15 HD2 supports 3D HDMI pass-through from connected 3D-compatible Blu-ray, games and broadcast devices to 3D-compatible HDTVs (all 3D components must be connected via HDMI 1.4). 3D provides a more engaging audio and video consumer experience. Note that special eyewear may be required for viewing 3D content.
Lip Sync Delay: Video signals may take longer to process than audio signals, depending on the connected video equipment. The audio signal can be delayed up to 120ms to synchronize with the video signal.
Audio Return Channel (ARC): If the connected TV has HDMI version 1.4 and supports ARC, the audio signal can be transferred from the TV (when its internal tuner is used) to the M15 HD2 through a single HDMI cable, so a second cable isn't needed.
Convenience Features
Vacuum Fluorescent Display (VFD): The M15 HD2 features a front-panel vacuum fluorescent display (VFD) which displays visual information about the current settings like the active Source, volume level, listening mode, audio format, iPod-related display information (optional) and other related indicators.
OSD (On-Screen Display): In addition to the unit's front-panel display, the M15 HD2 employs a simple, self-explanatory on-screen display menus system which will appear on your connected television. The OSD can be output through HDMI, component, composite, or S-video.
Multi-Zone: In addition to the main listening room, you can also enjoy audio playback from a different source in other rooms of your home using the M15 HD2's Multi-Zone function. The M15 HD2 has three configurable Zones; Zone 2, Zone 3, and Zone 4. The M15 HD's Zone 2, Zone 3, and Zone 4 outputs allow independent selection and control of outputs to other rooms. Each Zone consists of stereo RCA line-level output to connect an external A/V surround sound pre-amplifier or integrated amp in other rooms of your home, allowing you to listen to 7.2ch surround in the Main Zone and 2ch stereo of a different audio sources in other rooms of your home (the Audio 3 and Audio 4 outputs can be set to Zone 3 and Zone 4 in the Setup menu). Zone 2 also features a dedicated composite video output for a different video source in another room of your home.
Compatible Zone Sources: Only analog audio sources can be sent to Zone 2, 3, and 4. Analog video sources can also be sent to Zone 2.
Incompatible Zone Sources: HDMI, optical, and coaxial digital audio cannot be passed through Zone 2, 3, or 4.
Source Configuration: The M15 HD2 is equipped with ten configurable Sources. A particular Source can be enabled or disabled, renamed, assigned analog and digital audio sources, video sources, A/V Presets, Trigger settings, among other settings.
A/V Preset: The M15 HD2's 'A/V Presets' allow you to customize your audio-video playback, and recall them with a single key-press. The parameters 'Listening Mode', 'DSP Options' and 'Tone Controls', together with 'Speaker Setup' and 'Display Setup' are stored together as a single A/V Preset. You may create one A/V Preset optimized for pop music and another for classical. One more A/V Preset can be set up to recall each family member's favorite setting or one for fully cinematic home-theater playback, and yet another one for late-night movies; with each A/V Preset fine-tuned to a particular scenario or preference.
Sleep Mode: The Sleep Mode timer will switch the M15 HD2 to Standby mode automatically after a preset number of minutes (15-90 min.).
Smart Power: By using separate analog and digital power supplies, the M15 HD22 can provide maximum audio performance. A high power switch mode for the digital and video section, and linear power supply for the ultra high-speed audio processing, provides the required high current and stable voltages to maintain audio precision. Analog and Digital sections are kept completely separate for maximum sonic performance. Standby power consumption is also ultra-low at <0.5W.
Remote Controls
Main Remote: The HTRM remote controls the M15 HD2 and is pre-coded with controls for other NAD components. It will also learn commands from other remotes, controlling up to eight components. The HTRM's buttons are backlit, but an ambient light sensor keeps the light from engaging when you don't need it. The light sensor and lighting duration are both adjustable. Up to 52 macro commands can be programmed using the function keys. A mini USB Type B port on the remote (cable not included) allows you to upload and download the remote configuration through a Windows PC using NAD's Proprietary HTRM programming software (availible on NAD's web site).
Multi-Room Remote: The included ZR 5 is a discrete compact remote for controlling the Zone 2 features of the M15 HD2 (not zones 3 or 4), it allows full control of the Zone 2 source selection and other applicable features. The ZR 5 will work from a different room using an IR sensor and hub or the IR sensor of a compatible NAD component in the second zone (either must be wired back to the location of the M15 HD2).
HDMI CEC (Consumer Electronic Control): Consumer Electronics Control (CEC) is a set of commands that utilizes HDMI's two-way communication to allow for single remote control of any CEC-enabled devices connected with HDMI. A CEC command will trigger the necessary commands over HDMI for an entire system to auto-configure itself to respond to the command.
Power: The M15 HD2 will automatically go to standby mode if it receives a CEC standby command. On the other hand, if the M15 HD2 receives a CEC power up command, the M15 HD2 will correspondingly switch ON from standby mode.
Source Switch: The M15 HD2 will automatically switch sources if another CEC device requests a Source change. For example, if Play is pressed on a BD Player with CEC, the M15 HD2 and TV with CEC will automatically switch to their respective input connections; the M15 HD2 switching to the HDMI input where the BD Player is connected while the TV will switch to its input where the M15 HD2's HDMI Monitor Out is connected.
Audio System: The M15 HD2 will broadcast a CEC message indicating it is an active audio system. A CEC compatible TV will usually mute its audio output when this happens. When this option is enabled, the M15 HD2 will also respond to CEC volume and mute commands. For example, a CEC TV may forward the volume commands from its remote to the M15 HD2.
Remote Connections: The NAD M15 HD2 is fitted with the following custom remote inputs/outputs.
DC Trigger: There are four 3.5mm +12 volt trigger jacks, one input and three assignable outputs. The input allows the M15 HD2 to be turned on by an external component; the outputs allow the M15 HD2 to turn on other components. Each output is individually programmable and can engage when the A/V surround sound pre-amplifier is turned on, when a specific secondary zone is turned on, when any secondary zone is turned on, or when a specific source is used. The outputs can also be delayed up to 15 seconds.
IR Input/Outputs: There is an IR input (3.5mm), used to control this unit using an optional infrared repeater or the IR output of another component. There are also three IR output (3.5mm) used to control another compatible component.
RS-232 Port: The rear-panel RS-232 port allows connection to a compatible PC or external whole-house control system from companies such as AMX or Crestron. NAD is a certified partner of AMX and Crestron and fully supports these external devices.
Ethernet (LAN) Port: The M15 HD is fitted with a Ethernet Port (RJ-45) to connect to your home network for IP control. With your PC and the M15 HD on the same network, it allows remote control of the M15 HD via compatible external controllers.
Un-Switched AC: The maximum output on the 2-prong un-switched AC outlet on the rear panel is 120 watts/1 amp.
NAD A/V Remote App: This device can be controlled by your iPhone or iPad by the NAD A/V Remote App. Through the app, you can select and control basic functions such as power, volume, source, and listening mode for all zones. You can also name sources, tweak receiver presets, adjust tone controls and trim levels, tune radio stations, and activate Audyssey room equalization, from anywhere in the house. The NAD A/V Remote App is available from Apple iTunes, and works with iPhone, iPad, and iPod touch running iOS 5.1.1 or later.
Add-On Devices
iPod: The optional IPD 2 iPod dock (item number 745IPD2, sold separately) plugs into the MP Dock jack, S-Video 3, and Audio 5 (default iPod inputs) on the rear panel and allows audio, video, and pictures stored on your iPod to be played directly on your home Theater. The IPD 2 also charges your iPod's battery. The IPD 2 is "Made for iPod/iPhone" compatible and provides the following audio/video playback, control, display, and charging options for select iPods and iPhones (as of 7/17/2012).
iPod/iPhone Model
Generation
Tested Version
Media Type
Control Type
Display Type
Charge
Audio
Video Out
Remote
iPod/iPhone
Song/Artist Text
Track Info
dock connector
3rd
n/a
N
N
N
N
N
N
N
clickwheel
color
4th
3.1.1
Y
N
Y
Y
Y
Y
Y
mini
1st
1.4.1
Y
N
Y
Y
Y
Y
Y
2nd
1.4.1
Y
N
Y
Y
Y
Y
Y
video
5th
1.3
Y
S-video
Y
Y
Y
Y
Y
classic
80GB
1.1.2
Y
S-video
Y
Y
Y
Y
Y
120GB
2.0.1
Y
S-video
Y
Y
Y
Y
Y
160GB
2.0.4
Y
S-video
Y
Y
Y
Y
Y
iPod nano
1st
1.3.1
Y
N
Y
Y
Y
Y
Y
2nd
1.1.3
Y
N
Y
Y
Y
Y
Y
3rd
1.1.3
Y
S-video
Y
Y
Y
Y
Y
4th
1.0.4
Y
S-video
Y
Y
Y
Y
Y
5th
1.0.2
Y
S-video
Y
Y
Y
Y
Y
6th
1.1PC
Y
N
Y
Y
Y
Y
Y
iPod touch
1st
2.2.1
Y
S-video
Y
Y
Y
Y
Y
2nd
4.2.1
Y
S-video
Y
Y
Y
Y
Y
3rd
5.0.1
Y
S-video
Y
Y
Y
Y
Y
4th
5.1.1
Y
S-video
Y
Y
Y
Y
Y
iPhone
2G
3.1.3
Y
S-video
Y
Y
Y
Y
Y
3G
4.2.1
Y
S-video
Y
Y
Y
Y
Y
3GS
4.3.5
Y
S-video
Y
Y
Y
Y
Y
4
5.1.1
Y
S-video
Y
Y
Y
Y
Y
4S
5.1.1
Y
S-video
Y
Y
Y
Y
Y
Note: Apple iPod/iPhone software updates may change functionality results. If you download a newer software version, you may need to reset the device and your iPod/iPhone to regain functionality. If this doesn't work, you may need to wait until an newer software update is available.
Our Product Research Team
At Crutchfield, you'll get detailed, accurate information that's hard to find elsewhere. That's because we have our own in-house Product Research team. They verify what's in the box, check the owner's manual, and record dimensions, features and specs. We stay on top of new products and technologies to help people make informed choices.
Q & A
Customer Q&A
1 question already asked
This unit does not have a USB input. For questions on networking I would recommend reaching out to an Advisor by phone (1-800-324-9695) or online chat. They should be able to help answer your question. [ Jeff Jan 13, 2014 ]

Staff