PSB Imagine T2 Tower
Floor-standing speaker (Black Ash)
Item # 760IGNT2BA | MFR # IMGNT2-BA
In Stock

Our VirginiaVA-based experts can help.
Overview
Our take on the PSB Imagine T2 Tower by Crutchfield's Dave Bar
Raising the bar on performance
Highly regarded for their musical honesty and superior value, PSB speakers have long been a favorite of audiophiles and industry insiders alike. With over 40 years of careful testing and listening under his belt, chief engineer Paul Barton and his design team have an almost uncanny knack for building loudspeakers with the ability to startle and delight.
PSB's newest creation, the Imagine T2, is a perfect example. This gorgeous, floor-standing tower incorporates technology borrowed from their top-of-the-line Synchrony series, to raise the price/performance bar to new heights. The T2's open, natural sound will bring all your music and movie soundtracks to life with exquisite detail and stunning realism.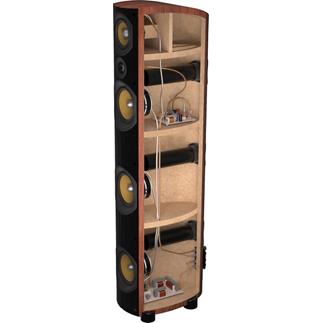 Each woofer is isolated in its own sealed chamber to provide deeper, more accurate bass.
Five-driver array for uniform sound
The Imagine T2 uses a five-driver array made up of three woofers, a midrange, and a dome tweeter. Unlike many other designs, this speaker's tweeter sits just below the midrange and above the top woofer in an arrangement that's characteristic of PSB's high-end Synchrony line. Having the tweeter positioned lower along the baffle helps you experience the T2's full sonic range from low to high, whether you're seated or standing. The three woofers are strategically placed along the front baffle, allowing for more consistent sound dispersion. And each woofer is isolated in its own sealed chamber to provide more precise cabinet tuning. The result is powerful, controlled bass down to 34Hz.
Precise driver design for natural sound
The T2's 1" titanium dome tweeter is engineered to produce smooth, accurate highs free from harshness and grain. The 4" midrange and 5-1/4" woofers use proprietary ceramic-filled polypropylene cones, which makes them very stiff and light. The result: you hear clear, highly detailed midrange, and bass that's tight and articulate. The T2's superbly accurate and stable stereo image pulls you deep into the soundstage for a totally immersive experience. Whether your tastes run to intense action flicks, hard-driving rock, or anything in between, these towers can handle whatever you throw at them.
A solid cabinet with a luxurious finish
Beautifully curved outside and heavily braced inside, the T2's solid, acoustically inert cabinet helps resist sound-muddying vibrations. Each hand-crafted enclosure sports a surprisingly compact footprint that blends neatly into your room. The Black Ash and Dark Cherry models' top and side panels are clad in real wood veneer that's hand selected for its beauty and quality, while the Gloss Black model features a deep, mirror-like high-gloss exterior. Whichever finish you choose, you'll have both a visual and sonic masterpiece.
---
"These elegant floorstanding speakers of moderate size offer a surprisingly "big" sound, with dynamics sufficient to present large-scaled music convincingly and enough bass to cover orchestral and rock music, though pipe organ enthusiasts will want to add a subwoofer or two. The T2s vanish into the soundfield and present a suitably expansive sonic picture when the recording justifies it. They sound very low in distortion with a pure midrange and a very clean treble. And they have a truth to timbre, a tonal neutrality, that is top level, showing a clean pair of heels in this regard in particular to many high-end speakers of far higher price. Orchestras have a life-like tonal realism that is startling, pianos sound like pianos, vocals like people singing. Paul Barton has produced a masterpiece here, and at a most reasonable price."

— From The Absolute Sound, 2013 High-End Audio Buyer's guide: Floor-standing Loudspeakers $2000-$5000
---
Got wire?
Most speakers don't include any. Learn about choosing and installing speaker wire at the Crutchfield Learning Center.
Shop our selection of speaker wire.
Product Highlights:
frequency response: 34-23,000 Hz (±3dB)
sensitivity: 90 dB
impedance: 6 ohms
recommended power: 20-300 watts
1" titanium dome Ferrofluid tweeter with neodymium magnet
one 4" injection-molded, clay ceramic-filled polypropylene midrange with rubber surrounds
three 5-1/4" injection-molded, clay ceramic-filled polypropylene woofers with rubber surrounds
triple port, bass reflex design
included port plug lets you seal one of the bass ports to adjust for room acoustics or user preference
heavy, internally braced cabinets resist vibration for clearer sound
hand-selected, real wood veneer or high-gloss black/white finish
two sets of gold-plated five way binding posts — can be bi-wired or bi-amplified
8-5/16"W x 40-9/16"H x 13-5/8"D
warranty: 5 years
sold individually
What's in the Box:
Floor-standing loudspeaker
Grille
4 Rubber tipped leveling feet
4 Carpet spikes
Spike wrench
Port cover
Input terminal jumper (installed)
Quick Start Speaker Guide
Warranty Card
Absolutely stunning speakers.

Anonymous, Strongsville, Ohio
Reviews
PSB Imagine T2 Tower Reviews
Average Customer Review(s):
Anonymous from Strongsville, Ohio on 8/16/2017
Crutchfield Customer Review
(
What's this?
)
Absolutely stunning speakers.

Pros:

Cons:
Craig from Scottsdale, AZ on 8/4/2017
I use my T2s with a C Center as part of a multi-channel setup. However, unless it's a multi-channel recording, I listen in stereo. I have been a semi-rabid, but real-world, audiophile for forty years, going back to when I managed a high-end audio shop. I love the T2s! They are incredibly transparent and image amazingly. They just disappear into a sound-stage that is wider and higher than the speakers, with great depth. Vocals are clear and natural; highs sparkle. The bass is solid, but I do use these with Hsu subwoofers, so I don't know how they would sound without a subwoofer. And they are beautiful and quite compact. My wife likes their appearance much more than what they replaced. She is not really into audio, but right away she was impressed with how clear they sounded to her

Pros:

Cons:
Amazing--Stereophile Class B
prisoner from Oak Park, IL on 4/15/2016
I listen to just about everything, with a focus on jazz (50%), folk (20%) and rock (30%. I go through some classical music binges but then I leave it alone for months. The PSBs (out of the box) were constrained and lacked almost any holographic picture. They just shot out detailed sound straight at me in a linear fashion. I wondered if my need to position them close to the back/rear wall was the problem. While it helped to move them out (they did sound better), it did not fix the problem. Dianna Krall's voice sounded super clear and right, but the PSBs just laid it on the floor. My Totem's painted it in the air. Trumpets? Same thing. There was no "arc" or bloom in the playback. Artist after artist and song after song, I couldn't change the way I felt and I couldn't connect with the music. I felt like I had bought something similar to what big box stores sell consumers, or used to. I felt like I wasted my money. They had to go. I continued to run in the PSBs only because I had no other speakers to listen to with the Totems gone. After about 15 more hours of listening some great stuff happened. The change was real in every way. I know it occurred and was not me getting used to the speaker because the speaker was doing things it wasn't before. My Totem's would case a picture. The PSBs would hit line drives with no soundstange. Then, after about 15 hours, moving into 20, they did just that. What's more, they now do just as much as the Totems did (albeit the Totem's

Pros: Soundstage, bass, design, looks (in gloss white), well made, metal grills

Cons: The feet could be better quality at this price range
Amazing Quality, Affordable Price
Neil from California on 3/8/2015
Purchased a pair of these as an upgrade from some extremely old "hand me down" speakers. I literally can not say enough good about these speakers. The resolution is extremely high. The best part is the low end on these speakers as compared to having a omnidirectional powered sub - you actually get imaging with the lows.

Pros: Great Looks Great Sound

Cons:
Anonymous from Provo, UT on 4/1/2014
Crutchfield Customer Review
(
What's this?
)
The speakers sound great. Much better than my acoustic research speakers that I just replaced.

Pros:

Cons:
trid from castle rock co on 2/3/2014
Crutchfield Customer Review
(
What's this?
)
not a bad speaker , had hoped for better clarity from a speaker at this price

Pros: nice sound , nice looks

Cons: prone to buzzy high end , factory support not readily available but finally did respond telling me to call again
Rav from Hanover, MD on 12/6/2012
Crutchfield Customer Review
(
What's this?
)
Great speakers. Have them set up with Imagine Center and surrounds. Great sound in my small home theatre. Great for music. I originally went with the T's but had to upgrade to the T2's after hearing great reviews. These beat the pants off some of the home made internet speakers that look like they're from the stone age. These things look as well as they sound. The gloss black look beautiful and are eye candy for whoever visits my home theatre.

Pros: 3 woofers, a midrange and tweeter- great sound reproduction.

Cons: Need a subwoofer for movies
Details
Product Research
Driver Technology
Enclosure Design
Connections
Mounting Options
Specifications
Dimensions
Driver Technology
5-Way Transitional Design:
The PSB Imagine T2 tower loudspeaker features an unique five-way "transitional" design for seamless frequency response and controlled directivity to eliminate unwanted reflections. The 5-way tower speaker is equipped with three 5.25" woofers, a dedicated 4" midrange driver, and a 1" dome tweeter. The Imagine T2 tower speaker offers a sound experience that is smooth, detailed, and real.
Custom Designed Woofers & Midrange: The PSB Imagine T2 tower loudspeaker employ three 5.25" woofers and one 4" midrange driver. The woofer and midrange cones are clay/ceramic filled polypropylene and use rubber surrounds. The aluminum phase plug mechanically smoothes the response and acts as a heat sink for the voice coil, reducing power compression.
Titanium Dome Tweeter: The 1" titanium, Ferrofluid cooled dome tweeter's light yet rigid diaphragm and over hung voice coil, combined with a computer optimized magnetic circuit produce an extended high frequency response that remains distortion free even at extreme volume levels.
Crossover Network: The crossover is a 2-way acoustical fourth order Linkwitz-Riley type with a 24 dB/octave slope. Tight tolerances were used when choosing the crossover components; heavy multi-laminated iron cores are used for large value inductors, high gauge wire air core inductors are used for medium and small values, all the capacitors are low loss and film capacitors are used for the midrange and treble frequencies. The tweeter, midrange driver, and top woofer are crossed over at 1,800 Hz; the two bottom woofers play only 500 Hz and below.
Enclosure Design
Acoustically Inert Cabinet: The cabinet is an integral part of speaker design and has a dramatic effect on the overall sound of a speaker. PSB's 7-layer laminated construction results in a solid, acoustically inert enclosure. The side and top panels are curved for added stiffness, with a wood veneer exterior. The front baffle is designed to eliminate mid and high frequency diffractions, maximizing three dimensional realism.
Triple Port Bass Reflex Design: The beautifully curved, hand-crafted cabinet features PSB's Triple Port Bass Reflex design and subdivided discrete chambers. Internally the cabinet has three separate chambers, each with its own port on the rear panel. There is one chamber and port for the tweeter, midrange, and top woofer; and there is a separate chamber and port for each of the two bottom woofers. This Triple Port Bass Reflex design can produce deep bass down to 34Hz.
Port Cover: One port cover is included to seal one of the three ports (if necessary), thereby changing the bass tuning characteristics of the speaker to correct the interaction with the room. If needed, additional port covers can be obtained from PSB for a nominal fee.
Connections
Dual Binding Posts: The dual binding post input terminals are located on the lower rear of the speaker cabinet. The two sets of binding posts are shorted together by a gold-plated jumper. With the jumper removed the Imagine T2 can be bi-wired or bi-amplified for even better sound quality. The binding posts will accept spade connectors, banana plugs (single or dual), pin connectors, and bare wire (up to 8 gauge).
Mounting Options
Leveling Feet: The Imagine T2 includes two sets of leveling feet; the rubber covered feet are used on a hard surface and add approximately 1/2" to the height of the speaker, the carpet spikes add approximately 1" to the height.
Specifications
Frequency Response:
On Axis @ 0°: 34-23,000 Hz (+/-3 dB)
On Axis @ 0°: 36-20,000 Hz (+/-1.5 dB)
Off Axis @ 30°: 36-10,000 Hz (+/-1.5 dB)
Low Frequency Cutoff -10 dB: 29 Hz
Sensitivity:
Anechoic Chamber: 88 dB
Typical Listening Room: 90 dB
Dimensions
Width:
Body: 7.5"
With Stabilizer Feet: 8.3125"
Height:
Body: 40.5625"
With Rubber Feet: 41.0625"
With Carpet Spikes: 41.5625"
Depth:
Body: 12.75"
Including Binding Posts: 13.625"
Our Product Research Team
At Crutchfield, you'll get detailed, accurate information that's hard to find elsewhere. That's because we have our own in-house Product Research team. They verify what's in the box, check the owner's manual, and record dimensions, features and specs. We stay on top of new products and technologies to help people make informed choices.
Staff Reviews
Product reviews from the Crutchfield Labs
A group of audio enthusiasts got together in the Crutchfield Labs to audition a Cambridge Audio/PSB music system and give their impressions.
What are the Labs?
Q & A
Customer Q&A
Crutchfield asked


Why did you buy this?
Within price point.

[ Michael May 05, 2018 ]
2 questions already asked
I think there's a good reason they keep selling out. I have had mine not quite a year and I think they're phenomenal, especially at that price point. While not a dedicated audiophile, I am a huge music fan and I feel like I have a good ear. To me they sound full and crisp across the board. They are not lacking for bass or mids. They sound deep and the imaging is excellent. Personally, I would highly recommend them.

[ Ross A. Aug 04, 2017 ]
I have had my T2s, with a C Center. I have been a semi-rabid, but real-world, audiophile for forty years, going back to when I managed a high-end audio shop. I love the T2s! They are incredibly transparent and image amazingly. They just disappear into a sound-stage that is wider and higher than the speakers, with great depth. Vocals are clear and natural; highs sparkle. The bass is solid, but I do use these with Hsu subwoofers, so I don't know how they would sound without a subwoofer. And they are beautiful and quite compact. My wife likes their appearance much more than what they replaced. She is not really into audio, but right away she was impressed with how clear they sounded to her.

[ Craig A. Aug 04, 2017 ]
I don't know how much this answer will help you after the amount of time that has passed, but here goes. The t2 is a way more advanced speaker than the stratus silvers, in every way, and even give the stratus Golds a strong run for their money. I own stratus Golds, silvers, T2's and t3's. The t2 was and is an absolutely wonderful surprise. The t2's have such a wonderful and well rounded sound. The highs are so emmedsive but in no way tinny to the ear. The lows are absolutely beautiful, musically speaking, and pack a good punch. The mids are far more refined than the stratus silvers. The speaker handles a lot of power very easily but the speaker does not have to be over driven to achieve great performance. I can say the t2's are an all around magnificent speaker and great addition to any sound system. Rather or not the t2's are used for stereo or surround sound speakers they will knock the ball out of the park. I enjoy a very broad range of music and it is amazing the amount life and pure imaging the t2's give all kinds of music: Linda Rondstat (ochrestra accompanied album), Ozzy Osbourne, Chris Cornell live (solo tour), etc... I run the speakers through a marantz av-7703, Outlaw Audio 7900 (300 watt RMS) amplifier, and NAD M51 DAC.

[ Kyle Apr 11, 2018 ]
Thanks for your question. For information on comparing two or more models I would recommend reaching out to an Advisor by phone (1-800-324-9695) or online chat. They will be able to help determine the differences and help you make the best choice for your system and your budget. [ Kenny Mar 25, 2017 ]

Staff
Looking for more? Check out the next model in this lineup.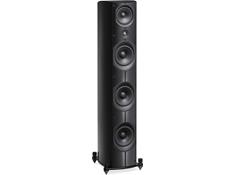 Refined sound from the flagship
The PSB Imagine T3 offers these features:
2" thick MDF front baffle to help eliminate vibration
a hand-selected 1" titanium dome tweeter
three 7" woofers with compressed felt/fiberglass cones for deep, high-accuracy bass
frequency response down to 24 Hz