Cambridge Duo
Headphone amplifier and phono preamplifier for moving magnet and moving coil cartridges
Item # 779DUO | MFR # C11027
In Stock

Our VirginiaVA-based experts can help.
Overview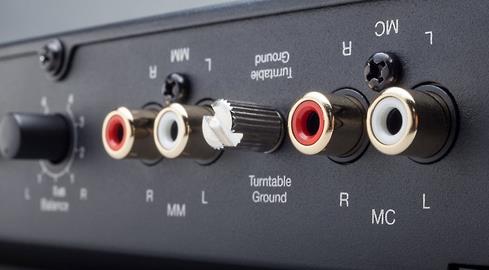 Attention to detail — like the helpful upside-down labeling of each input — is the hallmark of the Cambridge Duo phono preamp.
Attention to detail
If you ask me what makes the Cambridge Duo stand out, it's attention to detail. Inside the beautiful silver chassis are circuit boards with surface-mounted components, and a state-of-the-art switch mode power supply. You can't see any of these excellent design choices, but more importantly, you can't hear them. The Duo amplifies the tiny signal from moving magnet and moving coil cartridges without adding distortion or noise, so you hear only the beautiful music your records contain.
Another small, thoughtful detail: the inputs and outputs on the back of the preamp are labeled so they can be read right-side-up or upside-down. Anyone who's ever had to make connections to a component that's already in place will appreciate that little nuance. There's also a balance knob on the back of the unit so you can fine-tune left/right channel output.
Headphone amplifier
Maybe you're a night owl like me, and you want to dig into your record collection even while others are sleeping. The Cambridge Duo has a built-in headphone amplifier with a full-size 1/4" jack so you crank up your faves without waking up the whole house.
Which headphones should I use with my turntable?
"I usually steer vinyl fans towards headphones with a warm, natural soundstage. Grado headphones are a good place to start — take a hard look at their Reference Series RS2e headphones. Hand-crafted mahogany earcups give you smooth, relaxed highs that pair nicely with vinyl.
Other options include the more budget-friendly Audio Technica ATH-M50x headphones or the top-flight Sennheiser HD 800 S headphones. Both offer the well-balanced, revealing sound you want when you're playing records."
— Jeff Miller, Crutchfield headphone guy
Product Highlights:
compatible with moving magnet and moving coil phono cartridges
external power supply for reduced noise and interference
rear balance control knob for fine correction of left- and right-channel cartridge output
acoustically damped full-metal chassis with thick aluminum front panel
efficient switch mode power supply reduces audible hum
circuit board layout uses surface-mount components to reduce noise
built-in headphone amplifier with full-size 1/4" jack
Specifications:
gain: 39dB(MM), 60dB(MC)
signal-to-noise ratio: greater than 90dB(MM), greater than 70dB(MC)
THD: less than 0.0025%(MM), less than 0.2%(MC) (20-20,000Hz)
Dimensions and Warranty:
8-1/2"W x 1-15/16"H x 6-1/4"D
weight: 2.1 lbs.
warranty: 1 year
Why Shop
With Us?
10 Reasons.
Q & A
Customer Q&A
1 question already asked
If you purchased the product from Crutchfield, feel free to contact our Tech Support team. They can walk you through the settings on the product and see if there may be a fix. Our toll-free Tech Support number is printed on your invoice, and is also available under the "My Orders" tab in the "My Account" section of our website. If you did not purchase the unit from Crutchfield, then you may want to contact the manufacturer. [ Krissy Mar 28, 2018 ]

Staff