Why Choose Crutchfield?
Deep discounts on car installation gear
We offer vehicle-specific installation instructions, dash kits, wiring harnesses, and speaker accessories at deeply discounted prices with car stereo and speaker purchases. Available for most vehicles.
Learn more
Trusted since 1974
Our customers have trusted us with their business, and they've helped us win awards for our service.
Check out our most recent awards
Factory-authorized dealer
The manufacturer's warranty always applies.
See more details
Tascam DR-07mkII
Handheld digital stereo recorder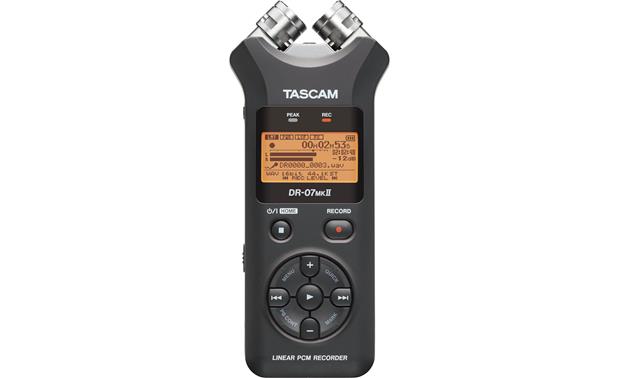 Tascam DR-07mkII - Front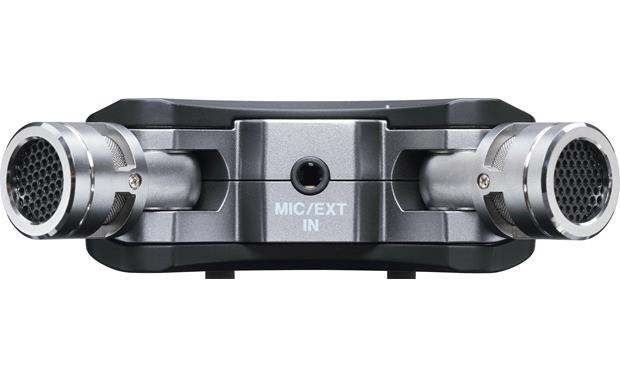 Tascam DR-07mkII - 2 adjustable microphones with an input for a third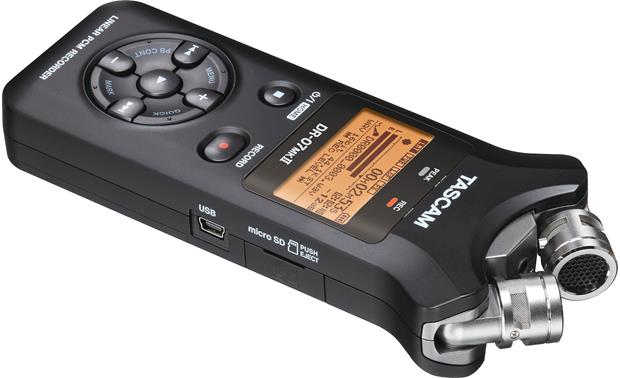 Tascam DR-07mkII - Adjustable microphones
From Tascam: DR-07mkII Portable Digital Recorder
From Tascam: Recording Audio For DSLR Filmmaking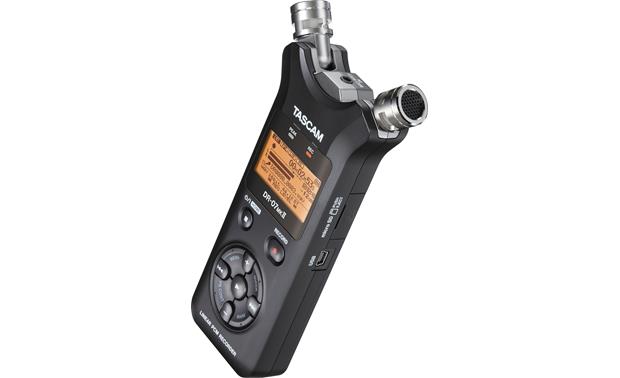 Tascam DR-07mkII - Alternate view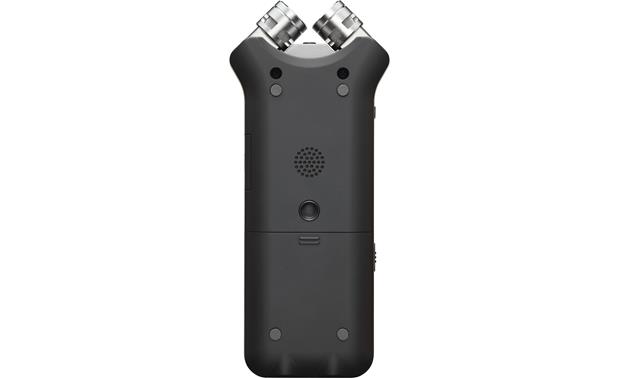 Tascam DR-07mkII - Back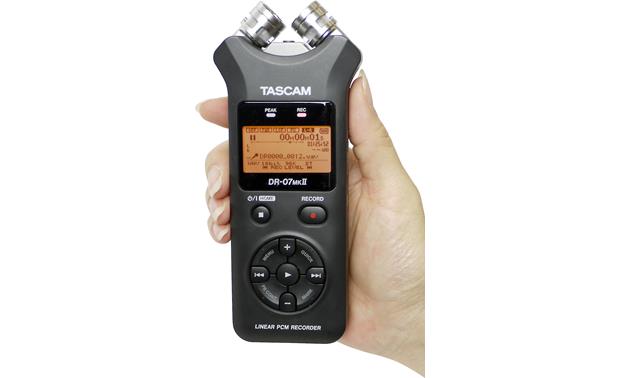 Tascam DR-07mkII - Compact size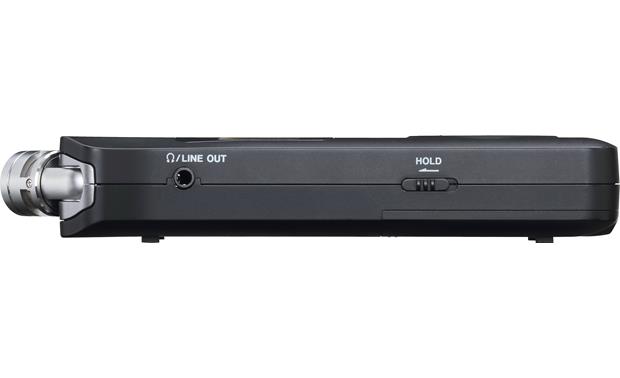 Tascam DR-07mkII - Side view (left)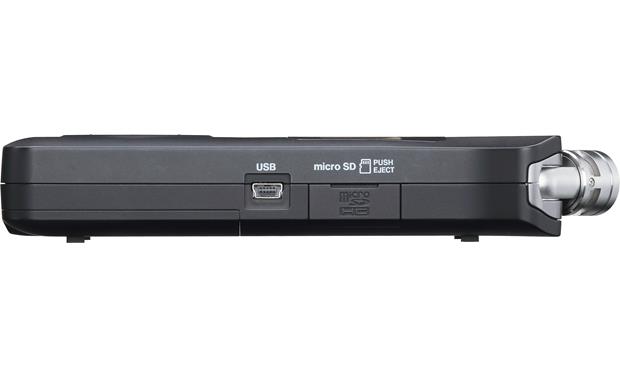 Tascam DR-07mkII - Side view (right)
Item # 850DR07MK2 | MFR # DR-07MKII
This item is no longer available.
Overview
Our take on the Tascam DR-07mkII by Crutchfield's David Brown
Don't let the best songs get away
Sometimes the greatest songs start out as an improvised idea during a performance or rehearsal. Make sure those ideas don't get lost moments after you conjure them. This Tascam handheld stereo recorder ensures that you capture them as they happen, whether in the studio, on stage, or in your basement. The DR-07mkII features two adjustable stereo condenser microphones. Spread them wide in the AB position to capture a wide stereo recording that adds depth and room ambience to the recording. Or switch them to XY mode for a tighter stereo image. There's also room to plug in and power a third microphone, to make sure no instrument is buried in the mix.
High-resolution recording and overdubbing
The DR-07mkII records your performance onto a microSD card, either as a space-saving MP3 or as a high-resolution 24-bit/96kHz WAV file. It can even start recording automatically when the mics pick up a signal. Similarly, the recorder can automatically place marks when it detects drastically lower input levels, so you can easily scan through various takes later on. Want to lay down a vocal track over a particular take? Just cue it up, plug in your headphones, and record in overdub mode while you monitor the original recording and your vocals. Use this recorder's built-in speaker and split/delete features for some simple on-the-fly edits in your practice space. Or transfer your recordings to a computer via USB for playback and editing back at home.
Capture clean, clear sound
Cool features are built into the DR-07mkII to ensure your recordings aren't marred by distortion and noise. Auto Level automatically sets the input levels for the mics based on the loudness of the incoming signal. Peak Reduction can quickly lower mic input levels during loud dynamic changes in the performance you're recording, such as when the guitar player turns it up to "11" during his solo. A limiter keeps sudden loud bursts of sound from distorting your recordings. The built in low-cut filter is perfect for reducing low-frequency noise like wind if you're recording outdoors. You can also add a reverb effect, either during recording or playback. Enable any combination of these features using the DR-07mkII's simple push-button controls and LCD screen.
Super-portable and tripod mountable
The DR-07mkII is small enough to stick in a gig bag or backpack and keep with you all the time. Hold it in your hand, set it down on a table, or even connect a tripod to the threaded insert for added stability and placement options.
Product Highlights:
Special Features:
built-in adjustable stereo condenser microphones (XY or AB recording pattern)
overdub recording mode for additional recording alongside a previously recorded take
Peak Reduction automatically reduces input gain for excessively loud signals to prevent clipping
Auto Level automatically sets the recording level using built-in mics to measure input
Level Alignment smooths out dynamic peaks during playback to maintain a consistent volume level
built-in limiter and low-cut filter prevent distortion and reduce unwanted low-frequency noise such as wind
built-in reverb effect can be added during recording or playback
Auto Record can start recording when input levels are detected and mark gaps in between takes
editing features include mark, divide, and delete
playback options include loop, repeat, and variable speed to slow down or speed up playback without altering pitch
built-in speaker
built-in chromatic tuner
Specifications:
records linear PCM WAV files (BWF) up to 24-bit/96kHz
records stereo MP3 files with selectable bit rate up to 320kbps
2 "AA" batteries (included) offer up to 17-1/2 hours recording time (16-bit/44kHz)
frequency response: 20-40,000 Hz (+1/-3 dB at 24-bit/96kHz)
signal-to-noise ratio: greater than 92dB
total harmonic distortion: less than 0.05%
Connections and Dimensions:
1/8" (3.5mm) mic/line input for optional microphone (with plug-in power)
1/8" (3.5mm) headphone/line out jack
USB 2.0 port (Mini Type B) for connection to a computer for file transfer
microSD card slot for microSD (up to 2GB) and microSDHC (up to 32GB) cards
threaded insert for use with a tripod (not included)
2-11/16"W x 6-1/4"H x 1-1/16"D
weight: 4.4 oz.
Supplied Accessories
2GB microSD card (installed)
32-inch USB cable
2 "AA" batteries
warranty: 1 year (parts), 90 days (labor)
great little recorder

ninjasmoke, nj
What's in the Box:
Portable digital recorder
2 GB microSD memory card (installed)
2 "AA" alkaline batteries
32" USB cable (Type A USB on one end and Mini-B 2.0 USB on other end)
Owner's Manual
Warranty registration sheet
Reviews
Tascam DR-07mkII Reviews
Average Customer Review(s):
ninjasmoke from nj on 8/26/2014
Crutchfield Customer Review
(
What's this?
)
great little recorder

Pros: handy, versitile

Cons:
Jerry from Ohio on 3/26/2014
Crutchfield Customer Review
(
What's this?
)
The Tascam DR-07mkII is a well designed, easy to use, high quality audio recorder that exceeds the specs needed for transfer to a CD or any other media. Its display is clear and the button layout is simple to use. The manual is well written and covers the many facets of the recorder, so there is a bit of a learning curve before its ease of use becomes obvious. The manual contains 123 pages, so I wrote myself a brief 3-5 page instruction sheet that helps me quickly remember how to use the main features of the recorder that matter to me.

Pros: Light weight, sturdy, good screen display, good button layout, accepts external mic, headphone jack, many hours of use on 2 alkaline or Ni-MH batteries, 13 levels of quality in 2 formats (WAV and MP3) to suit anyone's needs, 5 quality levels that exceed that of a music CD, optional AC adapter and windscreen available.

Cons: The attached mics are sensitive to handling noise, but practice will help overcome this issue.
Details
Product Research
General Features
Recording Features
Edit and Playback Functions
Specifications
General Features
Overview: The TASCAM DR-07 MkII is a hand-held portable stereo digital recorder that is designed for musicians. You can make high quality recordings using the WAV format, or a large number of recordings in MP3. The recorder includes a slot for an SD/SDHC card, and includes a 2 GB microSD memory card for hours of recording time. It has two microphones with adjustable angles, a Mic/Ext input, a mono speaker, and a line/headphone output. The DR-07 MkII operates on two AA batteries (included).
LCD Display: The DR-07 MkII features a 1.75" (diagonal), backlit, monochrome LCD (124 x 64 pixels) which indicates recording and playback information. The recorder will display the elapsed or remaining recording time in hours, minutes, and seconds.
Date and Time: The recorder features a built-in clock. If you have set the time and date, information as to when a sound file was recorded is stored automatically with that file.
Microphones: The unit features two high quality condenser microphones mounted on the top of the recorder. The angles of the microphones can be adjusted to suit the recording situation. You can choose Clear Stereo Sound by angling the microphones in a closed position (X-Y position), or choose Wide Stereo Sound by angling the mics in an open position (A-B position).
Mic/Ext Input: Located between the built-in microphones is a stereo 3.5mm input for connecting an external mic or an external device. The built-in microphone, and the settings of left/right channels is disabled if an external microphone is connected. If the external microphone requires plug-in power, the DR-07 MkII can be set to do so.
Low Cut Filter: The device features a low-cut filter that can be engaged to reduce noise, such as wind noise, during recording. The cut-off frequency can be set to 40 Hz, 80 Hz, or 120 Hz.
microSD Card Slot: The DR-07 MkII Digital Recorder features a slot for inserting a microSD card. The recorder is compatible with microSD cards from 64 MB to 2 GB, or microSDHC cards from 4 GB to 32 GB in size. A 2 GB memory card is included. The maximum recording time using a 2 GB microSD card is as follows:
File Format
Recording Setting
Capacity
(hrs:mins)
WAV
(stereo)
16-bit
44.1kHz
48kHz
96kHz
3:22
3:06
1:33
24-bit
44.1kHz
48kHz
96kHz
2:15
2:04
1:02
MP3
(mono/stereo)
44.1 kHz/48kHz
32 kbps
64 kbps
96 kbps
128 kbps
192 kbps
256 kbps
320 kbps
149:04
72:32
49:40
37:16
24:50
18:37
14:54
Formatting Memory Cards: Memory cards can be formatted in the unit to prepare them for use. You can choose a quick format, which erases all music files on the card and automatically creates new Music and Utility folders, as well as the DR-1.sys file that is necessary to use the card with the unit. Full formatting checks the memory for errors while formatting, and takes longer to complete than quick formatting.
USB: The DR-07 MkII has a Mini-B 2.0 (High speed) USB port on the side for connecting the recorder to your computer for transferring files or for providing USB bus power. A short USB cable is provided with the unit. With the optional TASCAM PS-P515U AC adapter (which plugs into the USB port), you can operate the unit on ordinary household current. The DR-07 MkII is compatible with the following Operating Systems: Windows XP, Windows Vista, Windows 7, and Mac OS X 10.2 or later.
Headphone/Line Out Jack: The DR-07 MkII has a 3.5mm stereo jack for plugging in a pair of headphones, or for connecting to an external device. You can listen to files played back or monitor the recording as it is made.
Power Requirements: The recorder is powered by two "AA" batteries. You can use either alkaline (included) or Nickel-Metal Hydride (Ni-MH) rechargeable batteries. Battery life for continuous operation is as follows:
Recording
WAV
Alkaline: 10.5-17.5 hours
Ni-MH: 10-15.5 hours
MP3
Alkaline: 11-16 hours
Ni-MH: 11-13 hours
Playback
WAV
Alkaline: 17-19.5 hours
Ni-MH: 14-16.5 hours
MP3
Alkaline: 18.5-19.5 hours
Ni-MH: 15-16 hours
Tripod Socket: The DR-07 MkII is equipped with a standard 1/4" tripod socket on the back so you can mount the recorder onto a tripod, if desired.
Recording Features
Recording Format: The DR-07 MkII records audio files in WAV and MP3 formats. The unit is compatible with the BWF (Broadcast Wave Format) for WAV files. You can choose from the following recording options:
WAV: 44.1/48/96 kHz, 16/24-bit
MP3: 44.1/48 kHz, 32/64/96/128/192/256/320 kbps
Maximum File Sizes: You can set the maximum file size in the Menu. The choices include: 64 MB, 128 MB, 256 MB, 512 MB, 1 GB, or 2 GB. If the maximum set file size is exceeded during recording, the unit will automatically continue recording in a new file. It cannot exceed a recording time of 24 hours.
Recording Levels: After selecting the input (built-in or external), you can adjust the input levels to prevent recorded sounds from being distorted due to excessively high input signals, or from being inaudible due to excessively low input signals, compared to noise. There are three level adjustment functions:
Peak Reduction: The input volume is reduced automatically to an appropriate level when excessive high signals come in.
Automatic Level Control: The recording level is controlled automatically to increase or decrease the input level when the input signals are too small or too large. This mode is useful for recording at meetings. Manual adjustments to the recording level cannot be made.
Limiter: Engaging the limiter prevents distortion of sounds when excessive high input signals come in suddenly. This mode is suitable for live performances with large volume changes. You can adjust the level manually during recording.
File Names: Each time a file is recorded, a file name is assigned to the recording. The file name can be either a 6-character word or a 6-digit date (yymmdd format). You can set the word file name, while the date file name is automatically set using the unit's internal clock.
Overdubbing: Overdubbing allows you to play an instrument or sing as you play back a saved track and mix and record both sounds in a new file.
Marks: The DR-07 MkII lets you place an electric mark in a recording to identify specific points in the recording. Mark information is stored in the file with numbers between 01 and 99. Marks stored in a WAV file are BWF-compliant, and can be added automatically or manually. During playback, you can immediately move to marks in the currently selected file when paused.
Automatic Recording: When Automatic Recording (Auto Rec) is enabled, the unit will start and pause recording, renew files, and set marks automatically, depending upon the input signal level.
Pre-Recording: Pre-recording enables you to start recording up to 2 seconds before you press the Record button. This enables you to avoid missing the exact moment a recordable event begins.
Self Timer: Like a camera, the recorder's self timer lets you start a recording after a set period of time. Self timers can be set to 5 seconds or 10 seconds.
Edit and Playback Functions
Browse Screen: The DR-07 MkII's Browse screen lets you view the contents of the Music Folder containing the audio files on the microSD card. You can play or erase selected audio files, organize them into folders, and add tracks to the playlist.
Divide: A recorded WAV file can be divided into two at a specified position. This allows you to edit out unwanted portions of a track by placing them in a separate track and deleting them.
Playback Control: The Playback Control screen allows you to access some special playback control functions. You can playback a selected section of a track repeatedly (Loop Playback), or change the tempo of music without changing the pitch in a range from 50% to 150% normal speed (Variable Speed Audition, or VSA).
Playback Equalizer: You can choose from different sound types to enhance the sound quality of a track by using the Playback Equalizer (PlayEQ). The PlayEQ lets you make adjustments (+ or -) in the High (treble) Middle, and Low (bass) frequency ranges.
Level Alignment: If the playback sound is very small, the perceived overall level can be increased to enhance listenability.
Jump-Back Playback: During playback, you can press the play button to move back a few seconds to hear a section of the track again. The Jump-back Playback function is adjustable in the menu, allowing you to set the jump-back time to 1-10 seconds (in increments of 1 second), as well as 20 seconds and 30 seconds.
Effects: The DR-07 MkII has built-in effects that can be applied to the input signal during recording and practice, or applied to the output signal during playback. You can choose a preset effect type and the level of the effect (0-20). The Effects Preset list includes:
Hall 1: A bright reverb in a large hall-like space.
Hall 2: A warm reverb in a large hall-like space.
Room: A reverb in a small indoor space.
Studio: A reverb in a studio-like space.
Plate 1: A bright plate reverb.
Plate 2: A warm plate reverb.
Tuner Function: You can use the DR-07 MkII to precisely tune an instrument. You can calibrate the tuner by adjusting the reference tone (A) between 435 Hz and 445 Hz (in 1 Hz increments). The Tuner displays the mismatch between the tone of the musical instrument you are tuning and the reference tone. You can adjust the input level, if needed.
Specifications
Inputs/Outputs:
Mic/Ext In:

Connector: 3.5mm stereo mini
Input Impedance: 25 kΩ
Nominal Input Level: -20 dBV
Maximum Input Level: -4 dBV

Headphone/Line Out:

Connector: 3.5mm stereo mini
Nominal Output Level: -14 dBV
Maximum Output Level: +2 dBV
Maximum Output: 20 mW + 20 mW (32Ω load)
Audio Performance:
Frequency Response:

20 - 20 kHz +1/-3 dB (44.1 kHz, EXT IN to LINE OUT)
20 - 22 kHz +1/-3 dB (48 kHz, EXT IN to LINE OUT)
20 - 40 kHz +1/-3 dB (96 kHz, EXT IN to LINE OUT)

Total Harmonic Distortion: 0.05% or lower (EXT IN to LINE OUT, Fs 44.1/48/96kHz)
Signal-to-Noise Ratio: 92dB or higher (EXT IN to LINE OUT, Fs 44.1/48/96kHz)
Our Product Research Team
At Crutchfield, you'll get detailed, accurate information that's hard to find elsewhere. That's because we have our own in-house Product Research team. They verify what's in the box, check the owner's manual, and record dimensions, features and specs. We stay on top of new products and technologies to help people make informed choices.