Audeze LCDi4
High-performance in-ear planar magnetic headphones with Apple® Lightning® cable
Item # 884LCDI4 | MFR # 110-IE-1020-00
Out of Stock
Ship date unknown Reserve yours risk-free Email me when available

Our VirginiaVA-based experts can help.
Overview
Our take on the Audeze LCDi4 by Crutchfield's Jeff Miller
Breakthrough design, superior sound
You might think the most obvious comparison for the Audeze LCDi4 in-ear headphones would be the company's iSINE line of headphones. Well, you're right in terms of the look and innovative planar-magnetic design. But sonically, the better comparison might actually be Audeze's top-of-the-line OVER-the-ear headphones, the LCD-4.
They share the same nanometer grade (rough translation: extra-extra-extra-thin) diaphragm, shrunken in diameter. You get a portable pair of headphones with a spaciousness that rivals Audeze's large over-ears, plus an incredibly natural, uncolored sound signature.
Headphone expert Steve Guttenberg on the Audeze LCDi4 in-ear headphones:


"I'm going to come right out and say it: The Audeze LCDi4 are hands down the best-sounding in-ear headphones I've heard. They're the most transparent and open, have the flattest tonal balance, and the bass—OMG—is deeper and faster than any other in-ears on the planet! "

— Read the full review from the February 2018 issue of Sound & Vision
Planar-magnetic drivers: the basics
So how do planar magnetic headphones usually work? A large yet thin diaphragm is suspended within a magnetic field. It is covered with a flexible circuit. When the circuit receives an audio signal, the diaphragm moves back and forth to create sound. It starts and stops rapidly for clean and accurate sound across a wide frequency range.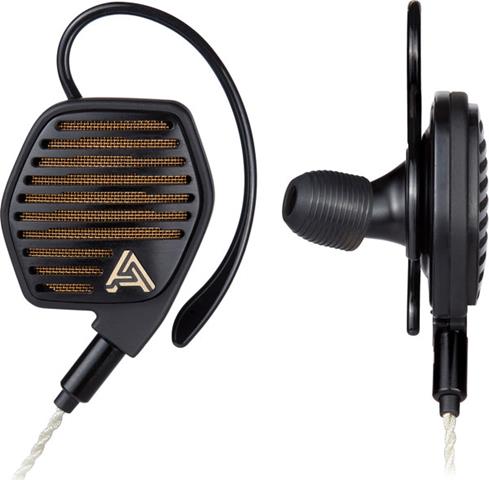 You place the LCDi4's earbuds inside your ear, while the planar drivers sit outside.
How did Audeze fit that technology into an earbud?
A special, super-powerful Fluxor magnet array. Audeze laid out the magnets in an asymmetrical pattern, so that they attract to each other at an angle. This results in a magnetic field that is nearly double the power of a traditional one, so those thin LCDi4 drivers can move and perform extra-efficiently.
And just how thin is the LCi4's nanometer grade diaphragm? It's 200 times thinner than a single strand of human hair. 200 times thinner.
More power = better performance
While these headphones are way more efficient than Audeze's large over-ear LCD models, they still require more power than most in-ears. After all, you purchase headphones like these to reveal nuances and dynamics in your favorite songs — without effort or distortion.
The braided, silver-plated cable will indeed connect to the traditional 3.5mm headphone jack found on many smartphones. But you'll get the best results using a separate headphone amp/DAC or portable high-res music player.
Hand-built and tested in California
Audeze visited us earlier this year to give an in-depth training and they showed a video of their headphone creation process. The level of care was impressive. Every single LCDi4 driver is hand-assembled at their Southern California headquarters — and goes through a battery of tests along the way.
It's a laborious process that involves great attention to detail, and ends with a series of measurements inside a sound-proof chamber. Audeze won't let a pair of LCDi4 headphones leave the building without a proper match between the left and right driver. How committed are they to delivering the goods? They keep measurement records for every individual LCDi4 that they ship.
Product Highlights:
in-ear planar magnetic in-ear headphones

open-back design for spacious soundstage

nanometer grade diaphragm (less than 0.0005mm thick) for wide dynamic range

ultra-thin design originally developed for Audeze's flagship LCD-4 over-ear headphones
tuned for precision and accuracy
Driver Details:
30mm planar magnetic driver in each earpiece

ultra-thin diaphragm starts, stops, and moves swiftly within a powerful magnetic field
offers enhanced dynamics and detailed sound

Fluxor™ magnetic technology increases efficiency to keep headphones smaller and lighter
Uniforce™ diaphragm technology greatly reduces distortion

voice-coil etched across entire diaphragm to eliminate movement variations within the magnetic field

tested inside a sound-proof enclosure to ensure the drivers are accurately matched
General Info and Specs:
ear hooks keep headphones stable and comfortable
silicone ear tips included
47-inch OCC silver-plated cable with 3.5mm connector
storage wallet included
hand-made in Audeze's Southern California headquarters
designed by BMW DesignWorks USA
frequency response: 5-50,000 Hz
impedance: 35 ohms
weight: 0.85 ounces (without cable)
warranty: 1 year
Why Shop
With Us?
10 Reasons.