Monitor Audio Bronze 6
Floor-standing speaker (Walnut Vinyl)
Item # 893BZ6W | MFR # Bronze 6 WN
Low Stock

Our VirginiaVA-based experts can help.
Overview
Our take on the Monitor Audio Bronze 6 by Crutchfield's Kramer Crane
Powerful sound from a 3-way floor-standing speaker
Monitor Audio's Bronze 6 floor-standing speaker is a fantastic choice for a home theater or stereo music system. It features a 3-way design and high-quality crossovers, which combine for smooth frequency transition between its woofers, midrange driver, and tweeter. The result is dynamic, room-filling sound from a tower that doesn't hog a lot of space on your floor. Two sets of input terminals let you bi-amp or bi-wire the speaker for maximum performance.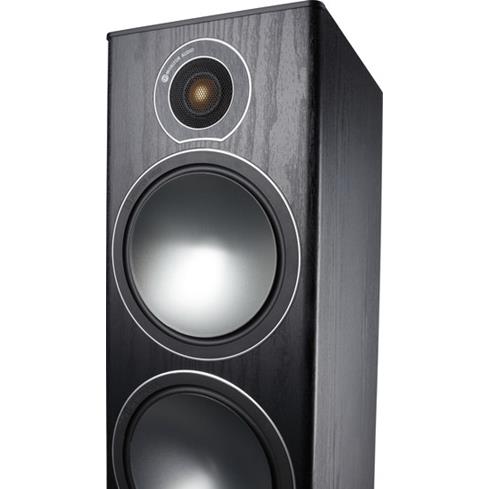 The Bronze 6's 3-way design features a dedicated midrange driver for detail and accuracy.
"Trickle-down" speaker technology
The Bronze 6 borrows design features from Monitor's higher-end Silver and Gold speaker lines, so it delivers great performance for the money. It features a 1" gold dome tweeter for clear, detailed highs and realistic reproduction of instruments and vocals.
It also uses the same bolt-through driver attachment mechanism as the Silver and Gold lines. The result is smooth midrange and punchy bass response from its dedicated 6-1/2" midrange and dual 6-1/2" C-CAM woofers.
Build a complete Bronze system
Want amazing surround sound from a voice-matched system? Mix and match these speakers for immersive home theater.
Bookshelf speakers: Bronze 1 or Bronze 2
Center channel: Bronze Center
Floor-standing speakers: Bronze 5
Surround speakers: Bronze FX
Round out the low end with the powerful Bronze W10 powered subwoofer.
Got wire?
Most speakers (including the Bronze 6s) don't include any wire. Check out our speaker wire guide to find the best wire for your system.
Product Highlights:
frequency response: 34-30,000 Hz
sensitivity: 90 dB
recommended amplifier power: 60-150 watts
impedance: 8 ohms
ultra-rigid, lightweight C-CAM® (Ceramic-Coated Aluminum/Magnesium) cone material delivers high efficiency and low distortion
bass reflex (ported) design with HiVe® technology for reduced turbulence and higher velocity airflow
1" gold dome C-CAM tweeter for detailed sound and extended high-frequency response
dedicated 6-1/2" midrange driver with its own ported acoustic chamber
two 6-1/2" C-CAM woofers for deep, powerful bass
single bolt-through driver attachment provides mechanical decoupling and increased cabinet rigidity for greater clarity and resolution
high-quality crossovers with polypropylene film capacitors for greater accuracy
magnetic grille attaches seamlessly
included speaker base provides stability and reduces vibration
floor-level terminal panel offers easy wire termination and access
dual five-way binding post speaker terminals with bi-amp/bi-wire capability
walnut vinyl finish
9-5/16"W x 39-9/16"H x 13-7/8"D (including base)
weight: 36.5 lbs.
warranty: 5 years
What's in the Box:
Floorstanding loudspeaker
Grille
Plinth
Foam port plug
4 Rubber feet
4 Spike-feet (w/ hex-nuts attached)
4 Hex-screws
2 Hex-keys
Owner's Manual
Important Safety Instructions
Good sound.

Anonymous, Moca , PR
Why Shop
With Us?
10 Reasons.
Reviews
Monitor Audio Bronze 6 Reviews
Average Customer Review(s):
Anonymous from Moca , PR on 2/4/2018
Crutchfield Customer Review
(
What's this?
)
Kelly from Augusta, GA on 1/17/2018
Crutchfield Customer Review
(
What's this?
)
I AM VERY IMPRESSED WITH THE RANGE OF THESE SPEAKERS. AT FIRST THE BASS WAS A LITTLE TOO BOOMY AND THE HIGHS WERE BRIGHTER THAN EXPECTED. BUT, AFTER FILLING THE FRONT PORT HOLE WITH THE SUPPLIED FOAM IT TIGHTENED UP THE BASS AND THE HIGHS HAVE TONED THEMSELVES DOWN OVER THE LAST FEW WEEKS. THE FIT AND FINISH OF THESE TOWERS ARE SECOND TO NONE. I DO NOTICE THE POWER HANDLING WHERE MY OLDER INFINITY ALPHA 50'S SPEAKERS COULD BE CUT UP LOUDER THESE DON'T TAKE MUCH. THEY DO NOT DISTORT MUCH AT HIGHER VOLUME EITHER THOUGH. LESS WORK FOR THE RECEIVER I GUESS. THE ONLY REGRET I HAVE IS THAT THE WALNUT COLOR WASN'T IN STOCK AND I'M IMPATIENT SO................ RXA2060 RECEIVER MATCHING BRONZE CENTER INFINITY SATELLITE FOR FRONT HIGHS INFINITY ALPHA 50 TOWERS FOR THE REARS POLK AWM3 FOR REAR HEIGHTS

Pros: HIGH QUALITY PRODUCT AND CRAFTSMANSHIP

Cons: WALNUT WASN'T IN STOCK
Jeff from SC on 12/26/2017
Crutchfield Customer Review
(
What's this?
)
These speakers sound absolutely fantastic paired with my Marantz PM7001. They fill my large room with sound with very little effort. I listen primarily to vinyl and I'm rediscovering my collection again

Pros: -very detailed -tight controlled lower end -pleasing all around sound that does not overemphasize any particular part of the audio spectrum

Cons: None so far.
Thomas from Buena Vista va on 8/10/2017
First I will say I tried the Klipsch with the help of Jordan they were size 8s tower then I tried the Klipsch 6 1/2 tower then we brought the monitors out and I fell in love what a difference well worth the money I paired them up with a SVS PB 1000 sub and a Denon 3300 receiver, Thing sounds great also have a center speaker this thing jams I try to hook up two more towers for the rear by doing so it took away of power from the other speakers trust me you don't need but two of these and a center with a sub sounds amazing thanks again Jordan

Pros: Just the right size speaker great highs and bass

Cons: None
hugo from San Juan, PR on 2/4/2017
Crutchfield Customer Review
(
What's this?
)
This speakers are amazing!, the soud, the imaging, highs,mids and lows are excellent, the construction is solid and beautiful,I spend some time reading reviews everywhere,doing research in the internet and going in the forums , playing Pink Floyd's dark side of the moon sounds breath taking, i using a NAD t748v2 in stereo mode with a blue sound node2 , thanks to Wolf my advisor and thanks to Crutchfield for make a pleasant transaction.

Pros: Everything

Cons: None
Not quite champagne on a beer budget, but close
CB from New Baltimore, MI on 1/26/2017
Crutchfield Customer Review
(
What's this?
)
This speaker is perfect for the audiophile on a budget. It's not great at any one thing, but it really does everything well. Highs are clean and clear without being too bright, bass goes low and deep for a good sound and feel without being boomy. These replaced a pair of MTX AAL1240's that I bought back in the 90s, needless to say the difference is night and day. Very happy with my upgrade and with the service Crutchfield provided.

Pros: Amazing clarity, great bass, zero distortion, perfect for a medium sized room.

Cons: None, for the money these are a steal
Details
Product Research
Features
1" C-CAM Gold Dome Tweeter: The newly designed 1" C-CAM Gold Dome Tweeter extends the Bronze 6 floorstanding speaker's frequency response to an ultra-sonic 30kHz, allowing the full reproduction of harmonic frequencies vital to the accurate reproduction of, say, the decay of a piano string or the crash of a hi-hat. Within the New Bronze tweeter, an innovative venting system allows air to flow outside the tweeter's magnet assembly into a rear loading chamber, preventing air from being compressed at the back of the dome for lower distortion, reduced mechanical resonance, and improved damping. Structural improvements in dome geometry and drive mechanism have boosted accuracy and extension at the top end of the tweeter's range as well, generating the extraordinary high frequency quality that helps to define the sound of Bronze 6 floorstanding loudspeaker.
Tree 6.5" 'Dished' C-CAM Woofers: The Monitor Audio Bronze 6 employs a 6.5" C-CAM midrange/midbass woofer and two 6.5" C-CAM bass woofers. The newly designed 5.5" 'dished' C-CAM cone employs the entire cone surface to radiate more sound. Unbroken by the centre pole-piece aperture of conventional driver designs, the cone is inherently more rigid and efficient while being less prone to break-up under high drive conditions, resulting in exceptional detail resolution and life-like tonality. Ingeniously, the driver's voice coil is thermally coupled to the back of the cone, which draws heat away from the coil for better power handling and optimal operation at all volume levels.
C-CAM Technology: C-CAM driver technology is used throughout the Bronze series 6 floorstanding loudspeaker, providing coherent tonal balance and sonic signature across the entering audio frequency spectrum. Ceramic-Coated Aluminum/Magnesium is a material originally developed by the aerospace industry for jet engine components. Its properties are ideal for loudspeaker cones being extremely rigid, yet light enough to yield high overall efficiency. In manufacture, aluminum/magnesium alloy undergoes a three-stage stress-relieving process to remove surface deformation and molecular weakness. Once formed, the alloy driver is subjected to a high temperature anodic coating process in which a layer of pure ceramic alumina is depleted onto its surfaces to a depth of 50 microns, producing a completely rigid sandwich of alloy and heat-dissipating ceramic material. Conventional drivers are liable to flex or twist in operation, producing a significant level of audible distortion. C-CAM drivers have a much higher resistance to bending stress and therefore exhibit much greater fidelity over their entire operating range.
Single Through-Bolt Mount: The tweeter, midrange/midbass woofer, and two bass woofers are individually mounted on a through-bolt which fixes at the back of the cabinet and tensions the driver at the front. Cleverly this triple-action feature braces the cabinet structure for lower box coloration while removing the need for conventional front fixings, reducing unwanted driver/cabinet resonance and simultaneously boosting aesthetics
High Quality Crossover: The Monitor Audio Bronze 6 uses a high quality crossover network (LF/MF=150Hz, MF/HF=2.5kHz) with premium grade polypropylene film capacitors, air core, and laminated steel core inductors for signal integrity.
HiVe Port Technology: Its 6.5" C-CAM midrange/midbass driver and two 6.5" C-CAM bass woofers are arranged in a two-and-half way system configuration, operating in separate acoustic chambers with front- and rear-firing HiVe ports to provide differential tuning for higher efficiency and greater low frequency extension. The HiVe bass ports are shaped to have the same effect on airflow as a gun-barrel on a bullet. Rifled grooves inside the ports help to accelerate the flow and reduce turbulence, so air moves in and out of the ports more efficiently, for a faster more dynamic bass response.
Note: If the bass is too boomy, you can insert the included foam port plug into the speaker's front-firing port to tighten and lessen the bass.
MDF Enclosure w/ Magnetic Grille: The Bronze 6 employs a MDF enclosure for accurate, uncolored sound. Rigid 18mm MDF construction is used throughout the enclosure with radial and cross-bracing techniques for high rigidity and low cabinet coloration. In addition, the floorstanding speaker comes with an acoustically transparent cloth grille.
Dual Gold-Plated Binding Posts: The floorstanding loudspeaker has two sets of gold-plated binding posts connected by wire-jumpers. The gold-plated binding posts will accept bare wire (up to 10AWG), pin connectors, & banana plugs (single only). Using the dual posts, you can bi-wire or bi-amp the speaker. Bi-wiring or bi-amping the speaker provides improved bass & treble performance. If you decide to bi-wire or bi-amp, you must remove the jumpers between the terminal posts (failure to do this could result in damage to your amplifier and loudspeakers).
Bi-Wiring: Bi-wiring can provide noticeable improvements in the overall transparency of your loudspeakers. Run separate speaker wires to the low & high frequency drivers from a single amplifier (the upper set of binding posts are for the high frequency drivers; the lower set of binding posts are for the low frequency drivers).
Bi-Amping: Bi-amping allows you to use separate amplifiers for the high & low frequency sections of your loudspeaker for greater dynamic range & lower distortion. We recommend that your separate amplifiers have identical gain to preserve the speaker's voicing balance.
Note: Pre-installed plastic inserts must be removed to utilize banana plugs (single only).
Base with Rubber or Spiked Feet: The Bronze series 6 floorstanding speaker includes a plinth (base) which will need to be installed or you can choose to use the speaker without the base (when used without the plinth the stability of the cabinet will be reduced). In addition, the Bronze comes with four rubber feet and four spike-feet. The spike feet are great for carpeted floors, while the rubber feet are recommended for hardwood, tile, and laminate floors. The spike-feet are adjustable to level out the speaker with your floor. Dimensions will vary based on plinth and foot configuration.
with Base:

Spike-Feet: 9.3125" (w) x 40.3125" (h) x 13.875" (d)
Rubber-Feet: 9.3125" (w) x 39.75" (h) x 13.875" (d)
No-Feet: 9.3125" (w) 39.5625" (h) x 13.875" (d)

without Base:

Spike-Feet: 7.3125" (w) x 39.5625" (h) x 13.625" (d)
Rubber-Feet: 7.3125" (w) x 39.0" (h) x 13.625" (d)
No-Feet: 7.3125" (w) x 38.8125" (h) x 13.625" (d)
Note: The plinth (base) will need to be screwed into the bottom of the speaker. The spike-feet then thread into the bottom of the plinth (base), or the rubber feet push into the bottom of the plinth (base). If the plinth (base) is not used, then the spike-feet or rubber feet get installed directly to the bottom of the speaker.
Placement: When used in a stereo system or as front speakers in a home theater application, the listening position and the floorstanding loudspeakers should form an equilateral triangle. The speakers should be positioned approximately 6' to 10' apart. They ideally need to be between 8' to 18" away from the rear wall and 3' from the side walls.
Bronze Series: Monitor Audio's Bronze series of loudspeakers consists of two floorstanding speakers (893BZ5B/893BZ6B), two bookshelf speakers (893BZ1B/893BZ2B), a center channel speaker (803BZCB), surround speaker (893BZFXB), and powered subwoofer (893BZW10B) - all sold separately.
Our Product Research Team
At Crutchfield, you'll get detailed, accurate information that's hard to find elsewhere. That's because we have our own in-house Product Research team. They verify what's in the box, check the owner's manual, and record dimensions, features and specs. We stay on top of new products and technologies to help people make informed choices.
Q & A
Customer Q&A
Crutchfield asked


Why did you buy this?
own other monitor speakers and the sound is great

[ DONALD L Dec 18, 2016 ]
2 questions already asked
For more detailed product-related questions, you'd be better served contacting an Advisor directly by phone (888.955.6000) or online chat. Thanks! [ Larry Dec 28, 2017 ]

Staff
Thanks for your question. All of the lower priced units I was able to locate there are Used not New. The new stock items are the same price. Crutchfield is an authorized retailer and free lifetime Tech Support is included with your order. Crutchfield also has a 60 day satisfaction guarantee. Hope this helps. [ Kenny Apr 14, 2017 ]

Staff