Behringer X32 PRODUCER
16-channel digital mixer
Item # 937X32PROD | MFR # X32PRODUCER
In Stock
Consult a pro audio advisor

Our VirginiaVA-based experts can help.
Overview
Our take on the Behringer X32 PRODUCER by Crutchfield's Buck Pomerantz
It all comes down to the music
You need control to mix music well — control over levels, tones, dynamics, and clarity among other considerations. Behringer's X32 PRODUCER digital mixer puts that control at your fingertips with a control surface that combines the analog feel of faders, buttons, and knobs with the awesome power of digital processing. And Midas-designed preamps give each microphone input a high-fidelity start to its journey toward a great final mix.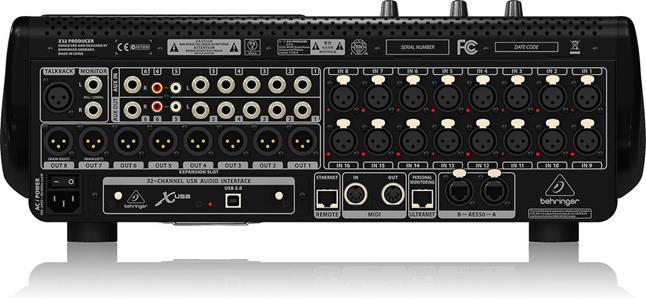 More than 16 inputs, over 8 outputs
Besides sixteen channels of mic inputs, the X32 PRODUCER sports six auxiliary 1/4" TRS inputs and a couple of RCAs so virtually any source can enter into this mixer's realm. Eight balanced XLR outputs provide the mixes for your PA speakers, monitors, or recording devices. Six 1/4" TRS and an RCA pair let you hook up even more outboard gear to your system if needed. You can assign the auxiliary inputs and outputs so they can be used as channel insertion points for outboard hardware. You can expand your X32 PRODUCER to full 32-in 16-out capabilities with the addition of a Behringer S-16 digital snake.
Digital interface
You can record up to 32 channels at once to your computer's DAW via a USB connection, for studio-quality multitrack live recording. For multi-channel inputs, the X32 PRODUCER is compatible with digital snakes, so you can use thin Cat-5e wires to connect to the stage instead of a thick multicore cable. Another connection lets you plug in an optional Behringer P16-M personal mixer, via Ethernet cable, for musician-controlled monitor mixing. And you can plug in a router to run your mixer wirelessly from an iPad®, iPhone®, or PC via the free apps.
Saving settings, presets, and motorized faders
When the mix is perfect, you can save your settings as a scene that you can recall for a later show, saving valuable set up time. You also have the ability to save a "snippet," a subset of the mixer's overall settings, like the vocal EQ and compression or the mix of a drum kit. Behringer loaded a collection of preset scenes and snippets to help get you started on your particular mix, including some from world-class music producers and sound engineers, who use X32s themselves. Just recall a scene and watch the automated faders fly to position.
Channel strip processing and the 5" display screen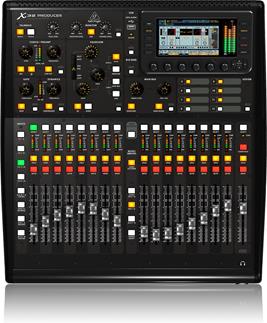 Every input and output channel enjoys access to the channel strip controls that include gain, phantom power, high-pass filtering, a noise gate, limiter/compression, 4-band parametric equalization, and bus assignments. A push of the view button by each effect brings up a more detailed description on the 5" display. The other plug-in type effects, like reverbs and delays, also show up on the screen as virtual hardware devices when selected. Actuators adjust onscreen parameters and let you see and control functions like routing, mute groups, and scene recall.
Onboard effects
You can fill each of the eight stereo effects slots with one of at least forty different effects, like graphic equalizers, compressors, including a multi-band version, different reverbs, delays, a pitch bender, even guitar amp simulations. Behringer modeled each plug-in to emulate or sound like a modern or classic piece of hardware.
More features
Often you'll want fast access to often-used functions, like changing a delay time or disengaging a reverb when a vocalist speaks between songs. The X32 PRODUCER has assignable controls that give you up to 8 different user-programmed functions at your disposal. The first eight channels of the X32 PRODUCER can get assigned to Auto-Mix, which automatically lowers the levels of some of the mics when a prioritized mic is active, clearing up the sound in multi-mic panel discussions for instance. A 100-band RTA displays the spectrum of the sound so you can see any hot spots and dips that need equalization.
Product Highlights:
16-channel Digital Mixer:
16 XLR microphone inputs
Midas-designed programmable microphone preamps
6 TRS 1/4" and 2 RCA auxiliary inputs
8 XLR analog outputs (outputs 7-8 are main stereo outputs)
6 TRS 1/4" and 2 RCA auxiliary outputs
Auto-Mix on ch 1-8: ducks non-prioritized channels when prioritized mic active
auxiliary inputs and outputs are assignable and can serve as channel inserts
motorized faders — each bank controls at least 4 layers of functions
Channel Strip Digital Processing:
mic preamp gain, phantom power, phase switch, tunable low-cut filter
noise gate/ducker, compressor/expander
4-band parametric equalizer
bus send controls and panning
8 effects slots
over 40 effects available (including reverbs, compressors, EQs, delays, and modulators)
can store and recall over 100 scenes (whole mixer settings) and 100 snippets (partial settings)
Auto-Mix on ch 1-8: ducks non-prioritized channels when prioritized mic active
Studio and Network Connections:
16-channel digital interface via USB 2.0 with DAW remote control
Ethernet port for connecting a PC or wireless router
wireless iPad and iPhone control via free apps
digital snake ready
front USB connection for data transfer and 2-track recording
MIDI connection
Ultranet connection for a Behringer P-16 personal monitoring system
connection to an optional Behringer S-16 digital snake adds 16 inputs and 8 outputs to the mixer
Other Features:
5" high-resolution TFT display with data encoders
built-in RTA (real-time analyzer)
headphone output and talkback channel
weight: 25.1 lbs.
dimensions: 19-5/16" W x 6-7/16" H x 19-15/16" D
warranty: 3 years (with product registration)
What's in the Box:
Behringer X32 PRODUCER Owner's manual
32-Channel Digital Mixer
5' AC power cord (IEC 3-prong plug)
2 Rack-mount brackets (11.5" length)
9 M4 x 6mm flat-head screws
Mixer cover
Quick Start Guide
Global Care Information
Why Shop
With Us?
10 Reasons.
---
Details
Features and Specs
General
Mic inputs
16
Line inputs
6 x 1/4", 2 x RCA
Phantom power
+48V
Channel EQ
6-band parametric
Master EQ
31-band graphic
Digital outputs
USB (A, B)
Monitor outputs
6 XLR, 6 1/4", 2 RCA
Effects
8 slots, 40 effects per
Talkback
Y
Height (inches)
7-1/8
Depth (inches)
20-1/4
Width (inches)
19-1/4
Weight
25.1 lbs
Product Research
Features
Overview: The Behringer X32 Producer is a 32-channel digital mixer that can be used for live performance and studio mixing applications. The mixer features 40 inputs, 25 busses, 16 mic preamps, and 17 motorized faders. It can be controlled by an iPhone or iPad through the free X32-Mix application. The X32 Producer comes with a dust cover and rack ears for installing the mixer in an equipment rack.
Mixer Layout: The X32 Producer's layout is divided into five major sections:
Channel Strip/Monitoring: The channel strip has dedicated controls for signal processing, with separate sub-sections for Config/Preamp, Gate/Dynamics, Equalizer, and Main Bus. There are also level controls for the headphone output and monitor output, plus talkback buttons and talkback level controls.
Display: The mixer has a high-resolution (800 x 400) 5" color display for showing you the mixer's settings. The bright, high contrast screen is visible in the daytime, which makes it ideal for outdoor applications. Six rotary, push-button encoders let you select and adjust the parameters, while up/down and left/right controls let you select the layers and pages. You can control effects, metering, routing, and other vital functions from the display. To the right of the display screen are the main stereo output level meter, and the solo level meter for the active solo channel. The 18-segment (-45 dB to clip) meters feature bright green, amber, and red LEDs.
Input Channels: This section features eight 100mm motorized faders. The mixer gives you control of all 32 input channels through four selectable banks of 8 channels each. In addition, you can control Aux inputs 1-6, USB playback and Effects Returns.
Group/Bus/Main Channels: The Group/Bus Channel section offers 8 channels strips divided into 4 layers: Digitally Controlled Amplifier (DCA) groups 1-8, Mix Bus Masters 1-8, Mix Bus Masters 9-16, and Matrix Outputs 1-6, plus the Main L/R output fader.
Various Assignments: The Assignment section of the mixer offers three banks of 8 buttons to give you customizable access to 24 random functions.
MIDAS Mic Preamps: The X32 Producer has 16 high-quality MIDAS-designed microphone preamps. MIDAS preamps are considered by industry experts as the industry's best sounding designs. The preamps provide high-quality audio reproduction in both live and studio applications. Each mic preamp can be setup and adjusted along many parameters, such as gain, phase, and phantom power. You can also insert effects, apply compression, engage low cut filters to remove unwanted low frequencies, and link adjacent channels together for stereo operation.
A/D-D/A Conversion: The X32 Producer uses Cirrus Logic A/D (analog-to-digital) and D/A (digital-to-analog) converters. The converters are 24-bit @ 44.1 or 48kHz with 114dB dynamic range.
Effects: The X32 Producer is equipped with 8 studio-quality stereo (or 16 mono) multi-effects processors, that are assignable to any input, group, or output mix bus. You can choose from a range of reverbs, delays, EQs, dynamics, and more.
iPad /Android Applications: Many of the functions of the X32 Producer can be remotely controlled by a dedicated iPad app. You can adjust the house mix from any seat, and fine-tune monitor mixes on stage. The X32-Mix app requires iOS 8.0. You'll need to connect the X32 Producer to your network router via Ethernet cable, and connect your iPad to the network. For Android devices, the Mixing Station XM32 app gives you control from Android tablets running operating system 4.0 and up.
Windows/Mac OS X/Linux Apps: A separate remote editor application is available for personal computers for controlling the X32 Producer console remotely via Ethernet. The current version (3.1) is compatible with the following operating systems:
Windows: XP, Vista, 7, 8, and 10
Mac OS X: 10.6.8, 10.7, 10.8, 10.9, 10.10, or 10.11
Linux: tested on Ubuntu 14.04, 12.04, and Wine
RaspberryPi: tested on RPi2 Model B 1 GB, running on Raspbian (Debian GNU)
Warranty Terms: Behringer offers a 3-year warranty when you register your product within 90 calendar days of purchase. If the product is not properly registered, the warranty period is one year.
Connections and Controls: The X32 Producer's inputs and outputs are located primarily on the rear panel, with the exception of the 1/4" stereo headphone jack (front panel), and the Data Export/Import USB port (Type A).
Inputs: The unit is equipped with 16 Midas-designed programmable mic preamps, each with balanced female XLR connectors. A single female XLR is provided for a talkback microphone, as well. In addition, there are six 1/4" TRS Line inputs. The last two 1/4" TRS Line inputs (5 and 6) share an RCA input.
Outputs:

Main/Aux: Eight XLR balanced outputs are provided, with the last two (7 and 8) are marked as the Main outputs. There are six 1/4" TRS Aux outputs, with the last two sharing an RCA output. In addition to the Aux outs, there are independent left and right 1/4" balanced monitor outputs.
Headphones: The mixer's front panel Headphone jack accepts a 1/4" TRS plug for connecting a pair of headphones. The headphone output has a dedicated rotary level control.

Digital:

AES50: Two AES50 ports (A + B) are provided for connecting inputs for channels 17-32 (Inputs 1-16 are located on the mixer itself) via a separate I/O box, such as a Behringer S-16 Digital Snake (Stage Box). Shielded CAT-5e cable should be used for AES50 connections between the X32 and S16 units. Each of the AES50 ports can handle up to 48 input and output channels.
Ultranet: This RJ-45 port lets you output up to 16 channels of monitoring when a Behringer P-16 personal monitoring system.
Remote: This RJ-45 port allows you to connect the mixer to a PC for remote control via Ethernet cable.
MIDI: The MIDI in/out jacks send and receive MIDI signals to and from external equipment.
USB 2.0: The built-in X-USB card lets you transmit up to 32 channels of audio to and from a computer via this Type B USB 2.0 port.
AC Power: The mixer has a 100-240V (50/60 Hz) switchable power supply with an On/Off toggle switch. A detachable 5' AC power cord with an IEC 3-prong connector is supplied with the mixer.
Specifications:
MIDAS Mic Inputs:

Non-clip Maximum Input Level: +23 dBu
Mic Input Impedance (XLR jack): 5 kΩ (unbalanced); 10 kΩ (balanced)
THD+Noise (20dB gain, 0 dBu out): <0.006%, A-weighted
Phantom Power: +48V (selectable per input)
Equivalent Input Noise Level (XLR): -128 dBu, A-weighted
CMRR (XLR): >70dB (@20dB gain), >80dB (@40dB gain)

Inputs:

Frequency Range (48kHz sample rate, 0dB to -1dB): 10 Hz - 22 kHz
Dynamic Range (analog in/analog out): 106 dB
A/D Dynamic Range (preamp to converter): 109 dB
D/A Dynamic Range (converter and output): 108 dB
Crosstalk Rejection (1 kHz, adjacent channels): 100 dB
Non-clip Maximum Input Level (TRS): +16 dBu
Line Input Impedance (TRS): 20 kΩ (unbalanced); 40 kΩ (balanced)

Outputs:

Output Impedance (XLR): 75Ω
Output Level (XLR): +4 dBu (nominal); +21 dBu (maximum)
Headphone Output: 40Ω / +25 dBm (stereo)

General:

Power Consumption: 70 W
Dimensions: Width 19.25" Height 6.4" Depth 20.25"
Weight: 25.1 pounds
Our Product Research Team
At Crutchfield, you'll get detailed, accurate information that's hard to find elsewhere. That's because we have our own in-house Product Research team. They verify what's in the box, check the owner's manual, and record dimensions, features and specs. We stay on top of new products and technologies to help people make informed choices.