Why Choose Crutchfield?
Deep discounts on car installation gear
We offer vehicle-specific installation instructions, dash kits, wiring harnesses, and speaker accessories at deeply discounted prices with car stereo and speaker purchases. Available for most vehicles.
Learn more
Trusted since 1974
Our customers have trusted us with their business, and they've helped us win awards for our service.
Check out our most recent awards
Factory-authorized dealer
The manufacturer's warranty always applies.
See more details
Match PP52DSP
Plug and Play digital signal processor with built-in 5-channel amplifier
Item # 975PP52DSP | MFR # PP52DSP
This item is no longer available.
Overview
Upgrade your vehicle's stock system for high-fidelity sound
The Match PP52DSP signal processor will greatly improve the sound quality of your factory audio system without cutting a single wire or changing your vehicle's look. After the PP52DSP works its magic, you'll be able to hear music like you were in a recording studio, instead of a noisy vehicle on the road.
The vehicle-specific Match Plug and Play system
First, you'll need to purchase a vehicle-specific adapter harness that plugs in between your car's stock radio and speakers, then connects to the PP52DSP. The PP52DSP then takes the signal from the factory radio and transforms it into focused, clear, and powerfully moving music that'll veritably dance across your dashboard.
Power features
The processor's built-in amplifier puts out 35 watts RMS to each of your car's four speakers and sends another 160 watts RMS to an optional Match subwoofer, so you'll definitely feel big improvement in your music's impact. For you subwoofer fans who want more bass than that, the PP52DSP also includes outputs for hooking up your own larger amplifier and sub.
The ultimate tune-up via PC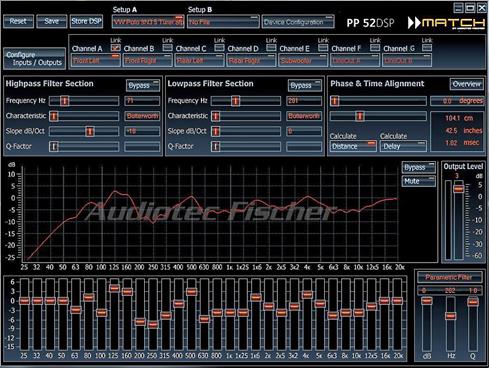 The main control panel for the PP52DSP, as it appears on your computer screen
If you're a constant tweaker who's crazy about sound quality, then you will have a blast with the PP52DSP. It works with your Windows-operated personal computer to offer a world of sonic adjustments that can maximize the performance of almost any car audio system.
Once you've downloaded the application and software from Helix, you plug your PC or laptop into the processor's USB port. A detailed control panel will appear on your computer screen that lets you set virtually every tunable audio parameter, so you can enjoy the highest musical fidelity possible in your car. The visual display shows the resulting sound curve of each setting, so you'll know for sure how your adjustments are affecting audio output.
EQ, time alignment, and more
The PP52DSP includes a 30-band graphic equalizer on every channel, to compensate for all the dips and bumps in your speakers' responses inside your car, so each speaker will sound its best. The EQ section also features a fine tuning adjustment that lets you get in between the preset bands to smooth out any rough spots. The time alignment feature lets you correct for each speaker's placement, so the sound from each speaker gets to you at the same time, centering the stereo image for your sitting position.
Detailed filter section for fine tuning
You can configure almost any type of high-pass and low-pass filter on each channel. Not only can you adjust a crossover's frequency, but you can also choose the slope, its "filter characteristics" (see Highlights below), and adjust its "Q-factor," which widens or tightens the bump at a particular crossover point. Filters and EQ can be set separately for each channel, or channels can be linked together for common settings.
Save your settings
Don't worry, you won't have to drive around with your computer plugged in. You simply download your settings to the PP52DSP, after saving them on your laptop. The PP52DSP can store two settings at once, so you can toggle between them to see which sounds better. You can also use an optional microSD memory card to store and transfer settings to your PP52DSP, which comes in handy when you want to switch settings without plugging in your laptop.
Additional features
An auxiliary input lets you plug in other sources like an MP3 player or a navigation device. The PP52DSP senses when a signal is present there and automatically switches to AUX mode to play it. If it hears nothing for 2 seconds, it switches back to the receiver's signal.
You can use the URC-2A remote control (not included) to control several functions of your processor from the front seat, without having to plug in a computer. You can adjust the main and subwoofer volumes, switch between your receiver and auxiliary sources, and even quickly switch back and forth between two previously saved processor setups. You can re-configure some of the URC-2A's functions using the DSP-PC Software.
Power Save Mode
Many newer vehicles feature accessory circuits that remain on for several minutes after the engine shuts off, so an aftermarket amplifier could possibly drain your vehicle's battery. The Match PP52DSP solves this problem by turning off the amps connected to its remote output after not sensing music for 60 seconds. It will turn them back on within a second after sensing the signal.
Online manual
For more details and tips, check out Audiotec Fischer's DSP Special Sound Tuning Magazine, which includes the operation and adjustment manual for the Match PP52DSP.
Important Note: This Match upgrade system plugs in between your vehicle's factory radio and speakers, so it will not work in a premium sound system equipped with a factory amplifier. You must identify your vehicle to order a Helix Match Plug and Play upgrade system online. Or, if you prefer, call an Advisor at 1-888-955-6000 to make sure you get the upgrade system that works in your vehicle.

The processor's mode switches set amp gains and remote control functions.
Product Highlights:
digital signal processor plus 5-channel amplifier
DSP adjustments and settings made via computer (Windows only), microSD memory card, or optional remote control
download DSP PC-Tool Software from helixhifi.com
built-in amplifier (35 watts RMS x 4 at 4 ohms + 160 watts RMS x 1 at 2 ohms)
Plug and Play connection for optional PP7E subwoofer
auxiliary inputs and outputs
Burr-Brown AD/DA converters
channel settings can be separate or linked together
Adjustment details
time alignment in 7 millimeter increments
30-band graphic EQ with fine tuning
adjustable high- and low-pass filters (20-20,480 Hz)
selectable filter slopes (6, 12, 18, 24, 30 dB/octave)
selectable filter characteristics

Butterworth: sharp transition, suitable for most applications
Bessel: gradual transition, suitable for smooth speakers, but not subs
Linkwitz: recommended for high-end speakers only, not subs
Chebyshev: very sharp transition, useful as high-pass for tweeters or low-pass for subs
Self-Define: selectable Q-Factor, 12 dB/octave slope only

adjustable Q-Factor in Self-Define mode (0.2-2.0) increases signal at crossover point
phase adjustment: switchable 0/180 degrees on front and rear channels, adjustable 0 to 360 degrees on sub channels in 22.5-degree increments
Other Features
Awsome

Freeman, Pembroke Pines FL
What's in the Box:
PP 52DSP amplifier/digital signal processor
7' Input/Output cable
20 amp ATO fuse (installed)
5' USB cable (USB Type A on one end and USB Mini-B on the other)
Four 3/4" Self-tapping screws
Instruction manual (German/ English)
Reviews
Match PP52DSP Reviews
Average Customer Review(s):
Freeman from Pembroke Pines FL on 12/10/2015
Awsome

Pros: Awsome

Cons:
Jim from California on 3/19/2015
Crutchfield Customer Review
(
What's this?
)
This transformed the mediocre system in my 2013 Tiguan into something I can really enjoy. I'm hearing all kinds of details in music that I've never heard before. Hooking it up is super easy with the additional adapter and I'm able to use the head-unit power since I'm not driving a sub. The provided harness gave me plenty of room to locate the unit in the same spot a factory amp would be under the driver's seat. I had good luck setting the levels using pink noise from the Sheffield/Autosound 2000 Test CD and the built-in mic on a Macbook Pro. I bought a USB condenser mic which pics up the lower frequencies better but otherwise didn't make that much difference. I wasn't able to use the pre-built profile I downloaded from Audiotec-Fischer. A note about warranty coverage: I was worried about this given the price - didn't want to have to ship back to Germany! - so I tracked down these answers. I had little luck with the manufacturer Audiotec-Fischer. I finally got an answer from Rockford Fosgate. I was able to get this confirmed by Crutchfield. Rockford is the US distributor, so if warranty service is needed you can either return it to the dealer or contact Rockford Fosgate's customer service. Warning: If you're going to spend as much time as I did figuring out how to set the levels and finding the perfect sound, don't forget to hook up a battery charger!

Pros: Sound quality, correction of major sound issues - OEM system was so shrill it was distorting at high volumes, super easy plug and play with the adapter

Cons: Price, warranty coverage not clear, fixed input/output mapping for 4 factory channels - each input channel is mapped to the same output channel. You can only change the mapping for line out and sub outputs.
Nightraven from Tucson, AZ. on 9/2/2014
Crutchfield Customer Review
(
What's this?
)
I am happy to report that this product does what it says. I elected to do the entire upgrade with this DSP and the PP7E subwoofer system. It was very easy to install, the hardest part was routing the wiring as the rest was plug n play. It has breathed fresh life into my OEM system of my 06 GTI. It cleaned up the signal, puts out clarity, adds depth and a nice low end to the sound. I am hearing parts of songs and instruments that were buried in the reproduction from my stock system. It's capabilities to customize the sound and imaging are limitless as I tune the system even more as I learn the dos and dont's. The customer support from Helix is incredible as there was no car specific profiles for my car at the time I purchased these products since this product was so new. After a couple of calls, I spoke to Rico who created the needed profile and got it to me ASAP. Of course, the folks at Crutchfield have been incredible as well although they did sell me a cable that was not needed but they will be taking it backing and paying shipping. There are 3 draw backs as I see it and that is why it didn't get a full 5 star rating. The price is high compared to the previous model as it has almost doubled. 2nd is the subwoofer options. They only offer the dual 7" system (Performs better than expected) even though they offer a wide selection in Germany. Last is the programming and instructions are a bit vague and I think that is due to German to English translation.

Pros: Easy to install, will revive your OEM system and make you want to love it again.

Cons: High price, Subwoofer options, Programming is a bit difficult and the instructions lack a little.
Details
Product Research
Features
Overview: The Helix PP 52DSP is an amplifier and digital signal processor, designed to be used with a Helix vehicle specific adapter to create a plug & play upgrade to a factory stereo system. Once the PP 52DSP is installed, the vehicle specific profile containing customized EQ and time alignment data is downloaded from theHelix web site to a MicroSD card and loaded into the DSP (be sure to check their site before purchasing to confirm they have a profile for your car). This allows you to upgrade your vehicle's factory sound, while leaving all the factory features and controls intact. If no profile is available for your vehicle, extensive adjustments can be made to the EQ, crossover, and time alignment using Audiotec Fischer's DSP PC-Tool software, downloaded free from their web site.
Connections/Controls:
Left Side:

USB: connect to your computer using the included cable (not used for USB storage devices)
Micro SD: operating software updates and complete DSP settings files are downloaded using the MicroSD card slot
Control Input: input for optional URC 2A wired remote control (item number 975URC2A, sold separately)
Mode Switches: 6 DIP switches adjust multiple settings; amplifier gain, relative sub level, and optional wired remote function
Line Output: two RCA jacks for connection to another amp; can be formatted full range stereo or subwoofer outputs

Right Side:

Subwoofer Output: connect optional PP 7E subwoofer (item number 975PP7E, sold separately); also compatible with the Helix B ONE blue subwoofer amplifier (item number 975BONE, sold separately) using the PP-SC 4 cable (item number 975PPSC4, sold separately)
Aux Input: 3.5mm mini-jack input; a signal sensing circuit automatically switches to the aux input when a signal is present
System Connector: 20-pin port for use with the included cable
Remote Output: spade terminal; used to turn an external amp on/off
Computer Controls: These controls are on the Helix PC-Tool software, downloaded to your computer from their web site (If a vehicle specific profile is downloaded, its settings cannot be changed using the PC-Tool):
Crossover: The crossovers are set for each channel individually (Front Left, Front Right, Rear Left, Rear Right, Subwoofer, Line Out A, and Line Out B), or multiple channels can be linked together and adjusted simultaneously (left and right, front and rear, etc.). Each channel has high pass and low pass crossovers; either or both can be bypassed. There are four settings for each crossover:

Frequency: The crossover points for each channel vary by how the channel is defined:

Full Range: high pass and low pass adjustable from 20 Hz to 20.480 kHz in approximately 1/12 octave increments
Subwoofer: high pass (subsonic) adjustable from 20 to 100 Hz, low pass adjustable from 20 to 300 Hz, both in 1 Hz increments
Line Output: the crossover on the line outputs is identical to the subwoofer output, but the low pass section can be bypassed, making them full range outputs; high pass (subsonic) adjustable from 20 to 100 Hz, low pass adjustable from 20 to 300 Hz, both in 1 Hz increments

Filter Characteristics: Different crossover types exhibit different sonic characteristics:

Butterworth: regular impulse behavior, sharp transition, 3 dB gain in the crossover frequency band, suitable for almost all applications
Bessel: very good impulse behavior, very gradual transition (drivers must have smooth frequency response outside the frequency band range), less than 1 dB gain in the crossover frequency band, only practical with very high quality speakers, not recommended for use with subwoofers
Linkwitz: very good impulse behavior, no gain at the crossover frequency, only practical with very high quality speakers, not recommended for use with subwoofers
Tschebyshev: very sharp transition, poor impulse behavior, output exhibits 1 dB ripple, only recommended for a subwoofer or tweeter operating near the resonant frequency
Self Defined: useful as high pass (subsonic) in ported subwoofer systems, slope fixed at 12 dB/octave, Q value adjustable from 0.5 to 2.0

Slope: the crossover slopes are selectable; zero (bypassed), 6 dB/octave, 12 dB/octave, 18 dB/octave, 24 dB/octave, and 30 dB/octave (Linkwitz is limited to zero, 12 dB/octave, and 24 dB/octave; Self Defined is fixed at 12 dB/octave)
Q Factor: using the Self Defined filter characteristic setting, the Q factor can be adjusted from 0.5 to 2.0 in 0.1 increments

Output Level: The output levels are independently adjustable for each of the seven output channels. The range is +5 dB to -60 dB (1 dB steps from +5 dB to -10 dB, 2 dB steps from -10 dB to -30 dB, and 6 dB steps from -30 dB to -60 dB).
Phase: The phase of each output channel is independently adjustable. The subwoofer and line outputs are adjustable from 0° to 360° in 22.5° steps; the full range outputs can be set to 0° or 180°.
Time Alignment: The distance from the listener (for one position in the car) to the speaker connected to each channel is independently adjustable from zero to 353.5cm (approximately 12 feet) in 7mm (0.28") increments.
Equalizer: Each output channel has its own 30 band (1/3 octave) equalizer (12 band for the subwoofer and line output channels). Each band is adjustable from -15 dB to +6 dB in 1 dB steps. A fine tuning section also allows slight adjustment of each band's center frequency (eight options in 1/12 octave steps) and Q (0.5 to 15.0 in 0.1 steps).
Line Output Configuration: The signal output by each of the line outputs can be supplied by any combination of the four inputs from the factory system (right/left/front/rear).
Specifications:
Power Output:

Front/Rear:

4Ω: 35 watts x 4 RMS (70 watts x 4 max)
2Ω: 50 watts x 4 RMS (100 watts x 4 max)

Subwoofer (2Ω): 160 watts x 1 RMS (320 watts max)

Frequency Response: 20 Hz to 22 kHz
THD: 0.01%
Signal to Noise Ratio: 103 dB
Damping Factor: >100
Line Output: 3 volts RMS
Input Impedance: 30Ω
Under Voltage Detection: 9.6 volts DC (up to 5 seconds down to 6 volts)
DSP Resolution: 56 bit
Our Product Research Team
At Crutchfield, you'll get detailed, accurate information that's hard to find elsewhere. That's because we have our own in-house Product Research team. They verify what's in the box, check the owner's manual, and record dimensions, features and specs. We stay on top of new products and technologies to help people make informed choices.
Q & A
Customer Q&A
Crutchfield asked


Why did you buy this?
Along with a Helix PP-AC13a adapter it is basically a plug and play solution for a MB 2016 C300 Sedan

[ Ben Jul 13, 2016 ]
It a perfect upgrade for my wife's 2015 BMW 30i, to covert her stock stereo from speaker outputnto line level ( RCA ), so she can have a better stereo envirnment.

[ Timothy May 12, 2016 ]
2 questions already asked
For details on fit or installation please contact an Advisor by phone (1-800-324-9695) or online chat. They will be able to pull up your vehicle and give you the details on if this will fit and what you will need for an installation in your vehicle.[ Krissy Apr 12, 2015 ]

Staff
You will want to contact an Advisor by phone (1-800-324-9695) or online chat to discuss compatibility with your factory system. They will be able to pull up your vehicle and see if this will integrate. If it does not, then they will also be able to discuss other options with you.[ Krissy Jan 24, 2015 ]

Staff