Come see the difference
At Crutchfield's Discovery Store, our intelligent interactive fixtures will help you find what you want, our expert staff will answer any questions you have, and our hands-on displays will allow you to try out the latest cutting-edge products.
Explore our entire selection on our interactive fixtures
Try out any in-stock item to see how it performs
Experience any speaker system in our Listening Rooms
Learn more about our design and installation services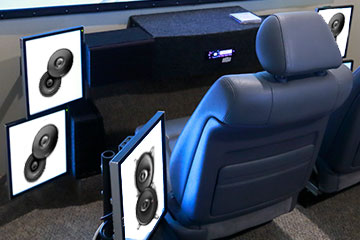 Experience any speaker in our Listening Rooms
Listening to speakers in the store is helpful, but that doesn't always tell you how they're going to sound in the real world. That's why we spent years working with audio experts to create what others only dreamed about — a way to find out how speakers will sound in your home or car.
The results of those efforts can be heard in our Listening Rooms. Unique to Crutchfield, these acoustically-designed rooms let you compare speakers in an environment that's as close as possible to where they'll actually be used. You have to experience it to believe it.
Intelligent fixtures for smarter shopping
Our intelligent interactive fixtures help you shop like an expert. These intuitive touchscreens let you access our entire inventory to find the gear you want. Search by brand, size, style, price, features, and more — it's as easy as using your phone or tablet. Maybe even easier.
Once you find the products you want, the system will help you find the accessories you need and suggest ways to make your installation go smoothly. You'll also be able to access our huge and helpful online library of articles and videos. If you have questions, our in-store experts are there to help.
Celebrating 40 years of excellence
From DIY advice to custom installations, Virginians have trusted Crutchfield with their car and home entertainment needs since 1974.