Standard delivery in 3 business days or less.
1-3 business days delivery time for standard shipping to any of the 50 U.S. states or Puerto Rico. Business days include Monday - Friday and exclude national holidays. See our estimated standard delivery map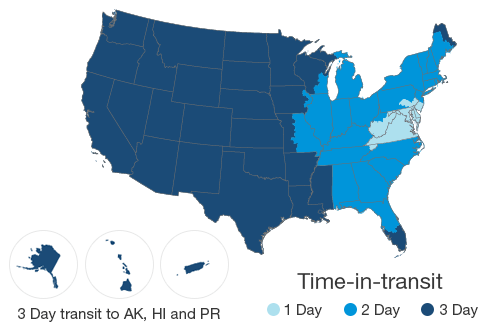 Most orders received by 5PM Eastern Time Monday - Friday ship the same day.
Allow extra time for items that are: 1) large or heavy, requiring freight shipping (including most TVs) 2) shipped directly from the manufacturer (such as home furniture and custom-fit subs) 3) out-of-stock items 4) shipped to APO/FPO addresses and other U.S. territories 5) shipped to remote addresses.
Alaska and Hawaii: Delivery available to some areas of Alaska and Hawaii. Some items that ship from the manufacturer can only be delivered to addresses within the 48 contiguous states. Call 1.888.955.6000 for more details.