Camera drone buying guide
How to choose the best flying camera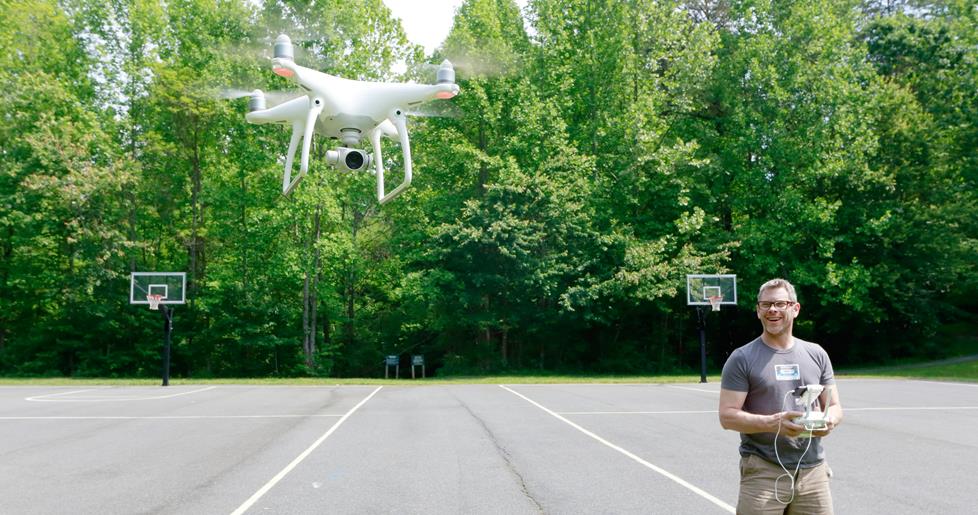 In a Nutshell
Ever wish you could get the bird's eye view of an outdoor adventure? You need a camera drone, my friend. We'll help you figure out which kind suits your needs best.
If you're looking for a little fun with the family, and the snapshots to remember it by, a minidrone like the DJI Spark will get you in the air in a hurry, with easy smartphone app-based controls.
For 4K video in a compact, easy-to-fly package, the Yuneec Breeze is an excellent choice.
Professional and aspiring filmmakers can open up plenty of creative possibilities at a reasonable price point with a pro drone like the DJI Inspire 2 Combo.
Drones come in all shapes and sizes, so let's dig in and look at some options, so you can decide which drone is right for you.
Full Story
Some drones are meant to be operated on land or on water, but aerial drones are most popular and common. To show you some important differences, we've divided drones with cameras up into three categories: Entry level drones, Semi-Pro drones, and Professional drones.
Entry-level camera drones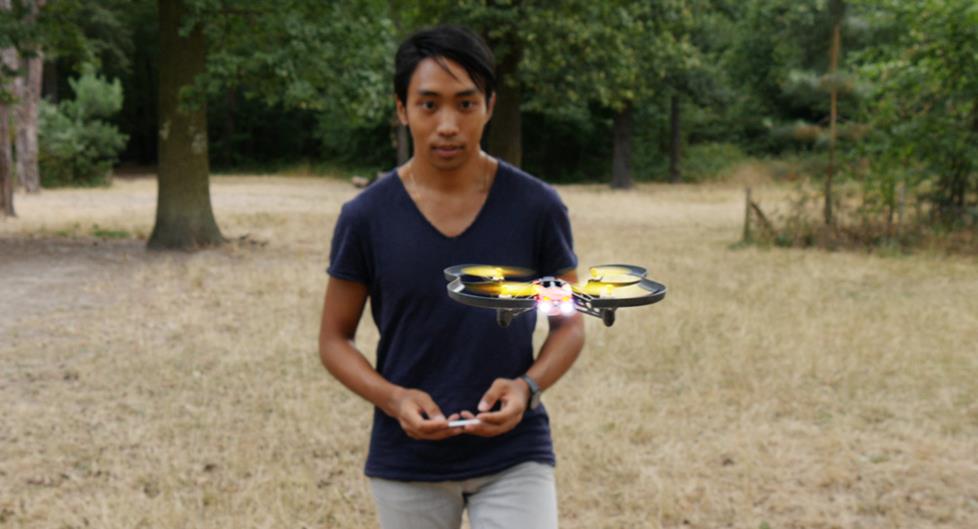 A smartphone app and a beginner drone are your doorway to piloting fun.
Entry-level drones require very little assembly, and have built-in cameras that are fixed in place, always facing forward.
They usually fly for less than 15 minutes before the battery needs to be recharged. They are more geared toward aerial acrobatics and fun, though some at the upper end of the entry-level range have full HD cameras and more sophisticated control options.
The DJI Spark Mini Drone is an example of a reasonably-priced quadcopter that provides a fun, safe entry-level flying experience. It gives you a whole new way to explore and document your adventures – from the daily beauty of a sunrise, to that once-in-a-lifetime cross-country road trip.
Semi-pro camera drones
The next level of flying camera functionality should appeal to serious hobbyists and photographers, and it offers clear benefits for light professional use as well. These 'copters, which I'd call semi-pro drones, offer full HD or 4K cameras, mounted on gimbals that keep the image steady as you fly.
Semi-pro camera drones like the popular DJI Mavic Pro are generally made of light, durable materials that allow them to be fast — with speeds up to 40 mph — and highly maneuverable. Larger batteries extend flight time to 20 minutes or more.
Smart hands-free flight modes let you film your exploits without having to actively pilot the craft.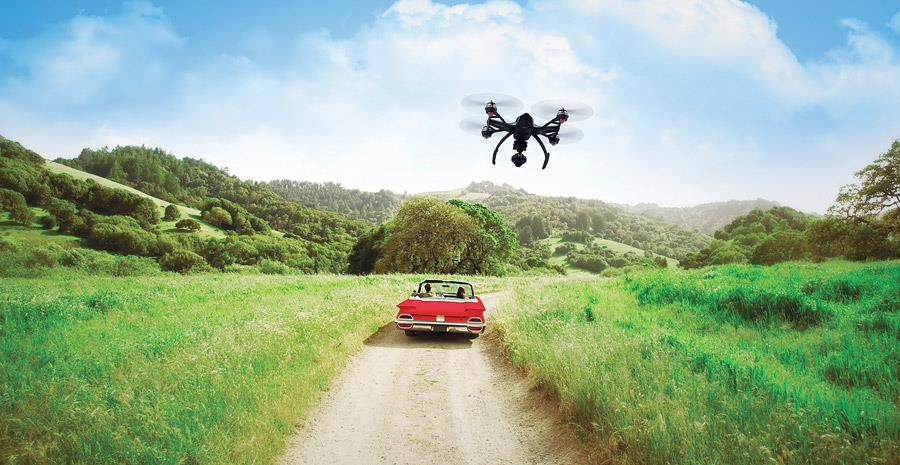 Follow Me mode causes the drone to fly in formation with you as you drive, run, bike, or float
Remote controls become pretty sophisticated for these 'copters. Some have built-in touchscreens. Others allow you to dock your smartphone or tablet to serve as a monitor screen.
The most common form factor for these drones is a four-rotor quadcopter. A company called PowerVision has has played around with that design, introducing an intriguing football-shaped drone with folding rotor arms called the PowerEgg.
Camera drones at this level offer some serious professional applications. My real estate agent hired a drone pilot to take gorgeous aerial photos of my house, and many emergency first responders are now using drones to aid in search and rescue and other potentially hazardous situations.
Professional camera drones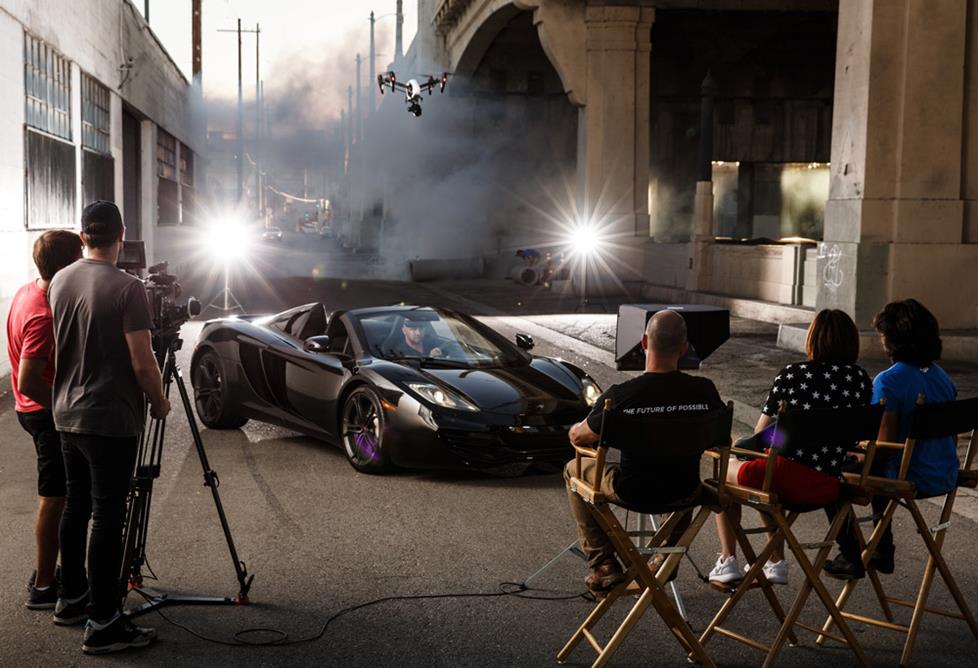 The camera on the DJI Inspire drone is a serious filmmaking tool.
At the top of the food chain, you'll find highly maneuverable drones with cameras that are ideal for filmmakers and professional photographers. The frames of these aircraft are made from strong, lightweight materials, and often feature six rotors for maximum speed and maneuverability.
You'll also see more specialized flight modes. Some examples:
keep the camera revolving around you with Orbit Me mode
have the camera orbit something or someone else with Point of Interest mode
keep the camera trained on one spot as the drone flies up and away in Journey mode
set and save a repeatable point-to-point route with Curved Cable Cam mode
Many of these 'copters have retractable landing gear that allows the camera to rotate a full 360-degrees. Cameras in these drones have large image sensors that can film clear images in low lightm capture sharp 4K resolution, produce slow-motion footage, and shoot extremely detailed still photos.
Commercial camera drones
Commercial drones are specifically designed for business use — DJI's Matrice 200 is a great example. They're tough, powerful, and customizable. They may require more than one battery to power all of the tech inside. A growing suite of industry-specific apps allow business owners to gather and analyze important information without risking employee safety.
If you're getting serious about buying a drone for business, and you want to make sure you get exactly the right one, read How to Choose a Drone for Business.
First Person View
It's fun to watch your drone with camera soar overhead while you stand on the ground. It's even more fun to slip on a pair of virtual reality goggles and get the first person view from the camera, so you feel like you're inside the aircraft. The technology can be found in the Parrot FPV Pack VR Bundle, and the goggles are often packaged directly with new drones.
Accessories help you get in the air and stay there
There are a few drone accessories you'll want to consider adding to your flying kit.
First of all, batteries. Drones fly up to 35 minutes on a charge, so if you plan to be out for a while, take spares, and the chargers that keep them ready to go. Chargers typically plug into a standard wall socket, but many offer USB charging and accessory plugs for on-the-go charging in your vehicle.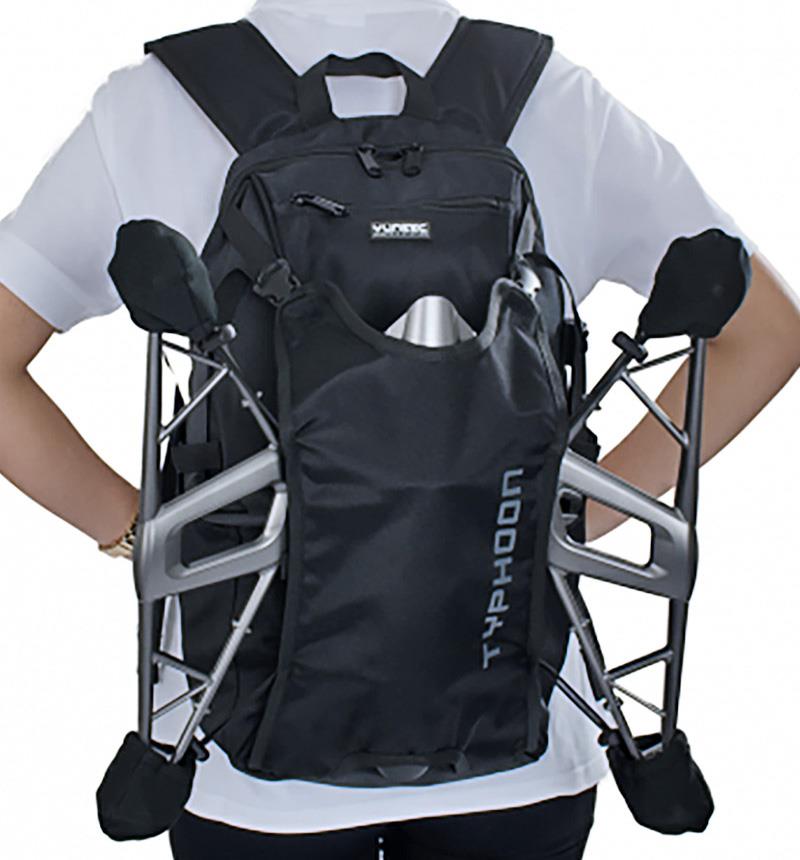 Getting to a remote launch site is easier with a specially-designed backpack carrier.
Drones with cameras are perfect for outdoor adventures, so one of the most useful accessories you can own is a good case. These range from suitcase-style carriers with handles, to ingenious backpacks that leave your hands free to clamber and climb as you search for the perfect launch site.
Many photography drones come with a controller or offer a free control app for your mobile devices. But there are also handy pocket-sized controllers like the Yuneec Wizard that let you travel light and still control your drone's essential functions.
You'll also find spare parts, like replacement motors and rotors, that help keep your aircraft in peak condition throughout its life span.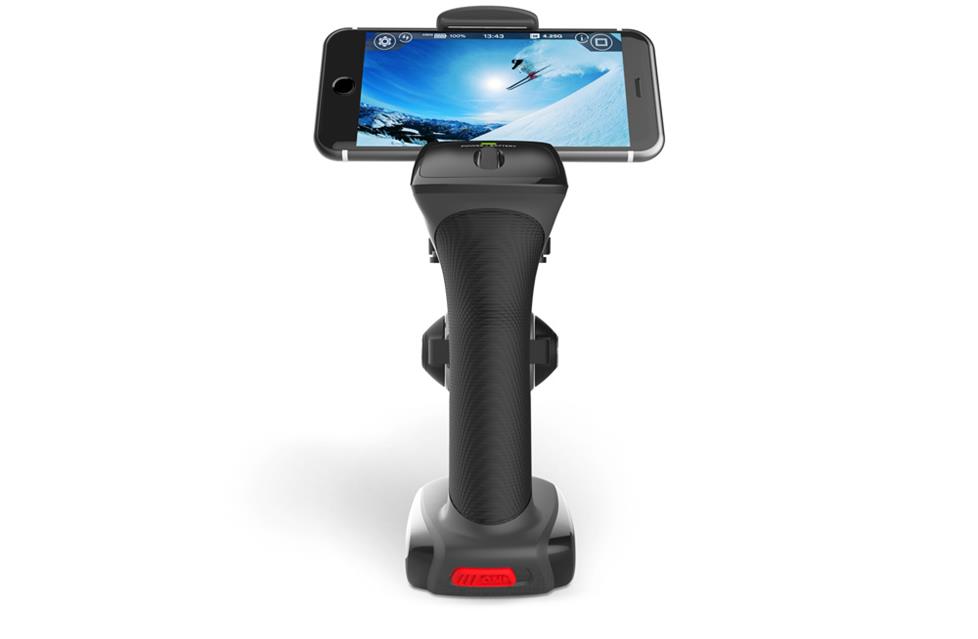 Hand grips let you use the camera's steadying gimbal to stabilize handheld shots.
As much as we love watching drones with cameras fly, hand grips are a very popular accessory. Some advanced drones allow you to remove the full gimbal mount assembly and slide it into a hand grip, so you can get the same steady footage on the ground that you do from the sky.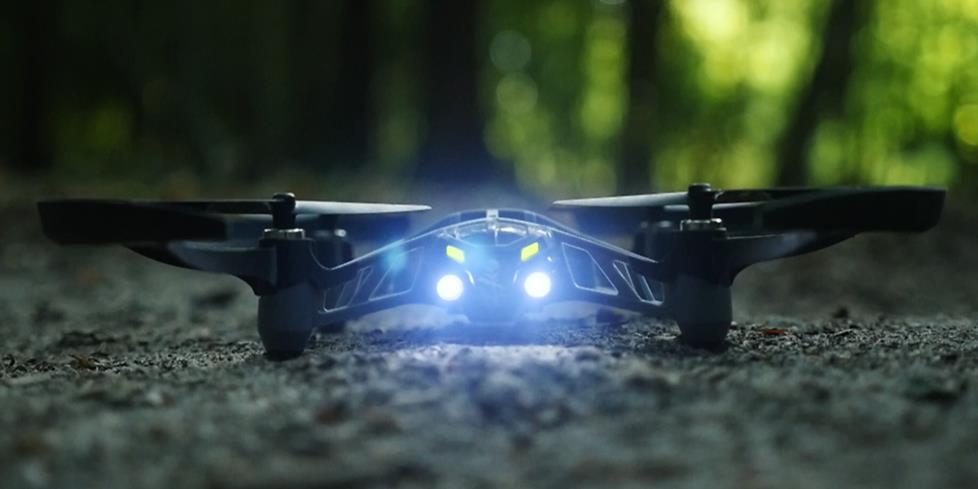 Some drones have built-in headlights so you can fly them at night.
Parrot offers a number of drones that allow you to race around, shoot video and stills, and even banter via two-way talk. They're configurable for speed or maneuverability, and can stream video for you to share via social media. Some even have headlights so you can use them at night.
This Parrot hydrofoil drone cuts through the water at 6 mph.
If you have a pond, swimming pool, or lake nearby, Parrot also offers a hydrofoil boat-type drone with detachable flying minidrone for marine fun. The PowerVision PowerRay is an exciting, fully submersible drone.
Safety, laws, and regulations for drone pilots
Photography drones are not toys. Learning to fly your aircraft safely and responsibly is the most important thing you can do. The Federal Aviation Administration offers some basic safety tips for pilots.
You may not fly a camera drone near an airport, nor in a national park. It is generally accepted practice to not fly over large groups of people (such as an outdoor concert) or over a neighbor's private property. The FAA website provides the most current, accurate information on drone registration and regulation:
These rules are evolving rapidy, so it's a good idea to thoroughly familiarize yourself with current FAA regulations before you fly a drone. And safety should always be job one — drones can injure bystanders and damage property if flown in an irresponsible manner.
Get started today!
Visit our website and look at our wide selection of drones and accessories. If you need a little extra help deciding which one is best for you, contact one of our friendly, knowledgeable advisors at 1-888-955-6000 and get started today!
Ask an expert advisor
No pressure, no commission — just lots of good advice from our highly trained staff.
Featured Products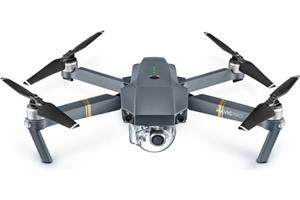 $999.00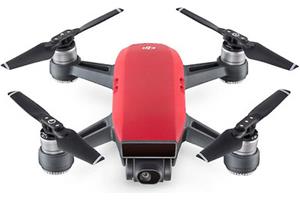 $349.00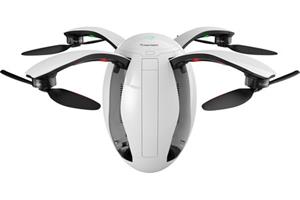 $999.00