Yamaha STAGEPAS 600i
Portable 10-channel PA system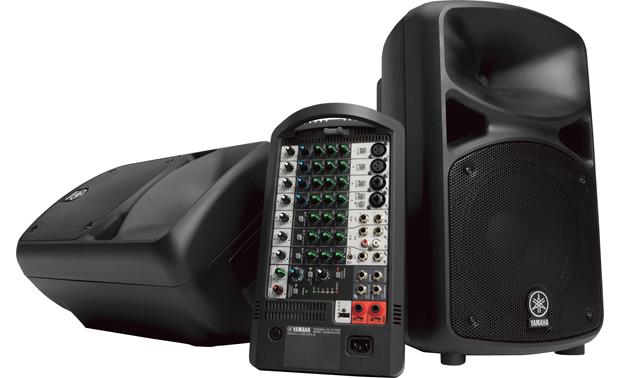 Yamaha STAGEPAS 600i - Yamaha STAGEPAS 600i system

Yamaha STAGEPAS 600i - An all-in-one PA system

Yamaha STAGEPAS 600i - Designed for easy set-up
From Yamaha:STAGEPAS 600i The Ultimate All-in-One Portable PA System

Yamaha STAGEPAS 600i - Detachable 10-channel mixer

Yamaha STAGEPAS 600i - Great sound with minimal stress

Yamaha STAGEPAS 600i - Includes a 34.8-35.2mm pole socket (stand not included)

Yamaha STAGEPAS 600i - Sounds great in any position

Yamaha STAGEPAS 600i - Yamaha STAGEPAS 600i speaker
Item # 845STGP600 | MFR # STAGEPASS600I
This item is no longer available.
Overview
Our take on the Yamaha STAGEPAS 600i by Crutchfield's Jon P.
A portable 10-channel PA
If you're looking for a powerful PA system that's easy to use and easy to transport, take a look at the Yamaha STAGEPAS 600i. Ideal for anything from acoustic combos to dancehall DJ's to spoken word performers, this compact PA delivers outstanding sound in any environment.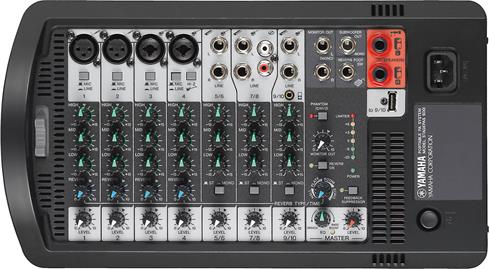 Detachable 10-channel mixer
Smart design makes it easy to use
This all-in-one PA system consists of two lightweight speakers and a detachable mixer, along with one pair of speaker cables and a power cord. Setup is quick, easy, and intuitive – even for inexperienced users – so the STAGEPAS 600i is ideal for schools, houses of worship, or any venue where a different person could be in charge of setting up the system at every event.
Take the stress out of setup
Fiddling with the mix isn't the fun part of performing, so Yamaha designed the 10-channel STAGEPAS 600i mixer to help you get the sound you want with minimal stress. One knob controls the SPX digital reverb, which lets you choose between four settings. You also get one-knob control over the tone of your system, so whether you're giving a speech, playing a show, or DJ-ing a wedding reception, it's easy to get just the right sound for the gig.
The onboard feedback suppressor – a feature usually found on high-end equipment – lets you get rid of annoying feedback with the touch of a button. Extra outputs mean you can expand your system (or add a monitor system) with additional powered speakers or a subwoofer, so the STAGEPAS 600i gives you room to grow.
Big sound from compact speakers
With the mixer supplying 680 watts of power, the speakers have all the juice they need to fill a reasonably-sized room with sound. Thanks to Yamaha's digital signal processing (DSP), the sound will be distortion-free, even when you really crank it up. The built-in limiter circuits will give you years of use out of your STAGEPAS 600i without worrying about blowing the speakers.
You'll also appreciate the built-in iPod/iPhone connection, which allows you to listen to high-quality playback and charge the device at the same time. You won't have to worry about a drained battery ruining the night – during the performance or afterwards.
Need a stand? Check out our selection of Accessories.
Product Highlights:
General Features:
10-channel portable PA system
detachable 10-channel mixer
built-in amps (340W x 340W dynamic rating; 280W X 280W continuous)
2-way bass reflex speakers (10" woofer and 1.4" compression driver)
iPod/iPhone USB connection
SPX digital reverbs (4 types, parameter control)
3-channel EQ
onboard feedback suppressor
Connections:
inputs: four mic inputs, six 1/4" inputs (switchable stereo/mono), 3 stereo RCA inputs, USB port
phantom power
outputs: left/monitor and right line out, subwoofer line out, two speaker outputs
34.8-35.2mm pole socket with StageLok™
Specs:
frequency range: 55-20,000 Hz
speaker dimensions: 13-3/16" W x 21.5" H x 12.5" D
mixer dimensions: 13-11/16" W x 7-3/4" H x 5-5/16" D
weight: 24 lbs. (speaker); 8-3/8 lbs. (mixer)
warranty: 1 year
What's in the Box:
Yamaha STAGEPAS 600i Owner's manual
Powered mixer
2 PA speakers
Two 19.5' speaker cables
6' AC Power cable
Owner's Manual
Scratch & Dent items may be missing non-essential accessories. In some cases the manufacturer's accessories have been replaced with generic equivalents.
All I needed in a sound system for small places. Lightweight and easy to transport but above all... a rich sound!! Great Crutchfield service and shipping!!

Manuel R, San Juan, PR
Reviews
Yamaha STAGEPAS 600i Reviews
Average Customer Review(s):


Submit a review and then enter to win a $350 rewards card
Review this product
Thanks for submitting your review
Most reviews are processed and published within 5 business days. You will receive a confirmation email once your review has been published.
Customer photos
Pros:
Cons:
Crutchfield response
---
Details
Features and Specs
General
Mic inputs
XLR/PH (4)
Line inputs
4 (PH/RCA)
Phantom power
Yes
Channel EQ
Y
Master EQ
Y
Monitor outputs
Phone (st)
Built-in effects
Y
Speakers
Number of speakers
2
Drivers per speaker
2
Woofer Size (inches)
10
Tweeter Size (inches)
1.4
System Frequency response
55-20,000
Product Research
Features
Portable PA System: The Yamaha STAGEPAS 600i is a 680-watt, portable PA system which consists of a 8-channel powered mixer, two 8" passive speakers, a pair of speaker cables, and a power cord. In addition, the STAGEPAS 600i offers iPod/iPhone USB connection, SPX digital reverbs, an onboard feedback suppressor, and versatile EQ. Compact and light enough to carry by hand, the STAGEPAS 600i all-in-one PA system can go almost anywhere. The two lightweight speakers and external power mixer combine into an simple, compact package that provides portability and great sound. With its intuitive, simple design, STAGEPAS 600i can be set up and ready to go in a matter of minutes. Even users with no PA operation experience will be able to produce high-quality sound in no time. Flexible enough to be used in a truly impressive range of environments and applications, the STAGEPAS 600i system can be set up in a variety of PA and monitoring configurations; great for acoustic guitar and vocal, band performance, public speaking, or mobile DJ-ing.
Pair of Passive Speakers: The Yamaha STAGEPAS 600i includes a pair of two-way passive speakers that are capable of producing a wide soundstage.
Two-Way Speaker Design: Each passive speaker employs a two-way design with a horn-loaded 1.4" tweeter and 10" woofer. The pure titanium 1.4" compression driver is mounted to a 90°x 60° non-resonant, constant directivity horn with the goal of minimizing radiation pattern deterioration in oblique directions as more conventional horns are prone to doing. This can help to achieve a more ideal coverage area without irregularities. With the new wide dispersion constant directivity horn, sound expands in a more rectangular pattern providing 90° horizontal x 60° vertical coverage, with wide-frequency sound projected to the edges of the coverage area. The high power 8" woofer provides deep bass response with low distortion for great sound.
ABS Bass Reflex Enclosure: The speakers feature a rugged, non-resonant ABS enclosure that is designed to dampen down vibrations caused by high output levels, producing less distortion, and superior sonic quality. The road-tested enclosure is equipped with heavy-duty grilles and ergonomic, gripped handles that greatly improve durability and portability. The speaker uses a Bass Reflex enclosure for greater efficiency and bigger bass.
1/4" Phone Jacks: Each speaker features a 1/4" phone jack. Use the included speaker cables to connect the speakers to the corresponding 1/4" phone jacks on the power mixer.
Mounting Options: The speakers feature a 1.375" (35mm) pole socket for use with Yamaha's speaker stand (SS238C, sold separately) for easy positioning in a wide range of applications.
Built-in Amp w/ Intelligent DSP: The Yamaha STAGEPAS 600i's external power mixer is equipped with a 560W RMS/680W Peak amplifier that is optimally designed to match the system's passive two-way speakers. The STAGEPAS 600i also utilizes digital signal processing (DSP) to offer the consistently high-quality, distortion-free sound at any volume level, whether you're giving a business presentation or cutting loose in a club. What's more, Yamaha's intelligent DSP incorporates the use of advanced limiter circuits to protect vital STAGEPAS 600i components, ensuring that you get the most out of your gear for years to come.
Versatile Mixer Inputs: The Yamaha STAGEPAS 600i is equipped with four Mic/Line input jacks (1-4) and six Line input jacks (5/6-7/8-9/10) which can be configured to fit a variety applications. The Line input jacks (5/6-7/8-9/10) can be set to stereo or mono.
Input Channels 1-2: selectable Mic/Line XLR-3-31 inputs
Input Channels 3-4: selectable Mic/Line XLR/Phone-combo inputs
Input Channels 5/6: selectable mono/stereo 1/4" phone
Input Channels 7/8: selectable mono/stereo 1/4" phone or RCA Line inputs
Input Channels 9/10: selectable mono/stereo 1/4" phone or minijack Line inputs (or USB input for iPod/iPhone).
Hi-Z Switch & Phantom Power: The Hi-Z switch allows a passive pickup instrument to be connected hassle-free, without a direct box to input channel 4. You'll be able to connect and acoustic-electric guitar to enjoy high-quality performance with low distortion. Phantom power for input channels 1-2 (+30V) allows you to connect condenser microphones directly to STAGEPAS 600i to get the best sound quality possible. It also means you won't have to worry about DI boxes losing their charge during a performance.
Monitor & Subwoofer Out: Expand your front-of-house system or set up a monitoring system by using the STAGEPAS 600i together with other powered speakers such as Yamaha's DXR lineup (sold separately). Add more bottom end to your system by connecting a powered subwoofer such as the Yamaha DXS Series (sold separately). Simply plugging in a subwoofer will assign a high-pass filter to the STAGEPAS 600i speakers automatically.
EQ & Level Control: The Yamaha STAGEPAS 600i is equipped with a 1-knob Master EQ & level dial, as well as a 2-Band EQ and level dial for each channel.
1-Knob Master EQ & Level Adjustment: The 1-Knob Master EQ (Speech-Music-Bass Boss) & Level Control (0-10) gives you instant control of your mix, allowing you to match your sound to your surroundings. Simply turn the knob to optimize the EQ for speaking engagements, musical performances, or just to kick in more bass; getting your sound right has never been so easy.
Channel EQ & Level Adjustment: You'll also be able to assign detailed EQ and level settings to each channel for precise management of your final sound. The 3-band Channel EQ (8kHz/2.5kHz/100Hz) & Level Control (0-10) on the STAGEPAS 600i makes setup easy and precise.
Note: A level meter, consisting of five LEDs, shows the level of output signal from the STAGEPAS 600i's speaker outputs (L/R).
SPX Digital Reverb (optional Reverb Footswitch): One knob gives you access to four different high-quality reverb settings (Hall, Plate, Room, Echo); perfect for vocals and acoustic instruments. Simply turn the knob to change the reverb type and time, and then you're ready to apply just the right amount of high-resolution effect to each channel. For hands-free control of your reverb, connecting an optional footswitch (sold separately) allows you to turn the reverb on and off instantly; perfect for MC-ing events or speaking during solo performances.
Feedback Suppressor: Avoid the uncomfortable feedback that plagues so many sound reinforcement novices and professionals alike. Usually found only on high-end gear, this intelligent function removes feedback automatically with the push of a button, giving you a clear, professional sound.
iPod/iPhone Connectivity: Connect your iPod/iPhone using a USB cable to play music and charge the iPod/iPhone. Use the "LEVEL" control of channels 7/8 to adjust the volume, since the music signals are mixed to those channels. This connector supplies 5V power to the connected USB device. This connector does not support digital audio playback from USB devices other than the iPod/iPhone. For playback of such devices, use appropriate stereo minijack or RCA connectors.
Input Characteristics:
Input Terminals
Connector
Mic/Line
Input Impedance
Source Impedance
Input Level
Sensitivity
Nominal
Max Before clip
Channel Input 1-2
XLR-3-31
Mic
3kohm
150 ohm mics
-56 dBu
-35 dBu
-10 dBu
Line
-30 dBu
-9 dBu
+16 dBu
Channel Input 3-4
XLR Combo
XLR
Mic
3kohm
150 ohm mics
-56 dBu
-35 dBu
-10 dBu
Line
-30 dBu
-9 dBu
+16 dBu
Phone
Mic
10kohm (Hi-Z 1 MΩ)
150 ohm lines (Hi-Z 10 kΩ)
-50 dBu
-29 dBu
-4 dBu
Line
-24 dBu
-3 dBu
+22 dBu
Channel Input 5/6
Phone
Line
10kohm
150 ohm lines
-24 dBu
-3 dBu
+22 dBu
Channel Input 7/8
Phone, RCA
Line
10kohm
150 ohm lines
-24 dBu
-3 dBu
+22 dBu
Channel Input 9/10
Phone, Stereo Mini
Line
10kohm
150 ohm lines
-24 dBu
-3 dBu
+22 dBu
Output Characteristics:
Output Terminals
Connector
Output Impedance
Load Impedance
Output Level
Nominal
Max Before Clip
Type at THD+N 10%
Dynamic
Speakers Out (L, R)
Phone
<0.1Ω
4Ω speakers
N/A
N/A
280W
340W
Monitor Out (L, R)
Phone
600Ω
10kΩ lines
+4 dBu
+20 dBu
N/A
N/A
Subwoofer Out
Phone
150Ω
10kΩ lines
-3 dBu
+17 dBu
N/A
N/A
Dimensions:
PA Speakers: 13.1875" (w) x 21.5" (h) x 12.5" (d); 24 lbs
External Power Mixer: 13.6875" (w) x 7.75" (h) x 5.3125" (d); 8.375 lbs
Our Product Research Team
At Crutchfield, you'll get detailed, accurate information that's hard to find elsewhere. That's because we have our own in-house Product Research team. They verify what's in the box, check the owner's manual, and record dimensions, features and specs. We stay on top of new products and technologies to help people make informed choices.