Furman Elite-15 PFi
Power line conditioner and surge protector
Item # 756ELT15PF | MFR # ELITE15PF
Out of Stock
Expected: 12/3/2018 Reserve yours risk-free Email me when available

Our VirginiaVA-based experts can help.
Overview
Our take on the Furman Elite-15 PFi by Crutchfield's Steve Kindig

The 12 rear-panel AC outlets are divided into 3 isolated banks, which helps prevent noise created by one component from affecting your other gear.
Protect your gear the way the pros do
Furman builds some of the most rugged and robust power protection gear around. The Elite-15 PFi is an impressive introduction to Furman's exclusive technologies for maximizing the protection and performance of your audio and video components. Many of these technologies were originally developed to meet the extreme AC power demands of professional recording, film, and broadcast studios.
Continuous power monitoring plus bulletproof surge suppression
Power surges can be quick, or sustained — both types can seriously damage unprotected components. The Elite-15 PFi constantly monitors the incoming AC, and if voltage reaches 15% above normal, it automatically shuts off power to all connected equipment. In the case of a sudden voltage spike, many surge suppressors are designed to "take a bullet" and sacrifice internal parts to save your gear. It's a noble effort, but it leaves your system out of commission while you send the suppressor back to the factory for repair or replacement. Furman's suppressor circuitry can withstand multiple high-voltage spikes and keep on protecting your gear.
Power Factor Technology: Like a turbocharger for your amp or receiver
Wide-open dynamics are essential for truly exciting sound. To cleanly reproduce instantaneous peaks or "transients," from a cymbal crash to a car crash, an amplifier needs lots of high-current power. During these moments, amplifiers — including those in receivers and powered subwoofers — may require more current than is available from your home's AC line. Solution? Plug your amplifiers into the Elite-15 PFi's high-current outlets. Furman's unique Power Factor Technology creates a "current reservoir" capable of delivering over 45 amps of peak current. Your amplifier gets the current it needs when it needs it most.
See and hear the signal, not the noise
The Elite-15 PFi's wide-bandwidth noise filtration reduces the AC line noise that can mask low-level audio and video details. The result is noticeably improved picture and sound quality. Twelve AC outlets on the back panel are divided into three isolated banks, which helps prevent noise created by one component from affecting the power going to your other plugged-in equipment. These outlets have hospital-grade connectors that grip your gear's AC plugs snugly and securely.
Product Highlights:
13 AC outlets with three isolated banks:

one bank of 4 outlets (2 unswitched, 2 switched)
one bank of 4 outlets with additional ultrasonic filtering for digital or video components (2 unswitched, 2 switched)
one bank of 4 high-current outlets with Power Factor Correction peak current charging (2 unswitched, 2 switched with delayed turn-on)
one unswitched front-panel convenience outlet

rear-panel AC outlets use hospital-grade connectors to grip plugs firmly
Series Multi-Stage Protection surge suppression system can withstand multiple catastrophic voltage spikes
Extreme Voltage Shutdown circuitry monitors incoming AC and automatically cuts off power to connected equipment if overvoltage is detected
Power Factor Technology "current reservoir" for amplifiers, receivers, and subwoofers (over 45 amps peak charge)
wide-bandwidth EMI/RFI noise filtering for clearer sound and picture
3 sets of coaxial RF connections for cable TV, satellite, and antenna
RJ-11 phone line input and output
12-volt trigger input with bypass button
maximum current rating: 15 amps
2 retractable front-panel LED lamps to illuminate an equipment rack or cabinet
17"W x 4-1/8"H x 17-1/2"D
weight: 15 lbs.
warranty: 3 years
What's in the Box:
Furman Elite-15 PFi Owner's manual
Power Conditioner
7' AC power cord
2 Piece power cord bracket
2 Machine screws
2 Rack mount brackets
6 Rack mount machine screws
6 Flat washers
6 Spacers
Owner's guide (English/ French/ Spanish)
Warranty registration card
Easy to set up and install. Like the switched and unswitched outlets

Fred, Mooresville, NC
Reviews
Furman Elite-15 PFi Reviews
Average Customer Review(s):


Submit a review and then enter to win a $350 rewards card
Review this product
Thanks for submitting your review
Most reviews are processed and published within 5 business days. You will receive a confirmation email once your review has been published.
Customer photos
Pros:
Cons:
Crutchfield response
---
Details
Product Research
Features
Controls and Indicators
Connections
Specifications
Warranty
Features
Power Factor Technology: Although it's rare for amplifiers to draw more than 4 Amps continuously, for superior performance it is vital that an amplifier's AC filter have low impedance and the capability to accommodate peak current demands far in excess of the RMS (continuous) current rating. The Elite-15 PFi's transient Power Factor Technology circuitry effectively creates a current reserve in excess of 45 amps (peak) that is cleaner and faster than a dedicated line from your local power station, benefiting any connected amplifiers' performance.
EMI and RFI Filtration: EMI and RFI noise entering your A/V system through the AC power line couples to the components and masks low level signals, compromising performance. This low level content is critical because it relays the harmonics and ambience in audio, and the depth and clarity in video. Furman's exclusive Linear Filtering Technology dramatically reduces noise, ensuring consistent peak operation regardless of load conditions or the time of day.
Series Multi-Stage Protection (SMP): SMP is maintenance-free surge suppression, offering AC protection without sacrificing itself in the event of a catastrophic surge. The SMP circuit senses voltages so high that operation is impossible and turns the power off before damage can occur; if the voltage exceeds 140 volts or falls below 85 volts, power is removed from all the outlets and the Extreme Voltage LED lights. The circuit will attempt to re-set automatically within 5 seconds, so manual re-set will only be necessary if there is a permanent wiring fault.
13 AC Outlets: The Furman Elite-15 PFi features one front-panel unswitched AC outlet and 12 rear-panel outlets. The outlets include:
Video Bank: The video bank has four 3-prong outlets, two switched and two unswitched (always on). In addition to the linear filter, an ultrasonic filter specifically benefits video components (DVR, DVD player, projector, Plasma and LCD TVs, etc).
Audio/Video Bank: The audio/video bank has four 3-prong outlets, two switched and two unswitched. EMI and RFI noise is removed by the linear filter.
Amplifier Bank: The amplifier bank has four 3-prong outlets, two switched and two unswitched. This bank offers Power Factor Technology with a low impedance filter and current reserve in excess of 45 amps (peak) to accommodate amplifier demands.
Front Panel Outlet: The Elite-15 PFi features a convenient unswitched 3-prong AC outlet on the front-panel. EMI and RFI noise is removed by the linear filter.
Front Panel Lamps: The Elite-15 PFi features two retractable front panel LED lamps, offering an easy way to see the equipment below it, even when your theater lights are off.
12V Trigger: The six rear-panel switched outlets are engaged using the 12 volt trigger input, a 3.5mm mono mini-jack. The two switched outlets in the amplifier bank are delayed five seconds before turning on to avoid any potentially damaging speaker thump. Additional components can be triggered to turn on using the 12 volt output jack, also a 3.5mm mono mini-jack. If you'd rather not utilize the 12V trigger circuit, a bypass switch is located adjacent to the input and output jacks. By depressing this button, all outlets will operate when the front panel power switch is engaged.
Transient Voltage Surge Protection: The Elite-15 PFi features transient voltage surge suppression for standard telephone lines, coaxial cable TV lines, and coaxial satellite lines. There is one pair of phone input/output jacks and three pair of coaxial input/output jacks to protect your incoming phone, cable, and satellite lines. The coax jacks pass Both DC carrier signals and high bandwidth signals with an insertion loss of less than 0.1 dB. All the in-line surge suppressors feature Furman's exclusive Zero Ground Contamination technology; this aids in eliminating audio buzzing and the video hum bars that can result from typical in-line suppressors.
Rack Mount: Brackets are included to rack mount the Elite-15 PFi.
Controls and Indicators
Front Panel:
Power: master power switch; turns all unswitched outlets on/off
Dimmer: rotary knob; adjusts brightness of the LED lamps
Extreme Voltage Indicator: lights to indicate the incoming voltage is too high or too low and all the outlets have been disconnected
Power LED: a blue LED bar in the center illuminates when the master power switch is on and voltage is applied to the unswitched outlets
Remote LED: illuminates to indicate the 12 volt input trigger has turned on the switched outlets
Rear Panel:
Bypass: the bypass switch overrides the 12 volt remote trigger, turning on the switched outlets with the master power switch
Connections
Front Panel:
AC Outlet: front panel convenience outlet; unswitched (always on)
Rear Panel:
Video Outlets: four linear filtered and ultrasonic filtered outlets; 2 switched, 2 unswitched
Audio/Video Outlets: four linear filtered outlets; 2 switched, 2 unswitched
Amplifier Outlets: four Power Factor Technology outlets with a low impedance filter; 2 unswitched, 2 switched with a five second power on delay
12 Volt Trigger Input: 3.5mm mini-plug; connects to a remote trigger device that uses a DC output to trigger startup
12 Volt Trigger Output: 3.5mm mini-plug; connects to a remote component that uses a DC input to trigger startup
Phone Jacks: input and output for standard telephone line
Coaxial Jacks: 3 pair of threaded F-type coax terminals
Specifications
AC Power:
Line Voltage: 120VAC, 60Hz
Current Capacity:

Input: 15 amps
Output: 11-15 amps RMS (continuous, all outlets combined)

Linear Noise Attenuation: Transverse (Differential) mode (from 0.05 to 100 ohm line impedance)

10 kHz - 100 kHz: >40 dB
100 kHz - 1 GHz: >80 dB

Power Consumption: 12 watts for display and control circuits (plus actual load)
Over-voltage Shutoff Threshold: 140 volts AC
Under-voltage Shutoff Threshold: 85 volts AC
Weight: 15 pounds
Warranty
Connected Equipment: Furman Sound's Connected Equipment Warranty covers equipment that is damaged by a transient voltage while properly connected through the Furman Elite-15 PFi to a properly wired AC power line with a protective ground in an indoor location. Furman's Connected Equipment Warranty is limited to the amount of the deductible on the Purchaser's personal property insurance policy, up to $500.00. The Connected Equipment Warranty is in effect for a period of three years.
Our Product Research Team
At Crutchfield, you'll get detailed, accurate information that's hard to find elsewhere. That's because we have our own in-house Product Research team. They verify what's in the box, check the owner's manual, and record dimensions, features and specs. We stay on top of new products and technologies to help people make informed choices.
Staff Reviews
Product reviews from the Crutchfield Labs
A group of audio enthusiasts got together in the Crutchfield Labs to audition a Cambridge Audio/PSB music system and give their impressions.
What are the Labs?
Q & A
Customer Q&A
Crutchfield asked


Why did you buy this?
Ryan was a huge help in my decision. It was down to the Panamax 5400 and Furnman Elite 15 PFI. When I told him about my audio equipment, he felt the Furman was a better choice.

[ N Sep 11, 2018 ]
My Panamax M3500PM burned out last night after 71/2 years of use for my home thearter equipment.

[ MR. Jul 26, 2018 ]
product reviews

[ lewis Apr 24, 2018 ]
great product

[ ADRIAN Dec 03, 2017 ]
Over the years I have lost some expensive and not so expensive audio/video equipment due to power fluctuations. Hurricane Maria has made Puerto Rico's electrical system more unreliable. I hope the Furman helps.

[ Miguel R. Nov 15, 2017 ]
Furman have an excellent reputation, it replaced an old Monster that was fried after a huge thunderstorm. I had my eye on this model for a while. I'm very pleased with this unit.

[ George Sep 01, 2017 ]
Reputable name, and great price.

[ ENRIQUE Jul 24, 2017 ]
Clean power on reserve and surge protection from a proven brand, no brainer when you have a system you want to enjoy for years.

[ David Jun 08, 2017 ]
Reviews and recommendations from others.

[ Jeffery May 10, 2017 ]
Purchased one for our children's home theater based on Crutchfield advisor recommendation. It performs flawlessly so we have decided to purchase another one for our outdoor home theater.

[ Scott Apr 23, 2017 ]
Reputation and capabilities

[ Will Apr 19, 2017 ]
Because it's a Furman.

[ David Mar 26, 2017 ]
Good reviews on this unit.

[ john Mar 23, 2017 ]
To provide power for expensive electronic testing equipment, plus a stereo.

[ corey Feb 14, 2017 ]
The Monster system I originally purchased from Crutchfield failed and need to replace it.

[ Alex Jan 29, 2017 ]
Needed a good power conditioner and heard Furman was the best.

[ Thomas Dec 29, 2016 ]
Good quality for price

[ Jim Aug 01, 2016 ]
Bought this because of the reputation.

[ Edward Apr 16, 2016 ]
owner reviews

[ anthony Mar 14, 2016 ]
Crutchfield description. Work great by the way.

[ Charles Feb 25, 2016 ]
This was between this product and the Panamax 5400. The stated ability to withstand multiple surges and overwhelming positive reviews finalized purchase

[ BRYAN Feb 14, 2016 ]
I was looking for a reputable power conditioner (protection) for my home theater system. I've used Monster Power in the past, but I wanted something a bit more robust. After researching online I decided to go with Furman. I've been very pleased with the quality of construction and the performance of my Furman. I will definitely be buying more in the future.

[ CASEY Jan 29, 2016 ]
2 questions already asked
I live in AZ and have this current model Furman elite as a surge protected multiple outlet source for electronic test equipment. It has a row of outlet sockets across the back panel. You would need to run power cable through your wall into the closet. That would require making your own extension cords as you would need to reattach the plug to the cord after it passes through the wall via drilled hole. One can find the wire, plugs and sockets at a hardware store. Three wires, black, white, ground, 16g 300v should be a safe cord for a 25ft run to one subwoofer for a home theater. If you were going to run all three subs off one cord, I would check the total amp draw if it is safe for one plug into the Furman. If so, I might step up the power cord to a 14g 600v rating. Subs seem to only surge higher power for brief periods during a movie, so I doubt you would need something rated for continuous use at max power for 25ft. Moving to 12g means a fat cable, higher cost cable and connectors, less flexible. Balance the power to the cable size. The higher amp capacity of this Furman unit allows for options like this.

[ corey Jun 29, 2017 ]
I had a similar issue. I have a 48" equipment rack where my Furman Elite sits (top of rack). For equipment that is external to the rack, I placed pass-through wall AC adapters in my HT room with custom cables made to run behind the wall and dressed back to the rack. Please check with an electrician to make sure you are compliant with local building codes. Given the thickness of cables (14 Gauge/Insulated), you want to minimize these as much as possible since they are difficult to dress and should be isolated from the rest of your cabling for potential interference. Looks great but not cheap...

[ CRAIG J Jun 29, 2017 ]
On the back of the Furman,you will see outlets for high current components.Plug your subwoofers and your powered speakers into these outlets.

[ David Jun 29, 2017 ]
That's a tough question because all my equipment is close by but I would call Fermin and ask them what they would recommend so that way you're not defeating your purpose of protecting your equipment my solution would be high grade extension cord

[ DENNIS L Jun 28, 2017 ]
My receiver employs similar size output. I find it more than sufficient. It would seem absurd to run at full volume, wouldn't it? It can handle 1000 watt output.

[ George Feb 21, 2016 ]
Yes, I running ,my big McIntosh power amp and 2 matching Yamaha power amps and a Paradigm Sub Woofer with a built in 2500 watt amp. Everything is running the Furman elite-15. I love this Furman elite-15 and it's stood up to many power outages with power going off & on 8 times in 10 seconds but furman with stood everything. Buy one.

[ ANTHONY W Feb 21, 2016 ]
Hello Xianhao z, I use this on my Yamaha Power amp at 150w per ch. x 11. It has big a big cap that can power a tank.You will love it. lance

[ LANCE Feb 21, 2016 ]
Go to Google and put in "furman elite-15 owners manual", it should have the info your looking for

[ Huba-Bubu Feb 19, 2016 ]
Looking for more? Check out the next model in this lineup.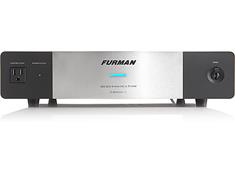 Feed pristine "regenerated" power to your most sensitive components
The Furman IT-Reference 15i offers these features:
total of 11 AC outlets with three isolated banks
5-year warranty