SVS PB16-Ultra
Powered subwoofer (Piano Gloss Black)
California customers: Please click here for your Proposition 65 warning.
Item # 946PB16PG | MFR # PB16 Ultra
In Stock

Our VirginiaVA-based experts can help.
Overview
Our take on the SVS PB16-Ultra by Crutchfield's Steve Kindig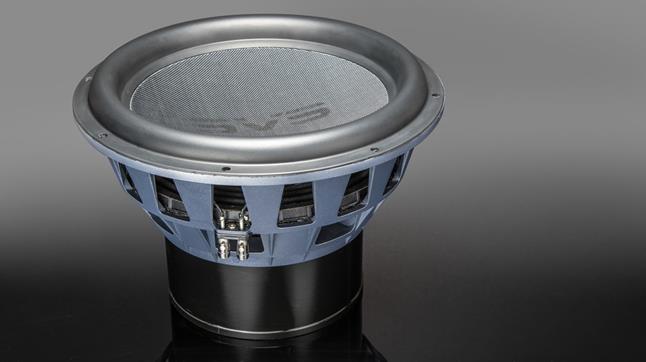 The PB16-Ultra's massive 16" woofer weighs 63.9 lbs!
One subwoofer to rule them all
The flagship model in SVS's renowned series of ported-box subwoofers is the awe-inspiring PB16-Ultra. This 175-pound, 1500-watt beast produces low frequencies that will grip and energize a large room. This is bass you'll feel from head to toe.
The PB16-Ultra is capable of staggering levels of low-frequency output, and a high degree of subtlety and finesse that will please movie buffs and audiophiles alike. If you're looking for thunderous bass extension down to a mind-boggling 13 Hz, then keep reading.
Three major innovations
The PB16-Ultra features the biggest driver ever used in an SVS subwoofer. This lightweight yet rigid 16" cone is connected to an 8" edge-wound voice coil — the largest we've ever heard of in a consumer subwoofer. Large cones are by nature difficult to control, but that oversized voice coil ensures accurate frequency response and quick transients, for bass that never sounds "slow" or boomy.
It takes serious electronic muscle to power and control such a massive woofer cone, and the built-in Sledge STA-1500D amplifier is more than up to the task. Unlike many Class D amps, this one's discrete MOSFET outputs can deliver incredible amounts of current, helping it push that 16" woofer to extreme levels of performance. Keeping all this power under control is an advanced Analog Devices digital signal processor.
The third big innovation puts precise control over the PB16-Ultra at your fingertips. SVS's smartphone app gives you total control from your Apple® or Android® device. It handles all DSP functions and conveniently stores custom presets. For added convenience, 2-way feedback shows updates in real time on both the app and subwoofer display, and built-in Bluetooth® allows adjustments to be made even when the subwoofer is not in sight. You can also control the sub via the intuitive front-panel display, or with the supplied remote.
Brains to match all that brawn
The PB16-Ultra's on-board tools for fine-tuning the sound include three digital parametric EQs with adjustable frequency, cut/boost, and Q values. Room Gain Compensation control gives you a way to help tame pesky room response issues, like the tendency of bass to become overpowering in smaller rooms. And of course you get fully adjustable phase compensation and digital crossover controls.
To make adjustments easier, SVS moved the LED display to the sub's front panel. And they also included stereo line-level RCA plus balanced XLR inputs and outputs for flexible connectivity with a wide range of audio gear, including high-end stereo preamps and A/V preamp/processors.
Rigid construction and flexible tuning options
The PB16-Ultra's big bass-reflex cabinet allows its 16" driver to make long excursions for exceptionally deep bass at high output levels. SVS placed the sub's three flared, low-noise ports on the front of the enclosure to minimize back-wall interaction, for greater bass accuracy. They also included three foam plugs that let you custom-tune how deep and loud the sub will play, by blocking the ports. The PB16-Ultra's strong, rigid enclosure helps eliminate cabinet flex and resonance to keep your bass ultra-clean.
Who is SVS?
SVS was founded in 1998 by a group of audio enthusiasts seeking to develop a better alternative to the under-performing and over-priced subwoofers popular at the time. By leveraging advanced technology, using the highest quality components, and applying rigorous engineering and design principles, the SVS team has developed a line of high-performance, high-value audio products that bring music and movies to life with stunning realism.
Product Highlights:
frequency response: 13-280 Hz (±3 dB)
built-in Class D amplifier delivers 1500 watts RMS of continuous power (5000 watts peak dynamic power)
Active PFC (Power Factor Correction) ensures the cleanest 1500W output regardless of your home mains supply
16" fiberglass resin composite cone with cast aluminum basket for extreme performance and reliability
8" diameter, high-power edge-wound voice coil
robust MDF cabinet construction with double-thickness front baffle and reinforced bracing to support the massive drive unit and ensure an acoustically inert environment
bass-reflex (ported) cabinet design with three 3-1/2" high-flow flared ports, and 3 foam port blockers for versatile listening options
high-resolution 50MHz Analog Devices Audio DSP with 56-bit filtering for ultra-precise audio reproduction
continuously variable low-pass crossover (30-200 Hz, with selectable 6dB, 12dB, 18dB, or 24dB/octave filter settings, and a disable/LFE setting)
3 digital parametric EQ filters with adjustable frequency, cut/boost, and Q values
Room Gain Compensation lets you compensate for the increase in low frequency sound as room size decreases
variable phase control (0-180°)
3 bass response presets (Movie, Music, Custom)
convenient front-mounted display with subwoofer controls and 8-digit LED display
remote control
subwoofer control and bass management smartphone app for Apple® and Android® devices
unbalanced RCA and balanced XLR line-level/LFE inputs
unbalanced RCA and balanced XLR line outputs
3V-12V trigger input for turning the subwoofer on/off from another component, like an A/V receiver or pre-pro
main power on/off switch
detachable power cord
protective non-resonant steel mesh grille
piano gloss black finish
21-3/4"W x 25"H x 31"D
weight: 174.5 lbs.
warranty: 5 years
What's in the Box:
Powered subwoofer
Grille
8' AC power cord
Remote control (3V battery installed)
3 Foam port blockers
Owner's Manual
These are some really good subwoofers. This one will definitely shake your walls and floors in your house. I decided I'm going to order another one.

Marcus, Girard, OH
Reviews
SVS PB16-Ultra Reviews
Average Customer Review(s):


Submit a review and then enter to win a $350 rewards card
Review this product
Thanks for submitting your review
Most reviews are processed and published within 5 business days. You will receive a confirmation email once your review has been published.
Customer photos
Pros:
Cons:
Crutchfield response
---
Details
Product Research
Features
16" High Output Woofer: The SVS PB16-Ultra power subwoofer employs a light and rigid 16" Ultra driver cone which consists of a premium fiberglass resin composite with optimal stiffness to mass ratio to maximize movement of air and sonic energy without ever distorting or losing control. Pushing the driver are four massive, dedicated toroidal ferrite magnets that unleash a staggering 95mm peak to peak Xmech excursion (82mm Xmax) and the highest levels of motor force and palpable SPLs. An 8" edge wound voice coil ensures ultra-low distortion and pinpoint control at the highest drive levels resulting in incredible output and low frequency extension. By nature, larger drivers are more difficult to control, but the unprecedented voice coil design ensures accuracy in frequency response and speed in transients without ever sounding boomy.
STA-1500D Sledge Amplifier: A conservatively rated 1,500 watts continuous / 5,000 watts peak power Sledge STA-1500D amplifier pushes the 16" driver to extreme levels of performance. This discrete MOSFET amplifier delivers astonishing levels of effortless, distortion-free power. This enormous amount of power is harnessed and controlled by an advanced 50MHz Analog Devices Audio DSP with 56-bit filtering to handle the nearly limitless power, only unleashing the perfect amount of low frequency energy at just the right time.
Acoustically Inert MDF Enclosure: The SVS PB16-Ultra powered subwoofer features a rigid MDF (Medium Density Fiberboard) cabinet with a double thick MDF front baffle and rigid internal bracing to support the massive drive unit and to ensure an acoustically inert environment. The highly reinforced internal design eliminates any chance of coloration or resonance from the cabinet, even when the deepest low frequencies are played at reference sound pressure levels. Screw-in rubber feet and a non-resonant steel mesh grille further resist unwanted distortion or coloration caused by vibration.
3 Bass Ports: The cabinet utilizes a bass reflex (ported) design with three front-firing 3.5" high-flow ports with inner/outer port flares for smooth bass and extremely high output. There are 3 foam port blockers included if the powered sub's bass sound is too "boomy" and you prefer a tighter bass response. You can choose to block one, two, three, or zero ports.
Control Types: The SVS PB16-Ultra Subwoofer can be controlled from the new SVS Mobile App, an included IR Remote Control, or via the front-panel for unprecedented flexibility when optimizing performance for room layout, speakers, system set-up and more.
Subwoofer App Control: The SVS subwoofer app for Apple iOS 8.0+ & Android OS 4.3+ controls all DSP functions and conveniently stores custom presets. The app lets you fine tune the powered subwoofer from your smartphone or tablet via a wireless Bluetooth connection. With a few simple adjustments, you can eliminate boomy spots, set crossover frequencies and make other adjustments to get the deepest, tightest, most accurate and room-energizing bass experience possible from The SVS PB16-Ultra powered subwoofer. For added convenience, two-way feedback shows updates in real-time on both the app and subwoofer interface. The SVS subwoofer app is the only way to access all of the advanced control features available on the PB16-Ultra and it is the most convenient option for controlling every feature.
IR Remote: The included IR remote can be used to adjust nearly every one of the advanced subwoofer control settings with two-way feedback on the front panel display.
Front-Panel: The front panel features an intuitive user interface with simplified controls that can be used to adjust the majority of the advanced subwoofer control settings.
Control Functions: The following control functions are available.
Volume: The Volume Control (-60 to 0dB in 1dB/step) affects how loud the powered subwoofer plays. It should be adjusted to match the output level of your loudspeakers.
Low Pass Filter: The Low Pass Filter sets the frequency and slope for the low frequencies that will be played by the powered subwoofer. Frequency choices include 30-200Hz in 1kHz increments Four Slope choices are available; 6 dB, 12 dB, 18 dB, and 24 dB per octave. You can disable the Low Pass Filter, if your AV receiver features an LFE output and built-in bass management for the subwoofer.
Phase Adjustment: Solves sound wave cancellation issues at specific frequencies and perfectly aligns the arrival of output from speakers and subwoofers to your listening position. Normally set to 0° if the subwoofer is near the main speakers. Adjusting Phase (0°-180° in 1 degree steps) shifts timing of the subwoofer output to align with the main speakers or additional subwoofers.
Polarity: In some cases, reversing polarity solves dips or humps at the crossover frequency between a subwoofer and speaker and can be used to fix bass nulls or overly boomy spots in the listening area. Reversing the electrical polarity of the subwoofer amplifier makes it so the woofer moves in when speaker drivers move out and is normally set to positive.
Parametric EQ: Powerful tool for removing peaks and dips in your listening area, and for creating custom subwoofer output based on personal listening preferences. Allows you to set the desired center frequency (20, 22, 25, 28, 30-200Hz in 1Hz steps) of the filter, increase or decrease the SPL dB (-12 to +6dB in 1dB steps) of the filter, or adjust the bandwidth (0.2-10.0 in 0.1 steps) of the filter.
Room Gain Compensation: The Room Gain Compensation function allows the subwoofer to be set to compensate for the increase in low frequency sound based upon the size of the room, if it is felt there is too much bass. Small rooms will have a greater increase in low frequency sound than larger rooms. There is no need to use this control unless it is felt there is too much low frequency energy being generated in the listening environment. The RGC Frequency can be set to 25, 31, or 40Hz. The RGC Slope can be set to 6dB or 12dB.
Port Tuning: Port blocking allows custom tuning of your PB16-Ultra Subwoofer based on listening preference by exchanging max output for low frequency depth and quickness. Be sure to use the included foam port plugs and match port blocking with the selected tuning. Choose between 3 Port Tuning Modes - Standard (all ports open for maximum output), Extended (one port plugged for deeper extension), and Sealed (all ports plugged for best transient response).
Custom Presets: Allows up to three pre-saved settings for movie, music and custom. This enables easy switching to optimize your PB16-Ultras output and settings based on your specific listening preferences with different kinds of content.
Balanced & Unbalanced Connectivity: There are two types of input & output connectors on the PB16-Ultra powered sub; Balanced XLR and unbalanced RCA. There are Left/Right input and output channels for both types of connectors.
Inputs: For a single mono input connection to a home theater receiver with an LFE output, use the powered sub's right input. For stereo receivers without an LFE input, use both the L/R inputs.
Outputs: The output connectors are typically used to either daisy-chain additional subwoofers with single or dual unfiltered outputs, or as the input to a power amplifier for the Left and Right main channels after using the High Pass Filter and Delay functions with two channel analog preamps.
Auto/Standby & On Switch: If this switch is set to "Auto/Standby", it will automatically turn-on the powered subwoofer in the presence of an audio signal. If no signal is present for a period of several minutes, the powered subwoofer will enter "Standby" mode, where power consumption will be less than 0.5 watts. If this switch is set to "On", the amplifier will remain on continuously and will not enter "Standby" mode.
Trigger Input: The powered sub's 3.5mm Trigger Input (3V-12V) will automatically turn the subwoofer on/off when a signal is sent to it from another component in the system (typically the pre/pro or AV receiver). The other component in the system must be equipped with a trigger output feature and requires a TS 1/8" mono-minijack cable (sold separately)
Placement Options: If possible, place the subwoofer near the front stage, for best blending with the front and center loudspeaker channels.
Corner Placement: Corner placement will accommodate most rooms and will reduce the chances for encountering a null (an acoustic cancellation in the bass response) at the listening position. If your AV receiver equalizes the subwoofer channel during auto-set-up, corner placement will often provide the best overall performance.
Other Placement Options: If corner placement sound excessively boomy, then try moving the subwoofer to other available locations along the front stage, listening for the best balance of output and a smooth accurate response. Always redo the auto-set-up of your AV receiver after moving the subwoofer to a different location to ensure the acoustic distance and calibration level are set correctly.
Dual Subs: To maximize the bass output and impact of your home theater, two PB16-Ultra(s) can be paired; one on either side of your room.
Our Product Research Team
At Crutchfield, you'll get detailed, accurate information that's hard to find elsewhere. That's because we have our own in-house Product Research team. They verify what's in the box, check the owner's manual, and record dimensions, features and specs. We stay on top of new products and technologies to help people make informed choices.
Q & A
Customer Q&A
Crutchfield asked


Why did you buy this?
look nice

[ M Nov 14, 2018 ]
Impressed with the SVS PB16-Ultra specs and the reviews and is looking forward to the units performance in my theater. Also, impressed with the favorable Crutchfield customer support comments/reviews.

[ Jake Aug 20, 2018 ]
that's what my husband wanted

[ Bhavika Dec 14, 2017 ]
1 question already asked
Thanks for your question. These open-box items have minor cosmetic damage.They may be missing non-essential accessories. In some cases the manufacturer's accessories have been replaced with generic equivalents. The manufacturer's warranty applies as well as Crutchfield's 60 day satisfaction guarantee. [ Kenny Aug 09, 2017 ]

Staff