Dual XGPS170
GPS/ADS-B weather and air traffic receiver for pilots
Item # 070XGPS170 | MFR # XGPS170
This item is no longer available.
Overview
Useful flight info right to your iPad® or Android™ tablet
Dual's XGPS170 Bluetooth® Automatic Dependent Surveillance-Broadcast (ADS-B) receiver makes your Electronic Flight Bag (EFB) app much more convenient by providing accurate ADS-B weather and traffic information right to your tablet without costly subscription fees, no matter where you fly in the United States. Some key ADS-B services you'll find transmitted by this handy receiver include:
FAA Traffic Information Service Broadcast (TIS-B): air traffic information from ATC radar and broadcast from ground radio stations
ADS-B position reports directly from nearby aircraft operating at 978 MHz
FAA Flight Information Service-Broadcast (FIS-B) info from the National Weather Service, including NEXRAD radar, winds aloft, pilot reports, and more
Works with several different EFB apps
The compact XGPS170A receiver transmits the ADS-B info to your tablet, where your EFB app can take advantage of it. You don't need to feel limited to a small number of compatible EFB apps — the info will work with a variety of apps, including Hilton Software WingX Pro7, Global NavSource EFB, Digital Sectional i1000, and Reader Plates, as well as many other non-EFB apps that use GPS location information. And you can download Dual's free Status Tool app for the XGPS170 to view detailed device and reception information right on your tablet.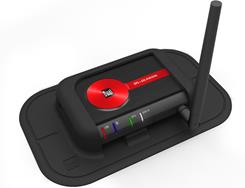 XGPS170 receiver with non-slip pad and antenna raised
Easy to set up and use
It takes less than a minute to pair your device with the XGPS170 receiver, and the receiver will remember your device the next time you use it. The receiver acquires most locations with high accuracy in under 30 seconds, and can update position up to 10 times per second. You can use the included non-slip pad to mount the XGPS170 securely, whether it's on your car's dashboard, a boat console, or your plane's glareshield.
The receiver's built-in rechargeable battery lasts up to 5 hours of continuous use, and Dual includes a 12-30V cigarette lighter adapter for charging in the aircraft or car. It'll also work with many standard tablet wall USB chargers. The detachable ADS-B antenna allows you to connect the receiver directly to the plane's external antenna if you choose. And you can use the XGPS170 with almost any app that requires location information, including golfing, hiking, geocaching, and car and marine navigation.
The XGPS170 also includes LED indicators for the following statuses: low battery, Bluetooth, GPS, and ADS-B signal.
Bluetooth for a better connection
The XGPS170's Bluetooth compatibility means your tablet's Wi-Fi connection isn't being slowed down or prevented from using another accessory. You'll get a seamless signal all flight long, without any service interruptions or the hassle of switching between networks. And it can pair with two Bluetooth devices at the same time so your co-pilot can follow along.
Product Highlights:
GPS/ADS-B information receiver
built-in rechargeable battery with up to 5 hours of life
12-30 volt charger, USB charging cable, and non-slip dashboard pad included
removable ADS-B antenna
LED indicators for low battery, Bluetooth status, GPS status, and ADS-B status
provides GPS location and ADS-B weather and traffic information directly to Bluetooth-enabled devices
works with most Bluetooth-enabled devices, including Apple iPad, iPod touch, and iPhone, plus OS X, Android™, BlackBerry®, and Windows® tablets, smartphones, and laptops
compatible with free Dual Status Tool app for showing receiver diagnostics on your device
compatible with several EFB apps, including Hilton Software WingX Pro7, Global NavSource EFB, Digital Sectional i1000, and Reader Plates
compatible with many location-based apps for use in the car, boat, or on foot
pairs automatically to up to two Bluetooth devices at a time after initial setup
GPS accuracy: +/- 2.5 meters
Bluetooth range: 33 feet
operating altitude: up to 59,000 ft.
dimensions: 4-1/4"H x 2-5/8"W x 3/4"D without antenna
weight: 5.3 oz. with antenna
warranty: 1 year
What's in the Box:
GPS+ADS-B receiver
Removable ADS-B antenna
12-30V Cigarette lighter/power adapter
5' miniUSB-to-USB charging cable
Non-slip pad
Owner's Manual
Warrany Information
Works great with fltplan.com

Jay, Florida
Reviews
Dual XGPS170 Reviews
Average Customer Review(s):


Submit a review and then enter to win a $350 rewards card
Review this product
Thanks for submitting your review
Most reviews are processed and published within 5 business days. You will receive a confirmation email once your review has been published.
Customer photos
Pros:
Cons:
Crutchfield response
---
Details
Product Research
Features
Overview: The Dual XGPS170 GPS+ADS-B Weather & Traffic Receiver provides ADS-B weather and traffic broadcasts to a variety of compatible EFB (Electronic Flight Bag) apps on your Apple iPod touch/iPhone/iPad, Android smartphone/tablet, Blackberry, or other Bluetooth-enabled device with SPP (Serial Port Profile). The Dual XGPS170 is not only for aircraft; you can even take this small and portable receiver with you to the car, on a boat, or hiking. The XGPS170 works with pretty much any app that requires location information; including apps for car and marine navigation, golfing, geocaching, hiking, and many others.
ADS-B Weather & Traffic Information: The ADS-B network provides weather data as well as a growing amount of air traffic information for the United States. Click here for coverage map. The included ADS-B antenna will need to be attached to the XGPS170 before use. The XGPS170 provides the following ADS-B (Automatic Dependent Surveillance-Broadcast) services.
Weather: The ADS-B ground system broadcasts regional NEXRAD weather information every 2.5 minutes and continental NEXRAD information every 15 minutes. Both weather broadcasts are received by the XGPS170.
Traffic: The XGPS170 will also receive ADS-B traffic information from both ADS-B ground system and from other aircraft operating 978 MHz ADS-B Out transponders. Traffic information includes position, heading, speed, and altitude for each aircraft. It is important to know that traffic information offered through the ADS-B ground system is only broadcast in response to a signal from an ADS-B Out transponder. Since not all aircraft are equipped with ADS-B transponders at this point, please be aware that the traffic information provided by the ADS-B network is only a partial picture of aircraft traffic. The XGPS170 is not an ADS-B Out transmitter.
Note: The signal from an ADS-B ground transmitter usually cannot be picked up on the ground. In Some areas, you may need to be above 2,000 feet AGL in order to reliably receive broadcasts from an ADS-B ground transmitter. Terrain and proximity to the nearest ground transmitter will affect reception.
Highly Accurate GPS: The XGPS170 includes a WAAS GPS receiver and built-in GPS antenna that provide fast location acquisition (under 30 seconds), with position updates up to 10x per seconds. The GPS location information is wirelessly transmitted via Bluetooth to your Apple iPad or Android tablet.
Accuracy: +/-2.5m (CEP)
Maximum Speed: 1,000 kts / 1150 mph
Maximum Altitude: 18,000 m / 59,000 ft
Compatible Apps: The Dual XGPS170 does not restrict you to just one EFB (Electronic Flight Bag) app. The XGPS170 will work with a number of EFB apps; including WingX Pro7 from Hilton Software, EFB from Global NavSource, i1000,FitPlan, and Digital Sectional. In addition to EFB apps, the XGPS170 works with most apps that require GPS, including apps for car navigation, marine chart plotting, golfing range finders, geochaching, hiking, and many others.
Note: Not all EFB apps currently display traffic information even if is available from an ADS-B source and received by the XGPS170.
Wireless Bluetooth Connectivity: The XGPS170 wirelessly sends GPS and ADS-B data to up to two Bluetooth-enabled devices simultaneously. It only takes less than a minute to pair your compatible Bluetooth-enabled device with the XGPS170, and the receiver will remember your device the next time you want to use it. Because the XGPS170 uses Bluetooth, the WiFi connection on your device is left free for other uses; such as connecting to the Internet (for weather services, flight plan updates, etc.) or to another accessory like an AHRS. There are no hassles with switching between networks and no service interruptions. The XGPS170 is compatible with iPod touch, iPhone, and iPad devices; as well as other Bluetooth-enabled (SPP required) smartphones, tablets, and laptops (such as Android Blackberry, Windows, and OS X devices). Supported devices include:
Apple iPod touch (2nd/3rd/4th/5th gen), iPhone (3G/3GS/4/4S/5), iPad (1/2/3/4);
Android smartphones, tablets
Blackberry smartphones
Windows laptops or Mac OS X notebooks
Plus other Bluetooth-enabled (SPP) devices
Note: Airplane mode must be turned off to activate Bluetooth. There is a mode switch on the XGPS170 which must be set based on what type of device you are using. The range of Bluetooth connection will drop as the battery level drops.
LED Indicators: The Dual XGPS170 features 4 LED indicators.
Low Battery: This light will flash red when the batter level is low and the device requires charging. During charging, the light will glow red and it will change to green when charging is complete. This light is normally off while the XGPS170 is running.
Bluetooth Status: This blue light will indicate whether the XGPS170 is searching fro a device to connect to, or has successfully paired to a device. A slow blue flash (approx 1x per second) indicates the XGPS170 is not connected to any device, but is ready to connect. A solid blue glow indicates the XGPS170 has successfully paired with at least one device.
GPS Status: The GPS indicator will flash green while the XGPS170 is searching for satellite signals. The light will change to a steady green when your location is successfully determined. When paired with an iPod touch, iPhone, or iPad; the GPS status light will not illuminate until an app is actively requesting GPS information.
ADS-B Status: This light glows solid white when the ADS-B receiver is active. The indicator will quickly pulse brighter when it is receiving ADS-B data.
Built-in Rechargeable Battery: The Dual XGPS170 has a built-in rechargeable battery that lasts up to 5 hours of continuous use. The included 12-30V cigarette lighter/power adapter charges the receiver in a car or in an aircraft. The XGPS170 can also be charged using the AC wall-charger that comes with your iPad, or simply plug it into the a free USB (type-A) port on your computer.
Note: Computer USB ports and most USB wall chargers do not supply enough power to simultaneously charge and run the XGPS170. You will need to turn of the XGPS170 in order to effectively charge the battery from a computer USB or USB wall charger. The included 12-30V DC adapter does provide enough power to charge and run the XGPS170 simultaneously.
Non-Slip Pad: The included non-slip pad holds the receiver securely in place on an aircraft's glare-shield, car's dashboard, or boat's console.
Note: The XGPS170 has been designed to work at high temperatures, and it is normal for the unit to become noticeably warm to the touch when operating. It will also absorb additional heat from the direct sun or when sitting on a hot glare shield.
Our Product Research Team
At Crutchfield, you'll get detailed, accurate information that's hard to find elsewhere. That's because we have our own in-house Product Research team. They verify what's in the box, check the owner's manual, and record dimensions, features and specs. We stay on top of new products and technologies to help people make informed choices.
Q & A
Customer Q&A
Crutchfield asked


Why did you buy this?
I have a pilot's license and this is a great way to get information into the cockpit.

[ Edward Mar 05, 2016 ]
2 questions already asked
Use it as a GPS and for weather with Avare and it works great. I connect it to my phone or tablet via Bluetooth. You'll need the Avare External IO app.

[ Scott Aug 23, 2016 ]
I downloaded a trial of Flyq and the Dual XGPS170 works perfectly. I am learning the software. I also downloaded Google maps to my IPad mini and tested on the road and works also nicely.

[ RAUL Aug 23, 2016 ]
Have used it with FlyQ and it worked well. According to literature it should work with Fight aware.

[ Mark Aug 22, 2016 ]
no, will not work with foreflight

[ jeffrey Feb 02, 2014 ]
Thank you all. As you can imagine, I'm trying to figure out how to circumvent "proprietary" devices such as Stratus, because as you know, proprietary usually means more cost. I see in the above comments that Robert used it with Foreflight, but the question that would come next is did the ADS-B work? Foreflight actually confirmed that the unit will work, but only the GPS side. It's hard to completely accept the information from Foreflight because they have a divested interest in the Stratus. So finding out this information from someone who has experimented with it is helpful. Thanks again for all of your input.

[ Stephen Jan 23, 2014 ]
Thank you Jeremy.

[ Stephen Jan 23, 2014 ]
Not at this time. Contact Seattle Avionics for timetable.

[ Reginald Jan 23, 2014 ]
No. Foreflight supports only their proprietary unit. I'm using the AOPA FlyQ app. It has very similar features and supports this device for weather display (but not traffic). Dual lists several compatible apps on their website.

[ Jeremy Jan 23, 2014 ]
I had no difficulty at all linking the XGPS170 unit with ForeFlight running on an iPad 2. Pairing was seamless and it works great.

[ Robert Jan 23, 2014 ]
If you're looking for ADS-B support, no. Foreflight uses Stratus for ADS-B and WX. If all you need is a GPS receiver, the dual XGPS150 or 160 will work just fine with Foreflight. Hope this helps.

[ MICHAEL Jan 22, 2014 ]