KEF LS50 Wireless
High-performance powered speakers with Wi-Fi® and Bluetooth® (Gloss Black/Blue)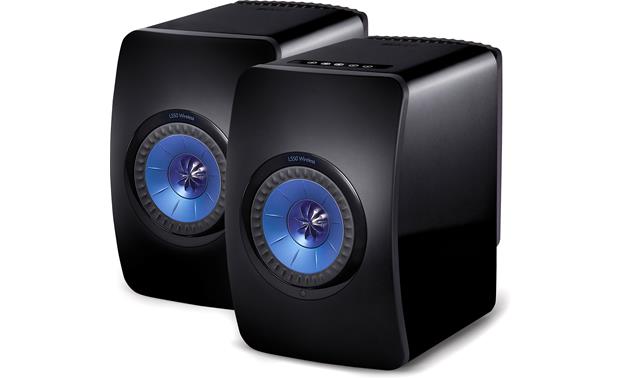 KEF LS50 Wireless - Front

KEF LS50 Wireless - Multiple wired connections make these powered speakers versatile (Titanium Grey/Red finish shown)

KEF LS50 Wireless - KEF put a lot of thought into every piece of the speaker assembly.
From KEF: LS50 Powered Speakers

KEF LS50 Wireless - The elliptical bass port promotes smooth air (and sound) flow.

KEF LS50 Wireless - Use the app to match the speaker EQ to your room.

KEF LS50 Wireless - The basic room EQ function makes your LS50 speakers sound better.

KEF LS50 Wireless - Expert speaker EQ lets you tweak the sound to your exact specifications.

KEF LS50 Wireless - Trim and tweak settings with the free app.

KEF LS50 Wireless - Components and cabinet are engineered to make the LS50s sound bigger than they look.
Item # 991LS50GBB | MFR # LS50ABL
In Stock
Was: $2,199.99
Sale: -$200.00

Our VirginiaVA-based experts can help.
Overview
A gorgeous, versatile high-end audio solution
KEF LS50 Wireless powered speakers stand out from the crowd. They have a lot to offer, and when we heard them at our Charlottesville HQ, they really grabbed our attention. They're beautiful, compact, easy to use, and versatile enough to form the core of your everyday sound system. And you won't believe the rich, detailed sound they produce.
Audiophile sound quality
When you're going for that magical level of sonic realism that can raise goosebumps, one of the biggest challenges is matching the right amplifier to your speakers. So KEF has eliminated the guesswork: they put two custom-designed amplifiers in each speaker — 200 watts to each woofer, and 30 watts to each tweeter — so each driver gets perfect power. And the attention to detail doesn't stop there. Each driver has a high-end 192 kHz/24-bit DAC to make digital sound come alive.
Built-in digital signal processing (DSP) offers an easy Beginner mode, but you may prefer to take total control in Expert mode, and tweak the sound to perfectly suit your unique room. Whichever way you choose, you can make your changes via a free smartphone app, available for Apple® and Android™ devices.
---
Praise for KEF LS50 Wireless speakers from digitalaudioreview.net

"Something for audiophiles, something for mainstreamers – after all, it's in the LS50 Wireless' DNA. As a straddler of worlds, the KEFs walk away not only with a Knockout Award but also DAR's Product of the Year award for 2016. If this product doesn't convince audiophiles of the legitimacy of active loudspeakers, nothing will."

— From John H. Darko's review at digitalaudioreview.net, December 29, 2016
Read the full review
---
A room-filling "sweet spot," thanks to Uni-Q technology
KEF's patented Uni-Q technology places each speaker's tweeter in the acoustic center of the bass/midrange cone. That lets the LS50 Wireless create a detailed, accurate, three-dimensional sound image. In essence, it makes the "sweet spot" — the ideal listening position — much larger. Sit wherever you like! It'll sound fantastic.
My hands-on experience with the KEF LS50 Wireless
I originally heard these speakers in our spacious training room at Crutchfield HQ, then enjoyed them later in a smaller conference room. Nothing prepared me for what they'd sound like in my own home.
I fussed for a while, trying them on different stands before deciding to place them on either side of the TV, directly on the entertainment furniture. Easy-to-use Speaker EQ buttons on the back of the right-hand speaker let me quickly customize the speakers' sound to suit each location change. The free KEF LS50 Wireless app was there to help me further tweak the output so it sounded full and clear in my living room — an open-plan, more-or-less rectangular space with glass along one side.
Once I had the basics taken care of, I started to have fun. I elected to stream some dynamic, demanding tunes via the built-in Spotify Connect, and they sounded amazing. The bass is reasonably deep and accurate when using the speakers alone, but it's a good idea to plug a subwoofer into the provided outlet to get the full experience from music and movie soundtracks. Cellos and violins sound heavenly in string quartet selections. I've revisited every one of my favorite jazz singers, just to hear the vocal nuances the LS50s can uncover. They dramatically expand the soundstage and reveal detail in every track I play.
If you have limited space, but want to enjoy your music to the fullest, these speakers make a big, beautiful sound that belies their relatively small footprint.
Customizable room EQ with the free app
KEF knows your room is unique, so they've put the power of choice in your hands. Just download KEF's free app, and you'll be able to tune the speakers to suit your space. Once you've made all the big adjustments, you can revisit and make manual tweaks to your heart's content.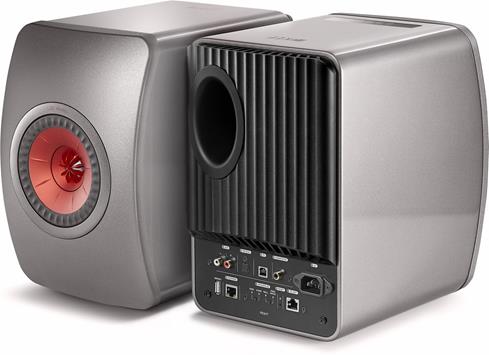 KEF LS50 Wireless powered speakers offer a variety of connection points, so you can choose how you want to use them.
Convenient connections
Think of a way you want to use these LS50 Wireless speakers, and you'll likely find a connection to make it happen. Want to transform the sound from your TV? Run an optical digital cable to the back of the right-hand speaker. Enhance computer gaming by plugging your machine into the asynchronous USB port. You can even run the output of your phono preamp into the RCA inputs and enjoy your favorite records.
Or, you can skip the wires altogether and stream your favorite high-res tunes through the LS50 Wireless' Bluetooth® connection. Or use your home's Wi-Fi® network to play music files from a DLNA-compatible computer or music server. The left and right speakers share audio signals via an included Ethernet cable.
Did we mention that they're super-stylish?
LS50 Wireless speakers come in three attractive color combinations, so they'll delight your eyes as much as they do your ears. Each has a curved front baffle that adds a touch of elegance to your shelf or speaker stands. Even the most design-conscious homeowner can find a prominent place to display these beauties.
Product Highlights:
frequency response: 45-28,000 Hz (±3 dB)
bi-amped design with separate Class D woofer and tweeter amplifiers for greater headroom and lower distortion

woofer amplifier power: 200 watts
tweeter amplifier power: 30 watts

Uni-Q Driver Array technology makes your entire room sound like the "sweet spot"
individual 192kHz/24-bit DAC for each driver
5-1/4" magnesium/aluminium alloy woofer
1" vented aluminium dome tweeter
peak SPL: 106 dB
Bluetooth® 4.0 with aptX® for high-quality audio streaming performance
built-in dual-band Wi-Fi® for audio streaming from DLNA devices on your network
Spotify Connect lets you stream music wirelessly using the Spotify app on your smartphone or tablet (premium subscription required; requires firmware 1.62 or later)
precise digital signal processing controls allow optimal room integration
free downloadable app lets you make pinpoint EQ adjustments with your Apple® or Android™ device
bass-reflex cabinet with elliptical rear port for accurate, musical bass
MDF enclosure with elegant curved front baffle
Connections (located on back of right-hand speaker):
stereo line level RCA input
Toslink digital optical input (accepts signals up to 24-bit/96kHz)
asynchronous USB Type B input (accepts signals up to 24-bit/192kHz)
10/100 Mbps RJ45 Ethernet input
mono RCA subwoofer output
detachable power cord
Dimensions and Warranty:
7-7/8"W x 11-7/8"H x 13-1/4"D
weight: 22 lbs. (left speaker), 22.5 lbs. (right speaker)
warranty: 1 year
What's in the Box:
KEF LS50 Wireless Owner's manual
Bluetooth powered speaker (Right)
Bluetooth powered speaker (Left)
Two 6.5' AC power cords
10' Cat-6 interconnect speaker cable
6.5' USB-B to USB-A cable
42" Ethernet cable
Remote control (CR2032 battery installed)
Quick Start Guide
Important Safety Information
Warranty Information
"Caution/Warning" sheet
LOVE IT! I have this hooked up to a bluesound node 2 as a 3rd zone in my home. The sound is amazing.

Keng, San Francisco, CA
Reviews
KEF LS50 Wireless Reviews
Average Customer Review(s):


Submit a review and then enter to win a $350 rewards card
Review this product
Thanks for submitting your review
Most reviews are processed and published within 5 business days. You will receive a confirmation email once your review has been published.
Customer photos
Pros:
Cons:
Crutchfield response
---
Details
Product Research
Audio Section
Variety Of Sources
App & Remote Control
Audio Section
Uni-Q Driver Array: The LS50 powered speakers feature KEF's patented Uni-Q driver configuration, in which the tweeter is mounted at the acoustic center of the midrange cone. With both acting as a single point source, the sound is dispersed widely and evenly throughout the listening area allowing you to experience superbly defined and perfectly balanced stereo imagery with a wide "sweet spot". The Uni-Q driver array is made up of a 1" aluminum vented-dome tweeter and a 5.25" magnesium/aluminum alloy cone woofer.
1" Aluminum Vented-Dome Tweeter: The geometry of the tweeter dome matches that of the midrange cone to avoid disrupting the waveform. By smoothening high frequency response, this helps to account for the detailed and strikingly natural-sounding treble. The 1" aluminum vented-dome tweeter utilizes a Tangerine Waveguide to encourage the sound to radiate spherically for wider, more even dispersion so that everyone in the room enjoys the same superb sound quality. A large internal vent prevents potentially distorting high pressures from building up behind the dome in the critical vocal region, preserving all the nuance and fine detail of the original performance.
5.25" Magnesium/Aluminum Alloy Woofer: The 5.25" woofer uses a magnesium/aluminum alloy cone that is light, stiff, and smooth for natural midrange and midbass sound. A well as allowing the midrange cone its full extension, KEF's ingenious Z-flex surround guides the sound from the tweeter across the surround without any disturbance or secondary radiation. Treble response is clearer and sweeter.
Note: The LS50 powered speaker system does not include grilles.
Bi-Amplifier Configuration: The 1" aluminum vented-dome tweeter and 5.25" magnesium/aluminum alloy woofer are powered by an incredible clean and fast 230 watt amplifier in a bi-amp dual mono configuration (200 watts to the woofer and 30 watts to the tweeter) that produces high-fidelity sound.
Note: Because the LS50 Wireless speaker system is self-powered, each speaker will need to be plugged into an AC wall outlet.
Advanced Time Correcting DSP: The LS50 Wireless employs an advanced time correcting DSP crossover that corrects for inherent time delays introduced in the crossover stage.
FEA-Designed Cabinet: The FEA-designed cabinet with its constrained layer damping bracing and precision engineered curved baffle, along with the elliptical flexible port all work in concert to prevent cabinet vibration and resonances that produce unwanted sound coloration for clear, spacious, distortion-free sound.
Curved Baffle: The curved baffle is shaped so that the sound waves spread from the drivers with minimum reflection from the edges which gives a very nice spacious sound. The curvature also improves the rigidity of the baffle which reduces vibration and sound coloration.
Constrained Layer Damping: The constrained layer damping which is between the brace and the enclosure walls and also the front baffle, prevents the cabinet from vibrating and radiating sound. This helps to prevent coloration in the midrange.
Flexible Port Tube: The rear-firing port tube has a flexible wall which allows midrange sound that is travelling down the port tube to escape back into the cabinet and prevents longitudinal resonances; which can otherwise radiate and cause midrange coloration. The port tube also has very carefully flared walls to avoid the chuffing noises that you can hear when you get air turbulence inside the port.
24-Bit/192kHz DACs: The LS50 Wireless features an end-to-end 192kHz/24-bit high-resolution digital signal path with two separate DACs for each speaker, for a total of four for the pair.
Speaker EQ: The LS50 Wireless speaker system provides a built-in Speaker EQ to tailor the sound of the system to the placement of the speaker. Select from "Desk", "Stand", "Wall", or "Free Space".
Advanced Audio Settings: Through the KEF LS50 Wireless app for Apple iOS 8.0+ and Android OS 4.1+ you get access to advanced audio settings to expertly tailor the system's sound to your room environment and preference.
Room Acoustics: You can select the size of your room (Small, Medium, or Large), as well as indicate the room setting (Damped, Moderate, or Lively). In addition, you can indicate how far the speakers are from the back wall.
Bass & Treble: You adjust the treble trim from -2dB to +2dB. The bass extension can be set to Less, Standard, or Extra. There is also phase correction between the two speakers.
Sub Controls: If you connect a powered subwoofer you can activate a variable high pass (50-120Hz) & low pass (40-250Hz) crossover. You can also adjust sub polarity and sub gain (-10 to +10dB), as well as the balance between subwoofer and speaker.
Tethered Cable: The speakers are labeled "RIGHT" & "LEFT". The included 10' Cat-6 cable plugs into the back of each speaker to connect them together as a stereo pair. You can set the balance between the Right & Left speaker.
Subwoofer Output: The KEF LS50 Wireless speaker system is equipped with a mono-RCA subwoofer output to connect a powered sub (sold separately).
Variety Of Sources
Wired or Wireless Network Connectivity: The KEF LS50 Wireless speaker system can be connected to your home network via a wired (Ethernet) or wireless (WiFi) connection. There is a RJ-45 Ethernet port (10/100Mbps) on the back of the speaker which allows for a hardwired connection. Built-in 2.4/5GHz dual-band WiFi (802.11 a/b/g/n) allows the LS50 Wireless speaker system to connect wirelessly to your home network.
Note:

KEF

recommends streaming Hi-Res music files over a 5GHz WiFi network with a router transmission speed of at least 1300Mbps
Online Music Services: With a wired or wireless network connection, the LS50 Wireless speaker system provides access to Tidal and Spotify using the KEF Stream app on your compatible Apple iOS or Android OS device.
Tidal: TIDAL is a global streaming service that offers millions of songs in high-fidelity CD sound quality. TIDAL has two pricing tiers; either $9.99 or $19.99 a month. Both pricing levels allow you to access TIDAL's entire music library. The $19.99 tier has the added benefit of high-fidelity sound at CD-level quality.
Spotify Connect: The integration of Spotify Connect will enable Spotify Premium users to instantly select and wirelessly stream music to the LS50 Wireless speaker system from within the Spotify app (Apple iOS or Android). Spotify is a digital music service that gives you on-demand access to one of the largest music libraries in the world (over 15 million tracks and counting). Spotify makes it easier than ever to discover, manage, and share music with your friends. You can browse music by artist, album, track, or most popular; and create your own music library with customized playlists.
DLNA Compliant: The LS50 Wireless is a DLNA Digital Media Renderer and can play Hi-Res music files (up to 24-bit/192kHz) from other DLNA servers and NAS (Network Attached Storage) devices. The following music files can be streamed wireless via DLNA.
| | | |
| --- | --- | --- |
| File Format | Sampling Frequency | Bit Rate or Bit Depth |
| MP3 | 8-48 kHz | 16 bit |
| WMA | 8-48 kHz | 16 bit |
| AAC | 32-96 kHz | 16 bit |
| AIFF | 32-192 kHz | 16 / 24 bit |
| FLAC | 8-192 kHz | 16 / 24 bit |
| WAV | 8-48 kHz | 16 / 20 / 24 bits |
| PCM | 8-192 kHz | 16 / 20 / 24 bits |
Asynchronous USB-B Port: The LS50 Wireless speaker system is outfitted with an Asynchronous USB-B port for playback of 2ch PCM music files (up to 24-bit/192kHz) from your Windows PC (7-up) or Mac computer (OSX 10.6-up). If you are using a Windows PC, you will need to download a dedicated USB audio driver from the KEF website.
Note: There is also a USB-A port, but this is for service and software/firmware updates only. It cannot be used for music streaming.
Optical Digital Input: The LS50 Wireless speaker features an optical (toslink) digital input with support for 2ch PCM audio (up to 24-bit/96kHz). The Optical digital input does not support Dolby Digital, DTS, or other multi-channel formats.
Stereo RCA Input: The LS50 Wireless powered speaker offers an analog stereo RCA output for connection of an analog audio source device. If you want to connect a turntable, you will need a turntable with a built-in phono preamp or an external phono preamp (sold separately).
Bluetooth 4.0: With its built-in Bluetooth (version 4.0), you are able to wirelessly stream stored music and music apps from your Bluetooth-enabled Apple iPod/iPhone/iPad, Android smartphone/tablet, Windows Phone/PC, Mac computer/laptop and other Bluetooth source devices to the KEF LS50 speaker. You'll still need to control music playback and view song/artist info from your Bluetooth source device.
aptX: In addition to support the standard Bluetooth SBC codec, the KEF LS50 offers support for aptX. With aptX, you can stream CD-quality sound from aptX compatible devices (like Android OS 4.0+). Now your wireless music sounds rich, full, and natural with less compression.
SSP: With SSP (Simple Secure Pairing), Bluetooth source devices can be paired with a single press of a button and without entering PIN code. Up to 8 devices can be paired with the LS50 speakers and two devices can remain connected, but only one device can be playing at a time.
Note: Due to the differences in Bluetooth technology, some Bluetooth enabled devices may be incompatible, function improperly, or may not support all features when used with the KEF LS50.
App & Remote Control
KEF Stream App: The KEF Stream App (for Apple iOS 8.0+ and Android OS 4.1+) provides full control of the LS50 Wireless speaker system using your compatible smartphone or tablet. It provides initial setup for connection to your WiFi network, as well as notifications of firmware updates as they become available. You'll also get access to select online music services such as Spotify & Tidal, as well as access to local music libraries stored on a Windows PC or other DLNA media service. You can even stream music stored locally on your Apple iOS or Android device to the LS50 Wireless speaker system from the app. In addition, you get playback controls and song/artist info with album art on the KEF Stream app.
KEF Control App: The KEF Control App (for Apple iOS 9.0+ and Android OS 4.1+) provides comprehensive remote control functionalities for LS50 Wireless speaker system, further enhancing the user experience. It can be used as a stand-alone app or in combination with the above KEF Stream app. In addition to source selection, playback & volume control, firmware updates; the app offers advanced audio adjustments such as Speaker Sound Profiles, Volume Customization, and Switching between Left/Right speakers. However, the KEF Control App does not provide access to Tidal or Spotify.
Roon Remote (available firmware update): Thanks to an available firmware update and the Roon Remote App (for Apple iOS 11.0+ and Android OS 4.4+), the LS50 Wireless speaker system can now use the Roon music player software to identify your personal music collection and simultaneously acts as a searchable digital engine, providing in-depth information about that collection such as album descriptions and artwork, artist photos and bios, critical reviews, tour dates and lyrics. When coupled with an additional subscription to TIDAL, Roon finds links between the your personal file and the millions of tracks available from the streaming service, so that new music can be discovered from the world beyond your own personal collection.
Top-Panel & Remote Control: The KEF LS50 Wireless features top-panel touch-sensitive controls for Power, Source Selection, Bluetooth Pairing, and Volume. The included IR remote provides wireless operation of the same functions, plus Play/Pause, Previous/Next Track and Mute.
Our Product Research Team
At Crutchfield, you'll get detailed, accurate information that's hard to find elsewhere. That's because we have our own in-house Product Research team. They verify what's in the box, check the owner's manual, and record dimensions, features and specs. We stay on top of new products and technologies to help people make informed choices.
Q & A
Customer Q&A
Crutchfield asked


Why did you buy this?
I love kef best sound

[ juan Nov 11, 2018 ]
Saw them heard them thought they were awesome. Hopefully will fulfill my needs Like the fact that they are all inclusive

[ Ian Oct 16, 2018 ]
I need (want?) compact powered desktop speakers. These are highly regarded by folks whose opinion I value: Audiophiliac, Zeos, etc. KEF is a trusted brand.

[ Paul Aug 23, 2018 ]
Great reviews on this speaker. Wireless option makes it very compelling.

[ edgar Apr 09, 2018 ]
Good quality sound combined with simple set up

[ TERRI Mar 13, 2018 ]
Good ratings. Best of color choices offered (would have preferred black cabinet & black speaker cone).

[ Kelly Feb 09, 2018 ]
Excellent reviews.

[ P Dec 04, 2017 ]
Good reviews and simple plug and play options

[ Ronnie Aug 12, 2017 ]
I have old ears. I need good treble and have to sit in the sweet spot. TV sound is a particular problem for me. Most sound bars have a very narrow dispersion. So irritating. These KEFs claim to have wide dispersion and are movable. I will use as a sound bar. If they are as good as claimed (they SHOULD be at that price), then I may audition in my stereo system. Soon, KEF will have custom metal stands for $400? Sheesh. If my wife finds out, I'm in Big Trouble.

[ HOYT Jul 20, 2017 ]
Need a wireless system

[ Larry Feb 11, 2017 ]
high quality powerful sound in compact streamlined body just what I am looking for

[ Robin Nov 16, 2018 ]
Based on reviews

[ Timothy Sep 23, 2018 ]
Reputation and specs

[ Birinder Raj Sep 20, 2018 ]
Reputation and online comments on the system

[ Walter Jul 25, 2018 ]
Beautiful, Amazing sound (at least ive heard ) and been wanting to have a system with high power and DAC as well as bluetooth

[ T May 25, 2018 ]
ratings

[ Ira Mar 13, 2018 ]
great reviews

[ Peter Oct 29, 2017 ]
Great reviews and sound......

[ HARVEY Aug 01, 2017 ]
highly reviewed. integrated with amp and da

[ Anthony Jun 07, 2017 ]
THE KEF LS05 SPEAKERS HAVE MOVING SOUND.

[ Xishan May 14, 2017 ]
I chose these because their form factor will not overwhelm my living room, the positive reviews, and their good value. These are expensive, but as many reviewers have said to get this level of performance with separates would be very expensive. This is an indulgence for me, but music matters and I can no longer tolerate the sound quality of my AVR and bookshelf speakers.

[ Paul Aug 16, 2018 ]
Color fits better in my room

[ CLIFFORD Mar 26, 2018 ]
Item I wanted available at open box price from reputable company

[ Roger Jul 26, 2017 ]
Great reviews and intended application for the new fireplace we are developing.

[ JONATHAN Jan 28, 2017 ]
14 questions already asked